This two-ingredient Screwdriver Drink is a classy drink consisting of orange juice and vodka in a glass of ice and garnished with fresh orange wedges, maraschino cherries, and cocktail umbrellas!
If you're looking for a simple and easy cocktail for breakfast or brunch or to enjoy as a refreshing beverage on hot days, then look no further than this Screwdriver Drink. It's a classic cocktail consisting of orange juice and vodka in a glass of ice.
This two-ingredient cocktail calls for basic ingredients that you likely already have in the drinks cabinet – perfect to add to other no-fuss homemade cocktails like this Jolly Rancher Cocktail and Dirty Shirley Drink. In just 10 minutes, you get to enjoy a tasty cocktail over some ice or in a chilled glass with a slice of orange or maraschino cherry as garnish – I mean, simple can still look sophisticated, right?!
If you love stunning homemade cocktails, be sure to try Blackberry Gin Cocktail Recipe, Orange Lemon Gin Cocktail, or Empress Gin Cocktail.
What do I Need for this Screwdriver Drink Recipe?
🍊 Ingredients:
Orange juice – Fresh juice is best.
Vodka – Use high-quality vodka for the best taste.
Ice cubes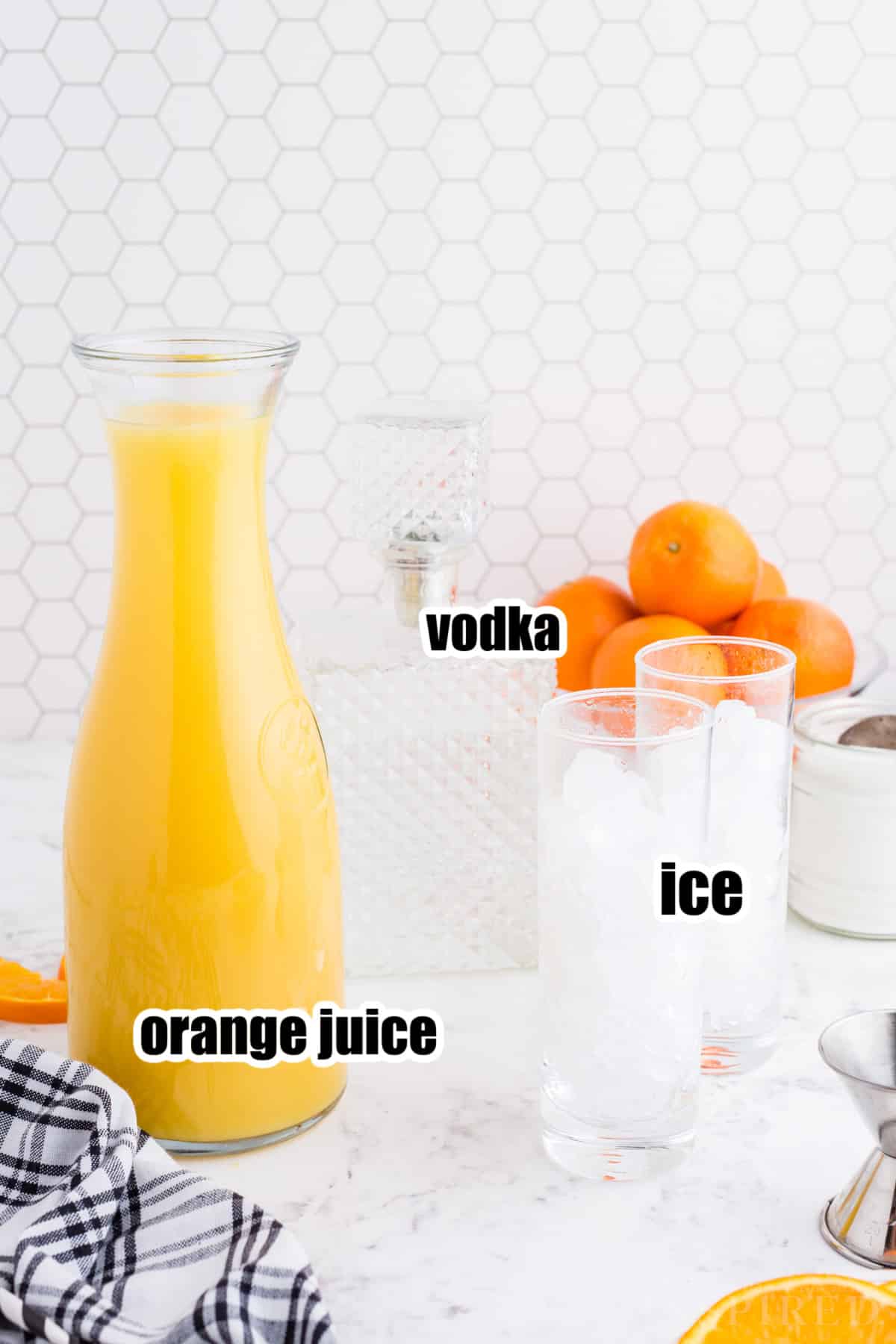 Optional Garnish:
Garnish this screwdriver drink with slices of orange wedges and maraschino cherries, skewered on a decorative drinks umbrella! You could also use lime wedges.
Equipment Needed:
No special equipment is needed to make this classic cocktail. All you'll need is a highball glass (or another type of tall glass), and a shot glass to measure the vodka.
Variations and Substitutions:
Make a higher alcohol-content vodka cocktail by increasing the ratio of vodka in this recipe. You can also make it a weaker drink by reducing the amount of vodka used.
Add some club soda to the mixed drink for fizz.
You can use any kind of vodka that you prefer. Use plain vodka or consider vanilla vodkas or citrus vodkas.
Add a few cocktail bitters to your screwdriver cocktail.
While I've used fresh orange juice in this refreshing cocktail, you could combine it with grapefruit juice, lemon juice, lime juice, or cranberry juice.
Add a simple syrup to sweeten this orange juice cocktail.
Swap out the vodka for tequila to make a tequila screwdriver.
🔪 Instructions:
PREP: Freezer the drinks glasses if you want extra chill for this screwdriver cocktail recipe.
Step 1: Fill the glass with ice cubes.
Step 2: Pour a shot of vodka over the ice.
Step 3: Fill the rest of the glass with orange juice.
Step 4: Double this recipe and repeat this process to make additional screwdriver cocktails.
GARNISH: Garnish with orange wedges, maraschino cherries, and cocktail umbrellas.
When selecting your orange juice for this cocktail, opt for one without pulp or use freshly squeezed orange juice for the best results.
You may find that you need to adjust the quantity of juice and vodka used depending on the size of your glass and how much ice you add. For glasses larger than 8 ounces, you can add two shots of vodka.
Adding a pinch of salt to the cocktail can help to cut the sharpness of the alcohol but this is optional.
This cocktail can be shaken with ice or you could even omit the use of ice completely by chilling your glass and serving the mix strained so that there's no dilution of the cocktail from melted ice.
Serve your cocktail immediately with an orange slice or maraschino cherry as a garnish.
Fun Fact
If you're wondering what gives the name of this cocktail, then allow me to entertain you with a popular story behind the name of this cocktail. It's been told that during the mid-twentieth century, oil workers from America that had been based in the Persian Gulf got into the habit of sneaking a little vodka into their orange juice. Since this was done behind the scenes, they allegedly made use of their screwdrivers to mix the drink whenever a spoon wasn't in reach! Of course, there are more stories claiming to be the true inspiration for the Screwdriver Cocktail but none are as captivating as this.
What Is A Screwdriver Cocktail?
This Screwdriver Cocktail is essentially a highball drink (a drink that infuses alcohol with non-alcoholic mixers) that only calls for two simple ingredients: orange juice and vodka!

Honestly, this delicious cocktail couldn't get easier than that, which is great news for anyone who is new to making their own cocktails at home and doesn't want the pressure of numerous ingredients for a delicious and refreshing alcoholic beverage!
Can I Store This Screwdriver Cocktail?
No, I don't suggest that you store this cocktail as it's best tasting when freshly made. With just 2 ingredients and some ice, you certainly won't be spending more than 10 minutes making this drink.
What Brand Of Vodka Is Best For A Screwdriver Cocktail?
Good quality vodka makes all the difference when making such a simple cocktail. That's why I recommend using Grey Goose or Tito's which are well-known for quality and taste.


If you're used to a different brand of vodka than what I've mentioned, then by all means use the brand you prefer.
Is This A Strong Cocktail?
No, not with the ingredient quantities I've listed. It's a moderate level of alcohol that certainly is not going to get you tipsy on one glass enjoyed at a reasonable pace!

This cocktail often features as a breakfast or brunch drink so it's not intended to be booze-heavy although there's nothing preventing you from adjusting the ingredient quantities if you prefer a stronger or weaker drink.
More Cocktails You'll Love
Screwdriver Drink
This two-ingredient Screwdriver Drink is a classy drink consisting of orange juice and vodka in a glass of ice and garnished with fresh orange wedges, maraschino cherries, and cocktail umbrellas!
Ingredients
4-6 ounces Orange juice
1.5 ounces Vodka 1 shot
1 cup Ice cubes
Instructions
Fill glass with ice.

Add 1 shot of high quality vodka.

Pour orange juice to fill the glass.
Nutrition
Calories: 149kcal | Carbohydrates: 12g | Protein: 1g | Fat: 0.2g | Saturated Fat: 0.03g | Polyunsaturated Fat: 0.1g | Monounsaturated Fat: 0.04g | Sodium: 13mg | Potassium: 227mg | Fiber: 0.2g | Sugar: 10g | Vitamin A: 227IU | Vitamin C: 57mg | Calcium: 20mg | Iron: 0.2mg