Sweet barbacoa pork cooked in crockpot is melt in your mouth tender, made with a homemade sauce, and is an easier weeknight dinner that can be served a ton of different ways.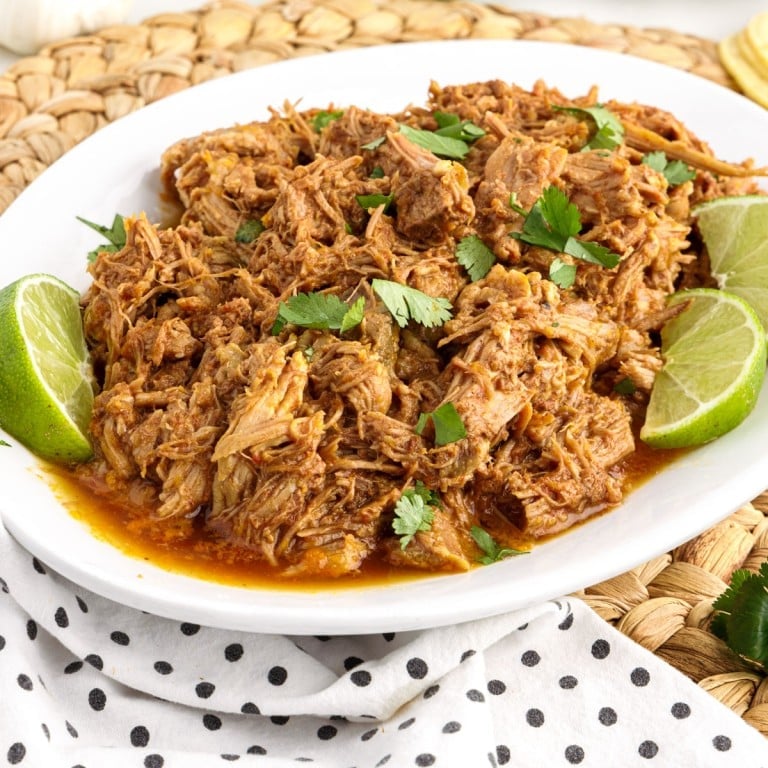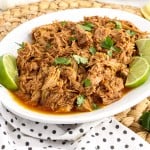 Sweet Pork barbacoa is a simple recipe that is great for big crowds, meal prep, or busy weekdays. The sweet flavor of the chuck roast is balanced with the spiciness of the chipotle pepper. It's a perfect dump-and-go recipe that everyone will love and is melt-in-your-mouth tender!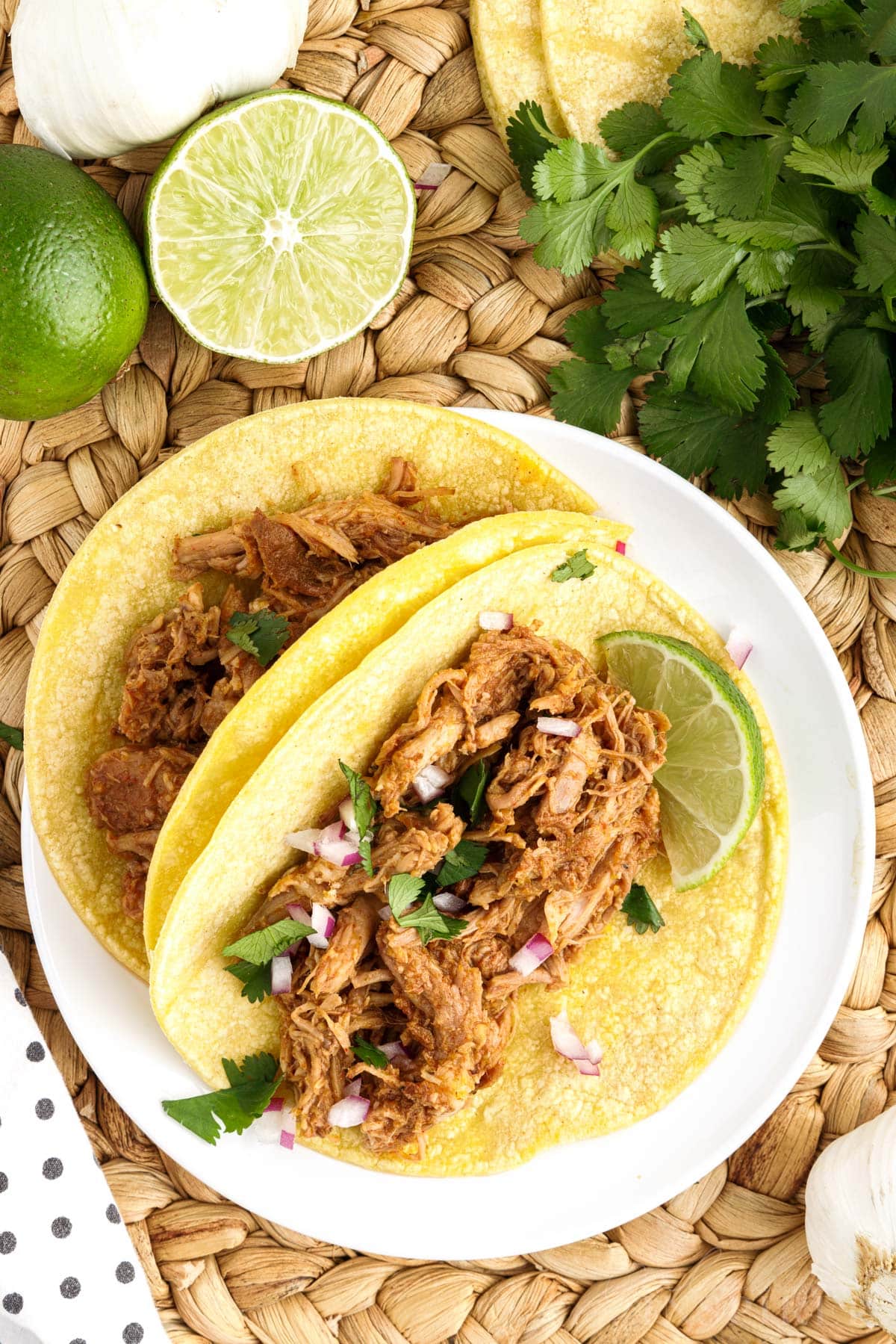 During busy weeknights, I lean on our crock pot… a lot! It's the perfect option for home-cooked meals that take very little effort! We love making barbacoa tacos or using the Pork barbacoa for other dishes like quesadillas and enchiladas. That way, it seems like we are eating a different meal, all while using the same meat.
If you like Mexican food, you'll my crockpot carnitas, flavor-packed rice, and Mexican street corn. When we serve barbacoa for parties, we like having 7 layer dip and queso blanco for appetizers. Then I usually make the rice in the Instant Pot.
What do I Need for this Recipe?
🥩 Ingredients:
pork shoulder or pork butt – either of these will work, just not a pork loin.
tomato paste – adds color and acidity to the base.
chipotles in adobo sauce – when measuring get the peppers and sauce.
chili powder, paprika, garlic cloves – can use garlic powder or smoked paprika.
onion – we used red onions.
light brown sugar – be sure to pack when measuring.
salt and pepper – to taste.
Juice of 1 lime – fresh lime juice is the best, but store-bought can be used as well.
rice wine vinegar – can also use apple cider vinegar.
chicken broth -chicken stock adds more flavor and juices to the pork.
fresh Cilantro and Limes, for serving
Optional Garnish and Serving Ideas:
You can serve this sweet pork recipe with your favorite toppings such as sour cream, pico de gallo, green chiles, or with a side of cilantro lime rice and black beans.
Equipment Needed:
Crockpot – if you have an Instant Pot or pressure cooker you can also follow the same instructions and just use it on the slow cooker setting.
Blender or food processor – to make the sweet sauce.
Variations and Substitutions:
Enchiladas – Use corn tortillas or a flour tortilla and stuff them with the pork. Top with enchilada sauce and cheese. Bake at 350 degrees until the cheese has melted and they are warm.
Burrito Bowls – Add the barbacoa pork to a bowl with cilantro-lime rice, black beans, avocado, pico, corn, and top with cotija cheese. This makes a delicious meal!
Nachos – pile the pork high on top of the nachos with your favorite toppings.
Instant Pot – To make this recipe in the Instant Pot, add 1 cup of water to the inner pot. Place the large roast into the pot. Secure the lid, and turn the valve to seal. Cook on high pressure for 1 hour. Once the timer goes off, allow the pot for natural release for 15 minutes. Remove the pork and shred. Dump the liquid from the pot, and turn to saute mode. Add the sauce and the shredded pork. Stir to coat and serve once it is warmed through.
🔪 Instructions:
Step 1: Place the Boston butt in the slow cooker with the fat side up.
Step 2: Add all of the remaining ingredients to a blender or food processor and pulse.
Step 3: Pour the barbacoa sauce over the pork. Cover with a lid and cook on low for 8-10 hours.
Step 4: Remove the pork from the pot and shred. Add the shredded pork back to the pot and stir into the sauce.
Pro Tip: We like cooking the pork on low so it gets super tender. If you were short on time you can cook on high.
SERVE: Garnish with a lime wedge and or cilantro.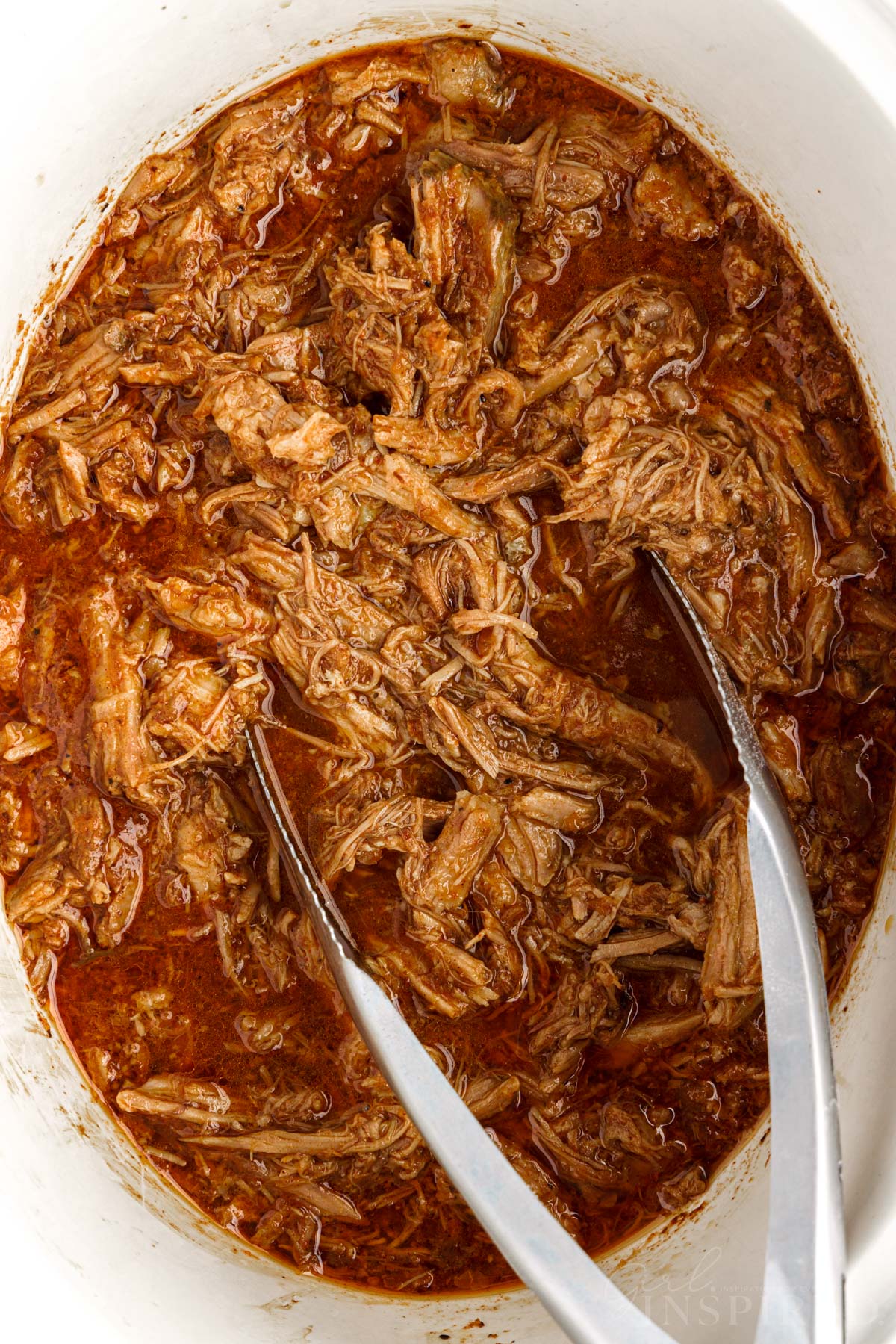 To make this dish spicier add more chipotles or jalapenos.
If desired, add a liner to the crockpot to make cleanup easier.
This meat is just as good the next day or after being reheated from frozen.
Fun Fact
Did you know barbacoa is Spanish for barbeque?
How to store this sweet pork barbacoa recipe?
Store leftovers in an airtight container in the refrigerator for up to 4 days or freeze for 2-3 months.
What is Barbacoa?
Barbacoa is a traditional Mexican dish that typically consists of slow-cooked, seasoned beef, goat, or lamb meat. The meat is typically seasoned with a combination of spices and herbs, such as garlic, cumin, chili powder, and oregano, and then slow-cooked for several hours until it is tender and flavorful. Barbacoa can be served in a variety of ways, such as in tacos, burritos, or as a main dish with rice and beans. It is a popular and delicious dish in Mexican cuisine.
More Delicious Mexican Inspired Recipes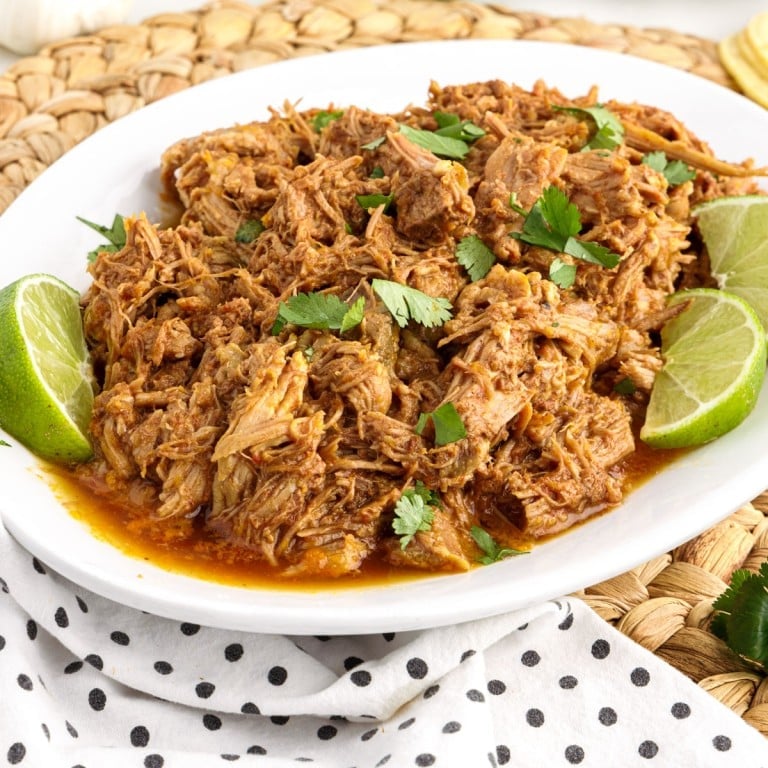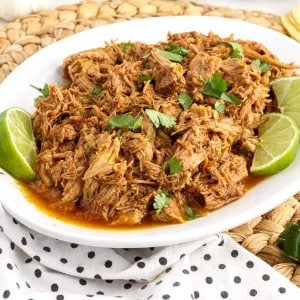 Sweet Pork Barbacoa
Sweet barbacoa pork cooked in crockpot is melt in your mouth tender, made with a homemade sauce, and is an easier weeknight dinner that can be served a ton of different ways.
Ingredients
4-5 lb pork shoulder or butt roast not pork loin
2 tablespoons tomato paste
2 tablespoons chipotles in adobo sauce
1 tablespoon chili powder
2 teaspoon paprika
4-5 cloves of garlic
¼ small red onion
1 cup packed light brown sugar
½ teaspoon salt
¼ teaspoon black pepper
Juice of 1 lime 2-3 tablespoons
¼ cup rice wine vinegar
1 cup chicken broth
Cilantro for garnish (optional)
Limes for serving
Instructions
Place the pork roast in the crock of a slow cooker, fat side up. You can cut the roast into large chunks or leave it whole.

In the bowl of a food processor or blender, pulverize all ingredients (except for the pork roast).

Pour the blended sauce over the roast.

Cover with a lid and cook on LOW for 8-10 hours.

Remove the roast from the slow cooker and trim the fat. Shred or chop the meat. Stir the meat back into the sauce.

Serve with chopped cilantro and/or lime juice for garnish.
Notes
The perfect combo of sweet and spicy. You can add more chipotles and/or jalapeño or two for extra heat. The lime juice and cilantro add a nice contrast to the sweetness of the serving. Serve with your favorite fixings in tacos, burritos, quesadillas, nachos, etc. I've found that cooking a roast on low for 8-10 hours is more successful than cooking it quicker on high heat. Low heat really breaks down the roast for tender, melt-in-your-mouth meat.
Nutrition
Calories: 335kcal | Carbohydrates: 32g | Protein: 28g | Fat: 10g | Saturated Fat: 4g | Polyunsaturated Fat: 1g | Monounsaturated Fat: 5g | Cholesterol: 93mg | Sodium: 419mg | Potassium: 588mg | Fiber: 2g | Sugar: 29g | Vitamin A: 406IU | Vitamin C: 4mg | Calcium: 53mg | Iron: 2mg