These juicy, crispy cornish hens are ready in less than one hour, filled with flavor, and make an easy weeknight dinner.
Air fryer Cornish hens are rubbed with a homemade herb blend, making the chicken more tender than rotisserie and have a crispy skin every time. They are the perfect size for small dinners and are quick to prepare with this easy air fryer recipe.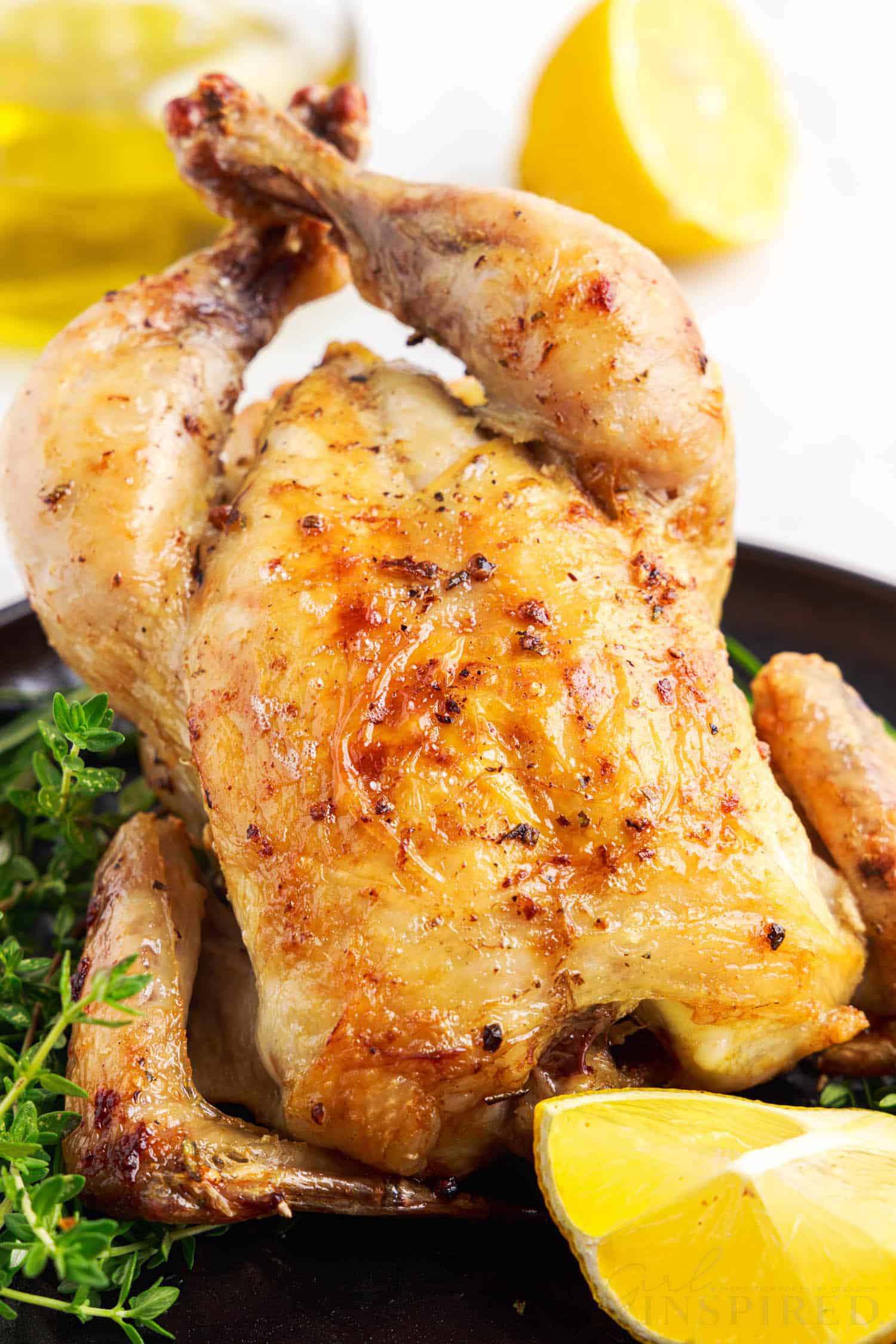 Serving cornish game hens will not only wow your dinner guests for a special occasion, but are great for an easy weeknight dinner. Even though you can air fry a regular chicken, the cornish hens are more tender and easier to manage and you just can't beat the juicy meat.
I love the taste of the combination of spices that are used for the rub, they are similar to my herb chicken recipe, but you can use your favorite seasonings, some lemon pepper, or an Italian seasoning blend as well. And you just can't beat the juicy meat with this cornish game hen recipe.
As for side dishes, you can serve the hens with something easy like a simple salad, or baked potatoes. We like making corn in the Instant Pot, deviled eggs, or parmesan roasted broccoli.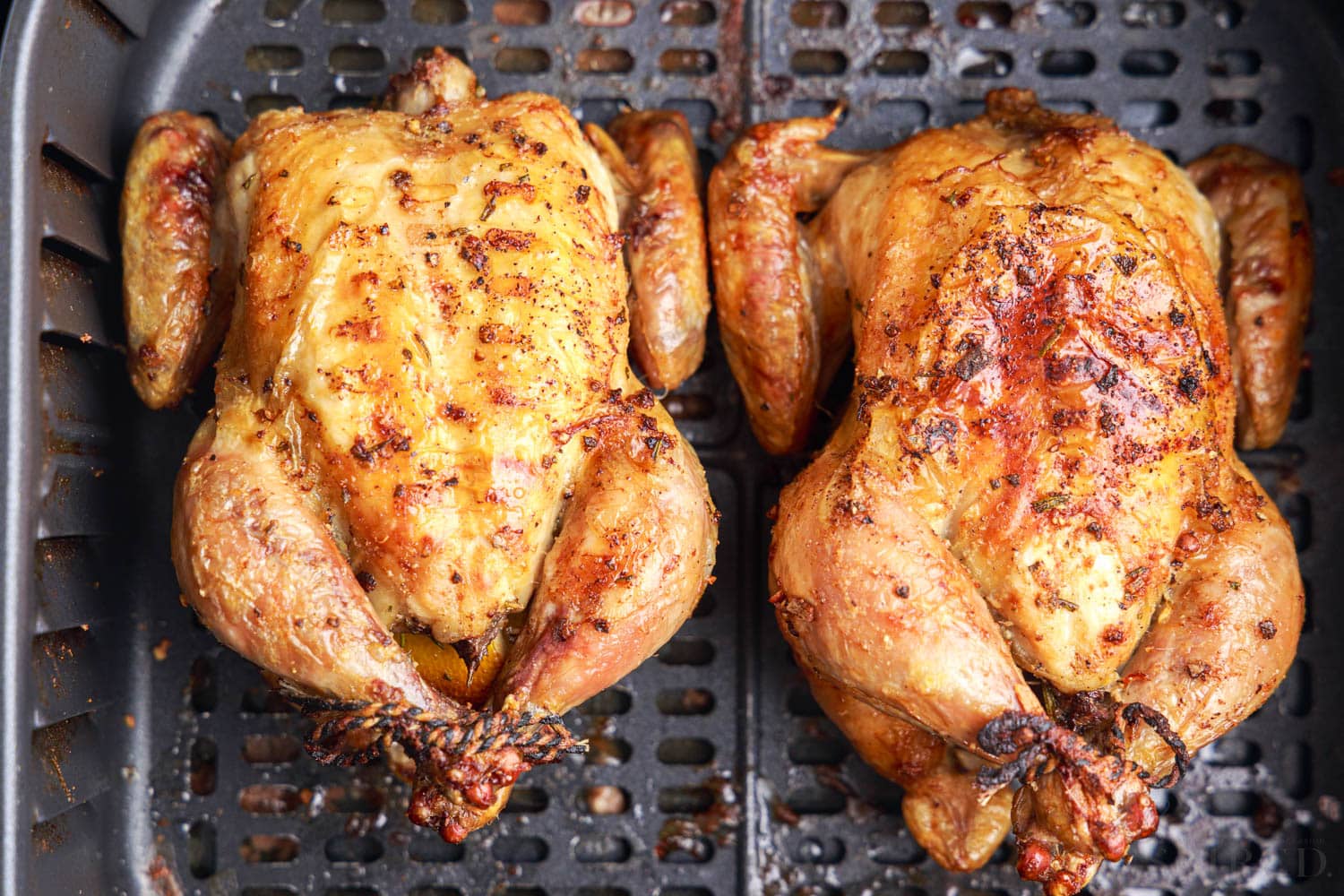 Why You'll Love The Air Fryer Cornish Hen Recipe
Because of their smaller size, these miniature chickens cook up quickly and evenly in the air fryer.
Ready in less than one hour.
Tender, juicy, and crispy hens pair with your favorite side dishes for a delicious meal.
Great for presentation or small families.
Can reuse leftovers a ton of different ways.
What Ingredients do I Need for Air Fried Cornish Hens?
cornish hens
olive oil
lemons
Fresh rosemary and/or thyme
Herb Blend (measurements in the recipe card below):
sea salt
black pepper
dried onion flakes
ground thyme
garlic powder
rosemary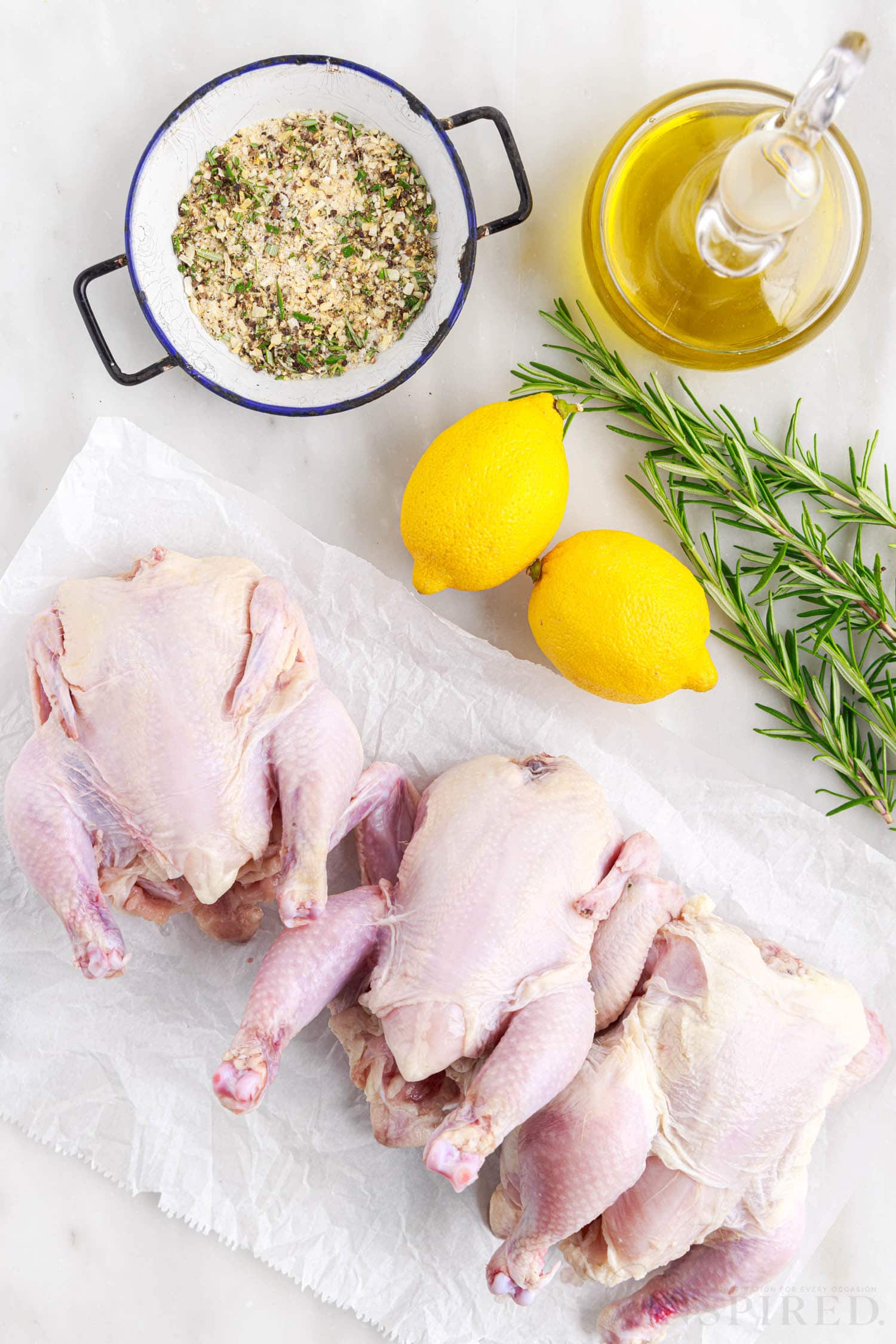 Pro Tip: This air fryer recipe is the best when the hens are juicy, so don't overcook them!
How to Make Cornish Game Hens in the Air Fryer
PREP: Pat the Cornish hens dry after removing the packaging. Rub with olive oil, including the entire outside of the hens and in the cavity. Mix together the spices and herbs in a small bowl. Sprinkle on the dry rub so you cover the entire chicken inside and out. Quarter the lemons and place them in the cavities along with a fresh rosemary sprig (or any fresh herbs you like).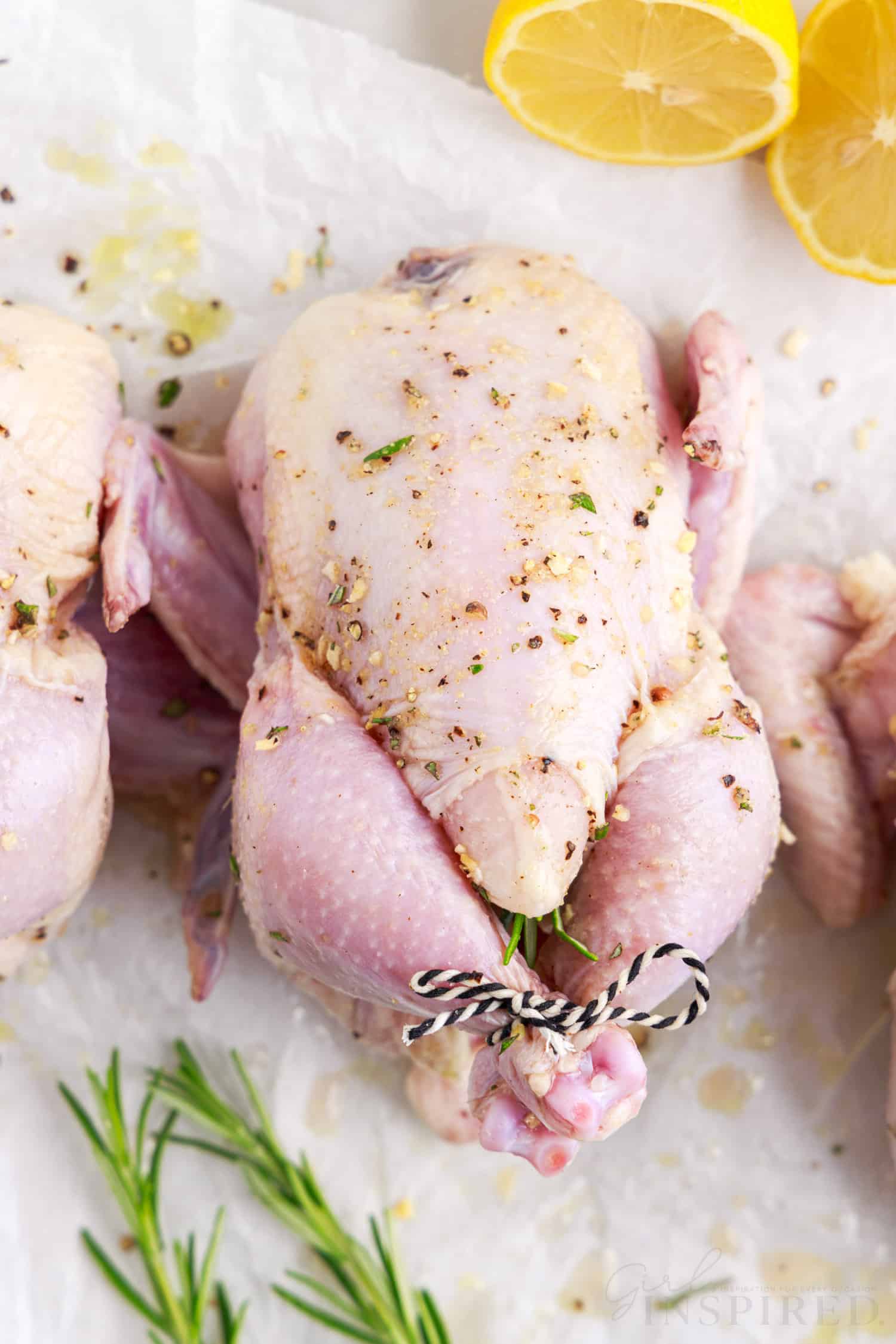 AIR FRY: Place each whole cornish hen in the basket, breast side down. Cook for 20 minutes at 380 degrees. Then turn breast side up and cook until the internal temperature reaches 165 degrees (use a meat thermometer to be sure).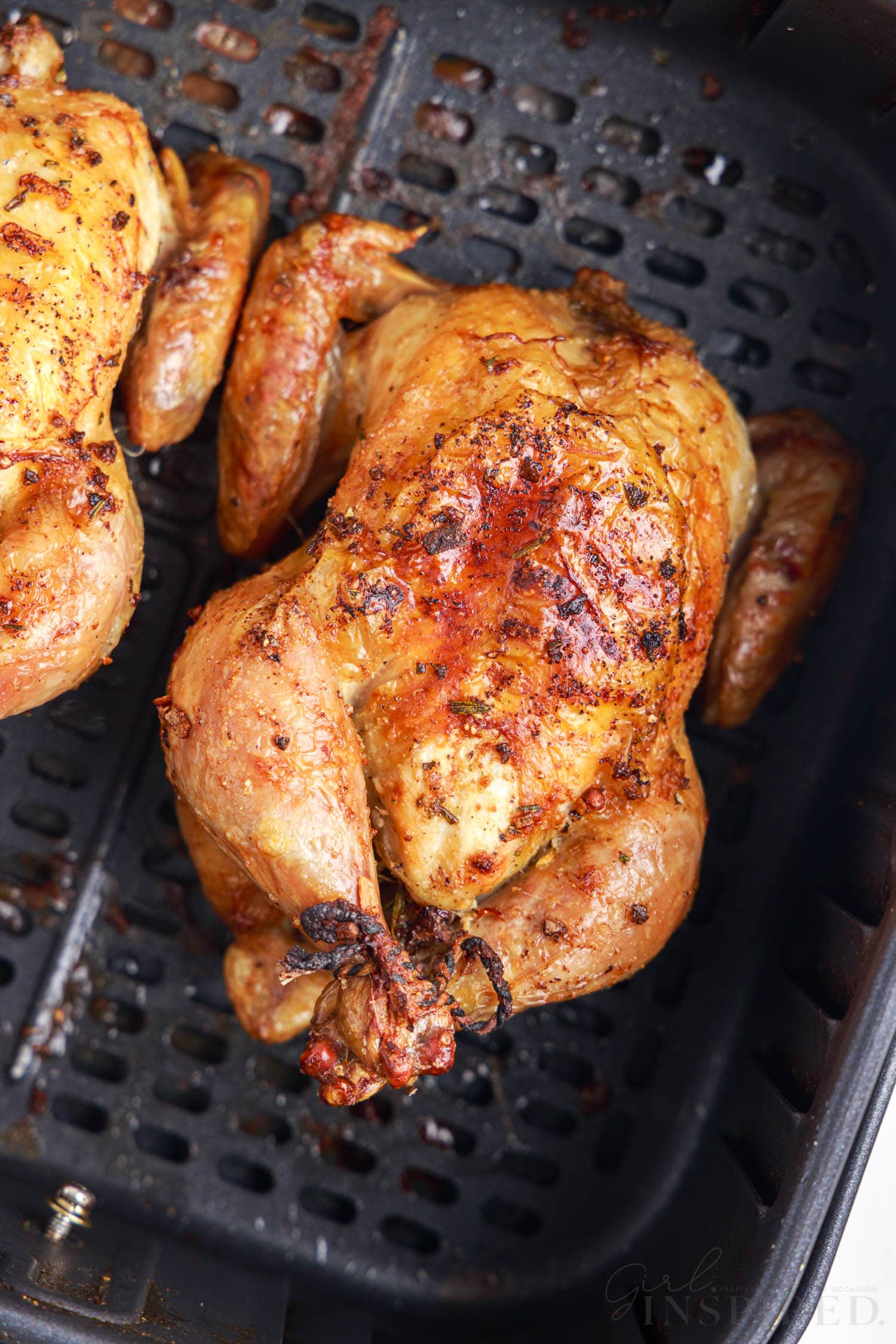 SERVE: Remove the lemon and rosemary sprig and serve. Each hen is a serving and is about 1 pound.
Spray your basket with cooking spray or a parchment paper liner to keep the hens from sticking and to make clean up easier.
If you don't have time to thaw them in the fridge overnight, submerge them in cold water.
Tie the legs together with twine to keep them from drying out.
We were able to fit two hens in our air fryer.
Cook time will vary based on the number of hens in the basket at one time.
You can substitute onion powder for onion flakes. Onion powder is more potent, so if you like that flavor you can swap it at a 1:1 ratio. If not, use ¼ teaspoon.
Patting the hens dry help with getting the skin crispy.
Go here for more of my favorite air fryer recipes.
Fun Fact
Cornish hens were developed in England in the 1800s. People love that they have a larger portion of white meat and that's its more tender.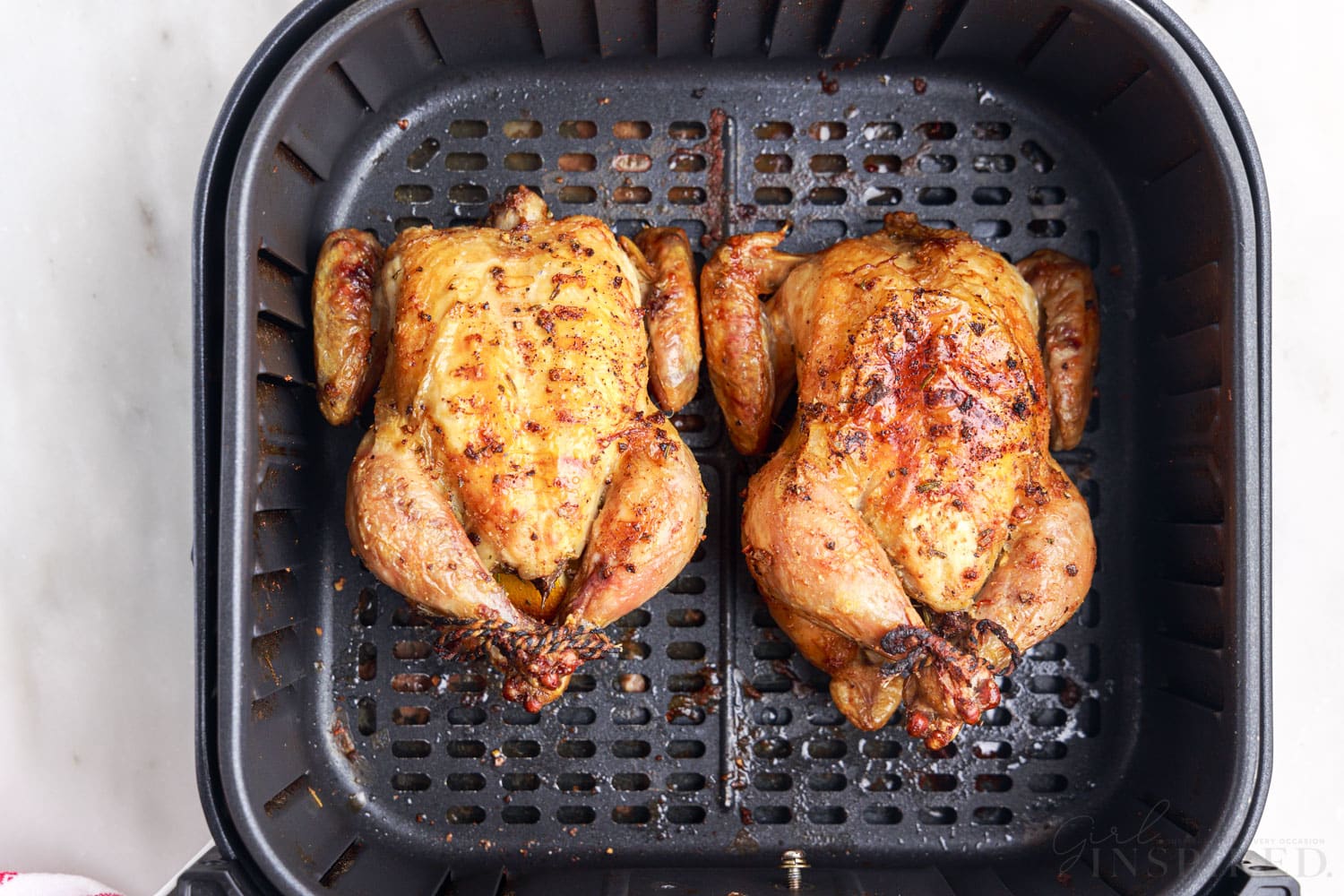 What's the difference between a Cornish hen and a chicken?
Cornish is a particular breed of chicken. The Cornish hens available in the supermarket are actually a cross between the Plymouth rock and Cornish breeds. Because of their small size, you can expect tender meat no matter what part of the hen you are eating.
Can you air fry frozen cornish hens?
You can cook frozen meat in the air fryer, be we don't recommend it. This air fryer chicken recipe works the best when the hens are thawed. They are easier to season and the skin turns out crispier. When you cook frozen chicken in the air fryer, the moisture is released, which is why it won't be as crispy.
How to store cornish hens after cooking?
Keep leftover Cornish hens in an airtight container in the fridge for 2 to 3 days or in the freezer for up to 1 month.
What does a Cornish hen taste like?
These small chickens taste just like their larger counterpart with which we are so familiar. Think of them as mini rotisserie chickens – a great option with this easy recipe.
More mouthwatering Chicken Recipes
Air Fryer Cornish Hens
These juicy, crispy cornish hens are ready in less than one hour, filled with flavor, and make an easy weeknight dinner.
Ingredients
2 – 1 lb. cornish hens
2-3 tablespoons olive oil
1 -2 lemons
Fresh rosemary and/or thyme
Herb Blend:
½ tablespoon sea salt
1 teaspoon black pepper
½ tablespoon dried onion flakes
¾ teaspoon ground thyme
1 teaspoon garlic powder
1 teaspoon finely chopped rosemary
Instructions
Remove cornish hens from packaging and pat completely dry.

Rub the cornish hens with olive oil all over the cornish hens and inside the cavity.

Cut the lemons into quarters. Place 1-2 pieces of the lemon and a fresh rosemary sprig in the cavity of each hen.

If desired, tie the ends of the two legs together with twine (this is optional but will help prevent the legs from drying out.)

Place, breast side down, in the air fryer. We were able to fit two hens in the basket of the air fryer.

Cook at 380° for 20 minutes, then turn the hens breast side up and continue cooking 10-15 minutes longer, until the internal temperature registers 165°F.
Notes
Storage: Store in an airtight container in the refrigerator for 2-3 days or freeze up to 1 month. Notes: Cornish hens are small and quick to prepare. Thaw in the refrigerator overnight. Cook time will vary depending on the number of hens in the air fryer basket. For the juiciest hen, do not overcook. Each hen will serve 1 person, calculate 1 pound of meat per person.
Nutrition
Calories: 757kcal | Carbohydrates: 4g | Protein: 59g | Fat: 55g | Saturated Fat: 14g | Polyunsaturated Fat: 10g | Monounsaturated Fat: 26g | Cholesterol: 344mg | Sodium: 1081mg | Potassium: 868mg | Fiber: 1g | Sugar: 1g | Vitamin A: 383IU | Vitamin C: 17mg | Calcium: 53mg | Iron: 3mg