This creamy chicken pasta is loaded with juicy sautéed chicken, sun-dried tomatoes, and wilted spinach in a rich, creamy sauce.
This weeknight pasta favorite is a hearty one pot meal that checks the box for both comfort food and gourmet flavor. This creamy chicken pasta is loaded with juicy sautéed chicken, sun-dried tomatoes, and wilted spinach in a rich, creamy sauce. Once you've browned your chicken and cooked your penne pasta, the whole dish comes together in a matter of minutes.
As mom/chef, I love serving this meal because my whole family enjoys it and I can fit all of the main food groups into one pan – protein, grain, and vegetables. You can serve this dish with any type of pasta – my preferred choice is penne or a shell that holds some of the nice creamy sauce.
The sun-dried tomatoes in this creamy chicken pasta recipe are paramount to the extra zing and flavor. If you don't want that tomato deliciousness, you can omit them, but you still might like to add some of the herbed oil from the jar! These sun-dried tomatoes packed in olive oil and herbs are my absolute favorite brand to use in pasta and bruschetta.
Making the Creamy Chicken Pasta
Let's get to the cooking! Bring a large pot of water to a boil. Add 1-2 teaspoons of salt to the water to flavor your pasta – this is important! Add 1 package of penne pasta to the boiling water and cook to desired doneness. Drain water and set pasta aside. Tip: I like to pour a tablespoon of olive oil into the boiling pasta water. This helps keep the boil down and it also coats the pasta when straining and keeps the pasta from sticking together as much while waiting for the rest of the dish to cook.
Sauté the Chicken
In your saucepan (you can definitely use the same pot that you cooked your pasta in), heat olive oil and butter over medium heat. Add diced chicken and sauté until brown. Toss in garlic and herbs and sauté for 2- 3 minutes longer, or until the garlic is slightly browned and fragrant, but NOT burned.
Make the Rich, Creamy Sauce
Stir in sun-dried tomatoes, butter, milk, and heavy cream to the pan and bring to a simmer over medium heat. The heavy cream and the cream cheese help to make a bit of a thicker sauce, but more importantly, they provide the creaminess and richness that this sauce needs to support the pasta and bold flavors of the sun-dried tomatoes.
Add Fresh Vegetables
Add fresh tomatoes if desired. I like toss whole cherry tomatoes or a mix of bite-size tomatoes into the dish. This gives a nice fresh pop of flavor and some beautiful color.
Gently mix in your fresh spinach and fresh basil (whole leaves or chopped are fine.) You know how spinach shrinks into a tiny smidge when it wilts, right? Go ahead and a couple cups (or more!) You want to squeeze all your veggies into this one pan meal, don't you?
At this point, your dish is almost done cooking! You really want to keep those tomatoes fresh and just heat them through. Simmer and stir for maybe 1-2 minutes longer and remove from heat as soon as the spinach wilts. All done!
If your pot is nice and large, go ahead and pour your pasta into the pot and mix it all around. Be sure to coat all of the pasta thoroughly with the sauce.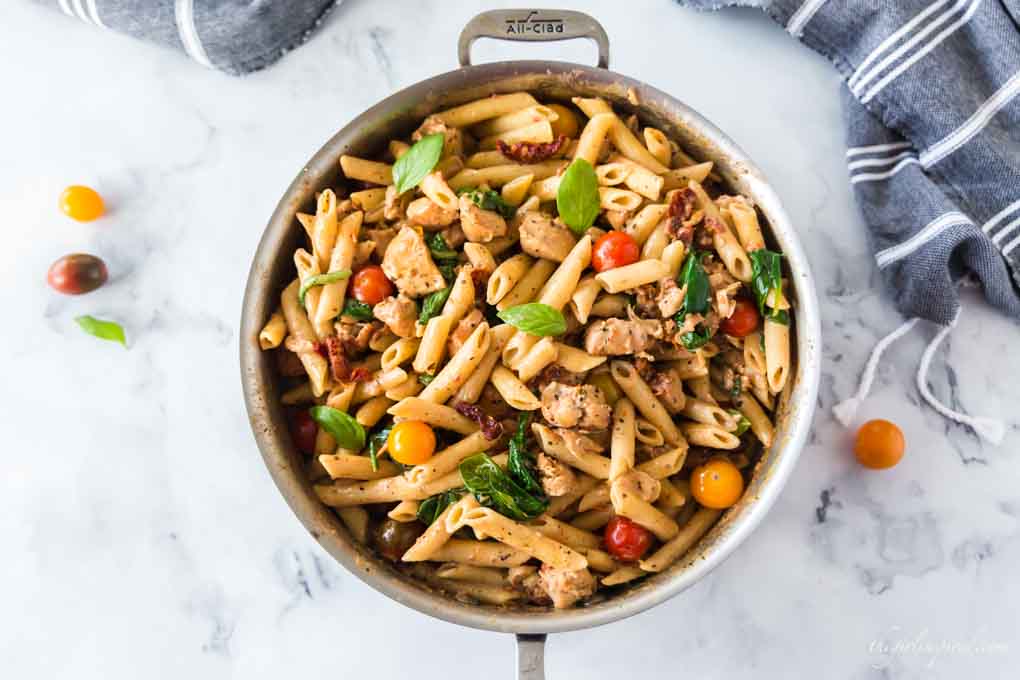 You can garnish this oh so creamy chicken pasta with fresh basil leaves and even a little parmesan cheese if you like, but the tomatoes and spinach give it such a nice boost of color, you don't even need garnish. Dig in!
Creamy Chicken Pasta Recipe
More Comfort Food Favorites
Creamy Chicken Pasta
This creamy chicken pasta is loaded with juicy sautéed chicken, sun-dried tomatoes, and wilted spinach in a rich, creamy sauce.
Ingredients
1 pound penne pasta
2 tablespoon olive oil
6 tbsp salted butter
1 pound chicken breast diced and patted dry
2 garlic cloves pressed
1 tbsp dried basil
2 teaspoon dried oregano
2 cups whole milk
¼ cup heavy whipping cream
2 ounces cream cheese
½ cup sun-dried tomatoes packed in olive oil and herbs
1 cup cherry tomatoes
2 cups fresh spinach
¼ cup fresh basil
Instructions
Cook and drain pasta according to package instructions (do add 1-2 teaspoons of salt to the boiling water though!)

In medium saucepan, heat olive oil and 2 tablespoons of butter over medium heat.

When butter is melted, add diced chicken breast and saute until browned, approximately 10 minutes.

Add garlic, dried basil, and dried oregano and saute 1-2 minutes longer.

Add sun-dried tomatoes, including a bit of the oil and herbs that they are packed in.

Add remaining butter, milk, heavy cream, and cream cheese. Simmer over low heat until thoroughly combined.

Add in fresh basil, fresh tomatoes, and fresh spinach. Simmer for 1-2 minutes until spinach wilts.

Add pasta into saucepan with other ingredients and stir to combine. Serve!
Nutrition
Calories: 495kcal | Carbohydrates: 51g | Protein: 24g | Fat: 22g | Saturated Fat: 11g | Cholesterol: 83mg | Sodium: 222mg | Potassium: 757mg | Fiber: 3g | Sugar: 8g | Vitamin A: 1480IU | Vitamin C: 10mg | Calcium: 128mg | Iron: 2mg
Other Delicious Dinner Recipes
Here are some other recipes for pasta and tomato lovers that you might enjoy!