I typically give up on my garden when the weather heats up and I don't want to hike out there and water every day. This year, my tomatoes are doing remarkably well, and while I've given up on the rest, I am trying to keep up with the watering and picking of the tomatoes. I've also become addicted to canning and preserving this year.
With my overabundance of juicy red fruit, I'm doing some experimenting in the preservation department. I've jarred up diced tomatoes using two different methods – blanching before removing the skins and broiling before removing the skins. I haven't opened any jars yet to assess the results in a cooked meal, but found the broiling method to be much quicker and easier. Basically, you spread a layer of whole, washed tomatoes in a large roasting pan and pop them under the broiler for a few minutes. Once the skins are charred, let them cool down and peel off the skins. Then, dice or "smoosh" the tomatoes into a pot, simmer them for a bit, and ladle into sterilized jars. Process the jars in boiling water for 15 minutes or so and they're ready for the shelf (check to make sure they sealed, of course)!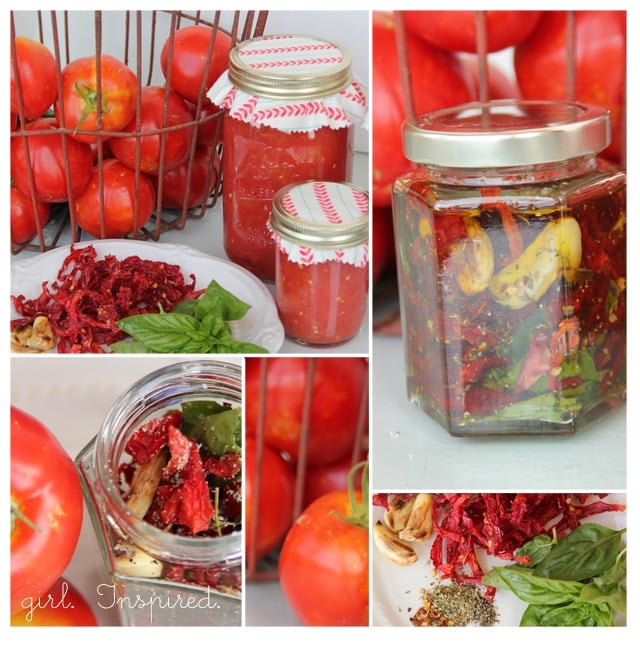 I also sliced a pile of tomatoes, seasoned them with salt, pepper, and red pepper flakes, and spread them out on cookie sheets to try making sun-dried tomatoes. Place cheesecloth over the tomatoes and set them in the sun for a day or two (bring them in at night) until they're dried, but chewy. With our hot, dry weather, my tomatoes dried in less than two days, but I've read it can take several days and up to a couple weeks. Today, I packed my dried tomatoes in a jar with fresh basil, roasted garlic, salt, pepper, red pepper flakes, oregano, and extra-virgin olive oil. I didn't bother sealing the jar and my understanding is that you should store these in the refrigerator regardless. So tasty! My favorite way to eat oil-packed sundried tomatoes is this:
cooked pasta
fresh basil
chopped, fresh tomatoes
oil-packed sundried tomatoes
milk or cream
butter
Toss together, heat a bit if needed. Sprinkle with fresh Parmesan cheese. You can add some chicken, too, if you like. Yummy!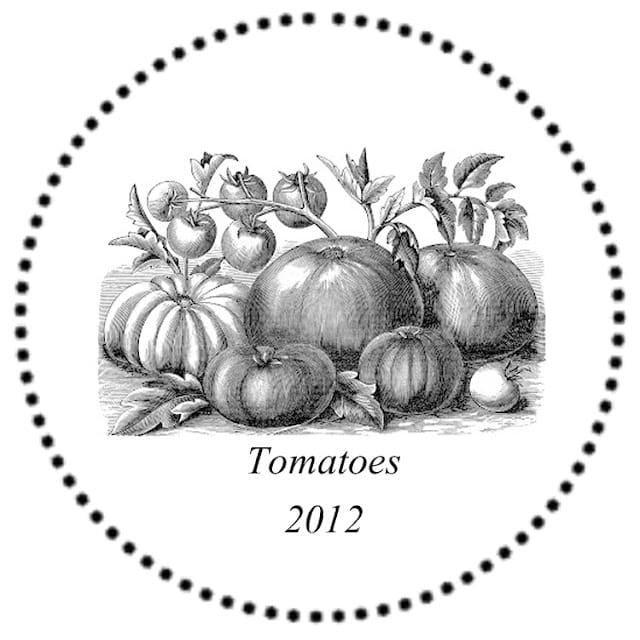 And here's my little jar label. I'm trying to get all my jars together so that I only have to print the labels once. I print them on white sticker paper, then cut around the circles and pop them on the jars. Cute, right??