I have a favorite antique shop. I'm telling you, this guy is awesome. It could be because I'm a stay at home mom that doesn't get out much to socialize with adults, but I really think Paul, the shop owner, has a special fondness for me. He always has something that I like and always gives me a price that I can't resist. One time, last year, I stopped in with wild abandon to snatch up an iron bed for my mom. When Paul said he thought of me when he found it, I knew I was part of the inner circle. Made my whole week. Really, though, the guy probably thinks I'm nuts. He must wonder what I do with all my treasures that I drag home. He rarely asks. Last week, he had two typewriters stashed in the shop. I asked how much he wanted for them, but I had to leave them behind. See, I have a rule that I have to come up with a legitimate use for an item before I drag it home. Mostly, I need a good story for my husband. A "this is why I'm stashing another old, dusty thing in the garage" sort of story. So I came up with a "good use" and went to get one of the typewriters. I was so excited, this treasure went straight to the top of the project list. I cleaned the cobwebs out of it with a toothbrush and taped it up good. A few coats of pink spray paint and I have a great little photo prop.
before
after
It's funny because Paul actually asked what I was going to do with the typewriter. I mumbled something about painting it pink. I don't think that was the right answer; he seemed to cringe a little. Oh well. I think she came out preeeeettty. That's a good use, right? To look pretty?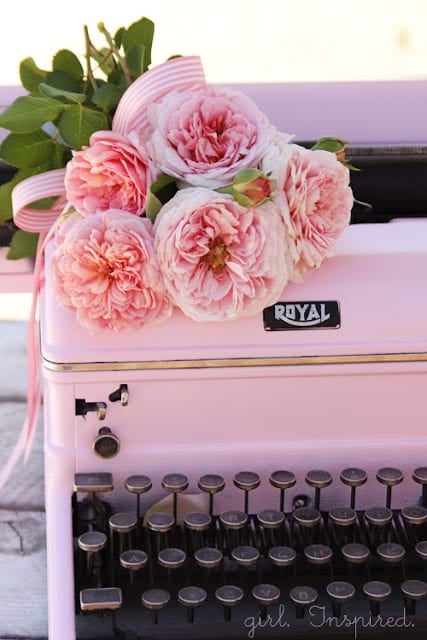 What do you think? Do you like the pink typewriter?? Do you have a favorite antique shop? Why is it your favorite? Does anyone else ever pretend they're part of an inner circle?
Roses are 'Abraham Darby' by David Austin