On a foggy day in January of 2011, I started cutting scallop pieces from my favorite fabrics. Months prior to that I had pulled stacks of fabric from my stash in bright shades of pink, green, aqua, yellow, and white. I struggled with a quilt design and finally came across Sandi Henderson's "Picnic Quilt" in her book, Sewing Bits and Pieces. Perfect! I do love me some scallops! The work was tedious, primarily since I had to cut enough pieces to do three quilts. Remember when I was cutting 240 scallops?
My motivation fizzled once I started pressing the curved edge under on each and every piece. I put the project away. Then, a few months ago, we moved the girls all into one bedroom, our "bonus" space over the garage. We lined up their beds all along one wall and I vowed that I would finish their quilts before decorating their room. That was the push I needed to finally finish these things. They turned out bright and fun and gorgeous. The girls each got to choose their favorite fabrics for the borders and backing and each quilt turned out unique.
I used a variety of fabrics from Sandi Henderson, Heather Bailey, and Amy Butler. I also cut up a couple crib sheets that hadn't been used very much to add to the bunch. And there are a few fabrics for which I'm unaware of the designer/manufacturer. The quilts took A LOT of fabric and were more labor intensive than I would have liked. I'm glad I didn't know that going in though, because I'm so happy to have them all so pretty now that they're done. I don't think it would be so terrible to do one quilt this way, but three all at once was just too much for me to stay excited about.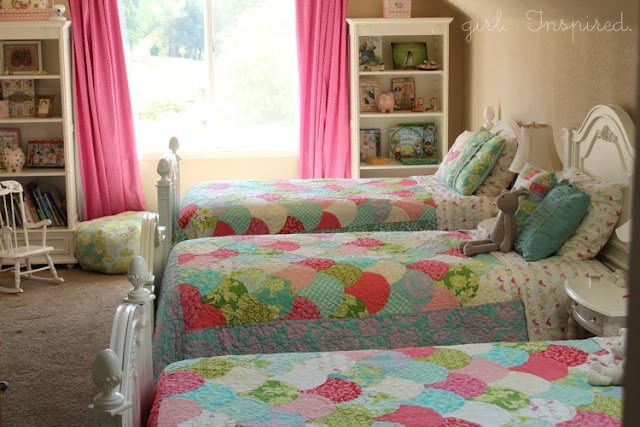 I looked into having the quilts professionally quilted as I had completely lost steam by that point, but the cost was too much to justify. I ended up doing a free-motion swirly loopy stitch all over the three quilts. They washed up super snuggly and the quilting actually only took a few hours for each quilt once I got going. I'm glad I went this route – besides, don't you think imperfect quilting says "mommy loves you" more than a stranger's picture perfect stitches?? haha!
The girls are extremely excited to have their new, special quilts. And I am extremely excited to move on to new sewing projects!! And decorating their room!!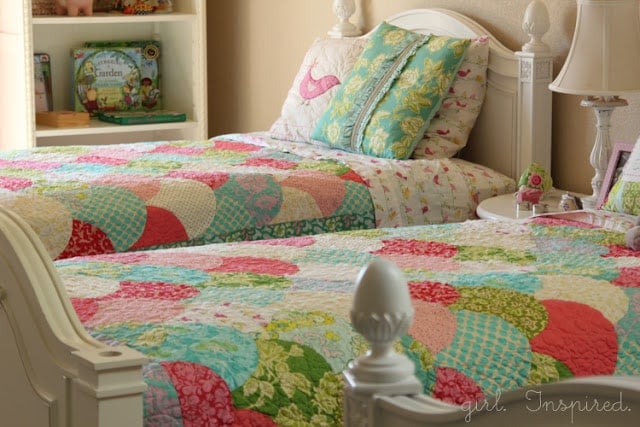 What are you up to this week? Sewing plans? Back to school plans? (We start Wednesday!!) Baking plans? Do tell…