The soft, buttery dough filled with homemade apricot jam and topped with sliced almonds and an almond drizzle - absolute perfection.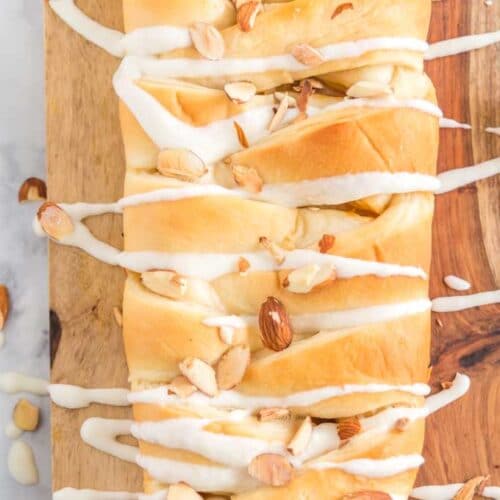 Brace yourselves. I've achieved a new level with the daily baking game. You guys, this braided sweet bread with apricot filling is the most delicious breakfast bread to ever pass the lips.
The soft, buttery dough filled with homemade apricot jam and topped with sliced almonds and an almond-flavored drizzle – absolute perfection. The gorgeous braided bread presentation is just the icing on the..well, on the sweet bread, wouldn't you say?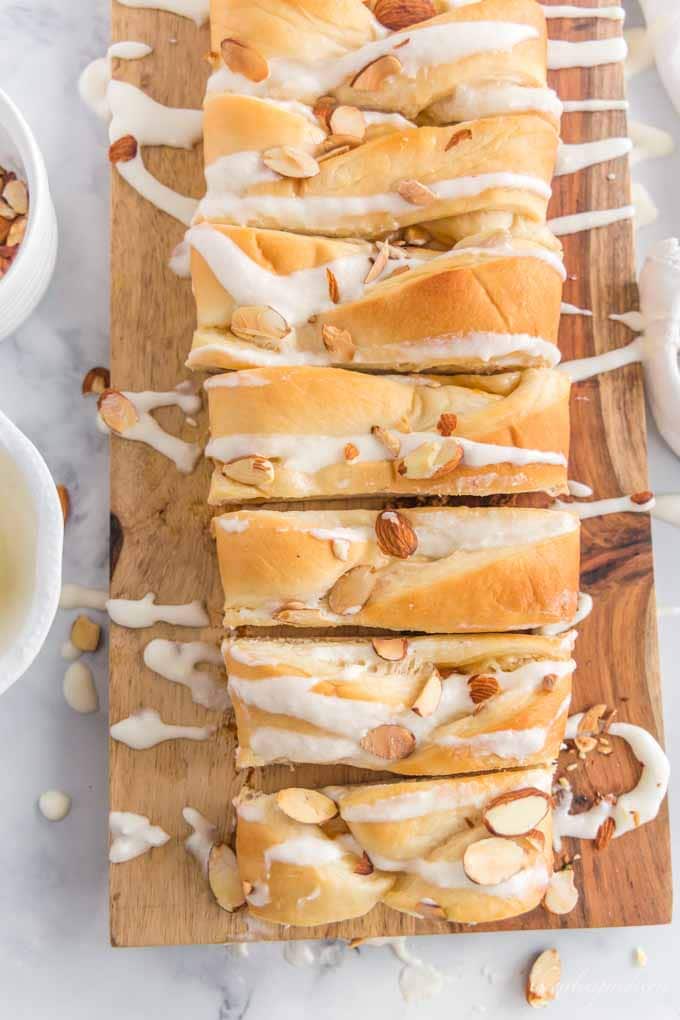 Making the Dough
We're going to make this breakfast bread by starting with our homemade roll dough. Although we use the dough to make the absolute best sweet dinner rolls in the history of the universe, the recipe also makes an excellent base for sweet bread, lemon rolls, and other yummy treats.
If you love apricots, you should also try this recipe with our apricot pineapple jam, or make apricot delight or a fresh apricot pie.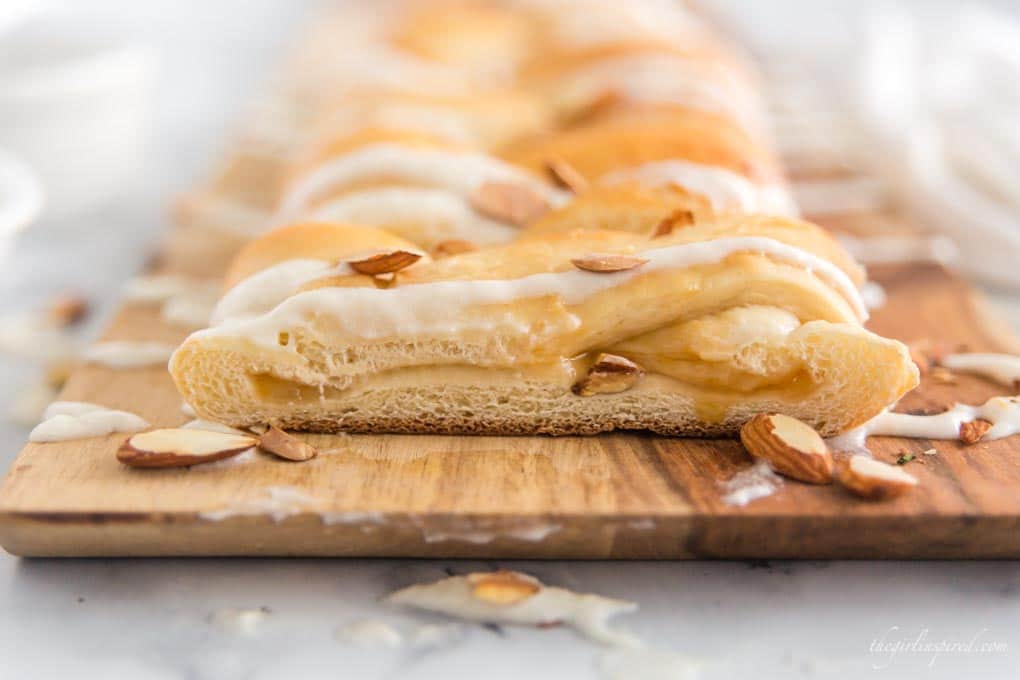 Filling the Dough
We'll make the dough in the bread maker (and hand-mixing instructions are also available). Once the first rise has finished, divide the dough in half – we can make two braids from one recipe (or you can make one braided sweet bread and one pan of lemon rolls).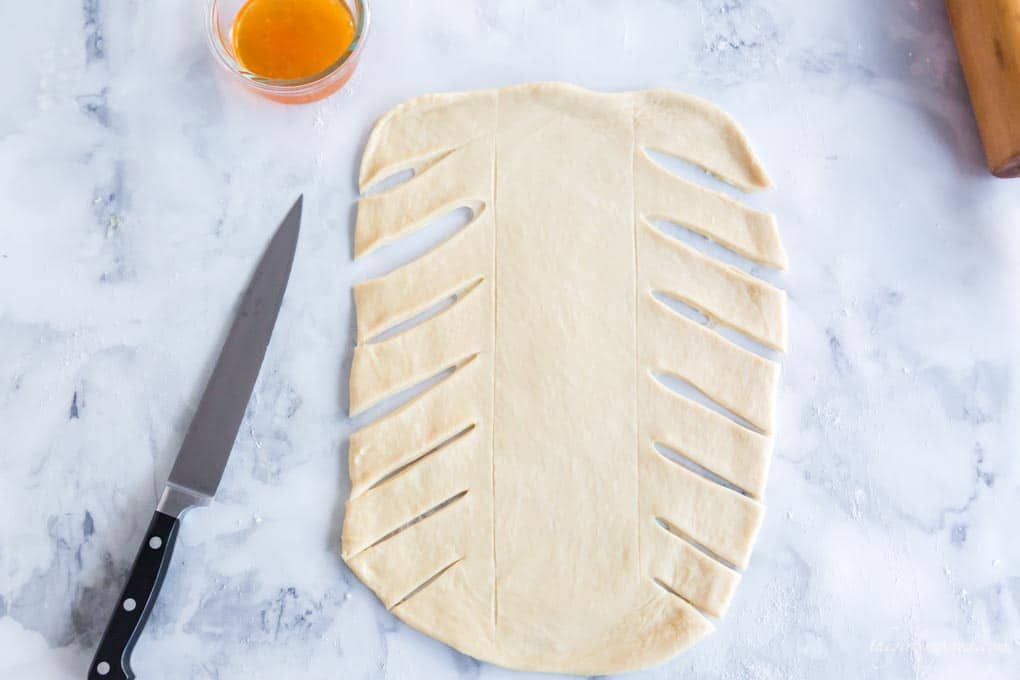 Go ahead and roll your first section of dough out into a rectangle approximately ¼″ thick. Use a knife to lightly score the rectangle into thirds, as seen in the photo above. Then make diagonal slices about 1″ wide each down each outer third of the rectangle.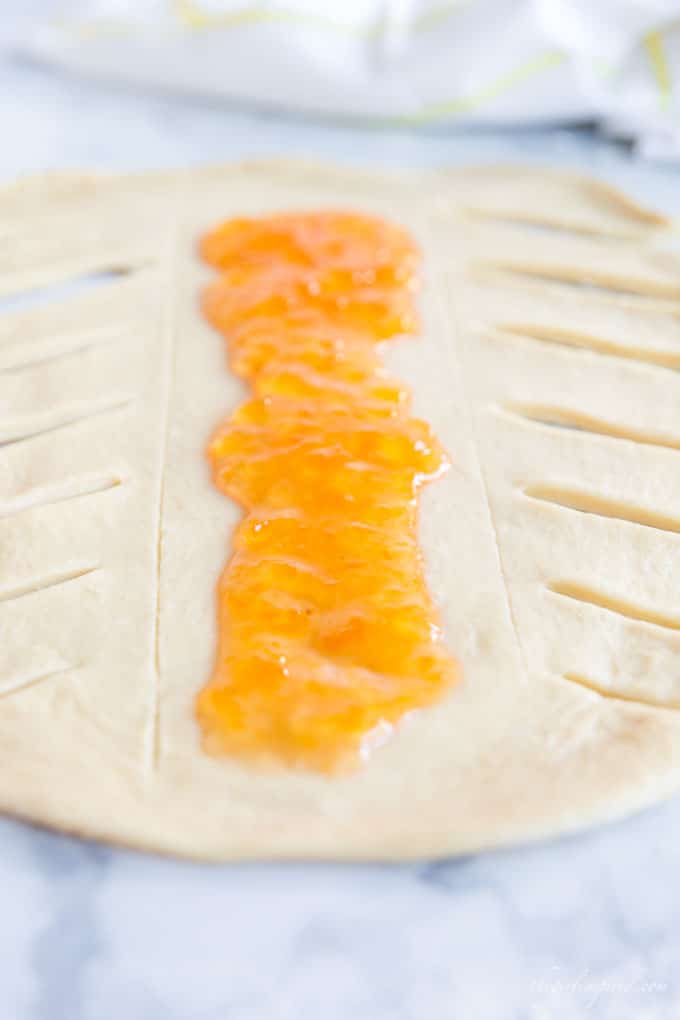 Now it's time for the filling! You can add any flavor of filling, but using my homemade apricot-pineapple jam was the ultimate deliciousness. Use homemade jam or preserves or use store-bought jam – either way, it's going to be yummy! Spread the jam down the center third of the dough rectangle and spread it all the way out to the scored lines.
Forming the Braid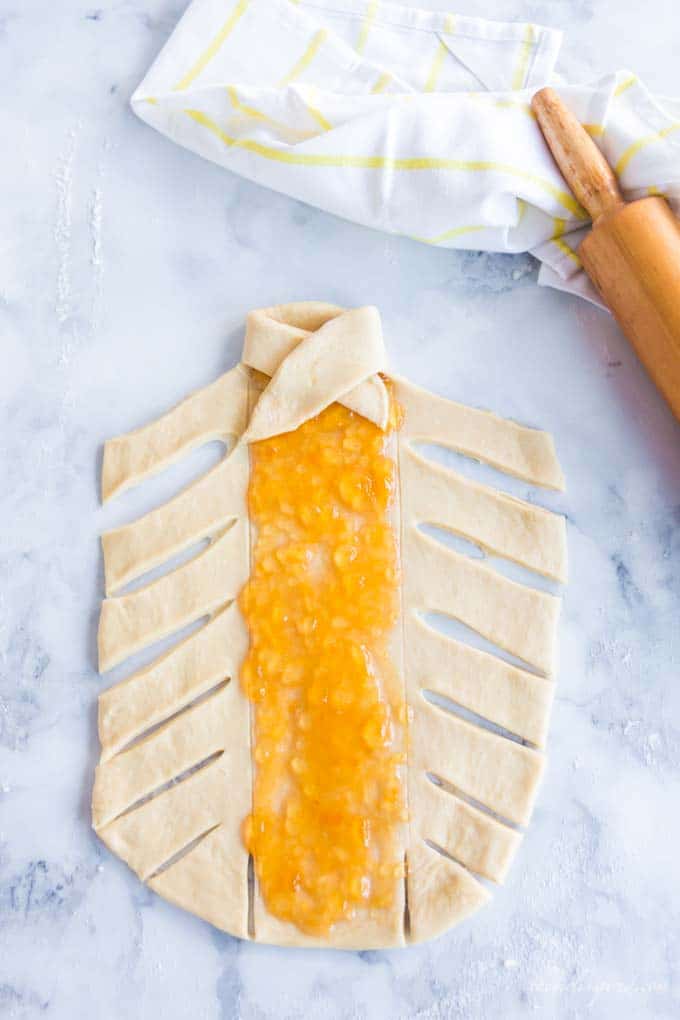 Time to form your braid! start at the top and simply fold the side pieces in one at a time, working back and forth between the two sides.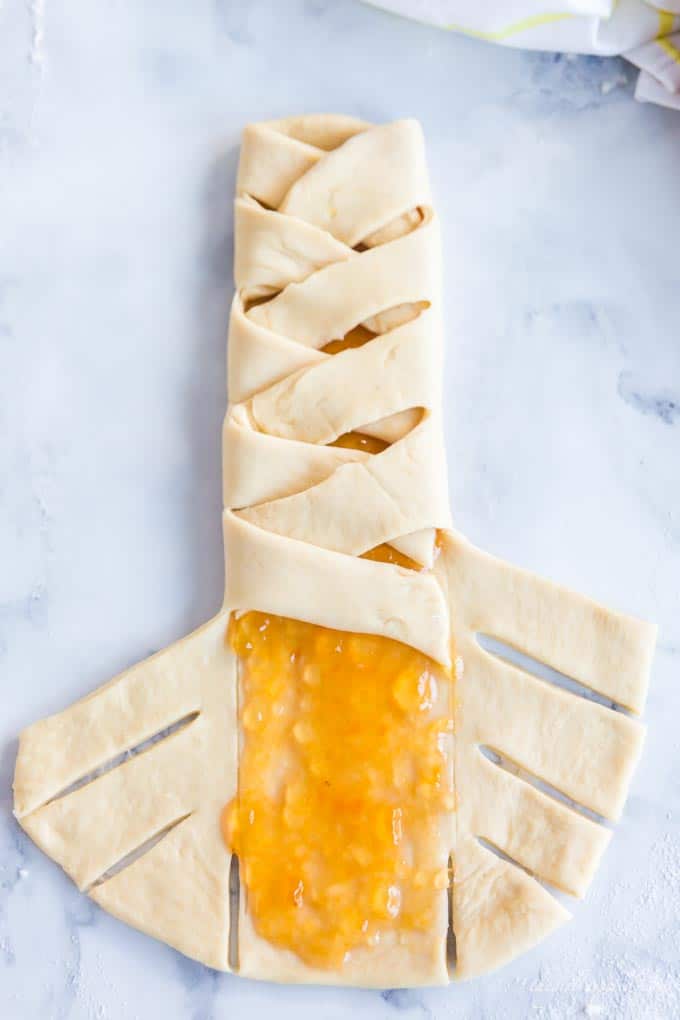 Keep on "braiding" down the length of the bread. Isn't it looking SO beautiful already?? Try to braid each side so that the pieces are lying almost horizontally – this will keep the braid compact and uniform.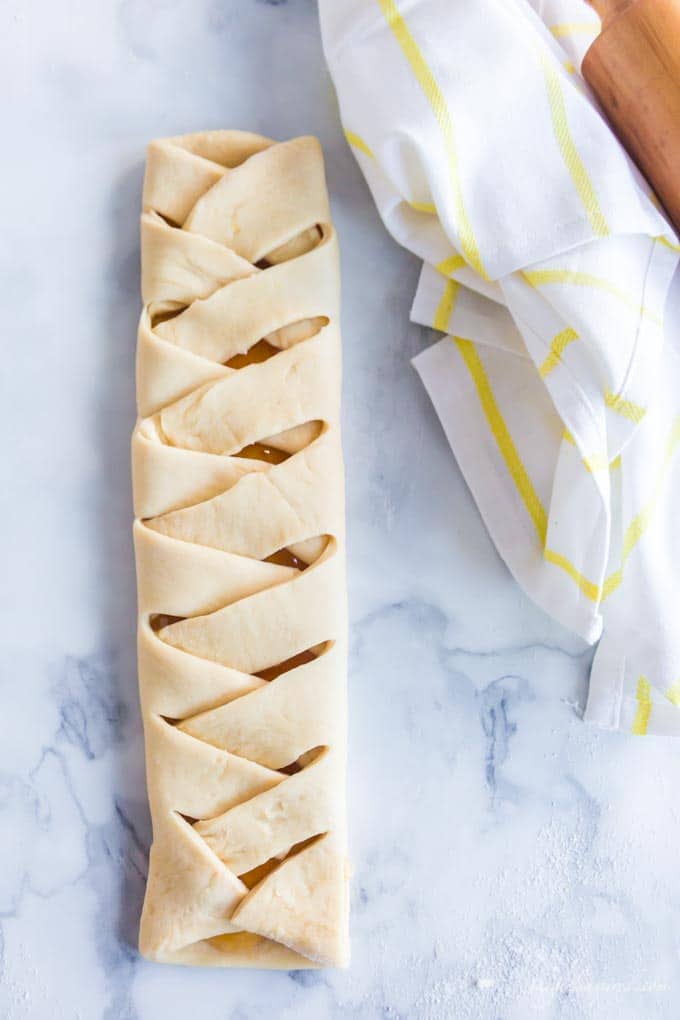 Rise and Bake the Braid
Here we are – a nice neat braided bread. Now it needs to rise a second time. Place the braid on a baking sheet and cover it with a dish towel. Set in a draft-free location or in an unheated oven with the light on. Allow the sweet bread to rise for 45 min-1 hour. It should nearly double in size and look nice and puffy.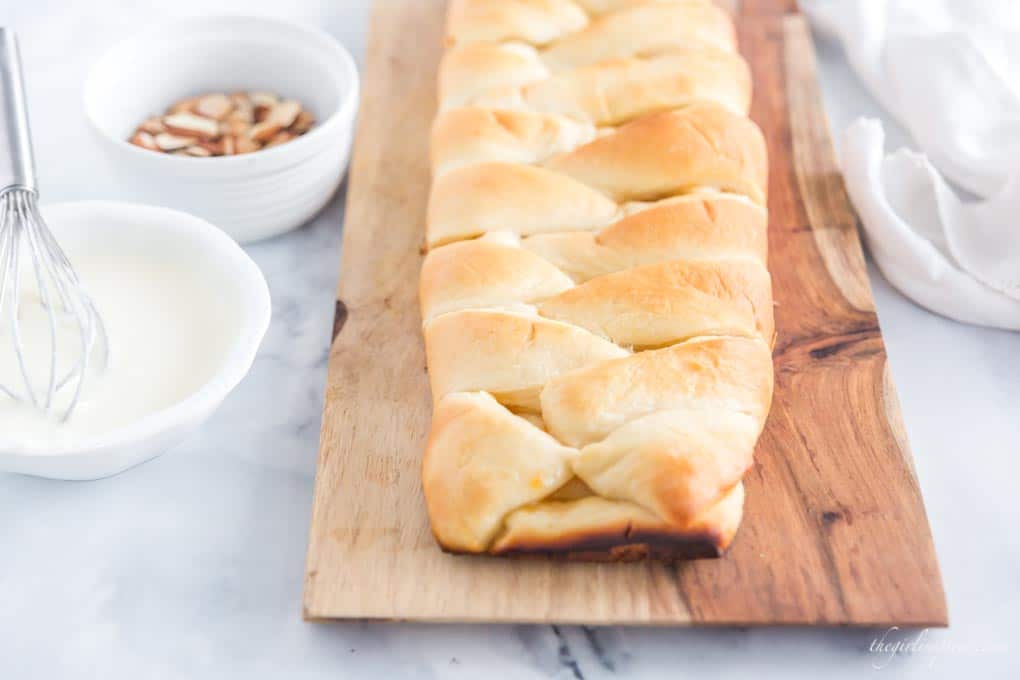 Bake the bread at 375 degrees for about 10 minutes or until the bread is golden brown.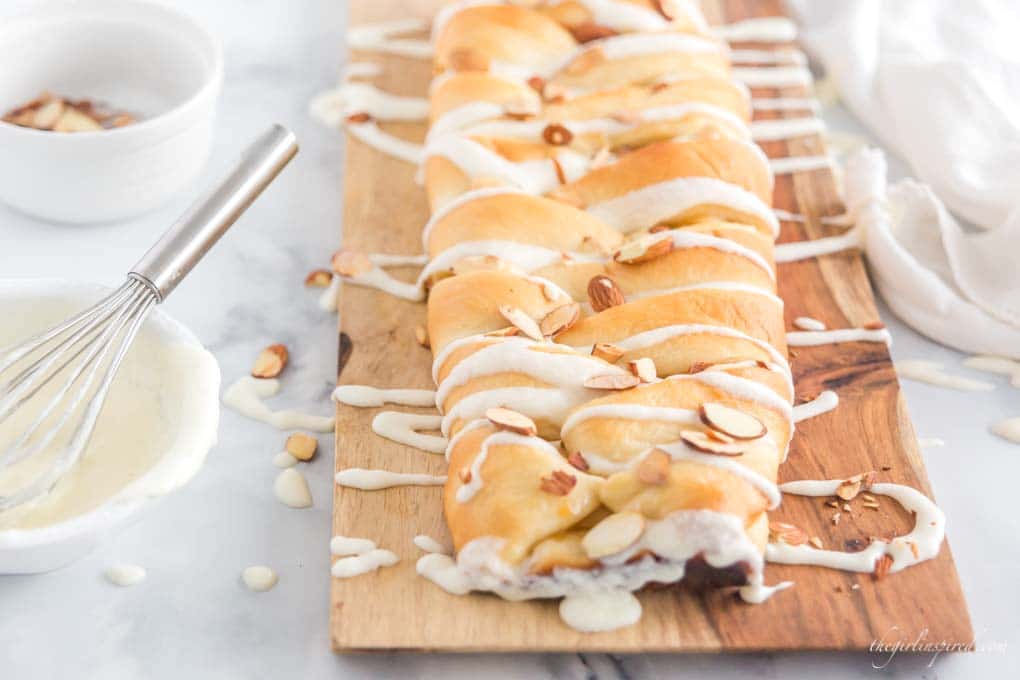 Top the Sweet Bread with Icing and Almonds
Whisk together icing ingredients. The drop of almond extract in the icing takes it to the next level. Drizzle the icing back and forth over the sweet bread.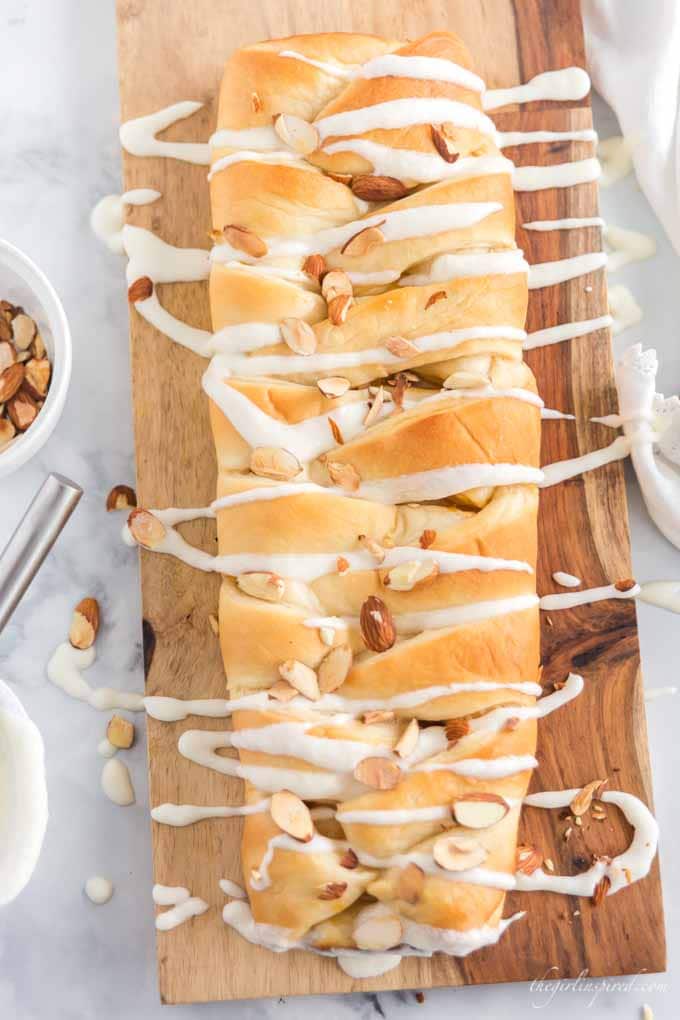 Now, take a long gaze at that beautiful braided breakfast treat. You made that!!! And now you get to eat it!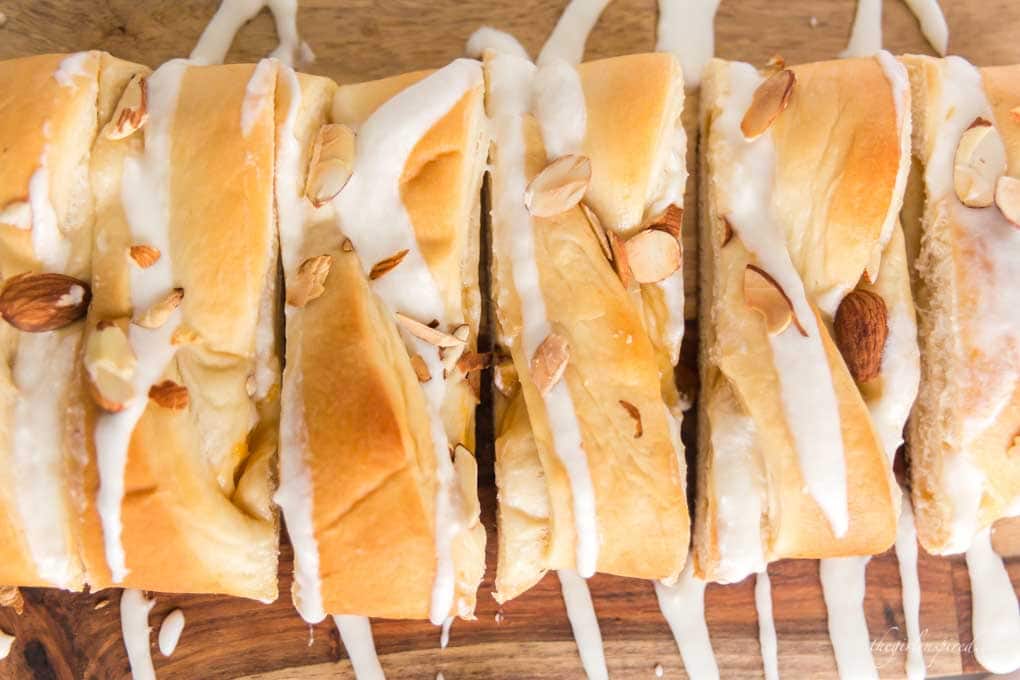 Slice and serve. Try to share. Remember that you have another braided sweet bread with apricot filling to devour!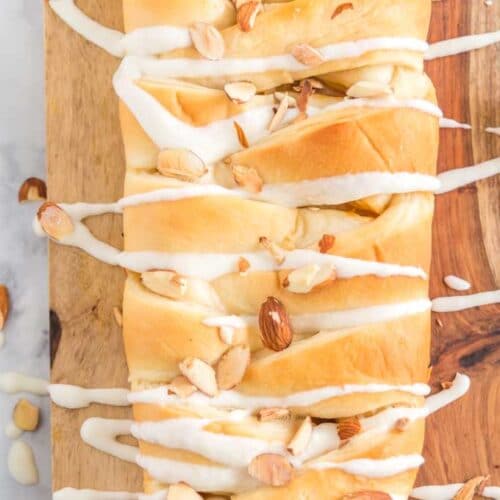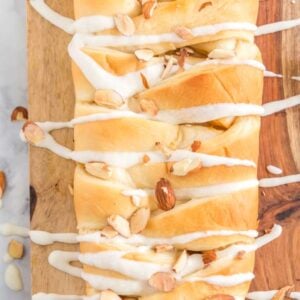 Braided Sweet Bread with Apricot Filling
The soft, buttery dough filled with homemade apricot jam and topped with sliced almonds and an almond drizzle – absolute perfection.
Ingredients
Sweet Dough Ingredients
1 cup whole milk
1 tablespoon lemon juice
1 egg
4 tbsp butter, softened
3 ¼ cup all-purpose flour
⅓ cup granulated sugar
1 teaspoon salt
¼ teaspoon baking soda
1 tablespoon Rapid Rise active dry yeast
Filling and Toppings
1-2 cups apricot jam or preserves
½ cup sliced almonds
Almond Cream Cheese Icing
½ cup butter softened
2-3 tablespoon pineapple juice can substitute water
¼ teaspoon almond extract
1 cup powdered sugar
Instructions
Making the Dough in Bread Machine
Stir lemon juice into milk and let sit for 5-10 minutes to make sour milk.

Place sour milk, egg, and softened butter into bread machine pan.

Add flour, sugar, salt, and baking soda into pan, completely covering wet ingredients.

Add yeast to the top of the ingredients.

Place in bread machine and set to form dough. Run the full dough cycle. When the dough cycle is complete, move on to forming the braids.
Forming the Braid
Divide dough into two sections. Recipe will make two braided sweet breads.

Use a rolling pin to roll each dough section into a large rectangle approximately ¼" thick.

Score the rectangle twice vertically to delineate three sections. Slice diagonal 1" strips down the outer 2 thirds.

Spread ½-1 cup of apricot jam to cover the center third of the dough.

Starting at the top, and working left to right and top to bottom, criss cross the side strips over the center and filling to form the braided bread.

Transfer braided bread to a baking sheet and cover with dish cloth. Repeat for second section of dough. Place the two baking sheets in a draft free location and allow dough to rise (approximately 45 minutes – 1 hour.)

When dough is puffy nearly doubled in thickness, bake at 375 degrees for 10 minutes or until bread is golden brown. Allow to cool for 10-15 minutes before icing.

Whisk together butter, almond extract, and powdered sugar. Gradually incorporate pineapple juice unitl you've ahieved a good pourable consistency. Whisk until completely smooth and drizzle over the top of the bread. Sprinkle with sliced almonds. Slice each bread loaf into 10 pieces and serve immediately.

Wrap in plastic wrap and store in a cool location – if you have any leftovers, that is.
Nutrition
Calories: 227kcal | Carbohydrates: 34g | Protein: 4g | Fat: 9g | Saturated Fat: 5g | Cholesterol: 28mg | Sodium: 206mg | Potassium: 73mg | Fiber: 1g | Sugar: 15g | Vitamin A: 268IU | Vitamin C: 1mg | Calcium: 30mg | Iron: 1mg