Apricot Pineapple Jam is made in the crockpot with fresh apricots and chopped pineapple. Enjoy this delicious jam mixture as a spread, filling, or topping!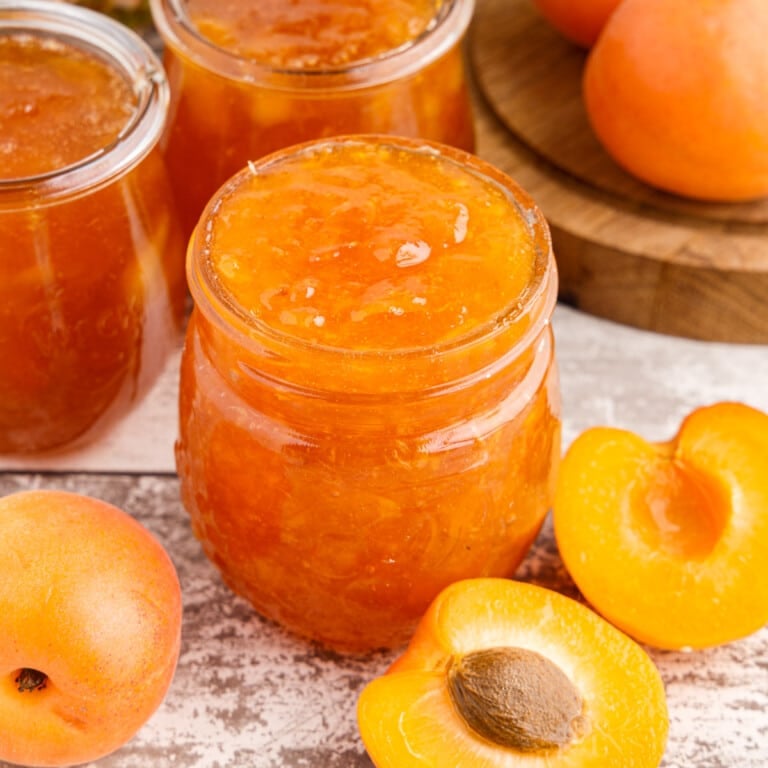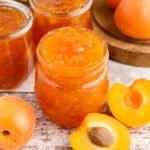 This Apricot Pineapple Jam is thick and sweet with a pineapple tropical twist. Making this homemade jam is as easy as adding fresh apricots and fresh pineapple, and a few other simple ingredients, into the crockpot while you continue with the rest of your day! Enjoy this delicious jam mixture as a spread, filling, or topping.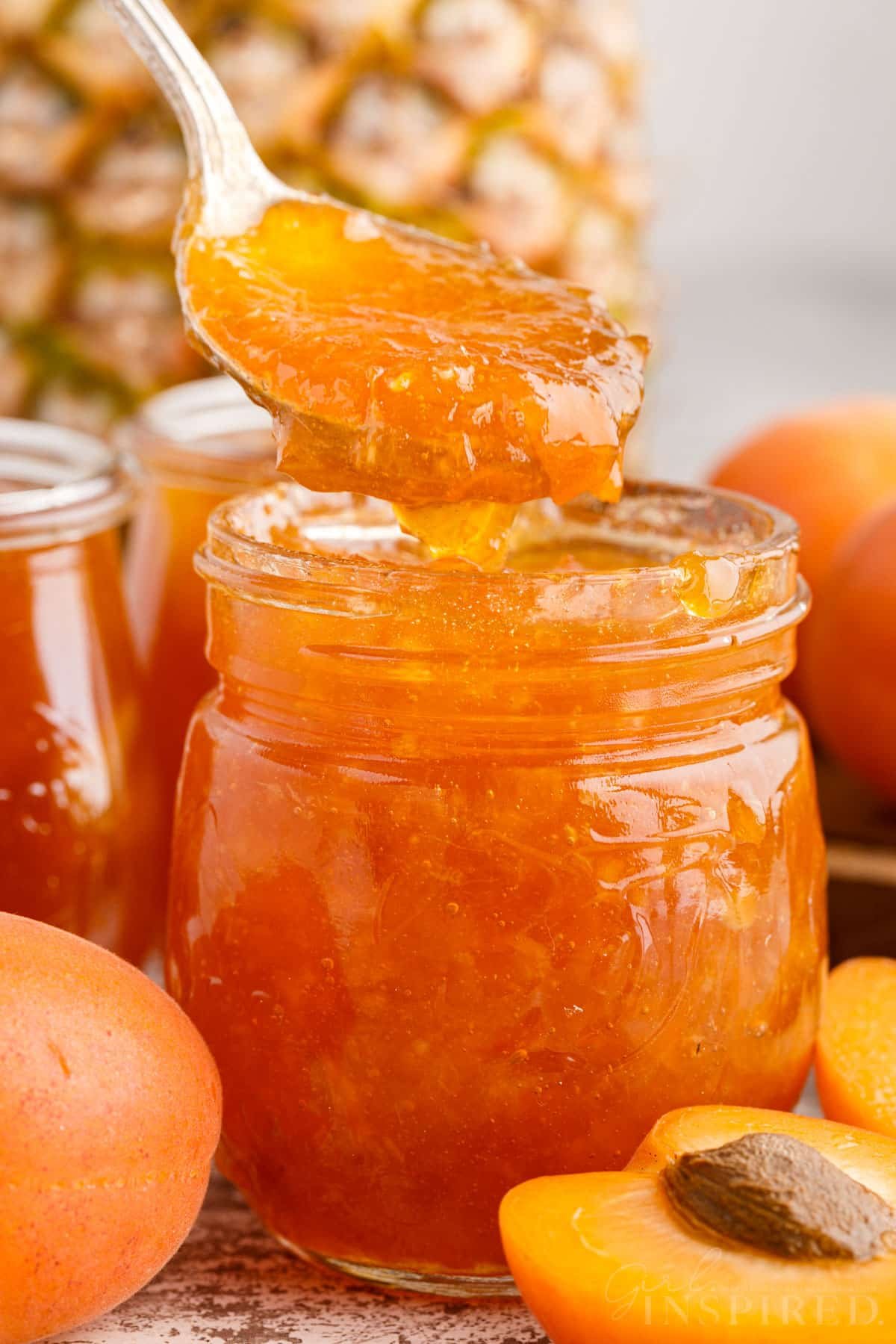 One of the reasons I love this pineapple apricot jam recipe so much is its immense versatility. It's sweet enough without being sickly sweet and is a delicious and refreshing jam to serve with a cheese board, sweet buttermilk scones, orange muffins, croissants, jelly sandwiches, pastries, toast, sweet bread, and more! The balance of apricot and pineapple is also superb when using it as a glaze for pork and chicken, like I've done in this Orange and Brown Sugar Glazed Ham recipe. And one of my favorite treats to make is using apricot pineapple preserves in this braided sweet bread with apricot filling.
Whether you've bought a whole bunch of apricots on sale or are lucky enough to have harvested them yourself, be sure to use any excess fruit by making a few jars of this apricot-pineapple jam that can be enjoyed by the family as well as gifted to friends. If you love fruity condiments, try Strawberry Curd, Lemon Curd, or any of these 20 Jam Recipes to up your jam plan! We also love to stuff our summer menu with apricot delight and apricot pie – yum!
Jump to:
🍍 Ingredients:
Apricots – Crushed apricots – we love using fresh apricots. Choose fruit that has no green visible and that smells of apricot when you hold it close to your nose. If there is no scent at all, the apricots will not have any flavor either. Use ripe apricots.
Pineapple – Finely chopped fresh pineapple. Canned pineapple can also be used with the fruit juice drained.
Granulated sugar
Pectin – This helps to thicken the jam and it is essential. Boxes of pectin are sold in the grocery store – choose regular pectin for this recipe. If you are modifying the amount of sugar in the recipe, choose a reduced sugar pectin.
Fresh lemon juice – optional, but the citric acid helps preserve the vibrant color in this pineapple apricot jam recipe
Almond extract – this is optional as well, but I dare say it has become my secret ingredient for the BEST apricot pineapple jam you've ever tasted. You only need a little as almond extract has a strong flavor.
For a full list of ingredients and their measurements, 📋 please view my printable recipe card at the bottom of the post.
Equipment Needed:
Clean jars – Sterilized in a hot water bath or by running them through the sterilization cycle on the dishwasher. It is imperative that no bacteria gets sealed inside your jars of jam.
Boiling-water canner (I use a large stockpot – one that is deep enough the water level can be above the top of the jam jars.)
Flat lids – Use metal lids that come with the jars and can seal well.
Jar lifter – To remove the hot jars from the pot of hot water.
Clean towels – To dry off excess water from the cleaned jars.
Stock pot – I've used my Crockpot to make this jam, but you can make it in the stockpot, or use the stockpot for sterilizing mason jars and/or processing the jam.
Substitutions and Variations
You can substitute regular sugar with your choice of sweetener if you need to for health or diet purposes. As sugar is a natural preservative, sweetener on its own will not give the jam as long a shelf life, or set as well. Add in low-sugar pectin to aid setting and follow the instructions on the label of the pectin box.
Canned pineapple can be used instead of fresh pineapple in a pinch.
Use low-sugar pectin to reduce the amount of sugar in this homemade jam.
Omit the pineapple and use an equivalent amount of apricots for fresh apricot jam.
🔪 Instructions:
PREP: Wash jars in hot soapy water and add to a full rolling boil in a large pot. Boil for a minimum of 10 minutes for proper sterilization. Carefully remove jars from the water and place upside down to drain on clean towels.
Step 1: Wash and chop the fresh fruit into small pieces.
Step 2: Place the freshly chopped apricot, pineapple, pectin, and sugar in the Crockpot.
Step 3: Stir pectin and sugar into the chopped fruit.
Step 4: Cook for 2-3 hours, stirring every 30 minutes. Once cooked, add the almond extract.
Step 5: Break down the jam mixture with an immersion blender.
Step 6: Check the consistency of the apricot pineapple jam. Blend further if desired.
STORE: Ladle the apricot pineapple jam into clean jars for storage. Set lids onto the jars and loosely tighten metal rings. Process jam jars in a boiling water bath for 5 minutes then place standing up on the counter for 24 hours. Store in the pantry for up to 1 year.
Only use good quality fruit for jam making. Avoid using apricots that are under ripe or overripe.
Fresh fruit will also provide the best tasting fruit, but you can use frozen instead if the fruit is out of season. Be careful to taste frozen apricots and confirm they have great flavor before using them in this recipe.
Be exact when measuring your fruit because inaccuracy will affect the consistency and setting of the jam. Setting can be affected by too much fruit, and with too little fruit, the jam could have a leathery texture.
Measure the sugar exactly as well. After spooning sugar into a measuring cup be sure to scrape off excess sugar with a straight edge knife. The quantity of fruit, sugar, and pectin all work together to create proper setting of the jam. You should not change the quantities of one without changing the others.
Be extremely careful not to burn yourself. Jam boils at a very high temperature; it will adhere to your skin like wax and burns from it can be harsh.
Check for air bubbles once jam has been ladled into the bottles/jars. Using a skewer, insert it around the sides of the jars popping any visible bubbles.
Fun Fact
Jam is not just delicious as a spread on toast! Use this apricot-pineapple jam as a filling in pastries, as a glaze for pork, or as an ingredient in other dishes such as Indian curries.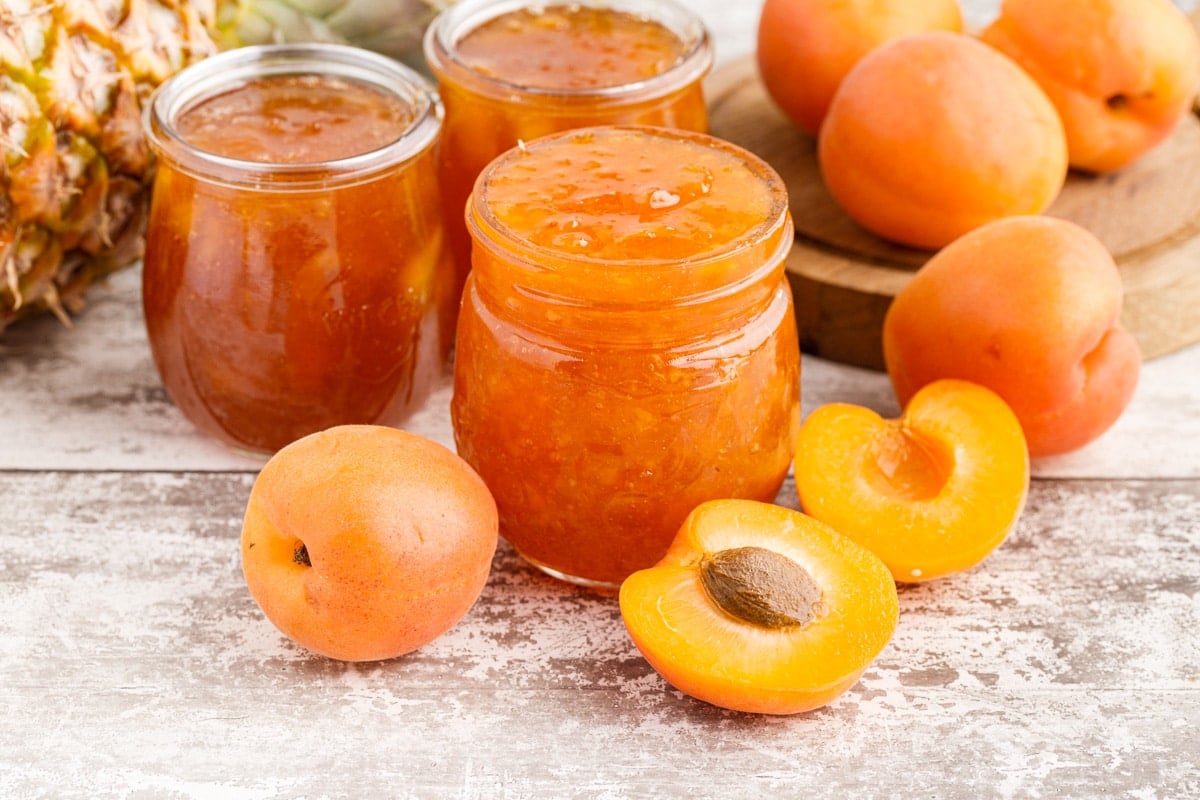 Recipe FAQs
Must The Apricots Be Peeled?
This is not necessary as the skins become so soft in the boiling that they seem to almost dissolve in the body of the jam. Apricot skins also contain a lot of pectin which aids in the setting of this jam so it's really up to you whether you peel the apricots or not. I do not.
Whether you boil fruit or not, it's always good to get into the habit of washing fruit well before using the fruit in recipes.
How Long Can Apricot Pineapple Jam Be Stored?
If you have sealed and processed your jars of jam correctly you can store them for up to a year in your pantry. Make sure that the storage area is not exposed to direct sunlight and is not humid.
Once the jars of jam have been opened, keep them refrigerated and use them within 3 weeks to enjoy the jam at its best.

Do not store unsealed jam on the counter top. Within 2 weeks it will be going off, starting to grow mold on the top and giving off an unpleasant smell.
Can I Freeze This Apricot Pineapple Jam?
Yes, you can! This apricot pineapple jam can be kept in the freezer for 2 – 3 months. Thaw in the refrigerator prior to use. This is a great option if you do not want to process the jars in a boiling water bath. Find full instructions for canning and storing jam in this Strawberry Freezer Jam recipe.
Is Sterilization of Jam Jars Essential?
For any jam that you make from scratch and intend storing at room temperature, it's an absolute MUST to properly sterilize the jars or glass containers used. This sterilization process helps to reduce the presence and growth of bacteria in the jam.

In instances where you are going to store your jam in the refrigerator or in the freezer, it's not an absolute necessity to sterilize the jam jars.

If you have washed your jam jars in hot, soapy water and plan to process the jam in a water bath after filling the jars, you can skip sterilization, but will then need to process the jam for a minimum of 10 minutes rather than 5.
My rule is usually, if in doubt… sterilize!
What Exactly Is Processing and What Does It Achieve?
Processing is a method of sealing jam jars. After you have screwed the lids on the jars, immerse them fully in a pot of boiling water with the lid on the pot. Once the jars are removed from the boiling water and cooled, you should hear a popping sound. This indicates that the lids have sealed properly because a vacuum has been created between the jam and the lid.

You can test this by pressing on the center of the lid. If you can push the lid down and it springs back, it means that the lid is faulty and that sealing did not happen. Change the lid and reprocess that particular jar, or keep it in the fridge instead of on your pantry shelf. Processing allows one to store jam for long periods of time.
Why Do I Need To Add Pectin To Jam?
If you're unfamiliar with "pectin", it's a component in fruit that has natural congealing properties – meaning that it helps the gelling process required for jams and jellies to set.

Since different fruits have different pectin levels, the ability to isolate pectin and add it to jam recipes using naturally low-pectin fruits is incredibly convenient!

While it certainly is possible to make jam without pectin, it will require a substantial increase in cooking time, requiring you to stand over your stove top tentatively while checking the temperature of the jam mixture.
Types of Jars/Containers To Store Homemade Apricot Pineapple Jam
Any good quality sealable glass jar, like mason jars, can be used for storing this apricot pineapple jam. When using jars, make sure to leave a small amount of space (about ½ inch) at the top of your jar to allow for expansion if you intend storing your jam in the freezer.

If you love gifting homemade jams to friends and family like I do, then consider using decorative jars that can be sourced in stores or online. Here are a few great options: Diamond Design Mason Jars or Ball Collection Elite Jam Jars.
If you tried this Apricot Pineapple Jam or any other recipe on my website, please please leave a 🌟 star rating and let me know how you liked it in the 📝 comments below.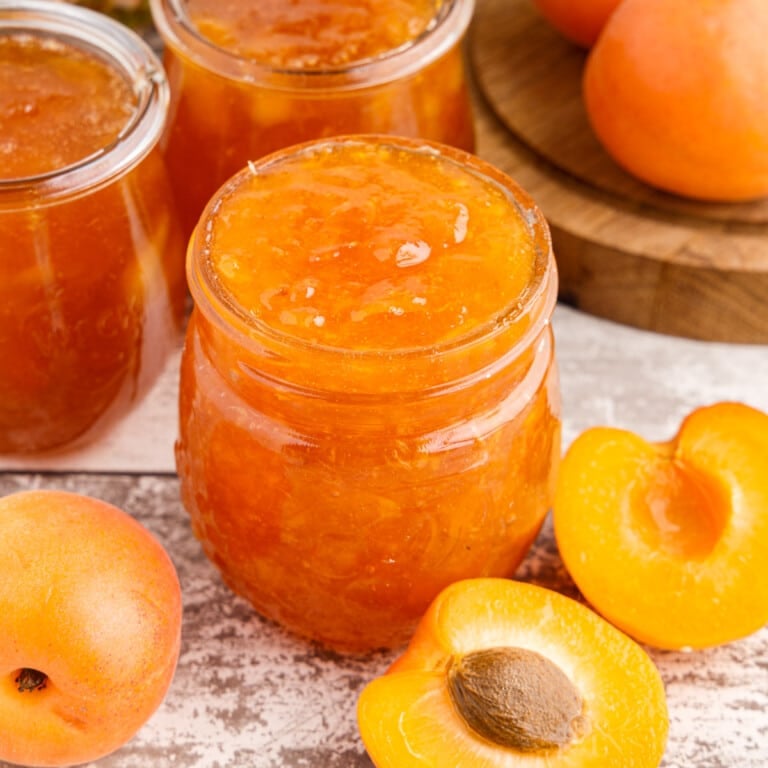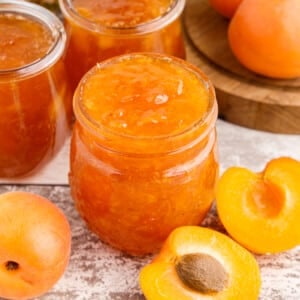 Apricot Pineapple Jam
12 – 8 oz. jars, one serving is 1 Tablespoon
Apricot Pineapple Jam is made in the crockpot with fresh apricots and chopped pineapple. Enjoy this delicious jam mixture as a spread, filling, or topping!
12 – 8 oz. jars, one serving is 1 Tablespoon
Ingredients
6 cups apricots measure after chopping or crushing
2 cups fresh pineapple measure after chopping finely
9 cups granulated sugar
2 boxes pectin
¼ cup lemon juice
½ – 1 teaspoon almond extract
Instructions
Prepare mason jars and lids by washing and sterilizing in boiling water or running through the sterilization cycle on the dishwasher.

Prepare the apricots and pineapple. Remove pits from the apricots and chop into small pieces. Cut the flesh of the pineapple into small pieces. Crockpot jam cooks best the smaller the pieces are broken down beforehand.

Add sugar, pectin, apricots, and pineapple to the crockpot.

Set the crockpot on high and cook for 2-3 hours, stirring every 30 minutes or so.

When the sugar is completely dissolved throughout the entire mixture, the jam is done.

Add almond extract.

Use an immersion blender to break down jam to your desired consistency.

Ladle jam into prepared jars, secure lids, and leave the jars to set for 24 hours before storing in the freezer.

If, instead of storing in the freezer, you'd like to process the jars in a boiling water bath, they can be stored on the shelf for up to 1 year.
Notes
Recipe will make about 12 – 8 oz. jars of jam. Nutritional information reflects one single serving of jam – .5 oz. or about 1 tablespoon. Be sure to measure the fruit after you have chopped it into small pieces or you may not use enough fruit in the recipe. Do not alter the sugar, pectin, or fruit quantities unless you are using a low sugar pectin (then – follow instructions on the pectin label). You can double or halve the recipe, but you must double or halve all ingredients. Using the proper measurements ensures the jam will set up correctly. Follow best practices for sterilization of the jars, processing the jam, and storage. These are detailed in the post information above if you are unfamiliar. Improper adherence to sterilization and storage guidelines may result in bacteria growth in the jam. Overcooking the jam in the crockpot can lead to discoloration and a burnt sugar appearance and flavor. Stir every 30 minutes. The jam is done once the sugar granules have fully dissolved. You can test the jam by placing a drop on a cold plate – if it sets and has gelatinized, it's good!
Nutrition
Calories: 39kcal | Carbohydrates: 10g | Protein: 0.1g | Fat: 0.1g | Saturated Fat: 0.002g | Polyunsaturated Fat: 0.004g | Monounsaturated Fat: 0.01g | Sodium: 0.2mg | Potassium: 15mg | Fiber: 0.1g | Sugar: 10g | Vitamin A: 94IU | Vitamin C: 1mg | Calcium: 1mg | Iron: 0.03mg