Make the most delicious Strawberry Raspberry Jam - use our slow cooker method or a traditional stovetop method for the best combo of sweet and tart fruit preserves.
Strawberry Raspberry Jam completely eliminates any need to stand attentively over a stovetop saucepan to make a delicious batch of homemade jam – an alternative cooking method that's ideal during the hot summer months!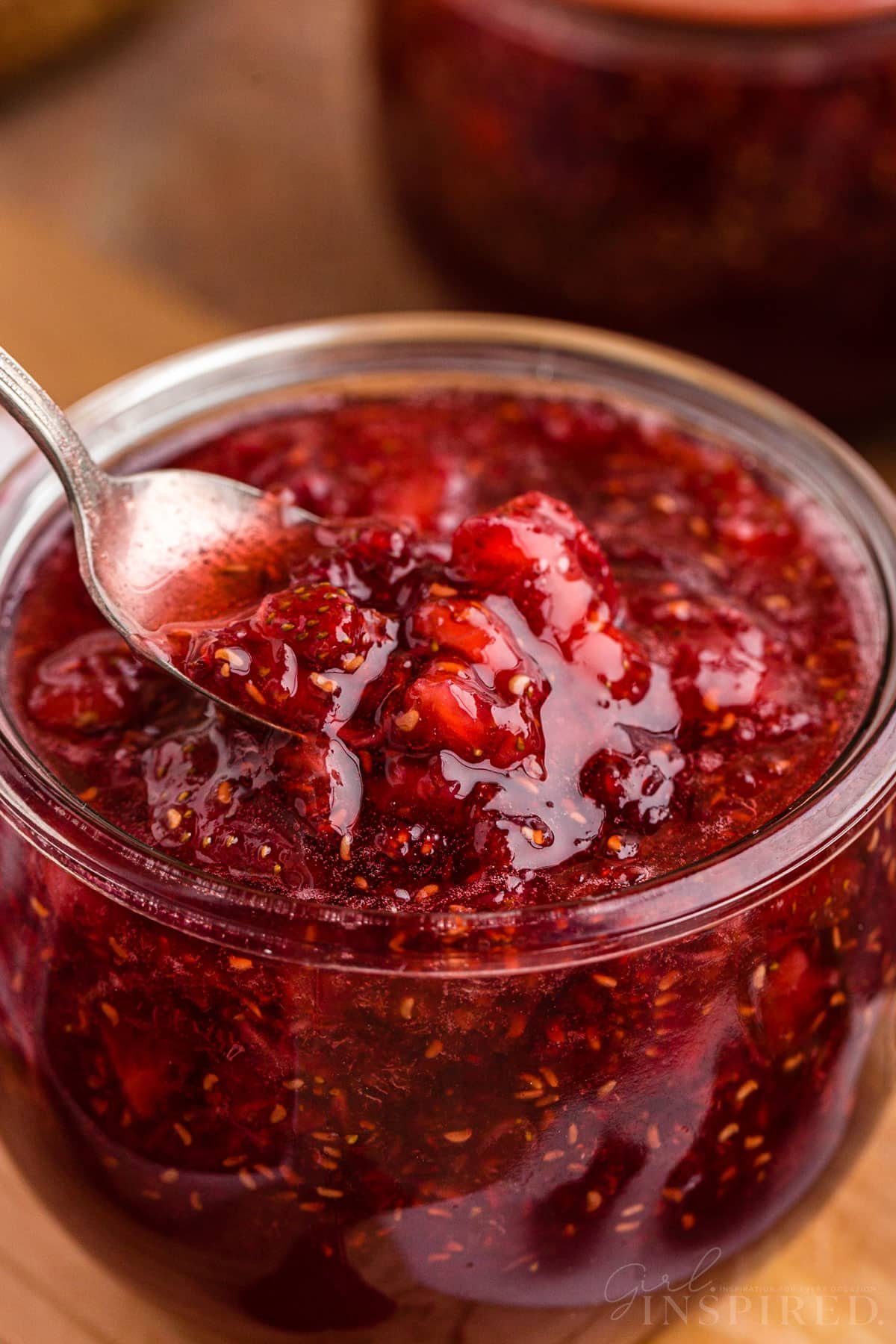 With just 15 minutes of prep time, you can effortlessly make an absolutely delicious strawberry raspberry jam. Gather a cart of fresh summer fruit from the farmers market, your trusty crock pot, and a box of pectin to make this easy recipe. Add this jam to an array of baking recipes or use as a fruity spread on your muffins, breakfast toast, Hot Buttermilk Scones, or over a slice of this Brown Sugar Banana Bread!
I just love to make my own jam. It's a great way to capitalize on seasonal fruit and use up fresh fruit on the verge of going bad. Summer usually yields a plethora of sweet, ripe fruit so you will find me making jam almost every summer. Using the slow cooker for this strawberry raspberry jam recipe is a double bonus because I don't have to stand over the hot stove to cook the fruit.
If fruity, homemade condiments and spreads are an important dietary consideration for you then this homemade crock-pot jam is certainly the way to go! In fact, you could also opt to further reduce the sugar content of this slow cooker jam by using a "reduced-sugar" pectin without it affecting the outcome of your jam – one of many reasons to give this Strawberry Raspberry Jam a try today! If you love using the crockpot to make jam, also try my Apricot Pineapple Jam – it's to die for!
Jump to:
What is Slow Cooker Strawberry Raspberry Jam?
This slow cooker recipe is a sweet berry jam that's made in the Crockpot or a slow cooker. It is an easy and convenient alternative to stovetop jam! Simply add the ingredients to the slow cooker and set to cook. When the timer goes off, you'll have sweet and tart strawberry raspberry jam that can be stored in the fridge or even made ahead to store in the freezer as a strawberry freezer jam. You can process the jam in jars to store on the shelf as well.
🍓 Crockpot Jam Ingredients
2 cups fresh crushed strawberries – it's best to rinse and crush the strawberries and then measure
2 cups raspberries – the raspberries can be rinsed, but do not need to be crushed, they will break down in the crockpot
5 cups granulated sugar – this sounds like a lot, but it is necessary for the jam to set properly; reduce the amount of sugar ONLY if you are using a reduced-sugar pectin
4 ½ tablespoons pectin
Substitutions and Variations
You can use this recipe for strawberry jam without the addition of raspberries or raspberry jam without strawberries. It can also be used to make various other berry-inspired jams such as blueberry jam, and blackberry jam.
To add some warmth to this dessert jam, consider adding a cinnamon stick to the crockpot with the jam ingredients. This will add a depth of spice to the flavors in the jam.
Add a squeeze of fresh lemon juice to the fruit to preserve the fruit's vibrant color.
🔪 How to Make Crockpot Strawberry Raspberry Jam
The preparation for this Crockpot jam is super easy. If you wish to prepare the jam on the stovetop, see the instructions below this step by step section. Begin by sterilizing the jars, lids, and metal bands in boiling water for 10 minutes.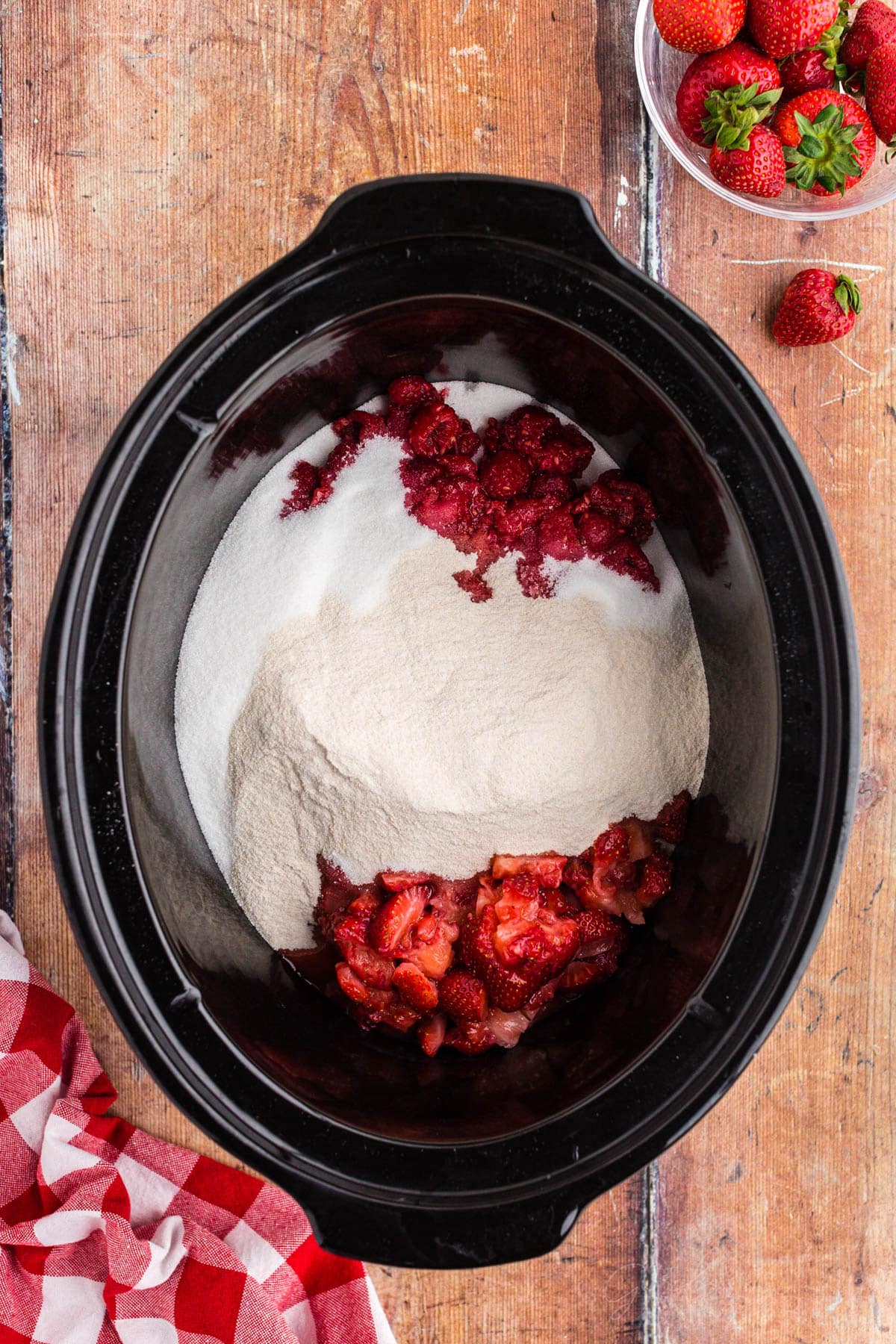 Step 1: Rinse the fruit and chop it into evenly sized pieces. The strawberries should have the stem removed. Raspberries simply need to be rinsed. Measure the fruit after you have chopped it. Place the prepared fruit into the slow cooker along with sugar and pectin.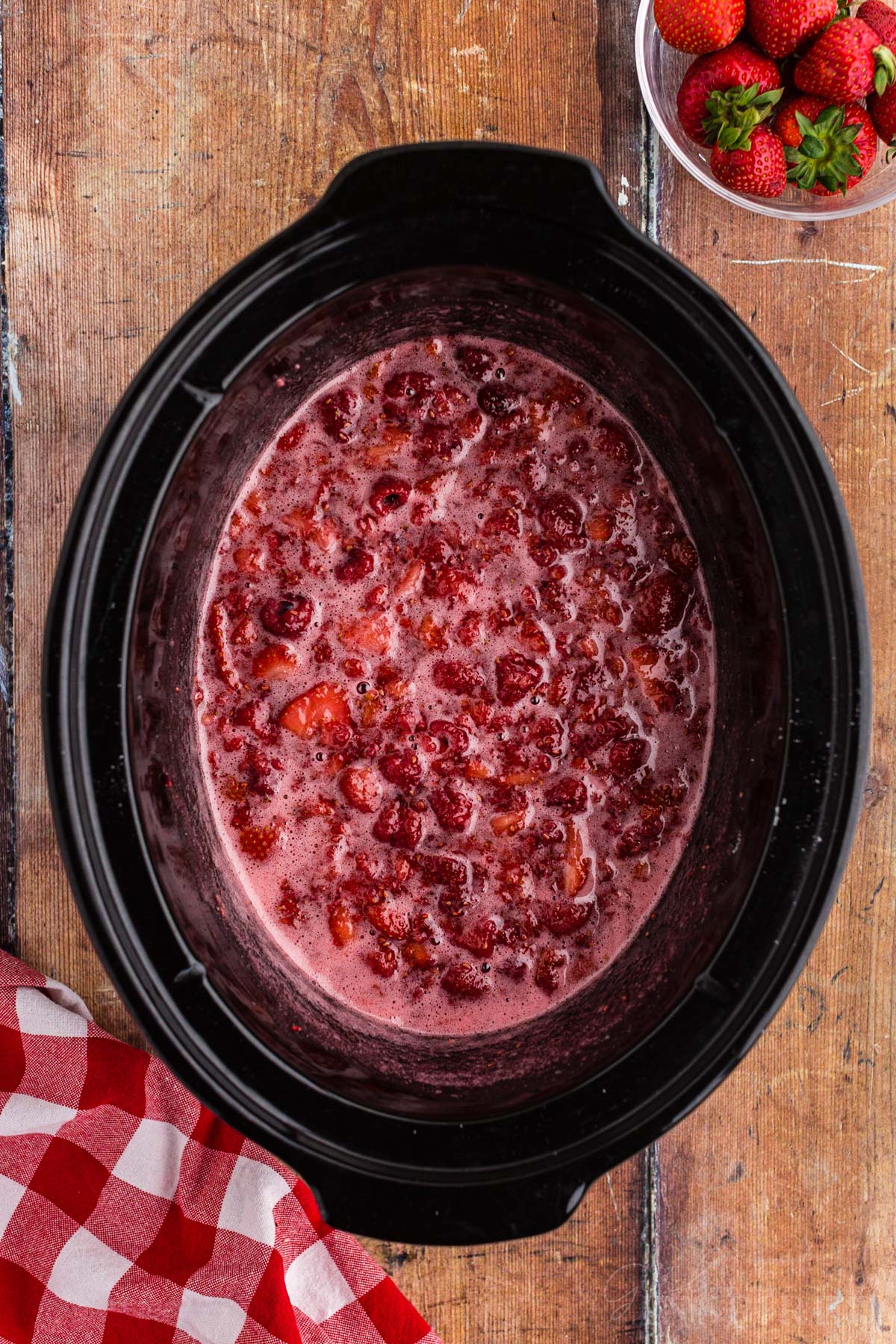 Step 2: Cook for several hours, stirring occasionally. You are looking for the sugar granules to be completely dissolved. The color should deepen but still look red. A brownish tint indicates that the sugars are burning and the jam is overcooked.
Pro Tip: To quickly sterilize jam jars, place them in the dishwasher and run a sterilization cycle.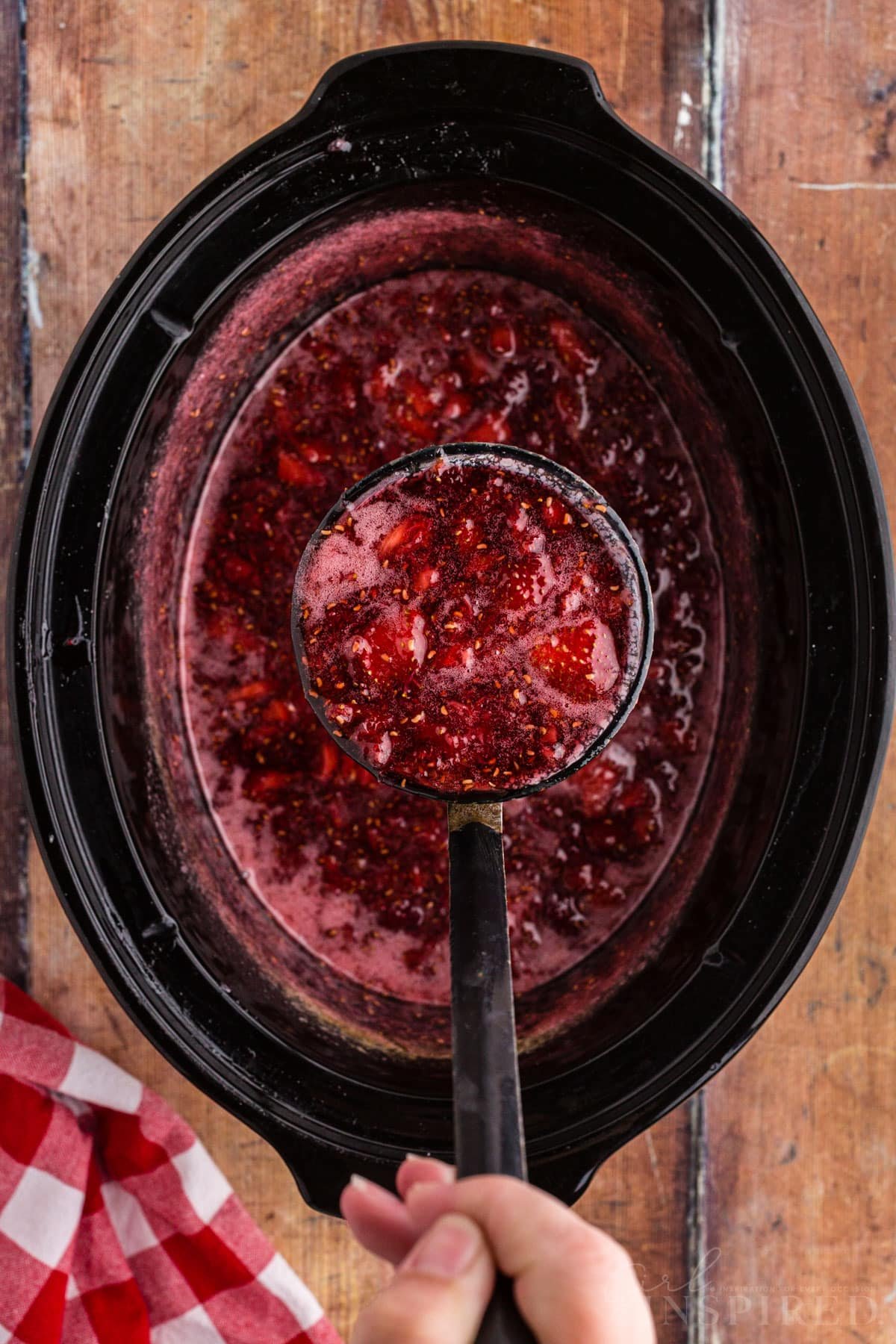 Step 3: Use a ladle to lift the jam from the slow cooker and transfer to sterilized jars.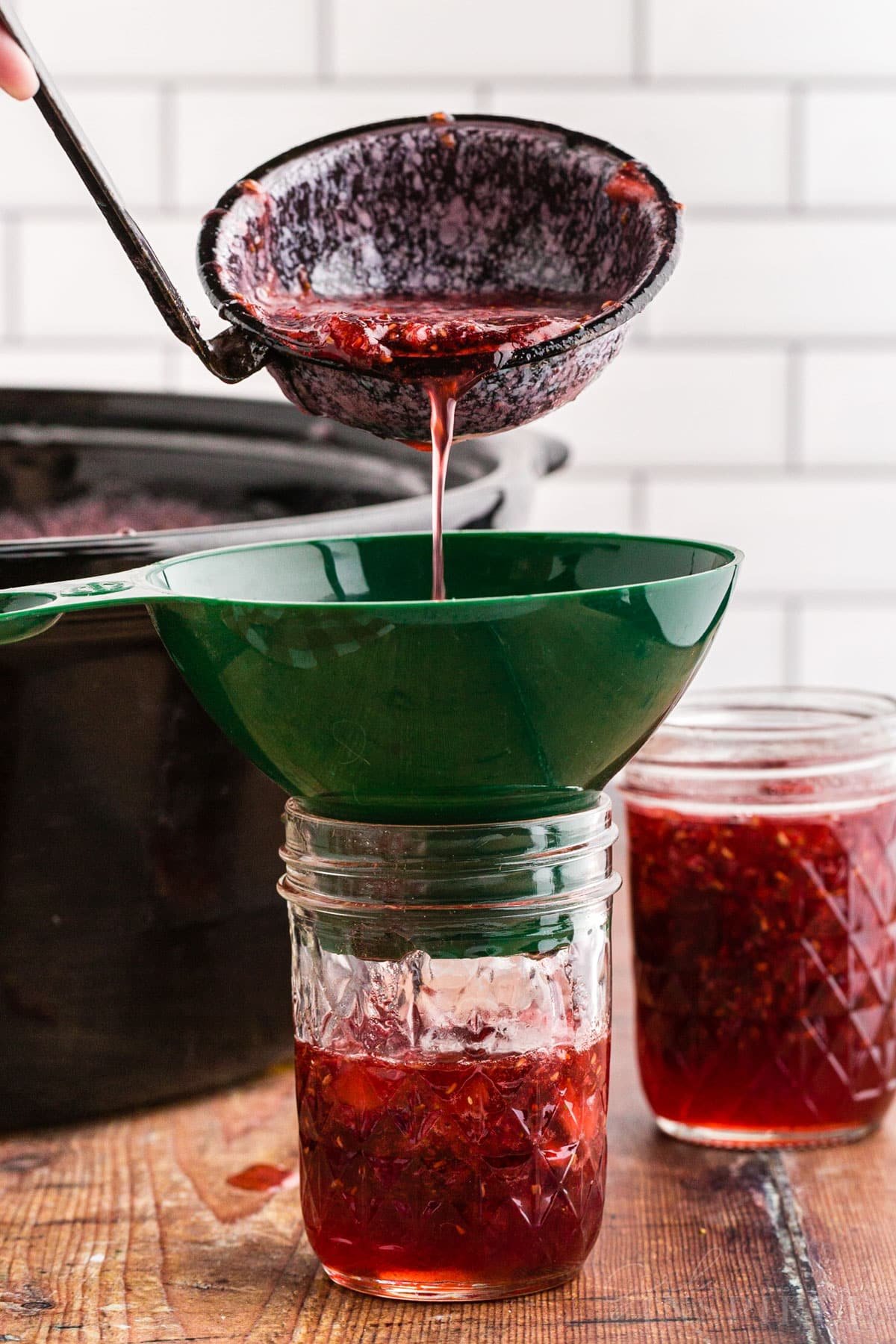 Step 4: A canning funnel works wonders for transferring the hot jam into jars without spilling hot, sticky jam all over the rim and sides of the jar.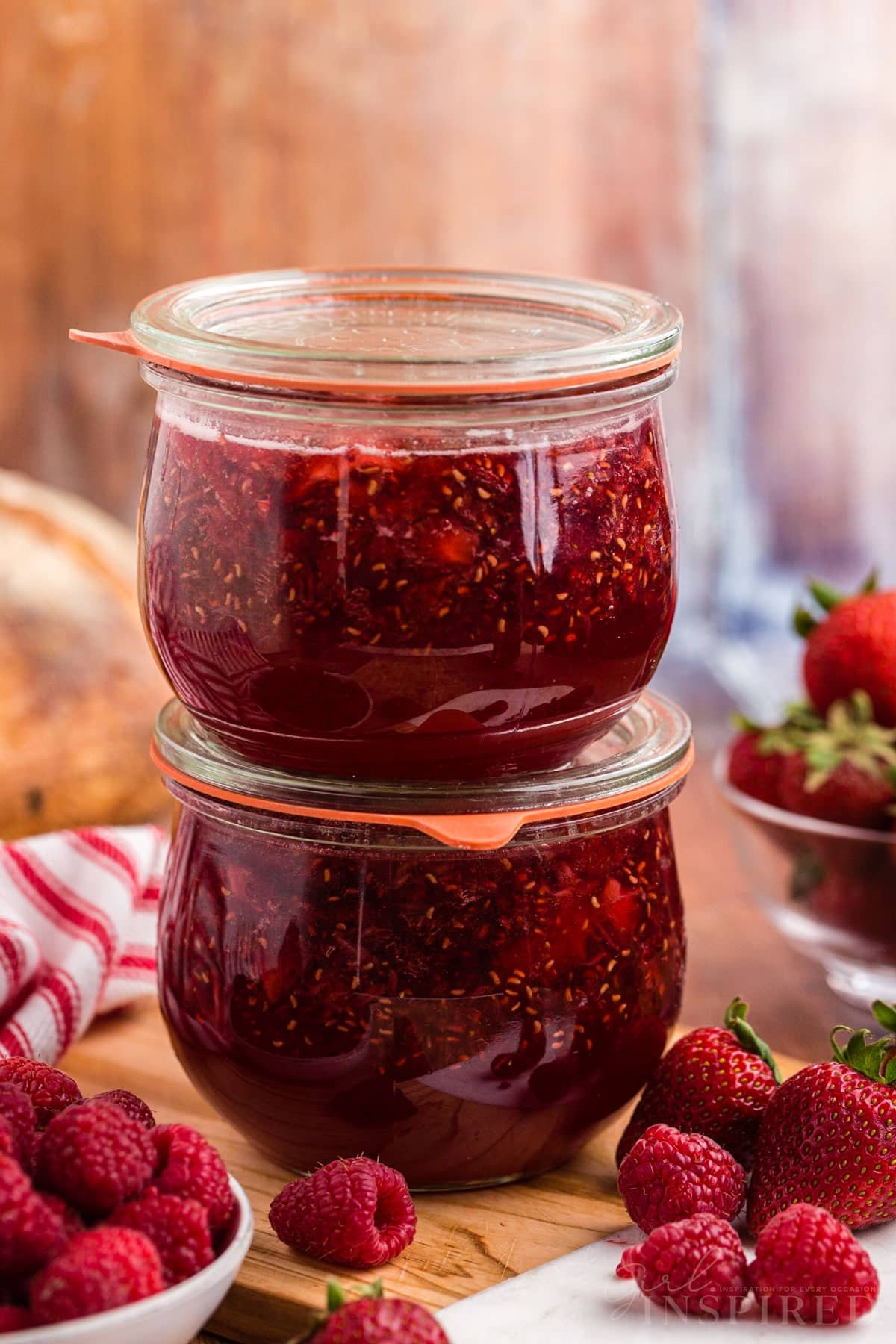 Step 5: Process traditional jam jars in a boiling water bath for about 5 minutes to seal the lids. Or you can simply spoon the jam into jars, cover with a lid, and place in the refrigerator for use within 3 weeks.
How to Make Strawberry Raspberry Jam on the Stovetop:
This delicious jam recipe can also be made easily on the stovetop. Wash and sterilize jars. Rinse, chop, and measure the fruit. Place the fruit into a large stockpot and begin heating over medium heat. As the fruit begins to release some liquid, combine pectin and sugar together and then add it into the pot with the cooking fruit. Bring mixture to a full rolling boil. Use a potato masher or an immersion blender to facilitate breaking down the pieces of fruit into small bits. Boil the mixture over medium-high heat for 1-2 minutes (hard boiling). Then proceed with canning the jam as you like.
The consistency of this jam makes it ideal for toast; pastries like these fruity Strawberry Rhubarb Hand Pies; or as a topping for vanilla ice cream, strawberry shortcake, a bowl of yogurt, or any of your favorite dishes.
Always measure the sugar and fruit accurately when making your jam. Standard pectin requires the right amount of sugar for the jam to gel properly. Reduced-sugar pectin brands can be used if you want a jam with less sugar.
Check that the lids of your jam jars are sealed and secured properly before storing them at room temperature. If they don't seal properly, store the jam in the refrigerator to avoid the growth of bacteria.
Crockpot jam is a convenient method for making jam in the hot summer months. Standing over a hot stove is not ideal; this method is a lifesaver!
Allow your jam to sit for 24 hours prior to storing it in the refrigerator or the freezer. This is so the pectin has time to properly set.
Give your stored jam a stir before serving.
Recipe FAQs
How Should I Store Crockpot Strawberry Raspberry Jam?
This Crockpot Strawberry Raspberry Jam will keep in the refrigerator for up to three weeks and on the shelf for up to 1 year if you've processed your jam in a water bath as outlined in step 7 of the recipe directions.

If you skipped the water bath process, then it's best to store your jam in the freezer for 3 months at most.
What Type of Jars And Containers Are Suitable For Storing Jam?
You can use pretty much any sealable glass jar that's of good quality such as mason jars.

If you intend to freeze your jam, then make sure to leave a small amount of space (about ½ inch) at the top of your jar to allow for expansion while it freezes.

Plastic containers with good sealable lids are another appropriate option for freezer storage.

You don't need anything fancy although you may be interested in checking out these decorative jars should you want to gift homemade jam to friends and family: Diamond Design Mason Jars; Ball Collection Elite Jam Jars.
Is It Always Necessary To Sterilize Jam Jars?
I see this kind of question from readers a lot, asking whether the sterilization process is necessary if the jam jars or containers are clean.

I definitely recommend sterilizing jars or containers that you intend to use to store any jam at room temperature as this reduces the possibility of bacteria growing in the jam.

Keep in mind though, that if you're making any kind of jam to be stored in the refrigerator or freezer, then it's not an absolute necessity to sterilize the jars, although I usually add this step for jams regardless of how they are to be stored.

Not sterilizing jam jars will also reduce the shelf life of your jam quite a bit just as skipping the water bath process does.
Is This Strawberry Raspberry Jam Supposed To Be Thin?
Yes, it is. Crockpot jam is typically thinner than jam cooked on the stovetop since you need an ideal temperature of 220℉ for the sugars and pectin to bind together to form a thick jam and Crockpots rarely reach that temperature. With that said, you'll find that Crockpot jam still gels and has a thicker consistency than standard freezer jam.

While Crockpots do vary, I've personally found mine to never reach 220℉, even when testing a previous batch for 6-8 hours. In fact, all that happened after that length of time was a caramelization of the sugars which made the jam turn brown and had a bitter flavor from the burnt sugars.

For best results, make sure to cook your jam in the crockpot for 2-3 hours, stirring regularly to help distribute the sugar so that it dissolves completely.

How Can I Reduce The Sugar Content In This Jam?
Never reduce the quantity of sugar called for in a jam recipe as a way to reduce the overall sugar content – it'll definitely have a negative impact on the outcome of your jam.

Instead, if you are looking for a good way to reduce the sugar content in your jam then rather opt for a no-sugar or a low-sugar box of fruit pectin such as Ball Real Fruit Pectin. (aff) It's a great substitute for something like Sure-Jell and won't jeopardize your jam.
More Recipes for Jam Lovers
If you tried this Strawberry Raspberry Jam or any other recipe on my website, please please leave a 🌟 star rating and let me know how you liked it in the 📝 comments below.
Strawberry Raspberry Jam
Make the most delicious Strawberry Raspberry Jam – use our slow cooker method or a traditional stovetop method for the best combo of sweet and tart fruit preserves.
oz
Ingredients
2 cups crushed fresh strawberries
2 cups raspberries whole is fine
5 cups granulated sugar
4 ½ tablespoons classic pectin
Instructions
Prepare mason jars and lids by washing and sterilizing in boiling water or running through the sterilization cycle on the dishwasher.

Prepare the strawberries and raspberries. Rinse with cool water. Slice strawberries into halves or quarters and then crush them with a potato masher. Crockpot jam cooks best the smaller the pieces are broken down beforehand.

Set the crockpot on high and cook for 2-3 hours, stirring every 30 minutes.

Ladle jam into prepared jars, secure lids, and leave the jars to set for 24 hours before storing in the freezer.

If, instead of storing in the freezer, you'd like to process the jars in a boiling water bath, they can be stored on the shelf for up to 1 year.

Storage:

Jam will keep in the refrigerator up to three weeks and on the shelf for up to 1 year. If jam is not processed in water bath, store in the freezer up to 3 months.
Notes
Measure the sugar and fruit accurately. Use "reduced sugar"-specific pectin if you want to use less sugar. It is made specifically for low-sugar recipes. Regular pectin requires the right amount of sugar to gel properly.
Jam cooked in the crockpot sets a bit thinner than jam cooked on the stovetop. 220°F is the ideal temperature at which the sugars and pectin bind together to form a thick jam. Appliances will vary, though my jam never reaches 220°F in the slow cooker, even after testing lengthy cook times. If the jam cooks for too long, it turns brown and no longer tastes good.
The best results with crockpot jam are cooking for 2-3 hours and stirring regularly to help distribute the sugar and make sure it all dissolves completely. Even without reaching 220°F, crockpot jam still gels and has a thicker consistency than standard freezer jam. It is perfect for toast, pastries, or topping any of your favorite dishes.
Check that the lids are sealed and secured before storing them on the shelf. Jars that do not seal properly should be stored in the refrigerator.
Slow cooker jam is super convenient in the summer months when standing over a hot stove isn't ideal.
Nutrition
Calories: 179kcal | Carbohydrates: 46g | Protein: 1g | Fat: 1g | Saturated Fat: 1g | Polyunsaturated Fat: 1g | Monounsaturated Fat: 1g | Sodium: 6mg | Potassium: 34mg | Fiber: 1g | Sugar: 43g | Vitamin A: 5IU | Vitamin C: 10mg | Calcium: 5mg | Iron: 1mg