This easy no bake Hershey pie is rich, creamy, and full of satisfying chocolate flavor from the crust and filling.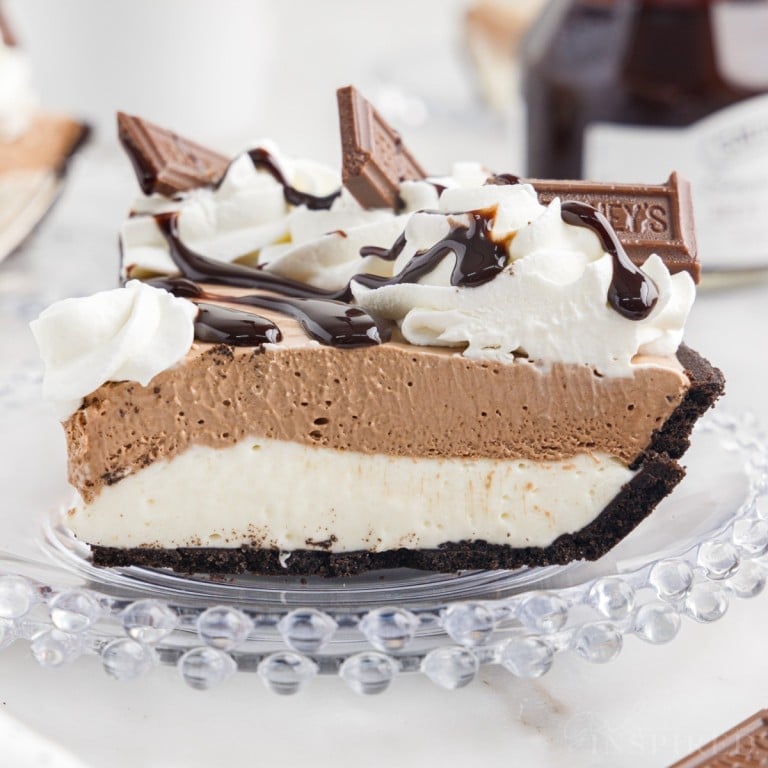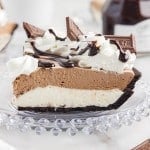 This Hershey pie recipe is a decadent no bake dessert that has thick velvety layers, with a rich chocolate filling, on a crunchy chocolate crust, topped with mini Hershey bars and fresh whipped cream. It's made using simple ingredients and only takes 15 minutes of prepwork.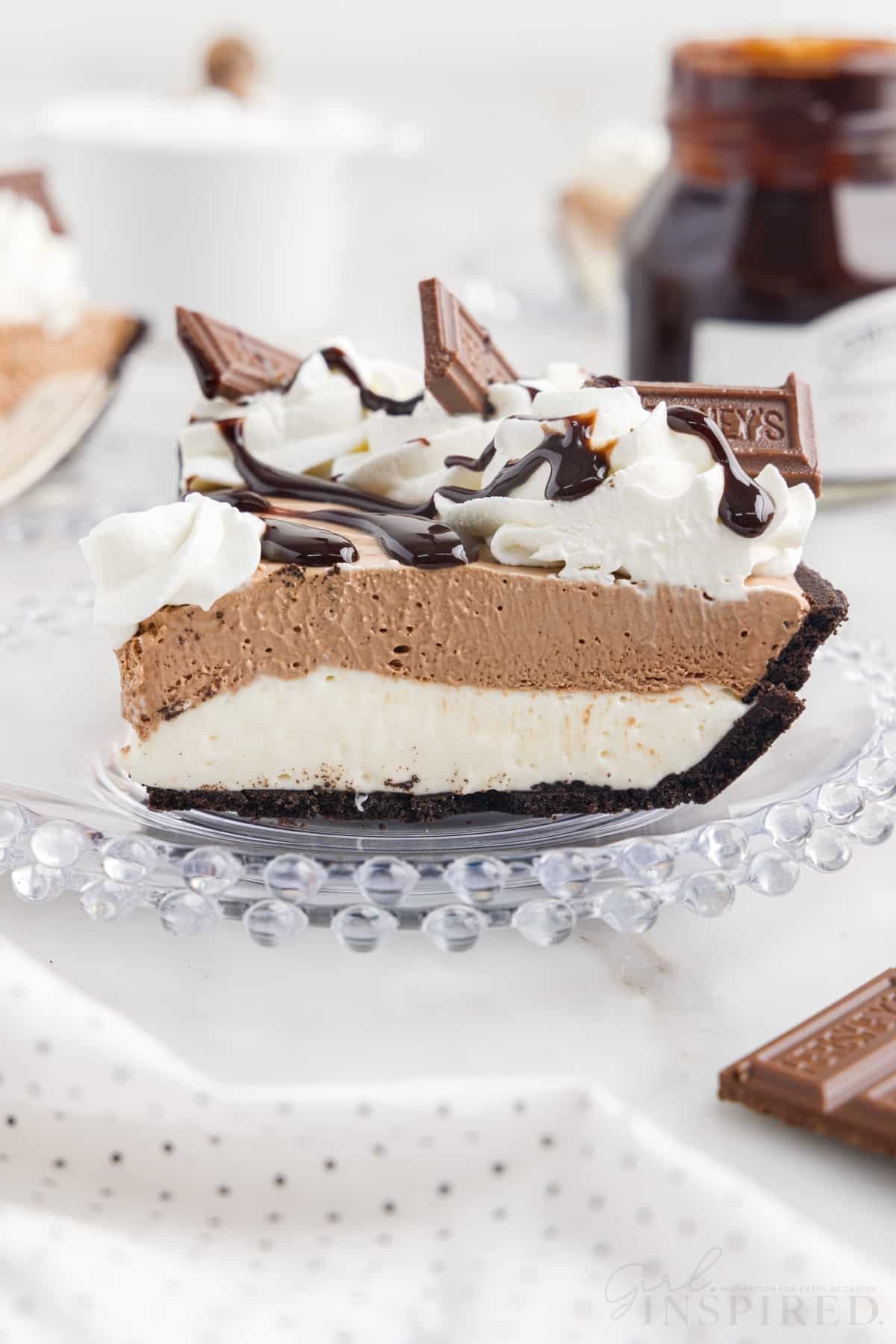 Chocolate lovers flock to this no bake pie. The creamy filling is full of chocolate flavor, similar to my chocolate lasagna, except they are light and fluffy. Today we grabbed a store bought crust, but it's the same kind that we make from scratch when whipping up no bake Oreo cheesecakes and chocolate cherry lush.
For an ultra rich and decadent pie, try our chocolate cream pie. Today's Hershey pie is almost a copycat of Edwards desserts, but so simple to make – the cream layer lightens it up a bit! You may also like my peanut butter chocolate layer cake that's filled with a rich dark chocolate ganache, mmm a chocolate lover's dream!
Jump to:
🍫 Ingredients: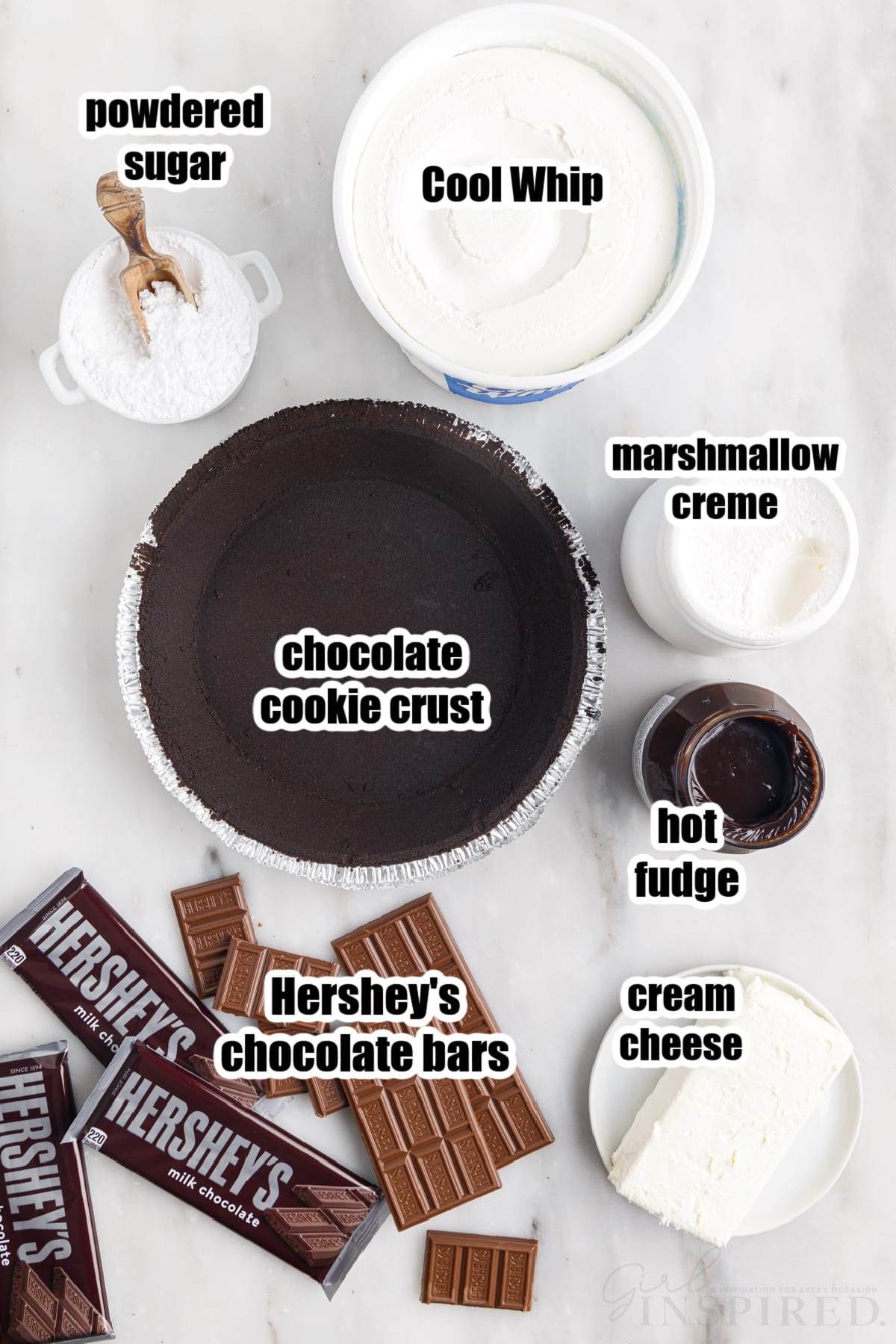 chocolate pie crust – we used store bought, but you can also make it from scratch
cream cheese – make sure it has softened to room temperature.
powdered sugar – adds sweetness to our filling.
marshmallow fluff – keeps the layer light, fluffy, and creamy.
Hershey's chocolate bars – these are going into the chocolate filling and a few on top for decoration
Cool Whip – half will be folded into the melted chocolate and the rest for garnish. If you are going to add homemade whipped cream to the top, you will have some Cool Whip leftover.
hot fudge sauce – for garnish, I like using hot fudge sauce because it's thicker and sets on top of the pie
For a full list of ingredients and their measurements, 📋 please view my printable recipe card at the bottom of the post.
Optional Garnish:
Top this delicious pie with a decadent chocolate drizzle, hot fudge sauce, fresh whipped cream. chocolate chips, Hershey bars, or chocolate shavings.
Substitutions and Variations
Pie crust – even though the Oreo pie crust adds more chocolatey flavor, you can make this dessert using a store bought or homemade graham cracker crust. A fresh baked cookie crust with chocolate chips would also be delightful.
DIY Oreo crust – to make your own, combine a package of Oreos (or store brand chocolate sandwich cookies) in a food processor with a ½ cup of melted butter. Then press the mixture into the bottom of the pie pan so it's packed tightly. Chill in the freezer while you are making the next layer.
Homemade whipped cream – combine a pint of heavy whipping cream with a little powdered sugar in a bowl. Mix on medium to high speed until stiff peaks form. Transfer to a piping bag then decorate the top with swirls or rosettes.
🔪 Instructions:
PREP: Soften the cream cheese and thaw the whipped topping.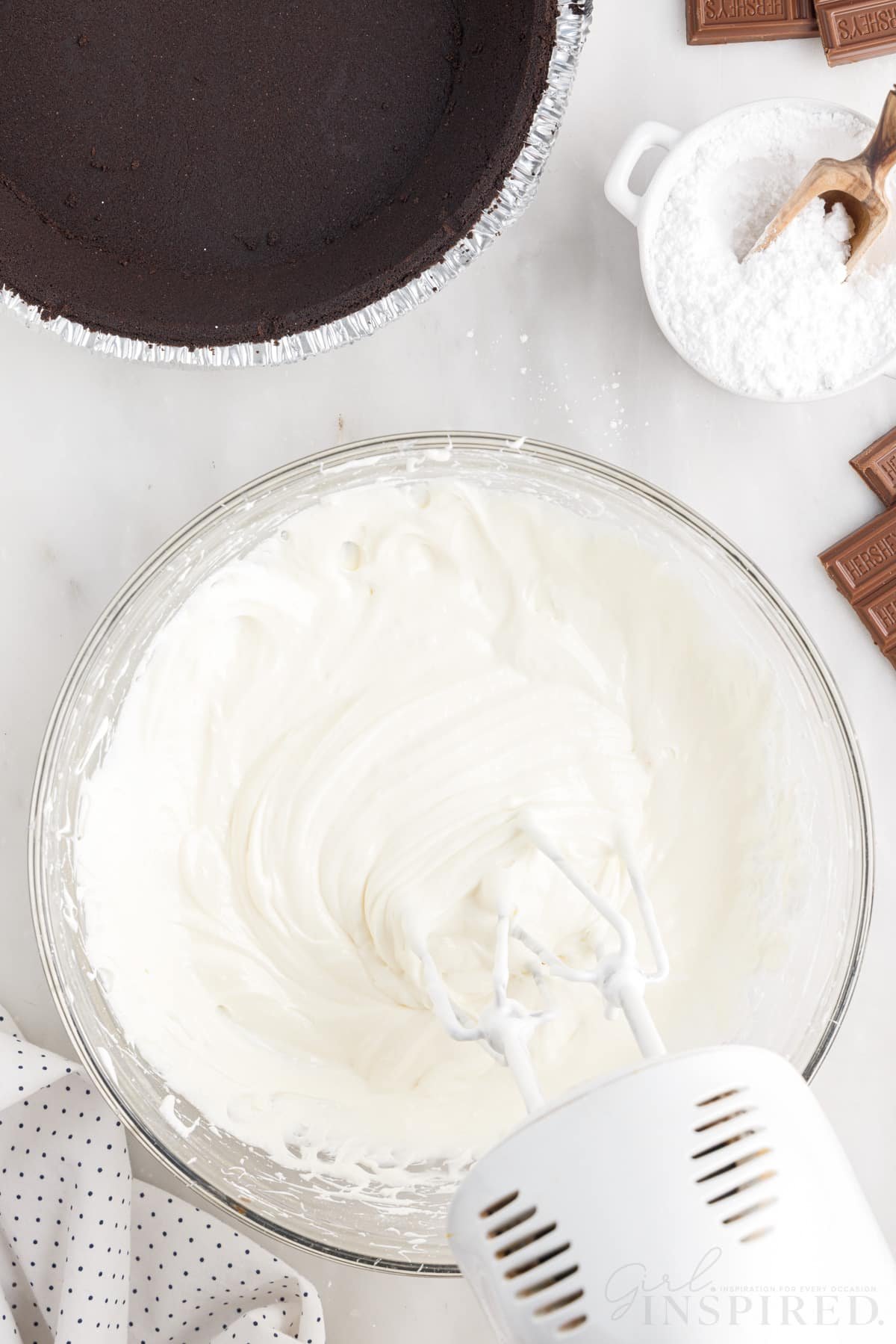 Step 1: Beat the softened cream cheese, powdered sugar, and marshmallow fluff in a mixing bowl until creamy.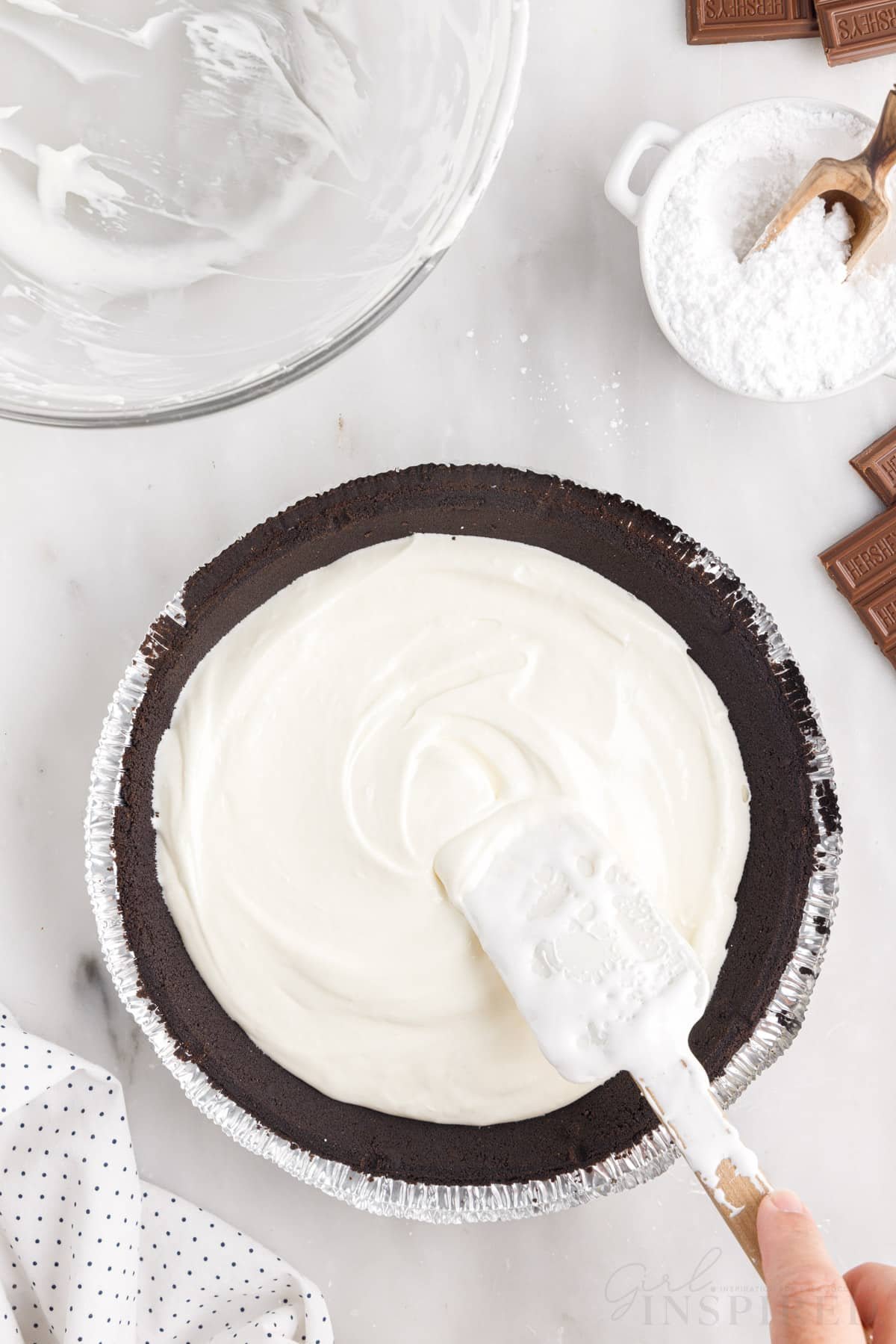 Step 2: Spread the cream cheese filling into the pie crust.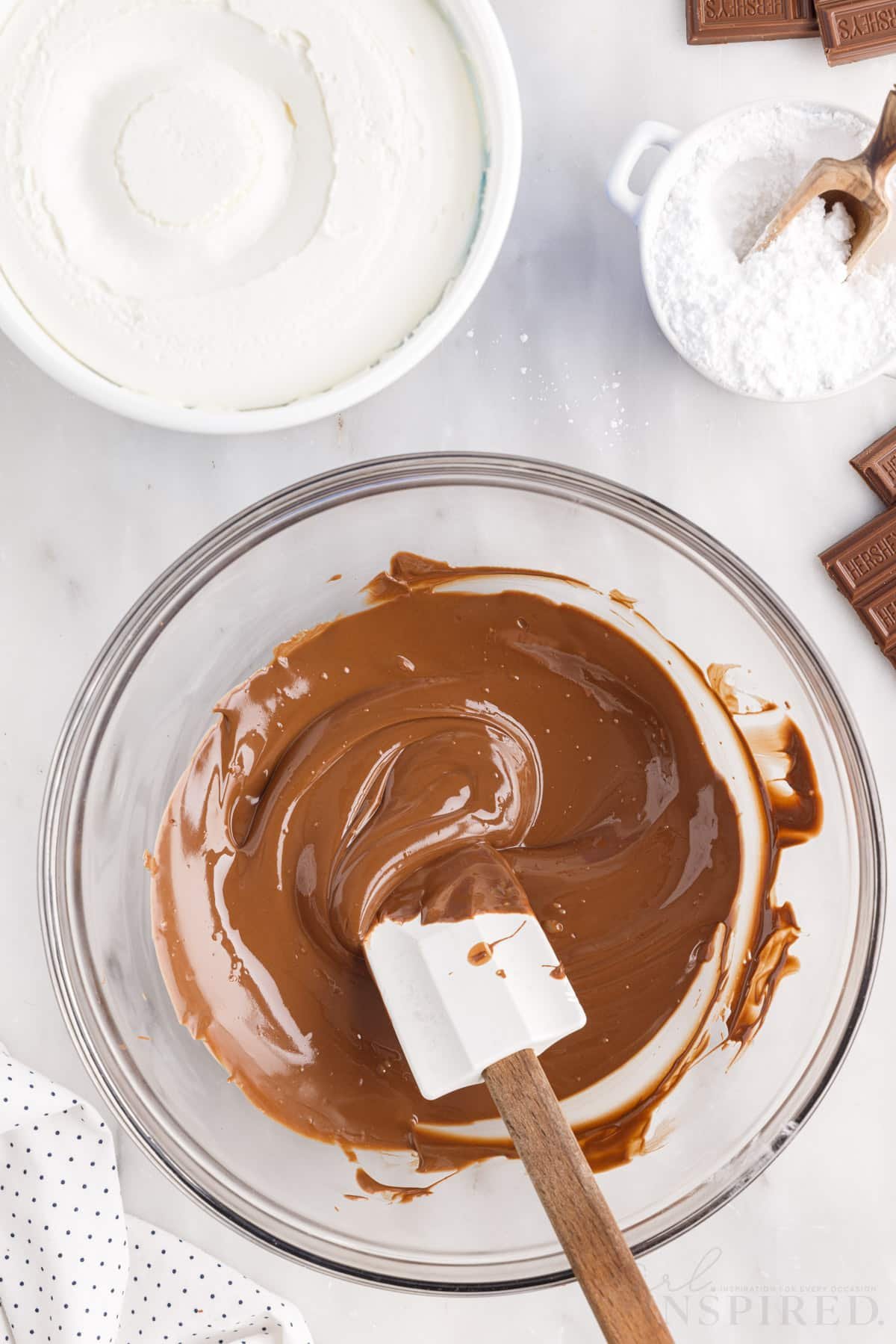 Step 3: Add the Hershey bars to a heat proof bowl and microwave in 30 second increment, stirring between each until smooth.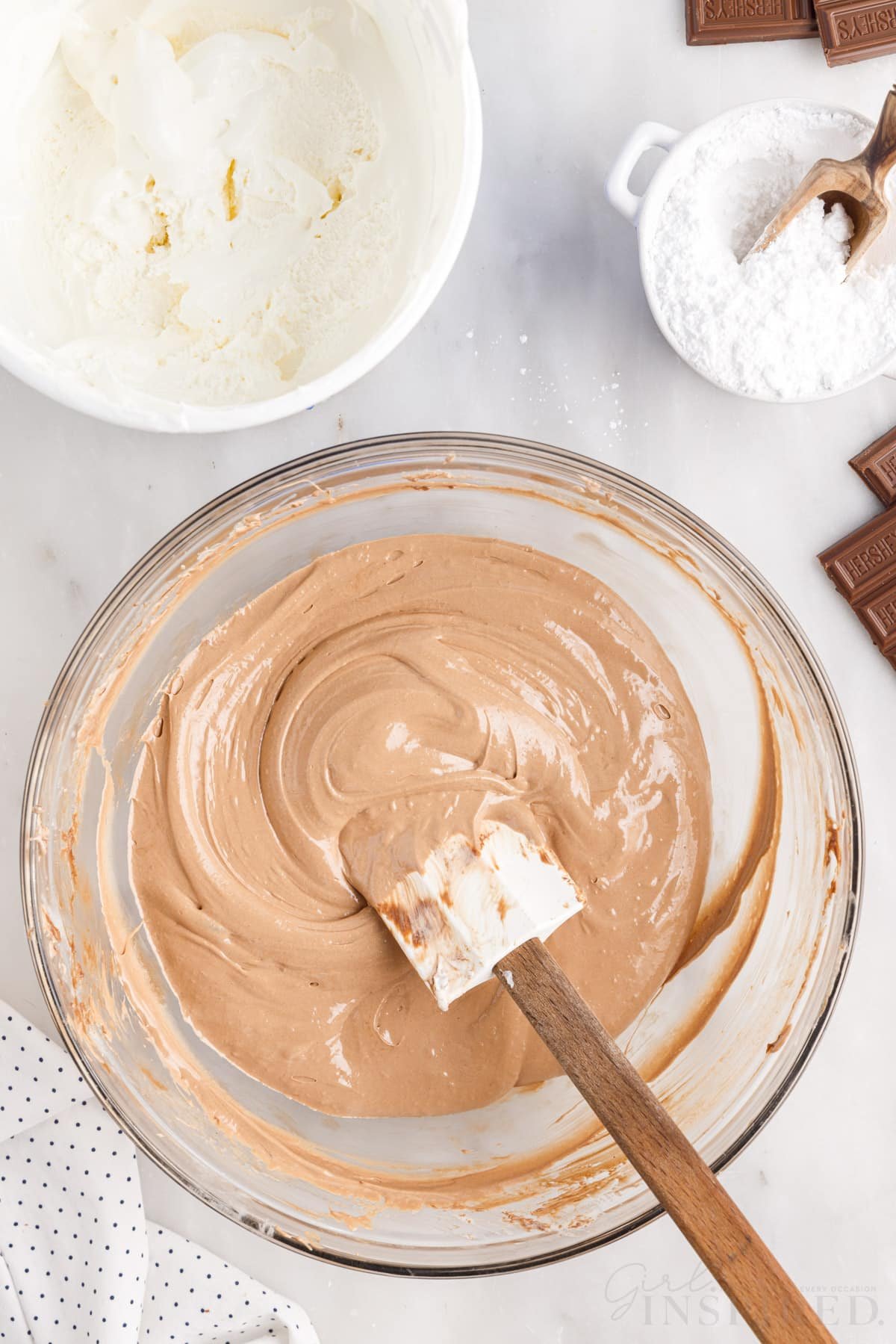 Step 4: Use a rubber spatula to fold in 8 ounces of Cool Whip.
Pro Tip: It's essential to ensure that the whipped topping has completely thawed before mixing it with melted chocolate. Not giving it enough time to thaw may lead to the chocolate hardening and creating lumps in the mixture. If you happen to notice any lumps, heat the chocolate mixture in the microwave for 15 seconds at a time until it becomes smooth again – this is okay to do even if you have mixed in the Cool Whip.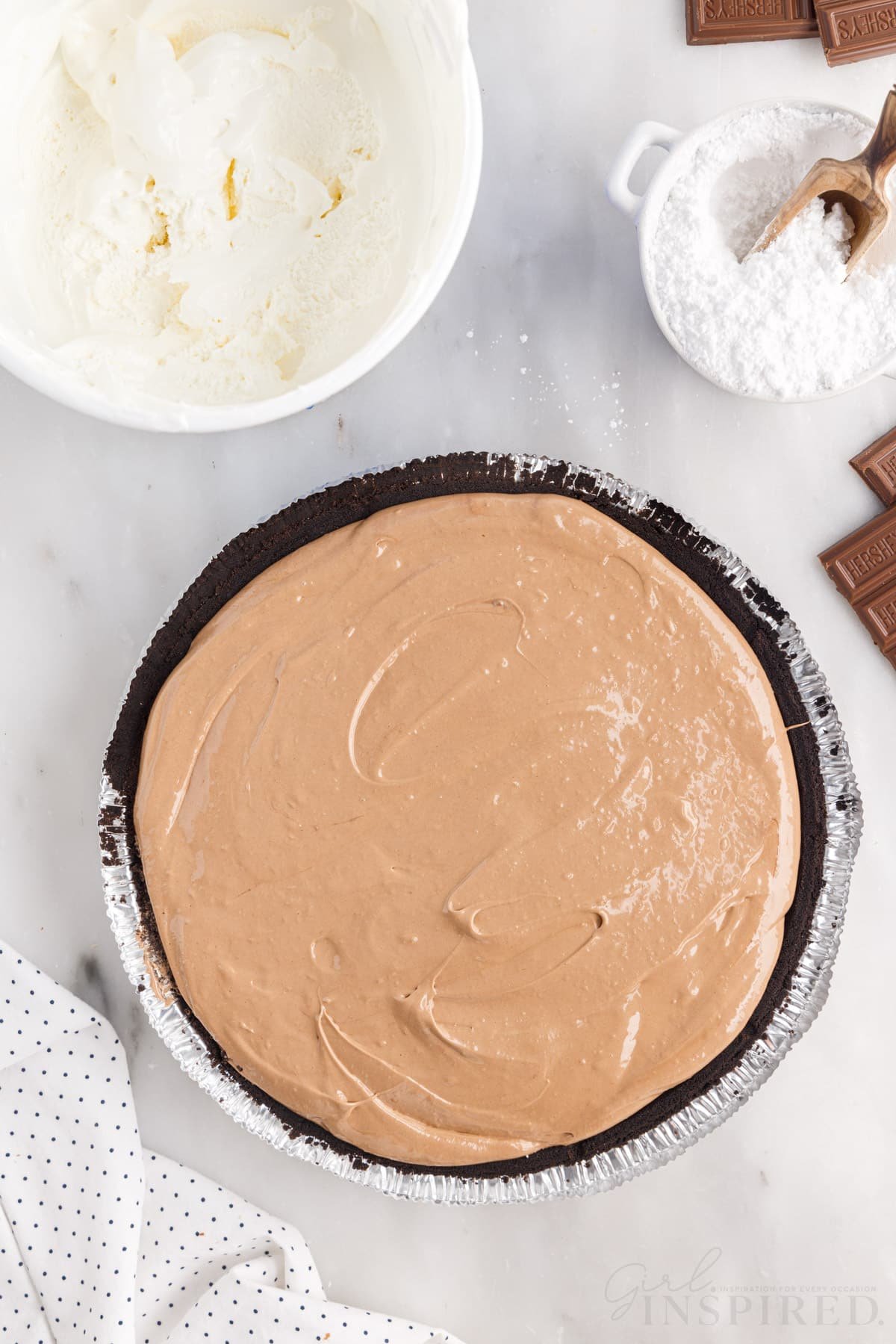 Step 5: Spread over top of the cream cheese filling. Chill for 3-4 hours or until the pie has set.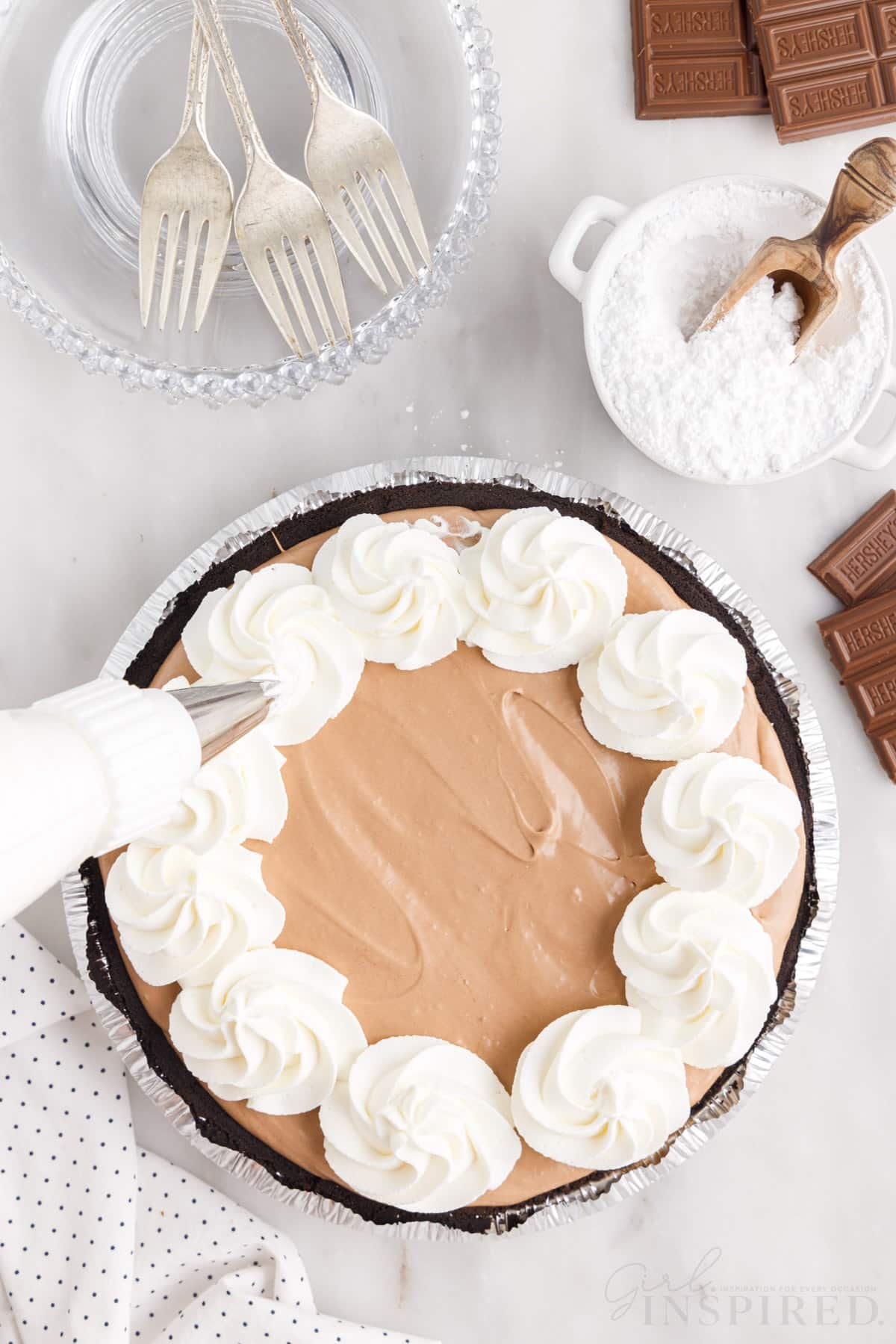 Step 6: Top with dollops of whipped cream or Cool Whip.
SERVE: Then add a little hot fudge and a few more chocolate bars. For other garnish ideas, see the variations section.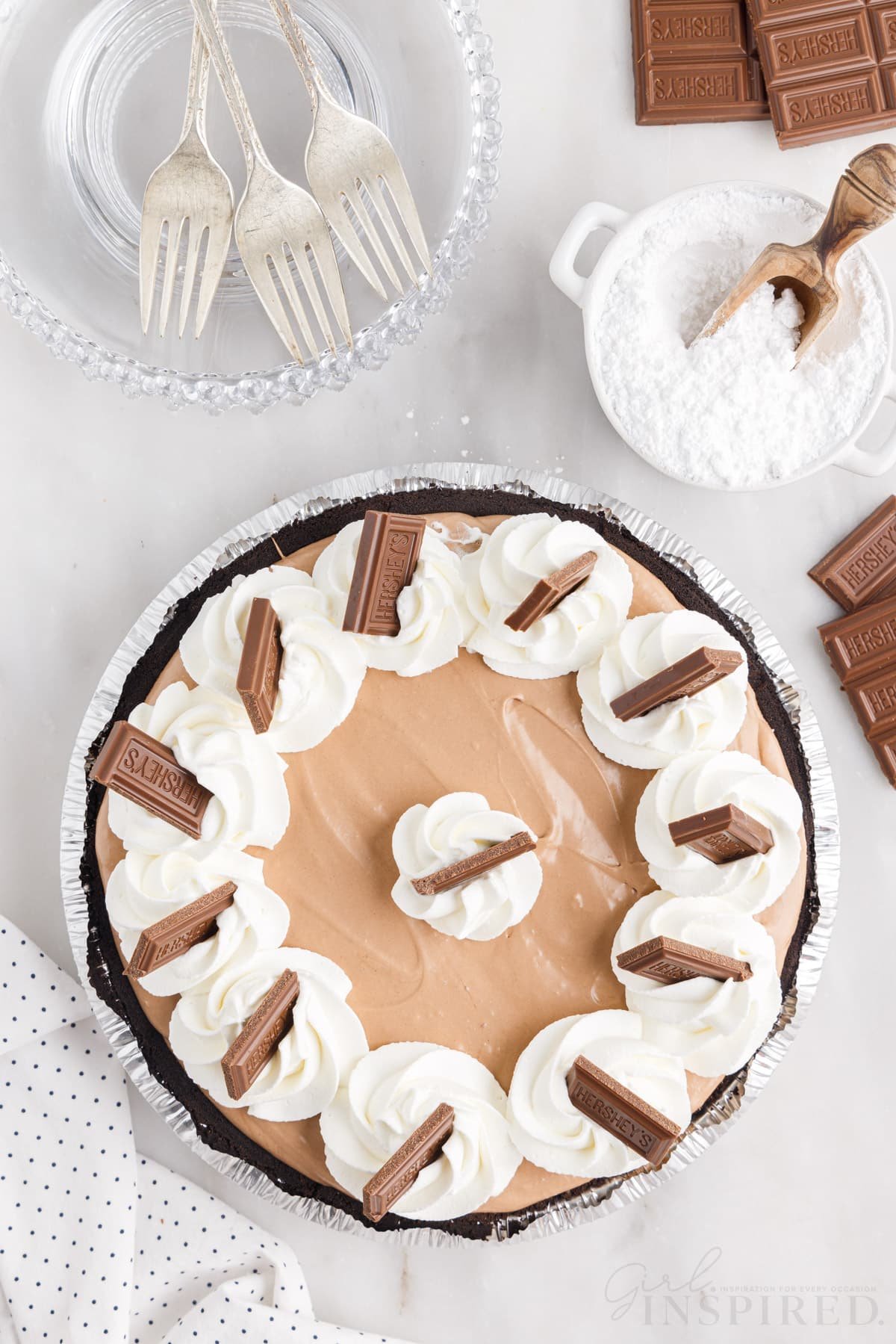 This pie is creamy and soft due to melting the chocolate and folding in the Cool Whip and fluff, compared to other pies that use chocolate pudding for the filling.
Even though we used a store-bought pie crust, you can make your own Oreo crust.
We used an extra bar of chocolate for those on top of the pie.
Cool Whip can be used for piping, but it's very soft so it isn't great for finer details. If you want more precision, use homemade whipped cream.
Be sure the whipped topping has thawed completely before adding it the melted chocolate. If not, it will be lumpy because it causes the chocolate to harden. If needed, microwave the chocolate mixture for 15 seconds a time so it's smooth.
To add chocolate shavings to the top, slide the Hershey's bars back and forth on a cheese grater.
To get the perfect slice, use a sharp wet knife to cut. Also be sure the pie has fully set before serving.
Fun Fact
The creator of Hershey only went to school until 4th grade! – Mental Floss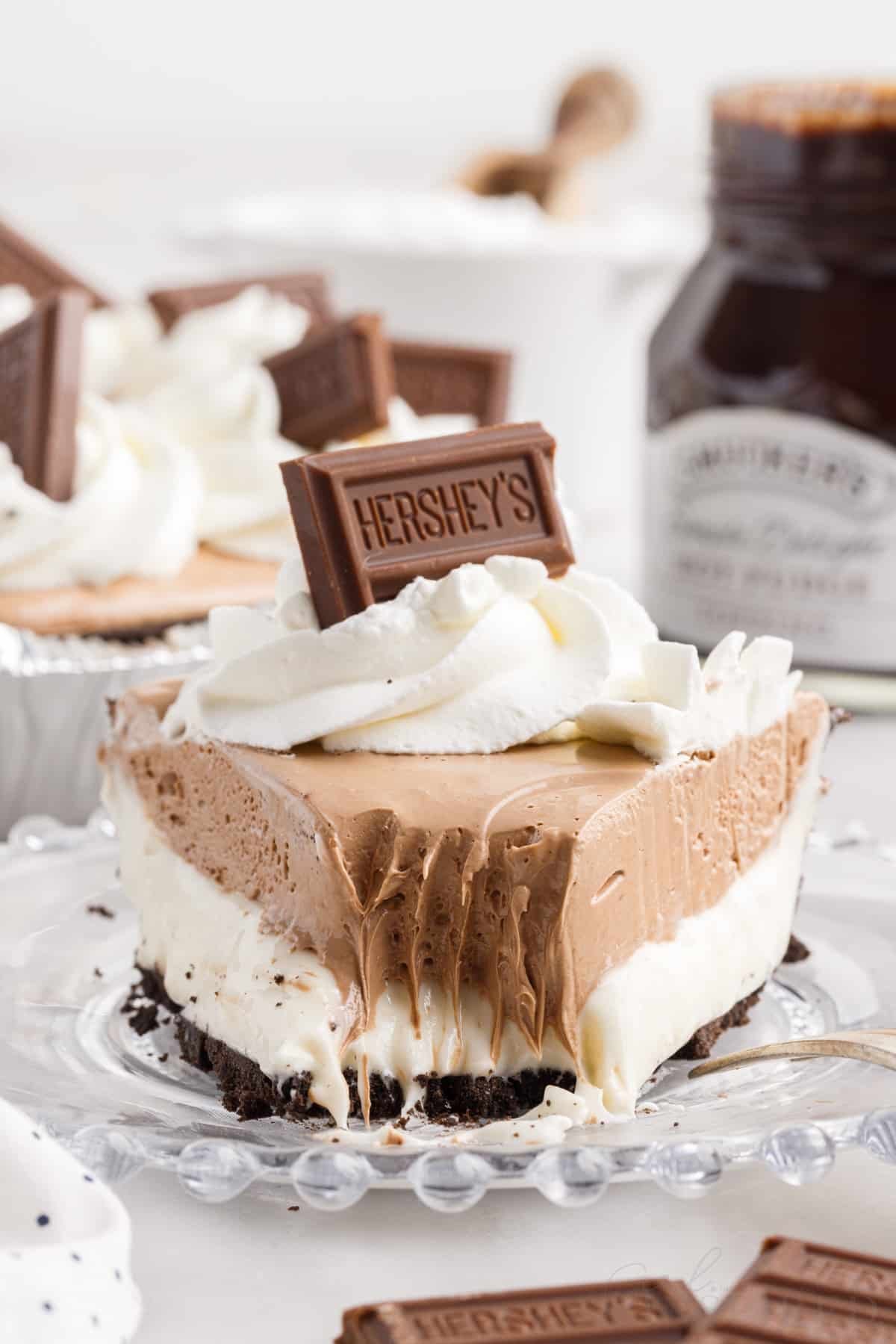 Recipe FAQs
How to store no bake Hershey pie?
Keep the leftover pie in the refrigerator with a dome cover or wrap the top in plastic wrap for 2-3 days.
Can you freeze Hershey's chocolate pie?
Yes! Once it has set, cover it and place in the freezer for up to a month. It will thaw out quickly at room temperature when you are ready.

If you don't have a dome cover, place the pie on a baking sheet and freeze until solid. Then wrap in plastic wrap and aluminum foil and place it back in the freezer. This ensures that the pie doesn't get smushed and it's fully frozen before actually storing.
More Decadent Chocolate Pie Recipes
If you tried this Hershey Pie Recipe or any other recipe on my website, please please leave a 🌟 star rating and let me know how you liked it in the 📝 comments below.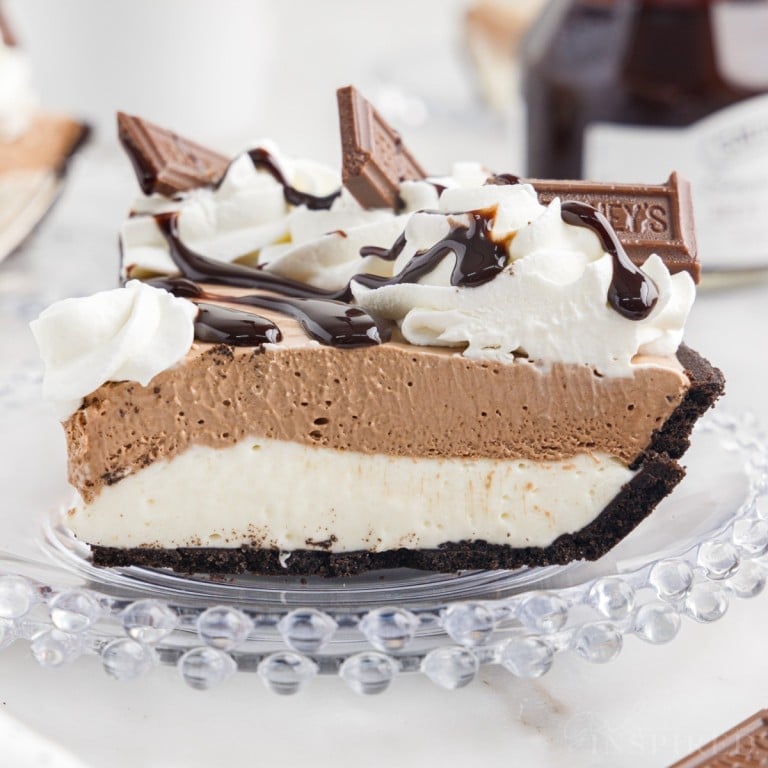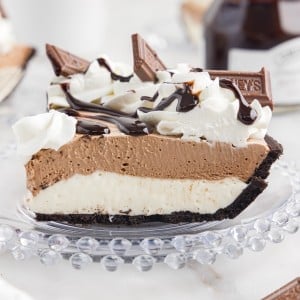 Hershey Pie
This easy no bake Hershey pie is rich, creamy, and full of satisfying chocolate flavor from the crust and filling.
Ingredients
9- inch chocolate pie crust
8 ounces of cream cheese softened to room temperature
1 cup powdered sugar
7 ounces marshmallow fluff
6 Hershey's chocolate bars broken into pieces (plus more for decorating)
1 16- ounce tub Cool Whip divided
Hot fudge sauce for garnish
Instructions
In a medium mixing bowl, beat together softened cream cheese, powdered sugar, and marshmallow fluff until light and creamy.

Spread cream cheese mixture into the bottom of the chocolate pie crust.

In a microwave-safe bowl, heat Hershey's bar pieces in 30 second increments, stirring between intervals until the chocolate is melted and smooth. Fold 8 ounces of the Cool Whip into the melted chocolate and spread mixture over the cream cheese layer in the pie crust.

Refrigerate for 3-4 hours to set the pie. Top pie with dollops or piped swirls of remaining Cool Whip and additional Hershey's bar pieces. Serve with a drizzle of hot fudge, if desired.
Notes
Storage: Keep covered in the refrigerator for 2-3 days or in the freezer up to 1 month. If frozen, it thaws fast.
The pie is creamy and soft due to the way we melt the chocolate and fold in the Cool Whip, along with adding the marshmallow fluff.
To get clean slices, freeze the pie after making for several hours.
Store bought or homemade Oreo crusts will work for Hershey pie.
For garnishing the top, you'll need an extra chocolate bar.
Top the pie with dollops of Cool Whip. For more intricate decorating use a stabilized whipped cream.
Before you mix the whipped topping with the melted chocolate, make sure that the topping has completely thawed. If it's not thawed properly, it can cause the chocolate to harden and create lumps in the mixture. In case you notice any lumps, you can microwave the chocolate mixture for 15 seconds at a time until it becomes smooth again.
Nutrition
Calories: 300kcal | Carbohydrates: 54g | Protein: 6g | Fat: 9g | Saturated Fat: 5g | Polyunsaturated Fat: 0.3g | Monounsaturated Fat: 3g | Trans Fat: 0.2g | Cholesterol: 10mg | Sodium: 208mg | Potassium: 167mg | Fiber: 1g | Sugar: 42g | Vitamin A: 96IU | Calcium: 136mg | Iron: 1mg