This easy dark chocolate ganache recipe is made with just 2 ingredients that can be poured as a mirror glaze, whipped into a light frosting, or be used to pipe decorations and fill cakes. The options are endless!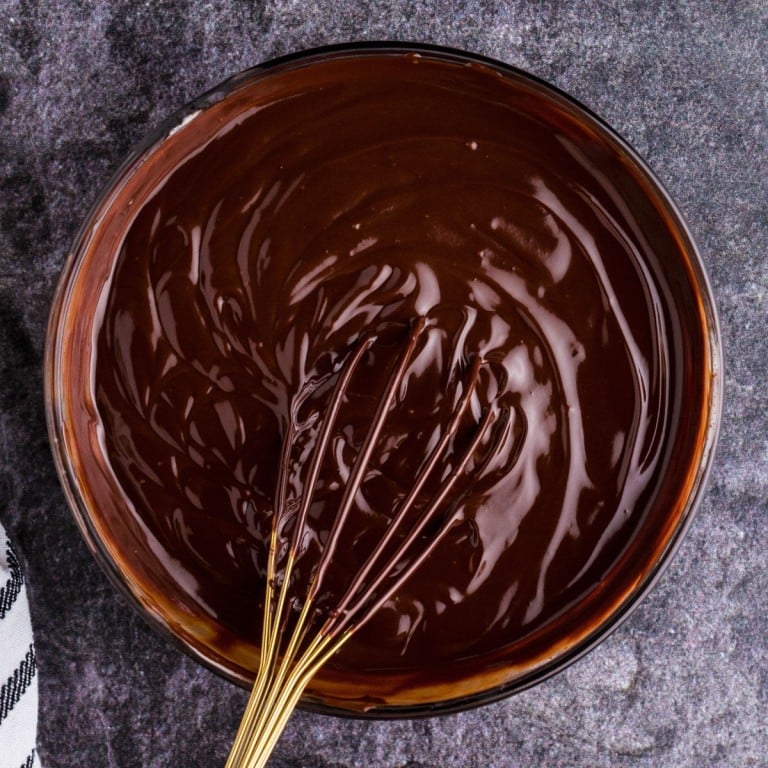 Dark chocolate ganache is rich and decadent. You can whip up a batch in just a matter of minutes making it the perfect addition for cakes and fillings. Add a fancy drip, or turn it into a full-blown homemade frosting. All you need is dark chocolate and heavy cream.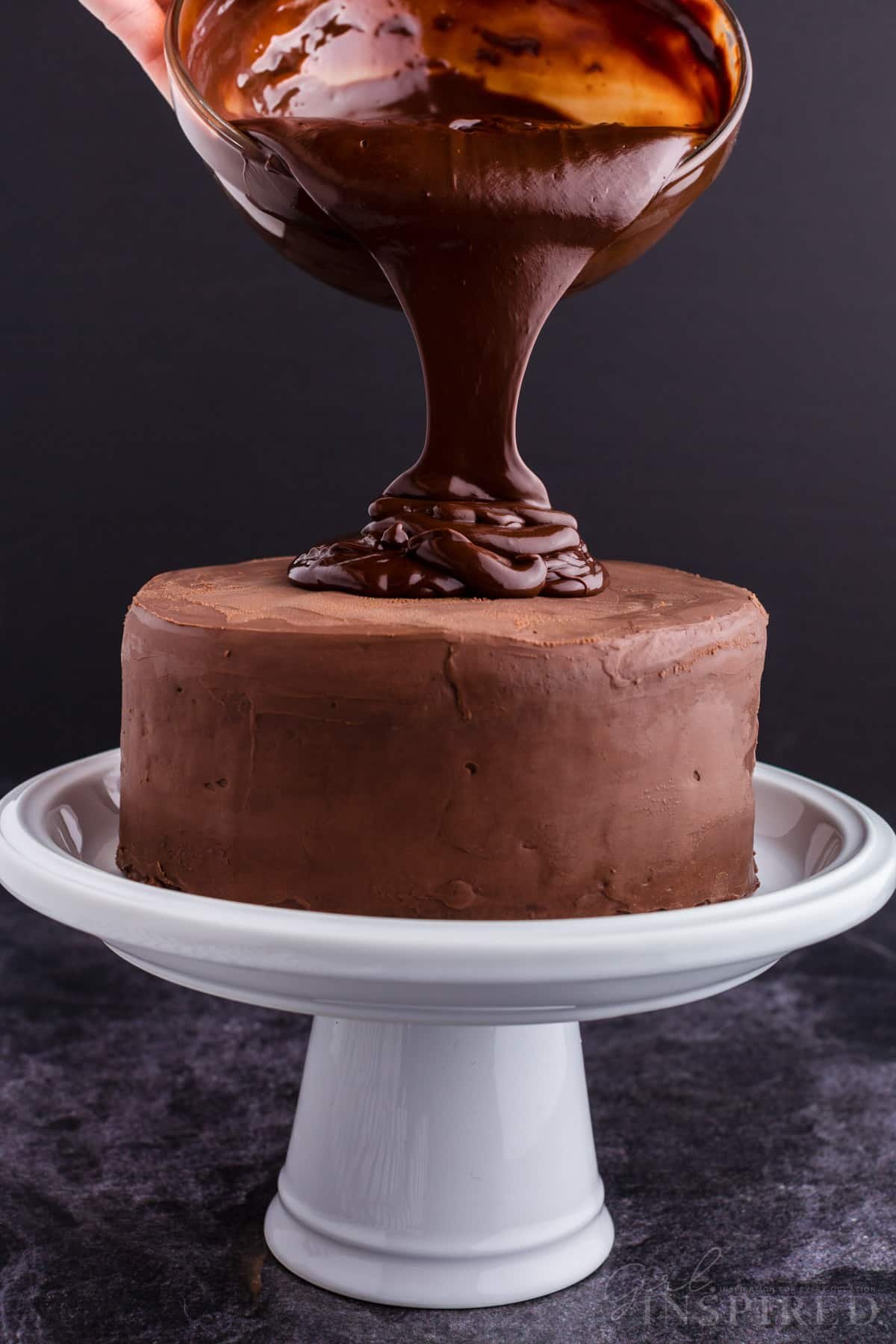 The ratio of chocolate to cream in this recipe is perfect for making chocolate truffles, but the fun doesn't stop there! You can use ganache in so many ways with just 2 ingredients, so it's very versatile. The best part is how the consistency changes based on the temperature of the cream and chocolate mixture. We've used dark chocolate ganache to coat our Black Magic Cake and also on top of our Bailey's Brownies.
If you love chocolate as much as I do, then you have to try my classic chocolate cake. While I used frosting the first time, you could pour the ganache over top. We also love these fudgy crinkle cookies, plus they are fun to look at!
Jump to:
🍫 Ingredients: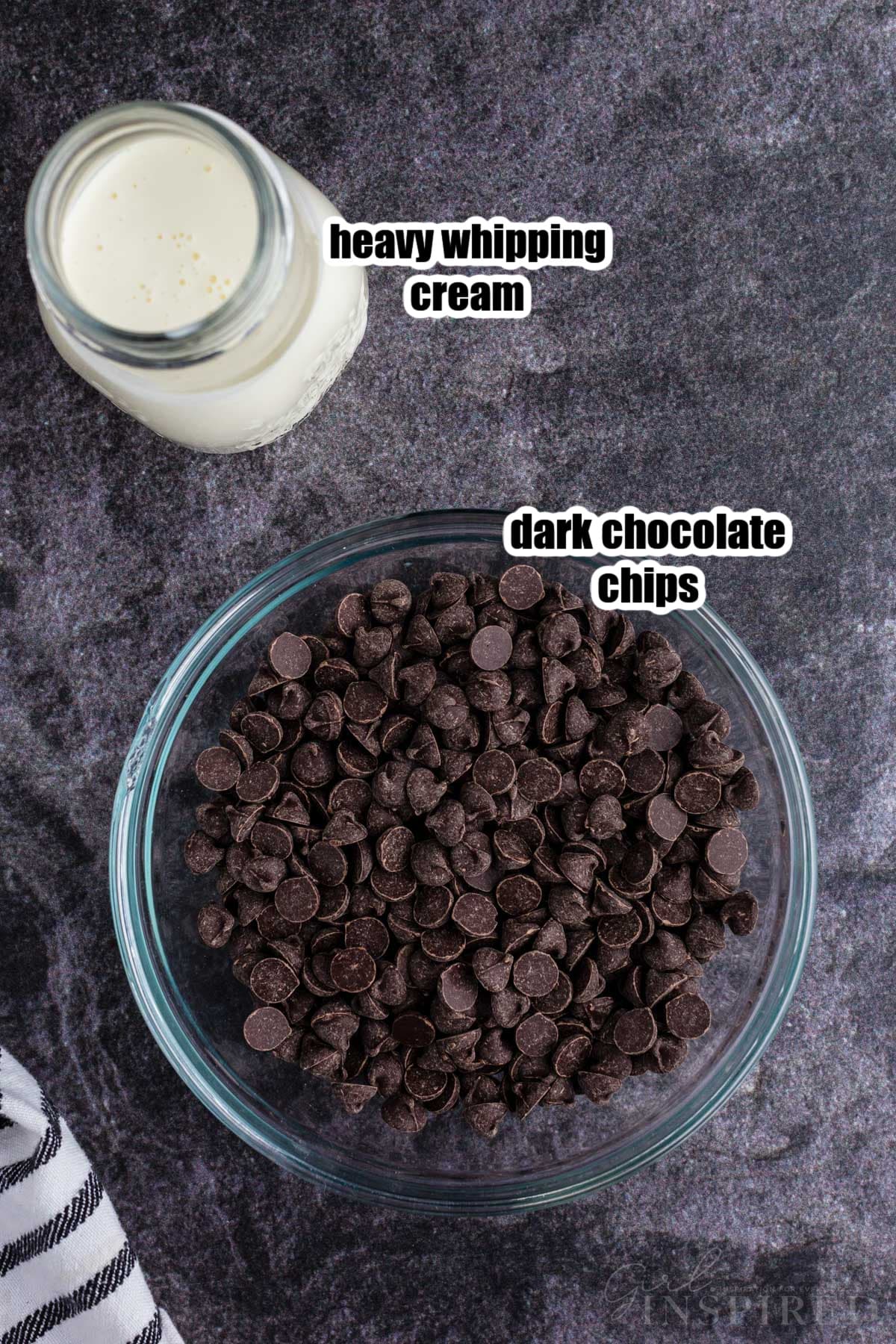 dark chocolate chips – we like Ghirardelli chocolate. It's rich, high-quality, and always comes out perfect. Check the label to ensure cocoa butter is an ingredient versus palm oil or another filler. This is what differentiates real chocolate from candy wafers.
heavy whipping cream – do not use whole milk or half and half. The ganache will not be set up properly.
For a complete list of ingredients and their measurements, please refer to the printable recipe card 📋 at the bottom of the post.
Optional Garnish:
Use this rich ganache for cupcakes, to drizzle over cakes or brownie cheesecake, when serving ice cream, piping cupcakes, dipping fruit, on chocolate crepes, or as a filling.
Equipment Needed:
Glass bowl – you don't want the cream to melt plastic bowls.
Substitutions and Variations
White chocolate ganache – Follow the same process except use white chocolate chips in place of dark chocolate.
Dairy-free (vegan ganache) – use full-fat canned coconut milk in place of whipping cream.
Type of chocolate – the recipe can be made with semisweet chocolate, milk chocolate, or white. You can use bars of chocolate or chips.
Whipped chocolate ganache – use when you want a light, airy, and semi-sweet frosting. Once the ganache has completely cooled whip it on medium speed for a few minutes so it's light and spreadable.
Piped chocolate ganache – transfer the cooled ganache to a pastry bag with a tip and pipe it onto cupcakes.
🔪 Instructions:
PREP: Add the chocolate chips to a glass bowl.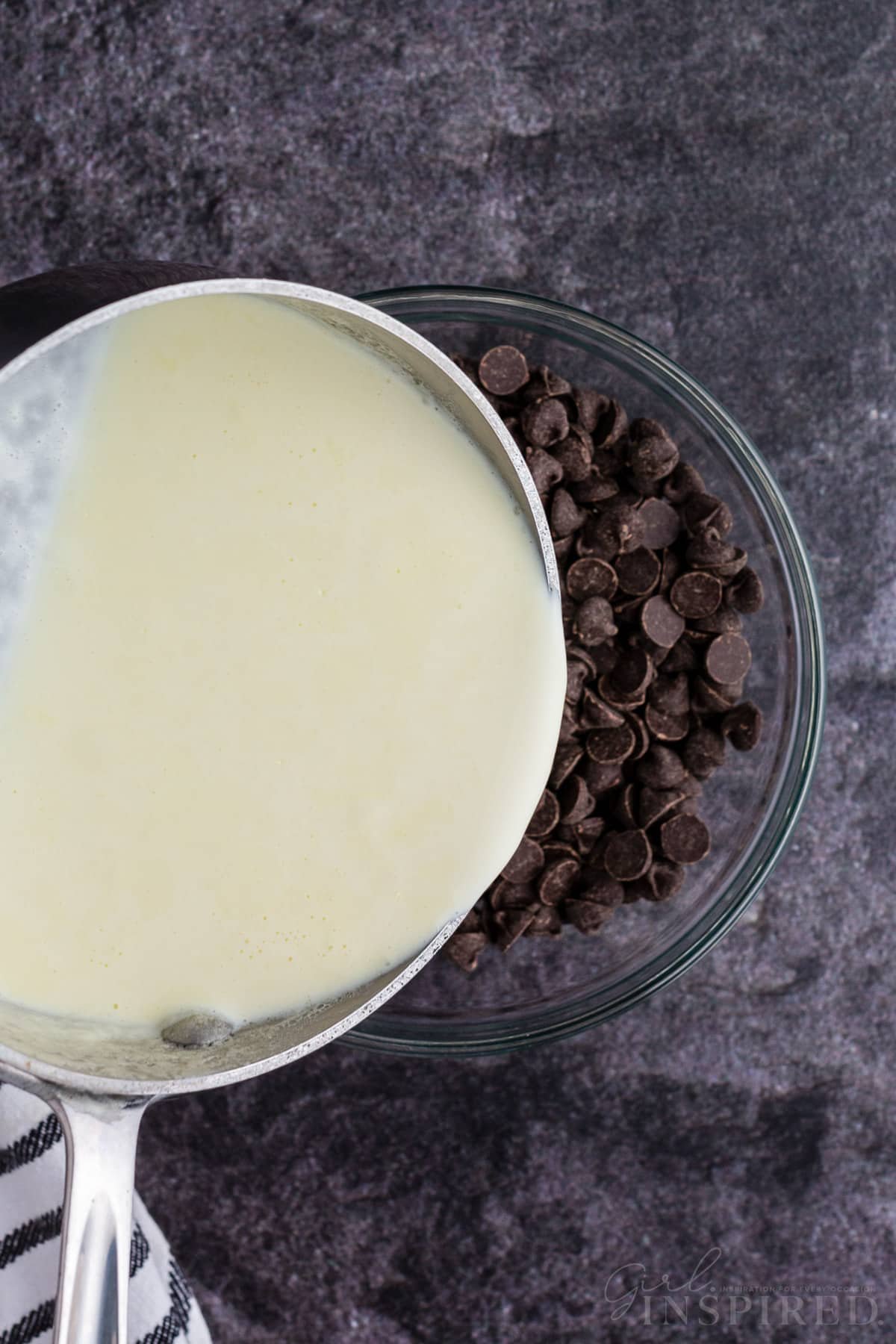 Step 1: In a small saucepan over medium heat or microwave in a heatproof bowl, warm cream until it's steaming. Pour the hot cream over the chocolate. Cover the bowl with a plate for 2-3 minutes to trap the heat and soften the chocolate.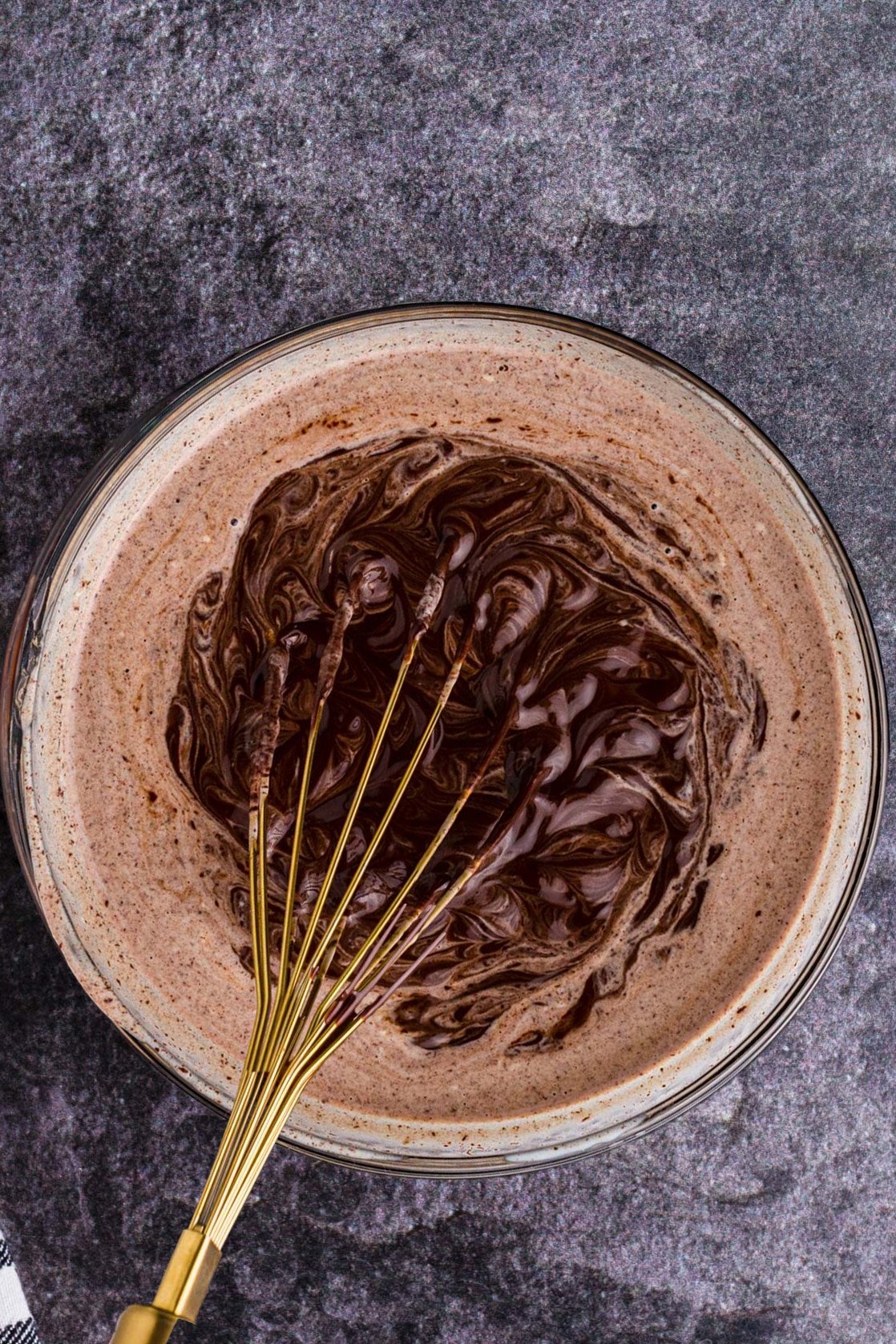 Step 2: Stir the mixture of chocolate and cream.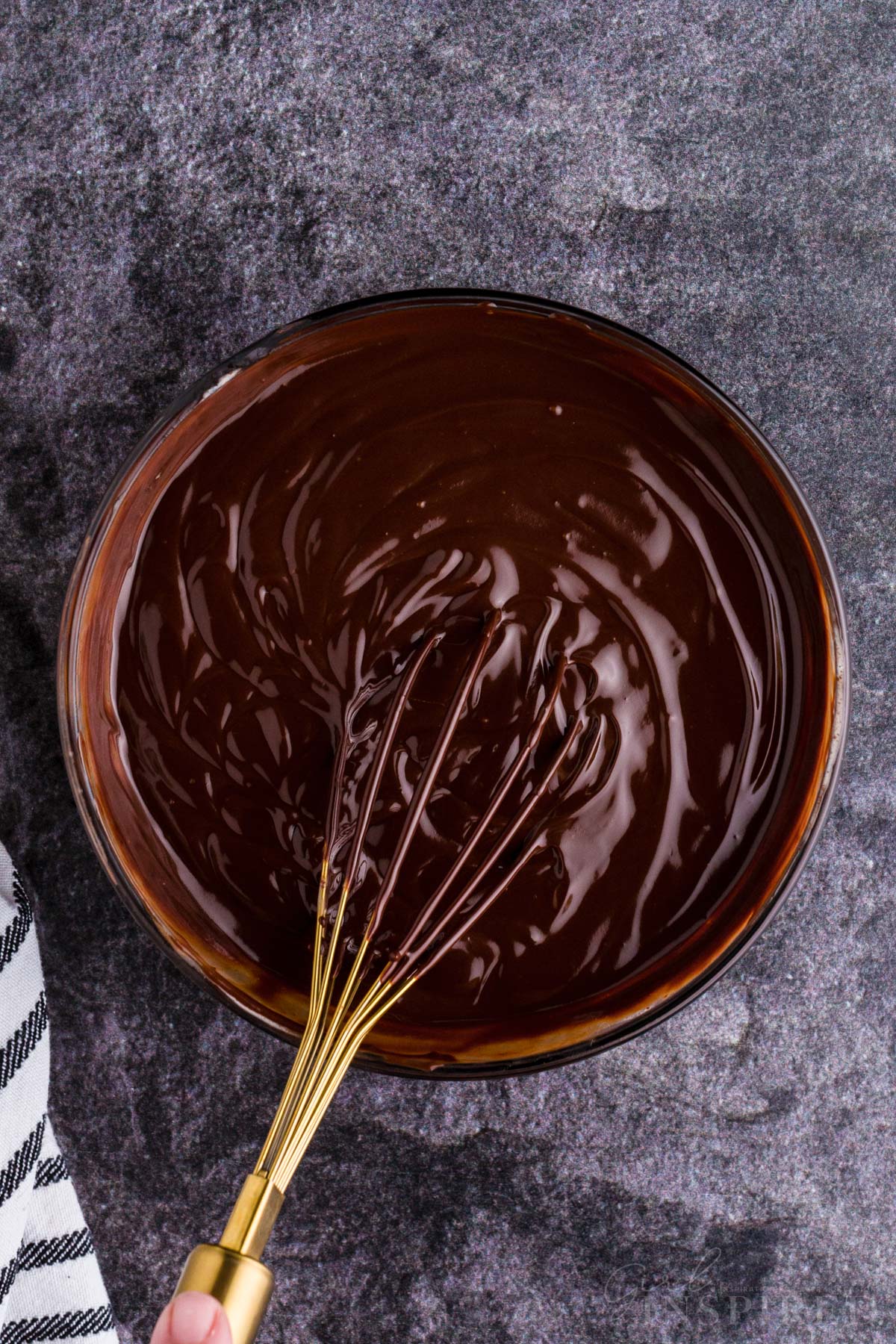 Step 3: You want the ganache to be smooth and glossy.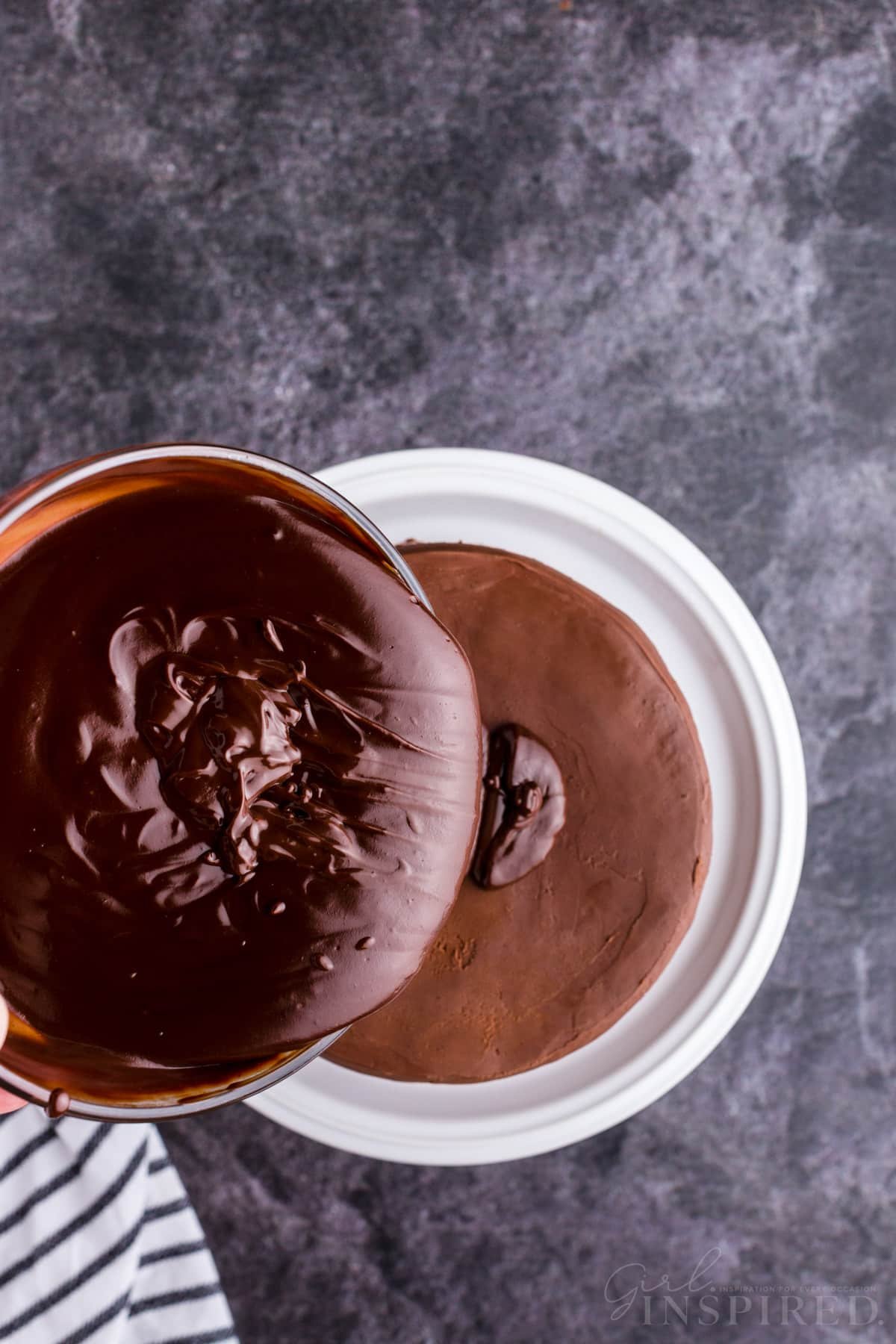 Step 4: Pour the ganache over your cake and use a spatula to smooth it down the sides. You can also spoon it into a tart or over cupcakes.
Pro Tip: You will only get the glossy look if you use the ganache while it is a warm thin glaze. As it cools to room temperature it will have a matte finish, with different consistencies.
SERVE: Use immediately or store for later.
If you are using chocolate bars, chop them using a serrated knife. It makes the process easier.
Some like to use a double boiler to melt the chocolate. This is acceptable but directly over the stovetop or microwave yields the same results.
The smaller the chocolate pieces the quicker it will melt. Do not use large chunks as there is not enough heat to melt them completely.
Don't skip out on good quality chocolate. The melted chocolate really shines and you don't want to risk it being grainy or separated.
This ganache has a natural glossy sheen, however, some like to add a little corn syrup to the mixture if you are pouring it over the outside of a cake.
To add the ganache to cakes use it while it's pourable just after you have stirred the chocolate in.
Fun Fact
Did you know it took over 8 years to develop the recipes for milk chocolate? –Mashed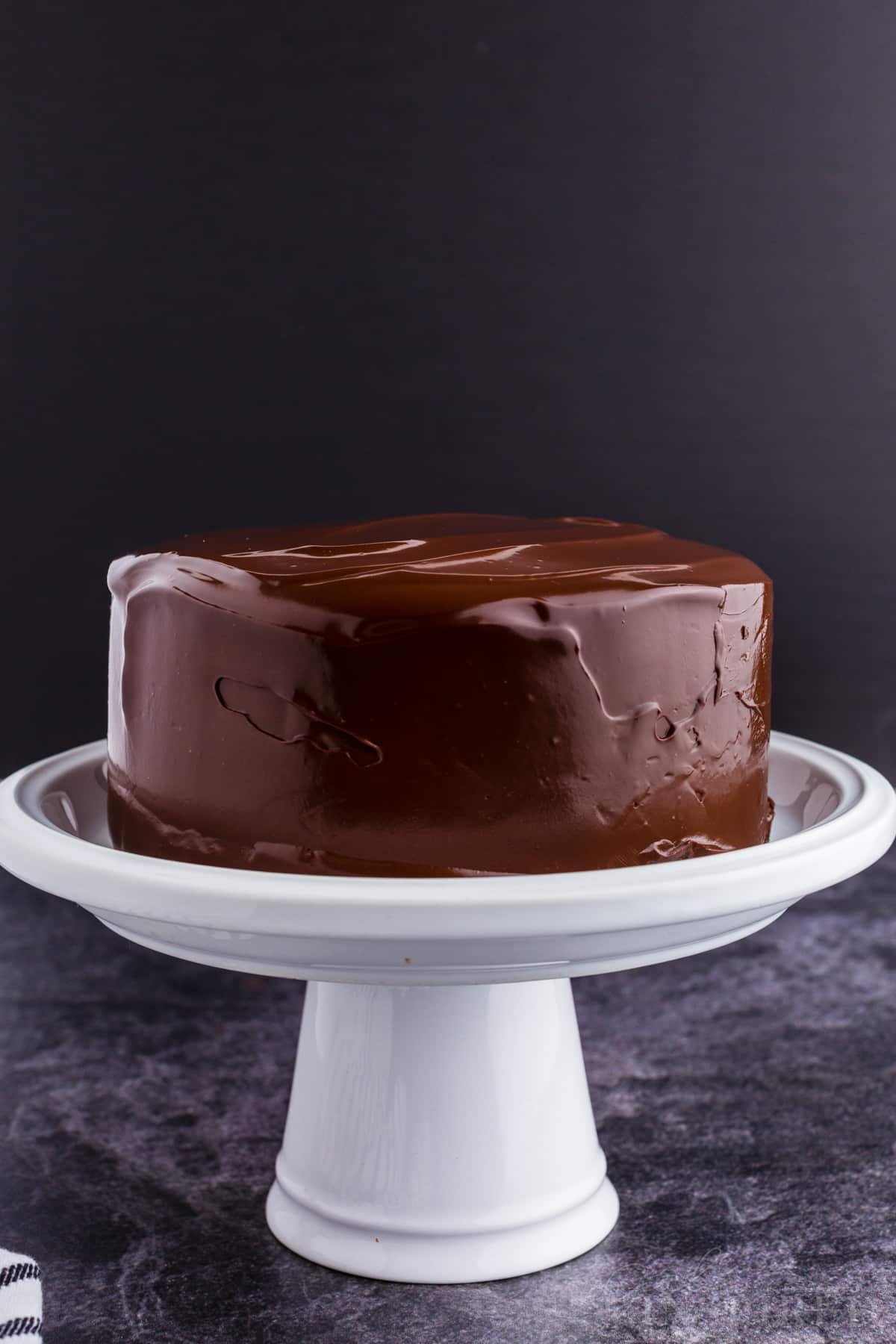 Recipe FAQs
How to store ganache recipes?
Keep leftovers in the fridge in an airtight container for up to 1 week or freeze them for 3 months.
What is chocolate ganache?
Chocolate ganache is a rich and velvety mixture made from chocolate and cream. It is commonly used in baking and pastry making as a filling, glaze, or frosting for cakes, cupcakes, tarts, and other desserts.

The ratio of chocolate to cream can vary depending on the desired consistency and purpose of the ganache.

The type of chocolate used can also affect the flavor and texture of the ganache. Dark chocolate, milk chocolate, and white chocolate can all be used, with dark chocolate providing a more intense and bittersweet flavor, while milk chocolate and white chocolate create a sweeter and milder taste.

Ganache can be used in various ways depending on its temperature. When warm and fluid, it can be poured over cakes or pastries to create a shiny glaze. As it cools and thickens, it can be whipped or chilled to create a filling for truffles, piped decorations, or a spreadable frosting. The versatility and luxuriousness of ganache make it a favorite among bakers.

Why won't my ganache harden?
Incorrect chocolate-to-cream ratio: If the proportion of cream is too high, the ganache may remain soft. Ensure that you are using the correct amount of cream and chocolate.
Insufficient cooling time: Ganache needs sufficient time to cool and set properly. If you haven't allowed the ganache enough time to cool, it may not have had the chance to solidify. Place it in the refrigerator for a longer period, usually a few hours or overnight, to allow it to set completely.
Temperature issues: Ganache can be sensitive to temperature. If it's too warm in your baking area, the ganache may have difficulty setting.
Low-quality chocolate: If you used low-quality chocolate with a higher fat content or added ingredients that hinder the setting process, it may not firm up as expected. Opt for high-quality chocolate with a sufficient amount of cocoa solids for better results.
Incorrect cream consistency: Using a cream with a lower fat content or a higher water content may result in a softer ganache. Use heavy cream or whipping cream, which has a higher fat content, to ensure a firmer ganache.
Overheating the ganache: Chocolate can become unstable if exposed to excessive heat, so it's essential to melt the chocolate and cream gently. Use a double boiler or microwave in short bursts, stirring frequently, to prevent overheating.
If you try this Dark Chocolate Ganache or any other recipe on my website, please leave a 🌟 star rating and let me know how you liked it in the 📝 comments below.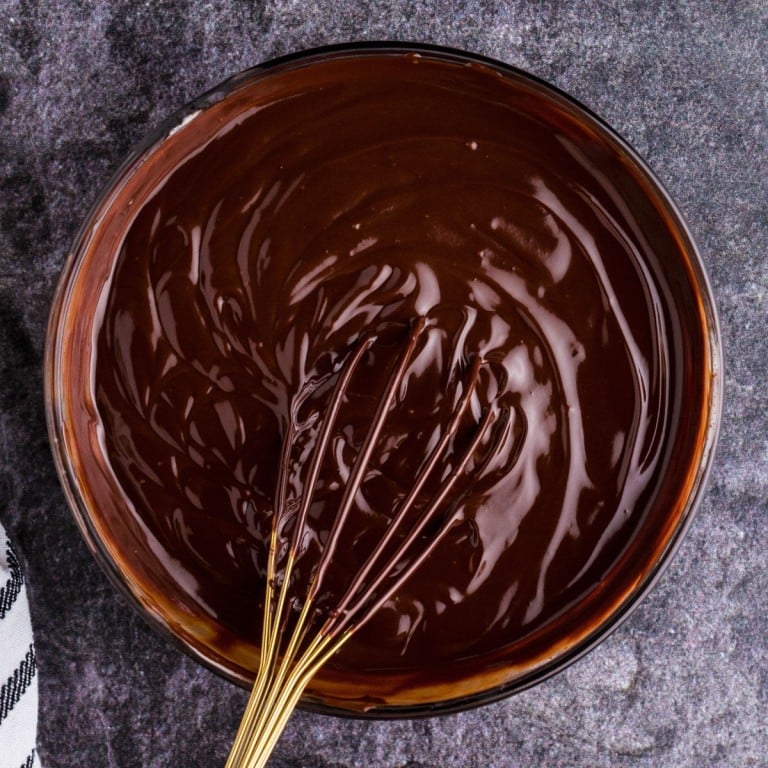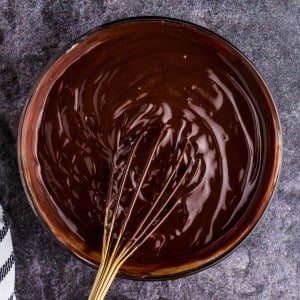 Dark Chocolate Ganache
This easy dark chocolate ganache recipe is made with just 2 ingredients that can be poured as a mirror glaze, whipped into a light frosting, or be used to pipe decorations and fill cakes. The options are endless!
Ingredients
12 oz. dark chocolate chips
1 ½ cups heavy whipping cream
Instructions
Heat heavy cream in a small saucepan or in a microwave safe container until steaming. Pour cream over chocolate chips in a small bowl. Cover with a plate for 2-3 minutes to contain the heat and allow the chocolate chips to soften.

Whisk until the mixture forms a smooth, glossy ganache.

Pour ganache over the top cakes and use an offset spatula to smooth the ganache down and around the sides. You can also spoon the ganache over cupcakes or into a tart. It can be thick and the start of a tart or pour a thin layer under or over another type of filling. Cool ganache completely and then whip with a hand mixer or standing mixer to make a whipped ganache frosting. The options are endless.
Notes
Storage: Cover with plastic wrap and store in the refrigerator for up to 7 days. Freeze for up to 3 months. If the cream is not steaming (not warm enough) and the chocolate chips do not melt all of the way, you can place the bowl in the microwave for 30 seconds at a time and then try whisking again. Ganache can be made with semi-sweet chocolate chips, milk chocolate chips, and/or chopped chocolate. I like to use Ghiradelli dark chocolate bars (you will need 3 – 4 oz. bars). Chop finely and place the chocolate in a bowl and then cover with the steamed milk.
Nutrition
Calories: 254kcal | Carbohydrates: 17g | Protein: 3g | Fat: 20g | Saturated Fat: 15g | Polyunsaturated Fat: 1g | Monounsaturated Fat: 3g | Cholesterol: 34mg | Sodium: 38mg | Potassium: 208mg | Fiber: 1g | Sugar: 11g | Vitamin A: 440IU | Vitamin C: 0.3mg | Calcium: 106mg | Iron: 0.4mg