Oreo stuffed cinnamon rolls are ultra fluffy, packed with cookies, and are topped with a sweet cream cheese frosting.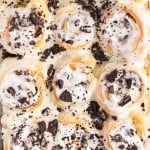 This cookies and cream cinnamon roll recipe combines the flavor of traditional cinnamon rolls with our favorite chocolate stuffed cookies. The buns are topped with a luscious cream cheese frosting with Oreo crumbs folded in. Cookies and cream cinnamon rolls are fluffy, decadent, and super simple to make.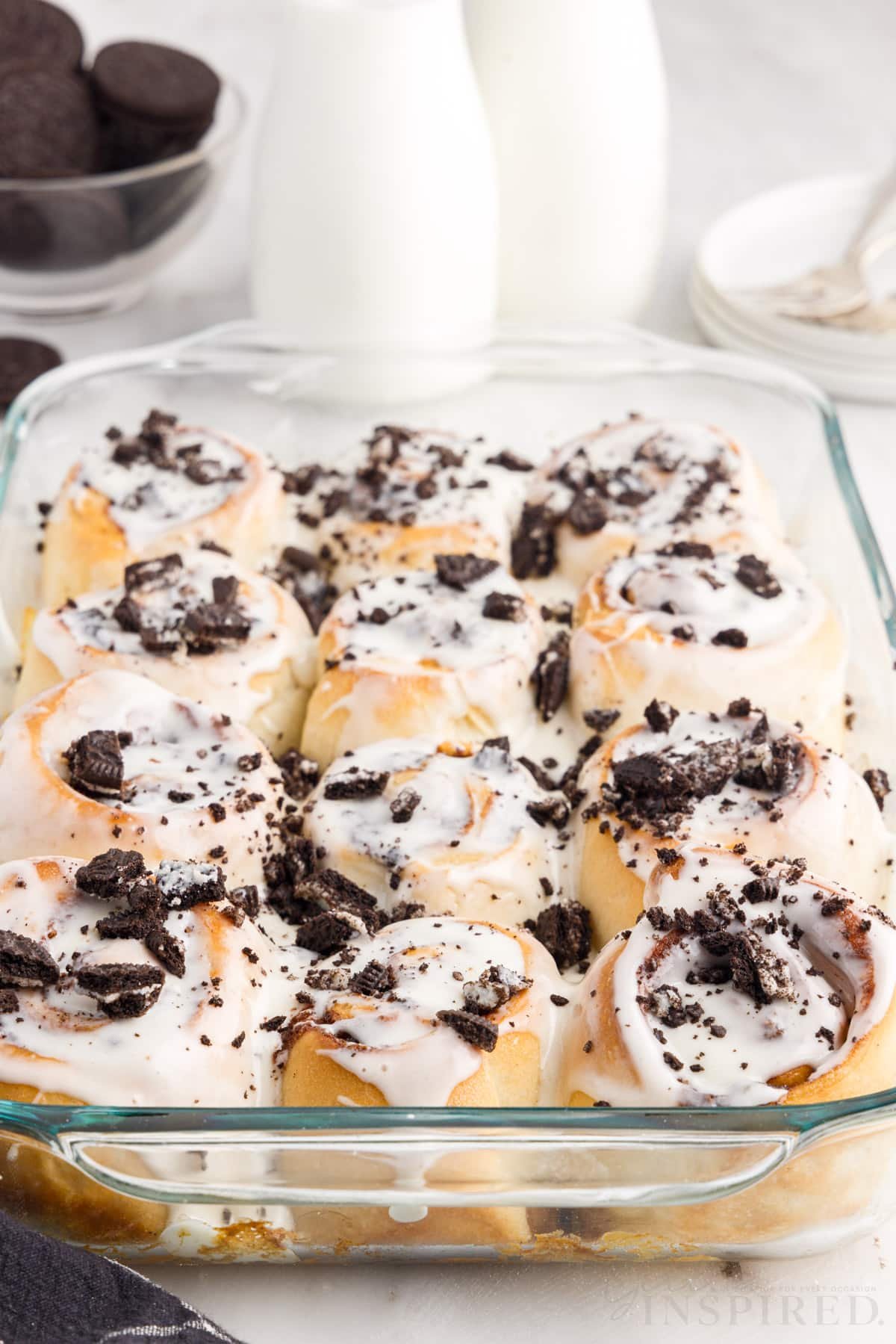 While sometimes I take the shortcut and make cinnamon rolls using crescent dough, they don't always rise the same or have that great homemade flavor. It's perfect for quick snacks, like these mini cinnamon rolls, but I wanted to try a different shortcut for larger cinnamon rolls. Today we are using thawed bread dough since it's easy to work with and we don't have to worry about making our own yeast dough. Even though from scratch bread dough is hard to beat, when we are making breakfast, I don't always want to wait for the double rising time.
Oreos are our favorite cookie, so we use them to make Oreo milkshakes, mini Oreo cheesecakes, and Oreo balls. These are all easy recipes that can be whipped up when you want a little sweet treat. We've also used them to make cookie monster ice cream, which big and little kids love!
Jump to:
🍪 Ingredients:
Cookies n Cream Cinnamon Rolls:
frozen bread dough – make sure it's thawed before using; can substitute homemade sweet dough
light brown sugar – pack when measuring to get the accurate amount; this goes into our traditional cinnamon roll filling
cinnamon – gives our cinnamon buns that signature flavor.
cocoa powder – adds a burst of chocolate.
unsalted butter – allow it to soften so it easily mixes with the other filling ingredients.
Oreo cookies – we used the regular Oreos.
heavy whipping cream – a game changer when it comes to making homemade cinnamon rolls. It adds moisture and a gooey base to the bottom of the pan.
Frosting:
powdered sugar – helps with texture and adds sweetness.
vanilla extract – brings out the other flavors.
heavy cream – adds a little richness while helping to get the right consistency.
cream cheese – use soft cream cheese so it's easier to mix.
Oreo cookies – we used regular.
For a complete list of ingredients and their measurements, please refer to the printable recipe 📋 at the bottom of this post.
Optional Garnish:
These fluffy cinnamon rolls are topped with a cream cheese frosting and crushed Oreo cookies.
Equipment Needed:
Rolling pin – to rough out the dough.
Bench scraper – to make clean cuts through the cinnamon roll log. If you don't have one you can also use a sharp knife. Some even use dental floss to slice the rolls.
Baking dish – we used a 9×13 pan.
Electric mixer – for the frosting.
Substitutions and Variations
Scratch made dough – if you have a homemade dough recipe you can use that in place of the frozen bread dough. I highly recommend my sweet dinner rolls dough – it makes the perfect base for cinnamon rolls.
Golden Oreos – we love the chocolate of the regular chocolate sandwich cookies, but this could be a nice twist!
Glaze – we like the thicker cream cheese frosting, but you could also pour over a simple vanilla glaze and top with crushed cookies.
🔪 Instructions:
Step 1: On a lightly floured surface, use a rolling pin to roll the thawed dough into a large rectangle (12×18).
Step 2: Mix the softened butter, brown sugar, cocoa powder, and cinnamon in a large bowl to form a paste.
Step 3: Spread the butter mixture on top of the dough in an even layer.
Step 4: Roll the dough into a tight log.
Pro Tip: Using softened and room temperature ingredients yields the best results when baking. This is because they mix better and you aren't adding a ton of extra air into your baked goods.
Step 5:Slice the cinnamon roll dough into 12 2-inch wide pieces.
Step 6: Use nonstick spray to grease a 9×13 baking dish. Place rolls in, leaving a little space between each. Cover with a light kitchen towel and and sit in a warm place without a draft. Let the dough rise for 1-1.5 hours or until it's puffy.
Step 7: Preheat the oven to 350 degrees. Pour the heavy cream over the cinnamon rolls. Bake for 20-25 minutes or until they are lightly browned and cooked.
Step 8: In the bowl of a stand mixer, beat the frosting ingredients together at medium speed until fluffy.
SERVE: Spread the frosting over the rolls and sprinkle with the remaining 1 cup of crushed Oreos, and serve!
​Letting the dough rise in a warm spot is must. Make sure the area is draft free so the dough rises properly.
​Avoid using milk in place of the heavy cream; it will not have the same effect.
The frozen bread dough has a neutral flavor, so it's a perfect base for cinnamon rolls.
Do not thaw the dough on the counter because it will begin to rise. It's important to roll it first, then let the rolls rise.
Fun Fact
To make just one Oreo cookie, it takes 2 hours!
Recipe FAQs
How to store Oreo cinnamon rolls?
Once they have cooled, keep the rolls in the an airtight container in the refrigerator for up to 4 days or freeze for 3 months.
How to freeze cookies and cream rolls?
Wrap the cooled rolls in a layer or two of plastic wrap. Then wrap in a layer of aluminum foil. Place in a freezer bag. You can reheat them directly from the freezer in the microwave or let them thaw in the fridge overnight and reheat.
What does pouring heavy cream on cinnamon rolls do?
Pouring heavy cream on cinnamon rolls can add richness and moisture to the rolls, enhancing their flavor and texture. It seeps into the crevices and absorbs into the dough, making it more tender and moist.

The cream also adds a luscious element to the cinnamon rolls, complementing the sweetness of the cinnamon filling. As the rolls bake, the cream can creates a slightly caramelized and velvety layer on top and bottom, making them extra gooey.
If you try these Cookies and Cream Cinnamon Rolls or any other recipe on my website, please leave a 🌟 star rating and let me know how you liked it in the 📝 comments below.
More Easy Cinnamon Roll Recipes
Cookies and Cream Cinnamon Rolls
Oreo stuffed cinnamon rolls are ultra fluffy, packed with cookies, and are topped with a sweet cream cheese frosting.
Ingredients
Ingredients:
1 lb. frozen bread dough thawed
½ cup packed light brown sugar
1 tablespoon cinnamon
1 tablespoon cocoa powder
¼ cup unsalted butter softened
1 cup crushed Oreo cookies
½ cup heavy whipping cream
Frosting:
1 ½ cups powdered sugar
¼ teaspoon vanilla extract
⅛ cup heavy cream
4 oz. cream cheese softened
1 cup crushed Oreo cookies
Instructions
Roll thawed dough onto a lightly floured cutting board or floured piece of parchment paper to form a 12×18 rectangle.

In a small bowl, mix together the softened butter, brown sugar, cocoa powder, and cinnamon to form a paste.

Use a spatula to spread the butter/sugar mixture over the dough.

Roll the dough up tightly into a log.

Slice the log into 12 – 2-inch wide pieces.

Place the cinnamon rolls in a lightly greased 9×13 baking dish, leaving equal space between all of the rolls. Cover with a light towel and place in a warm, draft-free location. Leave to rise for 1 – 1 ½ hours, until puffy.

Preheat oven to 350°F.

Pour the heavy cream over the cinnamon rolls.

Bake for 20-25 minutes, until the cinnamon rolls are lightly browned and cooked through.

Beat or stir together optional frosting ingredients. Spread frosting over warm cinnamon rolls and top with remaining cup of crushed Oreo cookies.
Notes
Notes: Use a bench scraper to cleanly cut through the roll dough. The dough will be soft though easier to slice and transfer than when using a crescent dough, for example. Frozen bread dough makes a nice base for cinnamon rolls. It's easy to use and has a nice neutral flavor. Thaw a frozen loaf in the refrigerator until thawed through. You don't want to set it out on the counter because once it thaws and warms it will begin to rise. It's important to form, roll, and slice the cinnamon rolls and THEN let them rise. You can also use your favorite homemade sweet roll dough as your base. Using pre-made bread dough comes in handy for quicker results. The heavy cream over the top of the cinnamon rolls adds moisture and makes a gooey base in the bottom of the pan.
Nutrition
Calories: 425kcal | Carbohydrates: 62g | Protein: 5g | Fat: 18g | Saturated Fat: 9g | Polyunsaturated Fat: 1g | Monounsaturated Fat: 5g | Trans Fat: 0.2g | Cholesterol: 34mg | Sodium: 318mg | Potassium: 110mg | Fiber: 2g | Sugar: 35g | Vitamin A: 430IU | Vitamin C: 0.1mg | Calcium: 39mg | Iron: 3mg