No Bake Eclair Cake is a delicious twist to the classic chocolate eclair pastry, consisting of layers of Graham crackers, creamy pudding mixture, and a rich chocolate ganache!
This No Bake Eclair Cake draws inspiration from the classic French pastry eclair that's loved by so many. I mean, who doesn't enjoy a pastry stuffed with whipped cream that's coated in rich chocolate?!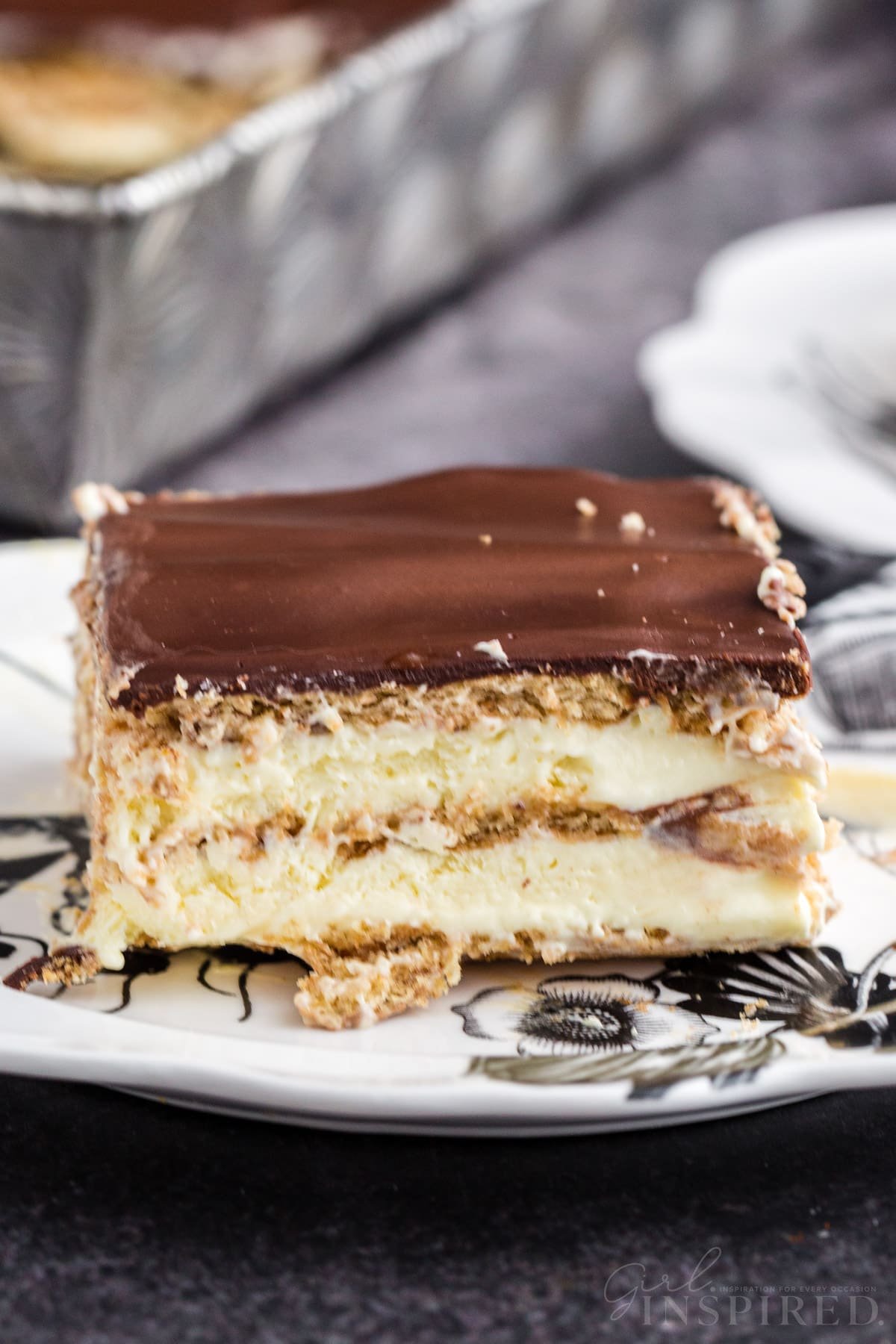 Since I didn't feel like the added time and effort that goes into making a traditional eclair, I decided upon a no-bake eclair cake recipe which offers the same flavors and textures with only 25 minutes of preparation – perfect for a chilled dessert after a warm day! It's loaded with Graham cracker layers, layers of vanilla pudding, and sweet chocolate frosting to give this great dessert the flavors of a classic eclair!
I don't know about you, but I love adding a fun and delicious twist to my favorite treats which you can also try when making Boston Cream Pie Dessert Crepes, Snickers Pie, and Churro Cupcakes!
What do I Need for No Bake Eclair Cake?
🍜 Ingredients:
Graham crackers – Chocolate Graham crackers are another option for this layered dessert.
Box instant vanilla pudding – French vanilla instant pudding could also be used for the pudding layer.
Whole milk – Use any kind of milk that you prefer, such as coconut milk, almond milk, or low-fat milk.
Cool Whip – Thawed. Whipped heavy cream can be used.
Rich chocolate ganache – Chocolate chips (semi-sweet or dark chocolate chips) combined with heavy whipping cream.
Optional Garnish:
This delicious cake can be topped with chopped nuts, a drizzle of caramel sauce, or crumbled Graham crackers while the chocolate glaze is still semi-wet.
Equipment Needed:
9×13 inch pan or casserole dish, whisk or hand mixer, large bowl or medium bowl, offset spatula, and a small saucepan.
Variations and Substitutions:
For a double chocolate eclair cake, use chocolate instant pudding mix instead of vanilla;
Add some piped cream cheese frosting on top of each cake slice – you could use vanilla cream cheese frosting, caramel-flavored frosting, or chocolate cream cheese frosting;
Use chocolate or Honey Graham crackers instead of the original crackers:
Assemble your eclair cake ingredients into small shallow glass jars instead of one large dish for cute individual servings that show off the various layers of the desert;
Use 2 smaller boxes of pudding mix for a slightly larger volume of pudding. You could also use homemade pudding and add the Cool Whip to that;
Instead of the ganache, consider using canned chocolate frosting or homemade dark chocolate buttercream.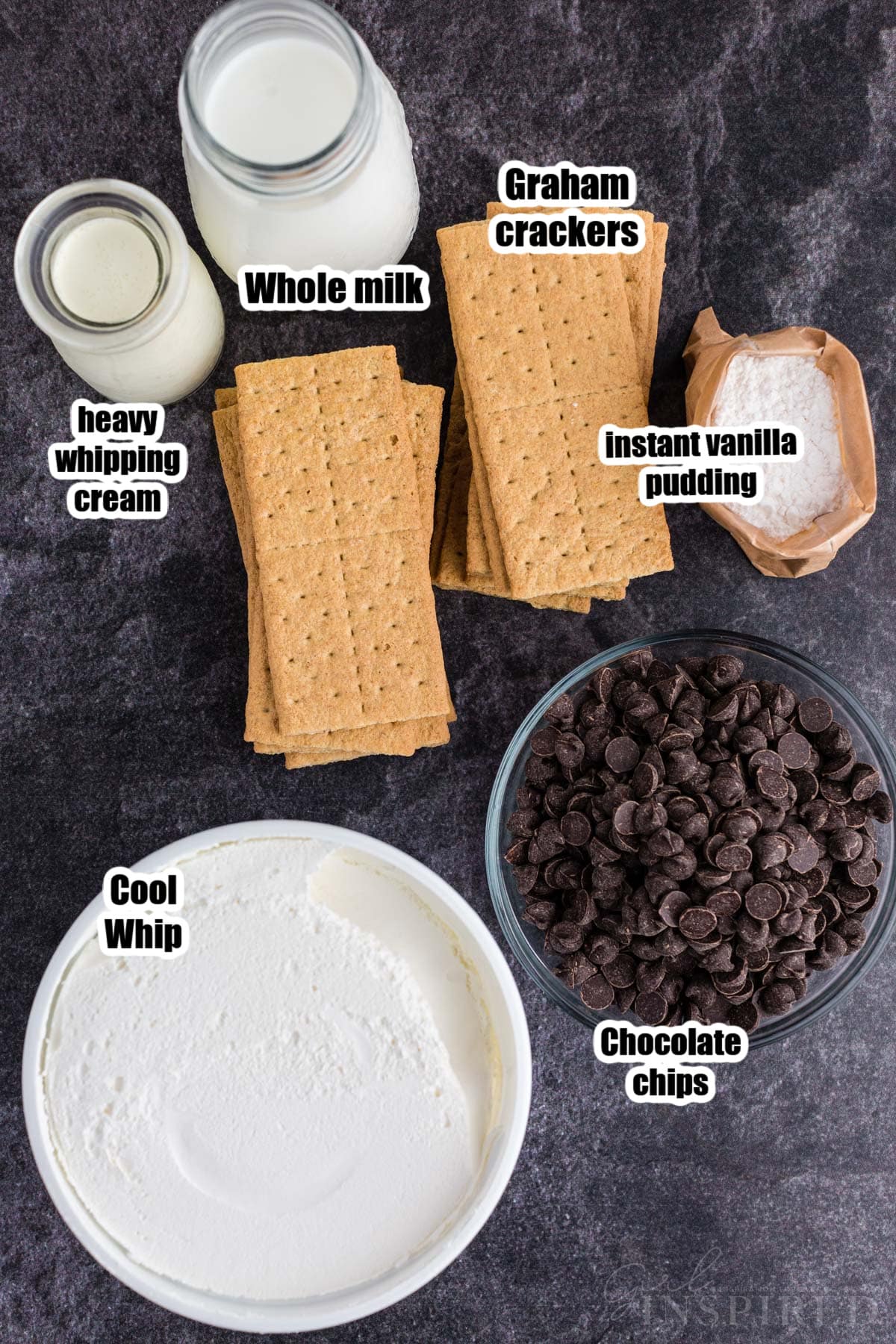 🔪 Instructions:
PREP: Assemble the ingredients for this no-bake chocolate eclair cake recipe.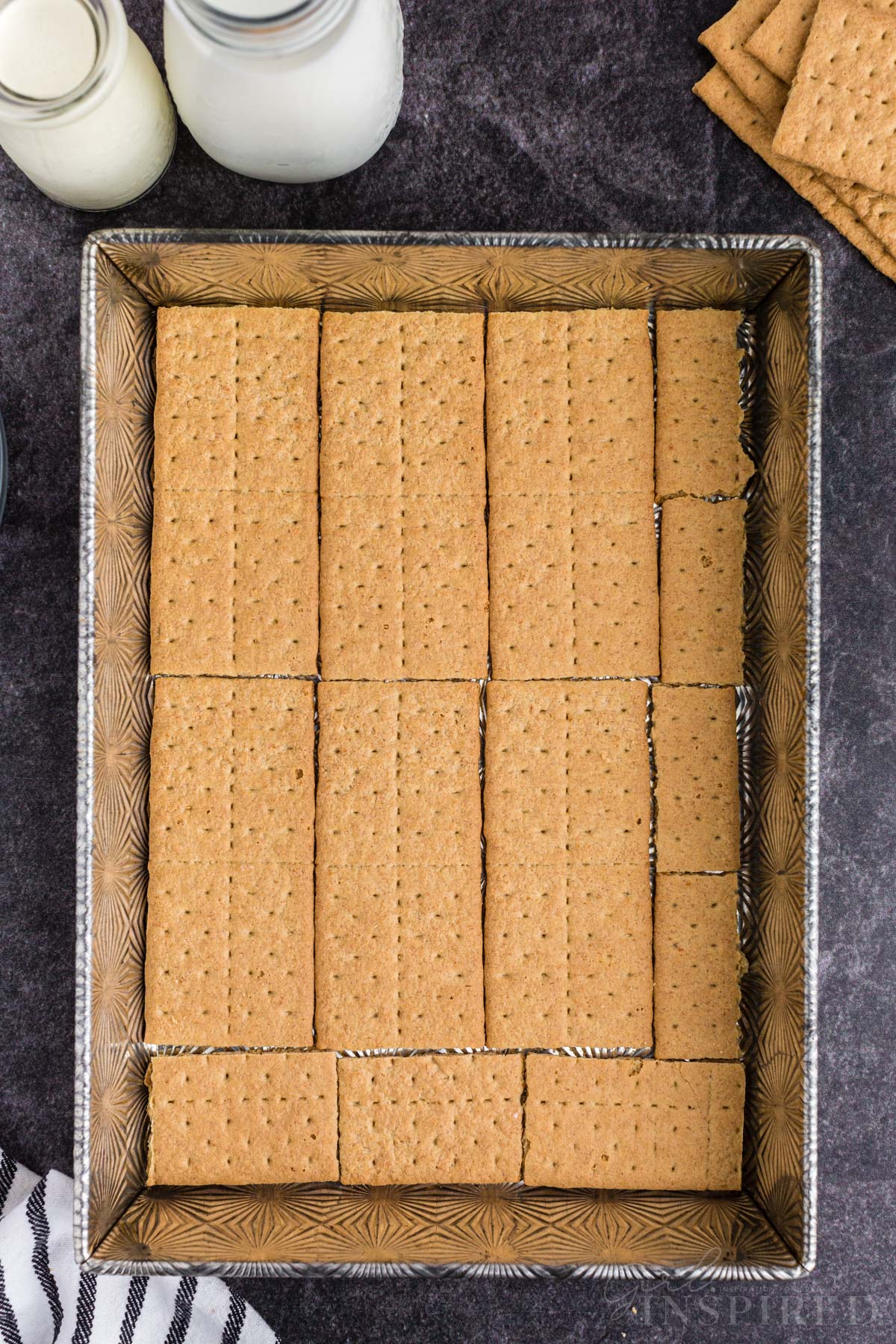 Step 1: Add a single layer of Graham crackers to the bottom of the pan.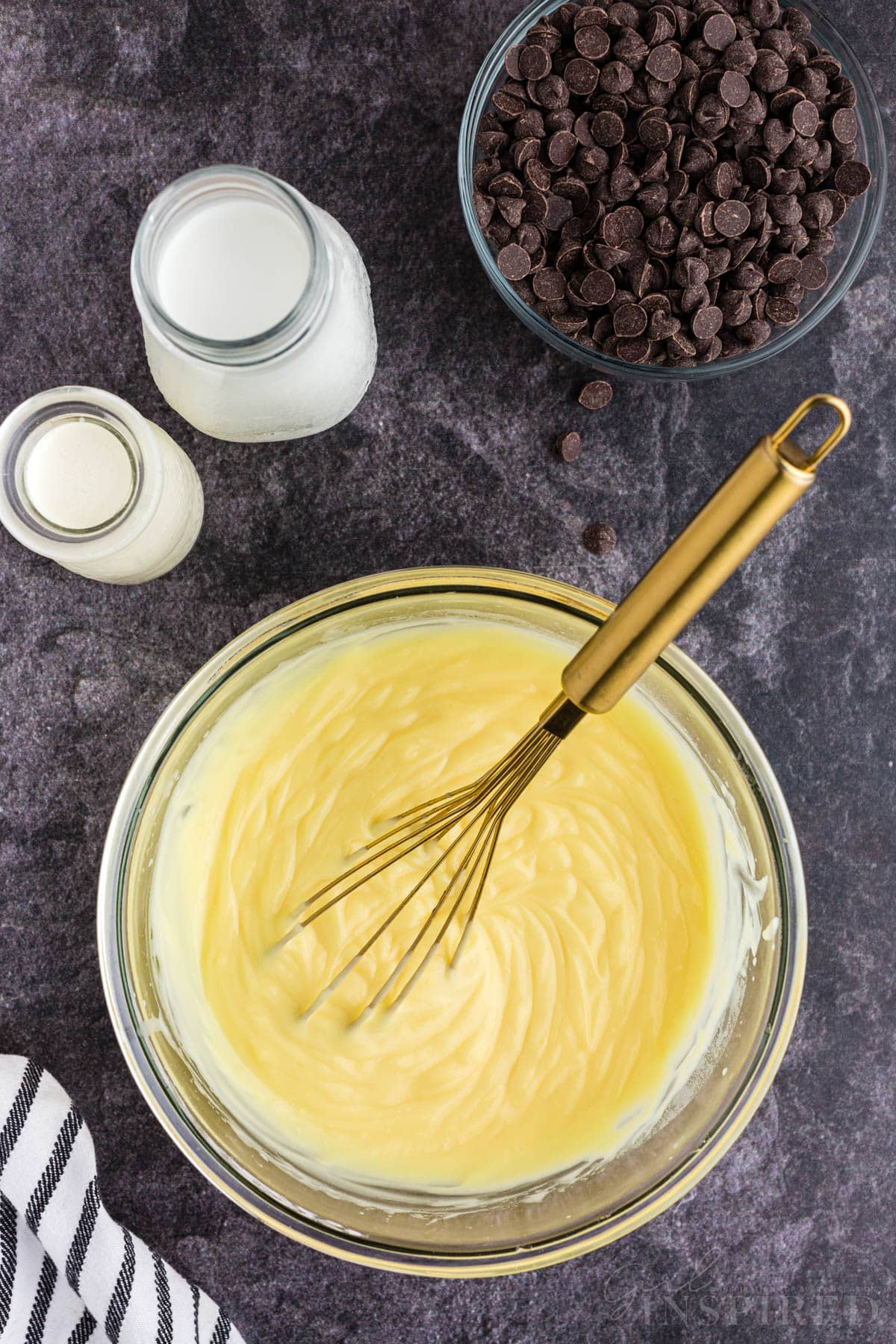 Step 2: Whisk the vanilla instant pudding with milk.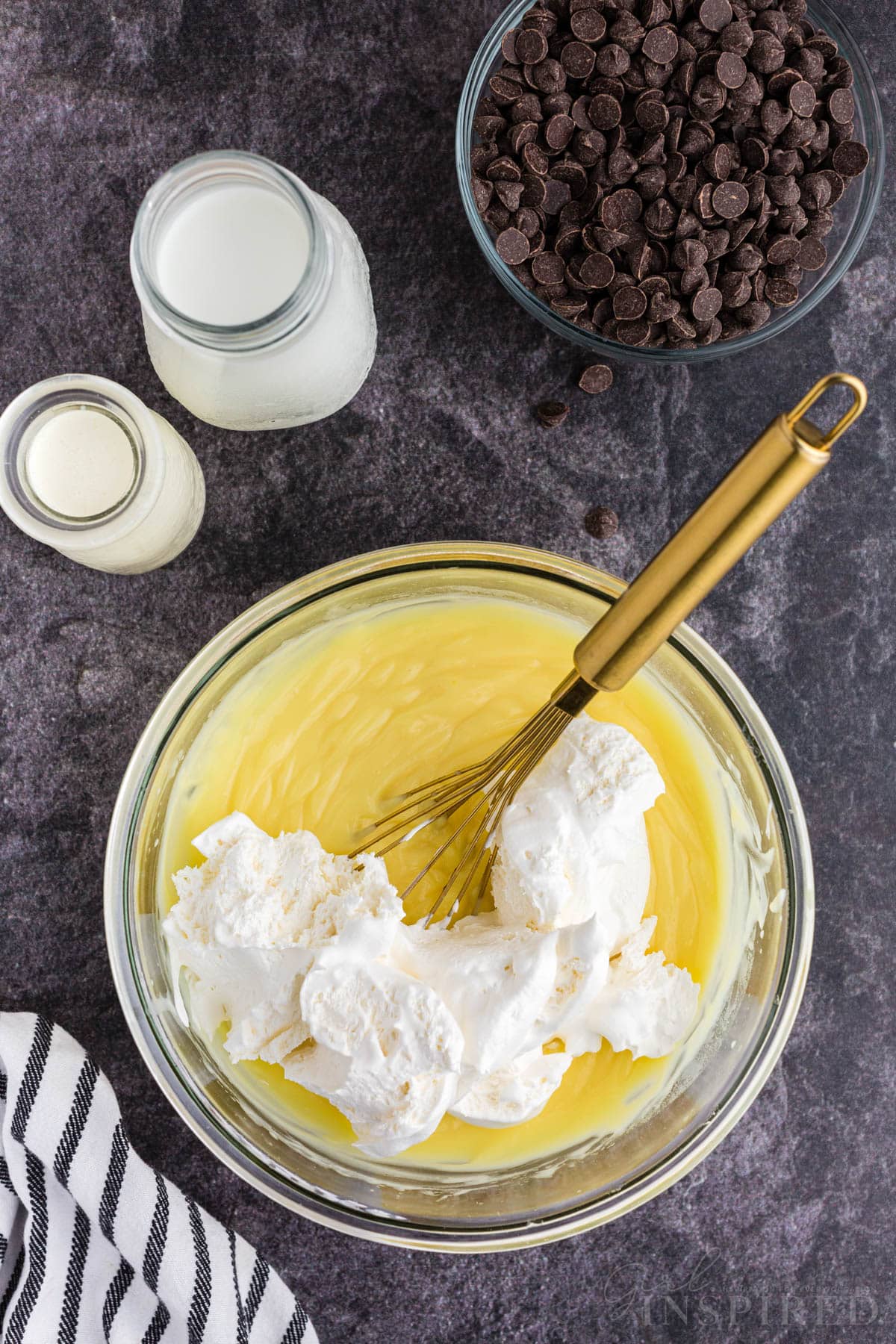 Step 3: Fold in the Cool Whip.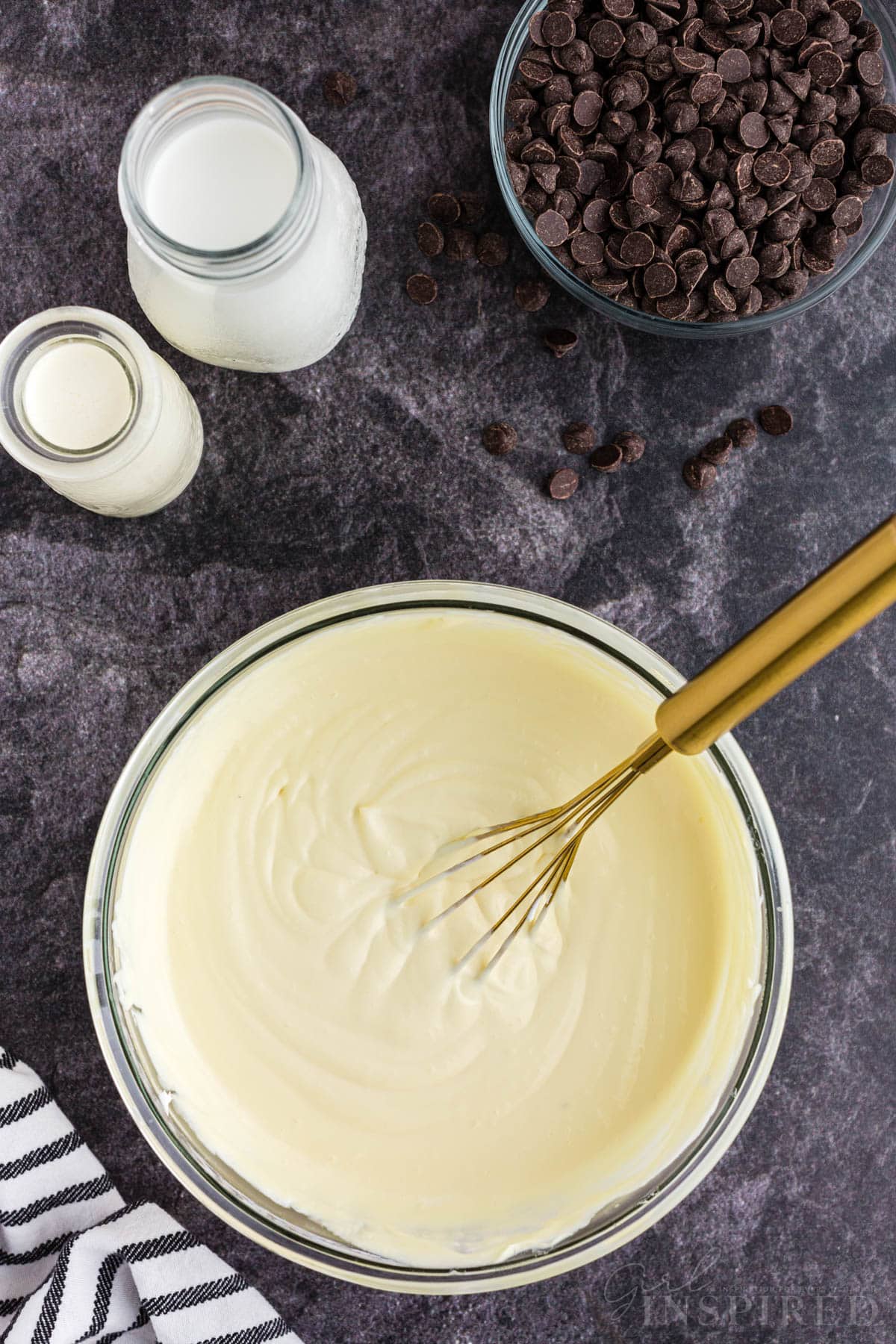 Step 4: Combine to make the creamy layers of this easy dessert.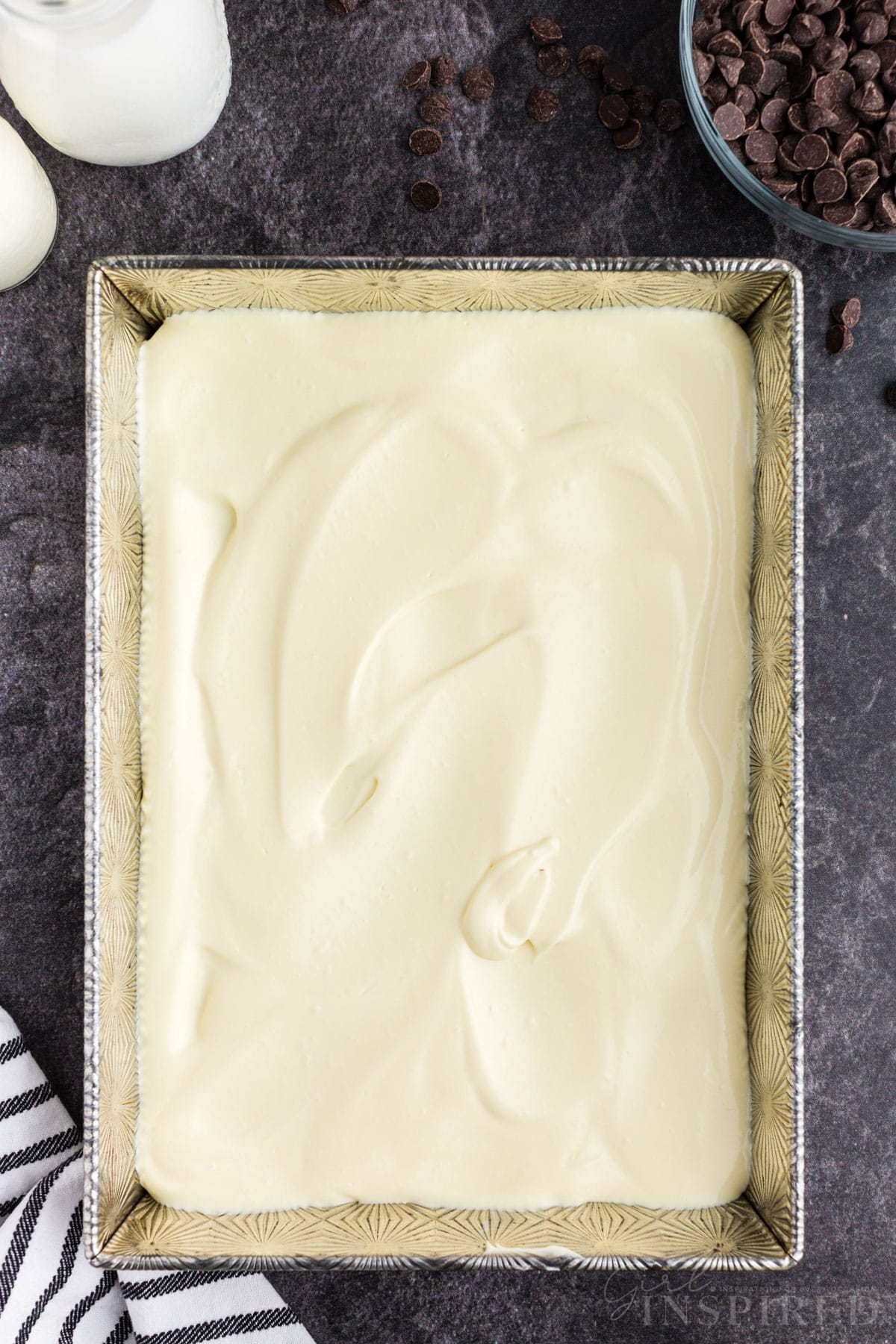 Step 5: Spread half of the pudding mixture over the first layer of whole Graham crackers in an even layer.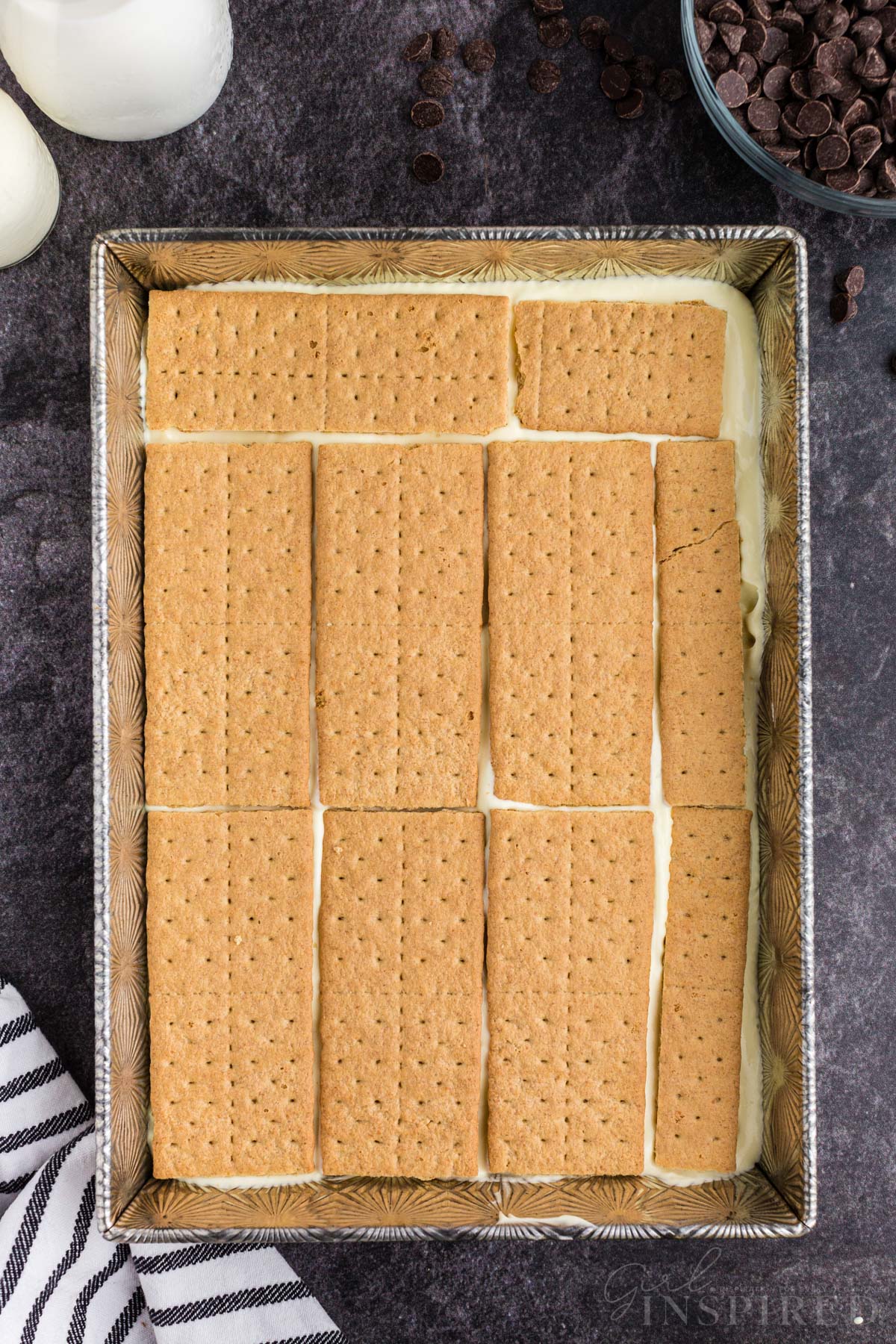 Step 6: Top the pudding layer with a second layer of Graham crackers. Add the remaining pudding mixture on top, followed by the last layer of Graham crackers.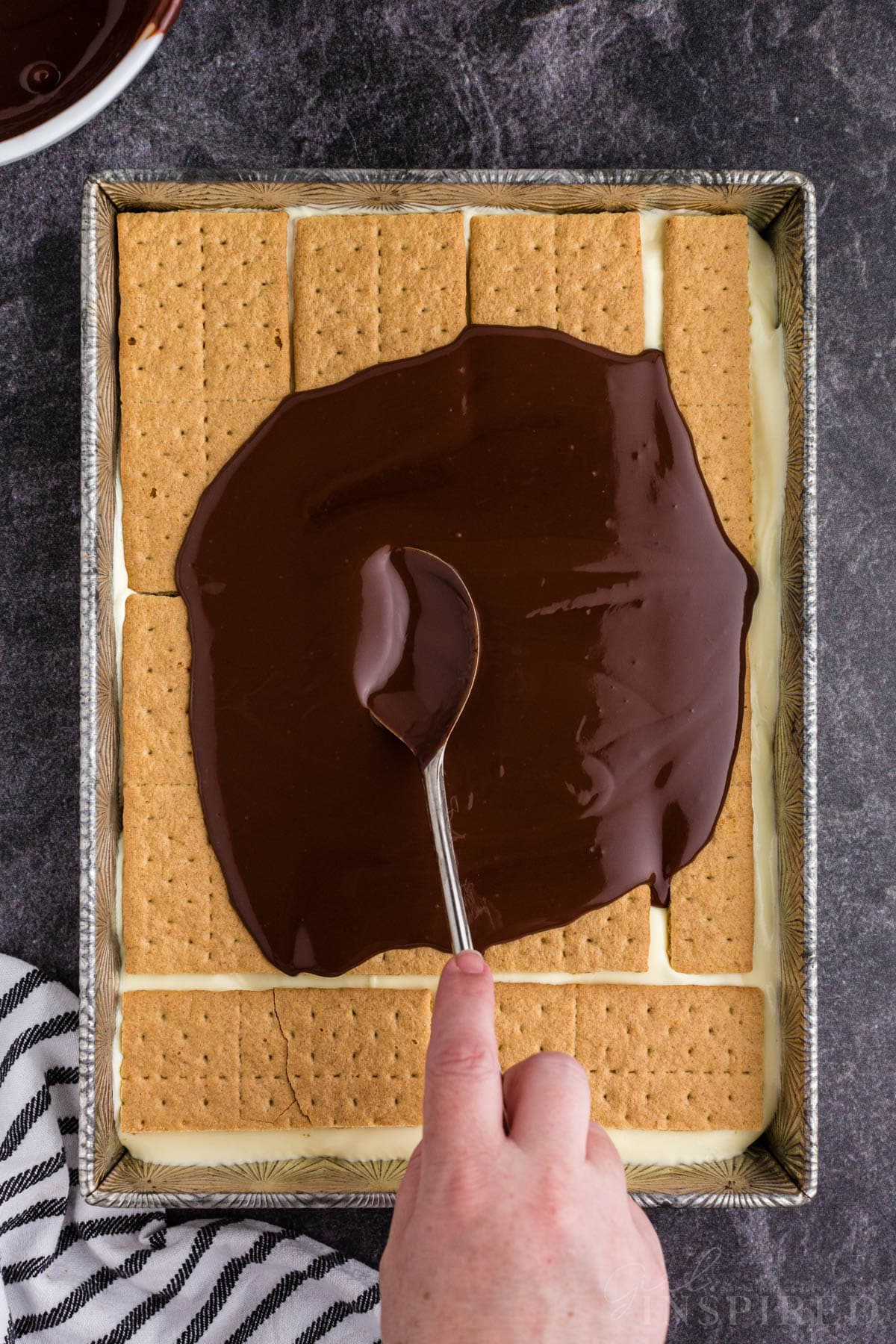 Step 7: Make the chocolate ganache by heating the heavy whipping cream to a boil (on the stovetop or in a microwave) and pour it over the chocolate chips. Allow these ingredients to sit for a few minutes and then whisk into a smooth consistency. Add the ganache to the top of the cake.
Step 8: Spread the ganache evenly over the entire cake. Chill the cake in the fridge for about 2 hours to allow it to set.
SERVE: Serve this no-bake eclair cake chilled as is or with a scoop of vanilla ice cream.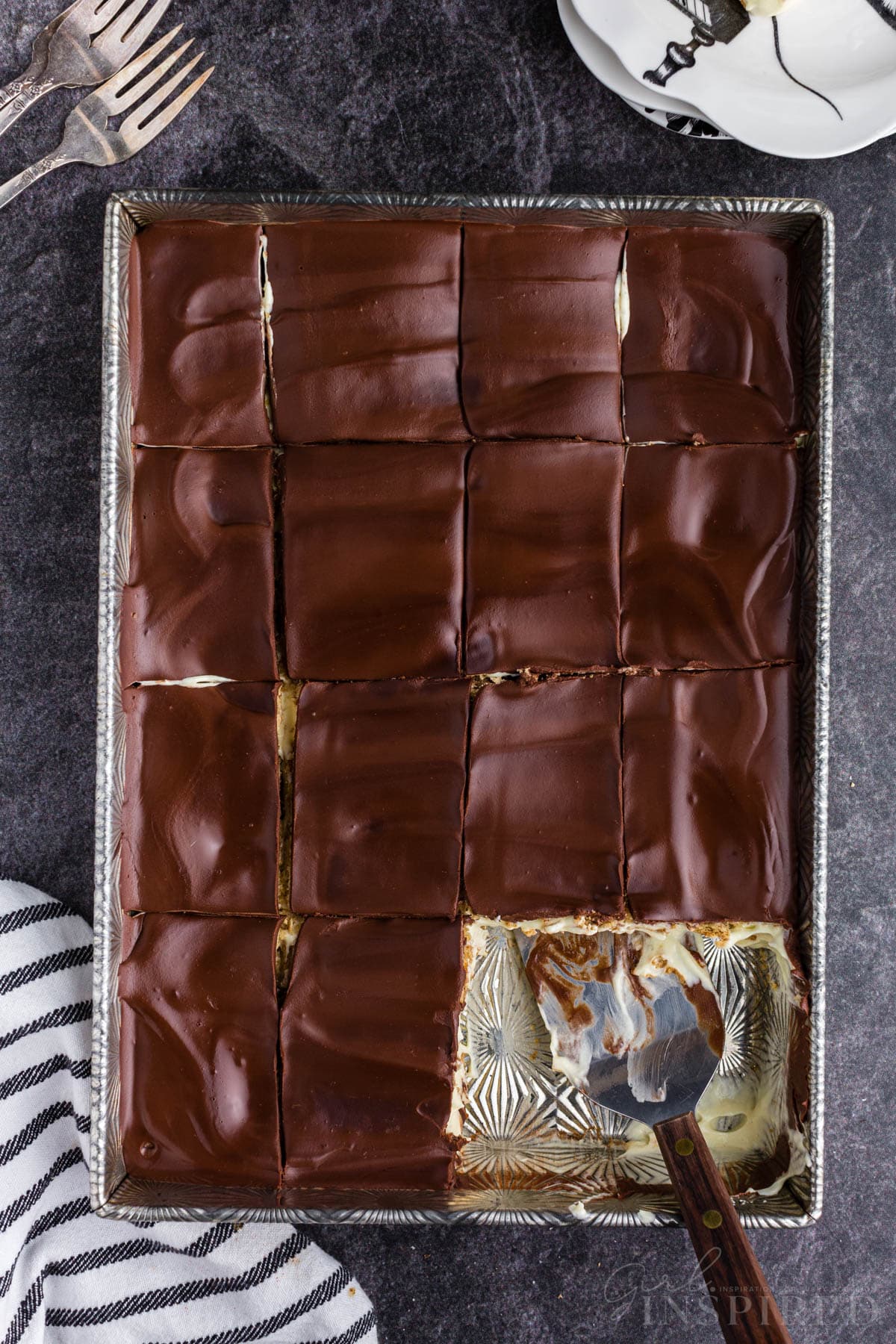 If you're feeding a crowd, consider doubling the recipe quantities and assembling your larger eclair cake into a larger dessert dish.
If you don't enjoy Cool Whip or don't have it available, use 1 cup of heavy whipping cream, whipped into stiff peaks, as an alternative.
While I used vanilla pudding mix, you can use any flavor of your choice. Make a salted caramel eclair cake with caramel pudding mix or a cheesecake eclair cake with cheesecake instant pudding!
This recipe directs you to chill your eclair cake for 2 hours before serving. You could easily chill your cake overnight should you wish to make this ahead of time – in fact, I suspect that it would taste even better when chilled for longer!
If you're in a rush, chill your eclair cake in the freezer for a short time.
Fun Fact
This dessert cake gets its name from the French pastry Eclair, using all of the hallmark flavors of an original Eclair despite not following the oblong shape or baking process of the French Eclair.
If you've ever had the pleasure of enjoying a classic Eclair pastry, then you'll definitely recognize this cake's inspiration and be happy about it!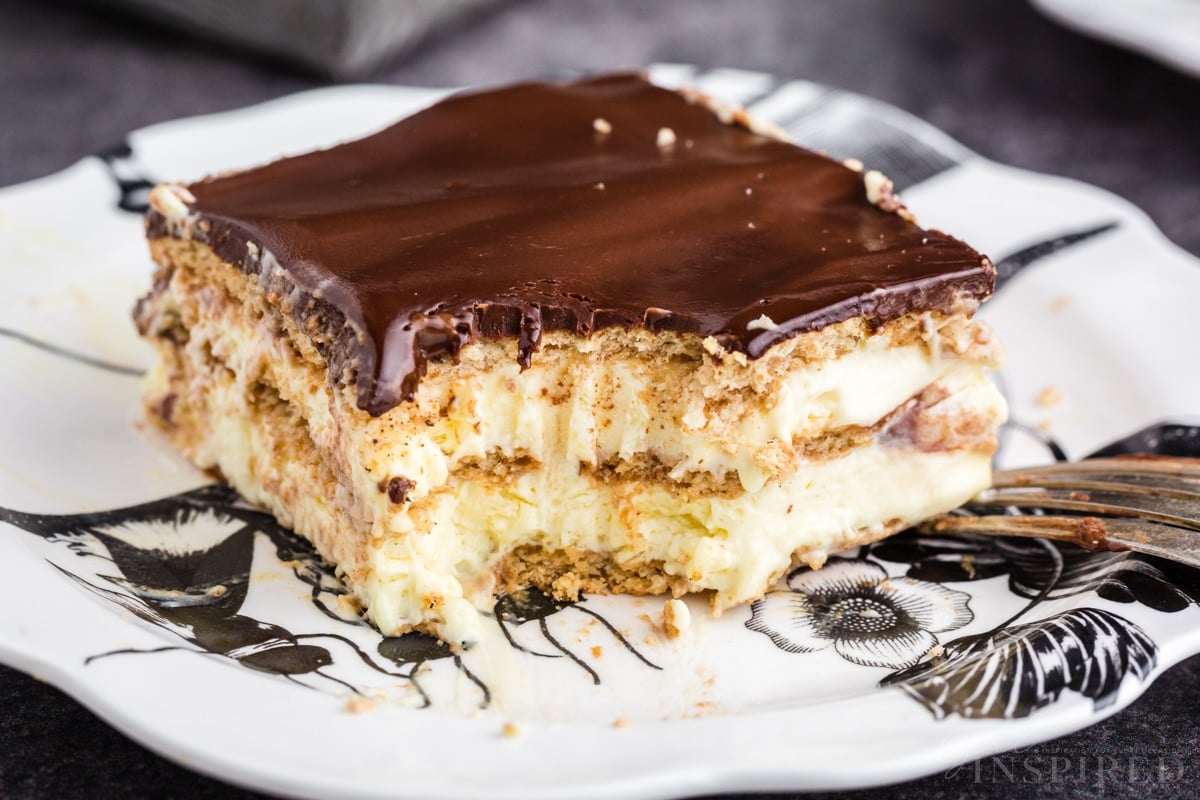 What Is Eclair Cake?
This Eclair Cake is a delicious no-bake dessert cake consisting of a Graham crackers base, followed by layers of creamy instant pudding mix that is separated with additional crackers (much like a lasagna) and then topped with a decadent chocolate ganache!
It's then left to chill in the refrigerator, allowing all the rich and creamy flavors to combine until it's time to serve.

This dessert is super quick and easy to make, ideal for a cool treat on a warm summer's day or for whenever you prefer a no-bake sweet treat.
How Should I Store No-Bake Eclair Cake?
This no-bake Eclair Cake must be stored in the refrigerator when it isn't being served due to the cream-based ingredients. Store it in an airtight container, or in the dish you used to assemble your dessert, for 5-7 days.
Can I Freeze No Bake Eclair Cake?
You also have the option to freeze your eclair cake. Wrap your dish tightly with plastic wrap and store it in the freezer for up to 2 months. When ready to enjoy, thaw it overnight in the refrigerator, ready to be served.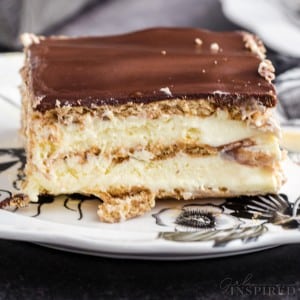 No Bake Eclair Cake
No Bake Eclair Cake is a delicious twist to the classic chocolate eclair pastry, consisting of layers of Graham crackers, creamy pudding mixture, and a rich chocolate ganache!
Ingredients
1 package graham crackers
5.1 oz. box instant vanilla pudding
3 cups whole milk
8 oz. container of Cool Whip thawed
1 cup semi-sweet or dark chocolate chips
1 cup heavy whipping cream
Instructions
Place a single layer of graham crackers to cover the bottom of a 9×13 casserole dish

Whisk together pudding mix and milk until pudding thickens. Whisk in entire container of Cool Whip.

Spread half of the pudding mixture over the first layer of graham cracker sheets.

Top pudding layer with a second layer of graham crackers, followed by the remaining pudding mixture, and topped with a third layer of graham crackers.

Heat heavy whipping cream in the microwave or on the stove top until just before boiling.

Pour heavy cream over the chocolate chips and let sit for 3-4 minutes.

Whisk until the chocolate is fully melted and the mixture becomes a smooth ganache.

Top the eclair cake with an even layer of chocolate ganache.

Place in the refrigerator for 2 or more hours to set up before serving.
Nutrition
Calories: 284kcal | Carbohydrates: 28g | Protein: 4g | Fat: 17g | Saturated Fat: 11g | Polyunsaturated Fat: 1g | Monounsaturated Fat: 4g | Trans Fat: 0.01g | Cholesterol: 31mg | Sodium: 128mg | Potassium: 219mg | Fiber: 1g | Sugar: 23g | Vitamin A: 412IU | Vitamin C: 0.1mg | Calcium: 112mg | Iron: 1mg