You know how sometimes you just need a really rich frosting to satisfy your sweet craving?  This frosting recipe makes the most decadent dark chocolate buttercream – you will love it!  Not only does it taste like a chocolate lover's dream, it also pipes beautifully and has a sheen that makes it look irresistible, too.  It's a great go-to for decorating a cake for just that special someone.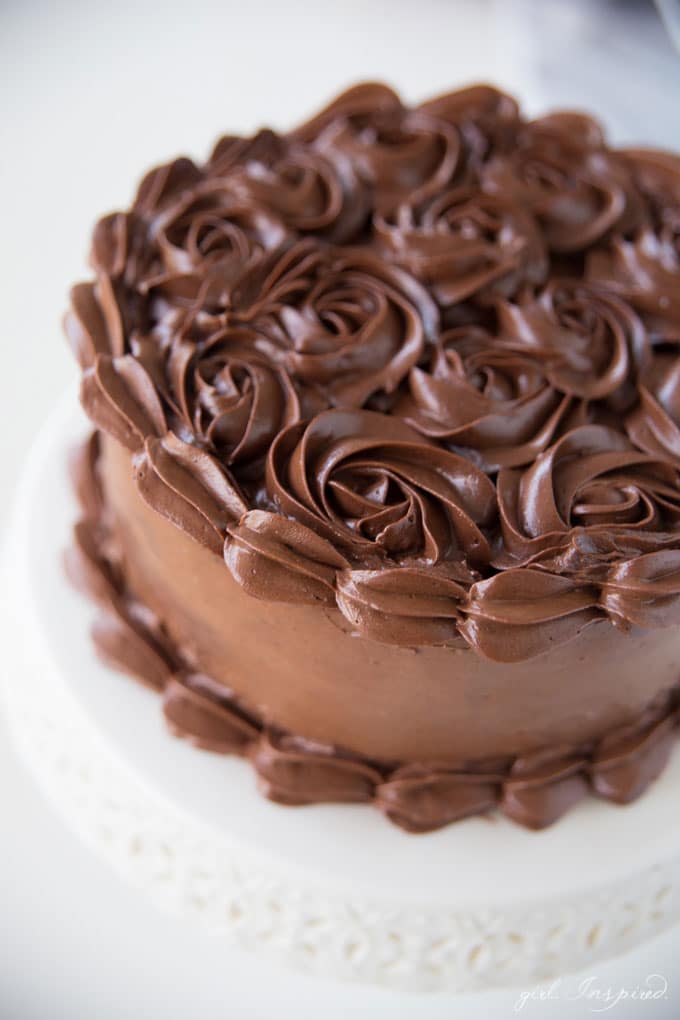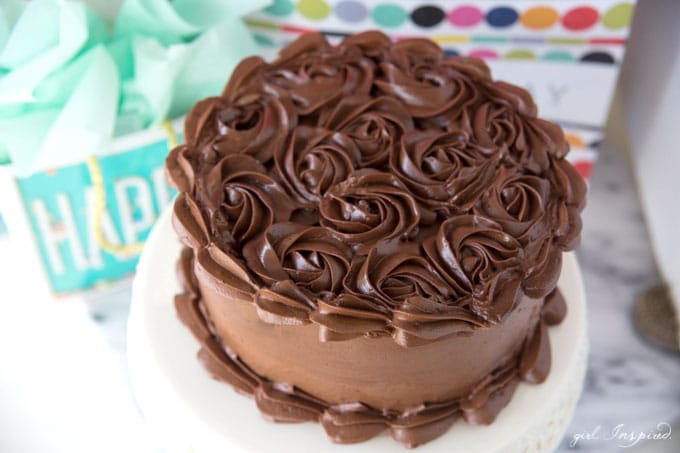 This frosting is pretty much just chocolate and butter – which means that it's fairly basic to make and you will probably have all the needed ingredients on hand, but it does take a little time since you have to melt and cool your chocolate chips (for about an hour) prior to mixing them into the frosting.  You will also need to plan ahead and set out your butter so that it can soften.  Not too soft, though – if you joined me on Facebook while I made this frosting LIVE (yes, live!!) you got to experience the unfortunate, yet common experience of working with a frosting that is too soft – which will happen if your butter is too soft.  It had taken me longer than I anticipated to get everything together for the live demo and my butter sat out a tad too long.  HOWEVER, even with soft frosting, I still ended up with a beautiful cake!  There's always a fix, so don't give up even if you meet disaster like I did.  You can see me face to face with drippy frosting by clicking over here to the Girl. Inspired. Facebook page.
How did we turn this mess around?  Well – the rosettes on the top of the cake were fine.  A little softer than I'd like, but they still looked pretty.  The sides of the cake were especially drippy, so I just took my little spatula and smoothed all the way around the side of the cake.  I put the cake into the fridge to harden up.  I put the rest of the runny frosting back into the mixing bowl and put that in the refrigerator for about 15 minutes.  Then, I re-beat the frosting smooth, refilled the piping bag, and used the same tip (1M) to pipe a border around the top and bottom edges of the cake.  I think it turned out great!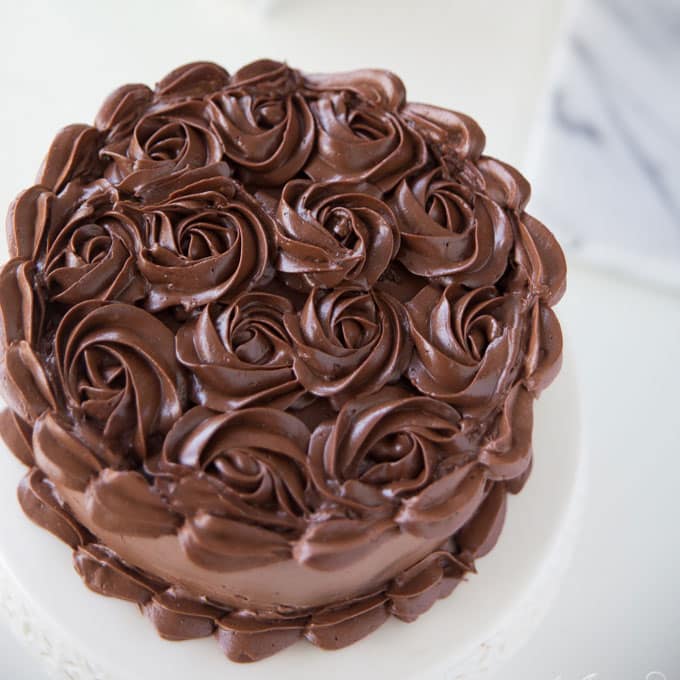 Decadent Dark Chocolate Buttercream –>>> Print this Recipe!
Ingredients:
1 lb. (16 oz.) Nestle semi-sweet chocolate chips, melted and cooled
1.5 cups (3 sticks) salted butter, softened
1/2 cup powdered sugar
1/2 tsp. vanilla extract
1/4 tsp. sea salt
1/4 cup + 2 Tbs. unsweetened cocoa powder whisked into 1/4 cup + 2 Tbs. boiling water, let cool before adding
Instructions:
Fill bottom pan of double boiler with water and bring to a simmer. Place 1 pound of chocolate chips in the top pan of the double boiler and heat over the simmering water.  Stir with a silicone spatula until the chocolate is completely melted and smooth.  Remove top pan from heat and place on a towel or hot pad to cool.  Cool for approximately one hour, stirring occasionally.
Set out butter to soften approximately 20-30 minutes ahead of mixing up frosting.  The softened butter should indent just slightly when pressed with your finger, but should not completely cave under your finger.  If butter becomes too soft before using, you can place it back into the refrigerator to firm up.  Do not soften butter in the microwave.
Whisk together cocoa powder and hot water until the cocoa powder melts into the water.  Allow to cool slightly before using.
In a mixing bowl, combine butter, powdered sugar, salt, and vanilla and beat on high until pale and fluffy.
Add melted and cooled chocolate chips and mix on low until smooth.
Add cocoa powder/water mixture to the frosting and beat until smooth and fluffy.
Yields: approximately 5 cups