Banana Cream Pie with Graham Cracker Crust is a no-bake dessert with banana, Graham crackers, caramel sauce, vanilla pudding mix, chopped pecans, and a creamy sweet topping!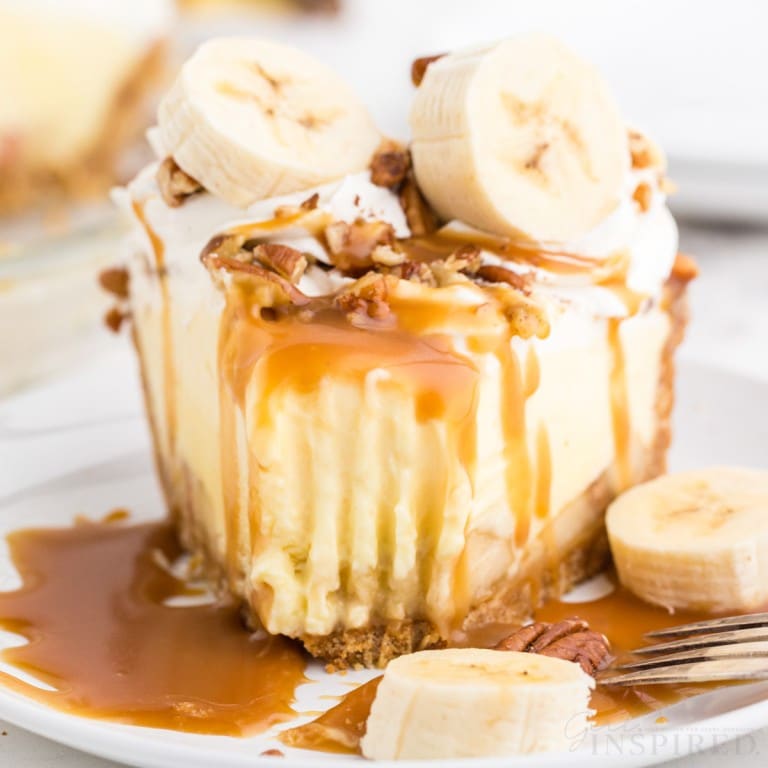 Banana Cream Pie with Graham Cracker Crust is a light and creamy no-bake dessert made with freshly sliced bananas, caramel sauce, buttery Graham cracker crust, vanilla pudding mix, and whipped cream – perfect as a Summer treat or a family dinner dessert that is delicious as is or served with ice cream.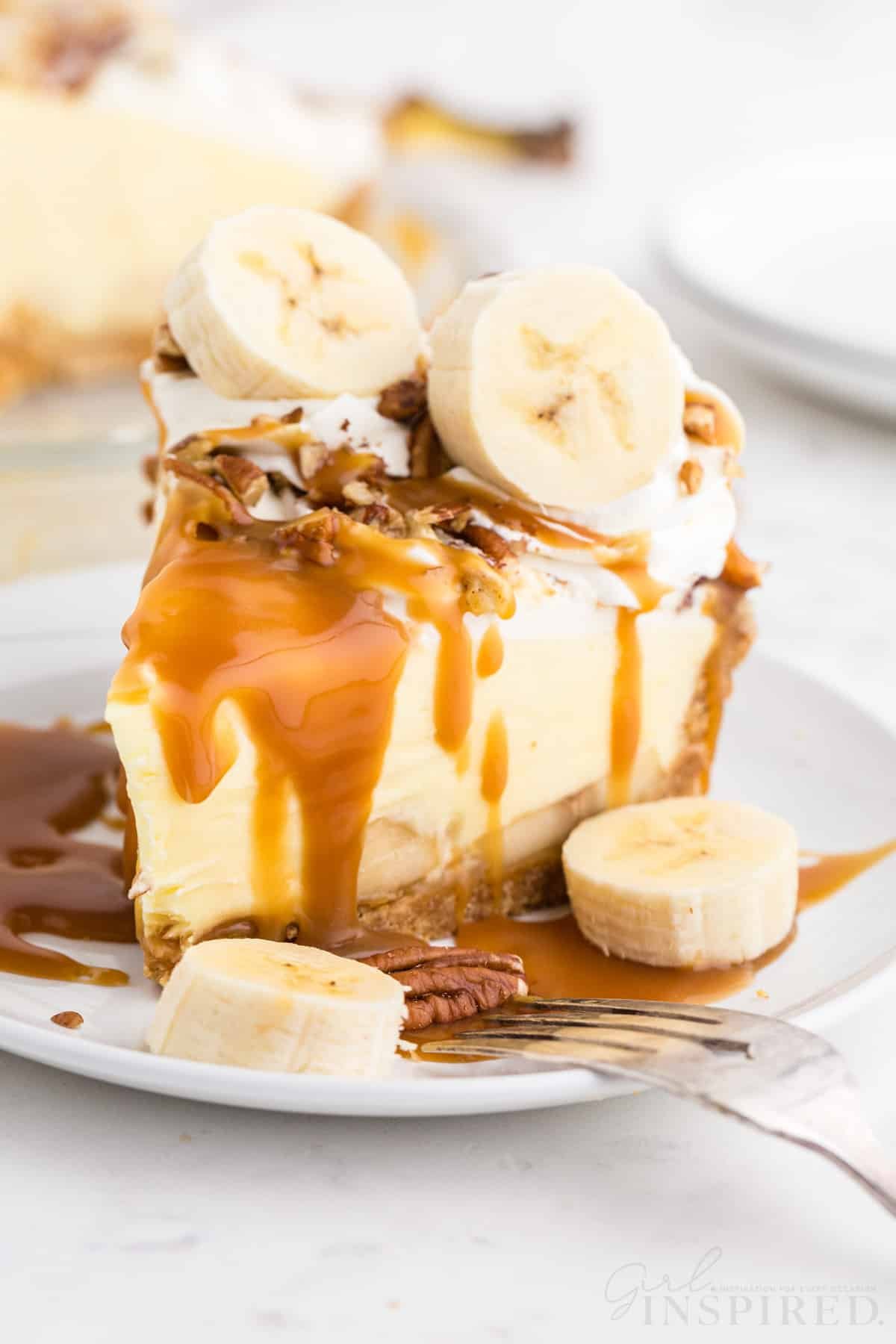 In addition to this being a no-bake recipe, using ready-made Graham cracker crust and instant pudding mix makes it even easier to assemble this luxurious dessert from scratch. You can always use homemade Caramel Sauce and Graham Cracker Crust for this dessert.
This banana cream pie recipe can be easily varied with a cheesecake filling and a Nilla Wafers crust like I've done in this Banana Pudding Pie. Otherwise, use up any leftover ripe bananas and make No Bake Banana Cheesecake Pudding Parfait and Peanut Butter Banana Smoothies!
Why You'll Love this Banana Pie
Caramel and banana are delicious flavor combinations, sure to be enjoyed by all who try this dessert!
This no-bake banana cream pie is a quick and easy chilled dessert pie – perfect for Summer.
Easily adapt this no-bake pie by using a different crust, and making other ingredient substitutions that I've outlined for you below.
What Ingredients do I Need?
Graham Cracker Crust – I've used a 9-inch pie crust that can be bought or made from scratch with melted butter and Graham cracker crumbs. You can also use another crushed cookie pie crust for this dessert.
Caramel – Used as a dessert layer and topping.
Bananas – 2 large bananas are sufficient for this dessert pie and provide a delicious amount of banana flavor.
Lemon juice – Use freshly squeezed lemon juice or bottled juice in a pinch.
Instant vanilla pudding mix – Banana pudding mixture could also be used for this dessert pie.
Whole milk – Full-cream milk is best for flavor but you could use low-fat instead.
Vanilla extract – Use a high-quality extract.
Heavy whipping cream – This homemade whipped cream helps create a fluffy cream topping for this banana cream pie and to add body to the banana cream pie filling.
Powdered sugar – Measure this ingredient carefully to avoid an overly sweet pie topping and to prevent the topping from being too thick. You can also sieve the powdered sugar for an ultra-smooth consistency to the cream topping.
Chopped pecans – For garnish. Toasted coconut is another garnish that can be used.
Variations
Instead of the graham cracker crust, you could also make the crust of this pie with any other cookies of your choice such as golden Oreos, vanilla wafer cookies, or other sweet crackers.
Additional garnish ideas for this caramel banana cream pie could include coconut flakes, a sprinkling of crumbled cookies or some milk chocolate shavings!
You could easily omit the sliced bananas from this cream pie and instead, use a banana pudding mix in place of the vanilla pudding mix.
Reduce the overall sugar content in this caramel banana cream pie by opting for a low-sugar or sugar-free banana pudding box mix.
You could make cute mini caramel banana cream pies for an easy-to-serve party dessert by using these mini pie pans.
How to Make this Banana Cream Pie
PREP AND ASSEMBLE: Cover the Graham cracker crust with caramel sauce and then with the sliced bananas that have already been dipped into lemon juice. Make the filling by combining the vanilla pudding mix, milk, and vanilla extract. In a separate bowl, whip the heavy cream with powdered sugar using an electric mixer on high speed until soft peaks form. Reserve 1 cup of the creamy mixture for the pie topping and combine the rest with the pudding filling.
Add the pudding filling to the Graham cracker crust and smooth it with a rubber spatula. Chill the cream pie in the freezer for at least 30 minutes.
GARNISH AND SERVE: Remove the chilled banana cream pie from the freezer and garnish with piped whipped cream, a drizzle of caramel sauce, and chopped pecans. Chill the fully assembled banana cream pie with Graham cracker crust in the refrigerator or the freezer for at least 2 hours before serving. Only add freshly sliced banana after the chilling time is complete and just before serving.
Pro Tip: Remove any fresh slices of banana from the top of this cream pie when storing leftovers and only add freshly sliced banana just before serving otherwise the banana will start to turn brown from oxidation!
While you could make use of store-bought caramel sauce for this recipe, why not make your own from scratch?
Use a store-bought pie crust but for best results, follow my simple Graham Cracker Crust recipe that's assembled in a standard 9-inch pie pan and baked in the oven or set in the freezer. Making a few pie crusts ahead of time to store in the freezer adds a lot of conveniences when it comes to making dessert pies in the future.
If you're making this cream pie ahead of time and storing it in the refrigerator or the freezer, I suggest that you leave the sliced banana garnish off till you are ready to serve it. This will help prevent soggy banana slices or from the banana turning slightly brown.
While I've used vanilla instant pudding mix for this recipe, I haven't specified any brand preference so go ahead and use whatever you're used to or whatever is accessible.
Cool Whip Whipped Topping is a great alternative to fresh whipped cream, especially if you intend to make this cream pie ahead of time as it tends to have a longer shelf life than fresh whipped cream.
It's important to store your cream pie in an airtight container or wrapped tightly in the refrigerator to prevent it from absorbing any other odors from foods or condiments in the fridge.
Fun Fact
While the exact origin of the banana cream pie is somewhat unknown (some suggest the Midwest's love of pies leading the way), bananas themselves only started to be incorporated into pies towards the end of the 19th century when the fruit went from being deemed exotic to commonplace, finding its way into more and more household kitchens and sweet pie recipes.
How Should I Store Banana Cream Pie with Graham Cracker Crust?
Store any leftover caramel banana cream pie, covered, in the refrigerator for 2-3 days.

You will also be able to store leftovers in the freezer for up to 1 month. When freezing, you may want to remove any banana slices left on the pie, as these can become soggy and discolored when the time comes to defrost the leftovers. You can always add freshly sliced bananas to your frozen pie before serving.
Can I Make This Banana Cream Pie Ahead of Time?
Absolutely! Since this pie freezes well for up to one month, it's a great dessert to make in advance.

Fully assemble your pie and store it in the freezer without the banana topping. When you're ready to serve your delicious caramel banana cream pie, simply thaw it in the refrigerator overnight and then top it with freshly sliced banana.

Due to this pie's soft and creamy texture, I suggest flash-freezing it for 2 hours before wrapping it in plastic wrap or aluminum foil. This will help prevent the pie from sticking to the wrapping.
How Long Can this Cream Pie Sit Out For?
As a good rule of thumb, any sweet pie containing dairy ingredients should not be left out for longer than 2 hours, and if it's a hot day, then for an even shorter amount of time otherwise, the creamy ingredients will go off quickly.

It's best to return this caramel banana cream pie to the refrigerator immediately after serving should you have any leftovers.
More Summer Desserts to Enjoy!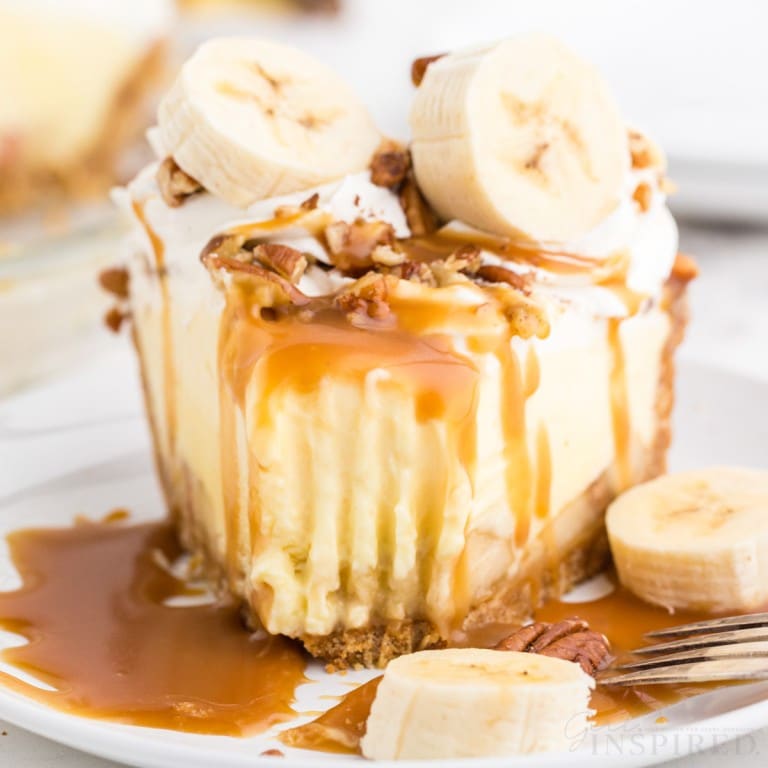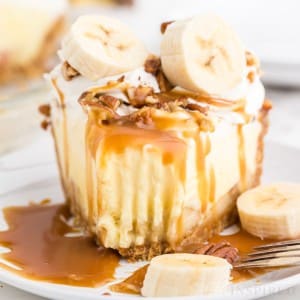 Banana Cream Pie with Graham Cracker Crust
Banana Cream Pie with Graham Cracker Crust is a no-bake dessert with banana, Graham crackers, caramel sauce, vanilla pudding mix, chopped pecans, and a creamy sweet topping!
Ingredients
1 9" graham cracker crust
⅓ cup caramel plus more for topping
2 large bananas
1-2 teaspoons lemon juice
5.1 oz. box of instant vanilla pudding mix
2 cups whole milk
1 teaspoon vanilla extract
1 ½ cups heavy whipping cream
¼ cup powdered sugar
½ cup chopped pecans
Instructions
Spread caramel sauce in the bottom of a baked graham cracker crust.

Slice bananas into ¼" thick slices and toss with lemon juice to prevent browning.

Whisk together pudding mix, milk, and vanilla extract until smooth and thickened.

Whip heavy cream and powdered sugar together until soft peaks form. Reserve 1 cup of whipped cream for topping the pie.

Gently fold the remaining whipped cream into the pudding until fully combined.

Gently pile pudding filling on top of the caramel and bananas in pie crust.

Chill in the freezer for at least 30 minutes.

Top with swirls of reserved whipped cream, drizzled caramel, and chopped pecans.

Chill in the refrigerator or freezer for at least 2 hours before serving.

Top with additional banana slices just before serving.
Nutrition
Calories: 327kcal | Carbohydrates: 36g | Protein: 4g | Fat: 19g | Saturated Fat: 9g | Polyunsaturated Fat: 2g | Monounsaturated Fat: 7g | Cholesterol: 39mg | Sodium: 183mg | Potassium: 212mg | Fiber: 1g | Sugar: 24g | Vitamin A: 521IU | Vitamin C: 2mg | Calcium: 88mg | Iron: 1mg