Creamy, fresh, and zesty - this key lime pie is super easy to make and absolutely delicious.
This key lime pie is made with a 3 ingredient crispy buttery graham cracker crust and a luscious, creamy, sweet, and tart filling. Serve chilled and save room for an extra slice!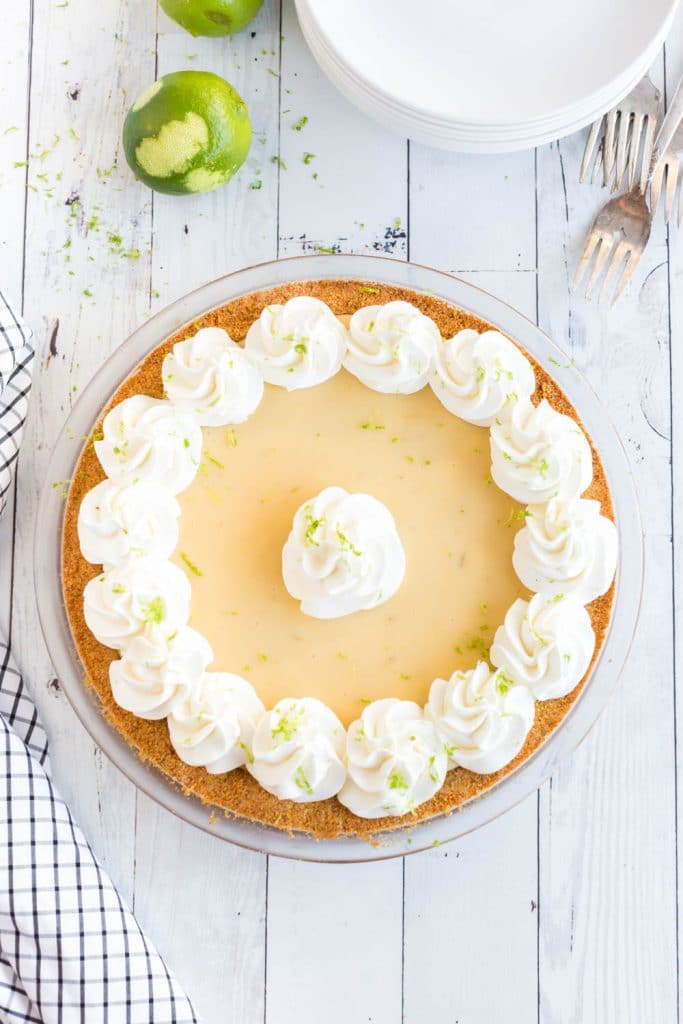 With summer around the corner bring me all the summer fruit desserts! Pies, like this apricot pie, are such a simple way to showcase and honor the bountiful fruits we have access to.
What is key lime pie?
There's something about key lime pie that has such an old-fashioned charm about it. Not at all a fussy dessert, but it looks like it took you all day to make. It's one of those mouthwatering bites you take that stays with you in all the best ways. Bringing you the perfect balance of creamy, buttery, crunchy, sweet, and tart.
The graham crust is made with just 3 easy ingredients, which is the base that holds that luscious key lime filling. Topped with dollops of cooling whipped cream, there's nothing about this pie that you won't love!
This key lime pie recipe will be one of the easiest pies you ever make. It's made even easier by using readily available key lime juice when key limes aren't available. Key lime pie is a fantastic showstopping dessert when serving a crowd. It's a good one to take to a potluck because it doesn't need to be served warm. You'll also enjoy it just as much when you're serving it to your family after dinner. It's light, refreshing, and highly addicting. Good luck trying to stop at just one slice.
Key Limes vs. Persian (regular) Limes
You may have had key lime pie before, but perhaps didn't know what made it so special!
Key limes, while yes they are a type of lime, are quite different than the Persian limes (regular limes) we see on the regular. They are round in shape, quite a bit smaller, have more seeds and it takes a whole lot more key limes to produce as much juice as their Persian counterparts. They're also yellow by the time you use them. But what really sets them apart is the signature flavor. If you've had a true key lime pie, using real key limes, you'll know what I'm talking about!
Originating in Southeast Asia, key limes go by different names depending on where they are produced. In the early 1900s, the Florida Keys (hence, the name association) produced them commercially, but once they were wiped out by a hurricane, farmers then replaced them with the limes we know today.
Can key limes and Persian limes be used interchangeably? Yes, they can. Should you try your very best to use the real deal? Yes, you should. But of course, if they are not readily available, by all means, use regular limes or better yet, do what I do and use Nellie and Joe's Key West Lime Juice!
Other Pies We Love
Why We Love This Recipe
So simple to make.
Refreshing and delicious
Presents beautifully
Always a crowd-pleaser
Served chilled
Can use store bought lime juice
Freezer friendly
Easy pie crust reminds me of my easy oil pie crust.
Appliance info:
Food processor – This is an appliance that makes all kinds of recipes that much easier. Will make grinding up your graham crackers easy.
Ingredients for the Best Key Lime Pie Recipe:
Graham Cracker Crumbs – You can buy prepackaged crumbs or use a food processor to make your crumbs from whole crackers.
Salted butter – Melted. Used to help form the crust.
Granulated sugar – Makes a nice sweet crust.
Sour cream – This will help make the filling smooth and give it a full body. Also adds tartness.
Egg yolks – Gives the filling a rich, softer, silky texture.
Key lime juice – I use Nellie and Joe's Key West Lime Juice. If you can get your hands on real key limes, go for it!
Sweetened condensed milk – Milk that has had its water removed, and sugar has been added. Very thick, creamy, and sweet.
Lime zest – Any lime zest will work. If you're lucky enough to get your hands on key limes, use the zest of them for sure. It's amazing!
Heavy whipping cream – A signature topping of this delicious pie.
Powdered sugar – Adding sweetness into the whipped cream!
How to Make Key Lime Pie
Making this easy key lime pie recipe is exactly that. Easy! In just a few steps, you'll be enjoying a slice for yourself.

Once you've pressed your graham cracker crust down into your pie plate you'll bake it and cool it before adding the filling.
Making the signature pie filling really is as easy as whisking all of the ingredients together, pouring it into the pie shell and baking for 15 minutes!
You want it to set and chill a few hours before slicing and adding the whipped cream on top, but other than that, you're done.
If it's not already, this pie is about to become one of your favorites. Soon you'll be wanting to make key lime cupcakes, cakes, bars, balls, you name it!
FAQs
How to tell if my key lime pie is done?
This pie is naturally jiggly. You don't want to bake it until it's no longer jiggly at all because you run the risk of overbaking. Once you give it a gentle shake and it's only slightly jiggly, you can rest assured it's done and will continue to set as it cools.
How to add whipped topping?
If you're feeling pretty casual about it, go ahead and slather and spread it across the entire pie. If you're feeling a bit more fancy pants, an easy way to add dollops is to use a 1M piping tip to pipe swirls around the edge of the pie.
Can I make this pie ahead of time?
Definitely. Key lime pie is a great make ahead dessert. It lasts for up to 3 days covered at room temperature. Either that or you could make the crust and filling separately and assemble just before baking.
Does this pie freeze well?
Absolutely! You'll need to cool it completely before putting it in an airtight container or freezer friendly bag. It will freeze for up to 3 months. To thaw, keep it in the fridge overnight.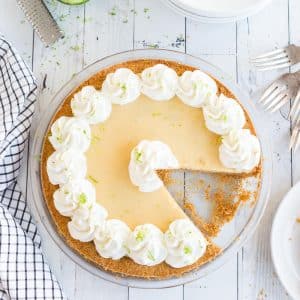 Key Lime Pie
Creamy, fresh, and zesty – this key lime pie is super easy to make and absolutely delicious.
Ingredients
Graham Cracker Crust
2 cups graham cracker crumbs
½ cup salted butter melted
½ cup granulated sugar
Key Lime Filling
⅓ cup sour cream
3 large egg yolks
¾ cup key lime juice I use Nellie & Joe's Key West lime juice
28 oz. sweetened condensed milk 2-14 oz cans
1 teaspoon lime zest plus more for garnish
Topping
1 ½ cups heavy whipping cream
½ cup powdered sugar
Instructions
Preheat oven to 350°F.

In a medium bowl (or in a food processor if you've used a food processor to grind your graham crackers into crumbs), stir together graham cracker crumbs, melted butter, and sugar until fully combined

Bake graham cracker crust for 10 minutes. After 10 minutes, cool the pie crust on a cooling rack.

Bake for 15 minutes, then cool the pie completely.

Chill pie in the refrigerator for at least 3 hours before topping with whipped cream and serving.
Whipped Topping
In a large mixing bowl or the bowl of a standing mixer, whisk the heavy cream until soft peaks form. Add the powdered sugar and continue whipping until stiff peaks form.

Top the cooled pie with the whipped cream – spread over the top or use piping tip #1M to pipe swirls around the perimeter of the pie and in the center.
Nutrition
Calories: 628kcal | Carbohydrates: 75g | Protein: 9g | Fat: 34g | Saturated Fat: 20g | Trans Fat: 1g | Cholesterol: 160mg | Sodium: 315mg | Potassium: 392mg | Fiber: 1g | Sugar: 64g | Vitamin A: 1151IU | Vitamin C: 8mg | Calcium: 282mg | Iron: 1mg