If you're watching your waistline this holiday season, you best click on because these pumpkin pie cupcakes are irresistible. The pumpkin cake is moist and just dense enough to hold a center of pumpkin pie-like filling before being topped with homemade cream cheese frosting. De-lic-ious!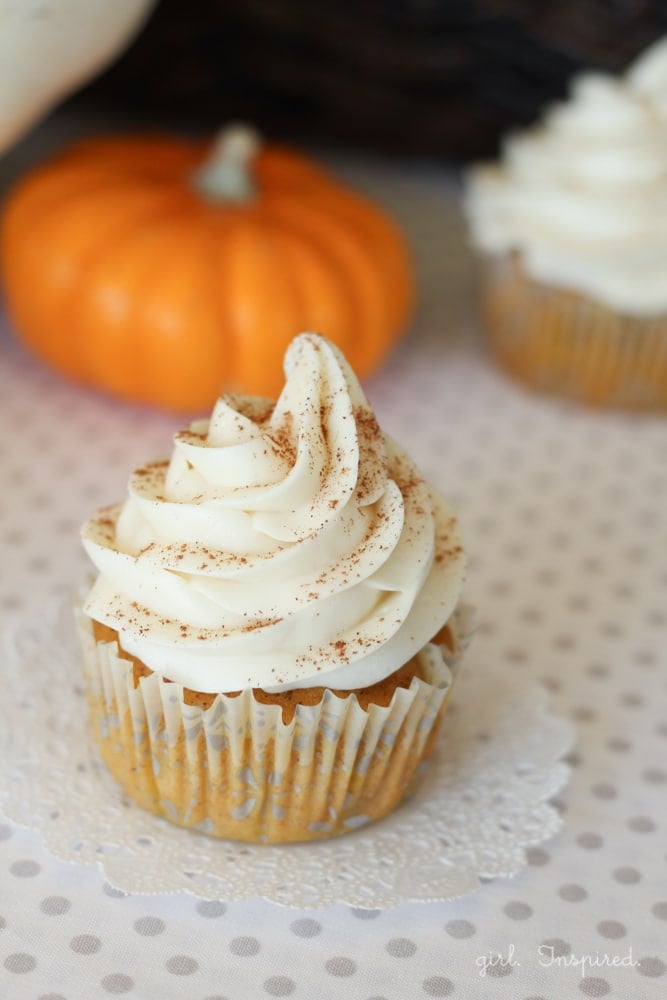 The cupcake batter was made by adding several ingredients to a 2-layer cake mix. After partially filling the cupcake tins, I piped about a tablespoon of filling into the center of each tin of batter. The cupcakes with filling bake up together.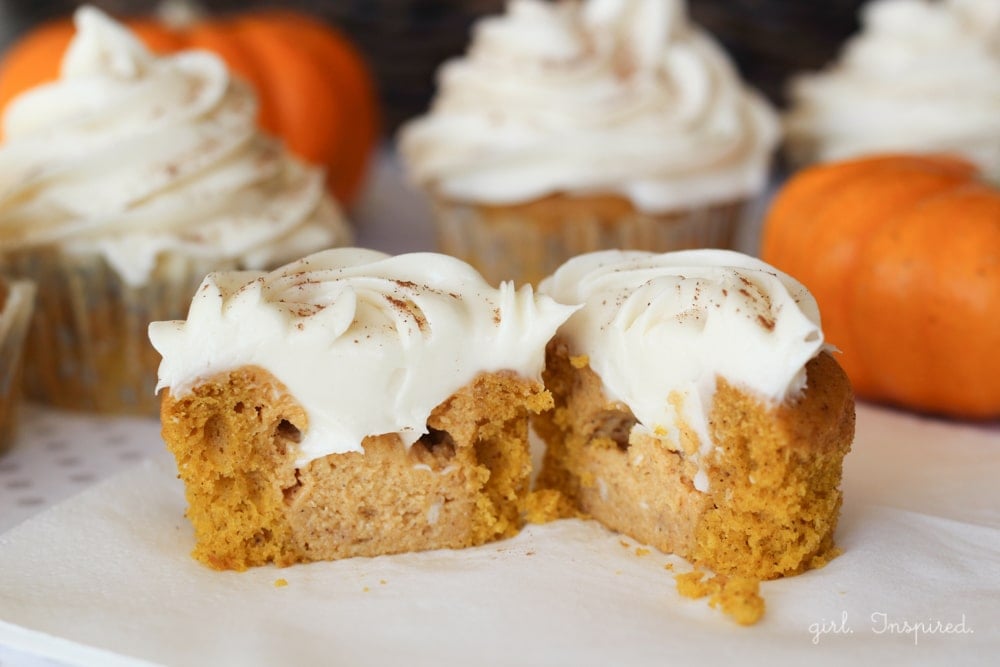 Cream cheese frosting is so easy to whip up and is the absolute best compliment to these cupcakes. If you ice big swirls of frosting onto the cupcakes, you'll probably need a plate and fork to eat them – they're a little top heavy once you start eating, but look so pretty, particularly with a little sprinkle of cinnamon.
I preferred the cupcakes with just a single swirl of icing. My husband and I were in disagreement about this as he was loving the big mound of frosting! However you like them finished off, this recipe is not to be missed!
Pumpkin Pie Cupcakes
Cupcake Batter:
1 box of white cake mix
2 eggs
½ can of pumpkin puree (7.5 oz.)
1 teaspoon cinnamon
¼ teaspoon cloves
½ cup water
Instructions: Mix together all ingredients on low speed for 30 seconds. Beat on med-high speed for about 2 minutes. Preheat oven to 350 degrees. Place cupcake liners in a muffin tin. Fill liners with cupcake batter about ½ full. Set aside while preparing filling (do not cook yet!!)
Cupcake Filling:
8 oz. cream cheese (softened)
⅓ cup granulated sugar
¼ cup pumpkin puree
1 egg
½ teaspoon cinnamon
dash cloves and nutmeg
Instructions: Beat all ingredients together. Place in piping bag and pipe into the center top of each unbaked cupcake. Pipe no more than 1 tablespoon of filling into each cupcake and try to keep the filling toward the top. Place entire muffin tin into 350 degree oven and bake for approximately 15 minutes or until the centers are set and the cake portion of the cupcake springs back when you press it gently with your finger. Allow cupcakes to cool completely.
Cream Cheese Frosting:
8 oz. cream cheese (softened)
6 Tablespoons butter (softened)
2 teaspoons vanilla
2-3 cups of powdered sugar
Instructions: Beat together cream cheese, butter, and vanilla. Gradually beat in powdered sugar until light and fluffy and desired consistency. Add more powdered sugar as needed. Place in large piping bag and pipe a single layer swirl using tip 1M onto each cooled cupcake.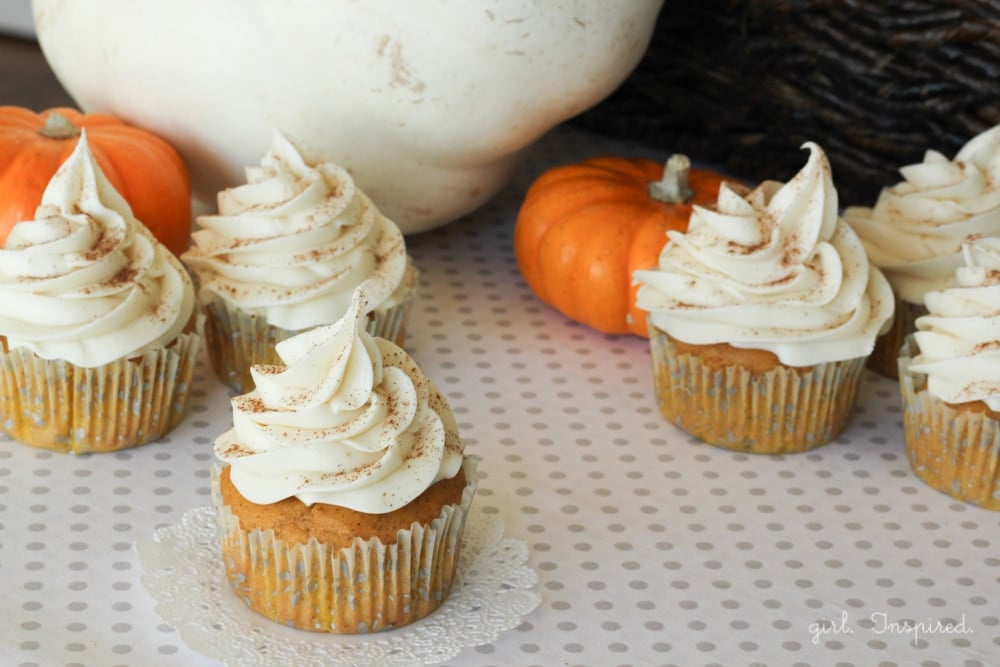 Enjoy!