Rich and creamy chocolate pie filling over buttery Oreo cookie crust is transformed into individual servings with the use of mini mason jars. Perfect for on the go!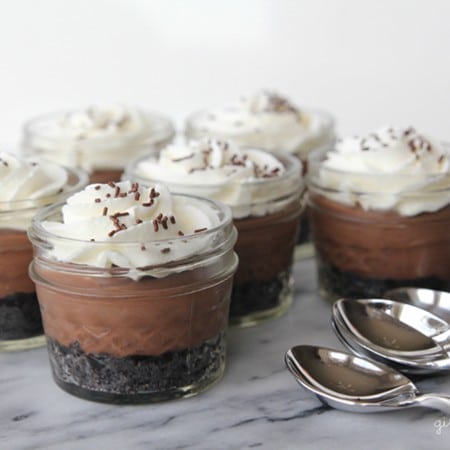 Just hearing the words chocolate cream pie have me drooling. This mini chocolate cream pie recipe is made from scratch and is full of all the rich, chocolatey goodness you want in a pie. Not to mention the crust – I love a pie with Oreo crust, though you could also make this recipe with a graham cracker crust and it would be just as yummy!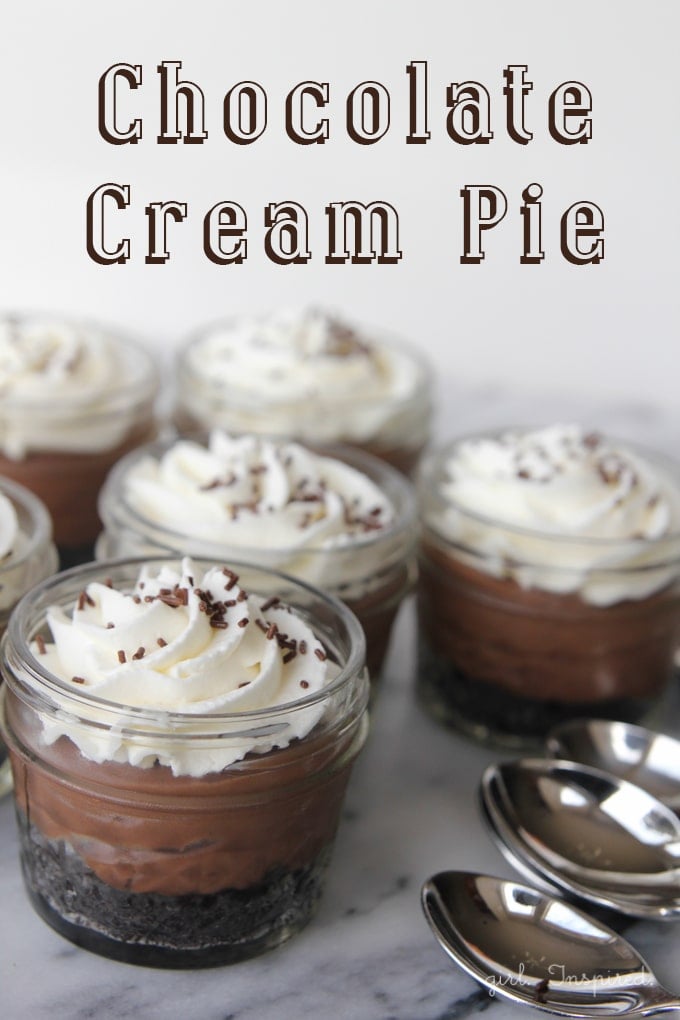 Grace is a girl that likes to keep me on my toes. What kind of cupcakes do you want for your ice skating party, Grace? "Peach Pie." Um…it's January, so….a peach pie that tastes good is going to be hard to come by. How about some kind of cream pie (HOW AM I GOING TO CARRY AND SERVE PIE AT A BIRTHDAY PARTY??) She decided on Chocolate Cream Pie and I decided on mini mason jars. I did not want to try to slice chocolate cream pie in the middle of a party with 12 kiddies waiting in eager anticipation. I did have confidence that adults along for the ride would be able to handle a plate of pie, though, so I've made a recipe that will give you one whole pie and about 15 jars of mini pie OR two whole pies.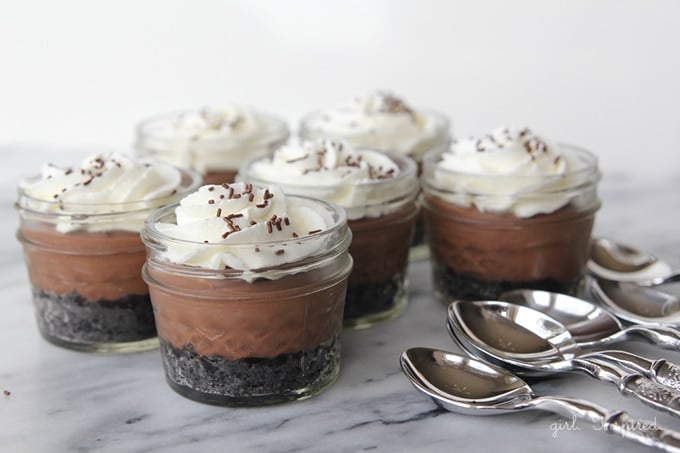 Chocolate cream pie is just really one of the most delicious things (maybe our favorite if we're not having fruit pie like my Strawberry Rhubarb Pie. An Oreo cookie crust and that deep, smooth chocolate that you get when you make the pie filling from scratch. Yum! Hershey pie is another good one – especially if you're looking for a no bake chocolate pie.

I prepped all the pies at home minus the whipped cream. In fact, you can make everything but the whipped cream the day before and store it in your refrigerator. I whipped up the cream right before we left for the party and filled a big piping bag full. Once we got to the party place (ice skating rink), I just twisted off all the jar lids and added my whipped cream and decorations – took about 5 minutes total!
You can typically find mason jars in a variety of sizes at the grocery store or at your local home store like Target, but if you want to skip running around from store to store, you can find these exact mini mason jars on Amazon (affil).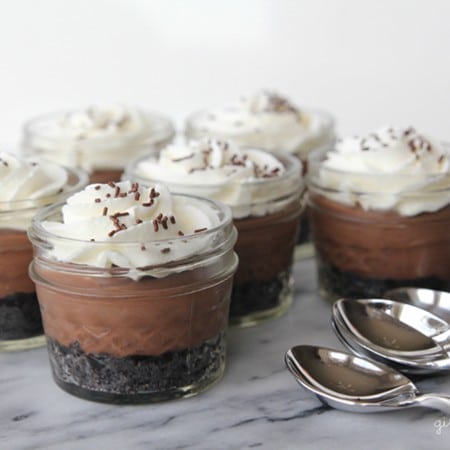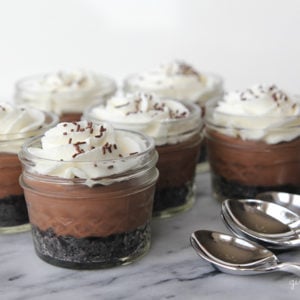 Mini Chocolate Cream Pies
Rich and creamy chocolate pie filling over buttery Oreo cookie crust is transformed into individual servings with the use of mini mason jars. Perfect for on the go!
Ingredients
Oreo Cookie Crust
1 ½ pkg. Oreo cookies 14.3 oz
¾ C. butter melted
Filling
1 ½ C. granulated sugar
½ C. cornstarch
½ tsp. salt
8 egg yolks
6 cups whole milk
1 - 10 oz. bag dark chocolate chips
1 - 4 oz. box of Baker's unsweetened chocolate squares
¼ C. butter
1 Tbls. vanilla extract
Topping
1 pint heavy whipping cream
½ C. powdered sugar
chocolate sprinkles optional
Instructions
This recipe yields - 15 4-oz. mason jars PLUS one 9-inch pie or TWO 9-inch pies or 24ish 4-oz. mason jars.

Place Oreo cookies into a food processor and pulse until ground.

Add ¾ C. melted butter and continue blending until butter is thoroughly mixed in.

Scoop ⅛ C. crust mixture into each mason jar and press down firmly.

Spread remaining crust mixture into a pie plate and press firmly and evenly across bottom and sides.

Bake jars and/or pie tin in a 350 degree oven for 10-15 minutes until slightly bubbly and beginning to crisp (right about when you can smell it cooking).

Hint: Set the jars on a cookie sheet for easy baking and removal.

For the filling:

Stir together sugar, salt, and cornstarch in a medium size heavy pan.

Whisk egg yolks into milk (you may need to work in batches).

Add milk mixture to sugar mixture and heat over medium - medium/high heat.

Whisk CONSTANTLY until mixture cooks and comes to a low boil (about 10-12 minutes)

Turn heat down and continue whisking and cooking until mixture thickens. (about 2 minutes more).

Remove from heat.

Add in butter, vanilla, chocolate chips, and unsweetened chocolate (chopped into pieces).

Stir until melted and smooth.

Transfer filling to a large bowl and cover with plastic wrap pressed onto the filling.

Cool in the refrigerator for 4-6 hours or until cool.

Use a piping bag or gallon size Ziploc bag with a small corner snipped off - fill with chocolate pie filling and pipe into mason jars on top of the crust.

Fill cookie crust lined pie plate with remaining chocolate pie filling.

Cover pies with jar lids or plastic wrap for several hours or overnight.

Just before serving, whip heavy whipping cream (add powdered sugar during last 30 seconds of whipping).

Transfer whipping cream into piping bag fitted with coupler and large decorating tip 1M.

Pipe a swirl of shipped cream onto each mini pie.

Top large pie with swirls or a border of whipped cream.

Add chocolate sprinkles if desired and serve!
Nutrition
Calories: 471kcal | Carbohydrates: 51g | Protein: 6g | Fat: 29g | Saturated Fat: 17g | Cholesterol: 115mg | Sodium: 259mg | Potassium: 258mg | Fiber: 2g | Sugar: 35g | Vitamin A: 693IU | Vitamin C: 1mg | Calcium: 132mg | Iron: 3mg