I like a lot of different kinds of pie, but I think Strawberry Rhubarb pie may just be my favorite of all! The sweetness from those fresh strawberries, along with the firmer texture and tangy flavor of the rhubarb come together in the most delicious harmony of dessert goodness. This recipe requires just a few simple ingredients.
I'm also sharing my mom's pie crust recipe that could absolutely not be simpler or quicker to prepare. Enjoy! You might also love our Strawberry Rhubarb Crisp or Strawberry Shortcake. Not a fruit pie fan? Try this decadent chocolate cream pie recipe instead!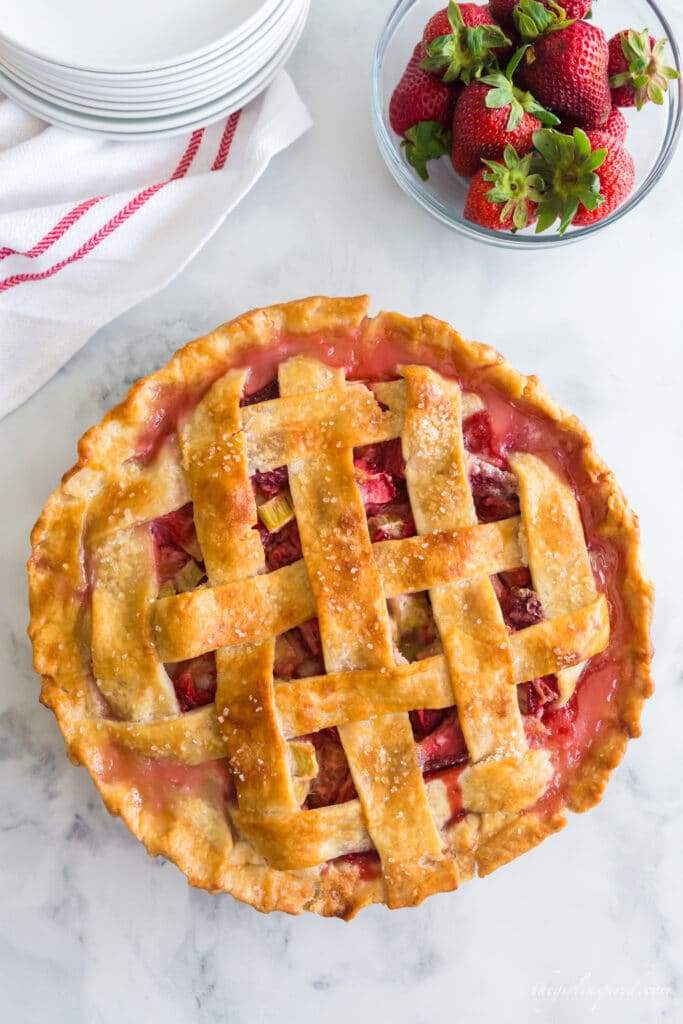 Update: After years of making this strawberry rhubarb pie, I finally found rhubarb in my local nursery and popped it into my garden this spring. After only a few months, I have enough big stalks to cut and make a pie – so inspired I snapped some fresh pictures – PIE!! with RHUBARB FROM MY GARDEN, so exciting. LOL.
Here she is – my big leafy plant! I bought her in a one gallon pot – she's required no special attention. I researched when to harvest rhubarb and it looks like you just take off some outer stalks when they're big and to your liking. Discard leaves immediately as they are toxic to animals and humans! My particular variety of rhubarb has just a touch of red on the base of the stalks – I was waiting for them to turn red, but read up and realized the redness is a function of the variety, not the maturity.
I used kitchen scissors to slice off 3-4 larger stalks for my pie and new leaves continue to come up from the center of the plant.
Time to get baking! Wash that beautiful rhubarb and chop it up into bite sized pieces. You need 3 cups when it's chopped and ready to go.
Add four cups of rinsed and sliced strawberries (stems removed).
Add your sugar. About a cup. And your flour – 1/2-1 cup. After making this pie many times, I have found that every now and then, even though I'm using the same recipe, my pie filling doesn't set. I think it probably has to do with the water content in either the strawberries or rhubarb. I have begun adding cornstarch to the recipe also so that I never end up with a runny pie. Mix a couple tablespoons of cornstarch into a small amount of orange juice or water until it is dissolved. Pour this mixture in with the rest of the pie ingredients.
Roll out your pie crust (this oil pie crust works nicely) and place it gently into the pie dish. No holes – we want all that juicy fruit contained in the pie!
Load in your fruit mixture. mmmmmmmm.
Add some dabs of butter over the top of the mixture. This helps reduce foam and adds some extra deliciousness.
Add the top crust. I like to roll out my pie crust between two sheets of parchment paper. It makes it really easy to transfer the crust onto the pie plate without tearing, not to mention easy clean-up. It also makes it easy for little helpers in the kitchen!!
Add some slits to the top of the pie for the steam to escape. Sprinkle with sugar (or brush with milk and sprinkle with sugar).
Bake that gorgeous beauty up to bubbly perfection!
The more pies you make, the more you may want to be creative with your top pie crust. A lattice crust is popular and fun to do. Roll out your pie crust as you would normally do. Slice it into even strips. Place strips across the pie, evenly spaced, all running parallel to each other. Then, gently fold back sections of strips to lay over the cross strips until you have a woven pie crust. You can also simply lay your cross strips right over the top of the first set of strips and create a faux lattice weave of sorts.
Wrap aluminum foil around the edges of the crust to protect it from overcooking while baking the pie. Remove the foil in the last 10-15 minutes of baking so that it browns up evenly. Now, bake the pie!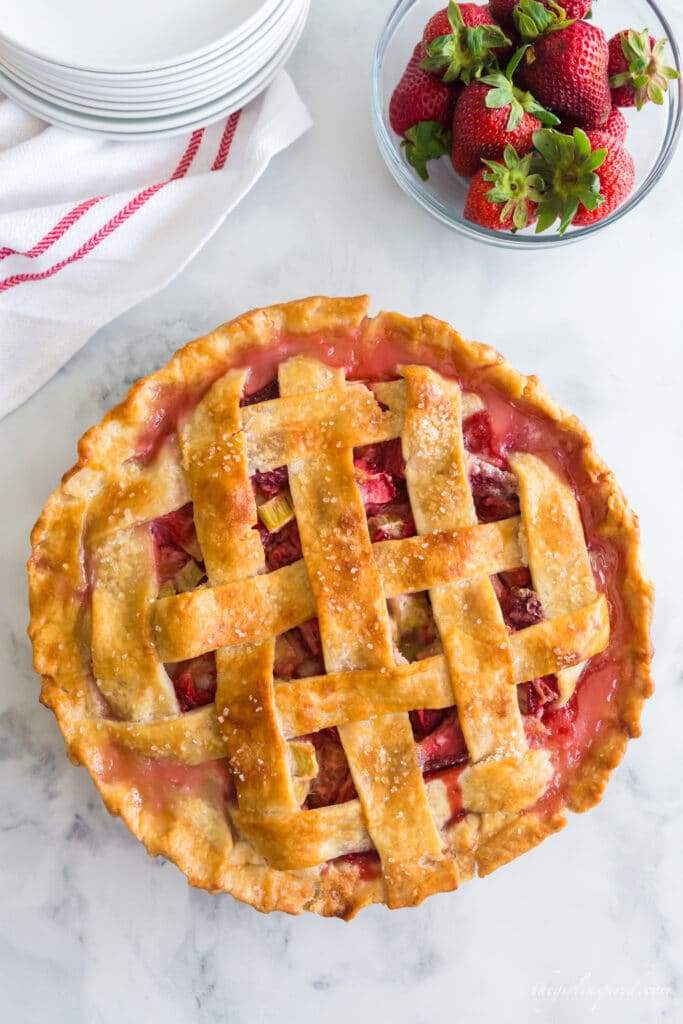 Waaaaaiiit for it to cool. Waiting for the pie to cool will help it to set up. Can't wait? That's okay, things will just be a little runnier – just don't burn your mouth.
Serve up a big slice of this delicious strawberry rhubarb pie with a scoop of ice cream or a big squirt of whipped cream. Still my favorite after making it year after year.
Strawberry Rhubarb Pie
Sweet and tangy, the blend of strawberries and rhubarb are the perfect combination for this classic pie and the crust is a cinch with our super simple family recipe!
Print
Pin
Rate
Ingredients
Pie Filling
4

cups

fresh strawberries

rinsed and sliced

3

cups

fresh rhubarb

washed and chopped

1 1/4

cup

granulated sugar

1/2

cup

all-purpose flour

2

tbsp

butter

(for top of the pie)

2

tbsp

cornstarch

1/4

cup

orange juice

for dissolving cornstarch, can substitute water
Pie Crust
2 1/4

cup

all-purpose flour

1

tsp

salt

2/3

cup

vegetable oil

1/3

cup

water
Instructions
Preheat oven to 425 degrees.

Stir cornstarch into orange juice (or water) until fully dissolved.

Sift together flour and salt for pie crust.

Combine all pie filling ingredients (except for butter) in a large bowl and mix gently to combine.

Make a well in the center of dry crust ingredients and pour oil and water into center.

Use a fork to whisk together pie crust ingredients until a dough ball forms.

Divide dough ball in half to form a top and bottom crust.

Roll out top and bottom crust between two sheets of waxed paper. Place bottom crust into 9" pie plate.

Mound filling into bottom pie crust. Add dots of butter evenly over pie filling.

Add top pie crust and crimp edges to join top and bottom crust.

Brush with milk and sprinkle with granulated sugar (for a sugary crust) OR brush with a mixture of 1 egg yolk +1 tsp. water (for a shiny golden crust).  

Add several slashes in the top crust. Protect the crust with aluminum foil around the edges.

Bake at 425 degrees for 30 minutes.  Remove the aluminum foil from the crust and continue baking another 10-15 minutes until the crust is browned and the pie filling is bubbly.  

Let it cool down.  Serve with vanilla ice cream or whipped cream. 
Nutrition
Calories:
328
kcal
|
Carbohydrates:
48
g
|
Protein:
4
g
|
Fat:
15
g
|
Saturated Fat:
11
g
|
Cholesterol:
5
mg
|
Sodium:
213
mg
|
Potassium:
192
mg
|
Fiber:
2
g
|
Sugar:
24
g
|
Vitamin A:
96
IU
|
Vitamin C:
31
mg
|
Calcium:
37
mg
|
Iron:
2
mg
And…back to the backstory/original post….
Just a few years ago, I tried strawberry-rhubarb pie for the first time in my life. My husband's mom had made it and I was blown away by how delicious it was! I don't know why, but I thought maybe it would taste fibrous or bitter or sour. But, it was sooo good. Sweet and tart at the same time, the perfect balance. I remember going home and trying all kinds of pie crust recipes, trying to find the best one. For some reason, though, I didn't try replicating that pie. In the last few months, I've come across strawberry-rhubarb pie on several restaurant menus and have been impressed all over again by how much I loved the flavors.
A couple weeks ago, I noticed rhubarb on the grocery store shelves – maybe it's always there or maybe it's seasonal, I'm not sure. But I snatched a handful up and took it home. It sat in my fridge for a good while before I got brave enough to start searching Pinterest for a recipe. I found all kinds of methods for making the pie, but they all seemed so complicated. A quick check-in with my mother-in-law revealed an easy solution: Betty Crocker. I pulled out our 1950 copy of the Betty Crocker cookbook and there it was: rhubarb pie and every combination of rhubarb pie. What I discovered was that no special preparations were needed. Making strawberry-rhubarb pie was almost identical to any other fruit pie – chop the fruit, mix in sugar and flour, pop in a crust!
I made a pie. It was delicious. I went to the store and bought more supplies. I made a lot more pies. All delicious.
Pie crust: This is the recipe my mom has used for as long as I can remember. I'm not a big fan of making pie crust – cutting in the butter or using a food processor, or waiting for the crust to chill – it takes a lot of time. This recipe is about the easiest and quickest I've seen. Mix together the dry ingredients. Add in the wet ingredients. Stir together with a fork until thoroughly mixed. Separate into two balls. Roll each ball out to the desired size.