A sweet and tangy fruit filling with a buttery brown sugar and oat crisp topping.
The rhubarb in my garden bed is out of control huge and we have been baking all the rhubarb treats including this sweet and tangy Strawberry Rhubarb Crisp. This crisp is so delicious warm out of the oven with its oat and brown sugar streusel topping and piled with a big scoop of vanilla bean ice cream. This is one of our very favorite and EASY strawberry rhubarb recipes.
A crisp is a fun dessert to make because it is so simple to put together and you can really make a crisp with whatever fruit is in season. There is no combination quite as perfect as strawberries and rhubarb and bringing them together in this crisp recipe is a match made in heaven. We also like to bake up a few Strawberry Rhubarb pies and even make the most indulgent Strawberry Rhubarb Hand Pies during these early summer months. Yummmmmy!
A crisp is essentially a sweetened and thickened fruit base cooked with a brown sugar topping. This particular strawberry rhubarb crisp recipe has an oat topping, which is especially complimentary to the filling.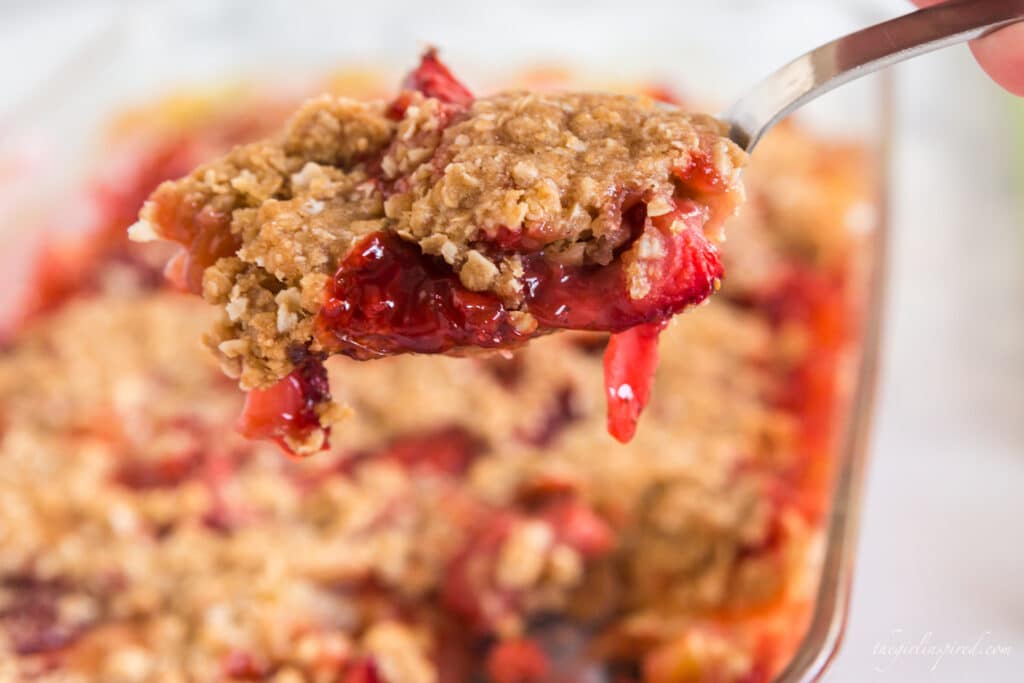 It is important to thicken the fruit filling of a crisp and strawberries, in particular, tend to have quite a bit of water in them. We use corn starch in this recipe to thicken up the fruit and it works perfectly.
Sugar is another important ingredient because although the strawberries (especially while they're in season!) are nice and sweet, rhubarb is extra tangy and needs the added sugar to balance the flavors evenly.
Strawberry Rhubarb Crisp Ingredients
Fruit Filling:
2 cups fresh strawberries, stems removed and cut into bite size pieces
2 cups fresh rhubarb, cut into pieces
1 cup granulated sugar
¼ cup lemon or orange juice
2 tablespoons cornstarch
Crisp Topping:
⅔ cup rolled oats
⅔ cup light brown sugar
½ teaspoon vanilla extract
⅔ cup all-purpose flour
½ cup salted butter, cut into cubes and cold
How to Make the Strawberry Rhubarb Crisp
Step 1: Prepare the fruit. Wash and cut fruit into bite size pieces. Remove stems from strawberries. If rhubarb has a thick outer layer on the stalk, you can peel the outer layer of the stalk off and chop the flesh within. Most rhubarb is fine to use as is and it's not necessary to peel the outer skin.
Step 2: Place the fruit in a 9×13 baking dish and sprinkle the granulated sugar over the top. Stir. I like to use my go to baking dish, but you can use a square pan, a cast iron skillet, or really any type of casserole dish. Your fruit should cover the full bottom of the dish. A smaller baking dish will result in a thicker layer of fruit, which is just fine!
Step 3: Combine the cornstarch with the lemon or orange juice. Stir until the cornstarch is fully dissolved in the juice. You can even use water if you don't have juice available. Lemon juice gives the strawberry rhubarb crisp a bit of extra zing and is nice in bringing out the tanginess of the rhubarb. Orange juice will blend the flavors without the extra tang and is a nice compliment to the strawberries.
Step 4: Pour the cornstarch/juice mixture over the sugared fruit and stir to combine.
Step 5: Combine the oats, brown sugar, flour, and vanilla in a small bowl and stir to combine.
Step 6: Cut the butter into small cubes. It is important to keep the butter nice and cold as you cut it into the rest of the crisp mixture.
Step 7: Use two forks or a pastry blender to cut in butter to the oat mixture. Work the butter into small bead size pieces evenly mixed throughout the crisp topping. These cold beads of butter cook up in the mixture to make the streusel topping. A pastry blender makes quick work of this step, but if you don't have one, you can simply smash the butter and mix it in using two forks.
Step 8: Sprinkle the prepared topping over the fruit mixture in the baking dish.
Step 9: Bake the crisp in a 350 degree oven for approximately 45 minutes or until the fruit is bubbling and the topping is golden brown.
Allow the crisp to cool a bit before serving, but it is especially delicious served warm with vanilla ice cream or fresh whipped cream.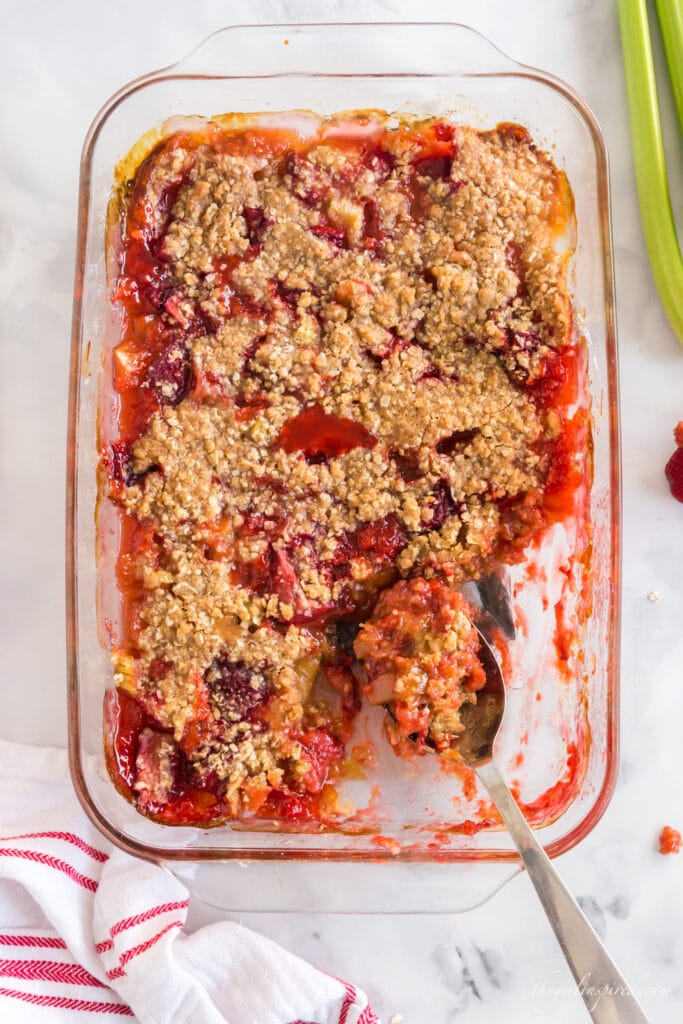 Freezing Strawberries and Rhubarb
If you have an abundance of strawberries and rhubarb, you can freeze them for up to several months, giving you the option of having this delicious crisp, a classic rhubarb crisp or strawberry rhubarb jam in off season months. Wash and cut the fruit and freeze it in a Ziploc bag until you're ready to use it.
Preparing Crisp Ahead of Time
It is also possible to prepare the crisp filling and freeze ahead of time. Mix the fruit with the sugar and cornstarch mixture. Freeze in a baggy. When you're ready to bake your crisp, dump the filling mixture into your baking dish, allow it to defrost fully, add the topping and bake according to the instructions.
Strawberry Rhubarb Crisp
A sweet and tangy fruit filling with a buttery brown sugar and oat crisp topping.
Ingredients
Fruit Filling
2 cups strawberries, cut
2 cups rhubarb, cut
1 cup granulated sugar
¼ cup orange or lemon juice
2 tablespoon cornstarch
Crisp Topping
⅔ cup all-purpose flour
⅔ cup rolled oats
⅔ cup light brown sugar, packed
½ cup salted butter, cold and cut into pieces
½ teaspoon vanilla extract
Instructions
Wash and destem fruit. Cut into bite size pieces.

Place fruit in 9 x 13 baking dish.

Sprinkle with granulated sugar.

Combine cornstarch and juice and stir to dissolve. Pour over fruit mixture and stir to combine.

In a separate bowl, stir together oats, flour, and brown sugar.

Stir in vanilla extract.

Cut in pieces of butter using a pastry blender until topping is mixed into pea-sized pieces.

Sprinkle topping evenly over fruit mixture.

Bake at 350 degrees for 45 minutes or until fruit is bubbling and topping is evenly golden brown.

Serve with vanilla ice cream or whipped topping.
Nutrition
Calories: 360kcal | Carbohydrates: 62g | Protein: 3g | Fat: 12g | Saturated Fat: 7g | Cholesterol: 31mg | Sodium: 109mg | Potassium: 211mg | Fiber: 2g | Sugar: 45g | Vitamin A: 386IU | Vitamin C: 27mg | Calcium: 56mg | Iron: 1mg