Cream Cheese Buttercream Frosting is sweet and tangy, thick and creamy, and easily spreadable - perfect for adding to various cakes and cupcakes!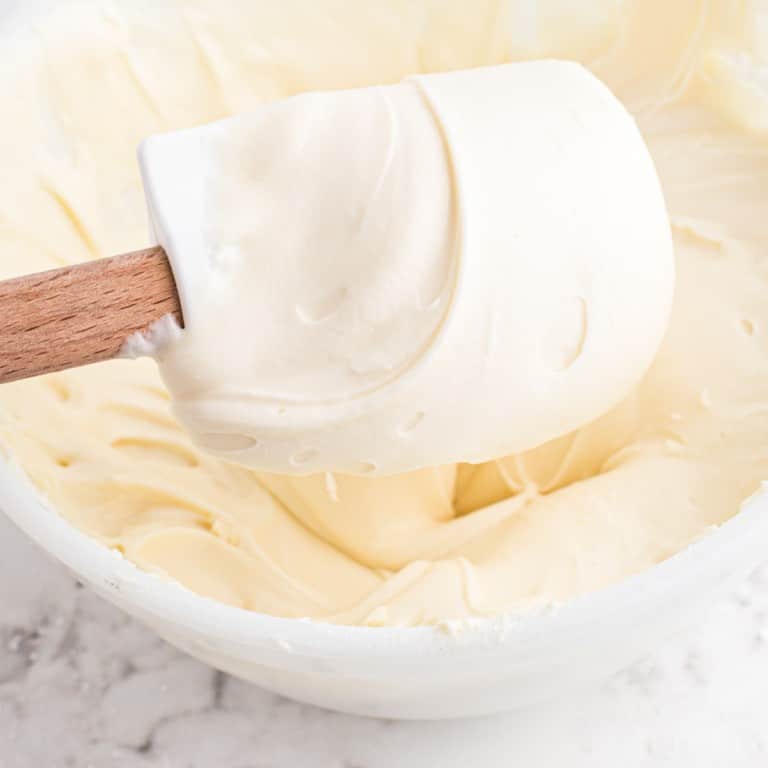 Cream Cheese Buttercream Frosting is sweet and tangy with a thick and creamy consistency that's still easily spreadable. Use this cream cheese frosting as is, or add flavors and food coloring to suit specific preferences and special occasions!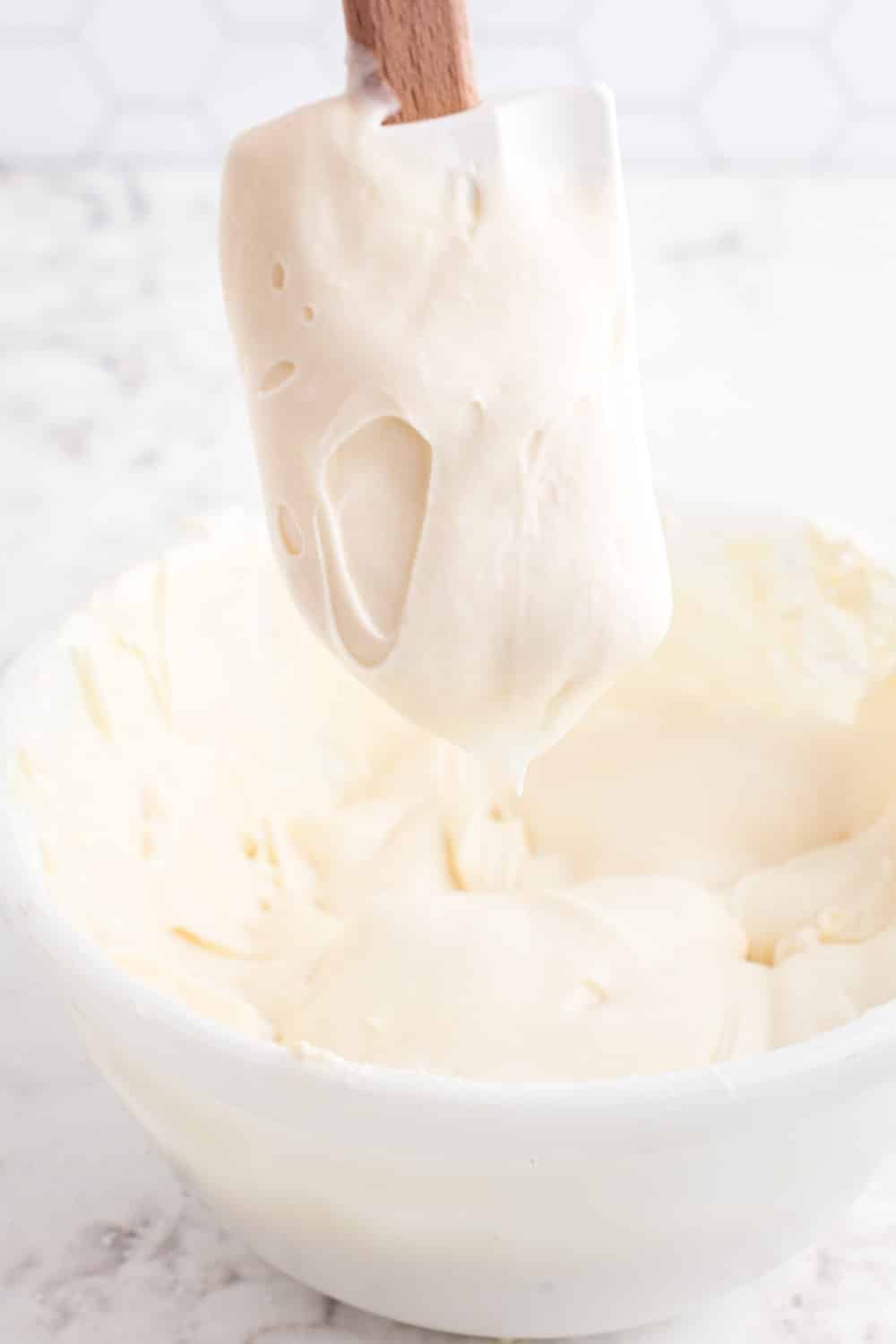 Cream Cheese Frosting is my go-to choice when it comes to layered cakes like this Neapolitan Cake, Chocolate Chip Cake, or Lemon Layer Cake. It's also ideal for frosting-filled cupcakes like these Pumpkin Muffins with Cream Cheese Filling. In fact, this frosting is so good that I have no problem eating it by the spoonful!
It definitely gives buttercream frosting a run for its money, especially if you thicken it to the point of having some fun piping decorative designs while confident that they won't spread into a melted mess. Lucky for you, this Cream Cheese Frosting of mine is one such recipe! If you love easy and mouth-watering frosting recipes, be sure to try Cinnamon Cream Cheese Frosting, Strawberry Cream Cheese Frosting, or Italian Meringue Buttercream.
What do I Need for this Recipe?
🍜 Ingredients:
Butter – Salted and room temperature butter.
Cream cheese – The block of cream cheese must also be softened at room temperature. Full-fat cream cheese is best for this cream cheese buttercream frosting, but you can use low-fat cream cheese instead.
Vanilla extract – Vanilla bean can be used in this homemade frosting.
Powdered sugar – You can increase the icing sugar for a thicker frosting or use less sugar until you achieve the desired consistency.
Heavy cream – This creates the perfect consistency for this classic cream cheese frosting, but you could also use milk, especially if you want a more spreadable cream cheese frosting.
Optional Garnish:
This homemade cream cheese frosting can be topped with crumbled Graham crackers, sliced fruit, sprinkles, or chocolate shavings. Get creative with your toppings to suit the flavor of the cake or your personal preference.
Equipment Needed:
You'll need an electric mixer or hand mixer with a paddle attachment or whisk attachment, a piping bag, a mixing bowl, and a wooden spoon to scrape the sides of the bowl.
Variations and Substitutions:
Make chocolate cream cheese frosting for a chocolate cake by adding cocoa powder to the cream cheese icing.
Add lemon juice for a tangy cream cheese when making a lemon layer cake.
Make a double batch of this delicious frosting – great for adding between cake layers.
🔪 Instructions:
PREP: Allow the butter and cream cheese to soften at room temperature for 15-20 minutes before starting this cream cheese buttercream frosting.
Step 1: Add the softened butter and cream cheese to the mixing bowl and beat until light and fluffy, followed by the vanilla extract.
Step 2: Mix until smooth.
Step 3: Add the powdered sugar and beat until smooth and thick.
Step 4: Drizzle the heavy cream into the cream cheese frosting mixture while beating to create a spreadable consistency.
SERVE: Add the frosting to a piping bag and snip the corner off to decorate cakes and cupcakes. You could also use a decorator's bag with a star-shaped tip.
Don't use low-fat or spreadable cream cheese if you want a thick and fluffy frosting that can be used to pipe designs that will hold up.
If you want more control over the salt content and overall flavor of your frosting then by all means go ahead and use unsalted butter, adding just a pinch or two of salt to the mixture.
It's best to allow all of your dairy-based ingredients like butter and cream cheese to reach room temperature before mixing them together as this helps them to combine well without any lumps forming.
Sift your powdered sugar into the cream cheese mixture to avoid any clumps – this is particularly important if you intend to pipe your cream cheese frosting.
If you want a thinner frosting to use in something like these Lemon Rolls or Pumpkin Cinnamon Rolls, simply add a splash of heavy cream or milk until you get the consistency you desire.
While I made a plain vanilla cream cheese frosting, the options are endless by adding in some of your favorite food flavorings together with some quality food gel colors to match!
Fun Fact
We can thank Mr. William Lawrence, an American dairyman, for accidentally creating cream cheese in the 1870s! While he was trying to make a French cheese, it turned out softer than what was intended due to less fat content and greater moisture added.
Instead of throwing this batch away, Mr. Lawrence saw an opportunity for a new product in the cheese industry and so the cream cheese was born! He branded this line of cheese as Philadelphia, which was first considered a delicacy due to its high cost but as it became more affordable to the everyday man, this soft and creamy cheese started to creep into various household recipes, both savory and sweet.
Today, cream cheese is added to hundreds of recipes, including this addictive Cream Cheese Frosting.
How Should I Store Cream Cheese Buttercream Frosting?
Store your cream cheese frosting in an airtight container or Ziploc bag in the refrigerator for up to 5 days.

Once your cream cheese frosting has been added to cupcakes, cakes, or as a delicious layer within a dessert, it should not sit out at room temperature for longer than 8 hours, preferably storing your sweet treats in the refrigerator as soon as they are no longer being served.
Can I Freeze Cream Cheese Frosting?
Yes, you can! This frosting stores really well in the freezer, lasting for as long as 3-5 months!

Again, make sure that your cream frosting is stored in an airtight container or Ziploc bag. When ready to use, allow it to reach room temperature, giving it a good mix until smooth for use.
How To Tell If Your Cream Cheese Frosting Has Gone Bad?
Cream cheese frosting should be smooth with a light color and shouldn't have any odor to it. Signs that your cream cheese frosting has gone bad include- Discoloration; a crusty, dry, or hardened texture; it has an unpleasant smell.

If your frosting shows one or more of these signs then it's best that you discard it due to food safety reasons and makes a fresh batch.
Can I Use This Cream Cheese Frosting For Piping?
Cream cheese frosting can be tricky at times to pipe since it's so creamy. If you're tired of vanilla buttercream always being your go-to for cake decorating, then you'll be happy to learn that you can achieve a thick enough cream cheese frosting to replace it.

What's important to note here is that you need to use a block of full-fat cream cheese (not low-fat, and definitely not cream cheese spread that you buy in a tub – there's a big difference to the outcome for piping purposes!). The blocks of cream cheese will give you thick and sturdy cream cheese frosting that you can use to pipe decorative patterns or designs onto your cakes and cupcakes!
How Do I Thicken Cream Cheese Frosting?
Apart from using blocks of cream cheese, to get your frosting to a thicker consistency, you'll need to add in more powdered sugar (about 2 tablespoons at a time while mixing) until you get the thickness you desire.

Another way to thicken your cream cheese frosting without additional sweetness is to incorporate some cornstarch. Start with just 1 tablespoon, work it in, and then assess the thickness. I wouldn't add anymore than a couple of tablespoons in total.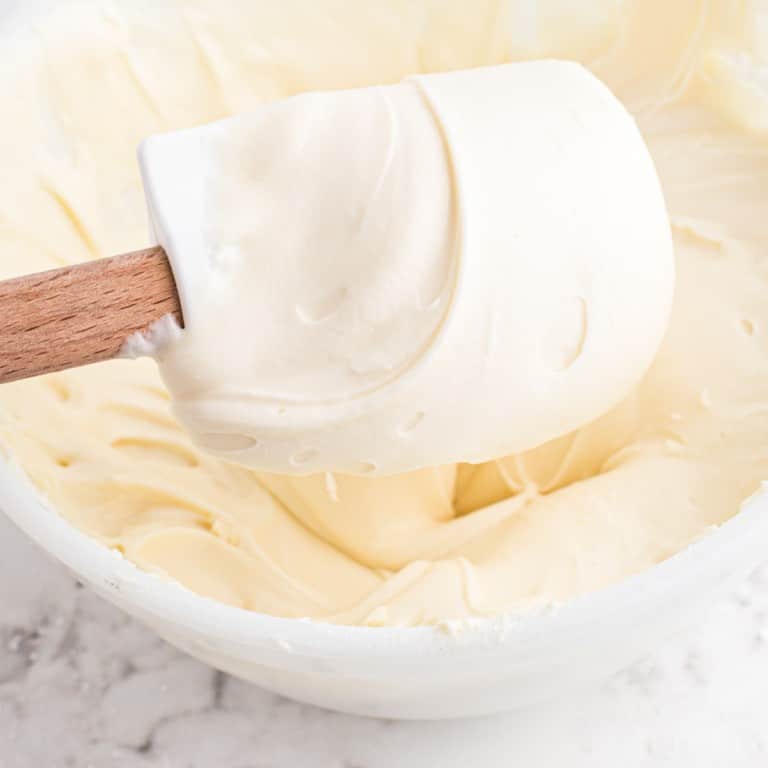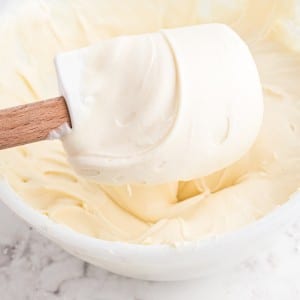 Cream Cheese Buttercream Frosting
Cream Cheese Buttercream Frosting is sweet and tangy, thick and creamy, and easily spreadable – perfect for adding to various cakes and cupcakes!
Ingredients
1 cup salted butter softened
12 ounces cream cheese softened
1 teaspoon vanilla extract
3 ½ cups powdered sugar
4 tablespoons heavy cream
Instructions
Beat together softened cream cheese, and butter until light and fluffy.

Add in vanilla extract and beat until smooth.

Add in powdered sugar and beat until smooth – mixture will be thick.

Drizzle heavy cream into frosting mixture while beating until frosting is fluffy and to a spreadable consistency.

Spoon the cream cheese frosting into a decorators bag or a quart size ziploc bag with a small corner tip snipped off. A star shaped decorating tip can be used in the decorators bag.
Nutrition
Calories: 292kcal | Carbohydrates: 28g | Protein: 2g | Fat: 20g | Saturated Fat: 12g | Polyunsaturated Fat: 1g | Monounsaturated Fat: 5g | Trans Fat: 0.5g | Cholesterol: 56mg | Sodium: 160mg | Potassium: 36mg | Sugar: 27g | Vitamin A: 695IU | Vitamin C: 0.02mg | Calcium: 27mg | Iron: 0.05mg