Melt in your mouth soft and gooey lemon rolls are delicious and a fresh twist on classic cinnamon rolls.
These lemon rolls are everything you've ever wanted in a breakfast roll. A melt in your mouth, soft and gooey citrus twist on classic cinnamon rolls; these are an indulgence straight from heaven. You'll start with the absolute best sweet dinner roll dough, add citrus filling, and finish by slathering these with scrumptious lemon cream cheese frosting.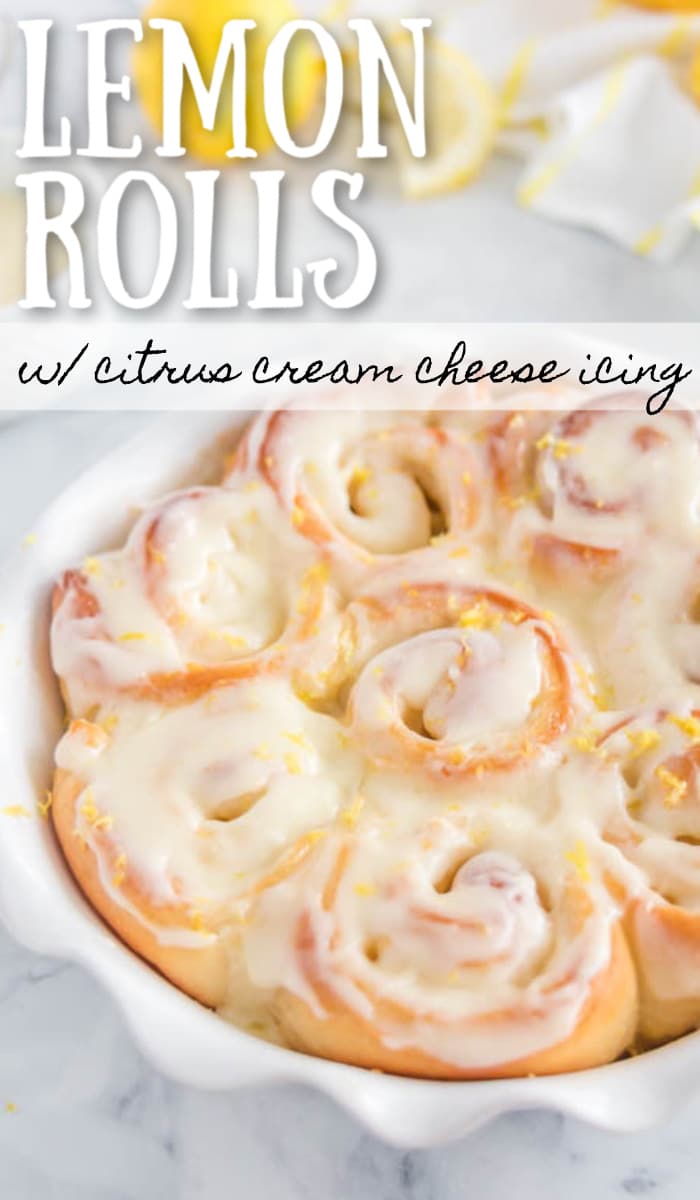 We're going to start by making a recipe of sweet dinner roll dough. I have instructions for both bread machine and hand-mixing instructions. Each recipe will make two 9″ rounds of lemon rolls. The dough takes just a few minutes to combine ingredients, but will need to complete its first rise cycle before you make the lemon rolls. When your dough is ready, it's time to get baking!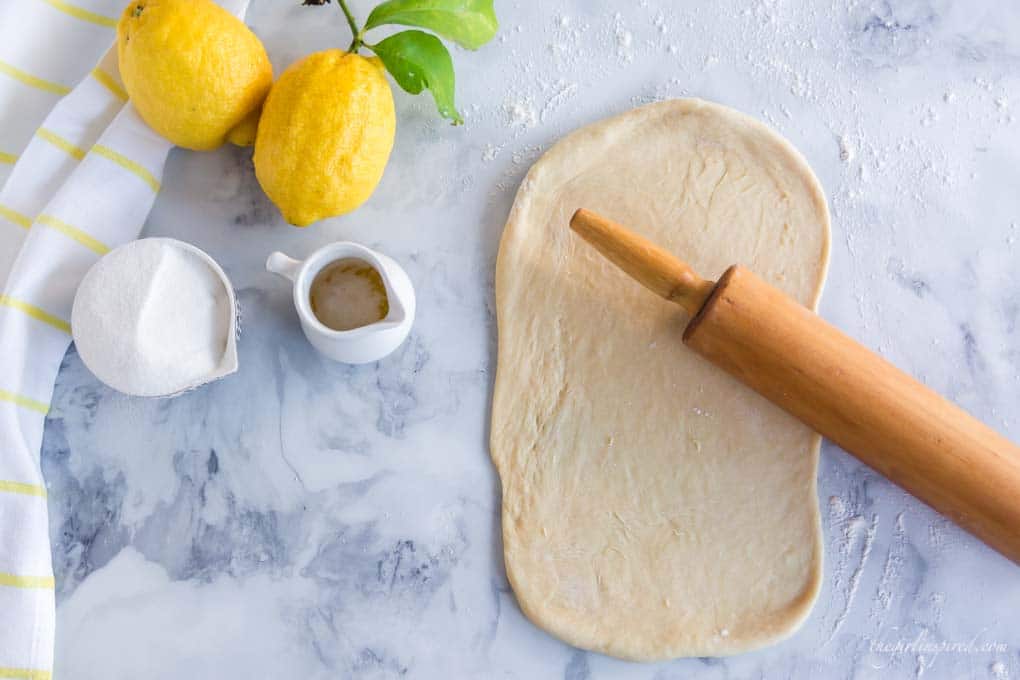 Roll the dough out into a rectangle that is approximately ¼″ thick.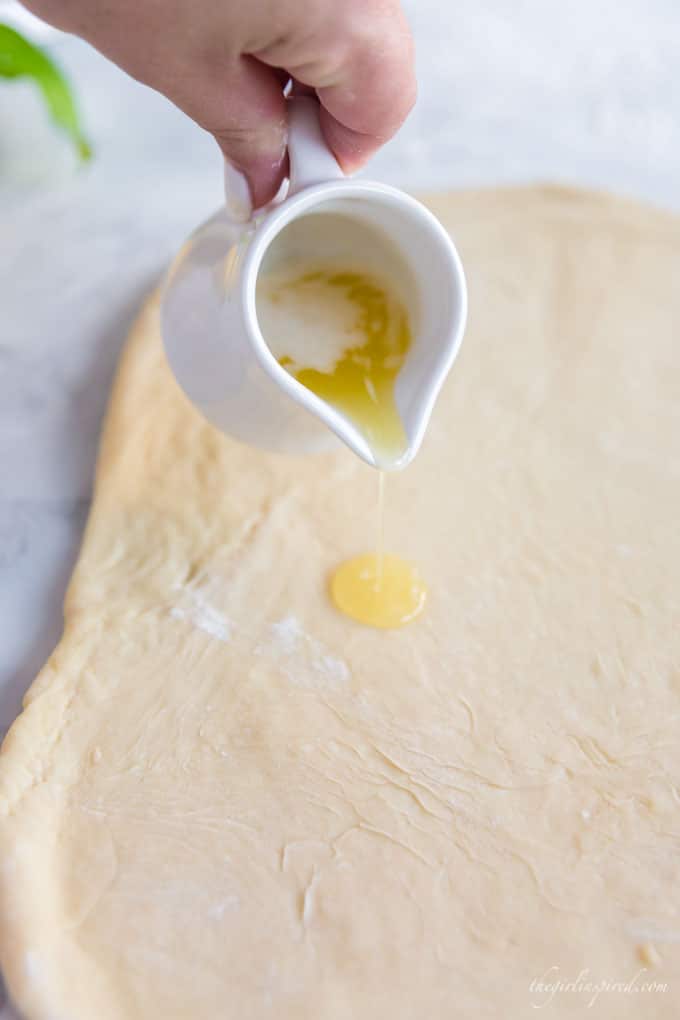 Drizzle the melted butter over the dough. Mmmmmm.
Sprinkle with the granulated sugar.
Make sure the sugar and butter are evenly distributed over the dough, all the way out to the corners. Sprinkle the zest of at least one, if not two lemons over the sugar mixture.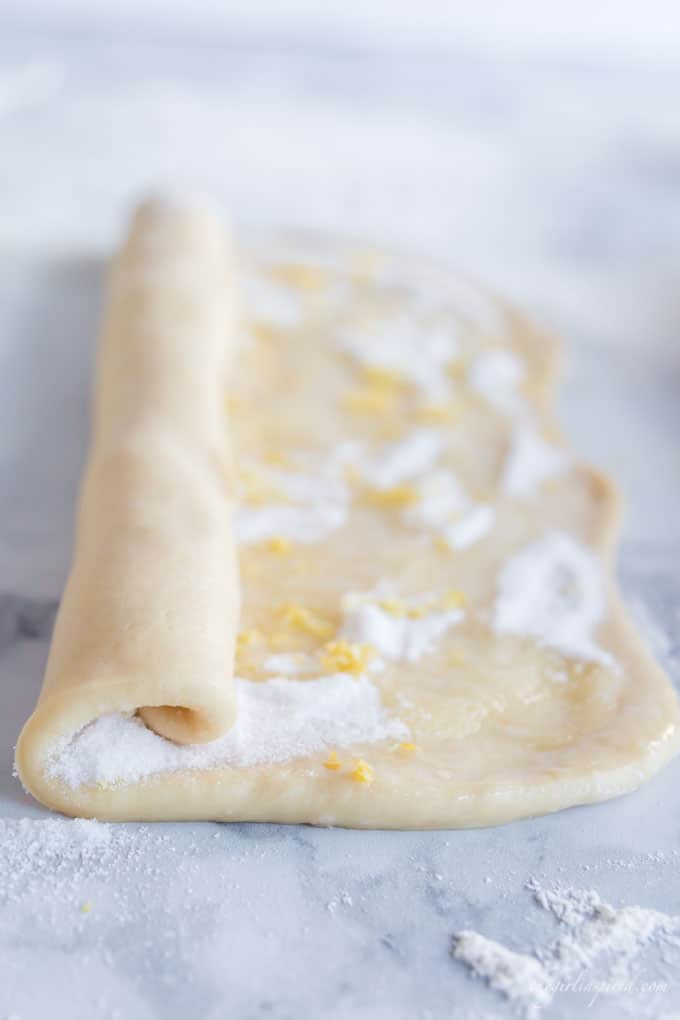 Time to roll. Start on one of the long sides of the rectangle and begin rolling the dough.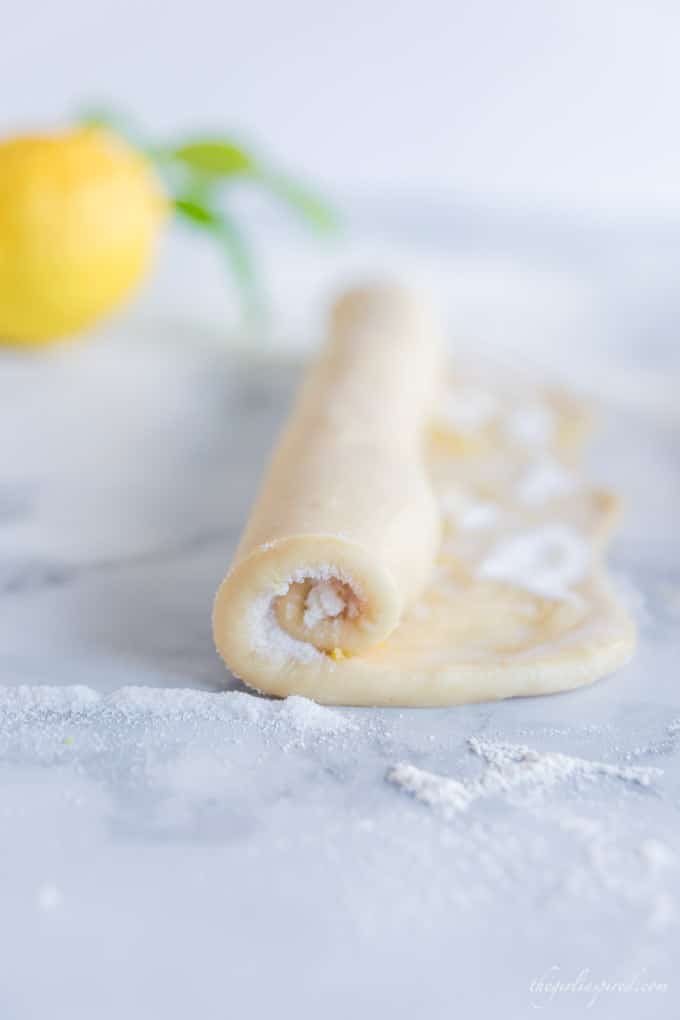 Continue rolling until you have formed a pretty spiral. Pinch the far edge onto the spiral when you get there, sealing in your filling.
Take your log and place it seam down on the counter. Use a sharp knife to slice thick 1 ½ inch slices of the lemon roll. You should be have about 16 lemon rolls sliced – this will fill two 9″ rounds or pie plates. You can find pie plates like mine, here! (aff) I love these scalloped pie plates – they always make the presentation look even better!
Distribute 16 sweet rolls between two pie plates. It is really important to leave a good bit of space between your roll slices so that they can properly rise and bake. If they are too close together, the spiral will shoot out the top during baking and the bottom of the rolls will not be able to bake properly.
Take your prepared lemon rolls and place them in a draft-free location. Cover with a light dish towel and allow them to rise for about an hour. They should rise up and fill in all that open space in your baking dish. Now it's time to bake them! Pop them in the oven for about 10 minutes and cook until they are puffy and golden brown on top.
Okie dokie! Time to slather those lemon rolls in the moooooost delicious frosting. Beat together butter, cream cheese, and lemon juice until smooth. Spread it over the hot sweet rolls so that it can melt into all the nooks and crannies. Oh yum. I need another batch just talking about these.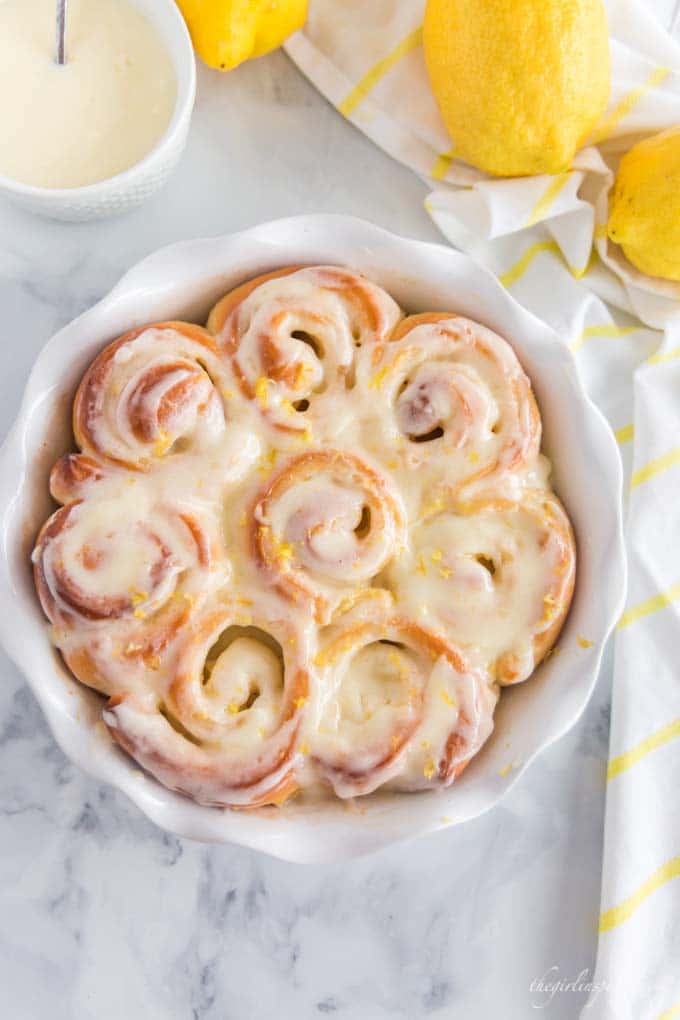 For a bit extra on the presentation, you can sprinkle a little more lemon zest over the top. When they're cool enough to touch the plate without burning yourself, dig in!
Love all things sweet roll? Use our same dough recipe to make pumpkin cinnamon rolls, hot cross buns, or braided sweet bread with apricot filling. Or use canned dough to make campfire cinnamon rolls or gorilla bread.
Lemon Sweet Rolls
Melt in your mouth soft and gooey lemon rolls are delicious and a fresh twist on classic cinnamon rolls.
Ingredients
Lemon Roll Filling
1 cup granulated sugar
1 cup butter melted
2 lemons large
Lemon Cream Cheese Icing
8 oz. cream cheese softened
6 tablespoon butter softened
½ cup lemon juice
3 cups powdered sugar
Instructions
Lemon Rolls
Prepare sweet roll dough and allow to finish the first rise cycle.

Place dough onto lightly floured work surface and roll into a large square, ¼" thick.

Drizzle melted butter over dough.

Sprinkle with sugar.

Grate the zest of two lemons over the sugar and butter mixture.

Working from long edge of rectangle, roll the dough to form a spiral log.

Slice log into 1 ½" thick slices; slice evenly. This should make approximately 16 slices.

Evenly space dough spirals between two 9" pie plates or round cake pans. There should be ample space between each roll to allow for proper rising and baking.

Cover pans with a dish towel and allow to rise for approximately 1 hour.

Remove towel and bake in a 375 degree oven for approximately 10 minutes or until the rolls are evenly browned across the top.
Lemon Cream Cheese Frosting
Beat cream cheese and butter together until light and fluffy.

Add lemon juice and beat until smooth.

Add powdered sugar ½ cup at a time until frosting is thick enough to spread into a thick layer.

Top the baked lemon rolls with desired amount of frosting and enjoy!
Nutrition
Calories: 478kcal | Carbohydrates: 62g | Protein: 5g | Fat: 25g | Saturated Fat: 15g | Cholesterol: 77mg | Sodium: 387mg | Potassium: 103mg | Fiber: 1g | Sugar: 41g | Vitamin A: 805IU | Vitamin C: 10mg | Calcium: 46mg | Iron: 1mg