The creamiest, most luscious blend of chocolate, whipped cream, cheesecake, and Oreo cookie crust.
Chocolate lasagna is your heavenly answer to a quick and easy no-bake dessert. Layers upon layers of decadent lush chocolate are where cheesecake meets swirls of cream and chocolate pudding. It's topped with a layer of whipped topping and all of this sits on a bed of delicious Oreo crumb crust. Whip this up in a hurry for a special occasion or absolutely no reason at all!
If the combination of chocolate and no-bake excites you as much as it does me you're going to love my oreo ice cream cake and chocolate cream pie. Both are mouthwateringly delicious and deceptively fancy schmancy! Pssst…they're really super easy.
What is Dessert Lasagna?
If you love all things chocolate, but not interested in baking anything, then this chocolate lasagna recipe is for you. It's exactly as you'd expect. Layers, chocolate and Ooey Gooey.
The cookie crumb base gives this dessert a nice crunch with a familiar cookie flavor we all adore. The next layer is a combination of cream cheese, whipped topping, and heavy cream (oh my word) which has the taste and texture reminiscent of a cheesecake. Then above that, you've got a thick chocolate pudding/mousse-ish layer. Oh, just you wait, I'm not done. AND THEN on top of even that, you've got a top layer of whipped topping, sprinkled with crushed cookies, chocolate chips, and your choice of chocolate sauce or caramel sauce. Who are we kidding, we're having both.
And there you have it. The best and easiest no-bake chocolate dessert worthy of its praises. Enjoy a slice with your sweetheart for a Valentine's Day dessert, or serve it at your next summer backyard BBQ. There is literally no wrong time to eat it!
It'll have your guests saying, " hand me a fork and move out of my way!"
Ingredients for the Chocolate Lasagna:
Chocolate sandwich cookies/Oreos – No need to remove the creamy center. Just throw the whole cookie in and the cream will actually help bind the crust. With that being said, don't use double stuffed.
Salted butter – Use to help bind the cookie crust. The salt is a nice balance to the sweet cookie.
Granulated sugar – Will help turn the cream cheese into more of a cheesecake.
Cream cheese – The most important part of this particular layer. It acts as a sturdy base to the layers built on top but it also puts the cheese in cheesecake.
Heavy cream – Add heavy cream to the cream cheese layer to give it a rich velvety texture.
Whipped topping – Add whipped cream to the cream cheese layer, the chocolate layer, as well as the top layer. A jack of all trades, I'd say.
Instant Chocolate Pudding – A whole layer dedicated to thick, rich chocolate pudding. The instant mix is the way to go!
Whole milk – Can substitute with 2% milk.
Mini chocolate chips – Either sweet or dark chocolate.
White chocolate chips – An added treat sprinkled on top.
Chocolate sauce – A simple homemade chocolate fudge sauce for a drizzle on top!
How to Make Chocolate Lasana:
Step 1: Prepare your baking dish by greasing it with butter or nonstick spray and set aside. Toss the cookies in a food processor and crush until small crumbles have formed. Add granulated sugar and melted butter and continue pulsing until combined.
Step 2: Pour contents of food processor into baking sheet and press down the cookie mixture to spread across entire bottom of the dish to form a crust. Chill in the freezer to set.
Step 3: Whisk or beat softened cream cheese, granulated sugar, and heavy cream in a bowl until fluffy and fully incorporated. Add the whipped topping and continue beating until combined. Using a spatula, spoon out all of this delicious cream cheese layer onto the chilled cookie crust and spread into an even layer. Put back in the freezer to set.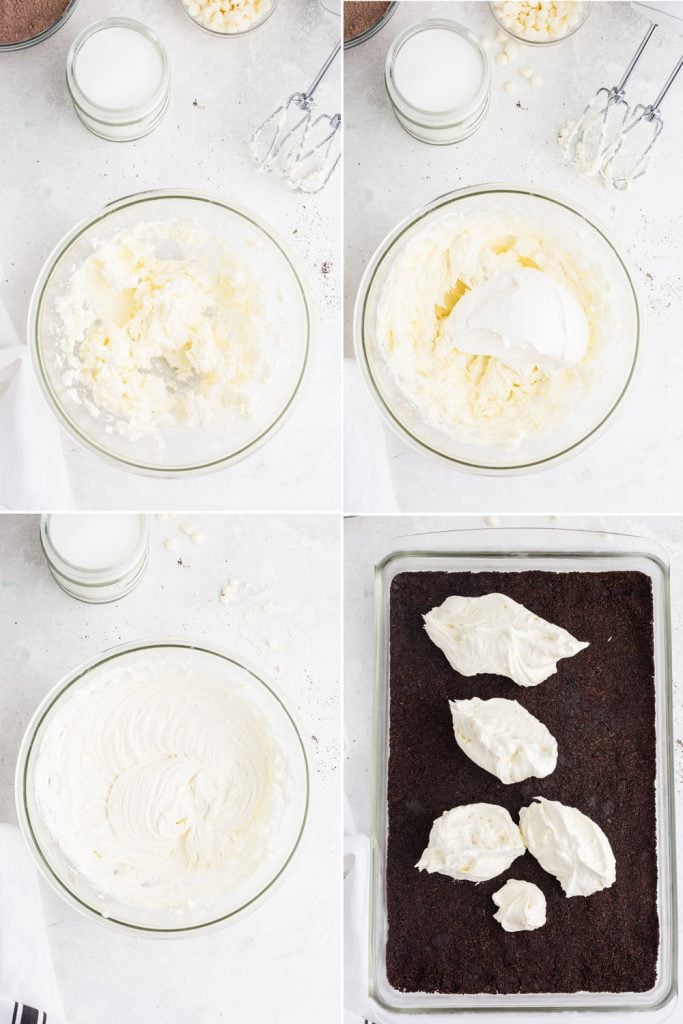 Step 4: Prepare the chocolate layer by beating together the pudding mix, milk, and whipped topping. Beat until the mixture thickens. Spread over the cream cheese layer and top with the remaining whipped topping.
Step 5: Sprinkle the chocolate lasagna with all the toppings and chill for at least 30 minutes before serving.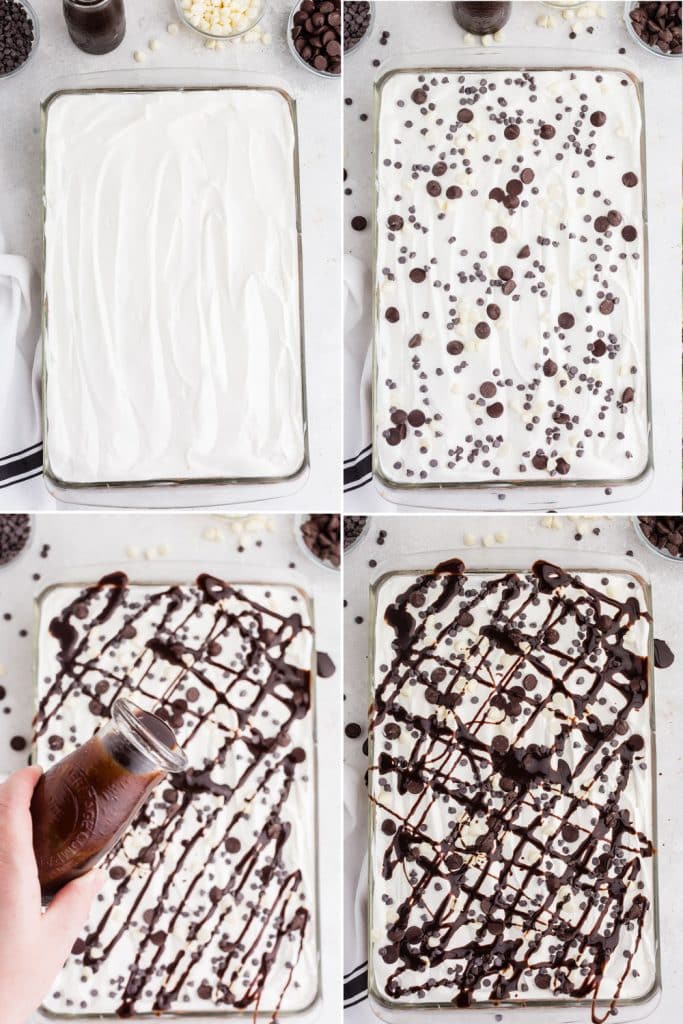 If you're feeling a little fancy this Valentine's day, perhaps swap the chocolate chips with chocolate shavings. Present on a dish with a side of chocolate strawberries and two forks. No one needs to know how easy it was to make. No one needs to know it was made the day before!
Run the knife under warm water for easy slicing and serving, and enjoy every bite of this luscious creamy chocolate dessert.
Can I freeze chocolate lasagna?
Absolutely, you can! Just make sure to thaw in the fridge the night before. If you don't thaw it completely, it's actually a bit like an ice cream cake and I honestly can't decide if I like it better thawed or frozen!
Chocolate Lasagna
The creamiest, most luscious blend of chocolate, whipped cream, cheesecake, and Oreo cookie crust.
Ingredients
14.3 oz. chocolate sandwich cookies/Oreos (35 cookies)
⅓ cup salted butter, melted
½ cup plus 2 tablespoons of granulated sugar divided
8 oz. cream cheese softened
3 tablespoons heavy cream or milk
16 oz. Cool Whip or frozen whipped topping
6.8 oz. instant chocolate pudding 2 small packages
2 ¼ cups whole milk 2% can be substituted
¼ cup miniature chocolate chips
¼ cup semi-sweet or dark chocolate chips
¼ cup white chocolate chips
⅓ cup chocolate sauce
Instructions
Grease a 9×13 baking dish with some butter or non-stick cooking spray and set aside.

For the cookie layer, crush chocolate cookies in a food processor until they are in small crumbles.

Add two tablespoons of granulated sugar and the melted butter and pulse until well combined.

Press the cookie crust mixture into the prepared baking dish to form the crust. Place in the freezer to chill.

Use a hand mixer or a whisk to beat together softened cream cheese, remaining granulated sugar, and 3 tablespoons of heavy cream. Beat until fluffy and combined. Beat in 1 cup of the whipped topping.

Use a spatula to spread the cream cheese layer over the chilled cookie crust. Place the casserole dish back into the freezer to set while preparing the chocolate layer.

Beat together pudding mix, milk, and 1 additional cup of whipped topping until mixture thickens. Spread over the chilled cream cheese layer.

Top the pudding layer with the remaining whipped topping. Sprinkle with chocolate chips, crushed cookies, chocolate and/or caramel sauce.

Chill for at least 30 minutes before slicing into squares and serving.
Nutrition
Calories: 274kcal | Carbohydrates: 35g | Protein: 4g | Fat: 14g | Saturated Fat: 7g | Cholesterol: 26mg | Sodium: 287mg | Potassium: 147mg | Fiber: 1g | Sugar: 25g | Vitamin A: 308IU | Calcium: 71mg | Iron: 2mg