An easy-to-make rich, smooth green enchilada sauce that packs a punch of flavor from fresh roasted chilis, garden tomatillos, and cilantro.
Homemade Green Enchilada Sauce provides an explosion of fresh flavor to so many dishes! Thanks to the tomatillos, roasted chilis, garlic, cilantro, and cumin, it will elevate everything from cheesy enchiladas, casseroles, soups, and the spoon from which you are licking it off! This made from scratch green sauce is heads above anything storebought and is ready in less than 30 minutes!
If you love all things Mexican inspired, whether a dish or a sauce, you must try salsa verde, cheese enchiladas with green sauce, and green chicken chili recipe. And then, you should invite me over!
What is Green Enchilada Sauce?
If you've ever tried green chili enchilada sauce at a restaurant you know that beautiful green sauce drizzled on top of your nachos, your enchiladas, and your quesadillas, activates all of your senses! The thought of it is exactly what is making your mouth water right now.
If you've never tried it before, well buckle up! You're in for a game-changing experience. This green enchilada sauce recipe gives you Mexican style restaurant-quality flavors, right at home.
Enchilada sauce can be made either red or green, and each has its purpose. But the fresh, citrus, burst of flavor that comes from this version, is a bonus.
It's a little bit spicy but can be made more mild or hot to your liking. Its freshness comes from the bold flavors of the tomatillos, garlic, red onion, and cilantro. The roasted chilis, which have been charred beautifully, gives you not only heat but also a little smokiness.
When this delicious sauce is combined with melty gooey cheese or crumbled Queso Blanco, it's the thing that's going to keep you coming back for more! Super addicting, you'll want to keep a jar on hand at all times. Forget the storebought stuff, you're about to prepare a homemade sauce that will blow your mind!
Appliance Info:
This easy green sauce requires very little effort and even fewer appliances. Besides the basic saute pan and baking sheet, all you really need is a blender or food processor.
Ingredients:
Sweet white onion – A sweeter, less pungent onion than yellow. When sauteed with the garlic, it brings out its natural sweetness.
Garlic cloves – Garlic and onion are a powerhouse duo. Sauteed together brings out the best in both of them and elevates the other ingredients in the sauce.
Anaheim or Hatch chiles – If you're wondering why the different spelling (Chili, Chilli, or Chile), it's because they are all used interchangeably, depending on where you live! The Anaheim or Hatch chilis are a bit milder and usually larger than the jalapeno pepper, but if that's all you can find, go ahead and use that instead.
Olive oil
Fresh tomatillos, rinsed and roughly chopped – You can use canned as well. They look like smaller unripened tomatoes and can be found in most grocery stores. Usually with a husk around them. In fact, the drier and crispier the husk, the better the tomatillo.
Fresh cilantro – Whether you love it or hate it, add it anyway!
Cumin – A nice balance to the citrus and heat. Brings a bit of earthiness and a different layer of flavor.
Chicken or vegetable bouillon – Your choice!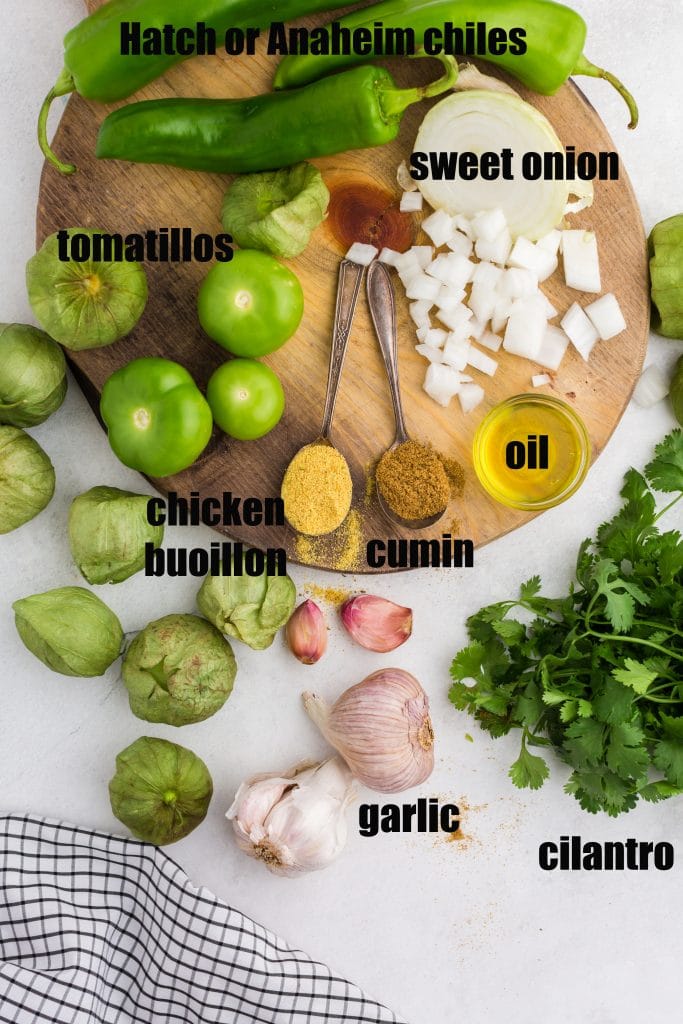 How to Make Green Enchilada Sauce:
Step 1: Preheat the oven to broil and line a baking sheet with aluminium foil. Set it aside. Saute the onions with a little bit of oil in a large saute pan. Once they're soft, add the minced garlic and continue to saute until fragrant and beginning to brown. Then remove it from heat and set aside.
Step 2: Grab your chiles and rub them with olive oil. Place them on the prepared baking sheet and broil on the top rack of the oven. Once one side is charred and blistered, rotate until all sides are blistered. Remove from the oven to cool and once you are able to handle them, remove the stem and most of the seeds. The more seeds you leave in, the hotter your sauce will be. So, you do you!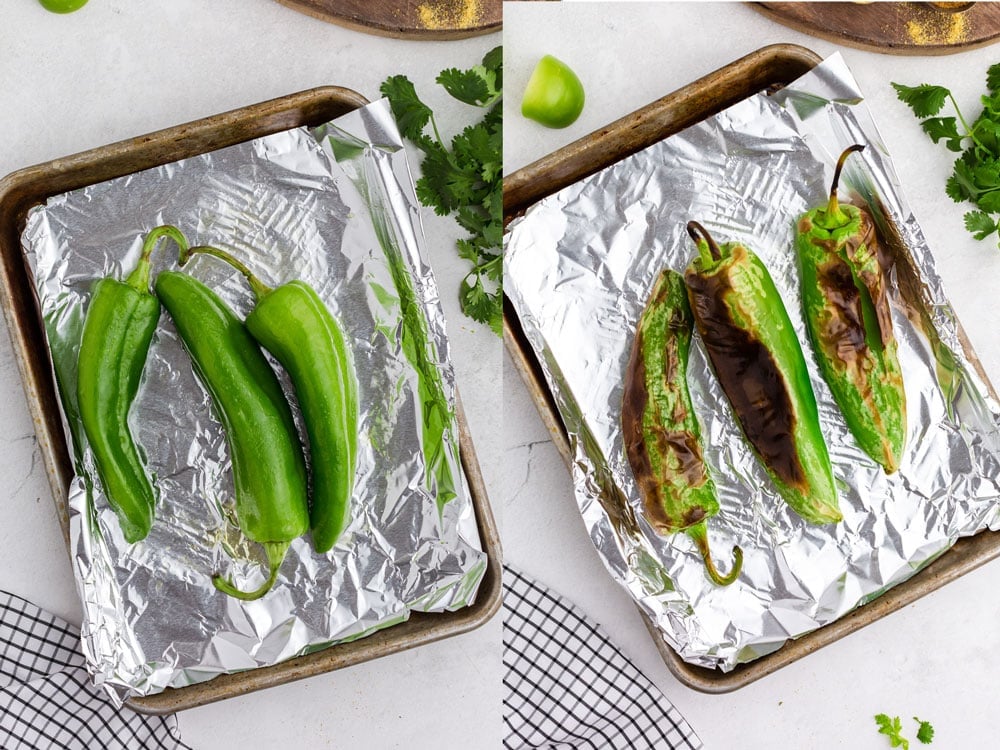 Step 3: Remove the husk and stem from your tomatillos and rinse. Cut into quarters and pulse in a blender or food processor until broken down into small chunks. Add the chile flesh and cilantro and pulse once more. This is where you decide what consistency you want for your sauce.
Step 4: Pour the contents of the blender/food processor back into the saute pan. Add water, cumin, and bouillon and bring to a simmer until the sauce thickens, flavors have married and your desired consistency has been reached.
Pour it all over whatever dish you've got going on in the oven right now or save it in an airtight container in the fridge for up to 10 days. If you want to freeze it, wait until it's completely cooled and then keep it frozen for up to 6 months.
What did I tell you about all your senses?! Was I right or was I right? Now that you know how to make this super simple crowd-pleasing sauce, keep this recipe handy because people will be asking you for it!
Variations and Substitutions
As mentioned above, if you can't find chiles, feel free to use jalapenos or poblanos.
If you want more heat leave in more seeds, or add even more peppers. If you want less heat, make sure to remove all of the seeds.
I was only half kidding about adding the cilantro no matter what. It does add a nice finishing flavor and an added freshness, but it won't make or break your recipe.
If you like the flavor of the roasted chiles, you might even enjoy roasting the tomatillos.
Freeze in ice cube trays for easy access to small portions at a time.
Stock up on ingredients when they are in season make a double batch and freeze for later.
What else can I use enchilada sauce for?
Use it on top of everything from tacos, quesadillas, tamales, enchiladas, fish, chicken, beef, shrimp, casseroles, or macaroni and cheese. You can even thin it out even more and use it as a salad dressing. The sky is the limit with this magic sauce!
Is this green enchilada sauce spicy?
The sauce is mildly spicy as the recipe is written. You can adjust the spice level by adding more chile seeds and/or adding roasted peppers with a spicier/hotter flavor. Hatch and Anaheim chiles are about ⅓ as spicy as your average jalapeno.
Can I use canned tomatillos?
You sure can. Fresh are always best, but canned tomatillos are easy to find at the grocery store and make a great substitute.
What if I can't find Hatch chile peppers?
Hatch chile peppers are grown in one area of New Mexico and are available seasonally in the Southwestern U.S. Anaheim chiles make a great substitute, but if you do not have access to either of these chili peppers, look for a chile pepper with an earthy flavor and mild/medium heat.
Green Enchilada Sauce
An easy-to-make rich, smooth green enchilada sauce that packs a punch of flavor from fresh roasted chilis, garden tomatillos, and cilantro.
Ingredients
½ sweet white onion diced
1-2 garlic cloves
2 large Anaheim or Hatch chiles
2 tablespoons olive oil
4-5 cups fresh tomatillos rinsed and roughly chopped (or canned)
1 cup fresh cilantro
2 cups water
1 teaspoon cumin
1 teaspoon chicken or vegetable bouillon
Instructions
Add 1 tablespoon of olive oil to a large saute pan and heat over medium. Saute diced onions until soft. Add minced garlic and continue sauteeing until the garlic is fragrant and mixture is just beginning to brown. Remove from heat.

Meanwhile, rub chiles with olive oil. Place them on a baking sheet lined with aluminum foil. Broil on the top rack of the oven, rotating the chiles until they are blistered on all sides. Remove from the oven and allow to cool enough to handle. Remove stem and most seeds from the chiles and scoop the flesh away from the peel, if desired.

Prepare fresh tomatillos by removing the outer paper-like skin and trimming the stem. Rinse any sticky residue from the tomatillos and cut into quarters. Place tomatillos in a blender or food processor and pulse until the tomatillos are broken down into small chunks.

Add chile flesh and cilantro to the blender and pulse a few more times until desired consistency is achieved.

Pour sauce back into saute pan. Add water, cumin, and bouillon and bring to a simmer.

Simmer over medium-low heat until sauce thickens to desired consistency and flavors have meddled.

Cool. Store in an airtight container in the refrigerator for up to 10 days or freezer for up to 6 months.
Nutrition
Calories: 81kcal | Carbohydrates: 8g | Protein: 1g | Fat: 6g | Saturated Fat: 1g | Cholesterol: 1mg | Sodium: 156mg | Potassium: 269mg | Fiber: 3g | Sugar: 5g | Vitamin A: 280IU | Vitamin C: 14mg | Calcium: 16mg | Iron: 1mg