Peanut Butter Cookies - the BEST recipe for this classic buttery, chewy peanut butter cookie!
The best Homemade Peanut Butter Cookies are soft and chewy with just the right balance of sweetness and peanut buttery goodness. This recipe is easy to follow using just a few ingredients and ready to devour in under 30 minutes. A no chill, classic peanut butter cookie recipe that every home baker should know how to make at least once!
If you love all things peanut butter, you've got to try peanut butter chocolate chip cookies, peanut butter chocolate cake, and peanut butter buttercream. Chocolate and peanut butter are the dream team, but peanut butter buttercream? C'mon!
What are peanut butter cookies?
Have you ever bitten into something seemingly so simple, yet deliciously complex in flavor you thought to yourself I must have 10 more? Well, that my friends, is what we have going on here. These irresistible peanut butter cookies have the perfect combination of buttery sweetness oozing with just the right amount of peanut butter flavor. Soft and chewy with a tender crumble, these classic peanut butter cookies will have you singing!
This traditional cookie, made from scratch, is the perfect starter recipe for you if you're just stepping into the world of baking. It's made with simple ingredients and takes very little time and effort. In reality, the hardest part is waiting to eat them! The kids will also love to get involved even if they're just adding the signature fork crossed pattern on top or just there to lick the bowl!
These smooth peanut butter cookies are perfect for dunking in a cold glass of milk or enjoying with an afternoon tea. They are the warming comfort cookie we all need during the cooler months and way too easy to make not to have them on repeat!
Cookie Supplies
There is no hard and fast rule about the appliances and tools you need for this recipe. There are, however, some things to use that will make your life just that much easier.
A Stand Mixer – Definitely not a must, but it will definitely save your arm muscles. If you don't have one, a bowl and hand mixer will do the job. I use my standing mixers (yes, I have two!) every day, but I also use my nifty little hand mixer every day, too. My mom gifted me my hand mixer (just like this one you can find through this referral link) back when I was in college and it's still going strong more than 20 years later. If you have neither of these, then we're going back to basics with a bowl and a whisk. Not to worry, you'll end up with the same cookie no matter what!
Cookie Scoop – It helps with scooping the right amount of dough, but if you don't have one you can also use an ice cream scoop or a regular spoon. I like having cookie scoops in a few sizes (affil) on hand so that I can change it up for different recipes. These homemade peanut butter cookies work well with the medium size cookie scoop.
Ingredients:
Salted butter, softened – This might seem counterintuitive because peanut butter already has salt, and there is also added salt as an ingredient, but for the amount of sugar in the cookies, salted butter adds the exact right balance needed. If you are concerned, feel free to use unsalted butter.
Peanut butter – Smooth or chunky, both will work, however smooth is preferred. If you happen to be using homemade peanut butter, you'll want to make sure it is mixed VERY well.
Granulated sugar – Gives the cookies the sweetness it needs.
Light brown sugar, packed – Adds to the depth of flavor of sweetness as well as helps keep the cookies nice and soft.
Egg – Acts as a binding agent so your cookies aren't crumbling in your hands.
Vanilla extract – You can use pure or artificial, whatever you have on hand. The real stuff is better if you have it.
All-purpose flour – A basic ingredient in many baking recipes, it is the foundation of the structure of your cookie.
Baking soda – This acts as a rising agent and is a very important ingredient which if forgotten is very noticeable!
Baking powder – Baking soda's partner in all things baking. Not always, but in many cases. They work together as a team.
Salt – This isn't a make or break ingredient if you are concerned about the added salt. Yes, it results in the perfect balance of flavors, however the choice is yours!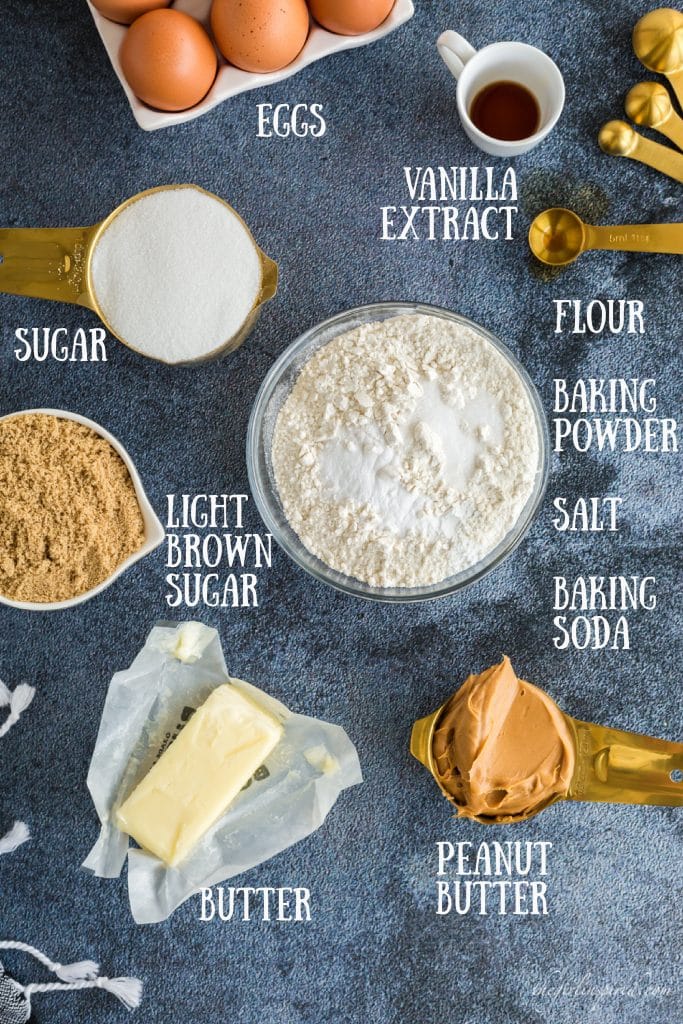 How to Make Homemade Peanut Butter Cookies:
Step 1: In a large bowl, cream together the softened butter and peanut butter until fluffy. Then add the peanut butter mixture, both granulated and brown sugars, egg, and vanilla. Beat well, until everything is combined.
Step 2: Grab a separate bowl and sift together the flour, baking soda, baking powder, and salt. Add the dry ingredients to the butter/sugar mixture a spoonful at a time. Mix well as you combine.
Step 3: Using a cookie scoop, spoon the dough onto an ungreased baking sheet. Roll each scoop gently in your hands to form a smooth ball. Using a fork, push gently into the top of each cookie making a criss-cross indent (you know the one).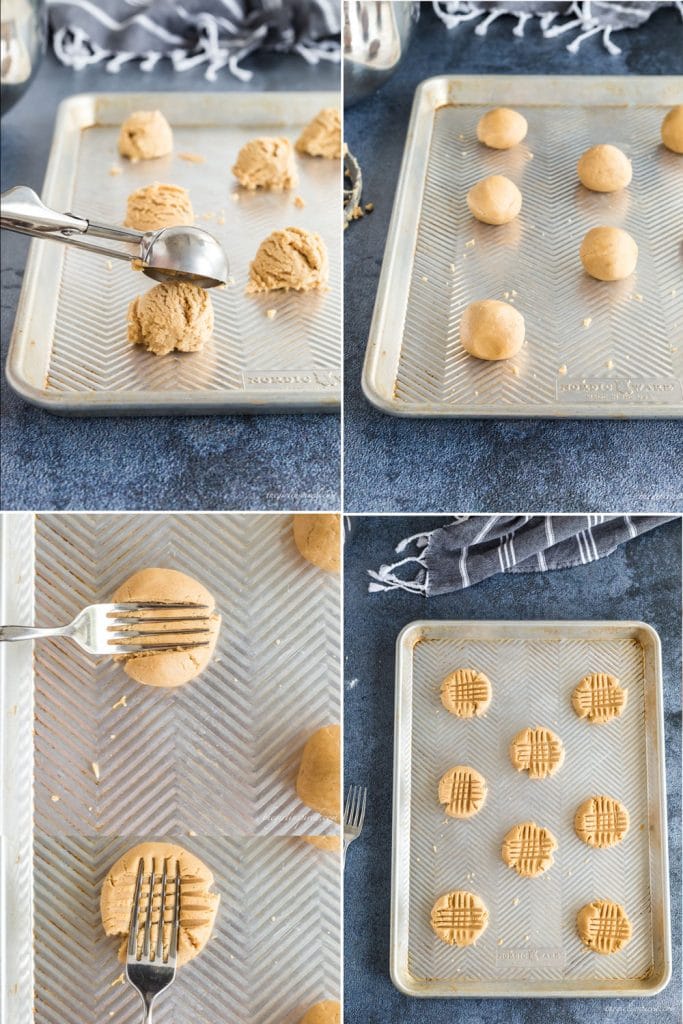 Step 4: Bake until the edges begin to brown slightly and your house smells like the inside of a bakery. Or your kids have asked for the 40th time if they're ready yet. Either way, the timing is accurate.
These cookies will be very soft just after coming out of the oven, so let them sit for a few minutes before transferring them to a cooling rack.
Best enjoyed immediately or within a day, but will keep in an airtight container for up to 3 days. Be forewarned, they are highly addictive and probably won't last that long! The high sugar content in these peanut butter cookies gives them a total melt in your mouth, heavenly experience, but it also makes cookies that are not as good after they've sat out on the counter for more than a day or so. You can freeze the dough and bake just a couple at a time if you don't think you'll be eating the whole batch at once.
Peanut Butter Cookie Substitutions and Variations
Natural peanut butter has no stabilizer, so there's a chance your cookie will be crumbly and a little drier. However, if this is something you are ok with, then have at it! Just make sure to mix your natural peanut butter really well before using it as it tends to settle and separate.
Double the recipe for a crowd or freeze an extra batch for a later date.
Make the dough up to 3 days ahead of time and keep it in the fridge until you bake.
Baking is a science. Make sure you're measuring out your flour exactly as stated.
Sprinkle granulated sugar on top before baking for some added sparkle, texture, and sweetness.
Dip, drizzle, or dunk in chocolate or white chocolate.
Add in some oats for an oatmeal peanut butter cookie.
Add a sprinkling of cinnamon, chocolate chips, or toffee bits for added fun.
Can I use crunchy peanut butter?
Definitely. If you want to give your cookies some extra texture and crunch, chunky peanut butter is the way to go.
Can I make these peanut butter cookies ahead of time?
You can make this dough ahead of time and chill it in the fridge before baking. Just make sure to allow the dough to return to room temperature before you begin working with it again.
Can I freeze homemade peanut butter cookies?
Absolutely! These are very freezer friendly. Keep in an airtight container or freezer-friendly bag and then thaw at room temperature. Make sure to give yourself enough advanced thaw time before any late-night cravings hit!
Peanut Butter Cookies
Peanut Butter Cookies – the BEST recipe for this classic buttery, chewy peanut butter cookie!
Ingredients
½ cup salted butter softened
½ cup peanut butter
1 cup granulated sugar
1 cup packed light brown sugar
1 egg
1 tsp. vanilla extract
1 ¼ cup all-purpose flour
¾ tsp. baking soda
½ tsp. baking powder
½ tsp. salt
Instructions
Cream together the softened butter and peanut butter until fluffy and light.

Add sugars, egg, and vanilla. Beat well.

In a separate bowl, sift together flour, baking soda, baking powder, and salt.

Add dry ingredients to the butter/sugar mixture one spoonful at a time, mixing well.

Spoon dough onto ungreased baking sheet. Use a fork and push gently into the top of each cookie to make a criss cross indent.

Bake at 350 degrees for 8-9 minutes – just until the edges begin to brown slightly.

After cookies have cooled for 2-3 minutes, transfer to a cooling rack; serve immediately.
Nutrition
Calories: 160kcal | Carbohydrates: 23g | Protein: 2g | Fat: 7g | Saturated Fat: 3g | Cholesterol: 17mg | Sodium: 157mg | Potassium: 57mg | Fiber: 1g | Sugar: 18g | Vitamin A: 128IU | Calcium: 19mg | Iron: 1mg