This fudgy edible brownie batter recipe is rich, delicious, a chocolate lover's dream, and tastes just like when you are making real brownies.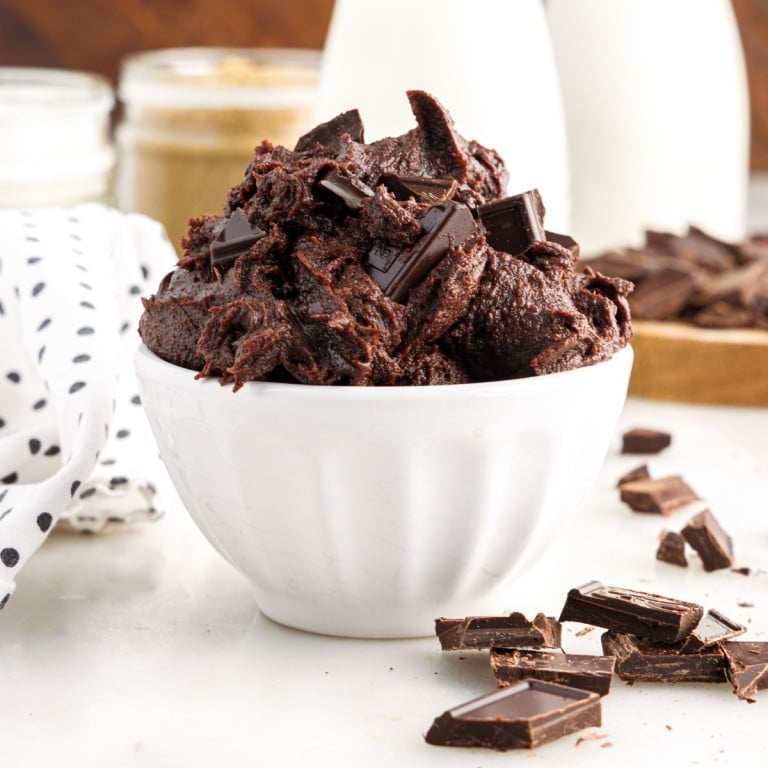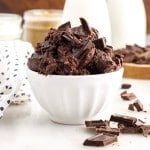 ​Edible brownie batter is made with simple ingredients, takes 5 minutes to prep, and is the perfect treat to satisfy your chocolate craving when it hits!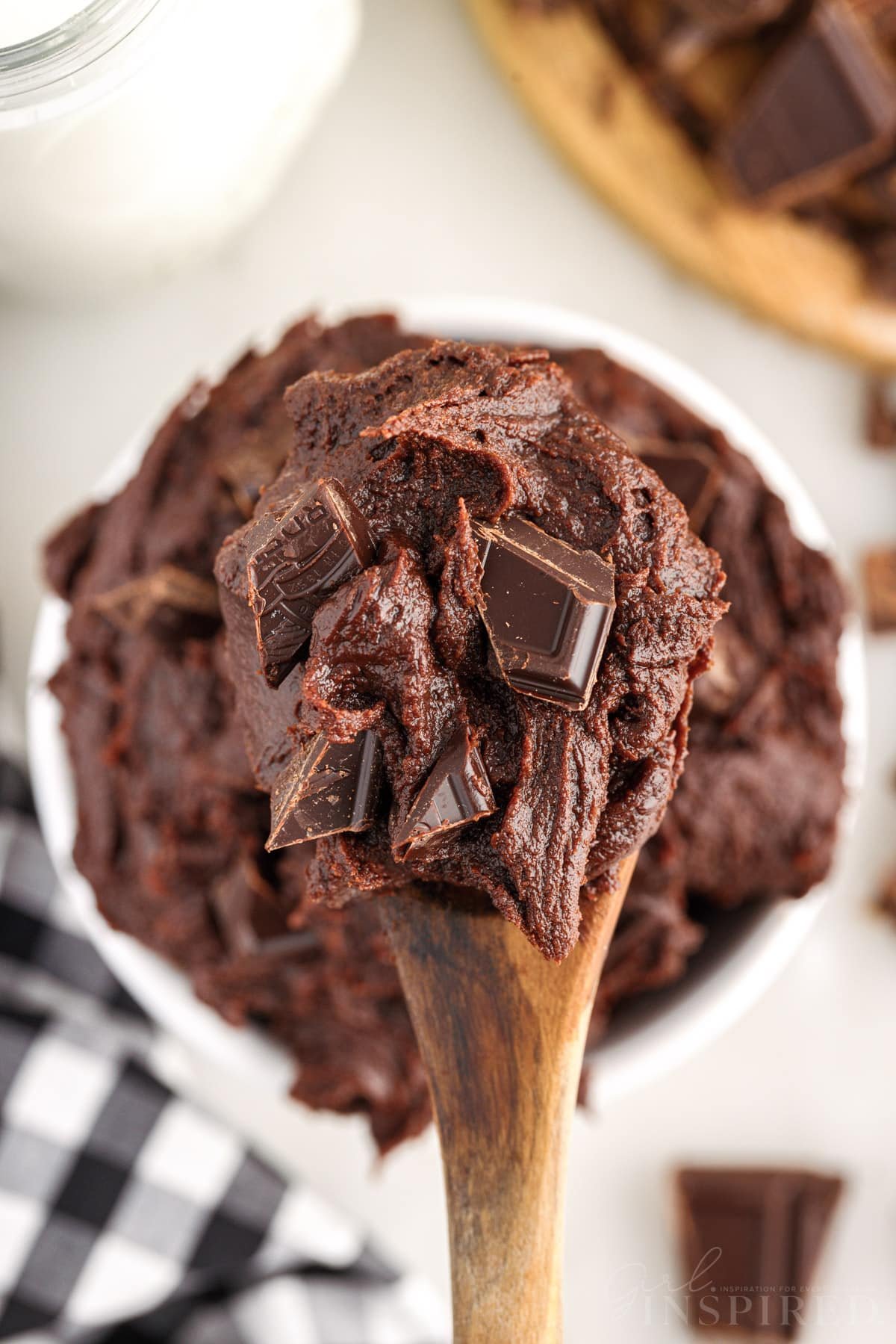 Normally we make traditional homemade brownies, or some with caramel or peanut butter. When I made a microwave brownie mug cake, it kind of had me craving just the batter. So I came up with an eggless version that is totally safe, and of course, the kids loved it!
Another easy dessert recipe that we can't get enough of is Booty Dip. I know the name sounds crazy, but it was a viral TikTok recipe that is definitely worth the save. If you are making these treats for kids they will also like fruit loop bars, cookie monster ice cream, and Oreo balls.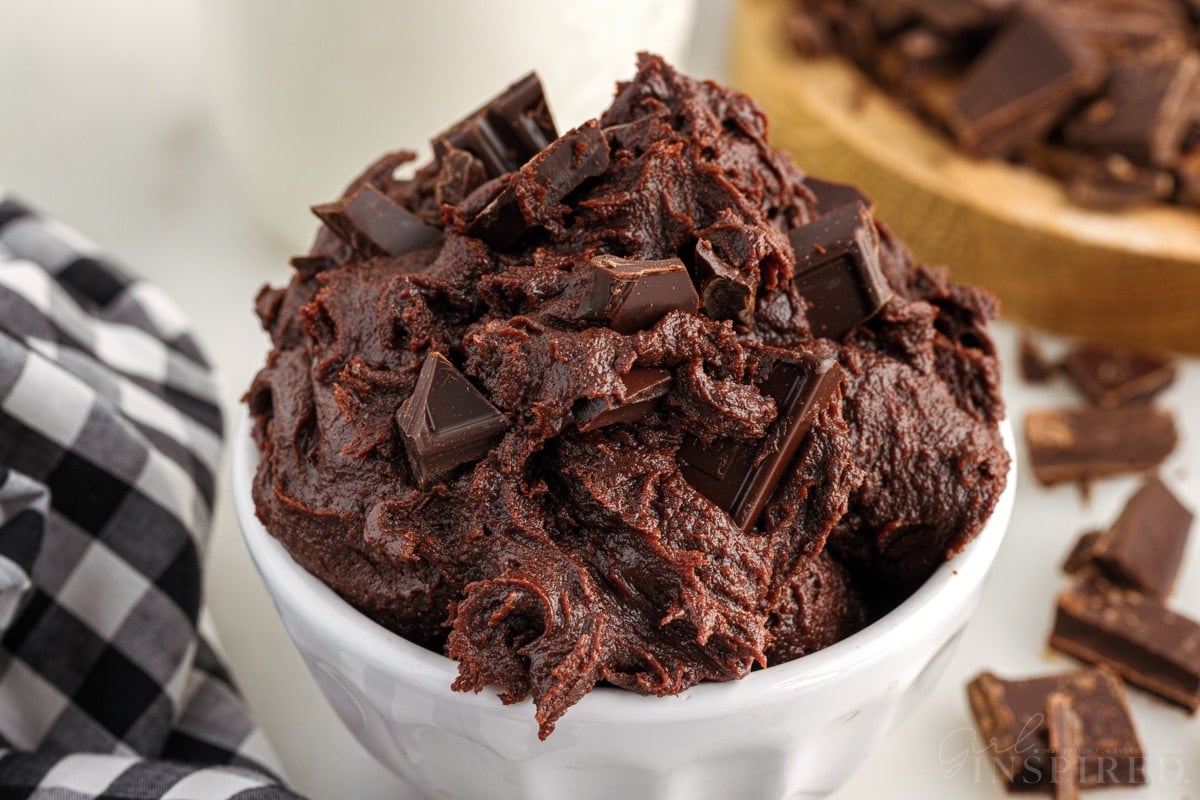 What do I Need for this Recipe?
🍫 Ingredients:
flour – we used all-purpose.
butter – go with unsalted butter if possible. If you use salted, you may want to omit the other salt.
chocolate bar – we like the big chunks, but you can also use chocolate chips.
sugar – you'll need white and light brown sugar.
vanilla extract – adds a hint of vanilla.
unsweetened cocoa powder
salt – deepens the flavors.
milk – we used whole milk.
Optional Garnish:
Serve chocolatey edible brownie batter with fresh berries, sweet cookies, graham crackers, a scoop of ice cream, or just eat by the spoonful!
Equipment Needed:
Sieve – so we can sift the dry ingredients in and reduce the lumps.
Variations and Substitutions:
Mix-ins – you can customize this edible brownie batter dip any way you would like. Some popular options include peanut butter chips, cookies, nuts, espresso powder, protein powder, or sprinkles,
Brownie batter bites – portion the batter into small cubes or balls and freeze until you are ready to eat or mix into ice cream. You can use an ice cube tray for convenience.
Vegan edible brownie batter – Use vegan butter and plant-based milk such as coconut milk or almond milk.
Flour – feel free to swap the flour for a gluten-free all-purpose version or almond flour to make the edible batter a little healthier.
Boxed mix – spread the boxed brownie mix on a baking sheet like you would the flour, then mix in the milk and butter as we did in the regular instructions.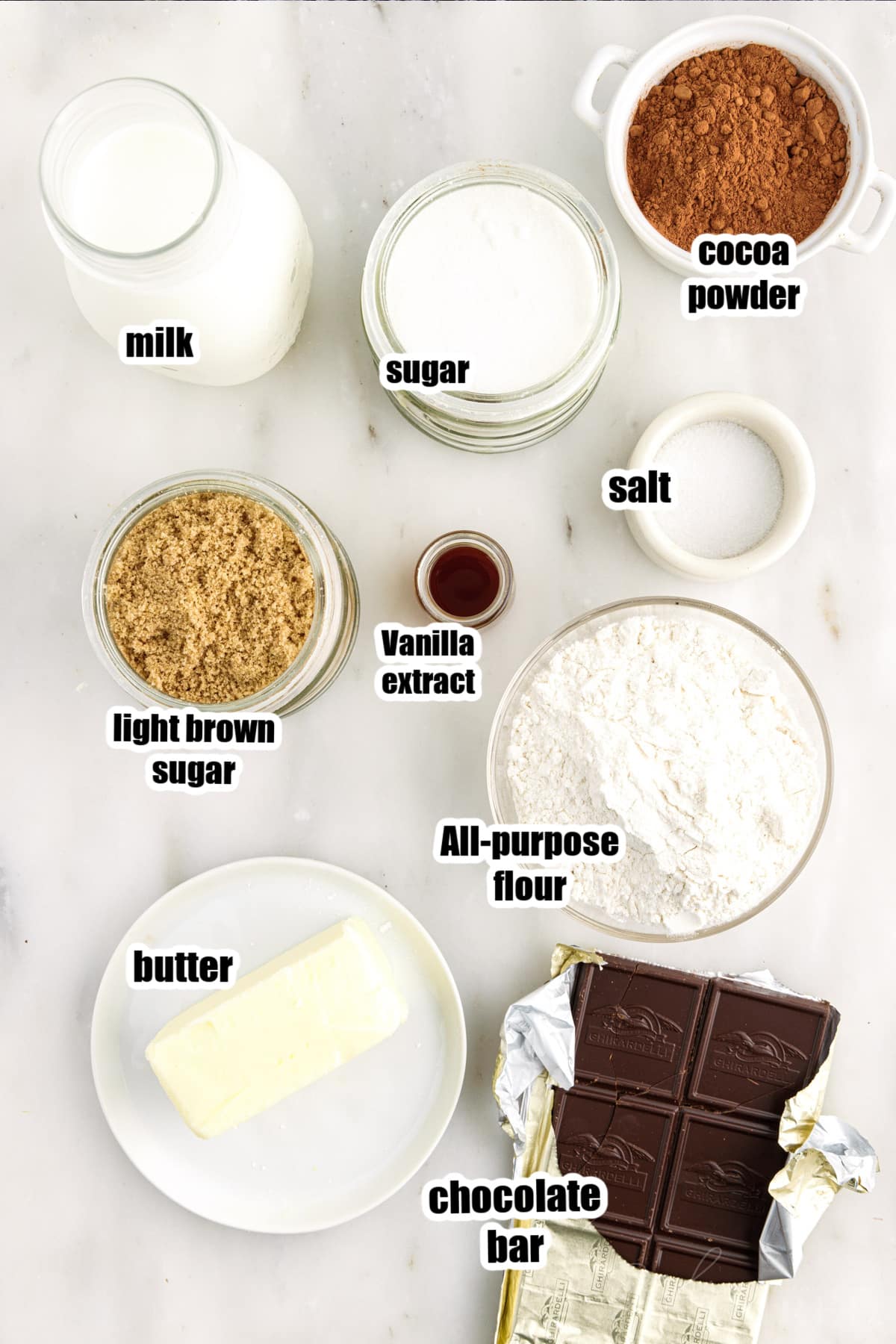 🔪 Instructions:
PREP: Preheat the oven to 350 degrees.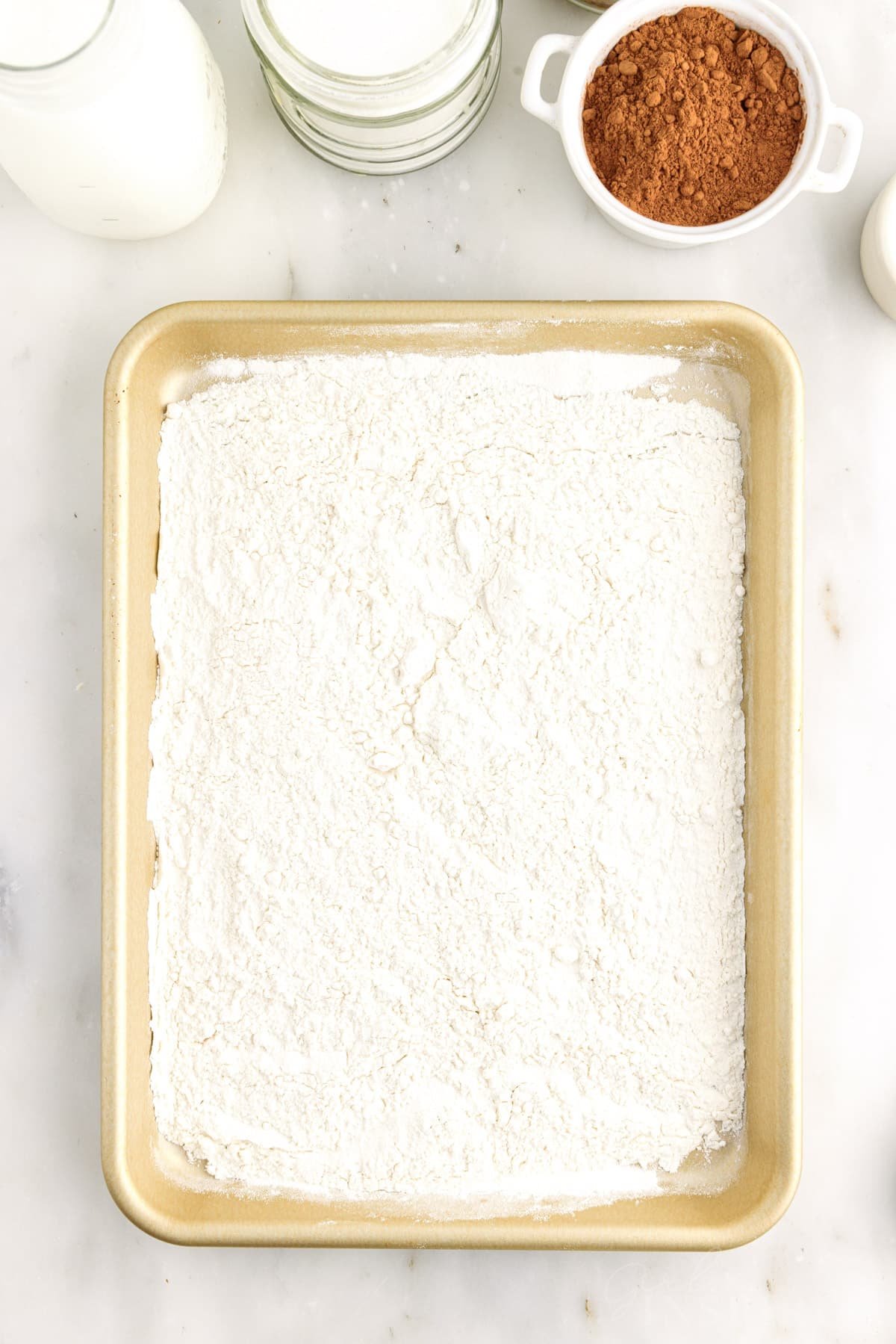 Step 1: Spread the flour on a baking sheet and bake for 5 minutes to heat-treat.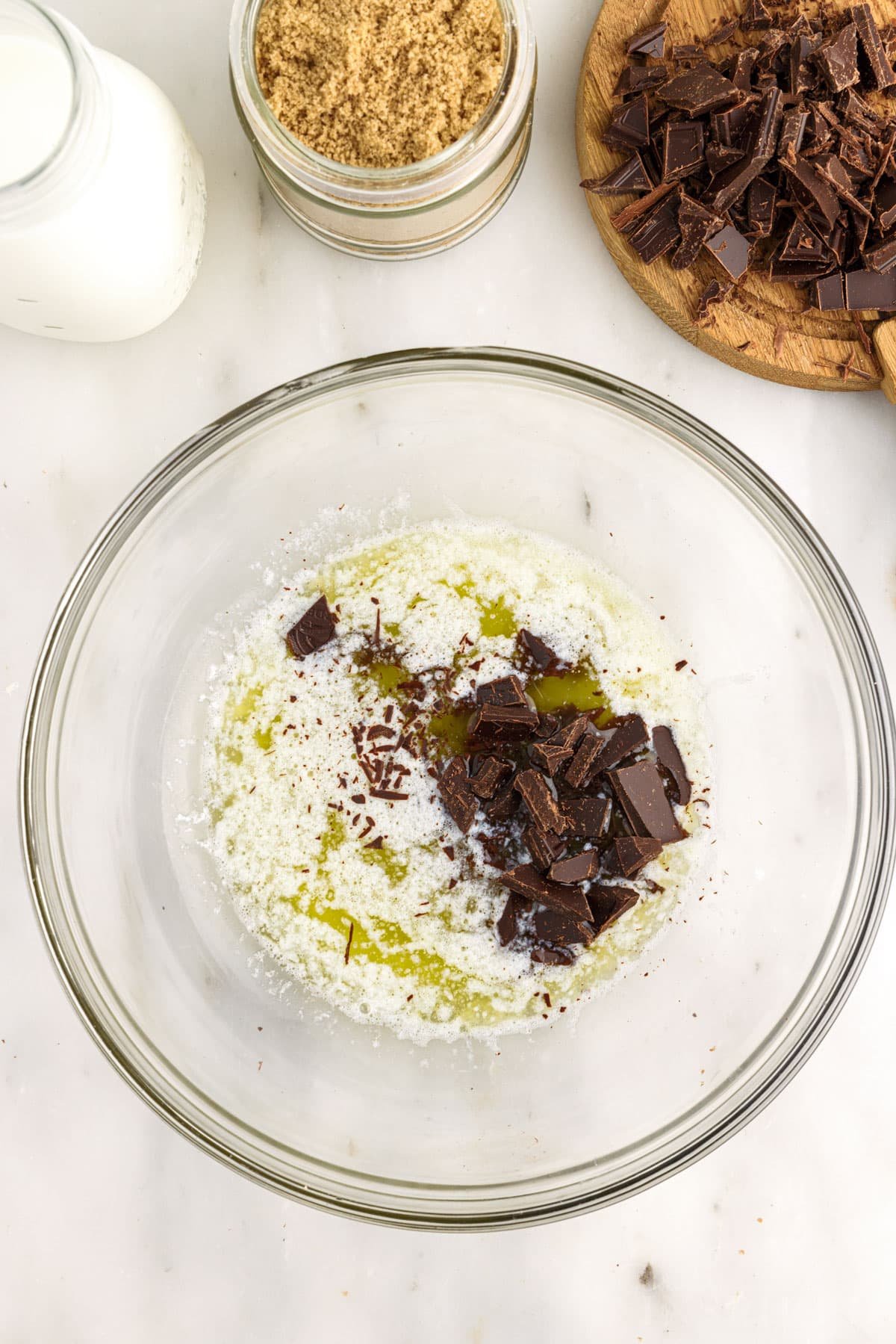 Step 2: Add the butter to a microwave-safe bowl, then melt. Pour the butter into a large bowl and whisk in half of the chocolate chunks until smooth.
Step 3: Stir in the sugars, then the vanilla.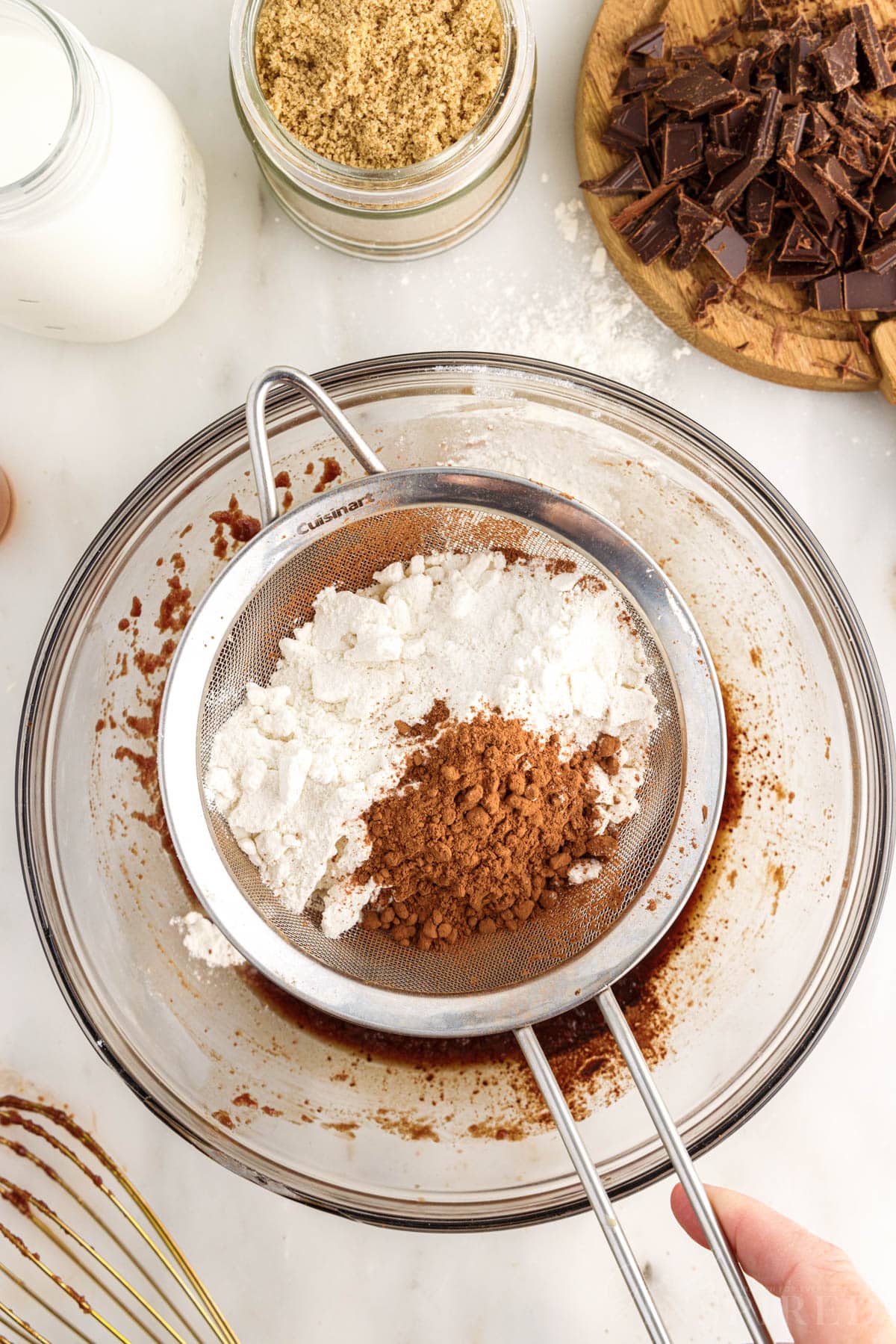 Step 4: Measure the cocoa powder and salt into a sieve. Add the flour, then sift the dry ingredients into the wet ingredients. Stir until the batter is thick.
Pro Tip: Sifting the ingredients keeps it smooth and less lumpy considering it is already a little grainy with the sugars.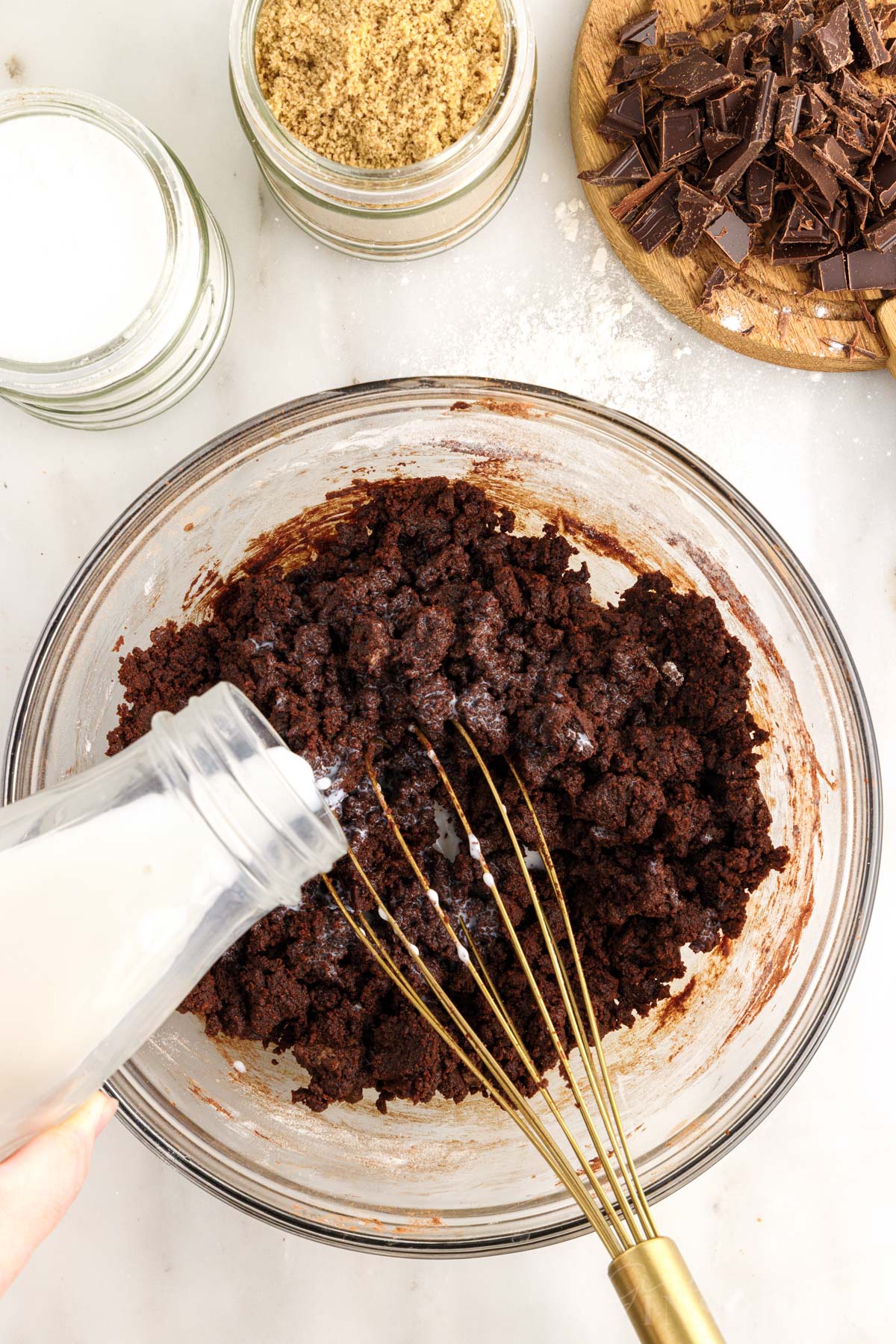 Step 5: ​Pour in the milk a couple of tablespoons at a time, then mix the batter with a spatula or wooden spoon.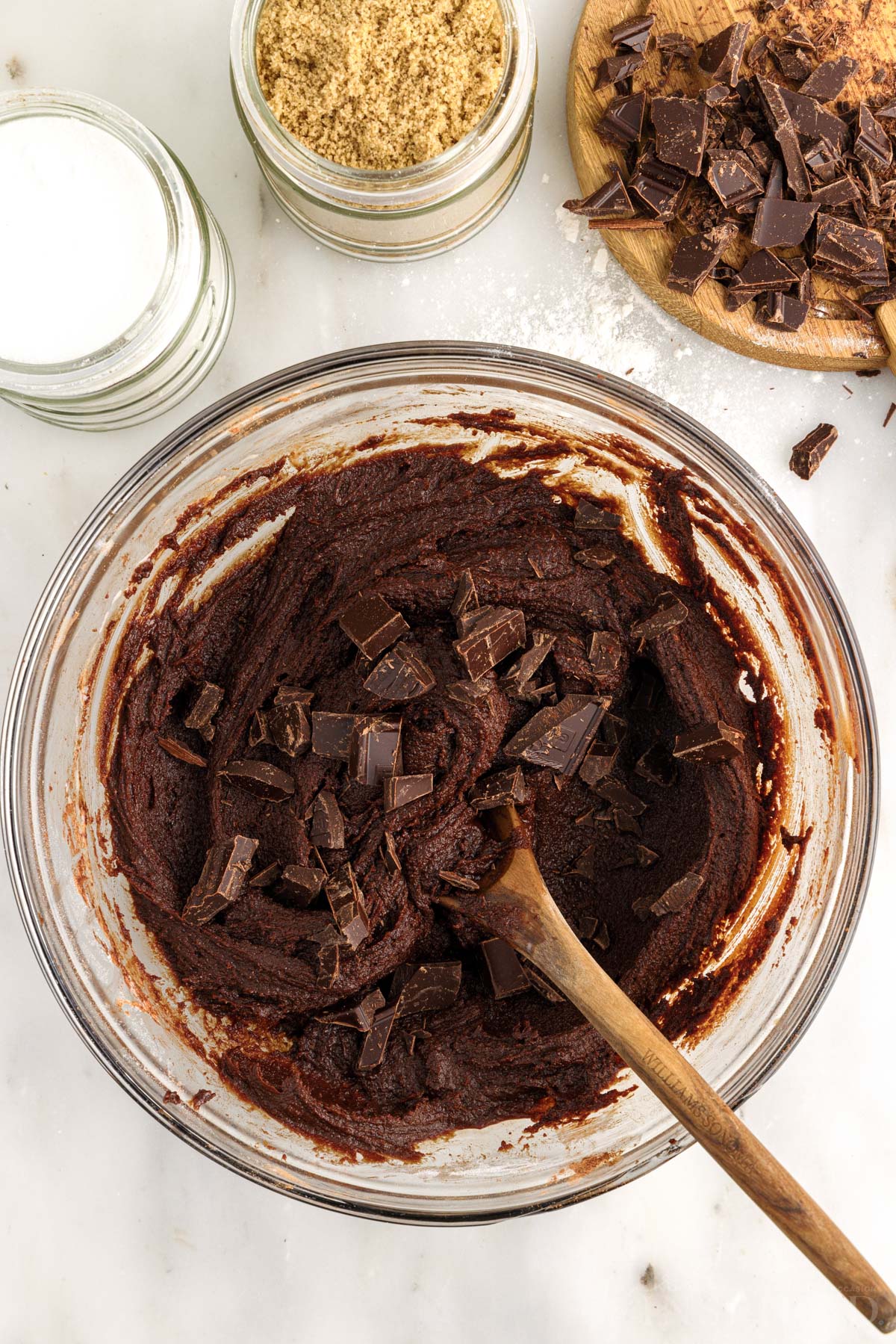 Step 6: Fold in the remaining chocolate chunks. Add your favorite mix-ins if desired.
SERVE: We like the batter at room temperature with berries as a dip or with ice cream for the ultimate treat!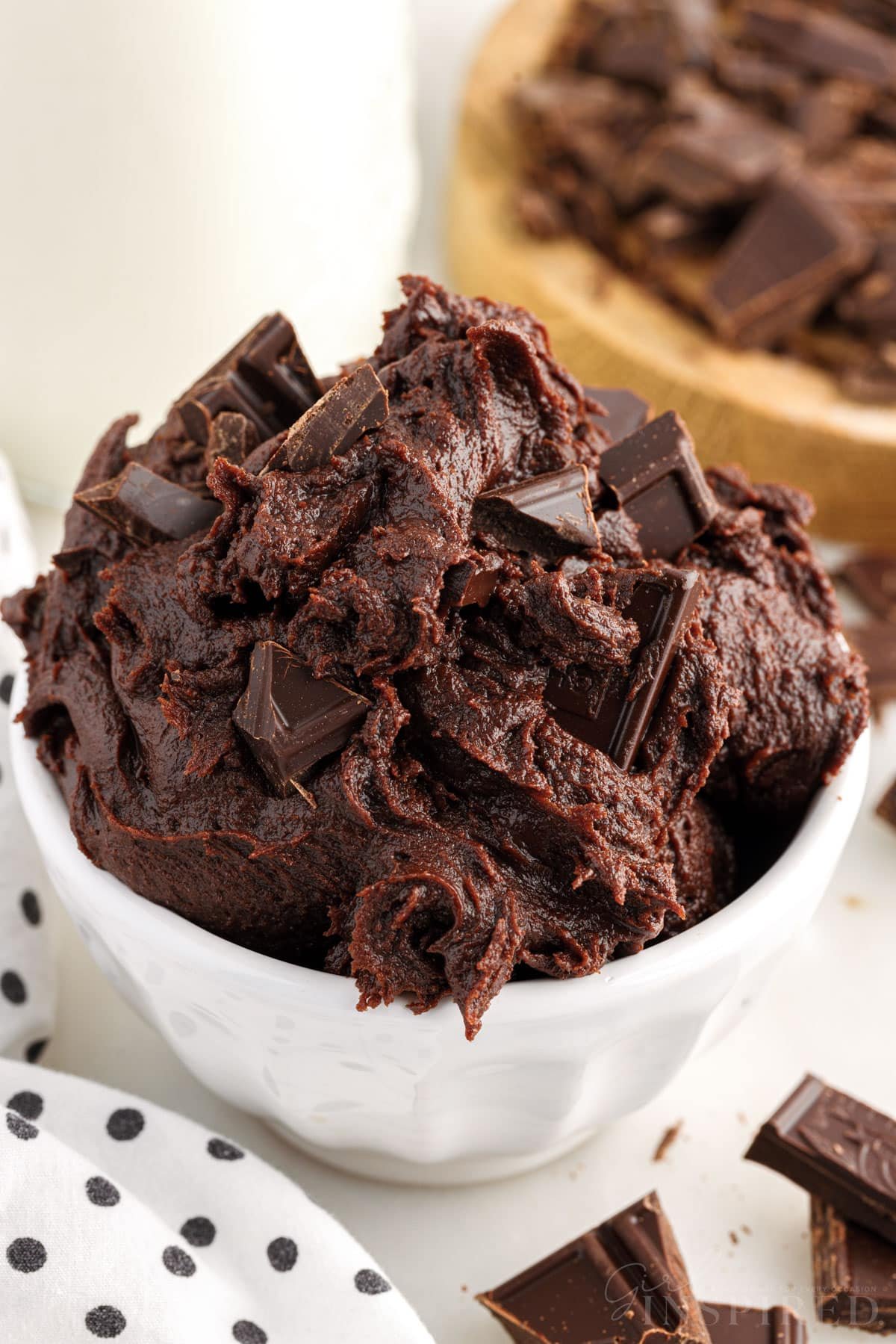 The sugars make the batter a little grainy, which is very similar to traditional brownies.
Adding the dark chocolate to the butter makes the batter richer.
If desired, skip the step of melting the chocolate into the butter and add the cocoa powder and chocolate pieces at the end.
Fun Fact
Did you know that walnuts are the most popular when it comes to mixing other items into the batter?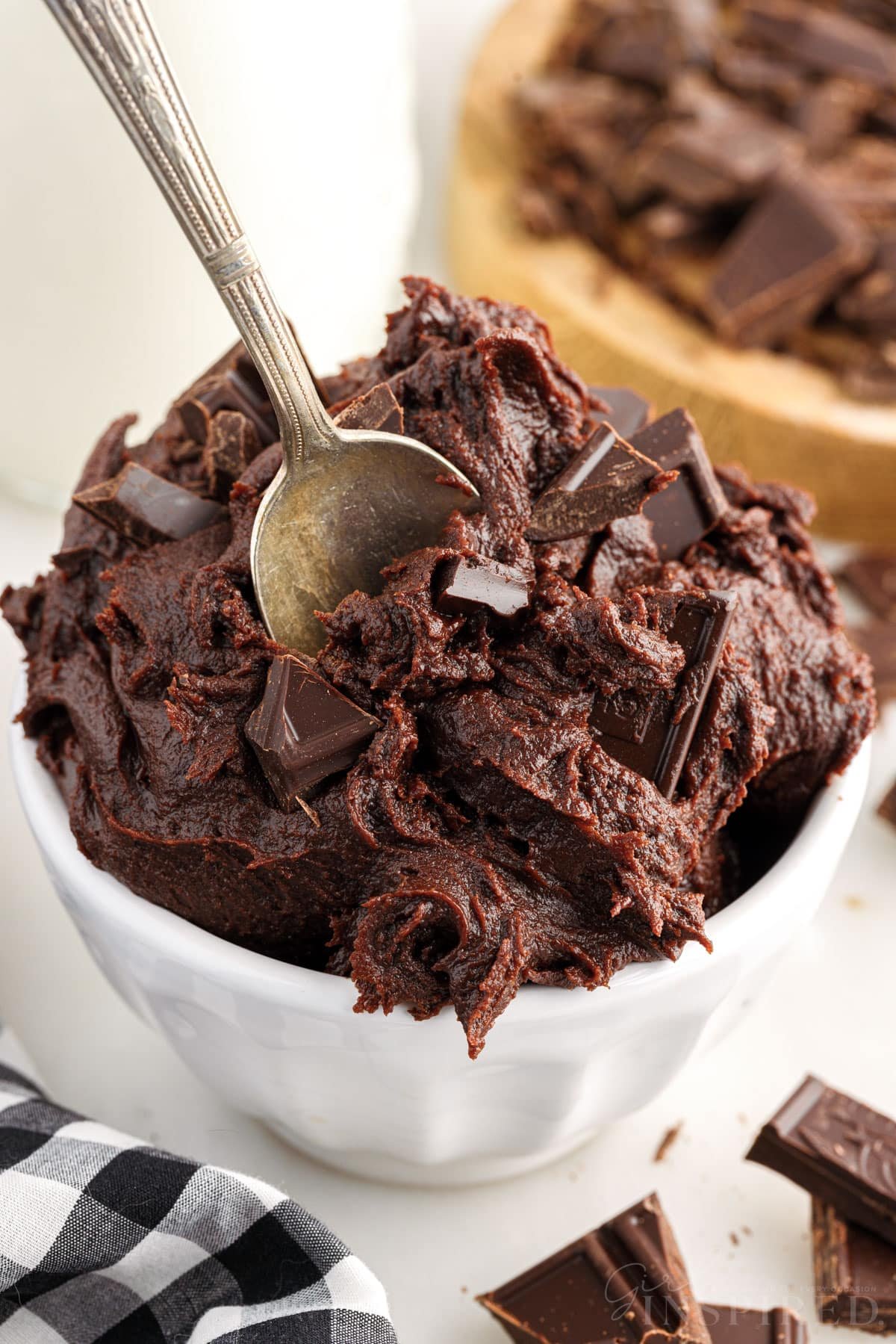 Why do you have to heat-treat flour?
Raw flour may contain harmful bacteria such as E. coli and Salmonella, which can cause foodborne illness. Baking the flour at a temperature of at least 160°F (70°C) for a few minutes will kill any bacteria present and make the flour safe to eat.
Why can't you eat brownie batter with eggs?
Eating raw brownie batter that contains raw eggs can be unsafe because it can potentially contain a harmful bacteria (salmonella), which can cause food poisoning. When brownie batter is baked at a high enough temperature, the heat kills any bacteria that may be present in the raw batter.
How to store edible brownie batter?
Keep leftover brownie batter for up to 5 days in the refrigerator or in the freezer for 3 months. We like it best at room temperature.
More Delicious Brownie Recipes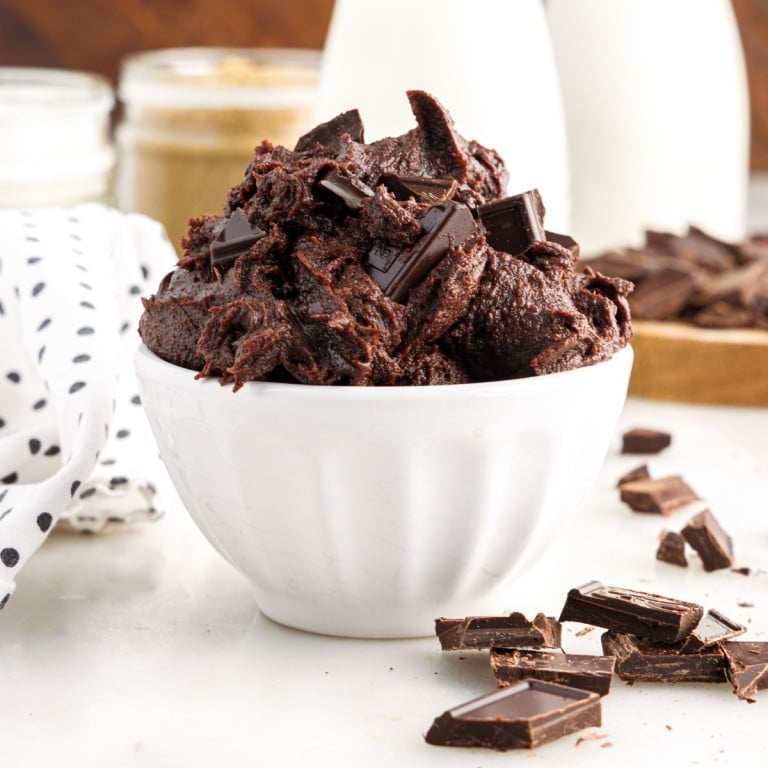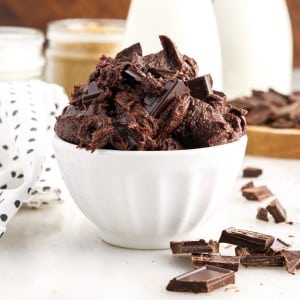 Edible Brownie Batter
This fudgy edible brownie batter recipe is rich, delicious, a chocolate lover's dream, and tastes just like when you are making real brownies.
Ingredients
1 cup all-purpose flour
½ cup unsalted butter
4 oz. dark chocolate bar chopped and divided
½ cup packed light brown sugar
½ cup granulated sugar
1 teaspoon vanilla extract
½ cup unsweetened cocoa powder
¼ teaspoon salt
6 tablespoons whole milk
Instructions
Preheat the oven to 350°F. Spread flour on a small sheet pan and place in the oven for 5 minutes to heat-treat the flour so that it is safe for consumption.

In a large heat-proof mixing bowl, melt the butter in the microwave.

Place half of the chocolate pieces in the butter and whisk until the chocolate is melted and the mixture is smooth.

Whisk in the sugars – mixture will be grainy.

Mix in the vanilla extract.

Measure the cocoa powder and salt into a sieve. Add the heat-treated flour and then sift these ingredients into the butter/sugar mixture. Stir to combine everything into a thick batter.

Add the milk, a couple tablespoons at a time, and mix the batter with a wooden spoon until desired consistency is achieved.

Stir in the remaining chocolate chunks.
Notes
Store in an airtight container in the refrigerator for up to 5 days or freeze for up to 3 months. Brownie batter is best served at room temperature. Notes: This is so rich and delicious, it tastes exactly like brownie batter. The sugars remain a bit grainy in the batter, which really mimics a true brownie batter. Melting some of the dark chocolate into the butter adds a dark chocolate richness to the batter. You could alternately melt in some milk chocolate and use milk chocolate chunks. Semi-sweet chocolate chips would also work. You could even skip the step of melting chocolate into the base and simply add the unsweetened cocoa powder and the chocolate pieces at the end.
Nutrition
Calories: 291kcal | Carbohydrates: 38g | Protein: 3g | Fat: 15g | Saturated Fat: 9g | Polyunsaturated Fat: 1g | Monounsaturated Fat: 4g | Trans Fat: 0.4g | Cholesterol: 26mg | Sodium: 69mg | Potassium: 191mg | Fiber: 3g | Sugar: 24g | Vitamin A: 303IU | Calcium: 39mg | Iron: 3mg