Add a smidge of almond extract to some or all of your apricot jam recipe for an intense burst of flavor.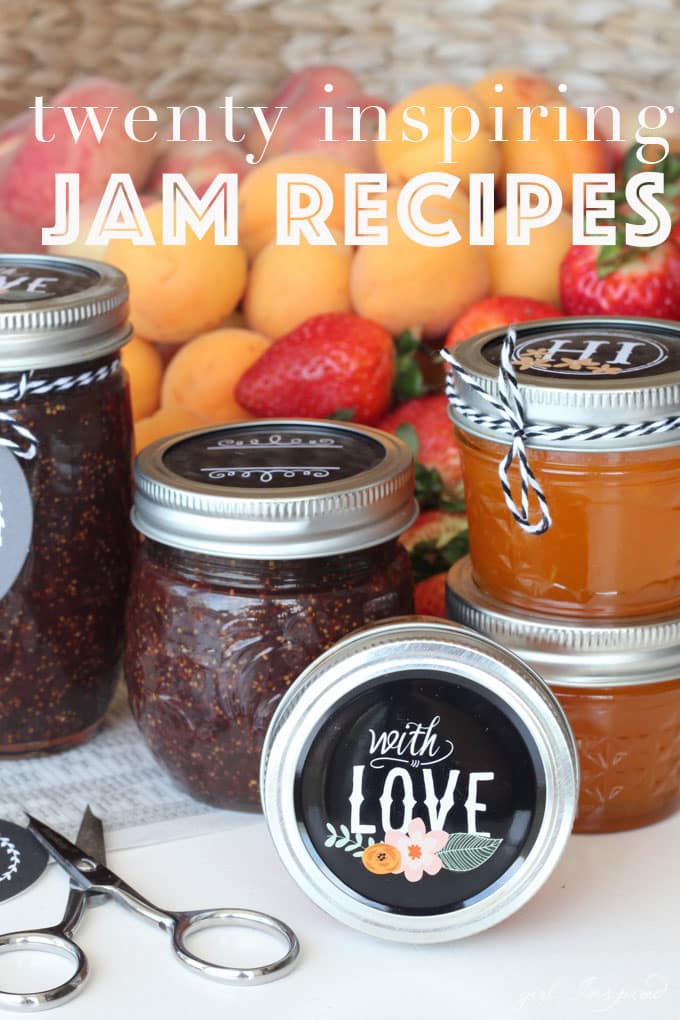 Making jam in the summer just makes me happy. All that homegrown fruit, the beautiful glass jars, and a well-stocked pantry to last the whole year – it's a summer-must project. I didn't think I was going to be making jam this year between packing and trying to keep the kitchen sparkly clean for the new owners. But, my mom called to announce that she had picked all the apricots off her tree since they go from ripe and ready to rotten and ruined within a week. She asked if I wanted to make jam over at her house and I was there with my jars and pectin within the hour! Today I'm sharing a variation of my yummy apricot pineapple jam recipe along with 20 jam recipes from around the web!
Apricot Jam has got to be one of my absolute favorites – what's your favorite jam? In the tail end of the batch, I stirred in some almond extract and it might be the best thing I've ever tasted. The two flavors compliment each other so well. You can definitely taste the almond extract, though, so if straight apricot jam is what you're going for, maybe just add a smidge of almond extract to your last couple jars like I did.
My basic apricot recipe was taken right from my pectin package instructions and it turned out great! I'll include it below with my recommended almond extract addition:
Apricot Jam
Add a smidge of almond extract to some or all of your apricot jam recipe for an intense burst of flavor.
tablespoon
Ingredients
5 cups fresh apricots chopped
¼ cup lemon juice
1 envelope premium fruit Pectin
7 cups granulated sugar if you want to use less sugar, be sure to use the pectin specified for low-sugar recipes
1 teaspoon almond extract
Instructions
Stir fruit, lemon juice, and Pectin in a large saucepan.

Bring to a boil.

Add sugar all at once and stir.

Return mixture to a boil and boil for a full minute.

Remove from heat, add almond extract.

Ladle into sterilized jam jars, cap with lids and hand-tightened screw bands.

Process jars in large pot of boiling water (water should come 1-2 inches above tops of jars) for 15 minutes.

Remove from canner, allow to cool for 24 hours on countertop.

Check to make sure jars have sealed completely.

Store sealed jars up to 1 year.

Place any unsealed jars in refrigerator for immediate use.
Nutrition
Serving: 1tablespoon | Calories: 40kcal | Carbohydrates: 10g | Protein: 1g | Fat: 1g | Saturated Fat: 1g | Sodium: 1mg | Potassium: 14mg | Fiber: 1g | Sugar: 10g | Vitamin A: 104IU | Vitamin C: 1mg | Calcium: 1mg | Iron: 1mg
If you've never made jam before, you're missing out! It's not a difficult task – basically, you chop up a bunch of fresh fruit (homegrown or farmstand so it's nice and ripe, please!) Cook it in a big pot with sugar (or not, depending on the recipe) and pectin (to thicken it, or not, depending on the recipe). Then ladle it into sterilized jars, add lids, and boil the jars in a big pot of water for 15 minutes or so. Done!
You can find instructions and recipes right inside the boxes of pectin you buy at the grocery store. The internet is full of every kind of recipe. I've rounded up twenty jam recipes that looked a little different from the norm for you to try if you're ready to up your jam game and stock your pantry with some new flavors.
Jam is delicious added to…well…everything, but some of our favorites include my granny's Homemade sweet dinner rolls, these mouth-watering Strawberry Scones, on top of German Pancakes, or with our Breakfast Crepes.
TWENTY INSPIRING JAM RECIPES
Crockpot Strawberry Raspberry Jam
Strawberry Rhubarb Jam
Strawberry-Vanilla Jam from Love & Olive Oil
Simple Lemon Jam
Blueberry Jam from Use Real Butter
Caramel Cardamom Pear Jam from Heartbeet Kitchen
Orange Marmalade from One Hundred Dollars a Month
Tomato Jam from A Family Feast
Apricot Jam with printable labels from The Idea Room
Sour Cherry Jam from Honey & Jam
No-Cook Strawberry Peach Jam from Chef in Training
Apricot Pineapple Jam from a Thrifty Mom
Carrot Jam from Veggie Desserts
Vanilla Bourbon Peach Jam from Blondie's Cakes & Things
Pomegranate Jelly from Hungry Foodies Pharmacy
Homemade Mango Jam from Masala Herb
Apple Pie Jam from Tasty Kitchen
Peach and Jalapeno Pepper Jam from Foodista
Slow Cooker Bacon Jam from Martha Stewart
Meyer Lemon and Vanilla Jelly from Brooklyn Homesteader
I'm looking forward to trying so many of these recipes when I get settled in my new house. Jam is fun to keep on the shelves, but it also makes such a GREAT gift for friends, hostesses, teachers, and houseguests. Be sure to visit my tips on making decorative jam jars that are perfect for your pantry OR that gift giving.