I started using a cool new tool from Wilton that combines three frosting colors into one spectacular swirl! Surely, you could achieve the same effect by piping three colors through one tip at the same time, but this little gadget snaps together to make it super easy. Patriotic cupcakes are in order this time of year and look how fun they turned out! You can also dress up your Fourth of July table with some Red, White, and Blue Jello Cups and a Fourth of July Poke Cake!
Ready to celebrate? Here are the supplies you will need along with my referral link when applicable for easy shopping.
Supplies:
cupcakes – use our white cupcake recipe or classic chocolate cupcakes, raspberry cupcakes would be delicious also
white frosting – simple American buttercream, Swiss meringue buttercream, or Italian meringue buttercream are great options
icing colors in red and blue
Wilton Tri-Color Coupler Decorating Set
Patriotic Foil Fun Pix or Flag Picks
Begin by coloring your frosting. Remember that your colors will deepen a bit as they sit. A big batch of red frosting can take a lot of dye, so work with smaller amounts and add just enough to get a bright, red color. Be careful that you don't add to much dye or your frosting will start to taste gross! I like to use Americolor Super Red gel coloring. Scoop some frosting into a cup, add the dye with a toothpick, and then mix it well with a spoon or small spatula.
The trick for easy color swirling is this cool kit made by Wilton. It comes with differently shaped couplers so that you can fit the three bags of color together with one piping tip. Fill each disposable bag with a coupler and red, white, or blue icing. Then cut the tip off the the bag so that the top of the coupler is exposed. There are little notches for the couplers to snap together, which is easier if there isn't any plastic in the way.
Add your piping tip – the kit comes with my favorite Tip 1M and also the round, open Tip 1A. Now, gently twist the ends of the three piping bags together and you're ready to pipe!
Start on the outer edge of the cupcake top and squeeze the three piping bags together. Swirl in a counter-clockwise direction, gradually swirling up and in a smaller circle until you come to the center. Stop squeezing and lift the piping tip straight up to create a point. That's it!
Add some "Fun Pix" for an extra burst of color and celebration!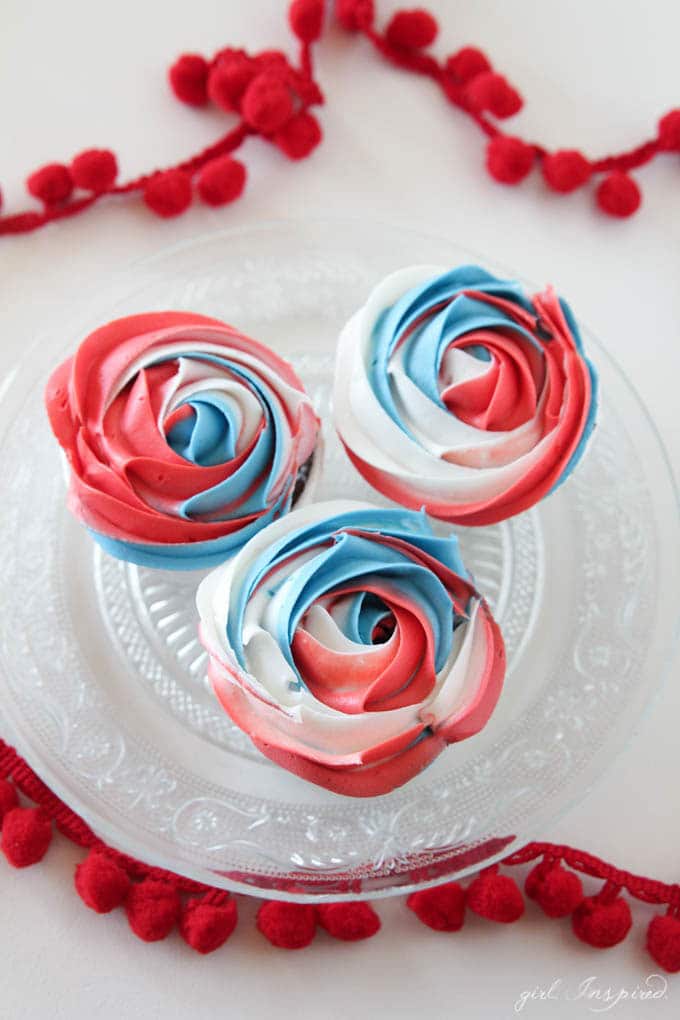 If you like less frosting on top of your cupcakes or if you want to decorate a sheet cake, you can also use the same tools to make a flat "rosette" in red, white, and blue. Simply start your swirl in the center of the cupcake and create a flat swirl out to the edge! Pretty, right? You can read some of my tips for making a swirled rose cake to learn how.
What kind of fun plans do you have for Fourth of July? It will be our last holiday in this house and we are having some company over to watch the fireworks shows across the whole Sacramento valley from our deck. So bittersweet (sniff)!