These easy raspberry cupcakes are made with a box cake mix, full of fresh flavors, and are topped with a marshmallow raspberry frosting that will have your taste buds saying wow!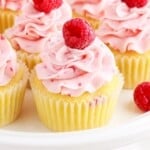 These fresh raspberry cupcakes are sweet, easy, moist, fluffy, and packed with flavor from real raspberries. Each are topped with a fun and creamy raspberry frosting that's made from scratch and bursting with raspberry flavor from the extract and berries.
Even though raspberry cupcakes are an easy sweet treat to make just about anytime, they are also delicate enough for baby showers or bridal showers. You can also offer chocolate cupcakes or my simple white cupcake recipe and use the same raspberry frosting recipe.
If you find yourself with leftover berries, you can use them to make lemon raspberry cookies, lemon raspberry muffins, or a batch of crockpot strawberry raspberry jam.
Jump to:
🧁 Ingredients:
Cupcakes Ingredients:
cake mix – we are using a boxed yellow cake mix for ease.
eggs – allow them to come to room temperature before using; room temperature eggs incorporate more air in the batter when beaten, providing a fluffier cake.
sour cream – adds moisture without making the batter too thin.
oil – use vegetable or canola for best results since these are neutral; oil in a cake recipe provides a moist and tender crumb. Unlike butter, which can solidify when cooled, oil remains in a liquid state at room temperature. This liquid form allows the oil to coat the flour particles, resulting in a more tender texture in the baked cupcakes.
water – helps with moisture and activating the dry ingredients
fresh raspberries – rough chop before folding into the batter.
Frosting Ingredients:
marshmallow creme – makes the frosting light and fluffy, and the flavor compliments the raspberry so well.
unsalted butter – avoid over softening the butter or the frosting may be too runny. The butter should have some give when pressed with your finger, but should not collapse.
raspberry extract – adds a ton of flavor without having to use lots of extra berries
powdered sugar – helps with texture and adds sweetness
fresh raspberries – boosts the flavor and adds texture and a nice look
pink/red food coloring – optional if you want a more vibrant color, I prefer gel-based food coloring as it packs more color saturation in a small amount.
For a full list of ingredients and their measurements, 📋 please view my printable recipe card at the bottom of the post.
Optional Garnish:
Garnish these cupcakes with extra raspberries or sprinkles like our Funfetti cake if you are making them for a special occasion such as Valentine's Day. If you are making the lemon raspberry version, garnish with a lemon slice.
Substitutions and Variations
Lemon raspberry cupcakes – swap the yellow cake mix for lemon and add some lemon zest and/or lemon juice to the cake batter and frosting.
Raspberry jam filling – use the technique in my strawberry lemon cupcakes to scoop out the middles and fill with jam.
Raspberry cream cheese frosting – follow this blueberry cream cheese frosting recipe, swapping the blueberries for raspberries.
Frozen raspberries – chop them and fold into the batter while they are completely frozen. Thawed berries will stain the batter.
🔪 Instructions:
PREP: Line the muffin tin with paper liners and preheat the oven to 350 degrees.
Step 1: In a large bowl, beat the eggs, sour cream, oil and water with the dry cake mix for 2 minutes at medium speed. Scrape down the sides of the bowl as needed. Fold in the raspberries using a rubber spatula.
Step 2: Fill the cupcake pan with the batter so each cavity is ⅔ of the way full.
Step 3: Bake for 15-17 minutes. Remove from the oven and allow the cupcakes to cool completely on a wire rack.
Step 4: Whisk the marshmallow cream in the bowl of a stand mixer.
Step 5: Add 1-2 tablespoons of butter at a time. Mix until incorporated.
Pro Tip: The butter should be slightly soft. Too firm and it will not mix, if it's too soft you won't be able to pipe the icing.
Step 6: Add the raspberry extract and powdered sugar once the butter is fully mixed with the creme.
Step 7: Add the raspberries and beat on high speed so the fresh berries break down into the frosting. If desired add food coloring for a vibrant look.
Step 6: Transfer the frosting to a piping bag with a tip and decorate the top of the cupcakes.
SERVE: Garnish with whole berries and serve these delicious cupcakes!
Fresh berries work really nice because they stay intact while baking and mixing.
​Do not use more than 1 cup of raspberries. They release too much moisture and any more can cause them to be soggy.
Slightly soften the butter. If it's too soft the frosting will not pipe and can be runny. If it's not soft enough, it will not mix well.
​If the frosting is too soft, chill for up to 1 hour then re-beat and try again.
Fun Fact
Unlike some fruits, if raspberries are picked when they are not ripe, they will not ripen anymore! -Raspberry Depot
Recipe FAQs
How to store raspberry cupcakes?
Keep the cupcakes and frosting in the fridge up to a week in airtight containers. Unfrosted cupcakes can also be frozen for two months. Frosted cupcakes should be refrigerated until ready to serve.
How to freeze cupcakes?
Wrap the cooled cupcakes in a couple of layers of plastic wrap and place in a freezer bag. Thaw at room temperature or in the fridge. Frost when ready.
More Decadent Cupcake Recipes
If you tried this Raspberry Cupcakes Recipe or any other recipe on my website, please please leave a 🌟 star rating and let me know how you liked it in the 📝 comments below.
Raspberry Cupcakes
These easy raspberry cupcakes are made with a box cake mix, full of fresh flavors, and are topped with a marshmallow raspberry frosting that will have your taste buds saying wow!
Ingredients
Cupcakes Ingredients:
1 – 15.25 oz. box yellow cake mix
3 large eggs room temperature
1 cup sour cream
½ cup vegetable oil
1 cup water
1 cup fresh raspberries roughly chopped
Frosting Ingredients:
2 – 7 oz. containers of marshmallow creme
1 ½ cups unsalted butter softened
1 teaspoon raspberry extract
½ cup powdered sugar
½ cup roughly chopped raspberries
pink/red food coloring optional
Instructions
Preheat oven to 350°F. Line muffin tins with cupcake liners and set aside.

In a large mixing bowl beat together cake mix, eggs, sour cream, oil, and water. Beat on medium speed for 2 minutes. Fold in chopped raspberries, just until combined.

Scoop batter into prepared muffin tins, filling each cup no more than ⅔ of the way full.

Bake for 15-17 minutes or until a toothpick inserted in the center of the cupcake comes out with just a few crumbs. Remove from oven and cool completely.

To make the frosting, begin whisking marshmallow creme in the bowl of a standing mixer.

Add butter, 1-2 tablespoons at a time, mixing until each addition is incorporated. Scrape down the bowl several times while mixing.

When all of the butter has been fully mixed into the marshmallow creme, add extract and powdered sugar and beat until combined.

Add the raspberries and beat on high – the raspberries will break down while mixing and tint the frosting. For a deeper tint, add food coloring to make desired color.

Pipe frosting on top of cooled cupcakes.
Notes
Storage: Store in the refrigerator for up to 7 days in an airtight container or freeze for 2 months (unfrosted cupcakes). Notes: For a lemony flavor, use a box of lemon cake mix. Add lemon juice and/or zest to the mix and/or the frosting. Fresh raspberries are my favorite because they hold their shape well. When using frozen rapsberries, they need to the chopped and folded into the batter while they are still solid or else the batter will stain. Avoid using more than 1 cup of fresh or frozen berries. They add moisture, but too much will lead to soggy cupcakes. If the butter for the frosting hasn't softened slightly it will not mix smoothly. If is overly soft the frosting will not firm up. Place the frosting in the fridge for 30 minutes to 1 hour if it's too soft to pipe, then rebeat with an electric mixer.
Nutrition
Calories: 194kcal | Carbohydrates: 7g | Protein: 1g | Fat: 19g | Saturated Fat: 9g | Polyunsaturated Fat: 3g | Monounsaturated Fat: 5g | Trans Fat: 1g | Cholesterol: 57mg | Sodium: 22mg | Potassium: 35mg | Fiber: 1g | Sugar: 5g | Vitamin A: 446IU | Vitamin C: 2mg | Calcium: 21mg | Iron: 0.2mg