This easy air fryer roast beef recipe is ready in 30 minutes, but is packed with flavor, super tender, and extra juicy.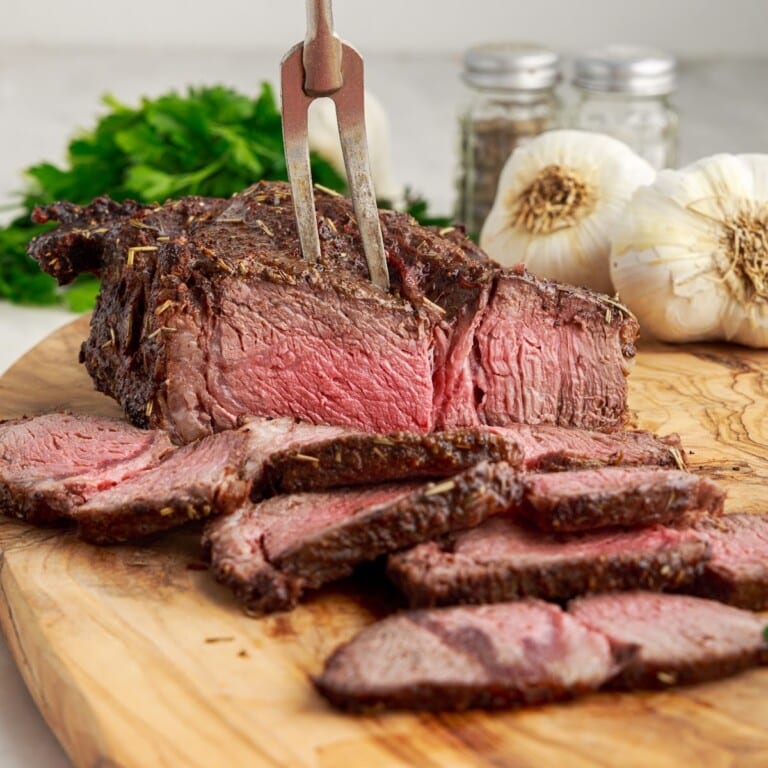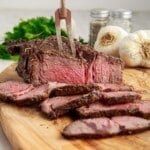 Air fryer roast beef is tender, juicy, and flavorful. Not only is it an easy recipe for busy weeknights, but is also elegant enough for special occasions. You can have a delicious dinner in just 30 minutes that the whole family will enjoy.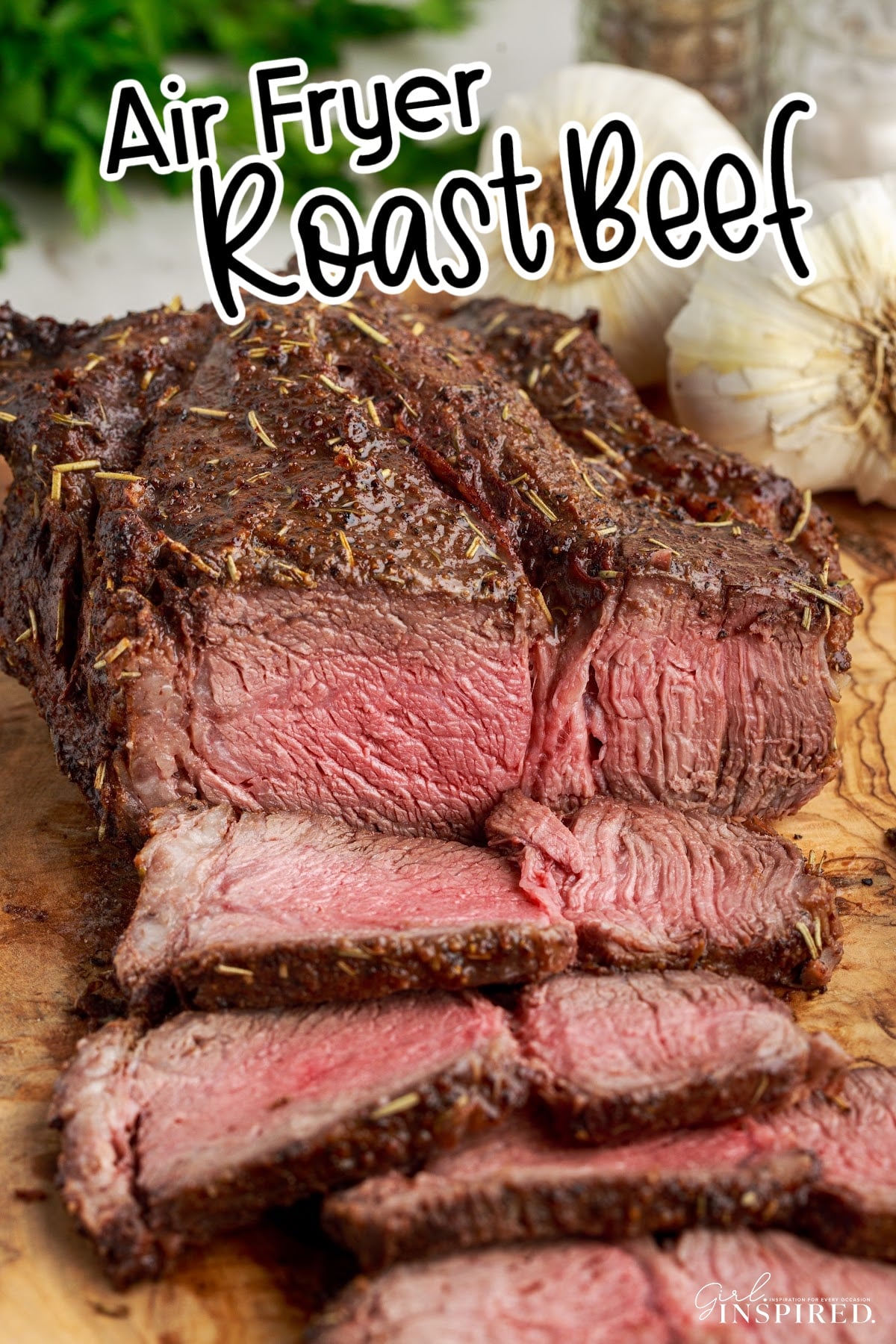 While our Sunday pot roast recipe is usually slow cooked to perfection, I prefer something a little quicker during the week. Air frying is the perfect cooking method when you are short on time. I mean the whole thing is ready in less than 1 hour! Plus, a great way to use the leftovers is by making roast beef sliders or sandwiches on hoagie rolls. Leftover roast beef freezes and reheats well, so the ideas are endless. You could also follow the cooking instructions of this recipe and jazz up the spice level with our copycat Chipotle steak recipe.
Our favorite side dishes for tender roast beef is Amish potato salad or a simple strawberry feta spinach salad, bang bang Brussels sprouts, and honey glazed carrots. Dinner isn't complete though without a pan of buttermilk cornbread!
Jump to:
🥩 Air Fryer Roast Beef Recipe Ingredients: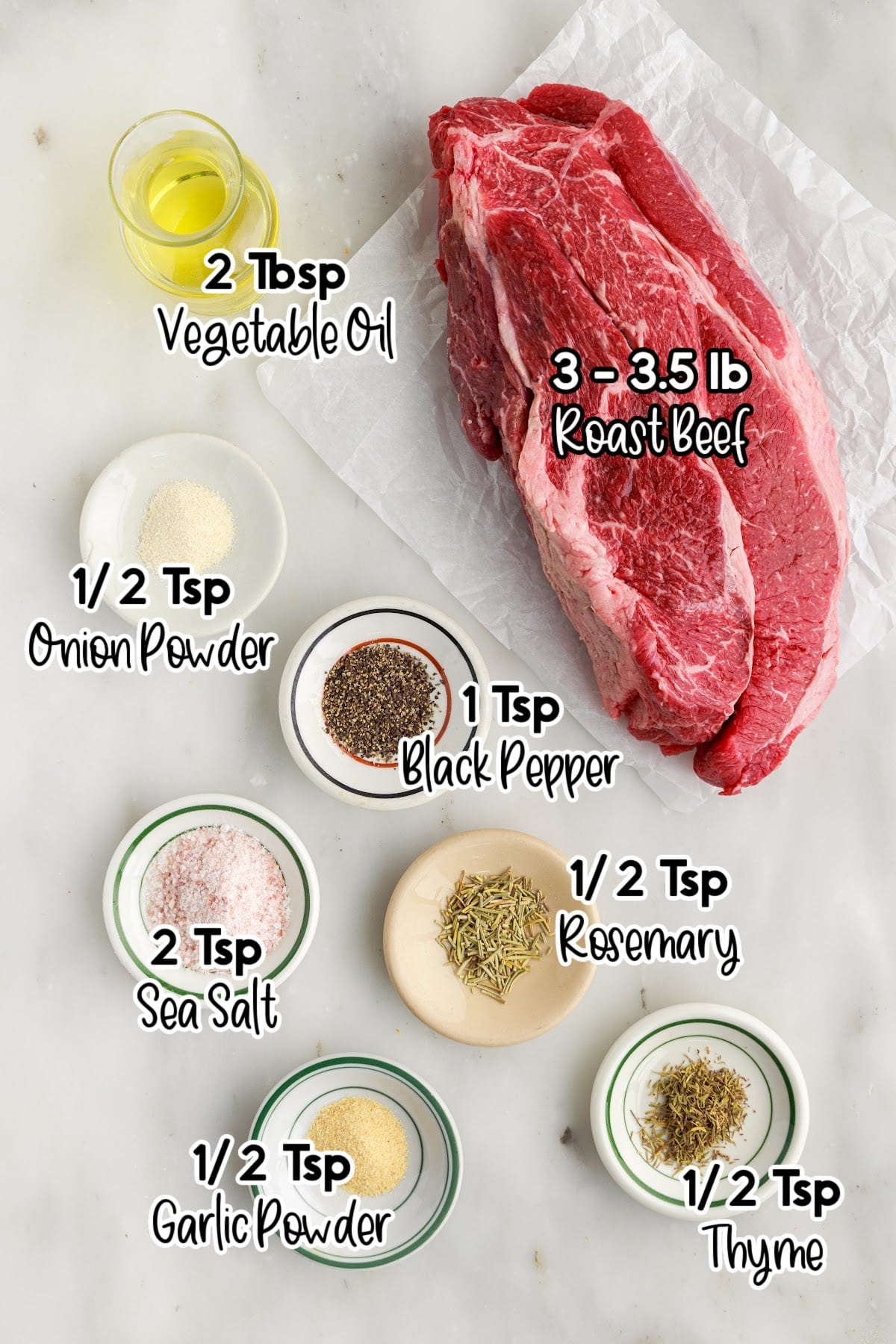 vegetable oil – you can also use olive oil or avocado oil. Vegetable and avocado oil have a high smoke point, but any will work fine for air fryer recipes.
Seasonings: sea salt, coarsely ground black pepper, garlic powder, onion powder, thyme leaves, rosemary.
beef roast – ours was around 3 pounds. Just make sure it fits in your air fryer before starting. It's important to choose a more tender cut of beef – roasts that we typically use for pot roast (chuck roast) will be tough and inedible when cooked quickly in the air fryer. My recommendations include: top round (sirloin roast), tri-tip, rib, or tip roast. A tenderloin would be delicious also, though it is such an expensive cut of meat, I prefer to make roasted beef tenderloin with browned butter and buttery garlic. Air fryer filet mignon (slices of the tenderloin) has its own recipe.
For a full list of ingredients and their measurements, 📋 please view my printable recipe card at the bottom of the post.
Optional Garnish:
Garnish with fresh herbs (additional thyme, rosemary, or parsley) if desired. You can also serve with gravy like a more traditional roast.
Substitutions and Variations
Different Cuts of beef – You can use top round roast, rib roast, tri tip, and tip roast. Do not use chuck roast or cross rib roast. These are tougher cuts of meat and are best when prepared in the slow cooker (low and slow).
Seasoning – Feel free to use your favorite steak seasoning or dry rub. You can also keep it simple and just use salt and pepper.
Other cooking methods – we've made roast using all of the traditional methods including Instant Pot pot roast and classic pot roast. Remember that pressurized and/or slower cooking methods are ideal for tough cuts of meats.
🔪 Instructions:
PREP: Allow the roast to sit at room temperature for 30-60 minutes prior to cooking.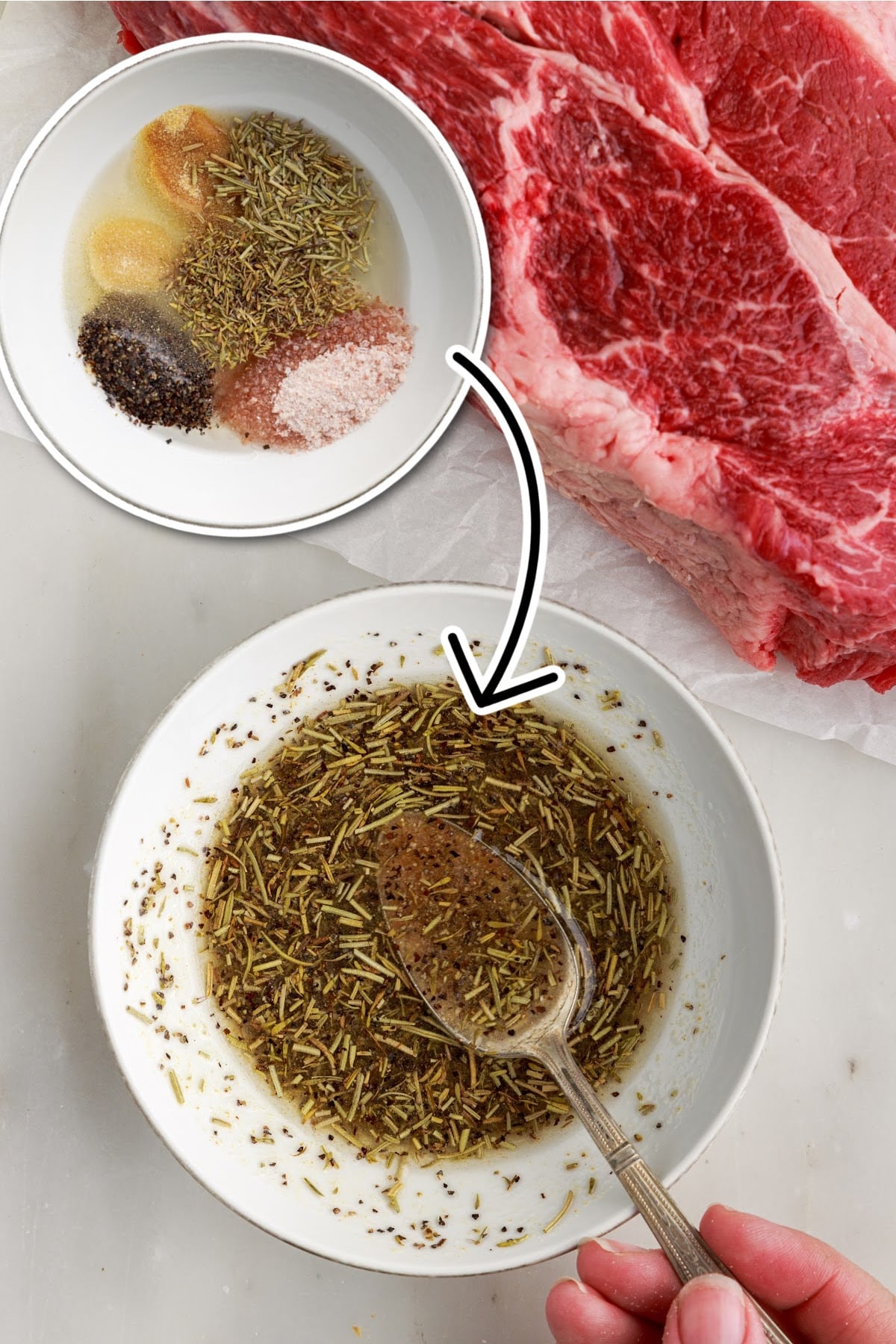 Step 1: Combine the oil and seasonings in a small bowl.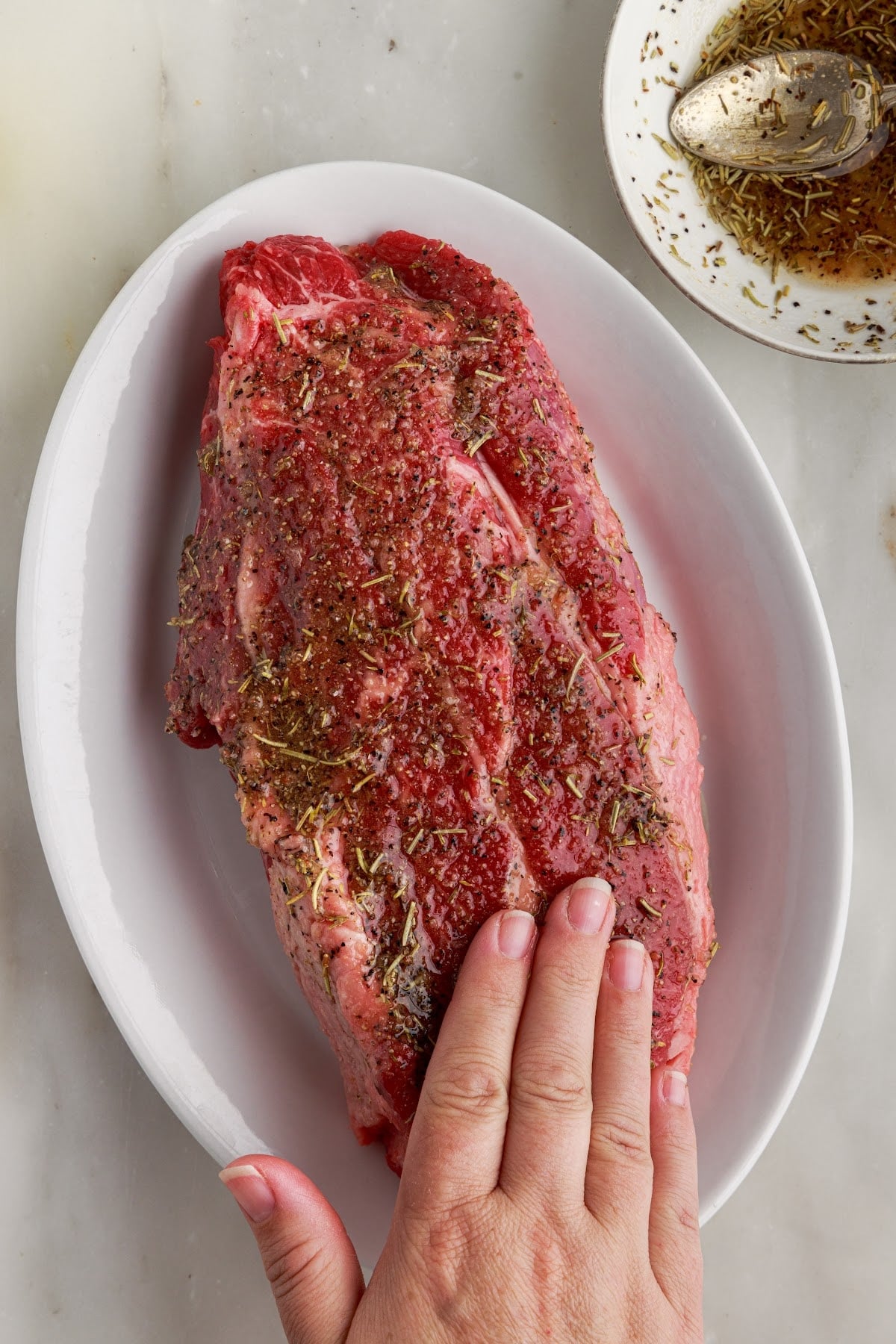 Step 2: Coat the roast in the seasoning mixture, rubbing it in on each side.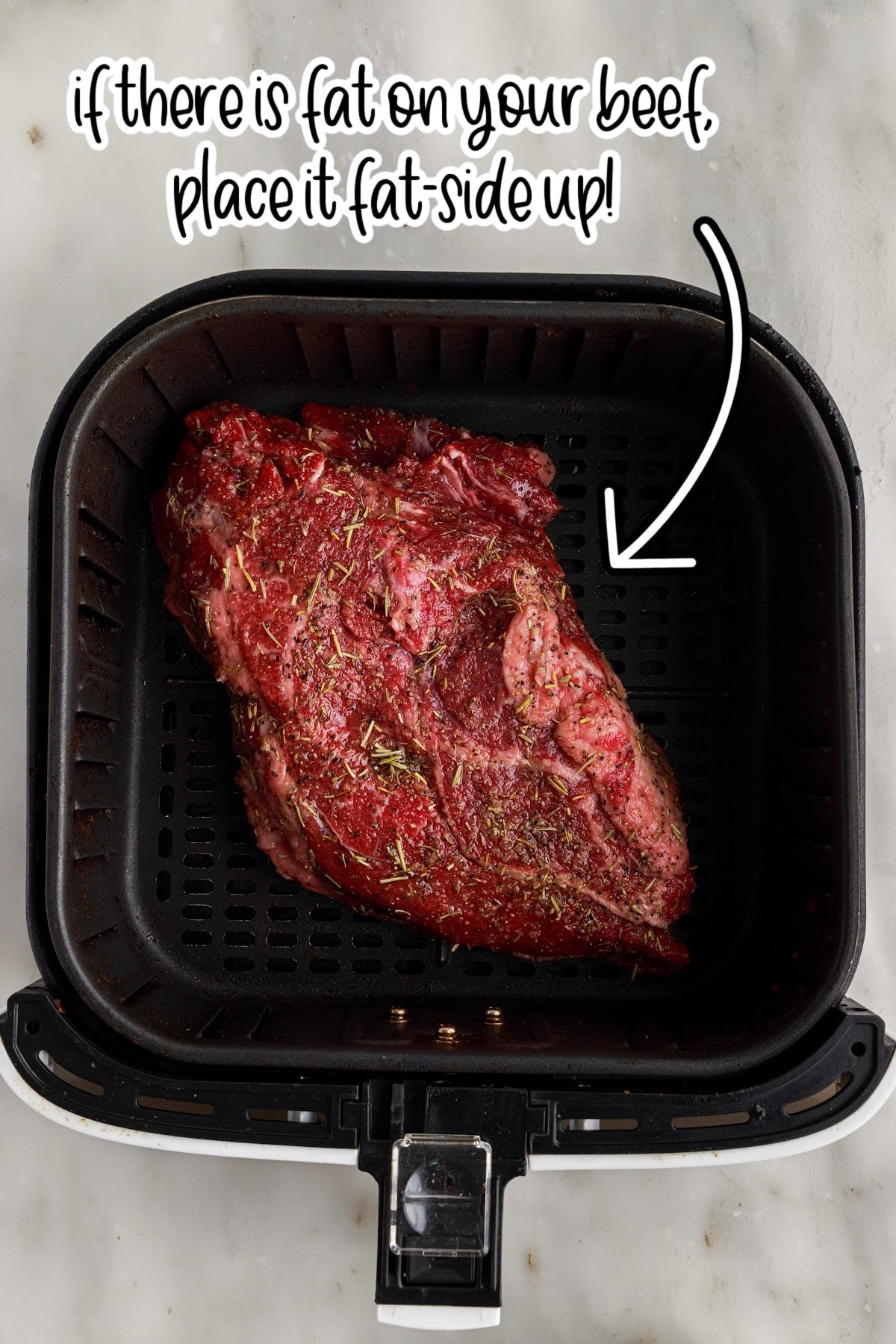 Step 3: Preheat the air fryer for 5-10 minutes at 400 degrees F. Place the roast in the air fryer basket, fat side up.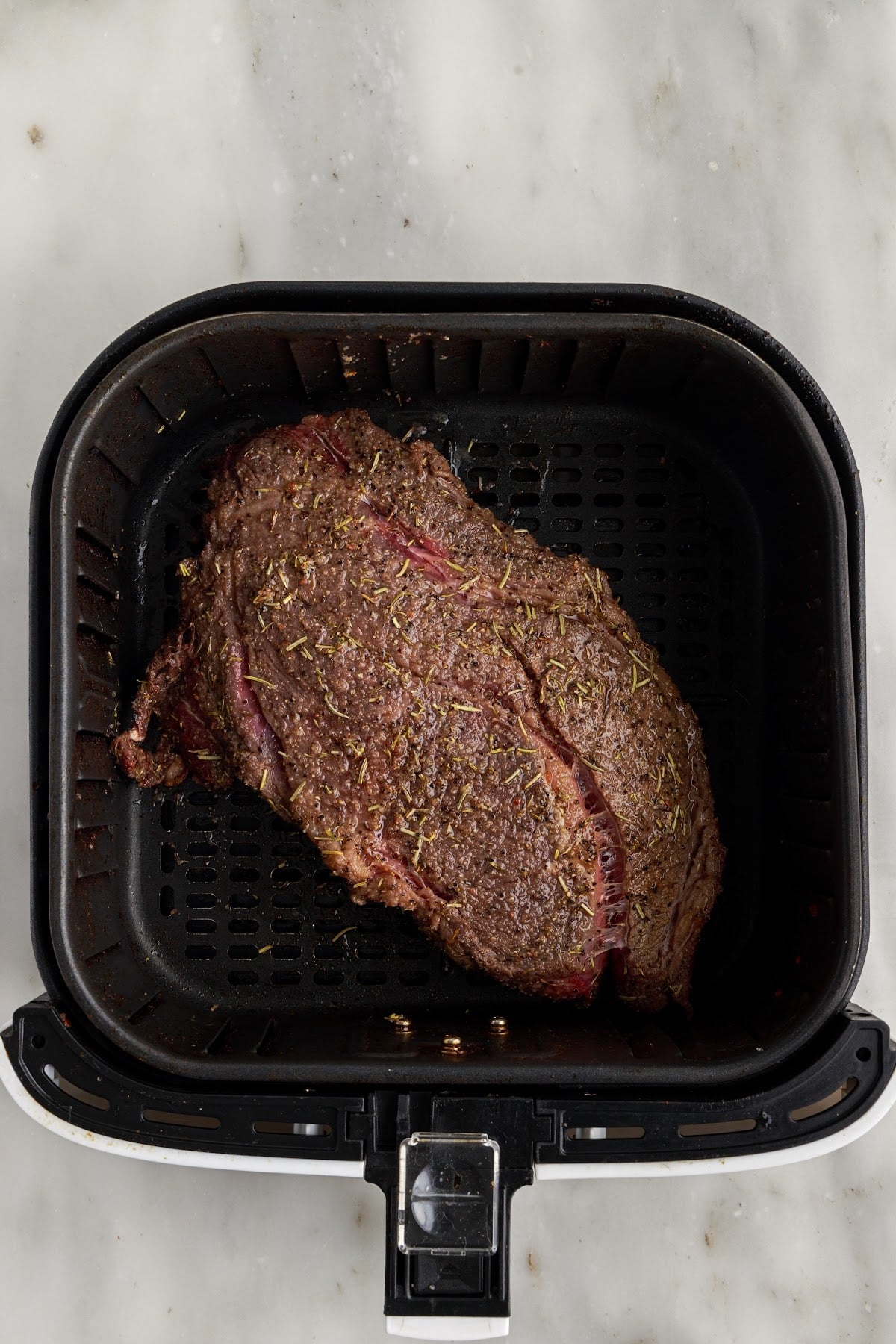 Step 4: Cook for 5 minutes at 400 degrees. Turn the air fryer down to 350 degrees and cook for 25-30 minutes.
Pro Tip: If one side is fattier than the other, place that side up when cooking. All of the flavor from the fat will trickle down through your meat while cooking! Yum!!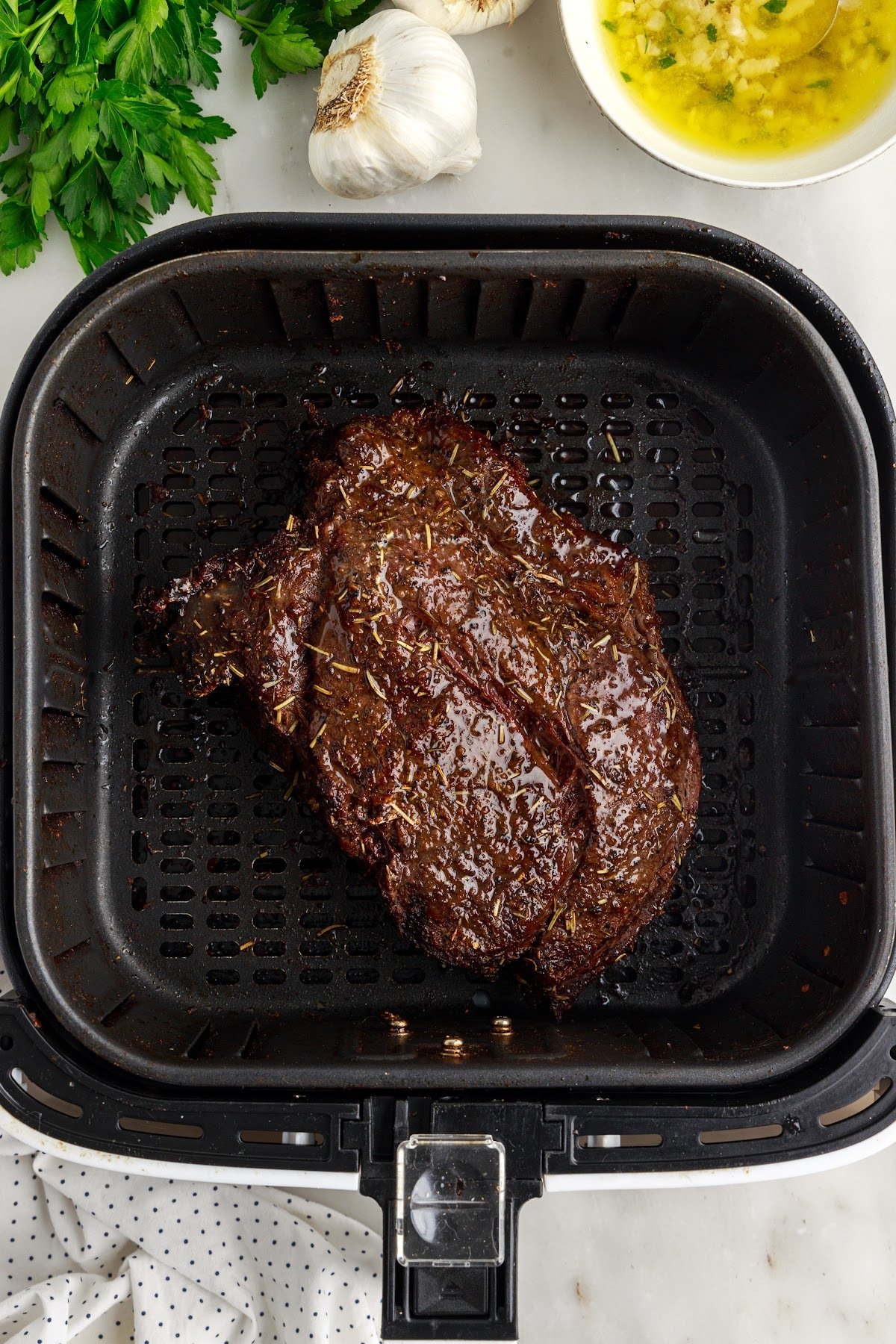 Step 5: Use a meat thermometer to check when the roast reaches 135 degrees it is medium rare, turn off the air fryer. Let the meat rest for 10 minutes. If you remove it from the basket, tent with foil.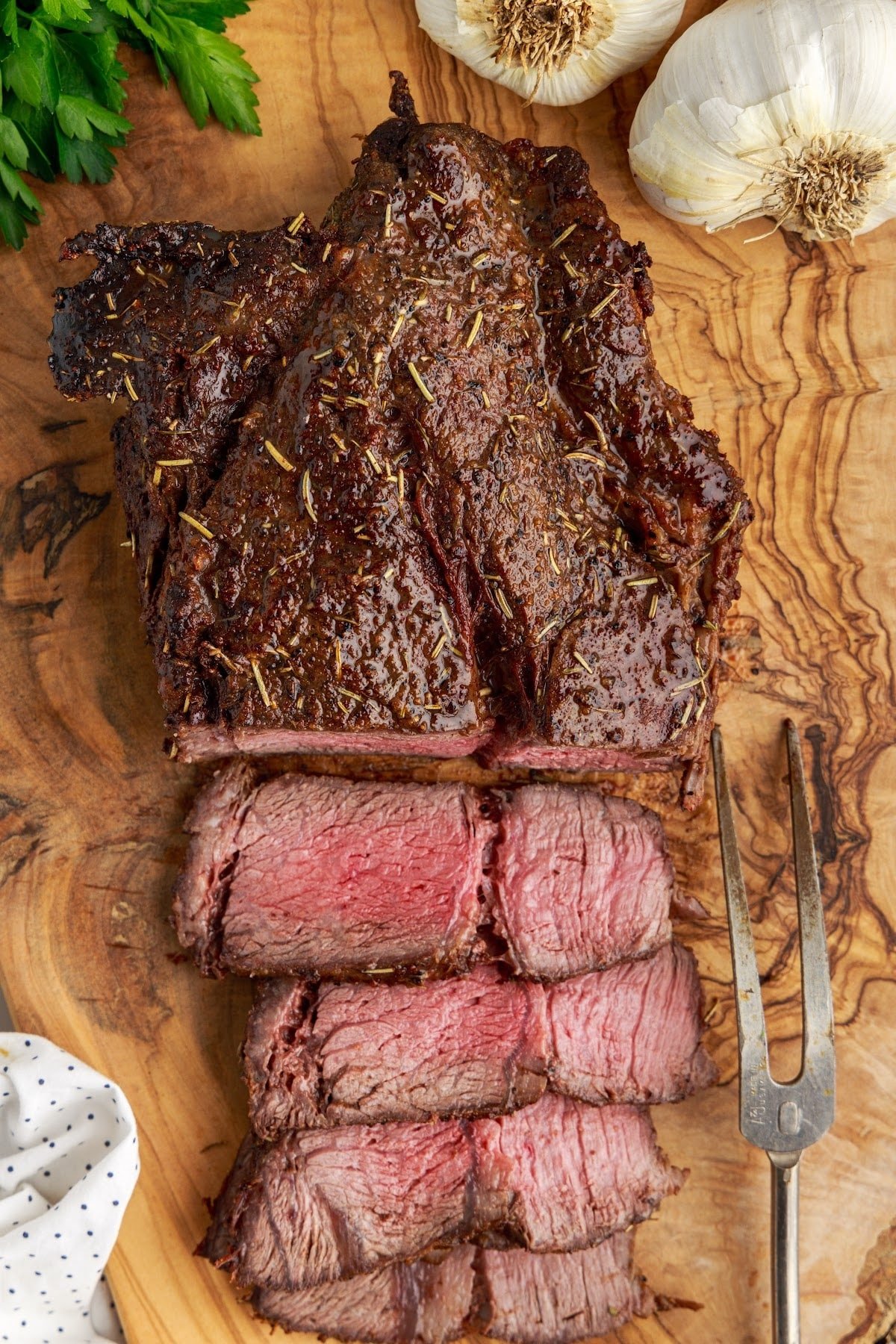 Step 6: On a cutting board, slice against the grain in thin slices.
SERVE: Serve with your favorite sides or fresh vegetables to keep it simple.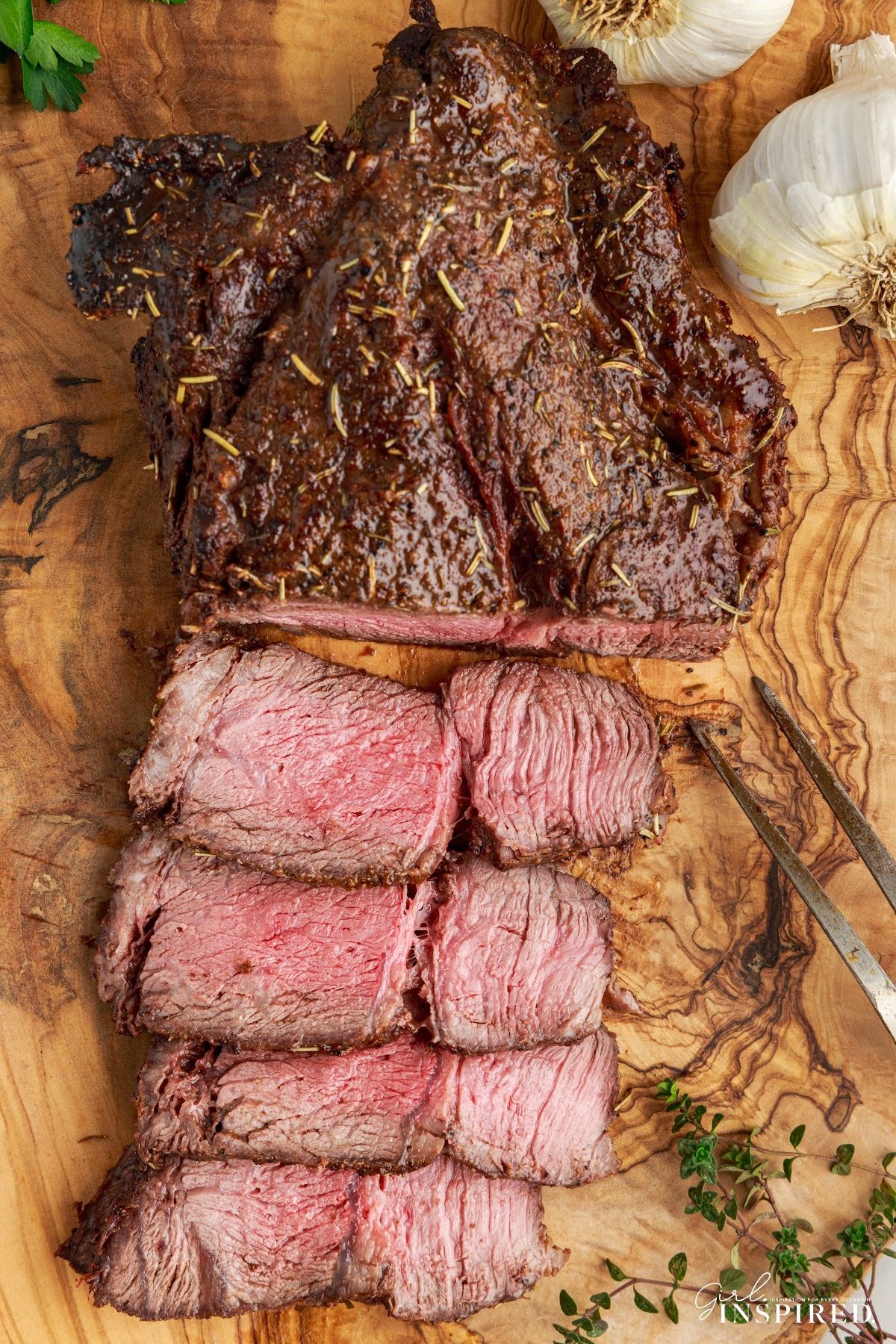 The cooking time may vary based on the size of your roast.
Bringing the beef to room temperature before you start the cooking process is the best way to ensures it cooks most evenly.
Cooking the roast at a high temperature in the beginning gives it a lovely crust (similar to a sear) and helps to lock in the juices inside.
Stick the instant-read thermometer in the thickest part of the roast for the most accurate temperature.
We prefer our roast beef at medium rare, but this is a personal preference. Remember, the beef will cook a few more degrees as it rests.
Letting the roast rest is the key to keeping the flavors and juices from running out once it's sliced. Resting gives them a chance to redistribute throughout the roast.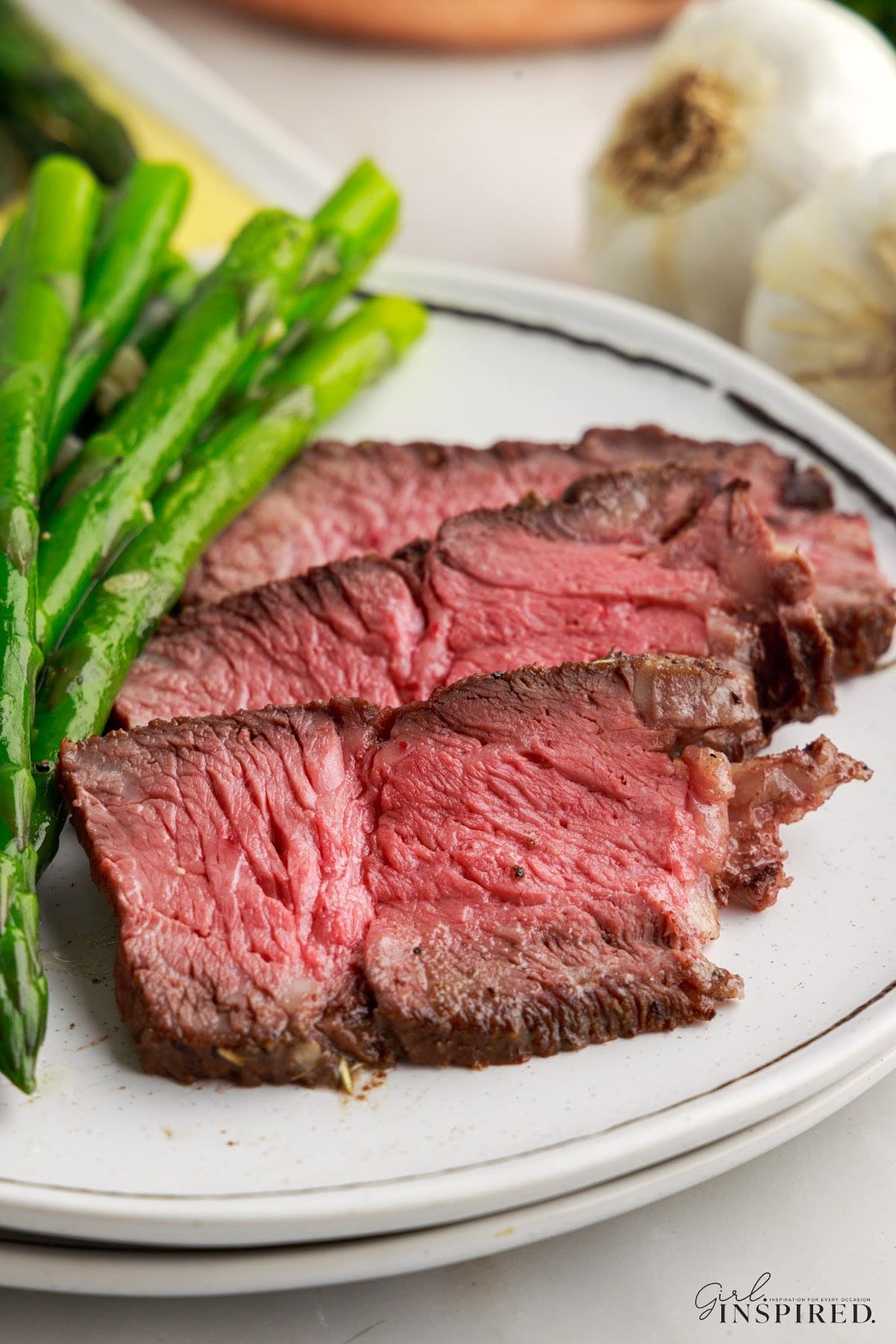 Recipe FAQs
How to store air fried roast beef?
Keep leftover air fryer roast beef in the fridge for 2-3 days in an airtight container. To freeze, wrap it tightly in plastic wrap then place it in a freezer-safe container or plastic bag and freeze for 1 month.
What cut of beef is best for air frying?
When it comes to making roast beef, we recommend top round (sirloin roast), tri-tip, rib, or tip roast. You can also make roasted beef tenderloin in the air fryer. This is the most tender cut and doesn't need but a few minutes of cook time.
More Easy and Delicious Air Fryer Recipes
If you tried this Air Fryer Roast Beef or any other recipe on my website, please please leave a 🌟 star rating and let me know how you liked it in the 📝 comments below.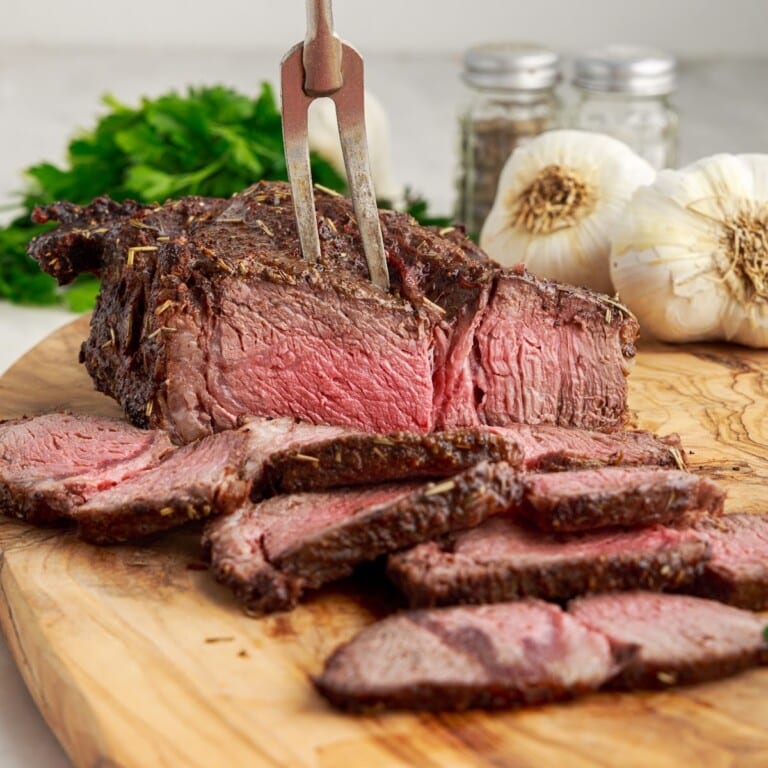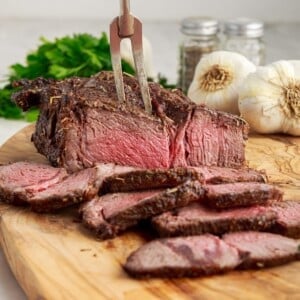 Air Fryer Roast Beef
This easy air fryer roast beef recipe is ready in 30 minutes, but is packed with flavor, super tender, and extra juicy.
Ingredients
2 tablespoons vegetable oil
2 teaspoons sea salt
1 teaspoon coarsely ground black pepper
½ teaspoon garlic powder
½ teaspoon onion powder
½ teaspoon thyme leaves
½ teaspoon rosemary
3- 3.5 lb. beef roast
Instructions
Remove roast from refrigerator 30-60 minutes prior to cooking.

Stir together oil and all seasonings in a small bowl.

Pour the mixture over both sides of the roast and rub in to coat completely.

Preheat air fryer at 400 for 5-10 minutes.

Place the roast into the basket of the air fryer – if there is much fat on the meat, place the fat side up.

Cook at 400°F for 5 minutes to help lock in the juices and caramelize the outside of the roast.

Turn the air fryer down to 350°F and cook for an additional 25-30 minutes.

Turn off the air fryer when the roast reaches an internal temperature of 135°F for medium rare. Leave the roast to set for about 10 minutes. If you wish to remove it from the air fryer, tent with aluminum foil while it's resting.

Slice against the grain to serve.
Notes
Storage: Keep leftovers for up to 3 days in the refrigerator or freeze for 1 month. Notes: Use this recipe for top top round roast, tip roast, rib roast, tri tip roast. Do not use a chuck roast or cross rib roast. These are tougher cuts of meat and will not be as tender. Those are best in the slow cooker, oven, or stovetop on low heat for a longer time. Any steak seasoning can be used in place of the rub ingredients. You can also use just salt and pepper. Check the temperature with a meat thermometer as it cooks so it doesn't get over done. As the meat rests, the internal temperature may increase slightly. Don't skip the resting part. This allows the juices to redistribute throughout the meat instead of leaking out when slicing.
Nutrition
Calories: 519kcal | Carbohydrates: 1g | Protein: 51g | Fat: 35g | Saturated Fat: 14g | Polyunsaturated Fat: 5g | Monounsaturated Fat: 16g | Trans Fat: 2g | Cholesterol: 183mg | Sodium: 990mg | Potassium: 889mg | Fiber: 0.2g | Sugar: 0.02g | Vitamin A: 44IU | Vitamin C: 0.3mg | Calcium: 49mg | Iron: 6mg