Cheesy roast beef sliders are full of meat, cheddar cheese, and served on savory butter rolls with a flavorful sauce that is simple to make and they reheat well. 
Roast beef sliders are piled with tender deli roast beef on sweet Hawaiian rolls, topped with melty cheese, and brushed with a garlic butter sauce that is sweet and tangy. Sliders like this make great party food, an easy weeknight meal, and the perfect appetizer on game day. You can have a batch of mini roast beef sandwiches on the table in less than 1 hour!
I feel like no matter what you add to Hawaiian slider rolls, it turns out delicious. We also like to use them to make sausage egg and cheese breakfast sliders and bacon cheeseburger sliders. These are also great little sandwiches to freeze and thaw out for a quick snack.
Hot roast beef sliders is one of our fun and easy weeknight meals we like to rotate through along with cast iron pizza and jalapeno popper grilled cheese sandwiches.
Jump to:
🥪 Ingredients:
salted butter, dijon mustard, barbecue sauce, poppy seeds – this buttery sauce bakes into the sliders and adds flavor and richness.
Hawaiian rolls – if you find a 12-pack, just buy two and make as many as you can with the ingredients.
mayonnaise – we added just to the bottom, but you can put mayo on the top bun as well.
cheddar cheese – we used medium.
sliced roast beef – the thin sliced from the deli is perfect.
For a complete list of ingredients and their measurements, please refer to the printable recipe card 📋 at the bottom of the post.
Optional Garnish:
If desired, garnish the roast beef and cheese sliders with sesame seeds or fresh parsley before serving. Au jus is also a great dipping sauce.
Equipment Needed:
Baking dish or sheet – to bake the sandwiches in.
Serrated knife – slices through bread easier while keeping it together.
Substitutions and Variations
Use a different bread – if you don't want to use Hawaiian sweet rolls, you can make mini sandwiches using slider buns or dinner rolls.
Change the cheese – tender roast beef goes great with Swiss cheese and pepper jack. You can also use slices of provolone cheese.
Caramelized onions – add olive oil to a skillet. Place the sliced yellow onions in. Use a little Worcestershire sauce and season with garlic powder. After about 10 minutes add a sprinkle of salt and cook until thickened. Some like to use a little sugar or balsamic vinegar.
Gluten-free – swap the rolls for a gluten-free variety.
​Horseradish mayo – the flavors of horseradish go really well with roast beef and can be used in place of regular mayo.
🔪 Instructions:
PREP: Preheat the oven to 350 degrees.
Step 1: In a small bowl, whisk together the melted butter, barbecue sauce, mustard, and poppy seeds.
Step 2: Use a serrated knife and slice horizontally through the rolls while keeping them intact. Set the top of the rolls to the side and add the bottom half of the buns to a 9×13 casserole dish or rimmed baking sheet. Spread a layer of mayo on the bottom buns.
Step 3: Add a few slices of cheese.
Step 4: Mound the roast beef on top of the cheese layer.
Pro Tip: Assembling the sandwiches in layers like we did is much easier than making individual rolls.
Step 5: Add another layer of cheese on top of the roast beef slices. Place the top buns on the sliders.
Step 6: Drizzle the butter on the roast beef and cheese sandwiches. Spread with a pastry brush so all of them are covered.
Step 7: Cover the dish with foil and bake for 30 minutes. Remove the foil and cook for another 5 minutes, or until the tops are golden brown.
SERVE: Pull apart and serve.
The foil prevents the sliders from getting too brown. The tops will toast faster than the inside of the sandwiches can cook, which is why we recommend baking them covered and then removing the foil at the end.
If you prefer thinner layers of cheese and roast beef, you can probably use half the ingredients.
The butter soaks into all of the nooks and crannies making it extra delicious.
Fun Fact
Hawaiian rolls were actually created in Hawaii in the 1950s.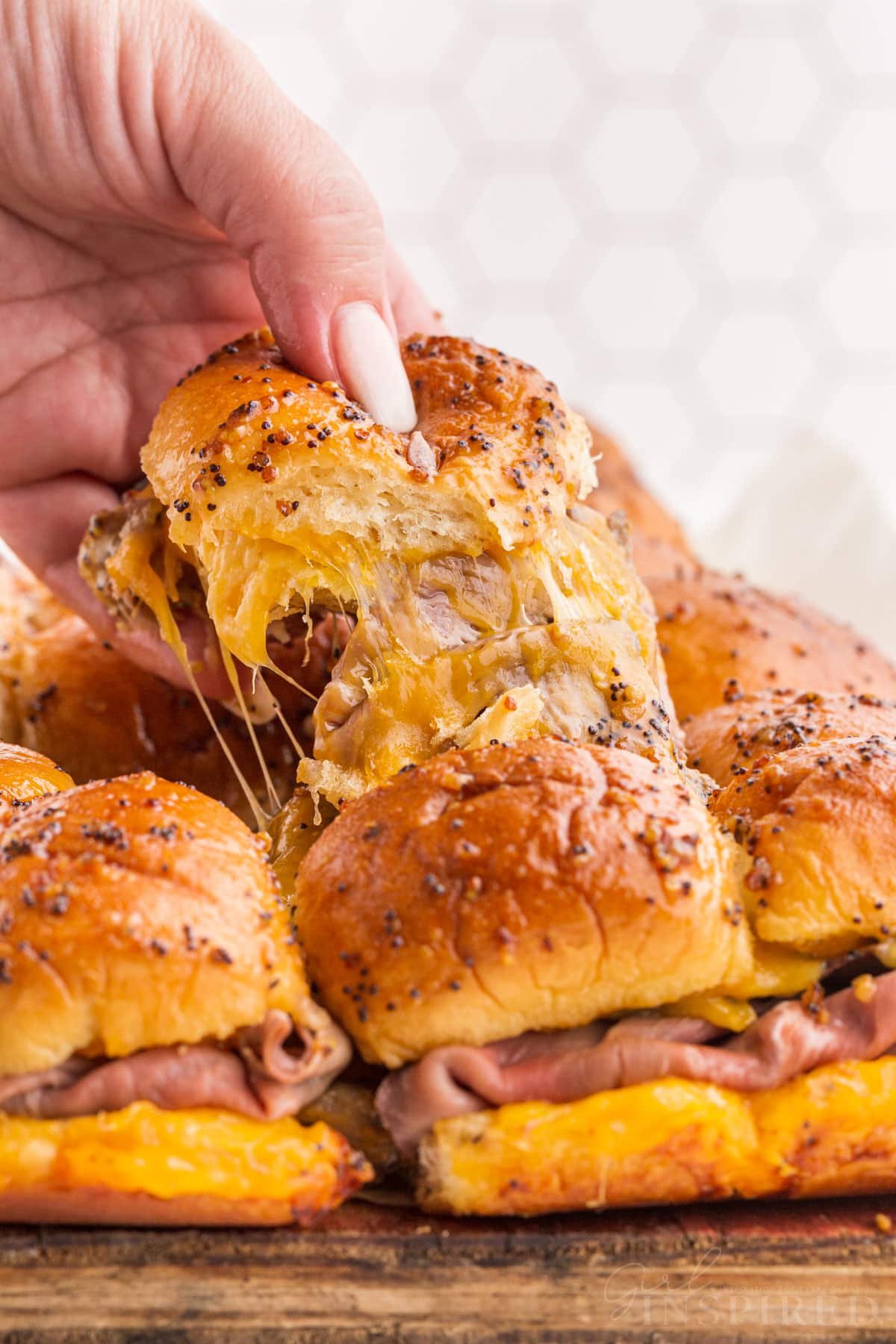 Recipe FAQs
How to store French dip sliders?
Keep leftover roast beef sliders in the refrigerator for up to 3 days in an airtight container or freeze them for 1 month.
What kind of cheese goes with roast beef?
When it comes to pairing cheese with roast beef, there are several options that can complement the rich flavors of the meat. Here are a few popular choices:

Sharp Cheddar: The tangy and sharp flavors of cheddar cheese can contrast nicely with the savory taste of roast beef.
Blue Cheese: Blue cheeses like Stilton or Gorgonzola have a robust flavor that adds complexity to the roast beef. The creamy texture and distinct tang pair well with the meat.
Swiss Cheese: Swiss cheese, with its nutty and slightly sweet flavor, can provide a mild and melty complement to roast beef. It melts well, making it suitable for sandwiches or topping a warm roast beef dish.
Provolone: Provolone cheese has a mild and smoky taste that can work well with roast beef. It's often used in cheesesteak sandwiches, which pair the cheese and beef beautifully.
Horseradish Cheddar: If you enjoy a little kick, horseradish cheddar can be an excellent choice. The spicy heat from the horseradish complements the richness of roast beef.
Can you make roast beef cheddar sliders ahead of time?
Yes! You can assemble the sandwiches and refrigerate them for up to 2 days before adding the butter mixture on top and baking.
More Tasty Sandwiches to Try
If you try these Roast Beef Sliders or any other recipe on my website, please leave a 🌟 star rating and let me know how you liked it in the 📝 comments below.
Roast Beef Sliders
Cheesy roast beef sliders are full of meat, cheddar cheese, and served on savory butter rolls with a flavorful sauce that is simple to make and they reheat well.
Ingredients
½ cup salted butter melted
1 tablespoon dijon mustard
1 tablespoon barbecue sauce
1 tablespoon poppy seeds
1 package Hawaiian rolls 18-count
2 tablespoons mayonnaise
1 pound medium cheddar cheese
1 pound sliced roast beef
Instructions
Preheat the oven to 350°F.

Whisk together melted butter, mustard, barbecue sauce, and poppy seeds and set aside.

Slice horizontally through the Hawaiian rolls, keeping the rolls intact. Set aside the top half of the rolls and fit the bottom half into a 9×13 glass baking dish.

Spread mayonnaise over the bottom half of the rolls.

Top with a generous layer of overlapping slices of cheddar cheese.

Mound roast beef over the cheese layer.

Top with another generous layer of cheddar cheese.

Place the tops of the rolls over the prepared sliders (mayonnaise can be added to the top half of the rolls as well.)

Drizzle the butter mixture over the top of the sliders and use a pastry brush to spread the buttery topping around, ensuring even coverage over everything.

Cover the baking dish with aluminum foil and bake for 30 minutes. Remove the aluminum foil and cook for about 5 minutes longer or until the tops of the rolls are toasted and golden brown.

Serve immediately.
Notes
Storage: Store, refrigerated, in an airtight container for 2-3 days or freeze for up to 1 month. Notes: Cover the full pan of sliders with aluminum foil to prevent the sandwiches from over-browning. The tops get toasted faster than the center heats up so it is important to keep them covered until the cheese in the center has melted then you can remove the aluminum foil and brown the tops of the sliders before serving. Having several layers of roast beef in each slider makes them extra delicious. Using a full pound of sliced deli meat will give you that nice layered result. If you prefer just one slice of roast beef in each slider, you can probably get by with a half pound of meat. The butter might seem like a hefty bit of fat poured over the rolls, but man, it soaks into all the nooks and crannies and really makes for a delicious slider.
Sometimes grocery stores only have the 12-pack of rolls – buy 2 and use as many as you need to fill your baking dish.
Nutrition
Calories: 199kcal | Carbohydrates: 2g | Protein: 12g | Fat: 16g | Saturated Fat: 9g | Polyunsaturated Fat: 1g | Monounsaturated Fat: 4g | Trans Fat: 0.2g | Cholesterol: 54mg | Sodium: 618mg | Potassium: 99mg | Fiber: 0.1g | Sugar: 1g | Vitamin A: 414IU | Vitamin C: 11mg | Calcium: 258mg | Iron: 1mg