These delicious chocolate Nutella cupcakes are a Nutella lovers dream! Not only are the centers filled with this addictive spread, but the creamy Nutella frosting on top is bursting with hazelnut flavors!
These Nutella cupcakes are jam-packed with chocolate and hazelnut flavors. They are moist, filled with a creamy Nutella filling, and piped high with a homemade dreamy Nutella frosting.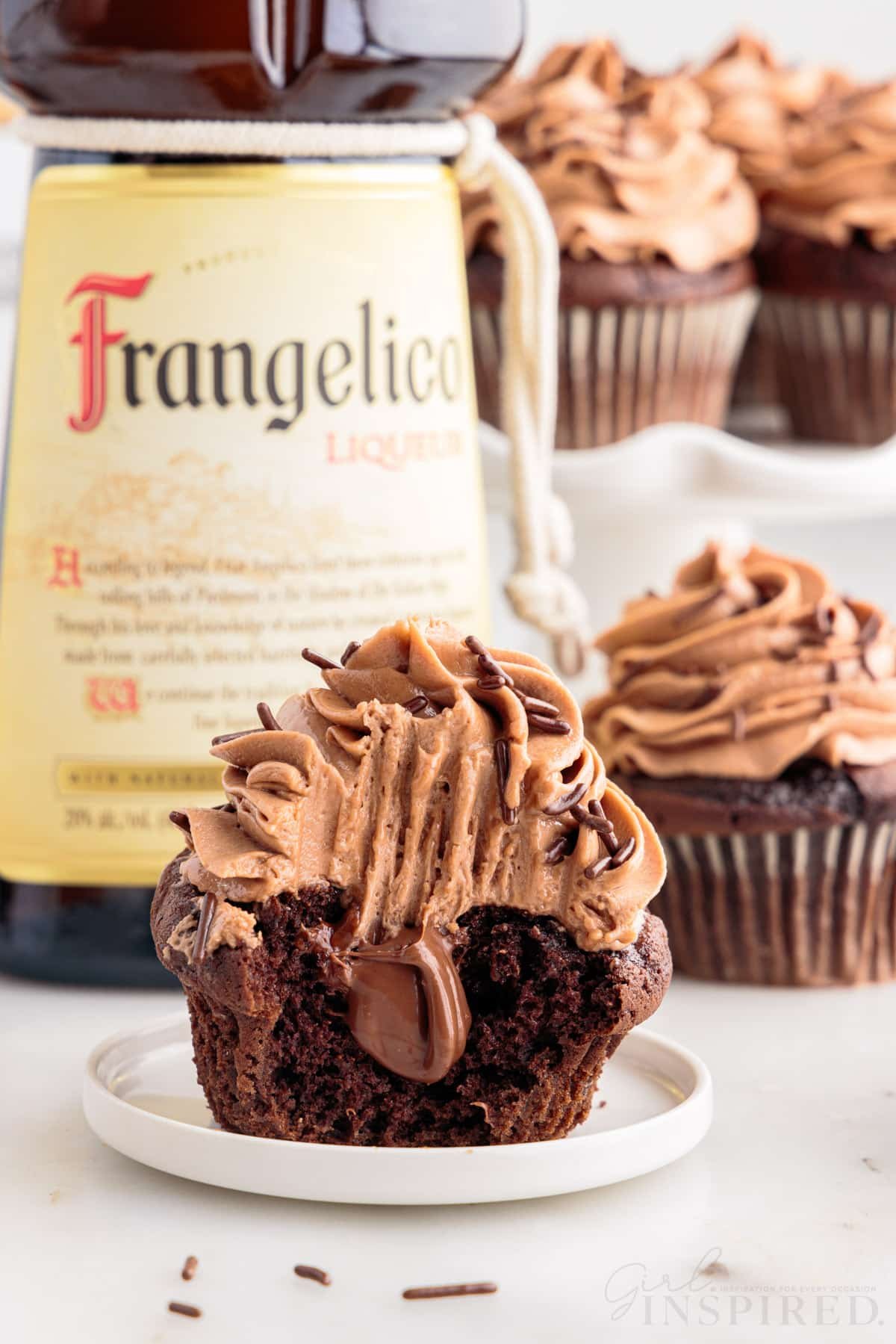 When the chocolate cravings hit, but you want something just a little different than normal – that's where I choose Nutella! I LOVE the hazelnut flavor mixed with chocolate. I even used it to make Babka buns, and let me tell you it was the best decision!
Another way to use up this chocolate hazelnut spread is to make mini puff pastries. They are great desserts and very simple to put together. It also makes for the best breakfast crepes you've ever tasted! When you save this recipe, don't forget you can use the frosting for any cupcake, even on a white cupcake!
What do I Need for this Recipe?
🧁 Ingredients:
chocolate cake mix – gives us that chocolate flavor without using cake flour and unsweetened cocoa powder
chocolate instant pudding mix – adds moistness and flavor to the cake.
eggs – bring the eggs to room temperature so they mix better.
vegetable oil – or any other flavorless oil can be used.
milk – we chose to use whole milk.
coffee or espresso – be sure it's hot/freshly brewed. It deepens the flavor and richness of the chocolate.
Hazelnut liqueur – gives the cupcakes a little more hazelnut flavor and is a fun addition. If you choose to omit, no other liquid needs to be added.
Nutella – to fill the center of the cupcake.
Frosting Ingredients:
room temperature butter – to prevent the frosting from being lumpy.
vanilla extract – rounds out the flavors and adds a subtle hint of vanilla
Hazelnut liqueur – the alcohol content is low, but please know it will not be cooked away in the frosting.
powdered sugar – sweetens and thickens the frosting. If it looks lumpy when measuring, feel free to sift it first.
Nutella – the star ingredient!
heavy cream – adds creaminess and helps with the texture.
Optional Garnish:
Decorate the tops of the cupcakes with Chocolate sprinkles (Jimmies), chocolate chips, a dusting of confectioners' sugar, or a drizzle of Nutella that has been warmed in the microwave.
Equipment Needed:
Electric mixer with a paddle attachment – to beat the batter and the fluffy Nutella buttercream frosting.
Piping bag and piping tip – to decorate with. This is optional, you can always use a rubber spatula to spread the frosting on top. If you need help decorating check out these tips and tutorials.
Cupcake pan – use your favorite liners, however, if these were for special occasions, you can use festive cupcake liners as well. Using liners with a dark pan also helps to make moist cupcakes because dark pans absorb more heat which can lead to undercooked or dry cupcakes.
Variations and Substitutions:
Unsalted butter – this will work just as well, you may want to add a dash of salt.
Milk – instead of heavy cream, any kind of milk can be used in the frosting.
Chocolate frosting – don't want to double up on the Nutella? Use the frosting from a favorite chocolate cupcake recipe of mine.
Vanilla Nutella cupcakes – swap the cake mix for white or yellow and use vanilla instant pudding. Omit the coffee and make the recipe according to the rest of the instructions. Vanilla cupcakes still taste great with this frosting.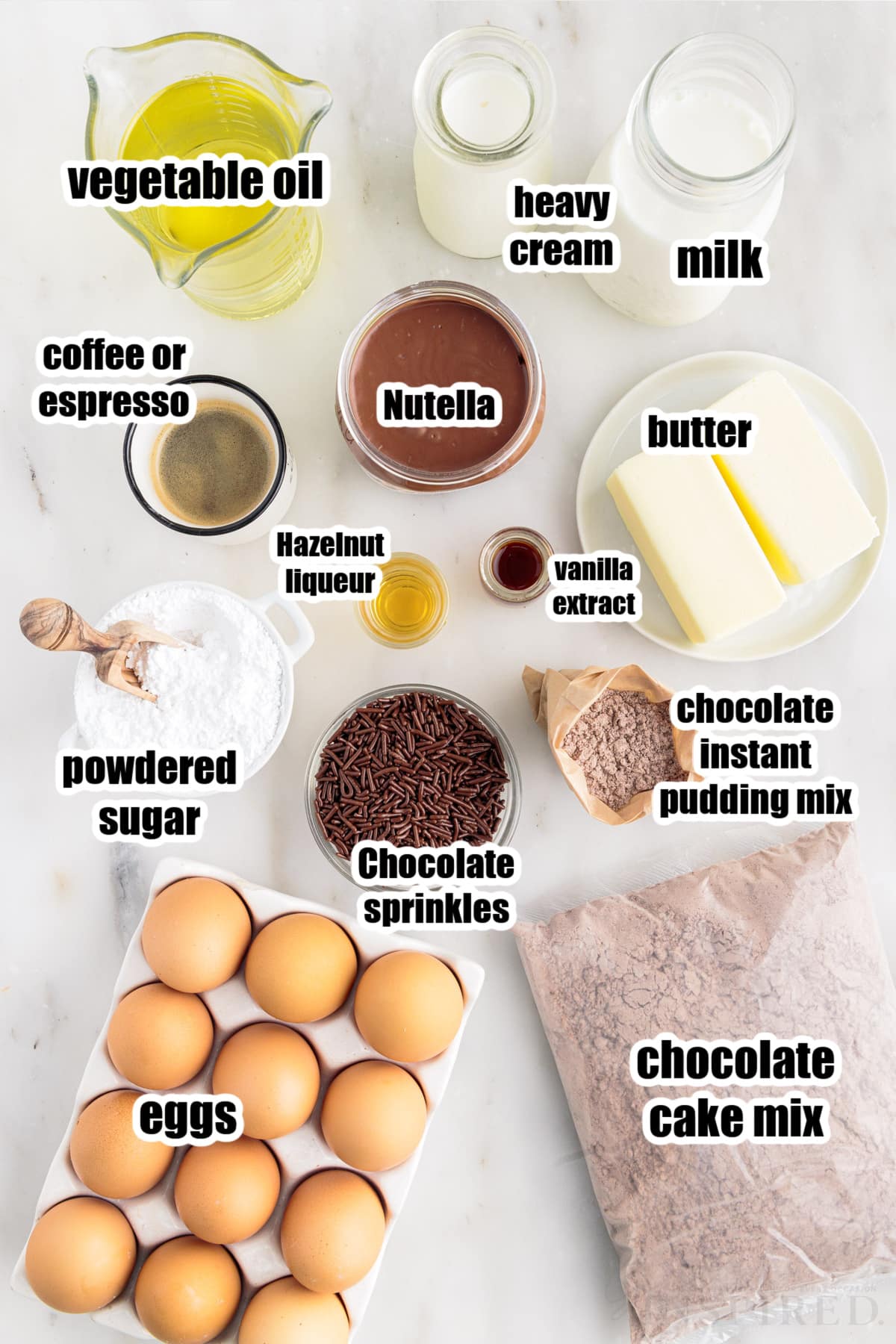 🔪 Instructions:
PREP: Line the cupcake pan with liners and preheat the oven to 350 degrees.
Step 1: In a large bowl, beat (using a hand mixer) the cake mix, pudding, eggs, milk, oil, espresso, and liqueur if using on medium speed for 2 minutes. Scrap down the sides midway through mixing.
Step 2: Transfer the batter to the muffin tins so that they are no more than ⅔ of the way full.
Step 3: Bake for 20 minutes or until a toothpick comes out clean and the tops puff up slightly.
Step 4: Allow the cupcakes to cool on a wire rack. Then use a serrated spoon or apple corer to make a small hole in the top of each cupcake.
Pro Tip: Try not to make the holes really large so that the cupcakes can still hold the frosting. If they lose too much of their shape, they will need to be served with a fork.
Step 5: Fill each cupcake with Nutella.
Step 6: In a medium bowl beat the butter, vanilla, and liqueur until creamy and smooth.
Step 7: Add the powdered sugar, half at a time, and beat until fully mixed.
Step 8: Add Nutella and beat until combined.
Step 9: While the mixer is running, pour in the heavy cream a tablespoon at a time until the desired consistency is reached.
Step 10: Transfer to a piping bag with an open star tip to pipe fluffy swirls on top of these delicious Nutella cupcakes.
SERVE: Top with sprinkles and enjoy!
Only frost cupcakes that have cooled down. Warm cupcakes will cause the frosting to melt off.
You will probably need a full jar of Nutella to make both the batter and the creamy Nutella buttercream.
Nutella can be found at any grocery store on the aisle with the peanut butter.
The larger the hole is in the cupcakes, the more likely they will lose their stability. If you want more Nutella, top with less frosting or serve these moist chocolate cupcakes with a fork and plate.
To make them easier to decorate, freeze them after filling them for 30 minutes to 1 hour, then top them with the frosting.
Fun Fact
World Nutella Day is celebrated every year on February 5th.
How to store Nutella chocolate cupcakes?
Keep leftovers in an airtight container or in the refrigerator for up to a week or freeze them for 2 months. When freezing wrap the undecorated cupcakes in a layer of plastic wrap then place them in a freezer bag. Decorate before serving.
What is Nutella?
Nutella is a delicious hazelnut cocoa spread that is commonly used as a topping for bread, crackers, pancakes, waffles, and fruit, as well as an ingredient in baking. It was created by Italian confectioner Pietro Ferrero in the 1940s and has since become a popular spread worldwide. Nutella is known for its smooth, creamy texture and its sweet, nutty flavor that comes from the combination of roasted hazelnuts, cocoa powder, and sugar.
What is the secret to moist cupcakes?
There are several factors that contribute to moist cupcakes:
Butter or oil: Using a high-fat ingredient such as butter or oil in your cupcake batter can help keep the cupcakes moist and tender.
Proper mixing: Overmixing the batter can cause the gluten in the flour to develop, resulting in a denser, drier cupcake. So, it's important to mix the batter just until the ingredients are combined.
Avoiding over-baking: Overbaking can cause cupcakes to dry out, so it's important to watch the time carefully and check for doneness by inserting a toothpick or cake tester into the center of the cupcake.
More Luscious Cupcake Recipes
Nutella Cupcakes
These delicious chocolate Nutella cupcakes are a Nutella lovers dream! Not only are the centers filled with this addictive spread, but the creamy Nutella frosting on top is bursting with hazelnut flavors!
Ingredients
Cupcakes Ingredients:
15.25 oz. box chocolate cake mix
3.9 oz. box chocolate instant pudding mix
3 large eggs
½ cup Oil
½ cup whole milk
¼ cup Hot coffee/espresso
¼ cup Hazelnut liqueur optional
Approx. ½ cup Nutella to fill cupcakes
Frosting Ingredients:
1 cup salted butter softened
2 teaspoons vanilla extract and/or
2 tablespoons Hazelnut liqueur optional
6 cups powdered sugar
1 cup Nutella
4-5 tablespoons heavy whipping cream
Chocolate sprinkles Jimmies
Instructions
Cupcake Instructions:
Preheat oven to 350°F. Line muffin tins with cupcake liners and set aside.

In a large mixing bowl or the bowl of a standing mixer, combine cake mix, instant pudding, eggs, oil, milk, espresso, and hazelnut liqueur, if using.

Beat on medium-high speed for 2 full minutes, scraping down the sides of the bowl midway through mixing.

Scoop batter into prepared muffin tins, filling each cup no more than ⅔ of the way full.

Bake for 20 minutes or until cupcakes are puffed and a toothpick inserted in the center of the cupcake comes out with just a few crumbs. Remove from oven and cool completely.

When cupcakes are cool, use a serrated spoon to carve out a small hole in the top center of each cupcake. Fill with Nutella.
Frosting Instructions:
Beat together butter, vanilla, and hazelnut liqueur (if using) until smooth and creamy.

Add powdered sugar, half at a time, and beat until fully mixed (mixture will be very thick).

Add Nutella and beat until fully combined.

While the mixer is still running on medium low speed, pour heavy cream – one tablespoon at a time – into the frosting mixture until desired consistency is achieved.

Use a piping bag and open star tip to pipe fluffy swirls of frosting over the filled cupcakes. Sprinkle with chocolate sprinkles.
Notes
Storage: Store in an airtight container in the refrigerator for up to 1 week or in the freezer for up to 2 months. Notes: These cupcakes are packed with Nutella flavor. The cupcakes are ultra moist and fluffy and the frosting is so creamy and flavorful. Please note that the cupcakes lose their stability the larger the hole for the Nutella filling there is. If you like a lot of Nutella filling, you may want to top them with less frosting OR simply serve these delicious cupcakes with a fork and plate! You can freeze the cupcakes after filling them with Nutella to make them easier to move and decorate when adding the frosting. Freeze for 30 min-1 hour and then top with frosting. They will thaw quickly, but will also stay sturdy when removing them from the muffin tin or transferring them onto a serving platter. The hazelnut liqueur is totally optional. The cupcakes will get plenty of hazelnut flavor from the Nutella itself, but the liqueur is a fun addition. Please note that the alcohol content will not be cooked away in the frosting – though it is minimal. If you omit the hazelnut liqueur from the cupcake batter, there is no need to substitute additional liquid in the batter.
Nutrition
Calories: 408kcal | Carbohydrates: 55g | Protein: 3g | Fat: 21g | Saturated Fat: 10g | Polyunsaturated Fat: 3g | Monounsaturated Fat: 7g | Trans Fat: 0.3g | Cholesterol: 44mg | Sodium: 291mg | Potassium: 143mg | Fiber: 1g | Sugar: 47g | Vitamin A: 312IU | Vitamin C: 0.01mg | Calcium: 55mg | Iron: 2mg