Hands down, the most requested breakfast and brunch dish that we eat in our house is German Pancakes. It makes a lovely addition to the common French Toast or pancakes with maple syrup rotation. Growing up, my mom would bake these puffy oven pancakes for special occasions like Easter or Christmas morning. But, they are so simple to make and require just 5 basic ingredients so we have oven pancakes almost weekly around here. Typically, we serve ours with lemon juice and powdered sugar; we also add berries on the side. Click here to quickly Print this Recipe! of the original German Oven Pancakes.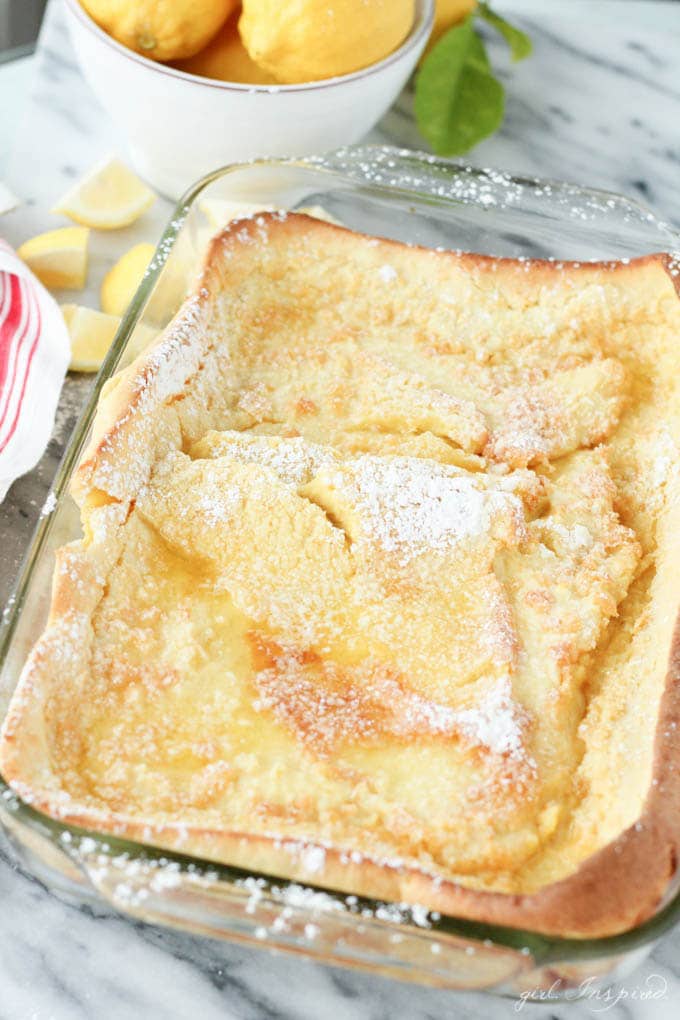 Nearly every weekend and sometimes on a good weekday, my husband makes German Oven Pancakes for the kiddos.
Since Graham took over breakfast duty a couple years ago, the kids have learned that he almost always says yes to a batch of German pancakes and they remain a favorite. Why does Graham make such a fancy breakfast so often? Because they take less than five minutes to prepare and we can all get ready while they're cooking!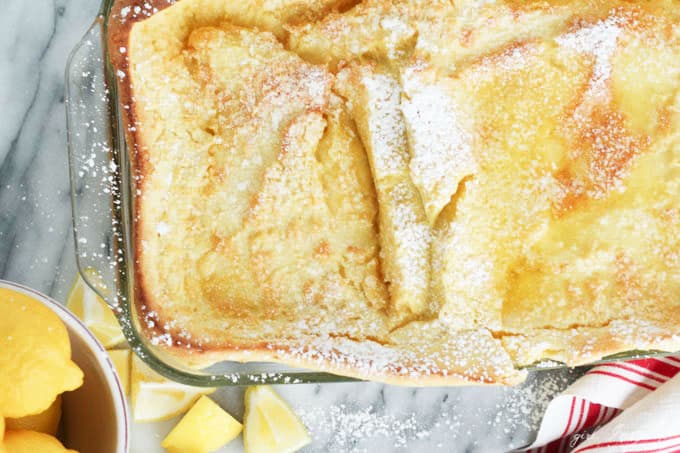 I've seen Oven Pancakes – or Dutch Babies, as many people call them – all over the place. I'm sharing our family recipe with you today, not because it's unique, but because I posted a pic on Instagram a few weeks ago and got LOTS of requests! I've been trying to document so many of our family recipes here on the blog, so I'm actually thrilled to include this favorite as well.
Some Other Breakfast Favorites Include: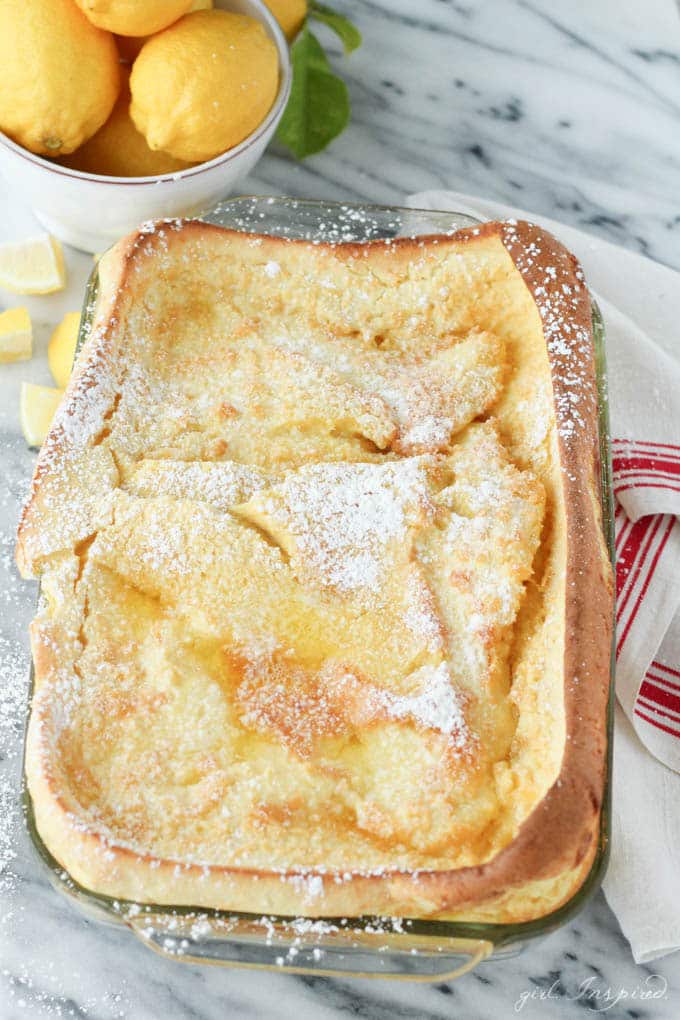 How to Make German Pancakes
We make the batter in a blender, which makes the process SO simple. Turn on the oven to 400 degrees and place a stick of butter (1/2 c.) in a 13 x 9 inch glass baking dish; place the pan with butter in the oven while it's heating. Use real butter – you can reduce the amount if you're trying to cut back on calories, but the butter really is what makes these taste so darn incredible. While the butter is melting in the oven, mix all the other ingredients together in a blender. Once the butter has melted completely, pour the batter into the baking dish. I was taught to pour the cold batter over a metal spoon into the pan so that the cold batter wouldn't crack the hot pan. Wouldn't you know that my husband cut out that step and we haven't had a dish break yet, so…do as you like.
The pancake cooks up so gorgeous – with big, puffy golden brown edges and buttery crispiness across the top. It takes about 30 minutes to bake – you'll know it's done when the edges are puffy and deep, golden brown. Unfortunately, the pancake falls some within a few minutes of removing it from the oven, but it still looks cool! We douse ours with a bunch of lemon and powdered sugar. Berries are good, too!
Get this Recipe in your email inbox!
German Oven Pancakes
This oven pancake cooks up so gorgeous – with big, puffy golden brown edges and buttery crispness across the top. Just 6 ingredients and 5 minutes prep time!
Print
Pin
Rate
Ingredients
2

cups

milk

4

eggs

1

tsp

vanilla extract

1 1/3

cup

all-purpose flour

4

tbsp

granulated sugar

1/2

cup

butter

(melt in pan)

1

lemon

for serving

powdered sugar

for serving
Instructions
Place 1/2 cup butter in a heavy 9 x 13 glass baking dish.

Set baking dish (with butter) in the oven and preheat to 400 degrees.

In a blender, combine milk, eggs, vanilla, flour, and granulated sugar.

When the butter is completely melted (before it browns or burns, though!), pour the batter over a metal spoon into the baking dish.

Cook 30-40 minutes or until the pnacake is set in the middle and the edges are very puffy and golden brown.

Remove from oven. Garnish with lemon juice and powdered sugar and serve immediately.
Video
Nutrition
Calories:
356
kcal
|
Carbohydrates:
35
g
|
Protein:
10
g
|
Fat:
20
g
|
Saturated Fat:
12
g
|
Cholesterol:
156
mg
|
Sodium:
215
mg
|
Potassium:
205
mg
|
Fiber:
1
g
|
Sugar:
13
g
|
Vitamin A:
711
IU
|
Vitamin C:
10
mg
|
Calcium:
124
mg
|
Iron:
2
mg


Making Gluten Free German Pancakes
With the rise in grain-free and gluten-free recipe needs, I have been asked a number of times if this oven pancake recipe can be made gluten-free. I'm here to tell you – YES!!! I simply substituted the all-purpose flour in the basic recipe with a gluten-free flour (I used the all-purpose gluten free rice/potato/tapioca flour from Trader Joe's.)
Aside from puffing just a tad bit less than the traditional pancake, the taste and texture of this gluten-free version is indistinguishable from the original version. We served this gluten-free version with our favorite combination of powdered sugar and lemon juice and even the kiddos thought it tasted exactly the same.
German Pancakes with Coconut Oil
Okay, okay, I know that the traditional recipe has an entire stick of butter in it – you can see the delicious butter pooling on the top of the pancake and I, personally, think it's absolute heaven! But the teeny tiny healthy voice in my head, as well as maaaannnnny a commenter, have cried for an oven pancake version with less butter. I HAVE HEARD YOUR CRIES! If you need to feel less guilty, you can simply reduce the amount of butter in the recipe.
Cut it in half, reduce it down to even just a couple tablespoons. The puff pancake will still turn out golden brown and yummy, and your guilty conscience will back off a bit. (But I stand firm in that the butter makes this breakfast a true splurge in all the best ways!) Alternately, if you need to cut the butter completely out of this recipe, you can swap in the health community favorite – Coconut Oil.
As you can see in the photos, substituting coconut oil in this recipe still results in a gorgeous, golden brown German pancake with a huge degree of puff (more than usual, even). The flavor is still good – it's just not buttery. Obviously. The texture remains the same, and you actually can use a whole lot less coconut oil – try just 2-4 tablespoons.
You will taste the coconut oil in the baked pancake, and as long as you like coconut flavor, this is a wonderful variation. I served the coconut oil version of this oven pancake with passion-fruit syrup and orange slices on the side and it was exquisite! So so delicious. If you're looking for a tropical tasting breakfast food, this is the version for you! Print the altered version of my German pancake recipe using coconut oil here.
Dairy Free German Pancakes:
Of all the variations, substituting almond milk for the cow's milk had the biggest impact of all. I did a straight swap without changing anything else in the recipe which means I did still use butter. If you need absolutely no dairy, try combining this version with the coconut oil version above. The German pancake did not puff as much, and the texture was less dense.
The pancake didn't taste bad, and if you can't drink cow's milk, this dairy free version will work. I'm now curious how the recipe would turn out if I tried other types of milk. The almond milk did give the pancake a different flavor – and it no longer tasted right with my usual lemon and powdered sugar topping. However, serve this version with maple syrup and you have yourself a win.
Apple German Pancake:
I have had lots of people tell me that they make their German pancakes with apples and cinnamon baked in. I was excited to give this version a whirl. To make this recipe, follow all of the ingredients and instructions to make your basic oven pancake batter. Add in a bit of cinnamon if you wish. Peel and slice one to two apples and sprinkle them with cinnamon and sugar. Add them into the baking dish along with the butter as you are pre-heating the oven.
Once the butter has melted, proceed by pouring the batter over a metal spoon and into the prepared pan. Cook per the recipe until the pancake is puffy and golden brown. If you wish, sprinkle some sliced almonds over the top of the pancake during the last 10 minutes of baking. This apple German pancake was tasty and less sweet than some of the other versions. Consider topping with an extra dose of cinnamon sugar or a big heap of sweetened whipped cream!
Do you make German Pancakes at home? Do you call them something different like oven pancakes or Dutch babies? I still would like to try cooking them in a cast iron skillet – maybe that will be my next variation!