These easy popovers are cooked so they have a deep golden brown crispy exterior but the inside is soft and buttery. It's a such an easy side dish that goes great with main meals, breakfast, and brunch.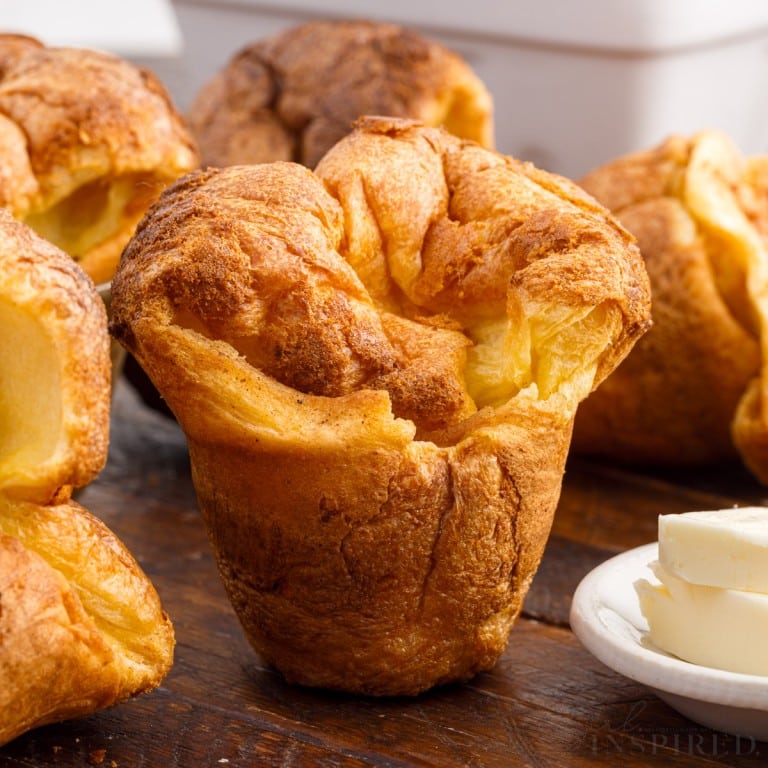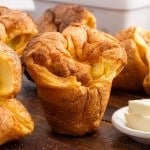 Let's make the perfect popovers using just 5 simple ingredients you already have on hand! The outsides are crisp and buttery, while the insides are tender and airy. We are making these in a blender, so no stand mixer is needed, and there's less cleanup!
You may have seen popovers at fancy restaurants and thought they would be impossible to make at home. Good news! You don't have to wait until the holiday season or wait for a reservation to get Neiman Marcus popovers, because this recipe is so simple. That being said, the instructions are very precise and must be followed to get the best popovers.
When serving these at breakfast or brunch they go great with air fryer bacon or bacon wrapped mozzarella sticks. You can also pair them with egg bites or fruit salad. Don't be afraid to slather them with strawberry raspberry jam or lemon butter for a savory option.
What do I Need for this Recipe?
🍞 Ingredients:
salted butter – part will be drizzled in the pan before we add the batter.
eggs and whole milk – bring these ingredients to room temperature
all-purpose flour – we do not recommend swapping this for any other flour. This recipe relies heavily on gluten for the popovers to turn out well.
sea salt – adds a little flavor to the batter.
Optional Garnish:
Serve with butter, compound butter, jam, or jelly.
What's So Special About Popover Pans?
Some may think it's ridiculous that you would need special popover pans for this recipe, but it's for good reason and makes for the fluffiest popovers. This special type of pan has steep sides and deep wells versus muffin tins that are shallow and have straight-walled sides.
The design is meant so the batter is forced up leaving a large dome on top and crispy edges.
You will also notice that the cups are further apart. This feature allows for the air to circulate better because since the batter is very thin and doesn't contain yeast, the steam is what is cooking the popovers. It also allows room for them to really puff up.
There are several different designs to choose from in terms of pans, but the most important thing to keep in mind is that you want a pan that transfers heat well. Some use silicone or ceramic custard cups which may work, but the best results will come from aluminum, steel, or cast iron.
Our preferred way to make these is using an actual popover pan, but if you don't have one regular muffin tins will work as well. The puff on top will not be as defined and they may be a little dense.
Equipment Needed:
Popover pan or muffin pan – see the section above for more information on choosing a pan.
Blender – we used a blender, but you can also use a large mixing bowl and a hand mixer to mix the ingredients.
Oven thermometer – the oven temperature is a very important component of this recipe turning out correctly. We suggest placing one inside, versus going off the normal settings.
Variations and Substitutions:
Mini popovers – use a mini muffin pan and make a half batch of batter.
Cheesy – Fold in up to 1 cup of shredded cheddar cheese.
Fresh herbs – Combine a teaspoon of rosemary and a teaspoon of thyme into the batter before adding it to the muffin tins for a savory flavor.
Cinnamon Sugar – Brush the tops with butter. Combine ¾ cup of sugar with a tablespoon of cinnamon. Then dip the tops in.
🔪 Instructions:
PREP: Place an oven rack on the bottom, then another one 12 inches above the bottom shelf. Set a baking sheet on the top shelf. Place the popover pan on the bottom rack. Preheat the oven to 450 degrees. Once the oven temperature reaches 450 degrees, let it heat for another 20 minutes.
Step 1: To a blender, add the melted butter, eggs, and milk. Pulse until completely blended.
Step 2: Add the dry ingredients, and pulse to combine. Let the popover batter rest for 15 minutes.
Step 3: Once the oven has been preheated, carefully drizzle the butter into the bottom of each cup, while working quickly.
Step 4: Pour batter into each cup so they are ⅔ of the way full.
Pro Tip: Do not leave the oven door open while you are drizzling the butter into the pan.
Step 5: Bake for 20 minutes, then reduce the heat to 350 degrees without opening the oven door. Bake for 10 more minutes.
SERVE: Remove the fluffy popovers from the hot oven and serve with butter or jam.
Room-temperature ingredients are the best for this recipe.
The batter is going to be very runny. This is so there is enough steam to get them to "pop" considering we are not using any yeast.
Don't forget to let the batter rest.
These popovers need to cook long enough for the steam to escape and make the batter form a tough enough shell to hold their texture. This process can make them too dark, which is why it's essential to place the sheet pan on the top rack to block the heat.
Fun Fact
Did you know classic popovers are similar to British Yorkshire pudding? They are made from the same batter except the Yorkshire version is cooked in beef drippings.
What are popovers?
Popovers are a type of light pastry with hollow centers made with pantry staples that are usually baked in a special pan. They can be served as a breakfast treat with jams and spreads or with savory dishes similar to dinner rolls.
How to store popover rolls?
These are best when eaten immediately. Leftovers can be enjoyed several hours after they have been baked, but afterward, they tend to become tough and dry and should be thrown away.
Can you make this Popover recipe ahead of time?
The simple batter can be made up to 24 hrs in advance, then stored in the refrigerator. Before baking, the batter has to be at room temperature. Cold batter will not bake correctly.
More Amazing Bread Recipes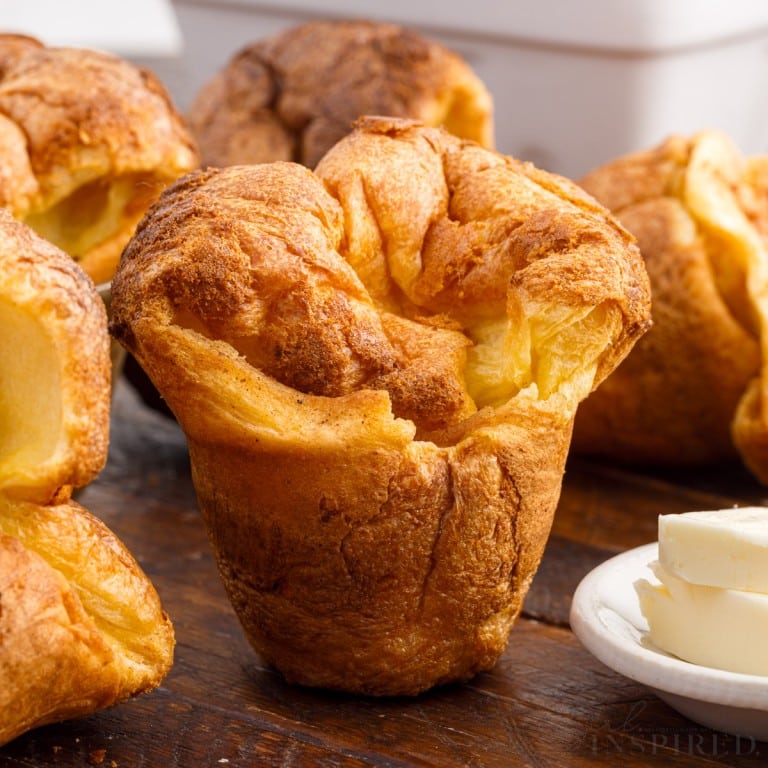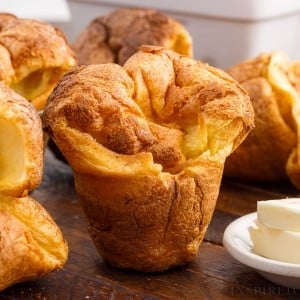 Popover Recipe
These easy popovers are cooked so they have a deep golden brown crispy exterior but the inside is soft and buttery. It's a such an easy side dish that goes great with main meals, breakfast, and brunch.
Ingredients
3 tablespoons salted butter melted
3 large eggs room temperature
1 cup whole milk room temperature
1 cup all-purpose flour
½ teaspoon sea salt
Instructions
Place a popover pan in the oven on a bottom shelf. Position a second shelf about 12 inches above the bottom shelf. Place a sheet pan on the top shelf (this will help protect the popovers from over-browning.

Preheat the oven to 450°F. Continue heating the oven for 20 minutes after the oven registers 450°F.

Meanwhile, place tablespoons melted butter, eggs and milk in a blender and pulse to blend completely. Add the flour and salt and pulse several more times until combined. Leave the mixture to set for 15 minutes.

When the oven has been thoroughly preheated, carefully pour a drizzle of melted butter into the bottom of each cup – the butter may splatter so be careful. Work quickly to fill each cup with a bit of the butter.

Pour the rested batter into each cup – filling about ⅔ of the way full.

Bake for 20 minutes, then turn down the oven to 350°F (without opening the oven!) and continue baking for 10 minutes more.

Remove the popovers from the oven and serve immediately with butter and/or jam, if you wish.
Notes
Storage: Popovers are best eaten immediately and leftovers can be enjoyed for several hours after they're baked. After several hours, the popovers become dry and tough and should be discarded. The batter can be made in advance (a day ahead) and stored in the refrigerator, but it must be warmed to room temperature before baking. Notes: Popover pans give the popovers their distinct tall base and large domed top look. The tins are also further apart, allowing room for the popovers to puff quite a bit. A muffin tin can be used if a popover pan isn't available. For the best results, follow the recommendations for room temperature and rested batter, preheating the oven and popover pan adequately, and pouring the melted butter into the popover tin. These three factors together make a big difference in the finished result. The popovers need to cook long enough for the steam to really puff the batter and then for the batter to form a tough enough shell that the popovers hold (most) of their shape. Because of this, the tops of the popovers can become too dark. Placing a sheet pan on the top rack does make a difference in blocking that top heat and keeps the popovers golden brown while having enough time to cook all the way.
Nutrition
Calories: 91kcal | Carbohydrates: 9g | Protein: 3g | Fat: 5g | Saturated Fat: 3g | Polyunsaturated Fat: 0.4g | Monounsaturated Fat: 1g | Trans Fat: 0.1g | Cholesterol: 51mg | Sodium: 143mg | Potassium: 58mg | Fiber: 0.3g | Sugar: 1g | Vitamin A: 180IU | Calcium: 34mg | Iron: 1mg