Orange Muffins are soft, moist, and fluffy sweet muffins - packed with fresh orange flavor and perfect as a sweet snack or addition to the breakfast table!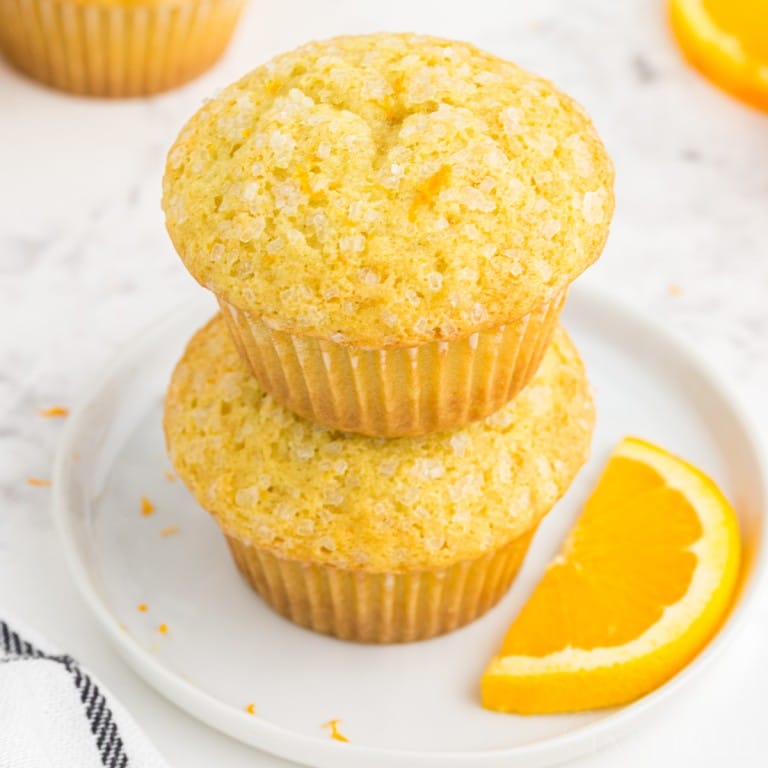 These Orange Muffins offer a refreshing change to the usual breakfast muffin or brunch spread, made with freshly squeezed orange juice, fresh orange zest, and orange oil to provide a sweet citrus flavor without it being overpowering.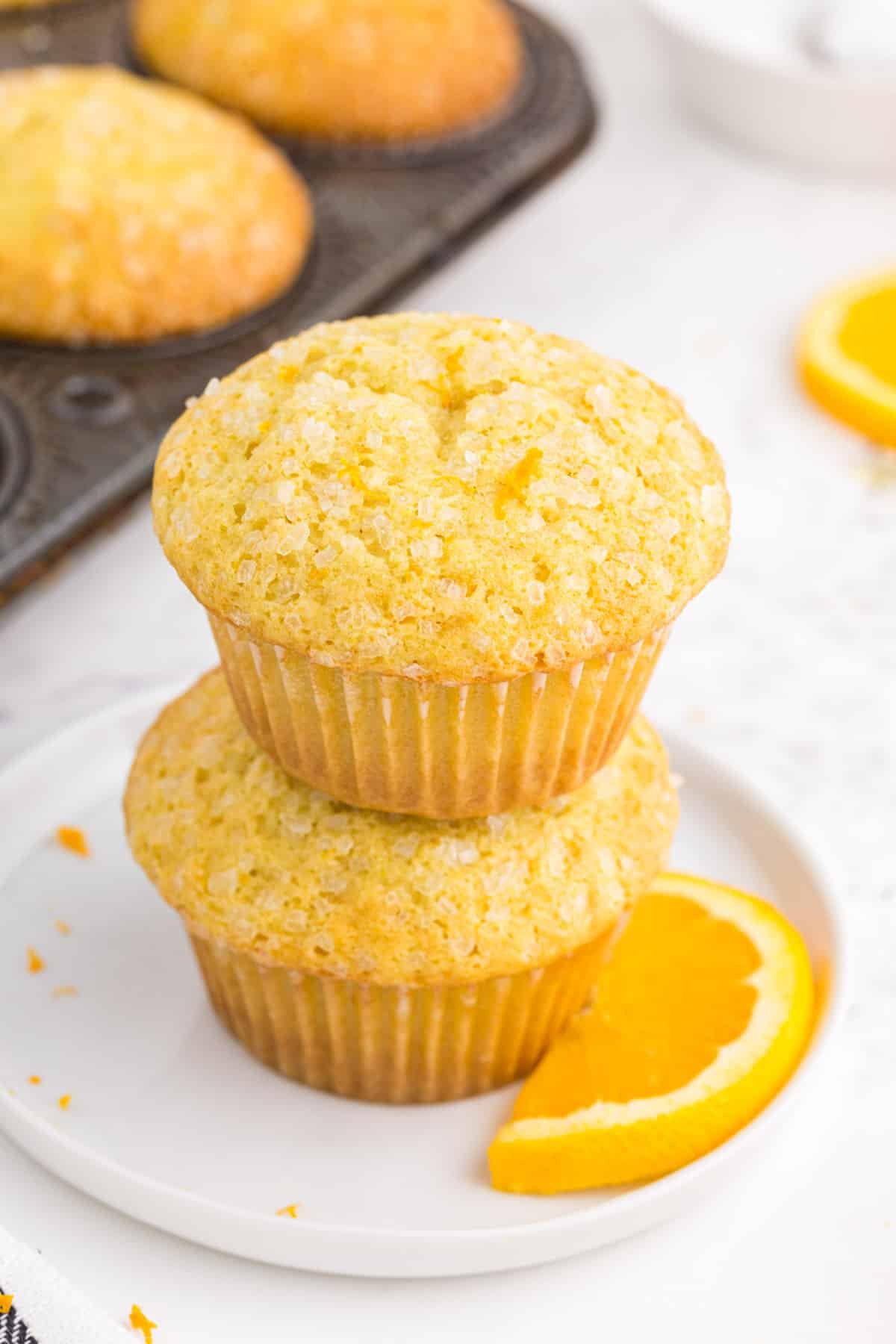 These fluffy and moist muffins can be served fresh from the oven, at room temperature, or slightly chilled. The sprinkle of coarse sugar over the tops of these orange muffins creates a lovely crunchy texture, but you could also add a simple sugar glaze as I've done for this scrumptious Orange Cranberry Bread. Serve these muffins as is or alongside your favorite brand of jam, butter, and whipped cream!
Love easy and delicious fruit muffins? Try these Blueberry Chocolate Chip Muffins, Blackberry Muffins, and Lemon Raspberry Muffins.
What do I Need for these Orange Muffins?
🍜 Ingredients:
Granulated sugar
Fresh orange zest – From an orange peel.
Fresh orange juice – Freshly squeezed juice from fresh oranges will provide the best flavor.
Vegetable oil – Coconut oil (unscented) or another neutral-flavored oil could be used instead. I don't recommend using olive oil as the flavor may be overpowering in these sweet muffins.
Buttermilk – This will create a moist muffin with a tender crumb. Sour cream, Greek yogurt, or coconut milk will also work.
Orange oil – This will give lots of fresh orange flavor to every batch of muffins.
Eggs – I've used large eggs that are at room temperature.
All-purpose flour – Use almond flour or coconut flour for a gluten-free orange muffin recipe
Salt
Baking powder – Check the expiry date so that you get fluffy muffins.
Extra coarse sugar – For the topping.
Optional Garnish:
I've added extra coarse sugar over the tops of the muffins, but you could also get creative and top these muffins with a streusel topping!
Equipment Needed:
Large bowl, fine sieve, muffin pan, wire rack, paper liners, or silicone muffin cups.
Variations and Substitutions:
Make cranberry orange muffins by folding flour-coated tart cranberries into the batter. Fresh cranberries or frozen cranberries would also work when it's no longer cranberry season.
Use maple syrup to replace the granulated sugar or to reduce the amount of granulated sugar used in this recipe.
Make lemon muffins or blueberry muffins by adding lemon juice and blueberries (fresh or frozen)
Vanilla extract can be added to this orange muffin recipe for extra depth of flavor.
Easily make a double batch of these tasty muffins.
🔪 Instructions:
PREP: Preheat the oven and assemble the ingredients.
Step 1: Add granulated sugar and orange zest to a large mixing bowl and work the zest into the sugar with your fingers so that the fragrance is infused well.
Step 2: Add the orange juice, orange oil, vegetable oil, buttermilk, and eggs to the bowl and mix to combine.
Step 3: Now add the dry ingredients to the wet batter but be careful not to overmix.
Step 4: Prepare the muffin tins and divide the batter into muffin liners.
Step 5: Sprinkle coarse sugar over the tops of the unbaked muffins.
Step 6: Bake the muffins for 20-25 minutes. Cool in the pan for a few minutes before transferring the baked orange muffins to a cooling rack.
GARNISH/SLICE/SERVE: Enjoy a delicious muffin as an afternoon snack or pair it with whipped cream.
Using two oranges should be more than enough to get the amount of zest and freshly-squeezed orange juice called for in this muffin recipe.
You could substitute orange, vanilla, or even almond extract for the orange oil, but I personally love the extra boost of flavor provided by the orange oil.
I used buttermilk in the muffin batter as it helps to create a good amount of moisture in the muffins. You can always use whole milk instead if you prefer.
Don't over-stir the muffin batter otherwise, it can become overly dense and affect the outcome of the muffins.
You can easily overbake these muffins if you allow them to cool while still in the muffin tin. To prevent this, make sure to remove your baked muffins a few minutes after baking. This will stop them from cooking further from the residual heat in the muffin tin.
These muffins are great to make ahead of time since they store and freeze so well. Enjoy them as breakfast treats, on-the-go snacks, or as a lunchbox filler.
Easily double the quantity of your muffin batter for larger batches that can be stored in preparation for busy times ahead
Fun Fact
Muffins date as far back as the mid-1800s! They offer a delicious alternative to sweet bread, requiring no yeast and therefore no kneading, rising, or resting time.
How Should I Store These Orange Muffins?
These muffins can be stored for 1-2 days at room temperature in an airtight container. If you haven't used parchment-lined muffin tins then I suggest that you line your storage container with a sheet of parchment paper to prevent your muffins from sticking to the bottom of the container.

You can also extend the shelf life of these muffins by storing them in the refrigerator for up to 1 week. When ready to enjoy, eat them chilled or heat them up in the microwave or oven.
Can I Freeze These Orange Muffins?
Yes, definitely! These muffins will freeze well for up to 3 months.

I like to flash-freeze muffins before storing them in a container or Ziploc bag, which ensures that they don't stick together.

Thaw your frozen muffins either in the refrigerator or at room temperature and then reheat them in the microwave for 20-30 seconds or in the oven till heated throughout. Just make sure that you don't leave them too long in the microwave or oven as they could dry out.
What Can I Do If My Muffins Become Stale?
There's nothing worse than throwing away food – especially delicious baked goods that you've lovingly made yourself!

If you've ever experienced leftover muffins going stale before they could be enjoyed, then you may want to try this little trick which involves sprinkling some water over the tops of your muffins before placing them in a paper bag or in a dish covered with aluminium foil to heat up in the oven for just 10 seconds. The idea is that the moisture created from the steam in the paper bag or covered dish should help to soften the muffins and add some moisture.

If that fails, then consider using your stale muffins to make:
Muffin bread pudding;
A muffin crumble topping for something like a cobbler or a trifle. Simply crumble your stale muffins, adding some brown sugar and butter for toasting in the oven before assembling your dessert; or
Add toasted crumbled muffin bits to a bowl of vanilla ice cream!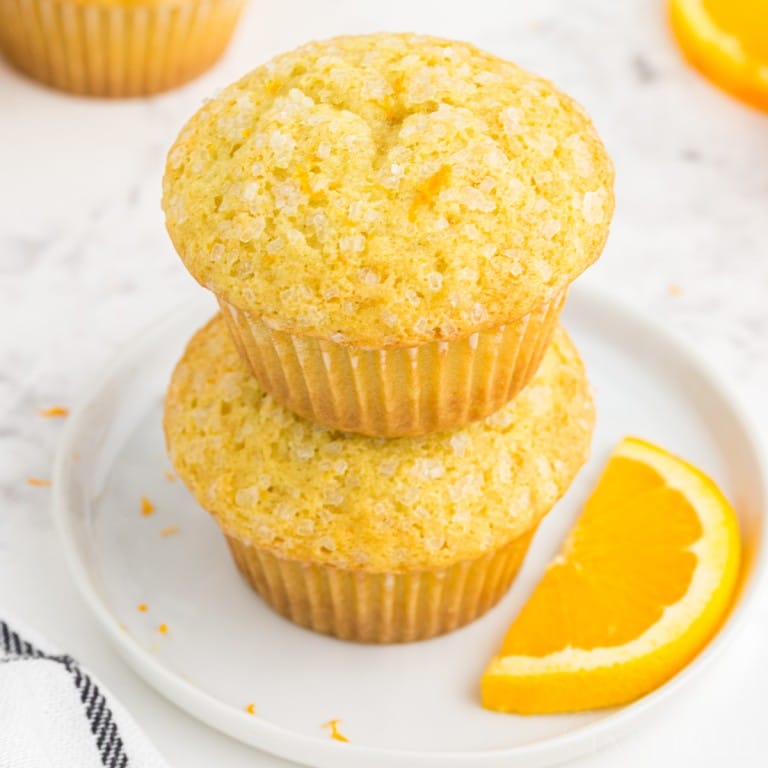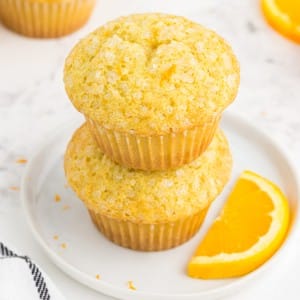 Orange Muffins
Orange Muffins are soft, moist, and fluffy sweet muffins – packed with fresh orange flavor and perfect as a sweet snack or addition to the breakfast table!
muffins
Ingredients
1 cup granulated sugar
1 tablespoon orange zest
⅓ cup freshly-squeezed orange juice
½ cup vegetable oil
½ cup buttermilk
3-4 drops orange oil
2 large eggs
2 cups all-purpose flour
½ teaspoon salt
1 ½ teaspoon baking powder
Extra coarse sugar for topping
Instructions
Preheat oven to 350 degrees Farenheit.

In a large mixing bowl, combine zest of two oranges and the granulated sugar. Use your fingers or the back of the spoon to really mash the zest into the sugar and incorporate the fragrance from the zest into the sugar.

Beat in orange juice, oil, buttermilk, eggs, and orange oil until thoroughly mixed.

Sift together dry ingredients: flour, salt, and baking powder.

Gently fold the flour mixture into the wet ingredients. Stir just until wet and dry ingredients are mostly stirred. It is fine to have some streaks of flour left in the mixture.

Divide the batter into greased or parchment lined muffin tins.

Sprinkle sanding sugar over the top of the muffins if desired.

Bake for 20-25 minutes or until toothpick inserted into the center of the muffins comes out clean.

Remove from oven and cool in pan for just a couple minutes before removing from the tin to cooling rack.
Nutrition
Calories: 241kcal | Carbohydrates: 34g | Protein: 3g | Fat: 10g | Saturated Fat: 2g | Polyunsaturated Fat: 5g | Monounsaturated Fat: 2g | Trans Fat: 0.1g | Cholesterol: 28mg | Sodium: 171mg | Potassium: 61mg | Fiber: 1g | Sugar: 18g | Vitamin A: 72IU | Vitamin C: 4mg | Calcium: 50mg | Iron: 1mg