These homemade blackberry muffins are moist and fluffy, with a crisp top of cinnamon and sugar. The cloves in the recipe accent the deep flavor of the blackberries. Please slather with butter and enjoy!
This blackberry muffin recipe is perfect for both wild or farm fresh blackberries. I like to mix up a batch of muffins especially when I can pick just a bit of berries and don't have enough for a Blackberry Pie, which is my favorite pie, of course. These make a lovely breakfast alongside something like a Cheesy Egg Bake or as an accompaniment to a bowl of soup.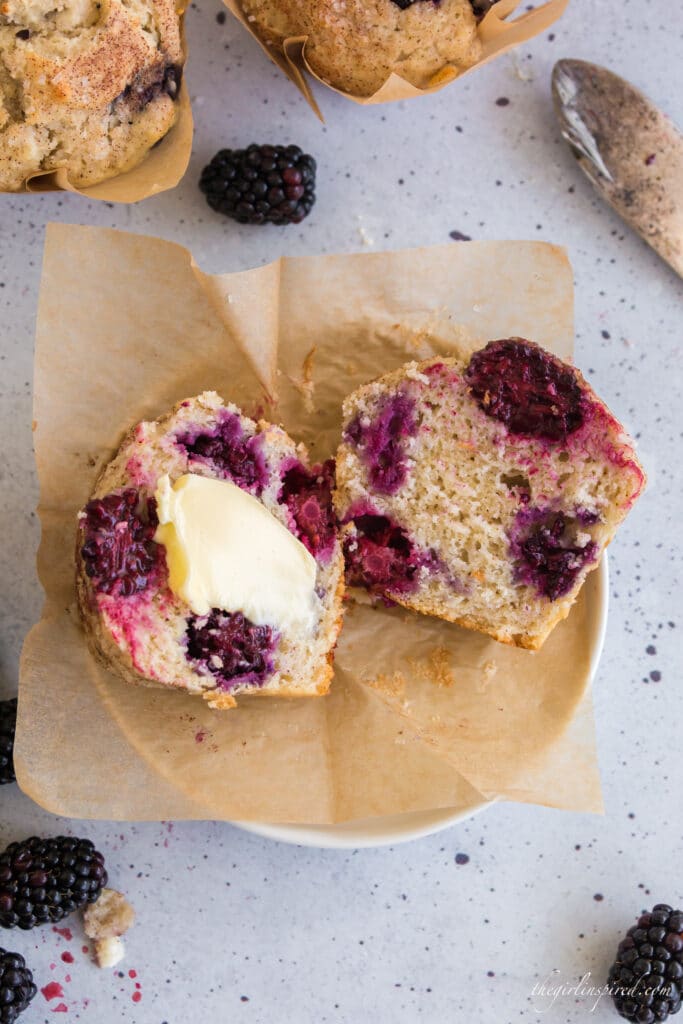 Let's mix up a batch.
Blackberry Muffin Ingredients:
2 eggs
⅔ cup vegetable oil
2 cups milk
⅔ cup granulated sugar
4 cups all-purpose flour
1 teaspoon salt
2 tablespoons baking powder
½ teaspoon ground cloves
¼ teaspoon cinnamon
2 cups fresh ripe blackberries
cinnamon and sugar and/or course sugar sprinkles for the muffin tops
How to Make the Muffins:
The blackberry muffins should be mixed by hand so that they don't get over-stirred and remain light and fluffy. Preheat the oven to 400 degrees Farenheit. In a large bowl, whisk together milk, sugar, oil, and eggs. In a separate bowl, combine flour, salt, baking powder, cloves, and cinnamon. Gently stir the flour mixture into the milk mixture just until combined.
Fold in the blackberries. Fill greased or paper-lined muffin tins ⅔ of the way full.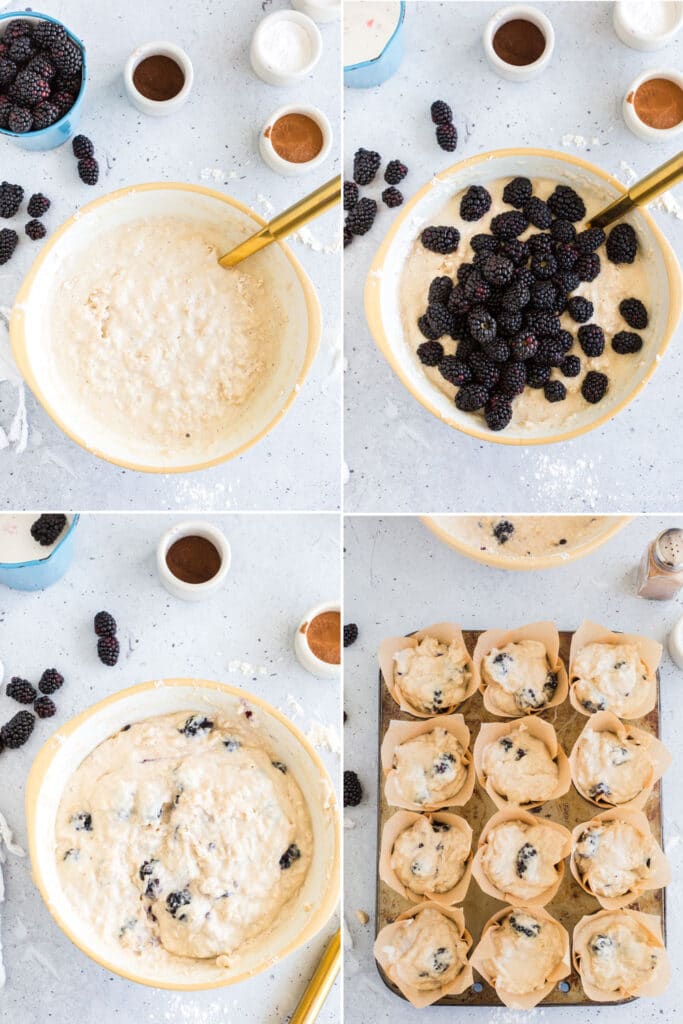 Top the muffins with cinnamon and sugar. Coat them liberally – the cinnamon/sugar makes such a yummy muffin top! You can also sprinkle liberally with course sugar crystals. The toppings will stick to the wet muffin batter and should be applied before baking.
Now, pop the muffins into the oven and bake at 400 degrees for about 15 minutes. The blackberry muffins should be cooked through but only just slightly browned.
Yummmmmm! Oh, these are so moist and fluffy and full of delicious flavor. Slather on some butter and enjoy them warm!
Leftover muffins can be stored in an airtight container for 2-3 days or in the freezer for 2-3 weeks. Thaw at room temperature and microwave for 10-15 seconds to heat for butter.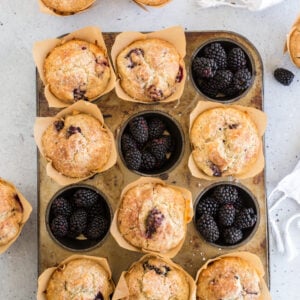 Homemade Blackberry Muffins
Ingredients
2 eggs
⅔ c. vegetable oil
2 c. milk
⅔ c. granulated sugar
4 c. flour
1 tsp. salt
2 Tbs. baking powder
½ tsp. ground cloves
¼ tsp. cinnamon
2 c. fresh ripe blackberries
cinnamon and sugar for sprinkling over the top
Instructions
Whisk together eggs, oil, milk, and sugar.

In a separate bowl, combine dry ingredients.

Combine dry ingredients with wet ingredients and stir just until moistened.

Fold in blackberries.

Fill paper-lined muffin tins ⅔ full with batter.

Sprinkle cinnamon and sugar over the tops of muffins before baking.

Bake at 400 degrees for about 15 minutes.
Nutrition
Calories: 255kcal | Carbohydrates: 41g | Protein: 6g | Fat: 8g | Saturated Fat: 6g | Cholesterol: 15mg | Sodium: 207mg | Potassium: 187mg | Fiber: 3g | Sugar: 8g | Vitamin A: 877IU | Vitamin C: 6mg | Calcium: 139mg | Iron: 3mg