These juicy and tender crockpot steak bites prepared in the slow cooker are not only simple, but delicious and perfect for busy days! It's great when you are wanting a juicy steak but would rather not fire up the grill. Plus, they are topped with a flavorful gravy that will have you wanting seconds!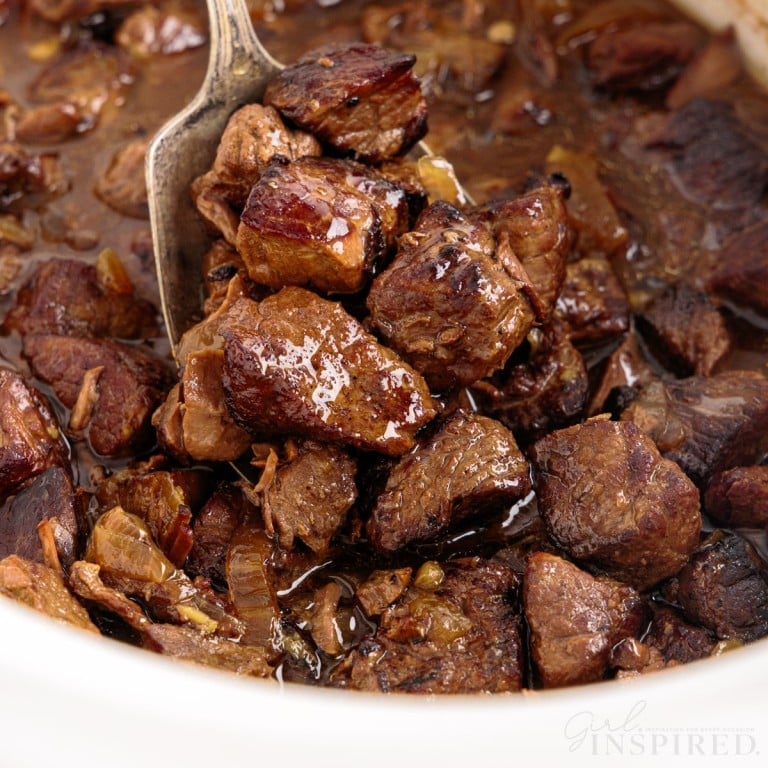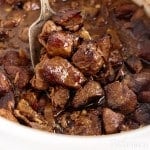 Crockpot steak bites make the ultimate comfort dinner that is simple, easy on the wallet, tender, juicy, and has such a rich flavor! This main course meal can be served with just about any side dish and is one that the whole family will enjoy!
You can think of this dish as the lazy girl's attempt to create garlic butter steak bites! While some of the ingredients used are the same, when cooked in the crockpot, they turn into comfort food. The best part is that you can set and forget it, which is my favorite way to cook during the week. Even though filet mignon (beef tenderloin) is the most tender cut of meat, we like using a more affordable top sirloin for these crockpot steak bites. Because they're cooked low and slow, each bite is fork tender.
Crock-pot steak bites go great over creamy mashed potatoes, cooked egg noodles, or with rice We also like serving these alongside brown sugar honey glazed carrots, Chinese buffet green beans, instant pot corn on the cob, and buttermilk cornbread. If you like slow cooker meals on busy nights, be sure to try my Mississippi pot roast, creamy chicken tortilla soup, or crockpot carnitas. The entire family will love them.
Why You'll Love This Crockpot Steak Bites Recipe
A family favorite that is an easy weeknight meal.
Can easily be doubled for larger crowds.
Makes excellent leftovers the next day.
Only requires a handful of ingredients.
What Ingredients do I Need for Slow Cooker Beef Cubes?
top sirloin steak
salted butter
canola or vegetable oil
minced garlic – could also swap for garlic powder
onion
beef broth
salt
coarse black pepper
Worcestershire
cornstarch dissolved in a teaspoon of water
Before You Start: Allow the steak to sit out 30 minutes prior to cooking. Then cut into bite-sized pieces.
How to Make Crockpot Steak Bites
PREP: Heat the butter in a cast iron skillet and sear the steak bites, adding a single layer at a time. Work in batches to cook quickly over medium-high heat.
ADD INGREDIENTS TO CROCKPOT: Place the onions in the bottom of the crock pot, followed by the seared steak. Whisk together the remaining ingredients and pour over.
COOK: Cover and cook on low for 6 to 8 hours or on high for 3-4 hours. Serve over potatoes, noodles, rice, or with your favorite side.
If you are short on time, you can skip the searing step. However, this does lock in the flavor and adds color. Either way, you will still end up with tender steak bites.
Work in batches when searing to avoid overcrowding the pan.
Make sure the skillet is nice and hot before adding the butter and steak to get the best sear.
If desired, you can use beef stew meat instead of sirloin.
To make a thicker gravy, add an additional spoonful or two of cornstarch slurry (mix the cornstarch and water in a small bowl) when it's down to the last hour of cooking.
Fun Fact
Sirloin is actually one of the leaner parts when it compares to other cuts of meat.
Variations
To make these more traditional steak bites, strain the juices off before serving and omit the cornstarch slurry used to make the gravy. Use a steak sauce for dipping.
Another way to make garlic steak bites is to just sear them in a large skillet with butter after seasoning and serve immediately.
Canned or fresh mushrooms taste delicious in this recipe.
Use the same ingredients and swap the sirloin for chuck roast, then shred before serving.
You can also use store bought brown gravy mix when serving.
How to store steak bites?
Leave leftovers in an airtight container for 2 or 3 days. These can also be frozen for up to 1 month and reheated on the stove top.
Can you put raw steak in a slow cooker?
Yes! The steak will cook all the way through, it will just a lack a "crust" on the outside from not searing.
More Delicious Main Course Meals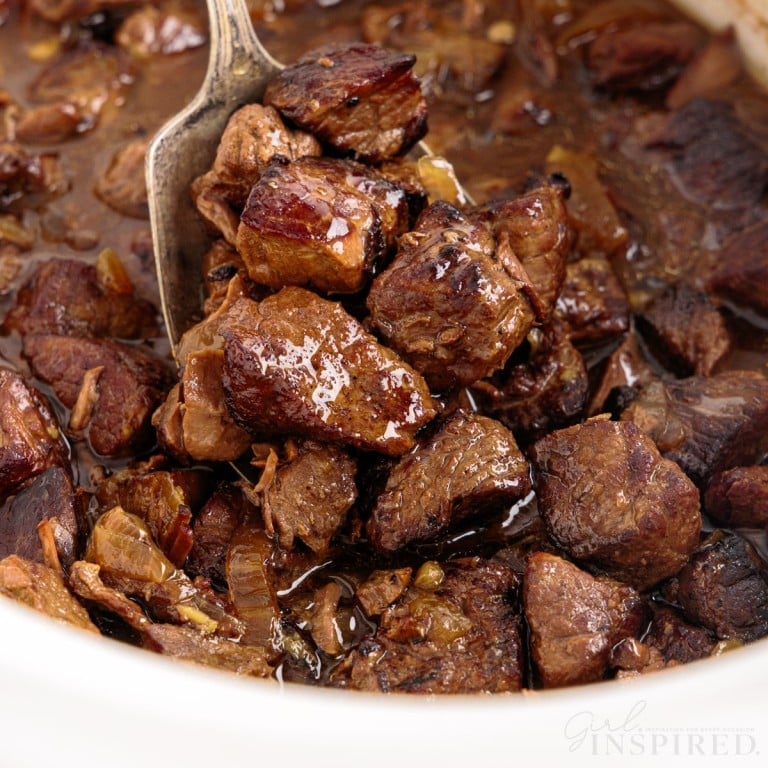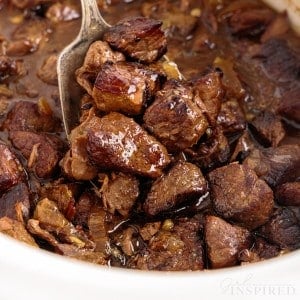 Crockpot Steak Bites
These juicy and tender crockpot steak bites prepared in the slow cooker are not only simple, but delicious and perfect for busy days! It's great when you are wanting a juicy steak but would rather not fire up the grill. Plus, they are topped with a flavorful gravy that will have you wanting seconds!
Ingredients
1.5-2 pounds top sirloin steak cut into pieces
5 tablespoons salted butter divided
1 tablespoon canola or vegetable oil
3-4 cloves minced garlic
1 small white onion sliced (about 1 cup)
1 cup beef broth
½ teaspoon salt
1 teaspoon coarse black pepper
1 teaspoon Worcestershire
1 teaspoon cornstarch dissolved in 1 teaspoon of water
Instructions
Set out steak at least 30 minutes before cooking. Cut into bite-sized pieces.

Heat 2 tablespoons of butter and 1 tablespoon of oil in a large cast iron or non-stick skillet. Over medium-high heat, sear the steak pieces, adding a single layer of meat to the pan at a time, and allowing ample room around the steak. Work in batches to quickly brown on all sides, and then remove the seared steak pieces.

In a crockpot, layer the sliced onions and then the seared steak over the top.

Whisk together the garlic, beef broth, salt, pepper, Worcestershire, and cornstarch and pour over the steak.

Cut the remaining butter into pieces and spread out over the top of the meat.

Cover and cook on HIGH for 3-4 hours or on LOW for 6-8 hours.
Notes
Storage: Store in an airtight container in the refrigerator for 2-3 days or freeze up to 1 month. Notes: If you're in a pinch for time, simply add everything to the crockpot. Searing the meat adds color and helps to lock in flavor, but it is not necessary. You will still have a tender, flavorful meal. A hot skillet works best to quickly sear the outside of the meat. Work in batches so that the meat isn't overcrowded. Top sirloin works nicely for this recipe and is a mid-level steak choice for price. You can also use a stew meat for this recipe since it cooks for a long time and those tougher cuts of meat will break down into tender pieces. If you would like to further thicken the gravy, mix an additional teaspoon or two of cornstarch into a bit of water and stir into the crockpot during the last hour of cooking.
Nutrition
Calories: 393kcal | Carbohydrates: 4g | Protein: 39g | Fat: 24g | Saturated Fat: 12g | Polyunsaturated Fat: 3g | Monounsaturated Fat: 7g | Trans Fat: 1g | Cholesterol: 138mg | Sodium: 743mg | Potassium: 712mg | Fiber: 1g | Sugar: 1g | Vitamin A: 442IU | Vitamin C: 3mg | Calcium: 60mg | Iron: 3mg