The perfect picnic or potluck salad - this artichoke rice salad combines Rice a Roni, bacon, artichoke hearts, and green olives in a crunchy, flavorful summer salad.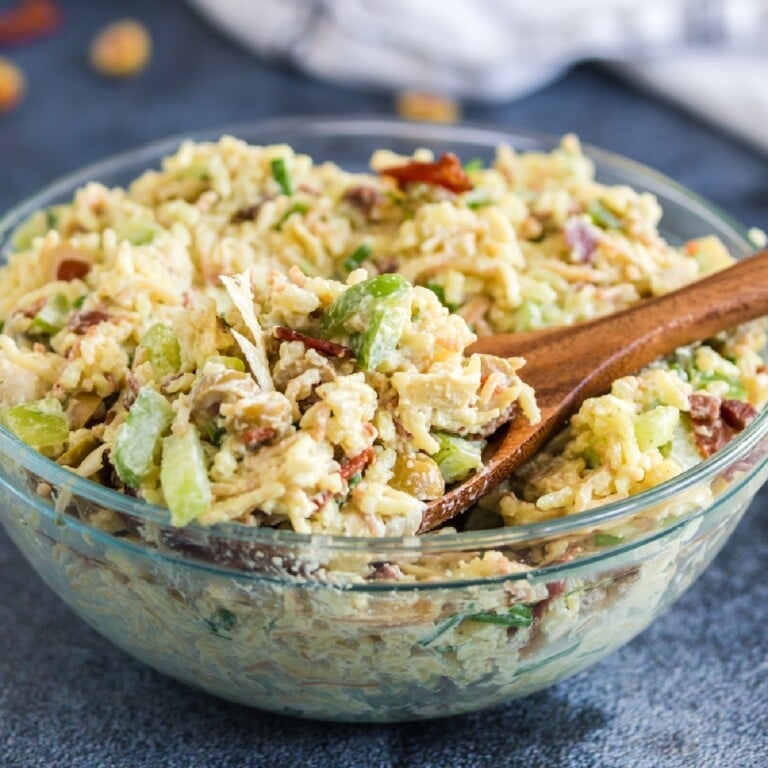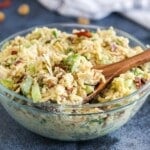 This artichoke rice salad is the perfect picnic or potluck salad. It combines Rice a Roni, bacon, artichoke hearts, and green olives in a crunchy, flavorful summer salad. The vegetables can be chopped, the rice and bacon can be cooked, the whole salad can be prepared ahead of time and chilled, easily ready when you are!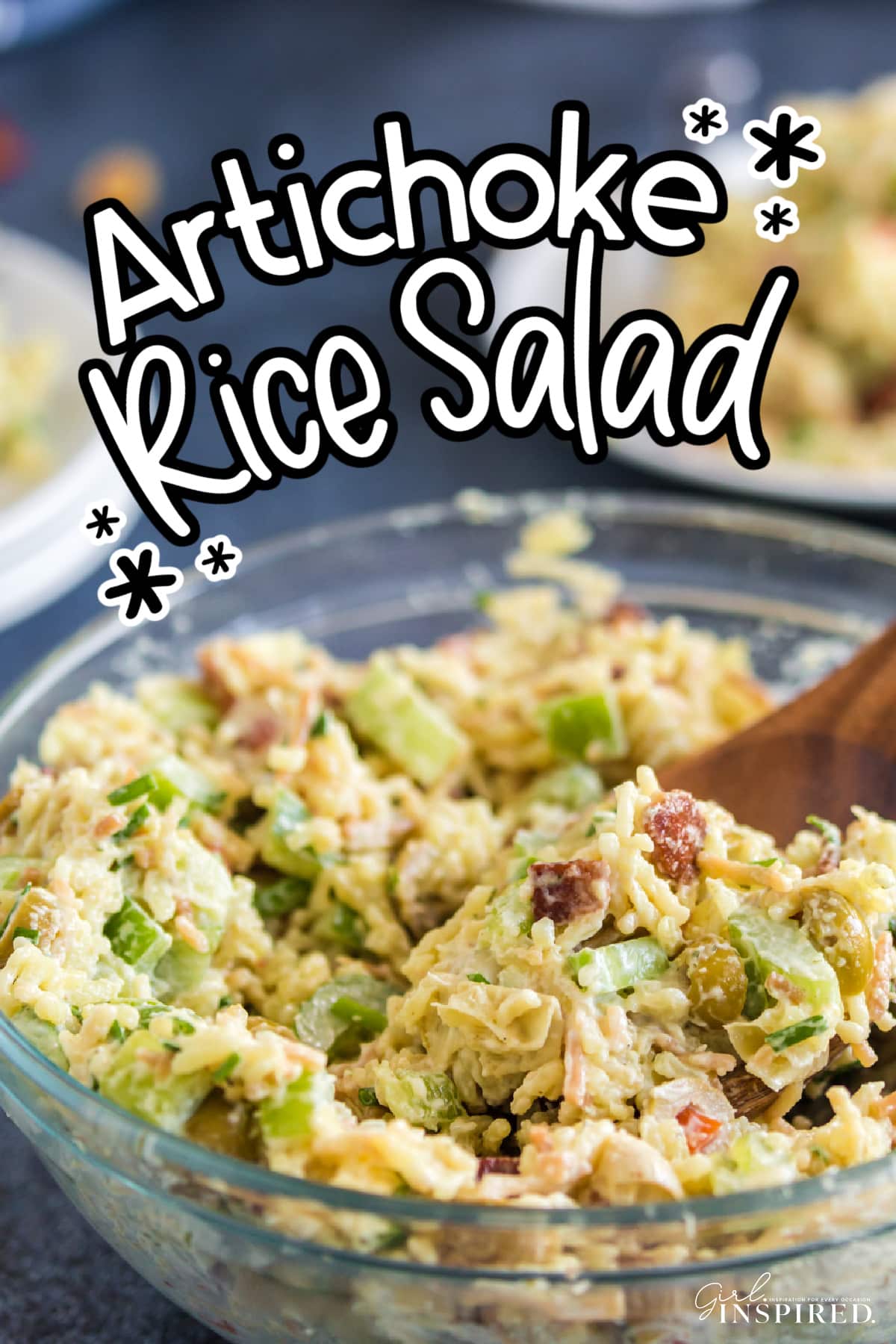 We love this artichoke salad made with Rice a Roni because it's refreshing and easy to make, but it also has substance to it so it makes a hearty side dish or a light main meal. The crunch from the green bell pepper and celery, along with the chicken-flavored rice, create a texture party in your mouth.
We often add this to the menu when we have a large family gathering or holiday lunch. It goes perfectly with Southern fried chicken, fluffy pistachio pineapple jello salad and a glass of strawberry sangria.
Jump to:
🫒 Ingredients:
1 pkg. Rice-a-Roni (chicken flavor), prepared according to package instructions
3-ounce jar pimento-stuffed green olives, drained and sliced
6-ounce jar marinated artichoke hearts – drain artichokes and chop them into bite sized pieces
1 cup diced celery
1 cup diced green pepper – red, orange, or yellow bell peppers (or a combination) will also work
½ cup sliced green onions or chives – my best tip for quickly slicing green onions or chives is to use a pair of kitchen scissors or shears – so quick to just hold the bunch in your hand and snip!
6 slices (about ½ pound) bacon, cooked and crumbled – cook this however you like, we love this easy air fryer bacon method.
1 cup mayonnaise – I recommend Best Foods mayo, but you can use a reduced-calorie mayo. I wouldn't use Miracle Whip or a sweeter mayonnaise.
1 tablespoon apple cider vinegar – this really gives the salad some bright zing like you would taste in a bean salad, you can substitute lemon juice, rice vinegar or white vinegar
For a full list of ingredients and their measurements, 📋 please view my printable recipe card at the bottom of the post.
Optional Garnish:
Reserve a few of the sliced olives or a sprinkle of bacon and chives to garnish the top of the salad bowl for serving!
Substitutions and Variations
Using packaged rice mix makes it easy to get the seasonings right, but you can also make your own rice and vermicelli mix. Sauté rice and vermicelli in olive oil or butter, then add chicken broth and seasonings and cook til tender.
Curried rice salad – add 1 teaspoon of curry powder to the mayonnaise and stir into the salad.
🔪 Instructions:
PREP: This salad is simple to make. It's a matter of prepping all the ingredients and simply stirring them together! You can cook rice and/or bacon 1-2 days in advance (store in the fridge) and dice all of the vegetables up to a day ahead.
Step 1: Prepare the Rice a Roni according to the package directions. This is typically done in a large skillet on the stovetop. You'll toast the rice and vermicelli in some butter, then add water and seasonings and simmer until the rice is done. Allow the rice to cool before moving on to the next step. Please note: the ingredients for the Rice a Roni (butter, water) are not included in this recipe ingredient list.
Step 2: Add all of the other ingredients to a large bowl with the rice mixture and stir until well combined. If you are not serving the salad shortly after assembling, you may wish to stir the bacon in just before serving so that it stays extra crispy.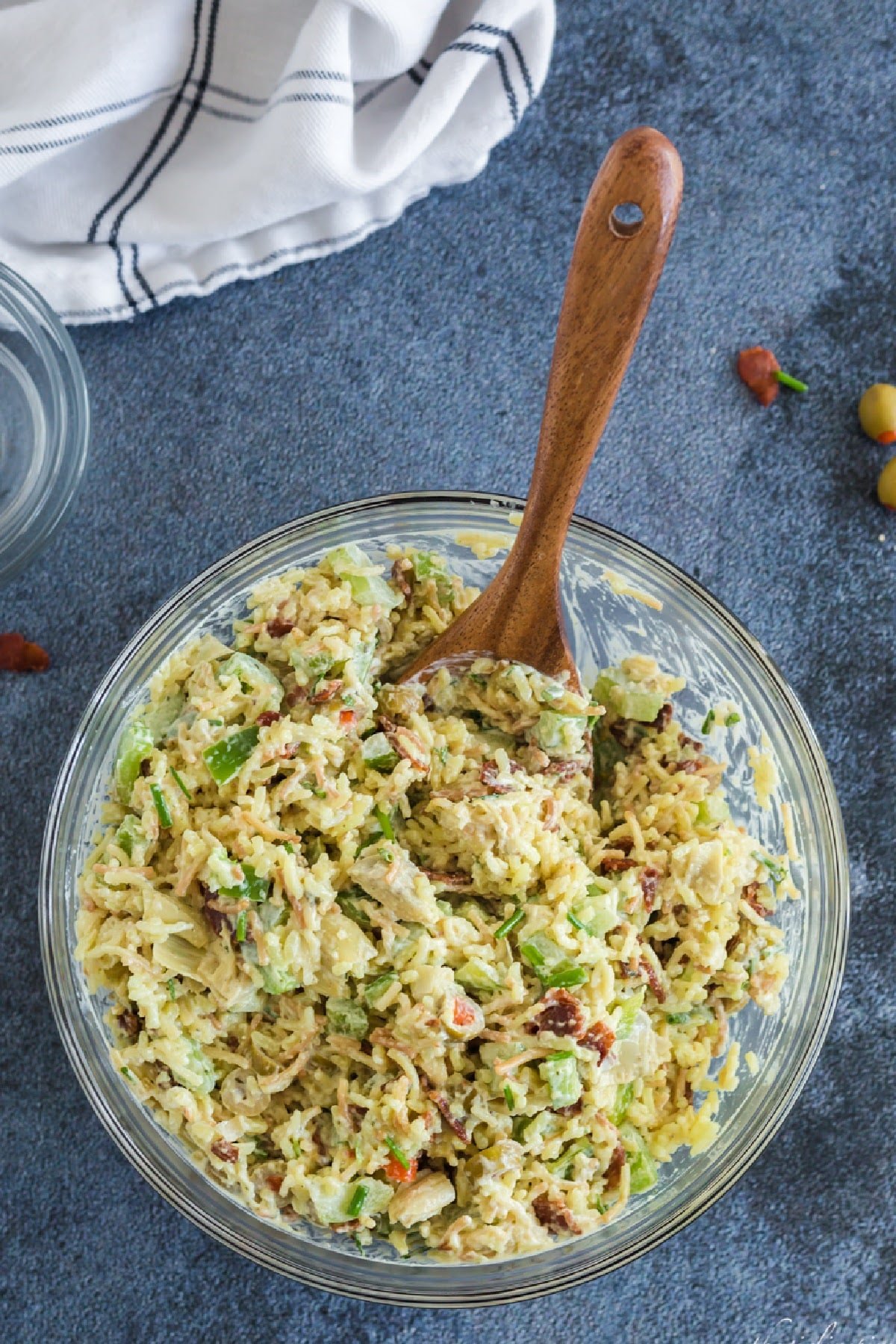 Step 3: When your ingredients are combined, cover the rice a roni salad with plastic wrap and chill for 1-2 hours. The salad is delicious right when it's mixed, but it's even better extra cold.
I like to slice the bacon into pieces prior to cooking it, but you can also crumble the bacon after cooking. If you freeze your bacon, thaw it just a tad and then chop it into pieces right off the whole frozen slab – super easy trick I learned from Food Network years ago.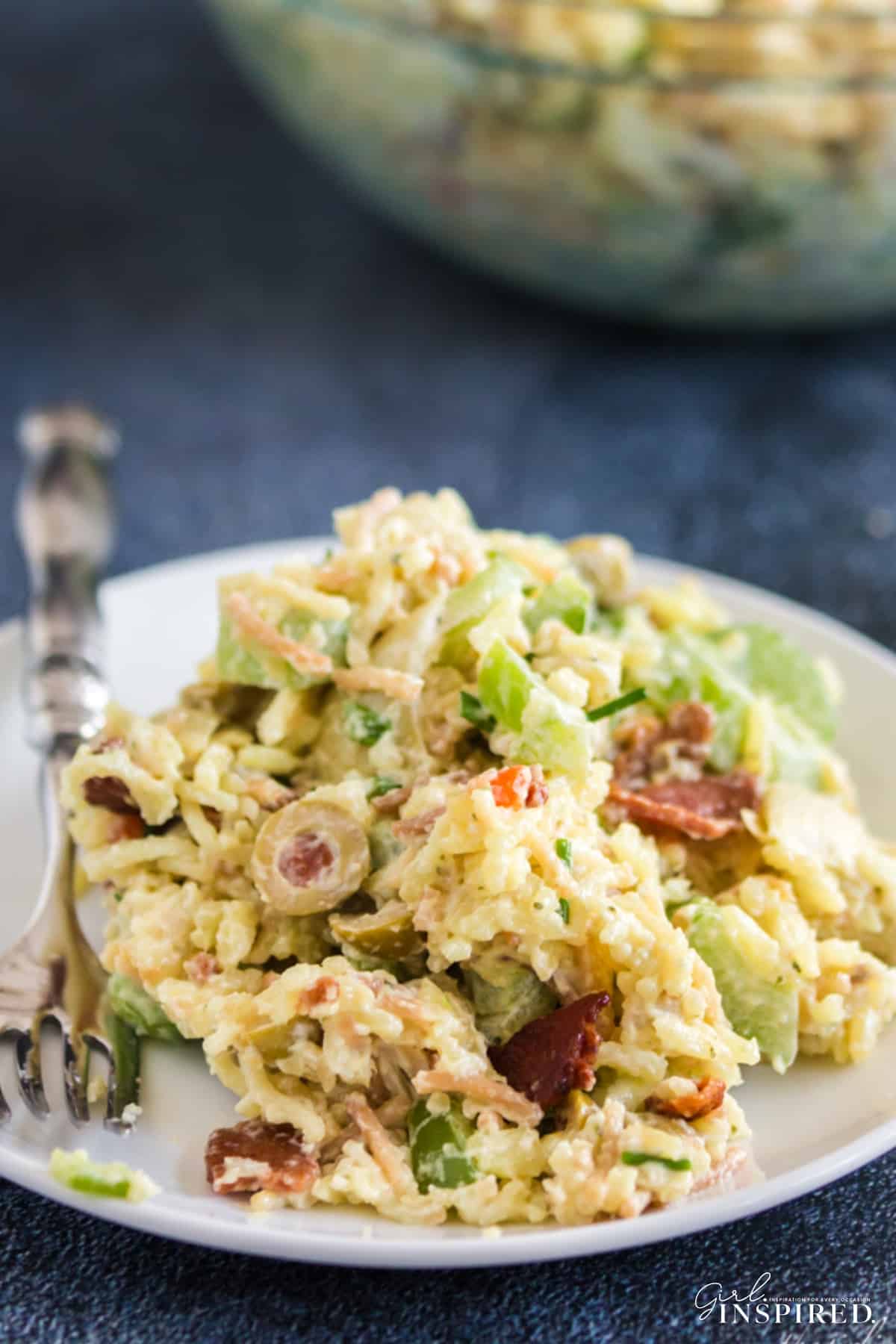 GARNISH/SLICE/SERVE: Transfer the chilled rice salad to a serving bowl and sprinkle a bit of bacon or sliced olives over the top for garnish.
The Rice a Roni artichoke salad will keep in the refrigerator for up to a week.
Remember that this is a great make-ahead recipe. You can prep everything a day or two in advance or you can even mix up the entire salad up to 2 days ahead, though I would recommend stirring in the bacon just before serving so that it maintains its crispness.
After cooking, transfer the rice to a medium bowl and place in the refrigerator to cool. Be sure that has cooled completely before mixing in the other ingredients.
If you tried this Artichoke Rice Salad or any other recipe on my website, please please leave a 🌟 star rating and let me know how you liked it in the 📝 comments below.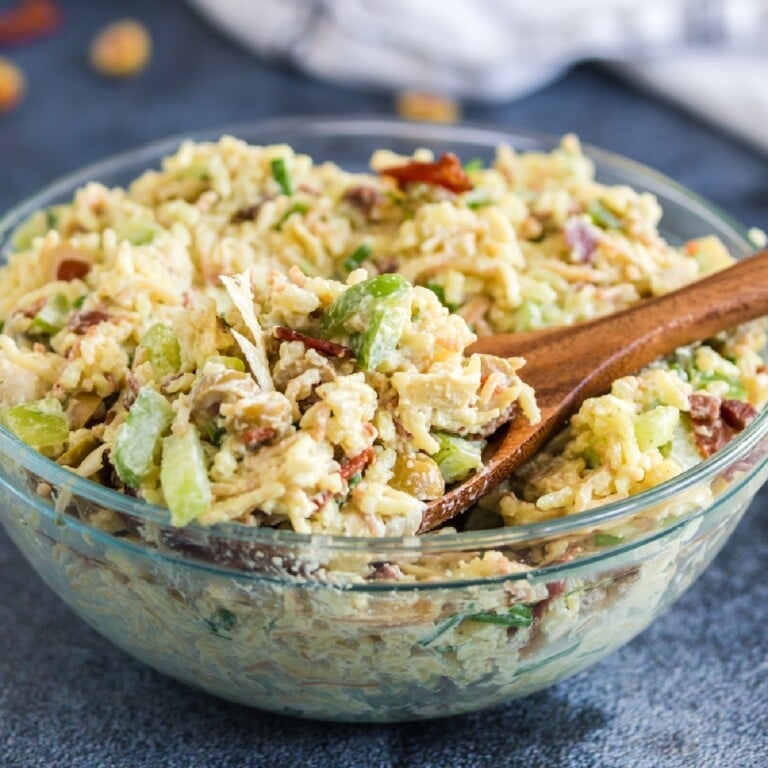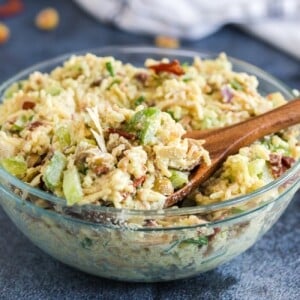 Artichoke Rice Salad
The perfect picnic or potluck salad – this artichoke rice salad combines Rice a Roni, bacon, artichoke hearts, and green olives in a crunchy, flavorful summer salad.
Ingredients
1 6.9 ounce box Rice-A-Roni (chicken flavored) prepared and cooled
3 ounces pimento stuffed green olives sliced
6 ounces marinated artichoke hearts drained and chopped
1 cup celery chopped
1 cup green bell pepper chopped
½ cup green onions or chives sliced
½ lb. bacon cooked and crumbled
1 teaspoon fresh parsley chopped
1 cup mayonnaise
1 tablespoon apple cider vinegar
Instructions
Prepare Rice-a-Roni according to the instructions on the box. Cool completely.

Cook and crumble bacon.

Chop all veggies.

Mix together all ingredients. Cover and chill for 1 hour before serving.
Nutrition
Calories: 406kcal | Carbohydrates: 39g | Protein: 6g | Fat: 24g | Saturated Fat: 5g | Polyunsaturated Fat: 10g | Monounsaturated Fat: 7g | Trans Fat: 0.1g | Cholesterol: 20mg | Sodium: 418mg | Potassium: 153mg | Fiber: 2g | Sugar: 1g | Vitamin A: 315IU | Vitamin C: 14mg | Calcium: 30mg | Iron: 1mg