Most people have a strong reaction to this recipe – whether you call it Watergate salad, Pistachio Fluff, or "that green Cool Whip pistachio pudding thing that granny makes for every potluck"…lol…personally, it's one of my FAVORITES.

There are some flavors that will take you straight back to your childhood with sweet nostalgia upon the first bite.  This Pistachio Pineapple Watergate Salad does that for me.  In an instant, I'm at my grandpa's ranch, with a paper plate, eating Grandma Clara's go-to favorites.  I'm certain that this fluffy green potluck favorite will take you back as well.  It is so very simple to make – just 5 ingredients and a quick stir – and this delicious side dish is ready to go!  (Ha!  I say side dish like I don't just sit down with a fork and eat this as my main meal!)
My mom has this recipe written out with either Pistachio pudding mix or Lime Jell-o, but the pistachio is what's familiar to me.  The pistachio mix comes with little pistachio bits, but I like to sift them out before mixing up the salad.  Once you've mixed all the ingredients together, transfer the salad immediately to a serving dish and refrain from further stirring – this will keep it looking fluffy and smooth.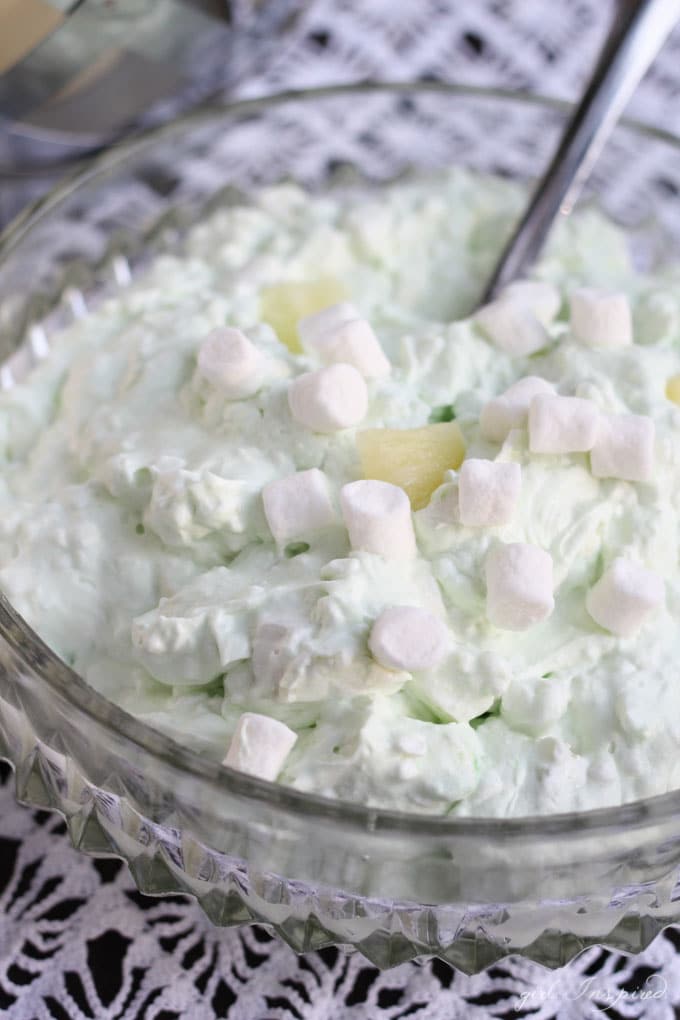 Pistachio Pineapple Watergate Salad  Print this Recipe!
INGREDIENTS:
8 oz. tub Cool Whip (Lite or regular)
8 oz. (small can) crushed or chopped pineapple, drained
16 oz. container cottage cheese (small curd preferred)
2 cups mini marshmallows
4 oz. pkg. Pistachio flavored pudding mix (can substitute lime gelatin),  unprepared
INSTRUCTIONS:
Sift pistachios from pudding mix (optional).
Place cottage cheese in a large mixing bowl.
Sprinkle pudding/jello mix over cottage cheese and stir togther.
Drain pineapple; stir into cottage cheese mixture.
Fold in Cool Whip, then marshmallows.
Transfer immediately to serving bowl and cover with plastic wrap.
Refrigerate 1 hour and serve.
ENJOY!!