A fruity and fragrant white wine with peaches, mango, and orange flavors.
It's the taste of summer in your glass. A fragrant fruity blend of fresh peaches, mango, and orange in this delicious summer white peach sangria. Sip a glass of this white sangria to cool down or enjoy an evening with friends.
Sangria is a fruit infused wine beverage derived from Spain where fruits are muddled with and soaked in wine. You can use a variety of fruits, sweeteners, other liquors, and different types of wine to make sangria – the options are limitless. Today's white sangria is infused with fresh peaches and mangos, and mixed with a peach, mango, and orange puree for the perfect summer drink.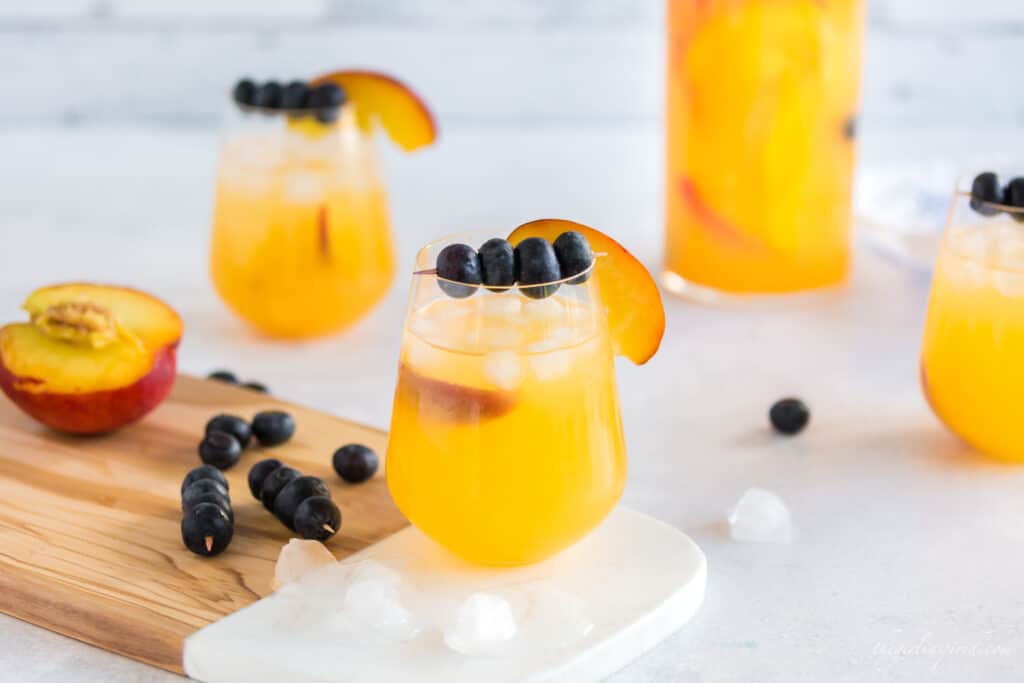 It's important for the mix of ingredients to blend together and for the wine to absorb the flavor from the fruit added to it. Sangria is best if soaked together overnight, but give it at least a few hours to meddle together if you don't have time to mix the drink the night before. Since peaches have a subtle flavor, this peach sangria recipe really does get better the longer the flavors sit together.
You can mix up this sangria for a small or larger group. Simple multiply the recipe. As given, the following ingredients will make 4-6 servings. Use fresh, ripe fruit for the best results.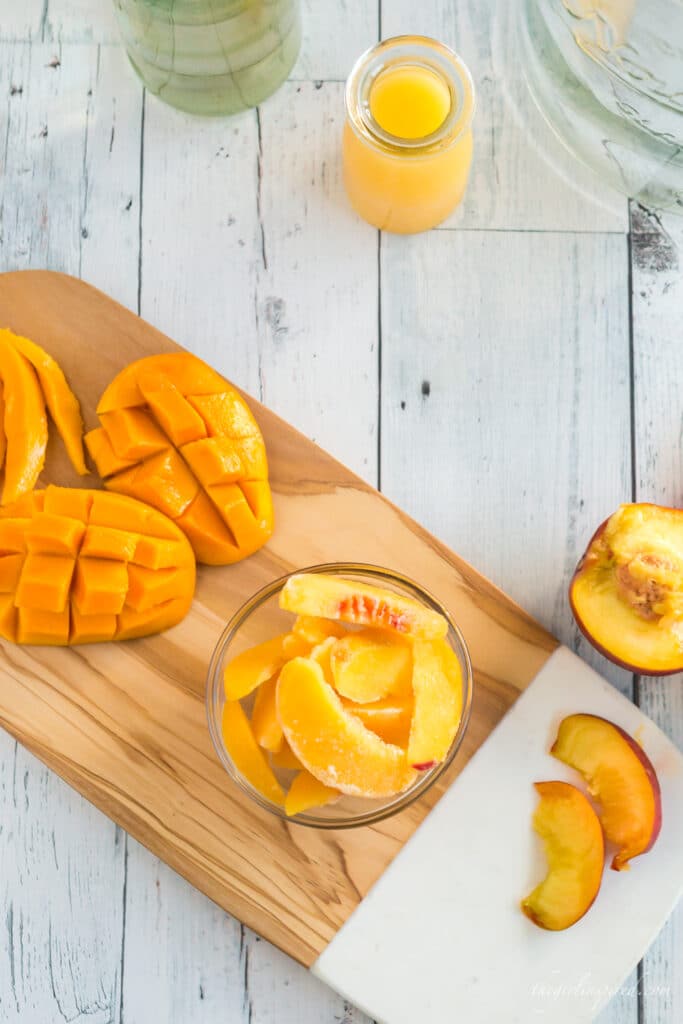 Peach Sangria Ingredients
½ cup triple sec liquor
1 750 ml bottle of white wine (Sauvignon Blanc, Moscato, or Pinot Grigio are popular choices)
½ cup orange juice
½ cup simple syrup
1 mango
3 fresh peaches
blueberries for garnish
club soda to top each glass if desired
How to Make the Sangria
Step 1: In a blender or food processor, pulse together one peach, ½ mango, and the orange juice into a puree. You can alternately muddle these ingredients together instead of making the puree.
Step 2: Slice the mango and two peaches, removing their pits. Place the sliced fruit in a pitcher or carafe.
Step 3: To the pitcher, add the fruit puree, simple syrup, triple sec, and full bottle of wine. Stir.
Step 4: Refrigerate overnight.
Step 5: Serve over ice, adding blueberries for garnish and a splash of club soda to each glass, if desired.
Leftover sangria will keep in the refrigerator for several days. Add ice and club soda to each individual serving rather than the pitcher/carafe so that you don't water down the sangria.
Peach sangria blends well with a variety of other fruit flavors. You can use peach schnapps instead of the triple sec. Substituting strawberries or raspberries for the mango or blueberries would also be lovely. If you like a stronger strawberry flavor, you might also enjoy this Strawberry White Sangria.
Summer Peach Sangria
A fruity and fragrant white wine with peaches, mango, and orange flavors.
Ingredients
1 750ml bottle white wine Sauvignon Blanc, Moscato, Pinot Grigio
½ cup triple sec
½ cup orange juice
½ cup simple syrup
3 peaches
1 mango
blueberries for garnish
1 cup club soda
Instructions
Puree or muddle together one peach, half of a mango, and orange juice.

Slice other half of mango and two peaches into neat slices. Add to pitcher or carafe.

In pitcher, combine fruit puree, fruit slices, triple sec, white wine, and simple syrup. Stir.

Refrigerate sangria overnight (or for at least several hours).

Serve sangria over ice with a splash of club soda. Garnish with blueberries.
Nutrition
Calories: 196kcal | Carbohydrates: 41g | Protein: 1g | Fat: 1g | Saturated Fat: 1g | Sodium: 27mg | Potassium: 265mg | Fiber: 2g | Sugar: 40g | Vitamin A: 659IU | Vitamin C: 28mg | Calcium: 16mg | Iron: 1mg