This easy boozy white wine slushie recipe is made with just 4 ingredients. Fresh peaches and flavored vodka enhance the sweet white wine.
This white wine slushie recipe is the best on a hot summer day! It's made with simple ingredients including pink moscato wine, vodka, fresh peaches and sugar. Take happy hour to a whole new level with this frozen drink that takes just 10 minutes to put together.
White wine slushies can be made with just about any fruit, including frozen fruit. When we make our red wine frozen wine slushie we use red moscato which goes best with mixed berries. Feel free to experiment with the flavors. You could also make a half and half version and use fresh strawberries for the other layer. These aren't just tasty, they look pretty too!
Blended drinks really beat the summer heat and are fun and festive for summer vacation or pool parties. Our other favorites are peach margaritas and Malibu piña coladas. We like to freeze up margarita popsicles, too, for really hot days.
Jump to:
🍑 Ingredients: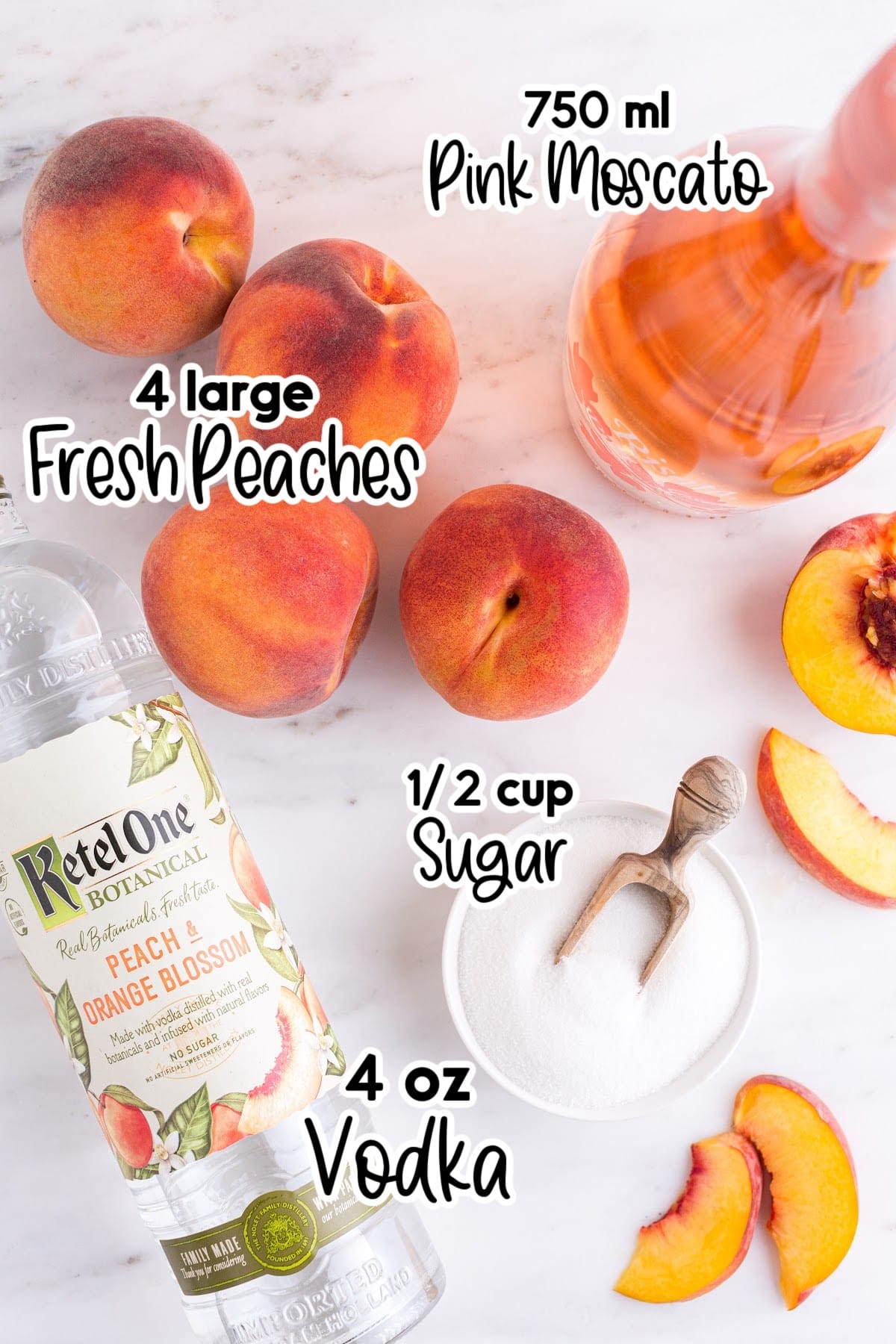 Moscato or sweet white wine – you'll need a 750mL bottle.
peaches – ripe fresh peaches are the best because they are sweeter, but you can also use frozen.
sugar – if you are using a dry wine, you will need to add more sugar.
vodka – we used Ketel One Botanical Peach and Orange Blossom vodka – you can also use a standard vodka like Grey Goose or Tito's
For a full list of ingredients and their measurements, 📋 please view my printable recipe card at the bottom of the post.
Optional Garnish:
Garnish your homemade wine slushie with a small skewer that has a peach cube and a raspberry for more color.
Substitutions and Variations
Simple syrup – if desired, use simple syrup in place of the sugar. Start with a ¼ cup then adjust as necessary.
Frozen peach slices – if you don't have fresh peaches you can use frozen.
Red wine – use our berry base recipe for frozen wine slushies if you prefer red wine.
Strawberry wine slushies – swap the peaches out for fresh or frozen strawberries. Substitute strawberry or regular vodka and adjust the sugar as needed.
Ice cube trays – If you don't have the space for a large dish, but want extra for later, divide the slushies into the tray. Before serving, blend them together. It's also the perfect way to top off slushies without using regular ice cubes, which will dilute the alcohol content.
Other white wines – you can use your favorite bottle of wine with this recipe. Sweeter wines work best with this fruit combination, but any bottle of fruity white wine will turn out great. If you choose sauvignon blanc or pinot grigio, you will want to increase the sugar or use more simple syrup since these are considered a dry white wine.
🔪 Instructions:
Step 1: Add the peaches, bottle of white wine, and vodka to your high powered blender.
Pro Tip: If you don't have a high-speed blender, use your food processor instead.
Step 2: Blend until all of the fruit is pureed. Strain the mixture through a fine mesh sieve to sift out the peach skin.
Step 3: Pour into a 9×13 dish.
Step 3: Freeze for at least 4 hours or overnight. Once the slushie mixture is solid, use an ice cream scoop to scrape and fill four stemless glasses.
SERVE: ​Garnish with more peaches and berries, then serve.
We like the frozen scoop and serve method because the perfect slushy texture forms and it's not diluted by using ice cubes.
During the summer months, we like using fresh fruit to make our adult slushies because the flavors are amazing. It's also a great way to use up fresh fruit if needed.
If using frozen fruit, consider adding simple syrup to sweeten it up – typically, frozen fruit from the grocery store has less flavor.
To serve these immediately, instead of freezing, blend with ice. This slushie will melt quicker and will be slightly diluted because of the ice.
Have loads of fresh peaches on hand? Definitely learn how to make a fresh peach pie or throw together this easy peach pretzel salad.
Fun Fact
Georgia makes the largest peach cobbler every year that measures 11 feet by 5 feet! -Farm Flavor
Recipe FAQs
How to store white wine slushies?
The slushy mixture will last for several weeks in the freezer. Once it's taken out of the freezer, it will melt. Uncontaminated slushies can be refrozen to be scooped later.
Can you make peach wine slushies ahead of time?
​Yes! Follow the recipe as instructed and leave the slushie mixture in the freezer until you are ready to serve. Do not store in the fridge, as they will melt.
More Wine Cocktails You'll Love
If you tried this White Wine Slushie Recipe or any other recipe on my website, please please leave a 🌟 star rating and let me know how you liked it in the 📝 comments below.
White Wine Slushie Recipe
This easy boozy white wine slushie recipe is made with just 4 ingredients. Fresh peaches and flavored vodka enhance the sweet white wine.
Ingredients
750 ml bottle of pink Moscato or sweet white wine
4 large fresh peaches pits removed, cut into chunks OR 4 cups frozen peaches
½ cup granulated sugar
4 oz. vodka we used Ketel One Botanical Peach and Orange Blossom vodka
Instructions
Add fruit, sugar, the entire bottle of wine, and vodka to a blender.

Blend until all of the fruit is finely pureed.

Pour mixture through a fine mesh sieve to sift out pieces of peach skin if you prefer.

Pour the mixture into a 9×13 freezer-safe dish.

Freeze for at least 4 hours or overnight.

After mixture has frozen through, use an ice cream scoop to scrape the mixture into frozen granules and fill four wine glasses.

Garnish with fresh peaches and/or berries and serve!
Notes
Mixture will keep in the freezer for up to two weeks. Once the slushie has been taken from the freezer, it will melt. Uncontaminated, melted slushies can be refrozen in a flat shallow dish for rescooping. Cover frozen slushie mixture with plastic wrap if storing in the freezer for more than 1 day. This will fill four stemless wine glasses. You could use simple syrup instead of the sugar – use about ¼ cup of simple syrup and then taste the mixture to test for sweetness and adjust. I recommend the freeze and scrape/scoop method over blending the wine with ice. You can control when to serve and when to consume the slushie if the mixture is prepared in the freezer. You can even pre-scoop the slushies, garnish and then pop in the freezer for a few minutes before serving. Or prepare the pan in advance and scrape and serve when guests arrive. I also like to keep extra water out of the mixture so that it doesn't dilute the wine or the flavor. Of course, for a no-wait method, go ahead and process the mixture through a sieve to remove seeds and then blend portions with ice for an immediate slushie – note that this type of slushie will melt much more quickly.
Nutrition
Calories: 381kcal | Carbohydrates: 45g | Protein: 1g | Fat: 0.5g | Saturated Fat: 0.03g | Polyunsaturated Fat: 0.1g | Monounsaturated Fat: 0.1g | Sodium: 30mg | Potassium: 319mg | Fiber: 2g | Sugar: 39g | Vitamin A: 489IU | Vitamin C: 6mg | Calcium: 23mg | Iron: 1mg