These 4 ingredient pink lemonade vodka jello shots are such a fun party treat! You only need 30 minutes to whip them up, then chill until they are set! Add your favorite garnish and they will steal the show.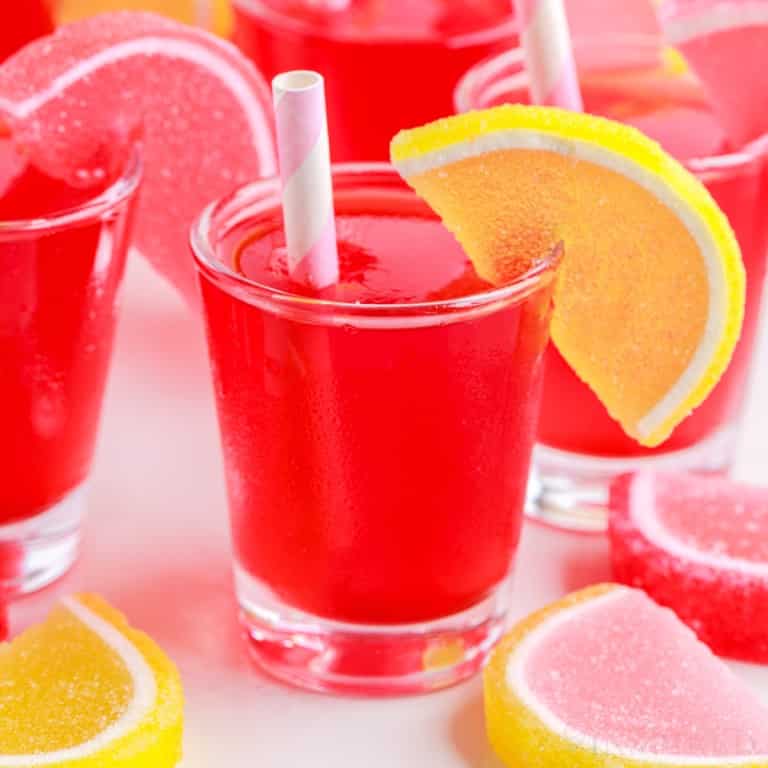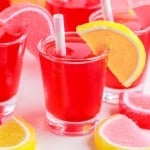 Prep these Pink lemonade jello shots in just 30 minutes and steal the show at your next party! They are the ultimate summer party must have, bursting with strawberry lemonade flavors. You'll only need 4 ingredients and some fruity gummy slices for garnish. The hardest part is waiting for them to set!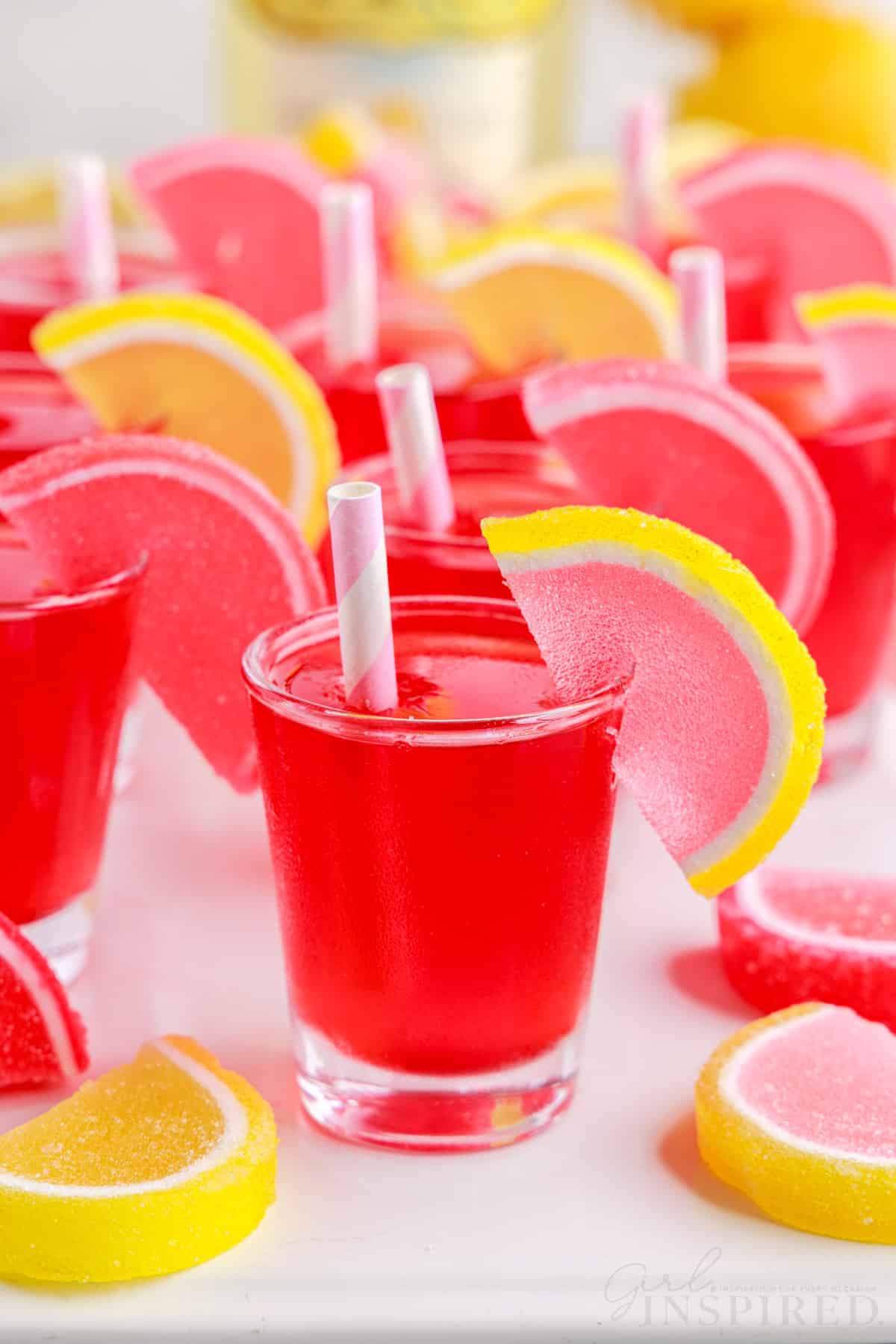 You are going to love these strawberry lemonade jello shots! They sort of remind me of my pink starburst cocktail, except in shooter form, which is always a hit at the party. Just remember when it's summer and so hot outside, you want to keep these babies chilled. If not, you will have a melted sticky mess! Another party fave are these TikTok inspired adult pineapple spears in Malibu. Not a jello shot, but each spear is infused with rum, giving all the tropical vibes!
Take full advantage of summer and grill up some grilled shrimp skewers, a tri tip, or serve this festive peach burrata salad before all the shots are gone! If you are looking for appetizer ideas, try Rotel Dip with Sausage or Loaded Beef Nachos, both are great when entertaining.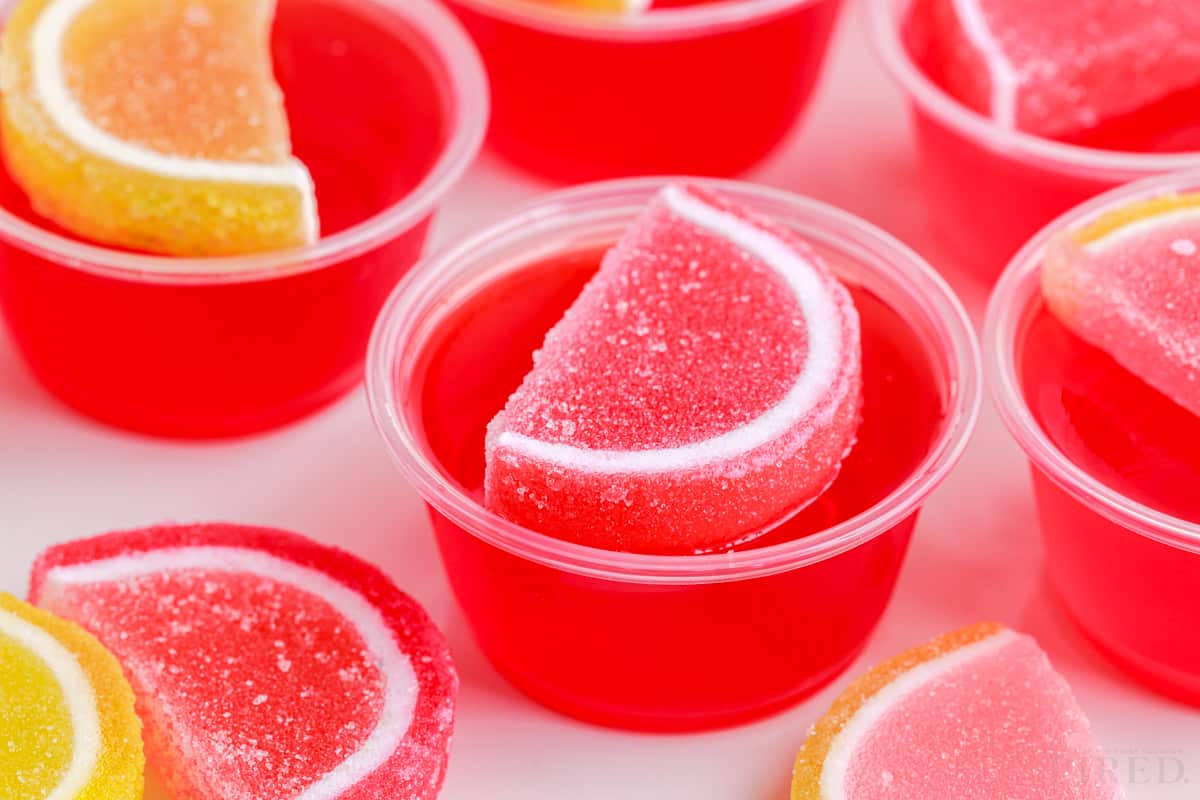 Jump to:
Why You'll Love This Easy Jello Shot Recipe
It only requires 4 ingredients.
The flavors scream summertime!
Shots can be made ahead of the party, so you aren't doing everything the same day.
Serves 24 people.
🍋 What Ingredients do I Need for Pink Lemonade Jello Shots?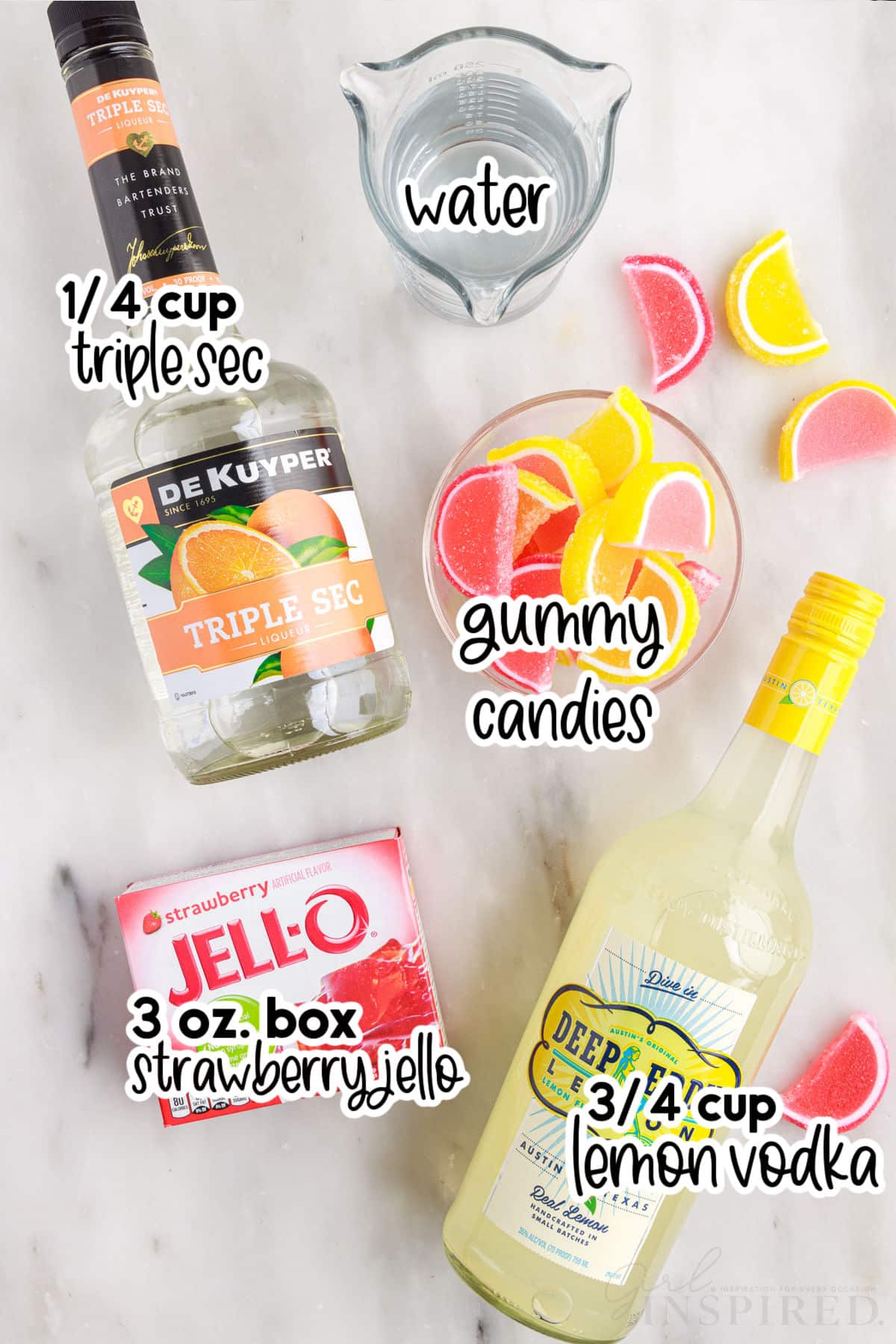 strawberry jello mix – this makes yummy strawberry lemonade jello shots, switch it up for raspberry or cherry if you'd like.
boiling water
cold water
Lemon Vodka – the flavored vodka really brings the flavors together and balances out the shots.
Triple Sec
Pink and yellow gummy fruit slices – these are for garnish, so totally optional but sure do look pretty!
For a full list of ingredients and their measurements, 📋 please view my printable recipe card at the bottom of the post.
Variations and Substitutions
Other garnish ideas: lemon halves, limes, a twisted lemon peel, whipped cream, or lemon wedges.
For a lighter shot, use more cold water and less vodka. Just be sure you have 4 cups of liquid.
To make the shots stronger, you can use up to 1.5 cups of vodka.
If desired, use a combination of strawberry and lemon vodkas.
While the color of the shots will be different, you can use a 3-ounce package of strawberry jello and a 3-ounce package of lemon jello.
🔪 How to Make Pink Lemonade Shooters:
PREP: Boil the water and have the shot glasses ready.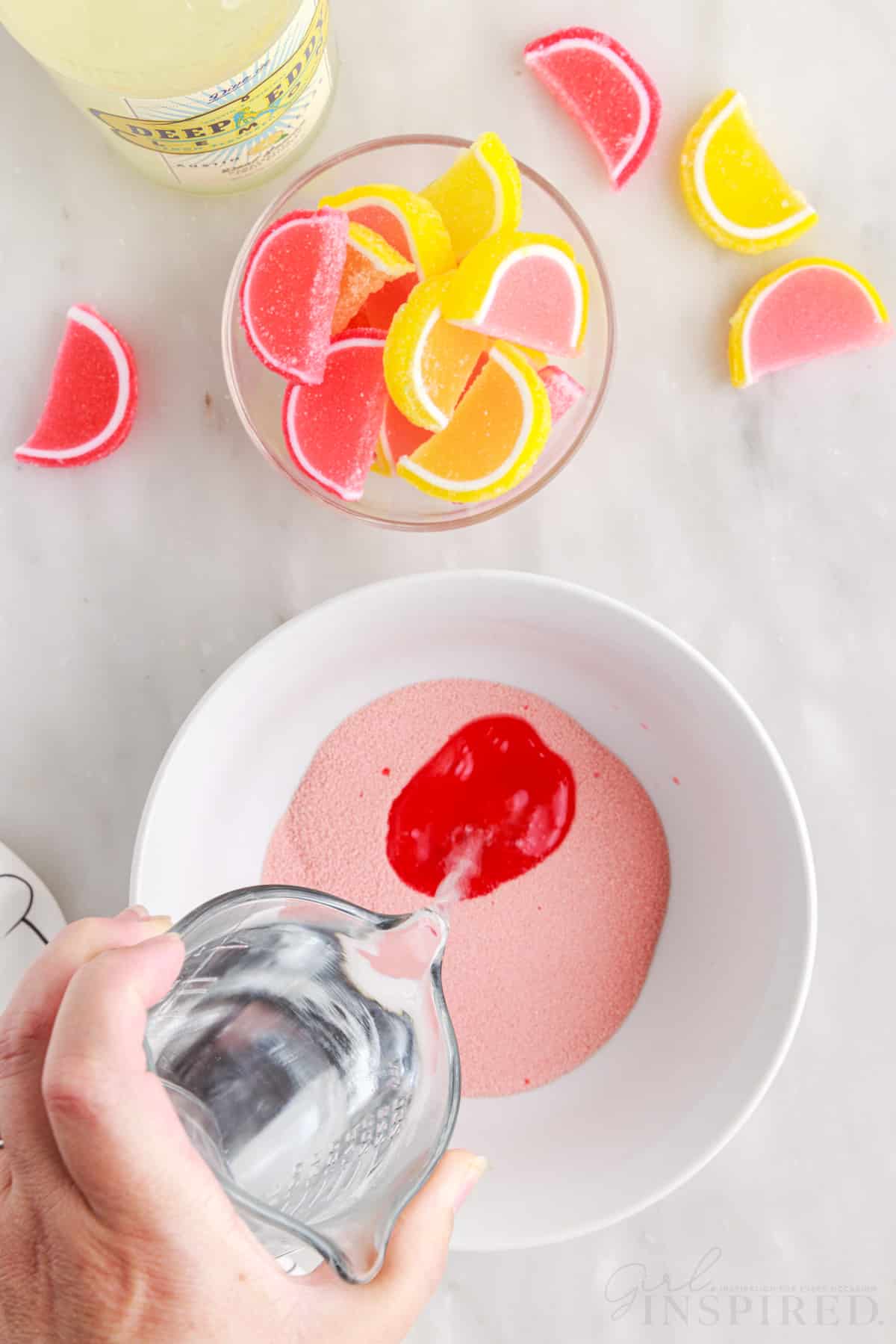 Step 1: Make the Jello – Whisk together the boiling water with the strawberry gelatin in a mixing bowl.
Step 2: Whisk until the gelatin is completely dissolved.
Before You Start have a baking pan ready with all the shot cups. This makes chilling them and serving way easier!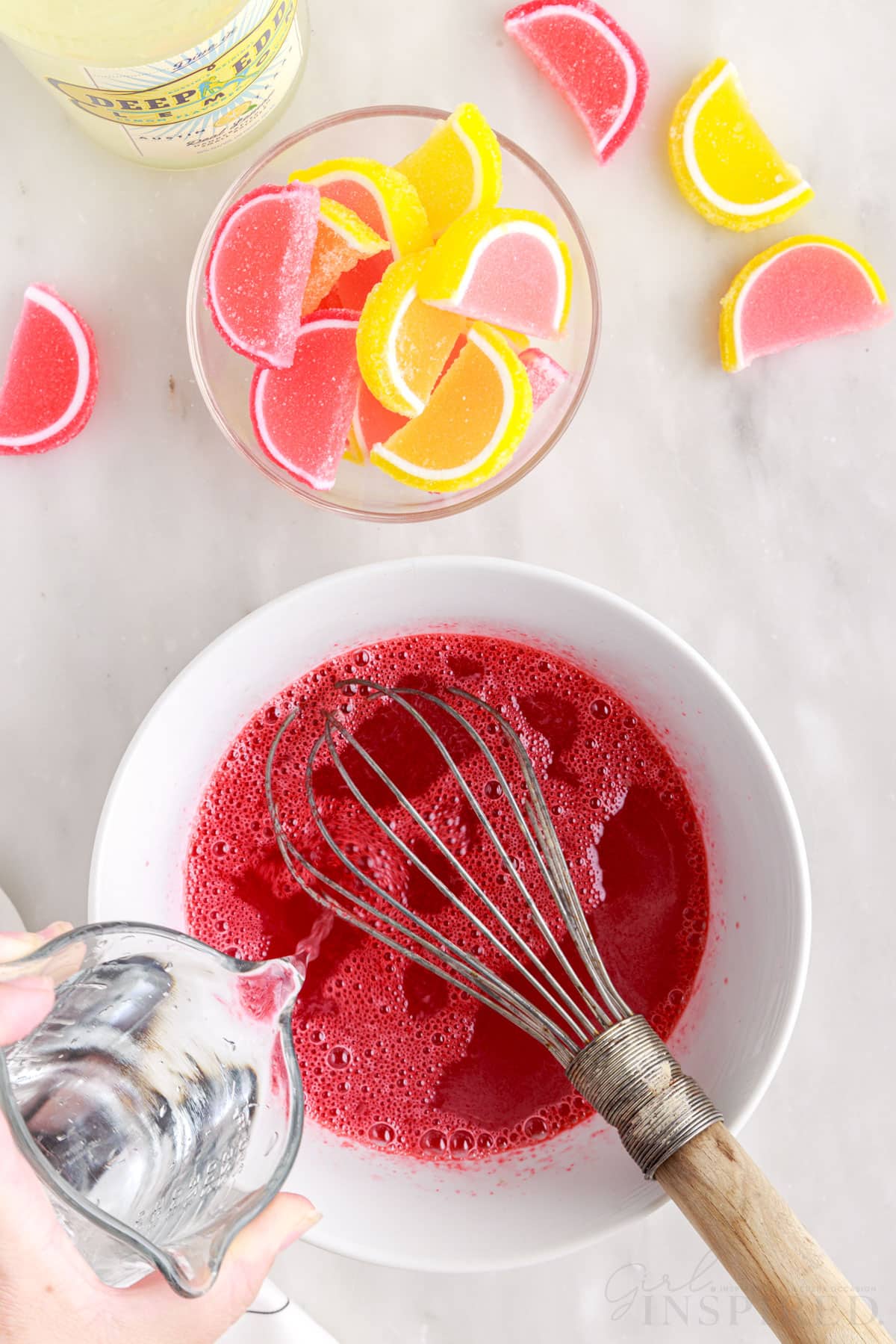 Step 3: Add the cold water to the jello mixture.
Step 4: Pour in the vodka and triple sec.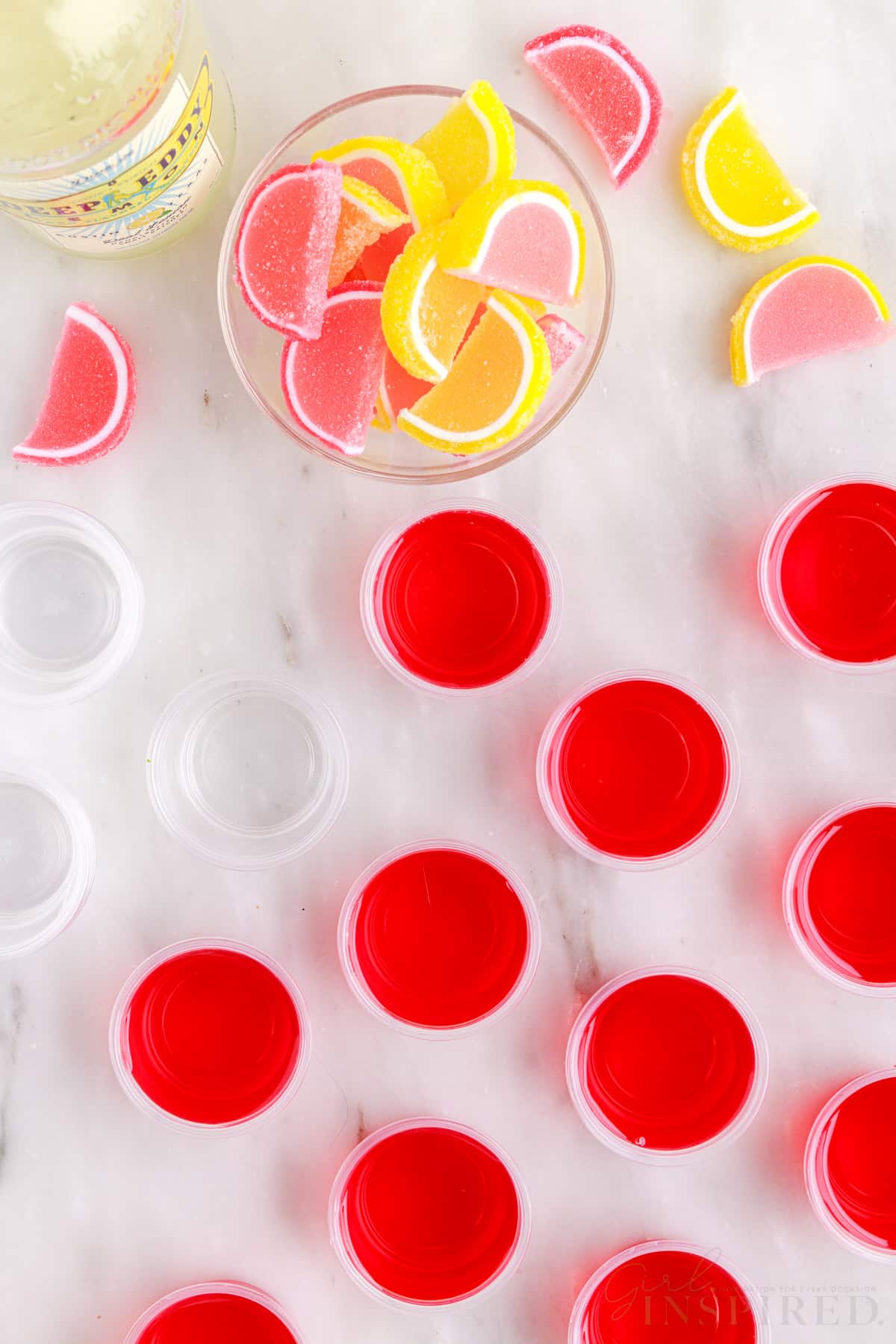 Step 5: Fill and Chill- Pour the gelatin mixture into the shot cups leaving a little space at the top so they don't spill. Chill in the refrigerator for 4 hours or until they are set.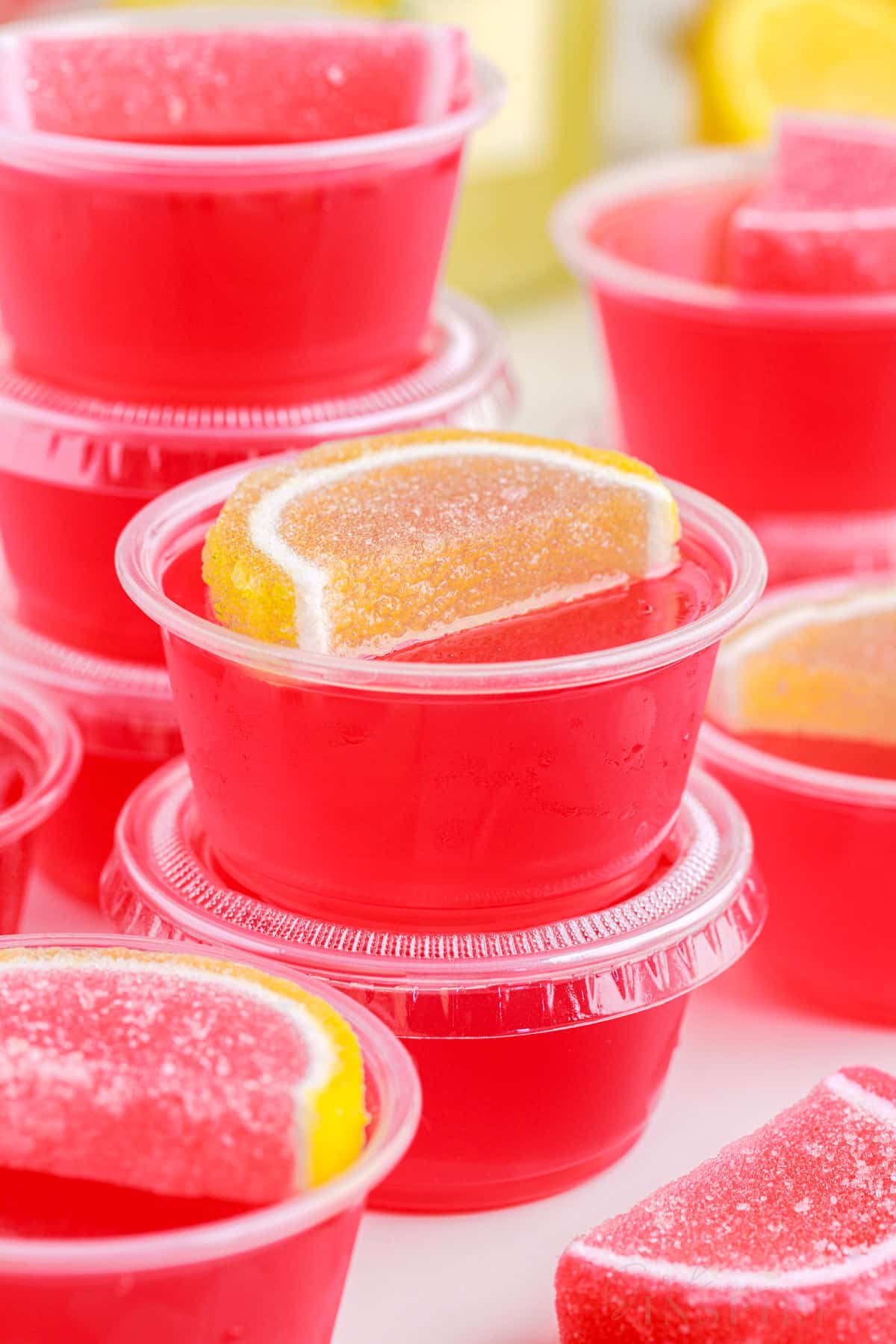 Step 6: Garnish and serve! Add the gummy candy just before serving or it will become gooey sitting on top of the strawberry lemonade jello shot in the fridge.
To make the shots set up faster, use icy cold water and shallow cups.
Pouring from a spouted cup makes the process super easy.
Instead of using shot cups, you can scoop out lemon peels and oranges, then pour the jello mixture directly in those. Let them set then slice into wedges for serving. This is a fun way to serve jello shots straight out of a piece of fruit, like we did with our strawberry daiquiri jello shots.
Fun Fact
People have been whipping up Jello shots since 1862, where the first recipe was published in a book.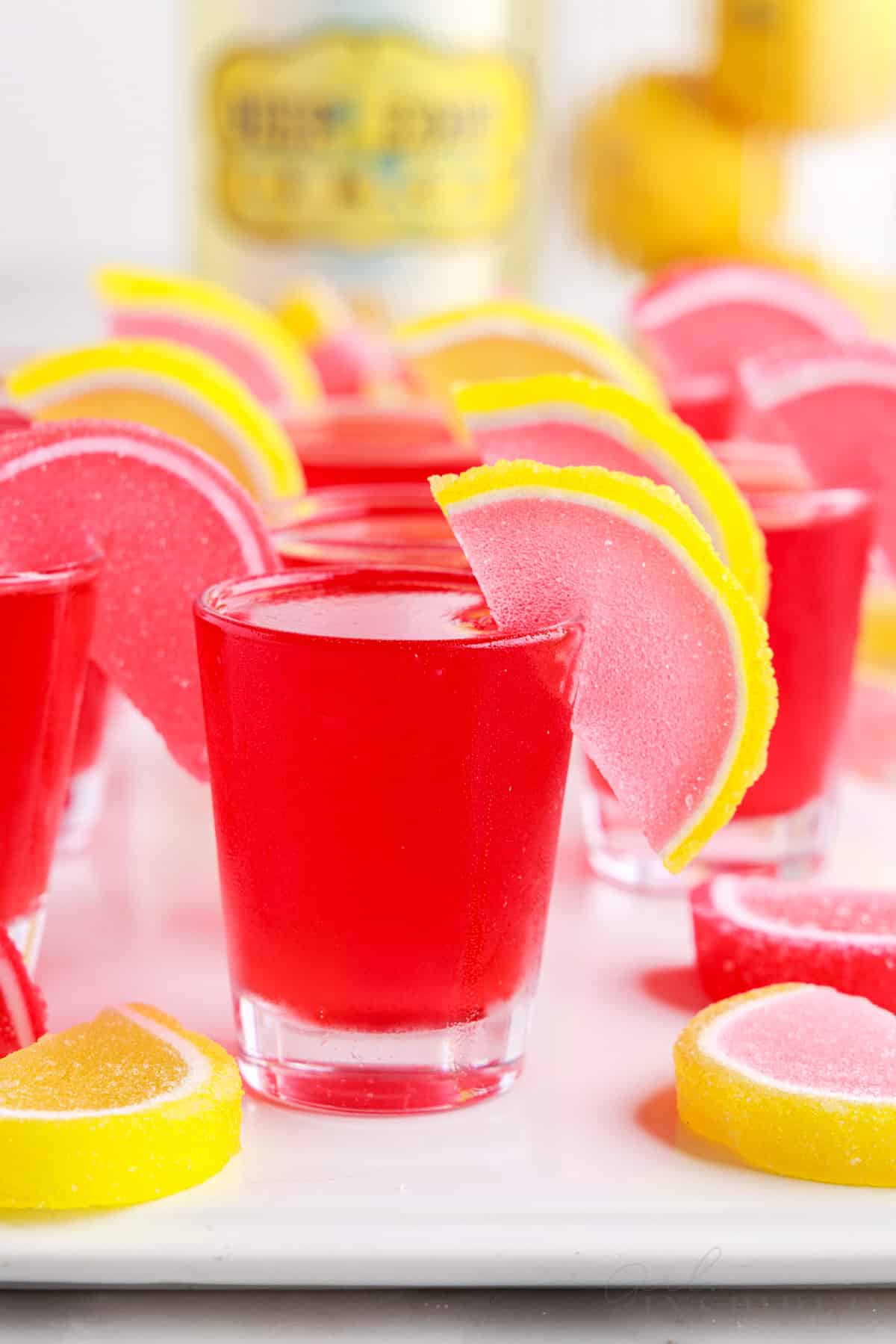 What alcohol is best for jello shots?
Vodka, tequila, or rum all work great for jello shot recipes, it just depends on what flavor combos are being made. The key is to not over do it with the alcohol. This will cause the shots to stay liquid because they cannot set up.
How long do jello shots last?
These shots will last up to a week in the refrigerator as long as they are covered. Use the individual lids. If you don't have those, just cover the baking sheet tightly with plastic wrap. It's best to add the garnish just before serving, don't leave or add the candies if you are going to store them for a while.
Boozy Summer Favorites You Can't Resist
If you tried these Pink Lemonade Jello Shots or any other recipe on my website, please please leave a 🌟 star rating and let me know how you liked it in the 📝 comments below.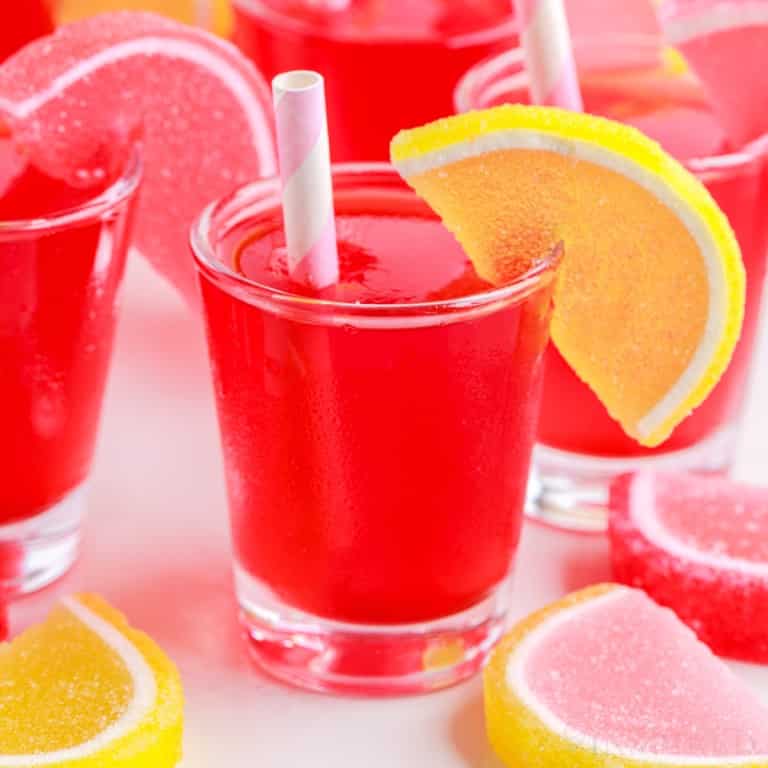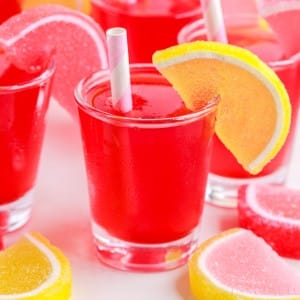 Pink Lemonade Jello Shots
These 4 ingredient pink lemonade vodka jello shots are such a fun party treat! You only need 30 minutes to whip them up, then chill until they are set! Add your favorite garnish and they will steal the show.
Ingredients
1 – 3 oz. box strawberry jello mix
1 cup boiling water
¼ cup cold water
¾ cup Lemon Vodka
¼ cup Triple Sec
Pink and yellow gummy fruit slices
Instructions
In a medium bowl or large (4-cup) measuring cup with spout, whisk together strawberry jello mix and 1 cup of boiling water until jello is fully dissolved.

Once the jello is fully dissolved, stir in the cold water, lemon vodka, and Triple Sec. Mix until combined.

Carefully pour the mixture between small plastic shot cups. Fill just under the top so they don't spill.

Transfer jello shots to the refrigerator and chill for 4 hours until set.

Just before serving, top each jello shot with a gummy fruit slice.
Notes
Storage: Jello shots will keep in the refrigerator for up to 7 days. Cover if you use containers that do not come with individual lids; otherwise, pop the lids on for storage. Do not store with candy on top of the jello.
Nutrition
Calories: 56kcal | Carbohydrates: 8g | Protein: 1g | Fat: 0.01g | Saturated Fat: 0.003g | Polyunsaturated Fat: 0.003g | Sodium: 39mg | Potassium: 1mg | Sugar: 8g | Calcium: 1mg | Iron: 0.01mg