Get the party started with these Pineapple Spears in Malibu Rum. Only 3 ingredients are needed to make adult pineapples that make you feel like you are sitting on an island.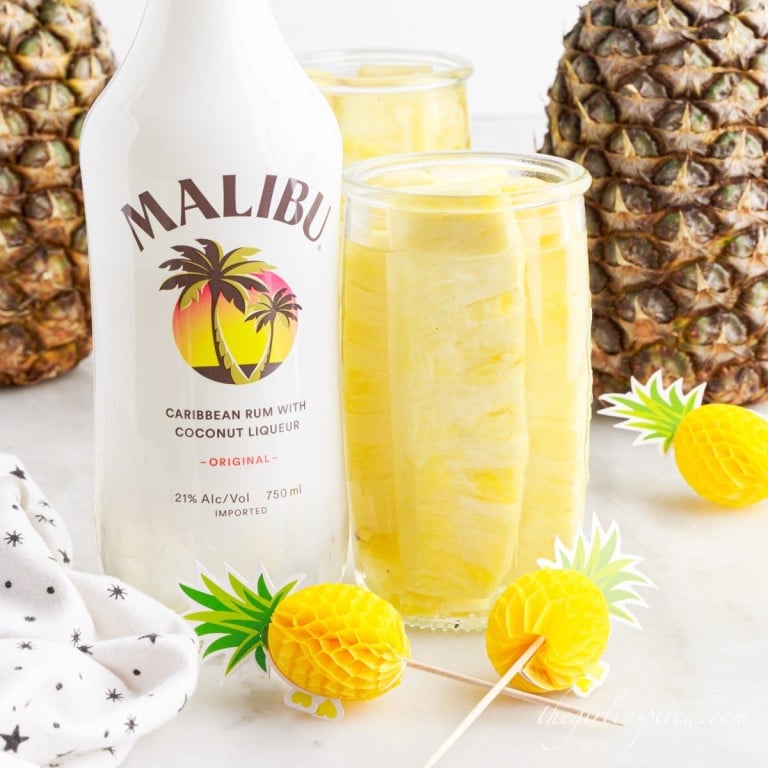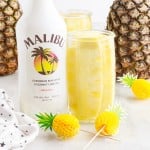 Boozy adult pineapples are exactly what you need when you want to experience the flavor of the tropics! If you like piña coladas (or getting caught in the rain), you will love these pineapple spears in Malibu Rum. Coconut water is added to the Malibu coconut rum so they have just the right balance between boozy and refreshing.
You may have seen this easy recipe floating around on TikTok, but I am adding more coconut flavor (and also thinning the rum a bit) by pouring in coconut water. It's also really refreshing and the infusion of alcohol in the fruit is the most delicious! This recipe is as easy as can be – simply slice your pineapple into spears and soak them in the Malibu/coconut water liquid.
With a bottle of Malibu on hand, you can also try my Caribbean-inspired Coconut Rum Cocktail, Malibu Bay Breeze, and this Creamy Piña Colada. Malibu rum is a nice light coconut-flavored rum and is perfect for adding as the sole liquor in your cocktail or adding in addition to a heavier liquor like Meyer's or Koloa dark rum.
Even though rum is a summer favorite, I also really enjoy whipping up peach sangria and strawberry sangria – especially for crowds!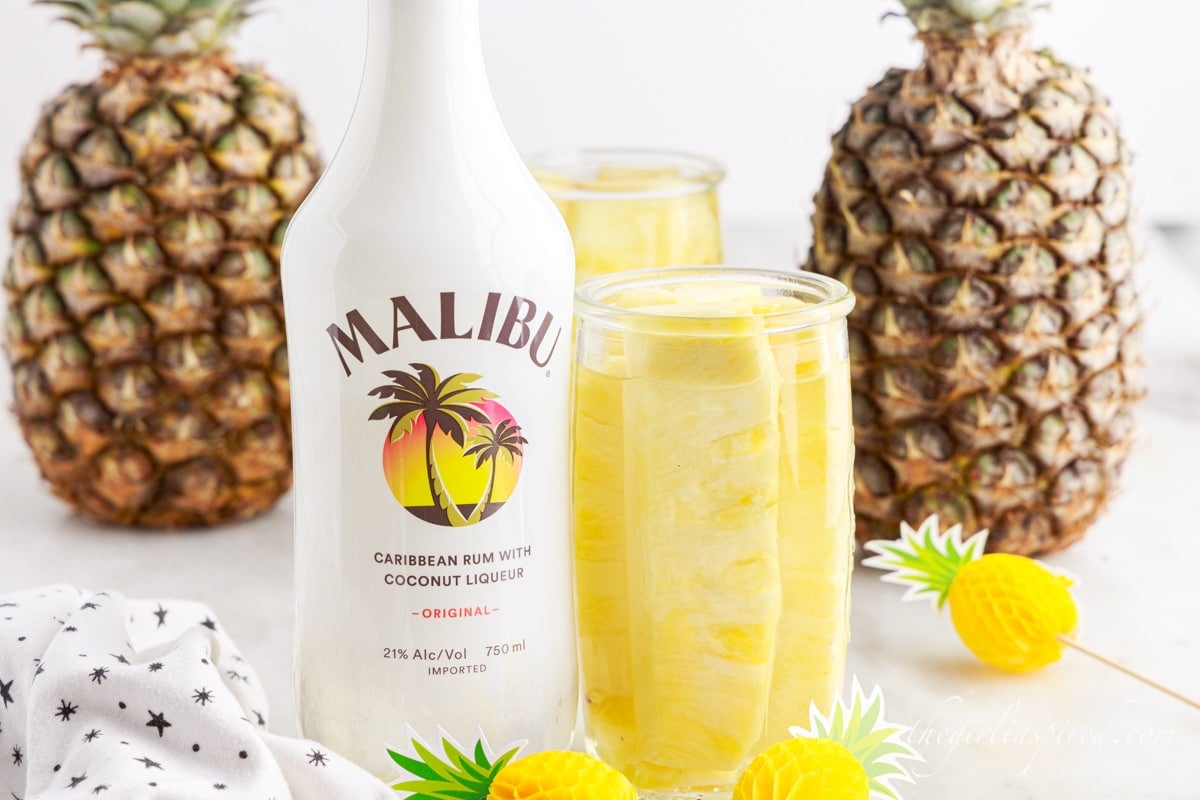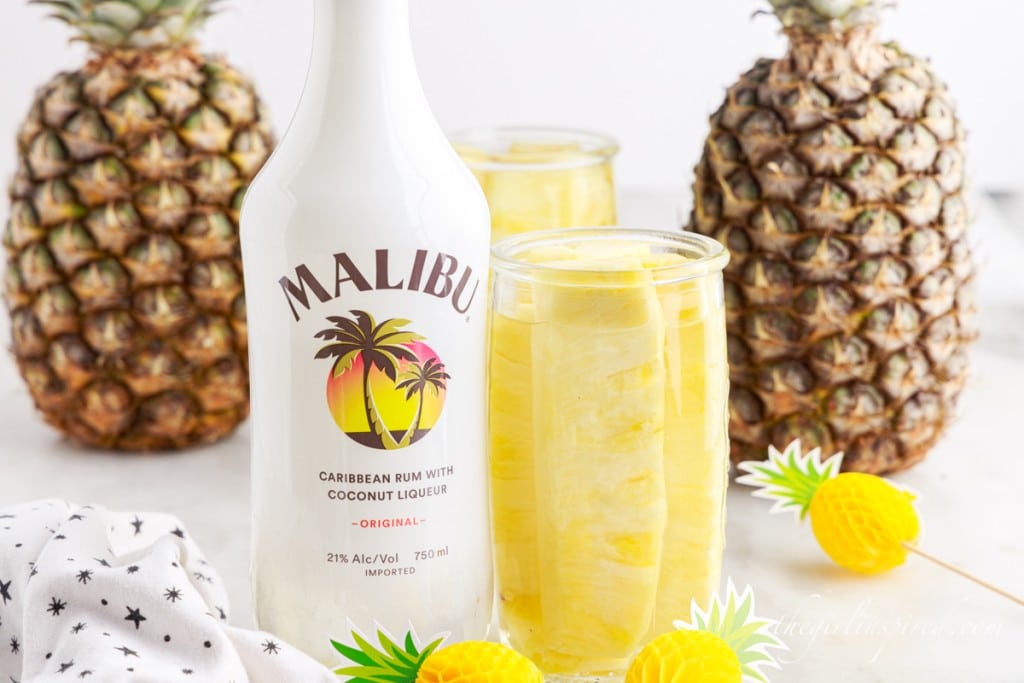 Ingredients Needed
whole fresh pineapple
Malibu Rum
pure coconut water
How To Make Pineapple Spears Soaked in Malibu Rum
Clean two wide mouth mason jars and dry them out.
Slice off the top and bottom part of the pineapple and stand on the flat end. Use a sharp knife to peel the outer skin. Cut straight down the middle so you have two long halves. Slice once more, now you should have 4 pieces.
Trim off the core from all 4 pineapple slices. Cut into 12 to 14 spears.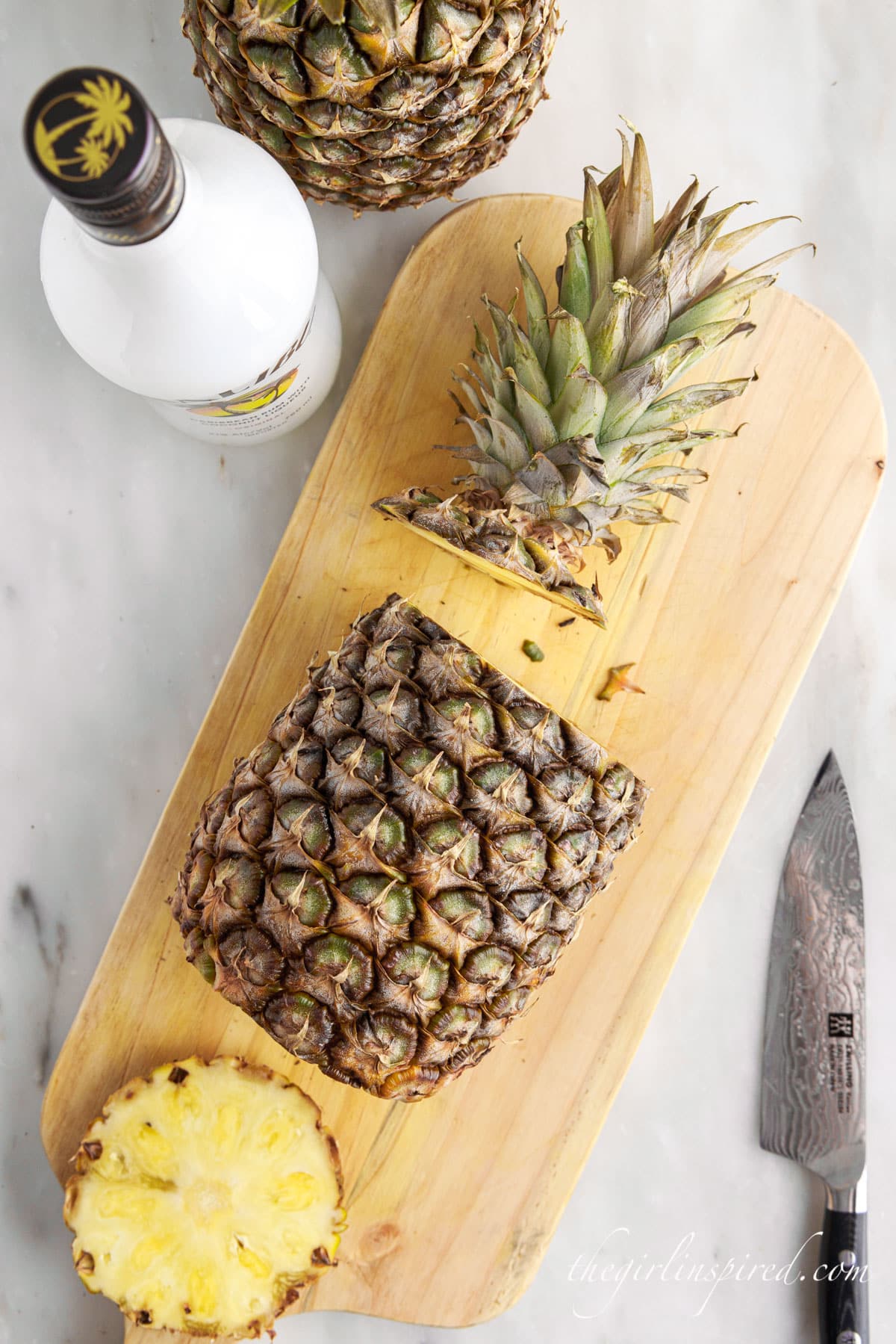 Divide the spears evenly into each jar, trim if needed so they will fit.
Combine the Malibu and coconut water in a cup with a spout. Then pour into the jars and seal.
Chill in the fridge for 4 hours, then serve!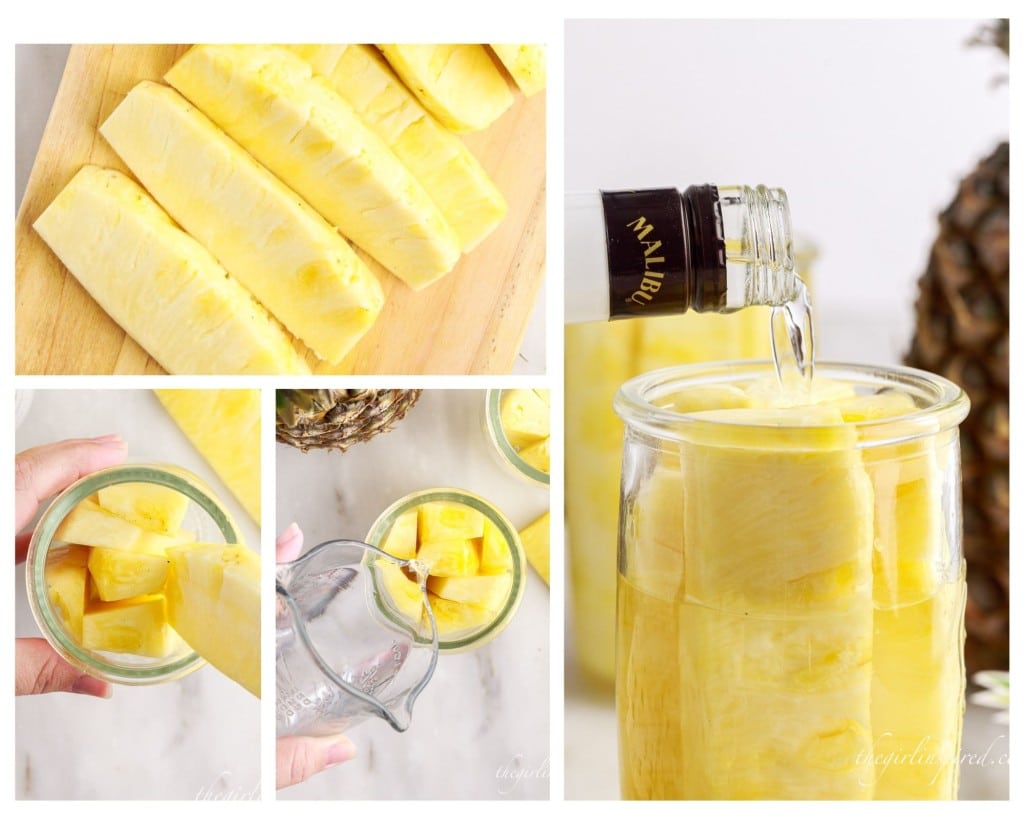 Tips for Making the Best Adult Pineapples
I love fresh pineapple, but you could also swap it for a jar of pineapple spears. Just be sure to drain the pineapple juice before adding the liquor mixture.
Label your jars so that it is clear that these fruit "treats" contain alcohol.
You can alternately dice the pineapple into large chunks and then continue preparing the same way (or use large store bought pineapple chunks minus the juice).
Use a pulp-free coconut water for a clear soak. "Pressed" typically means with pulp, so don't choose that kind.
These are best if consumed within 24 hours. Any longer, the texture becomes soggy and the spears begin to fall apart.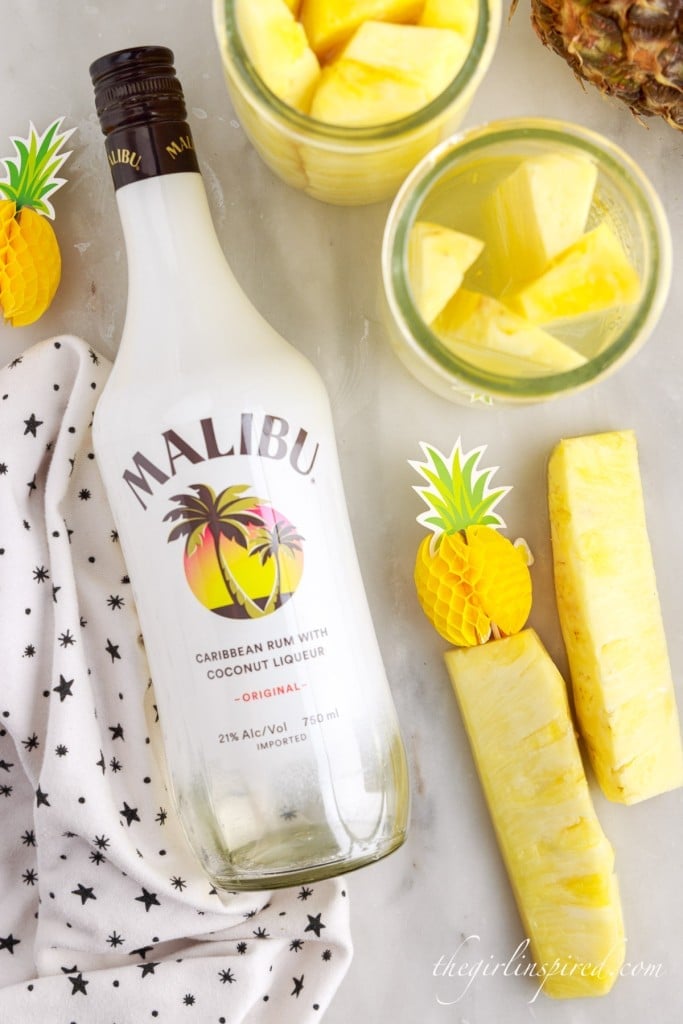 How long should you soak pineapple in Malibu?
You want to soak it for at least 4 hours. This allows enough time for the fruit to soak up the rum.
Does Malibu Rum have pineapple in it?
The OG Malibu does not contain pineapple. However, they now have a variety of blends and they do have a Malibu Pineapple and a Pineapple Splash that comes in a can and is considered a malt beverage.
What fruit is the best to soak in alcohol?
Pineapple, strawberries, and peaches seem to hold their shape and texture the best when it comes to being infused with alcohol, such as rum and vodka. Watermelon goes great with different liquors, however it's not usually soaked but pureed instead.
More Summer Cocktails You'll Love
If you try these Pineapple Spears in Malibu Rum or any other recipe on my website, please leave a 🌟 star rating and let me know how you liked it in the 📝 comments below.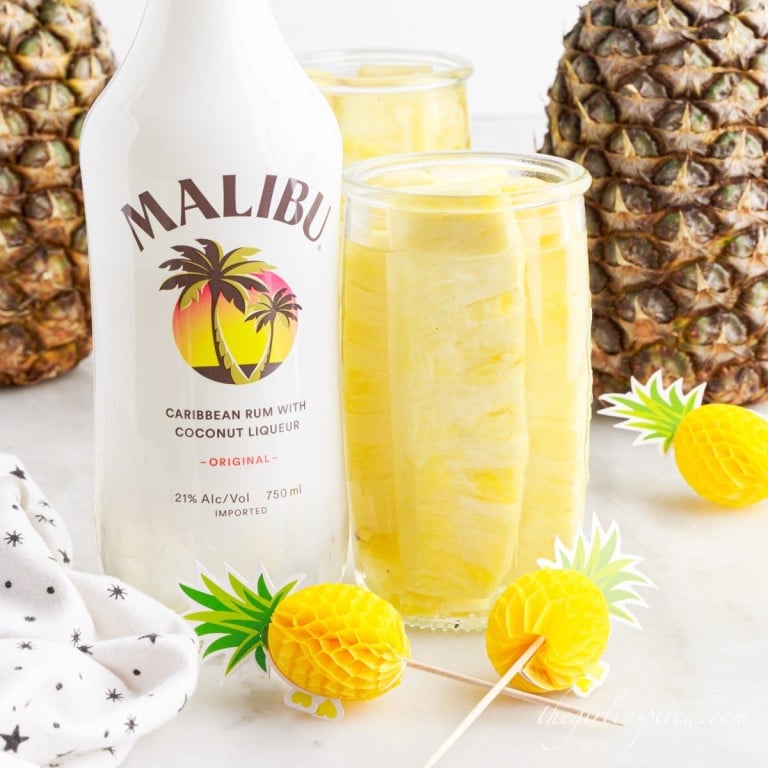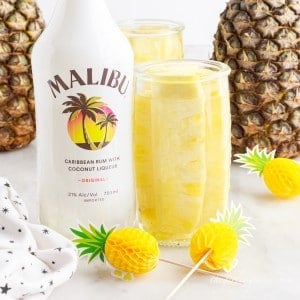 Boozy Pineapple Spears in Malibu Rum
Get the party started with these Pineapple Spears in Malibu Rum. Only 3 ingredients are needed to make adult pineapples that make you feel like you are sitting on an island.
Ingredients
1 large whole golden pineapple
1 cup Malibu Rum
½ cup pure coconut water
Instructions
Wash and dry two wide mouth mason jars – I prefer the tall, wide-mouth jars, such as asparagus jars.

Cut the top and bottom off of the pineapple to make a flat surface and stand the pineapple on its flat end.

Carefully slice the outer skin off the pineapple, curving gently to preserve as much of the pineapple flesh as possible. Trim any seeds or hard parts of the skin from the flesh.

Slice straight down the center of the pineapple so that you have two long halves and then once more for a total of four pineapple sections.

Remove the tough core part from the center of the four pieces.

Slice the peeled and cored pineapple into 12-14 spears.

Divide the pineapple spears between the two jars. Trim the spears, if needed, to fit in the jars.

Add the Malibu and coconut water to measuring cup with a pour spout and stir to combine.

Pour the liquid over the pineapple spears, dividing it between the two jars. Seal with lids or cover with plastic wrap.

Refrigerate for 4 hours before serving to allow time for the pineapple to soak up the rum.
Notes
Use pulp-free or clear coconut water for a nice clear liquid. Consume within 24 hours – the flavor and texture changes after the pineapple spears soak for too long. You can also dice the pineapple into large chunks and soak those instead of the large spears. Be sure to use nice, ripe pineapple. Choose a fresh pineapple that has golden color on the outside, not green!
Nutrition
Calories: 79kcal | Carbohydrates: 9g | Protein: 0.4g | Fat: 0.1g | Saturated Fat: 0.02g | Polyunsaturated Fat: 0.03g | Monounsaturated Fat: 0.01g | Sodium: 11mg | Potassium: 99mg | Fiber: 1g | Sugar: 7g | Vitamin A: 40IU | Vitamin C: 33mg | Calcium: 11mg | Iron: 0.2mg