This Malibu bay breeze cocktail recipe only requires 4 ingredients and is an easy drink to whip up with a fantastic appearance. No fancy skills needed.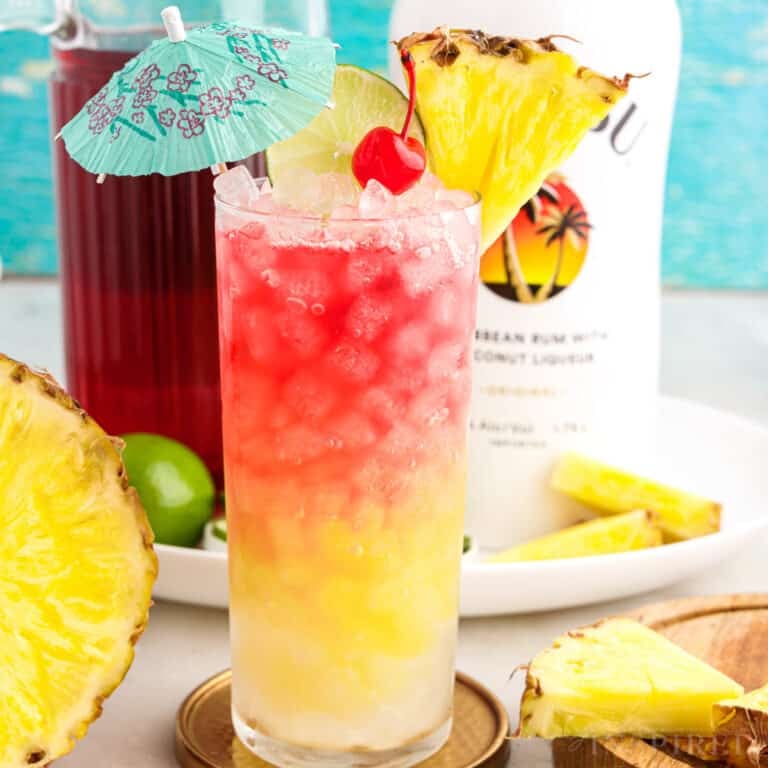 A Malibu bay breeze cocktail is the perfect drink to enjoy by the pool, on a hot summer day, or at a backyard barbecue. It's full of tropical flavors from the fruit juices and rum. The layered colors will remind you of tropical paradise and it takes just 5 minutes to make.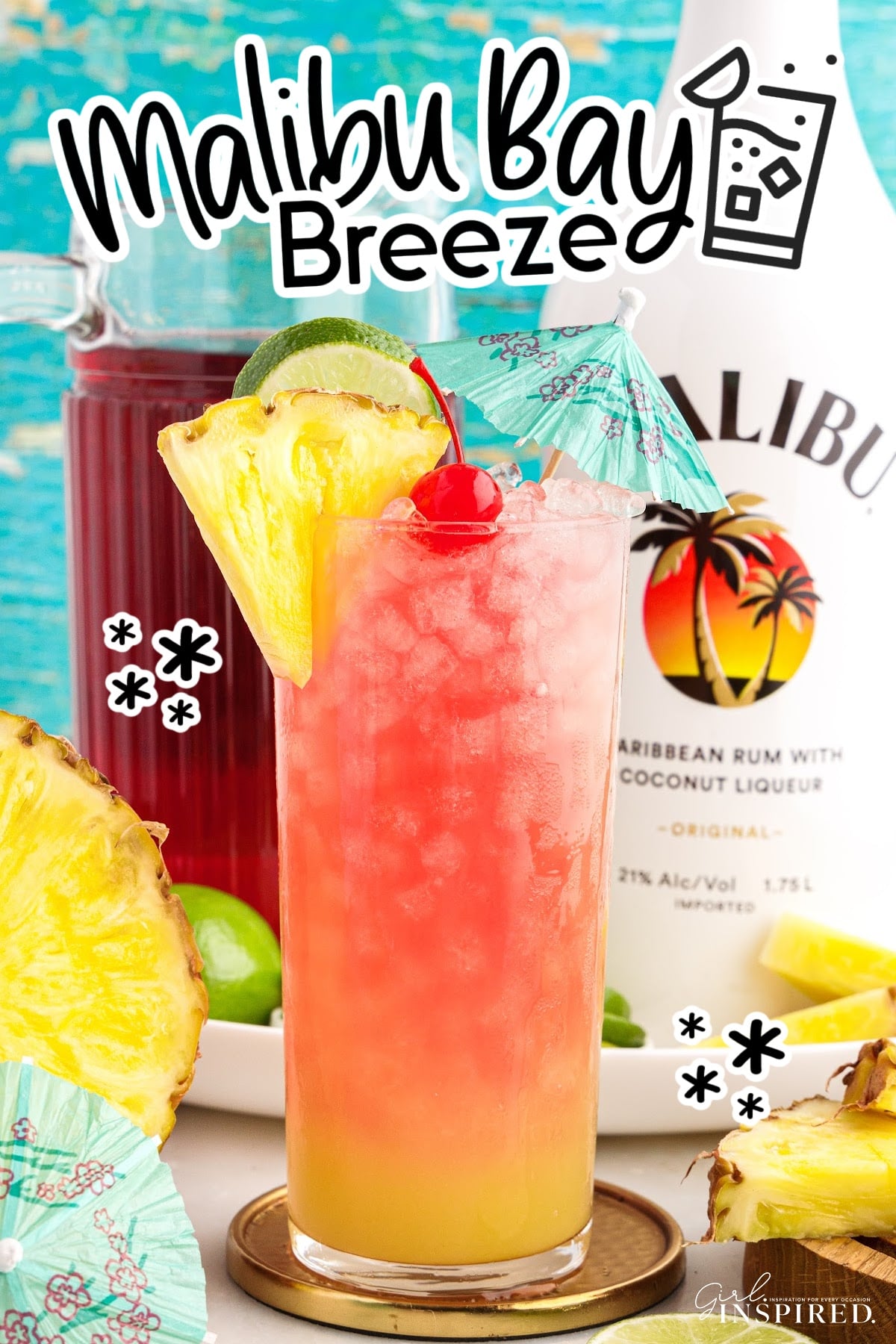 If you can't have your toes in the sand on a tropical island, we can at least enjoy a tasty cocktail and pretend like we are there! We love a delightful concoction with layers like this Empress Gin cocktail or our popular Tipsy Mermaid, so pretty! Sometimes layered drinks require you to carefully add the liquor and juices, but today's drink is even easier. That's one thing I love about the Hawaiian sea breeze is that it's so simple!
Have Malibu leftover or want to make a variety of tropical drinks? Try my Pina colada, Tipsy Mermaid, or the Choco Colada. It's one of my favorite drinks from our Caribbean vacation that I just had to recreate! While I love a good summer cocktail, we also like serving jello shots because you don't have to worry about the ice melting and watering down the drink.
Jump to:
🍹 Ingredients: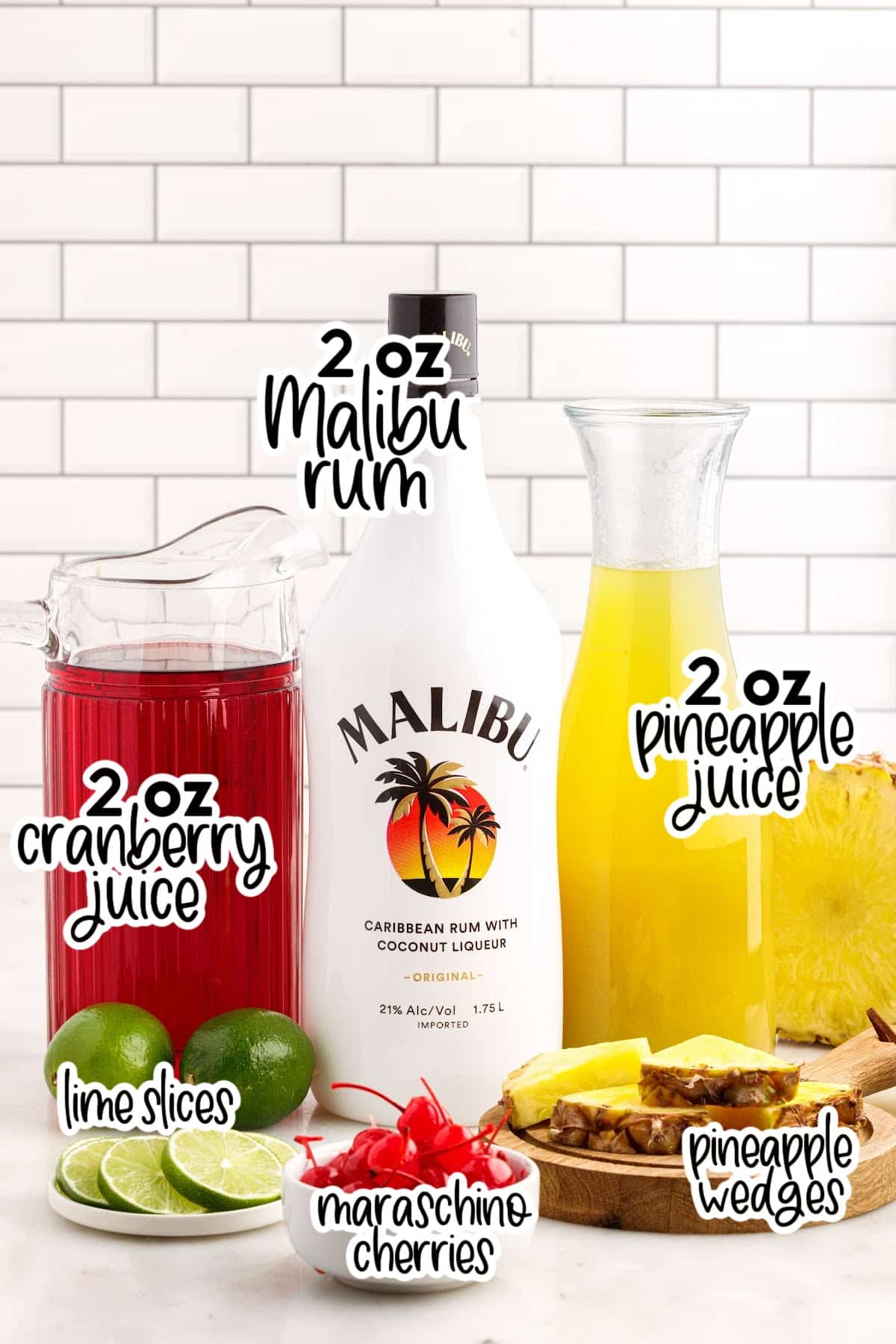 Malibu coconut rum – or any other light rum.
pineapple and unsweetened cranberry juice – you can also use cranberry juice cocktail, but real cranberry juice has less sugar and balances the sweetness from the rum and pineapple.
Maraschino cherries, pineapple wedges, and lime slices for garnish
Ice for serving
For a full list of ingredients and their measurements, 📋 please view my printable recipe card at the bottom of the post.
Optional Garnish:
Garnish your sea breeze cocktail with Maraschino cherries, a lime wedge, or a fresh pineapple wedge. Make it more festive by adding paper umbrellas.
Substitutions and Variations
Classic bay breeze cocktail – use 1 ounce of vodka, 1 ounce of grapefruit juice, a teaspoon of simple syrup (or more to taste), and 2 ounces of cranberry juice. Think of this as an upscale Cape Codder. The regular version is simply just a vodka cranberry.
Bigger Batches – use a 1:1:1 ratio for different glass sizes or to make a large pitcher.
Other juices – Some like to add orange for part of the pineapple juice. A reduced sugar or diet cranberry juice may also work and float better since they have a lower sugar content. Ocean Spray also makes a cranberry blend that would be delicious.
🔪 Instructions:
PREP: Add the ice cubes to a tall glass.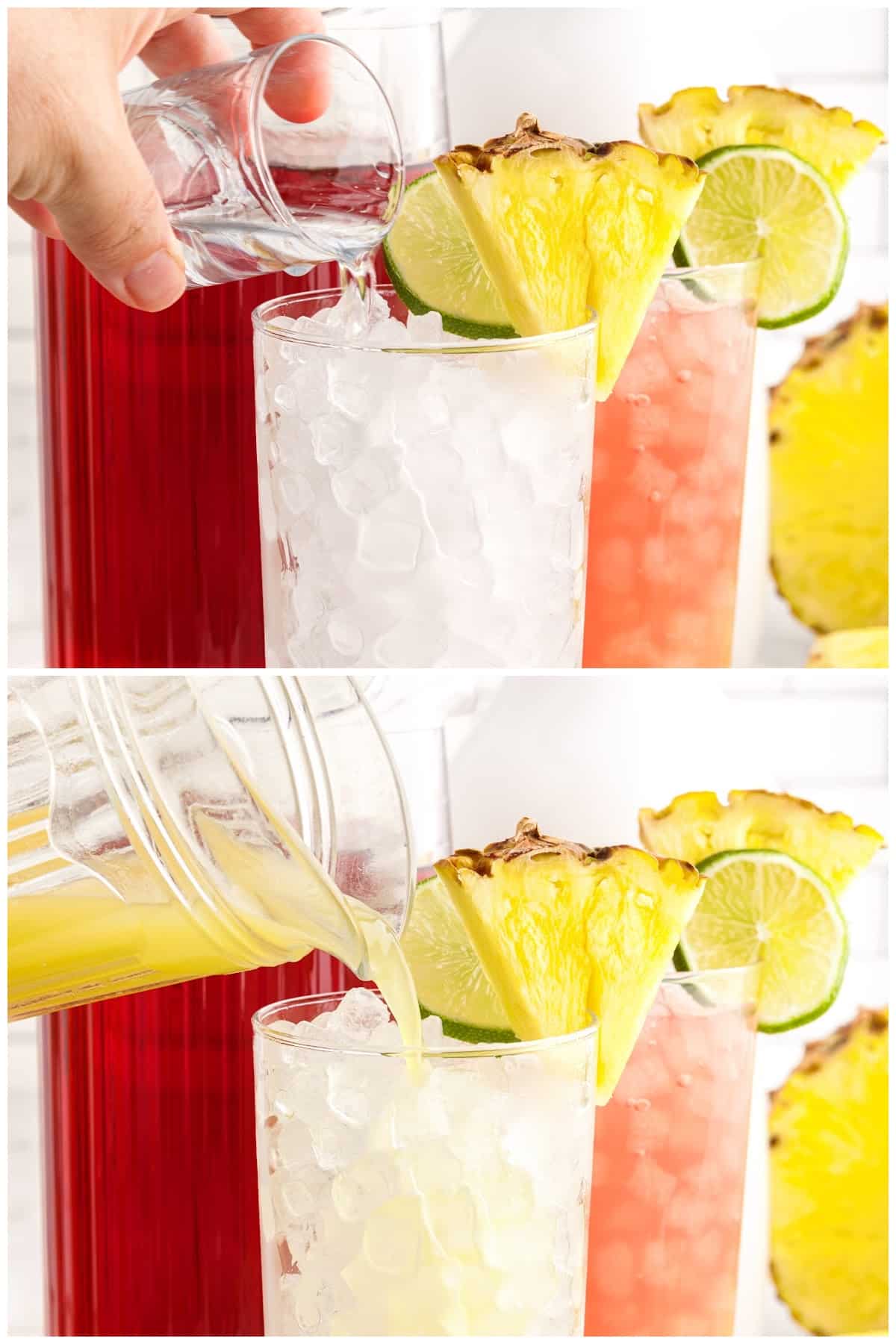 Step 1: Pour in the Malibu, then the pineapple juice.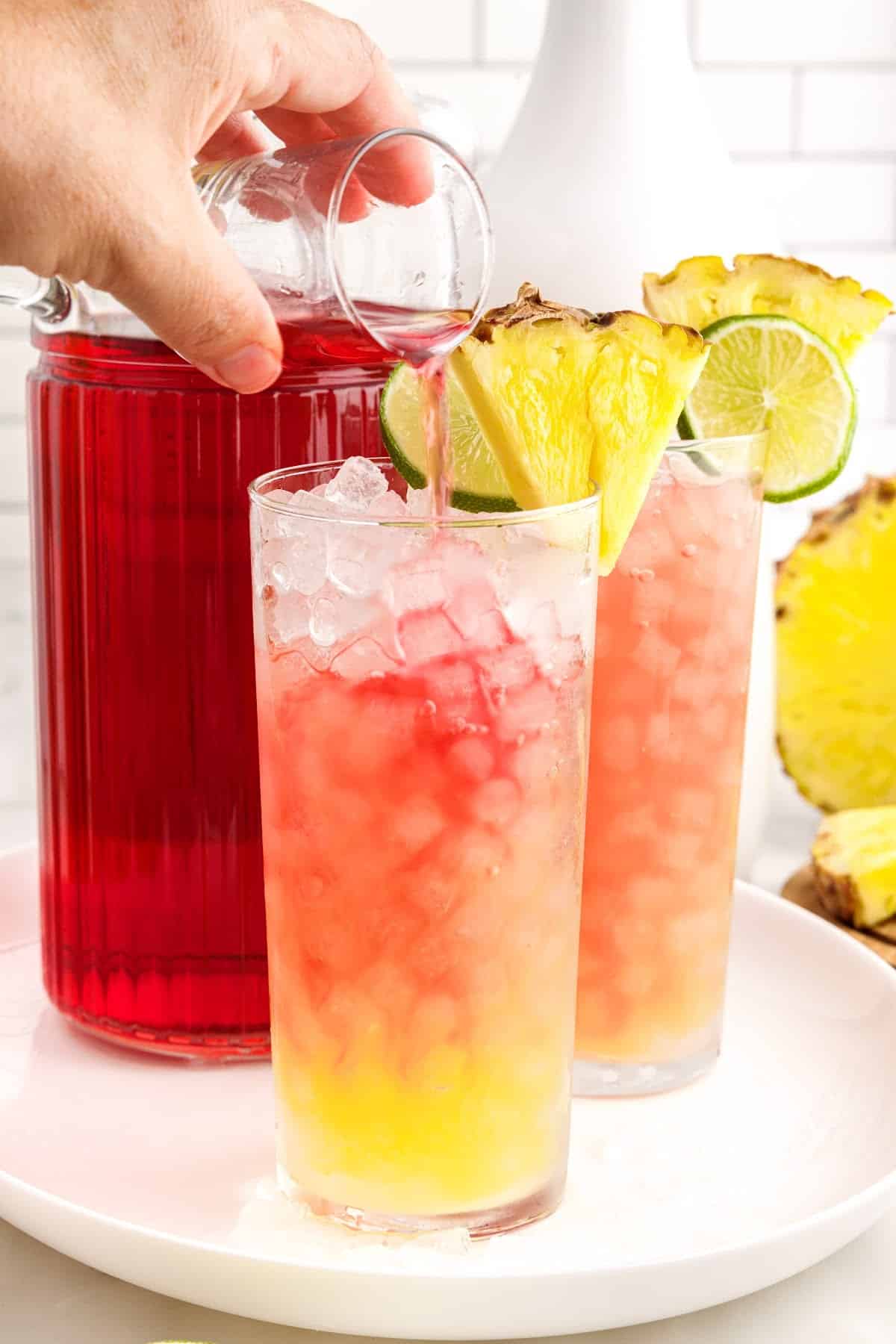 Step 2: Add the cranberry juice to top it off.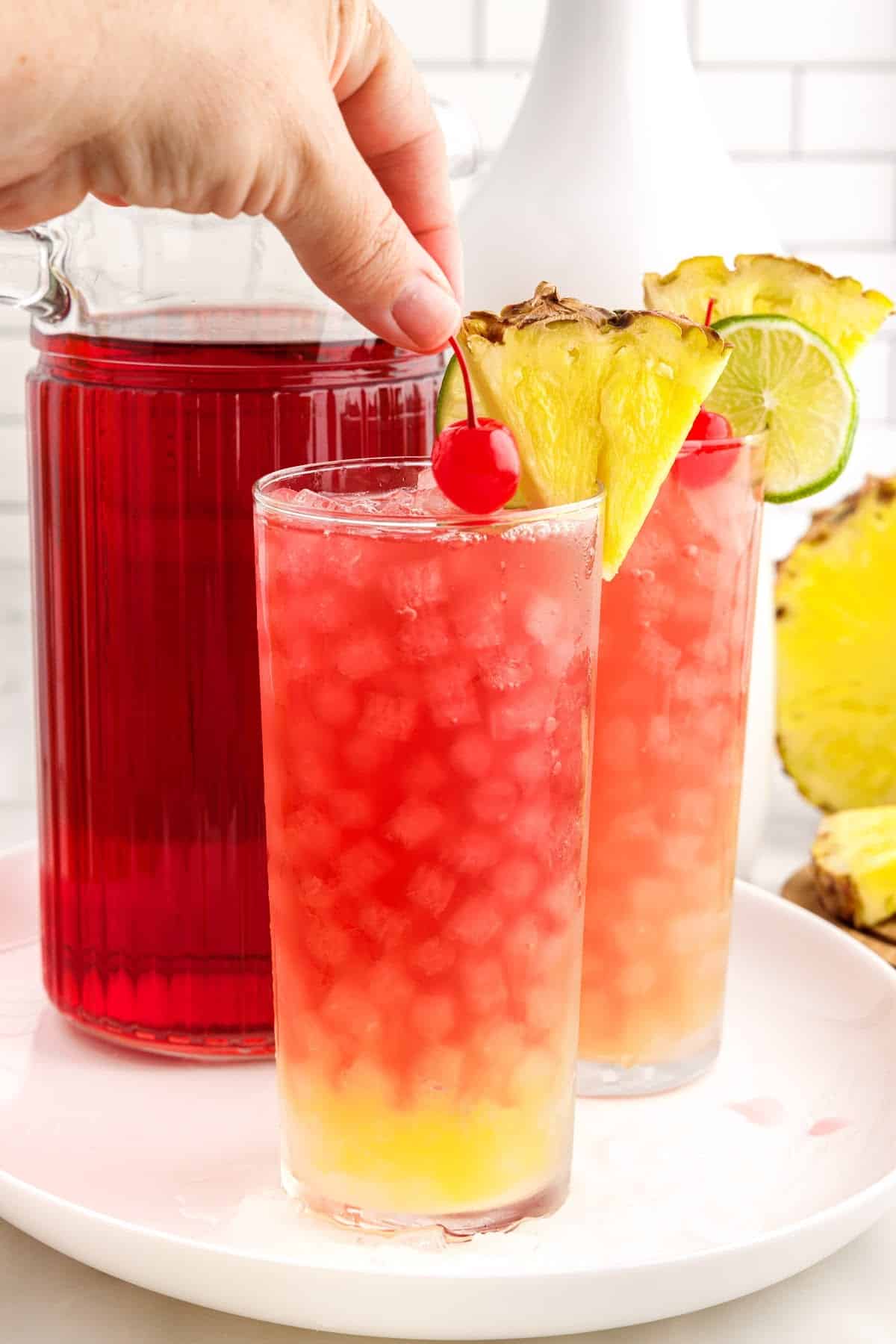 Step 3: Garnish with a slice of lime, cherry, and pineapple wedge.
Pro Tip: Keeping the juices and liquor chilled before making the drinks will make the ice last a little longer, especially when it's hot outside.
SERVE: Add a straw and paper umbrella, then enjoy!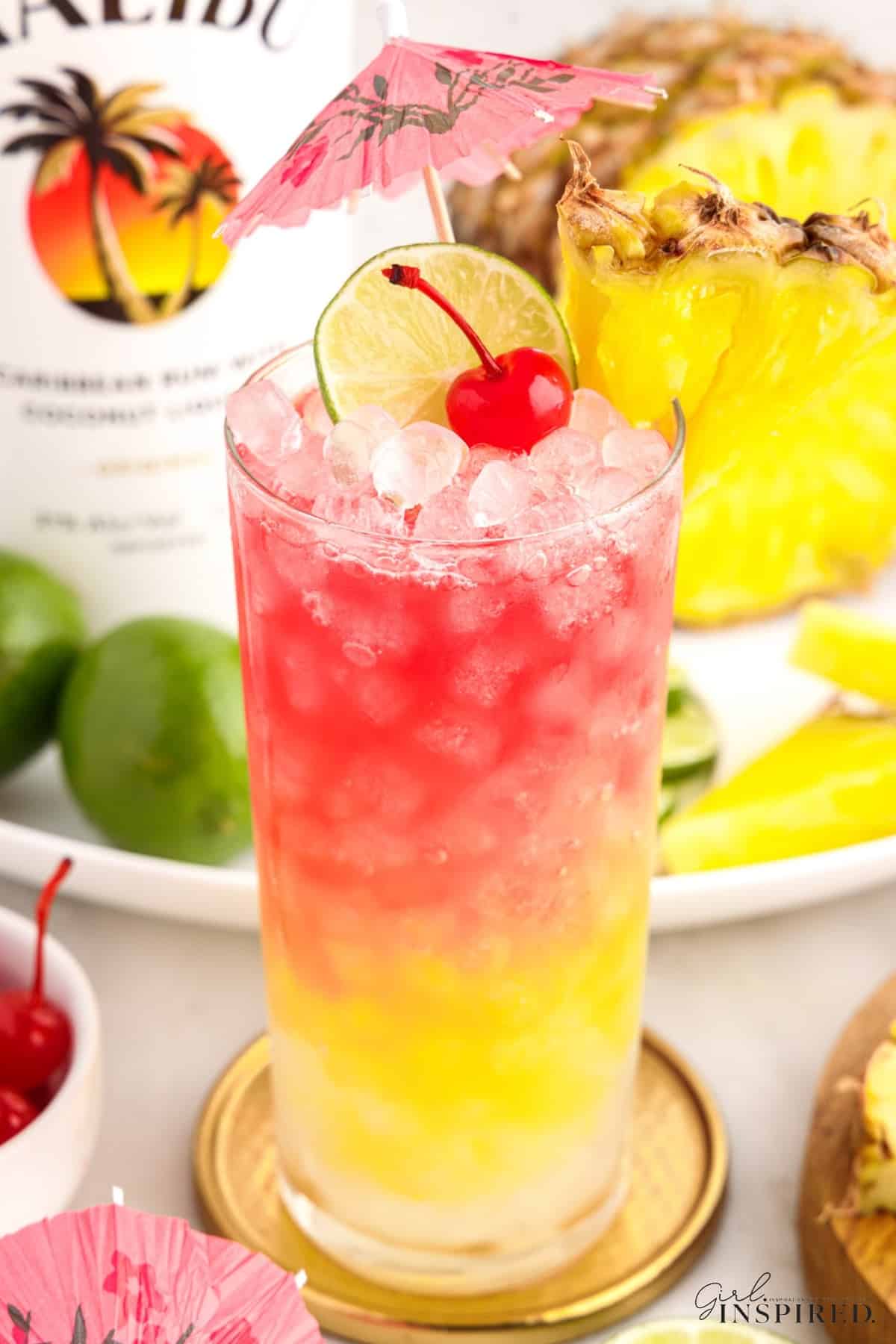 Malibu Bay Breeze Recipe Tips
Do not make this Malibu bay breeze drink in a cocktail shaker. It will make the colors mix together, versus being a beautiful layered drink.
Keep the drink ingredients cold before making them.
Because pineapple juice has more sugar than the cranberry, it will settle to the bottom. However, over time the juices will naturally combine even if you don't stir.
Fun Fact
Malibu got its name because the creators who tasted it thought it tasted like warm summer with a good vibe – Drinks Digest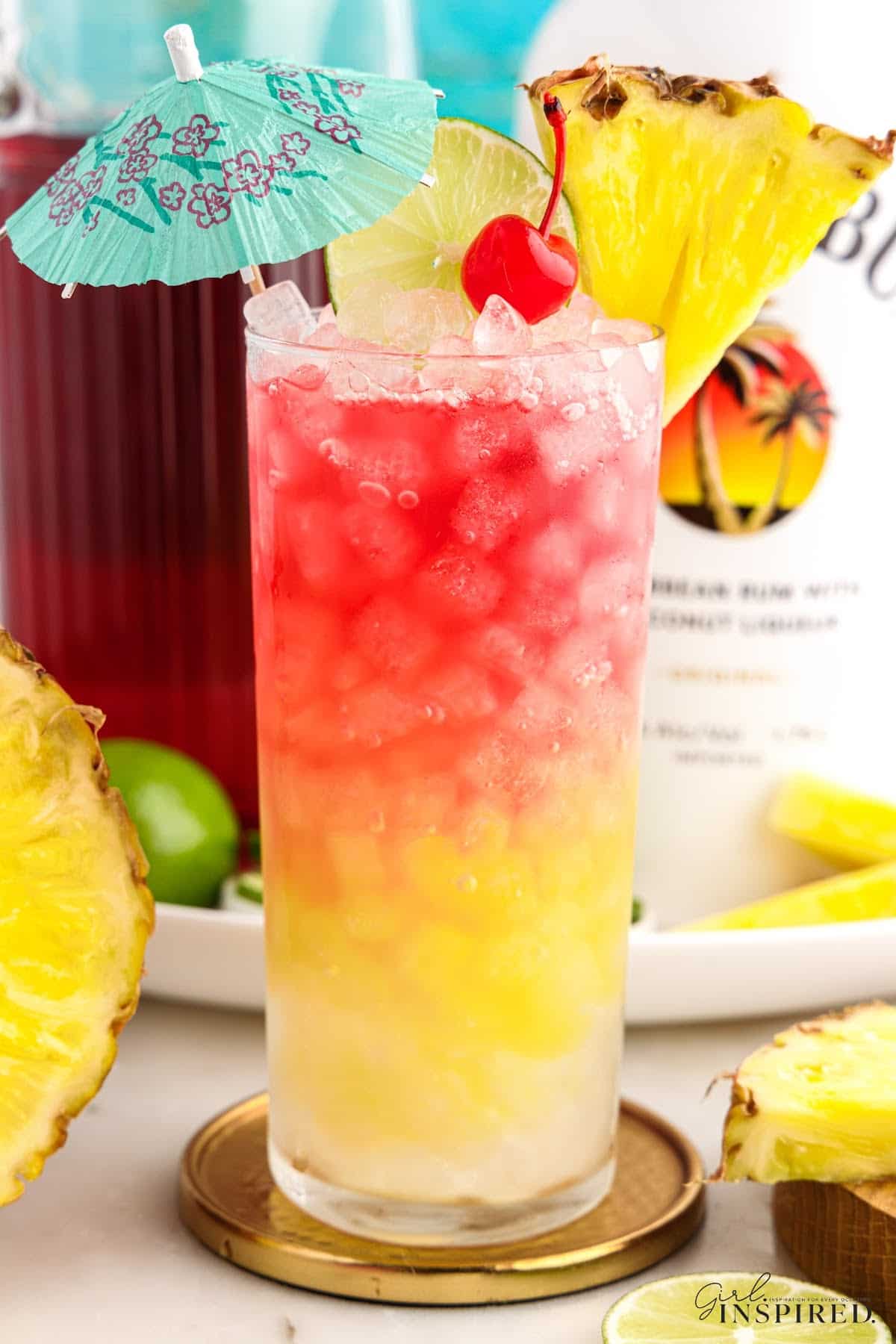 Recipe FAQs
What type of alcohol is Malibu?
Malibu is a brand of coconut flavored rum, but comes in other flavors as well.
What's the difference between a bay breeze and a sea breeze?
Bay Breeze Cocktail: This cocktail is made with vodka, cranberry juice, and pineapple juice. It's a fruity and slightly tropical drink with a sweet and tangy flavor
Sea Breeze Cocktail: The Sea Breeze cocktail consists of vodka, cranberry juice, and grapefruit juice. It has a tart and refreshing taste, with the grapefruit juice adding a citrusy twist.
How to make Malibu bay breeze by the pitcher?
Simply follow this recipe and keep the liquids to a 1:1:1 ratio. We recommend if making in a bigger batch to keep it refrigerated and put the ice into individual glasses instead of the pitcher. You will lose the layered look preparing in a pitcher, but the cocktail will still taste delicious!
More Refreshing Cocktail Recipes
If you tried this Malibu Bay Breeze or any other recipe on my website, please please leave a 🌟 star rating and let me know how you liked it in the 📝 comments below.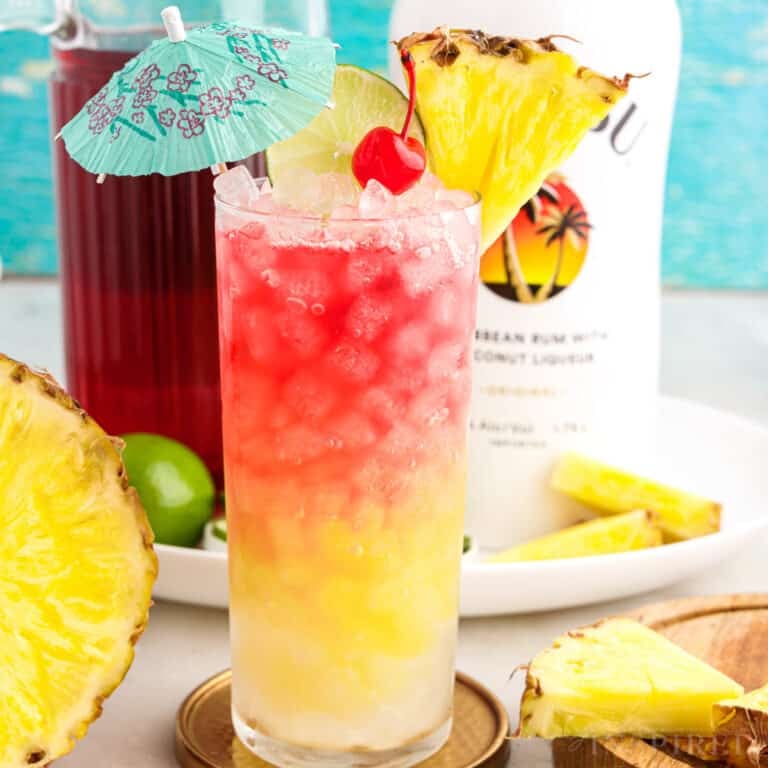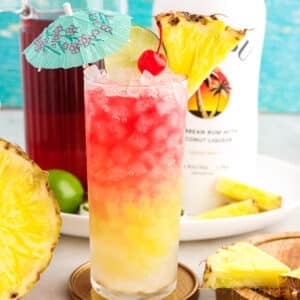 Malibu Bay Breeze
This Malibu bay breeze cocktail recipe only requires 4 ingredients and is an easy drink to whip up with a fantastic appearance. No fancy skills needed.
12 oz glass
Ingredients
2 oz.. Malibu rum
2 oz. pineapple juice
2 oz. cranberry juice
Maraschino cherries pineapple wedges, and lime slices for garnish
Ice for serving
Instructions
Fill glass with ice.

Add Malibu rum, then pineapple juice to the glass.

Add cranberry juice to top off the glass.

Garnish with a pineapple wedge, lime slice, and a maraschino cherry.
Notes
Storage: Serve immediately. Notes: We like a 1:1:1 ratio of juices and rum, so you can make it to fit any glass or pitcher. You can use a cranberry blend, 100% cranberry juice, or reduced sugar/diet. Bonus: juice with reduced sugar content should float on top of the pineapple juice even better. If desired, use orange juice in place of some of the pineapple juice or in addition to. The pineapple juice has more sugar, so it settles to the bottom of the cranberry. After a while, they will mix together. Serve immediately to show off the pretty colors. Chill all of the juice prior to making the drinks.
Nutrition
Calories: 149kcal | Carbohydrates: 36g | Protein: 0.2g | Fat: 0.1g | Polyunsaturated Fat: 0.02g | Monounsaturated Fat: 0.01g | Sodium: 3mg | Potassium: 102mg | Fiber: 0.2g | Sugar: 30g | Vitamin A: 22IU | Vitamin C: 32mg | Calcium: 14mg | Iron: 0.3mg