This pineapple cookies recipe makes pillowy soft cream cheese style cookies with tropical flavor in every bite.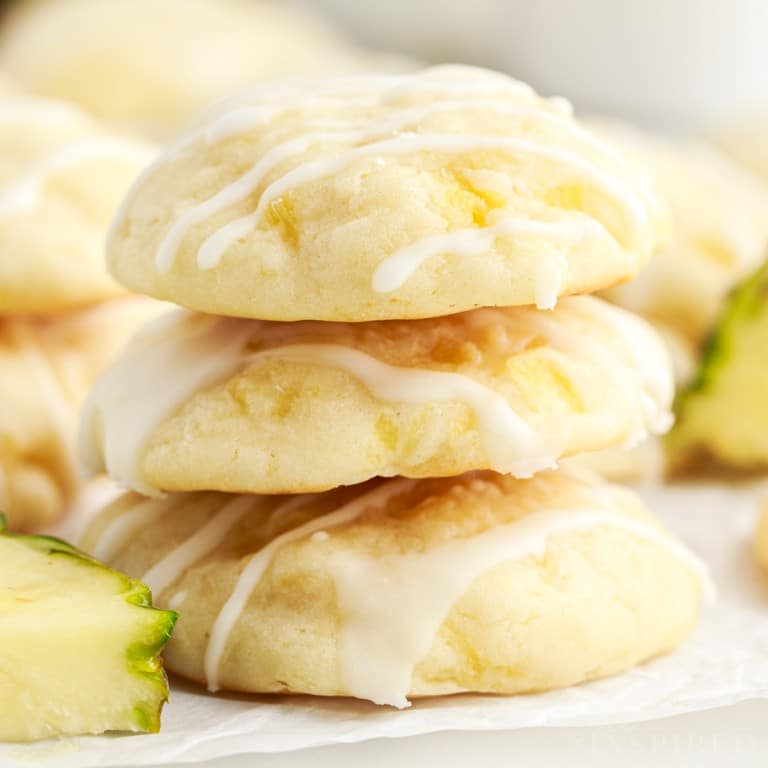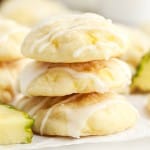 This pineapple cookies recipe makes pillowy soft cream cheese style cookies with tropical flavor in every bite from the bits of pineapples, and are topped with a simple pineapple glaze for an extra punch of citrus.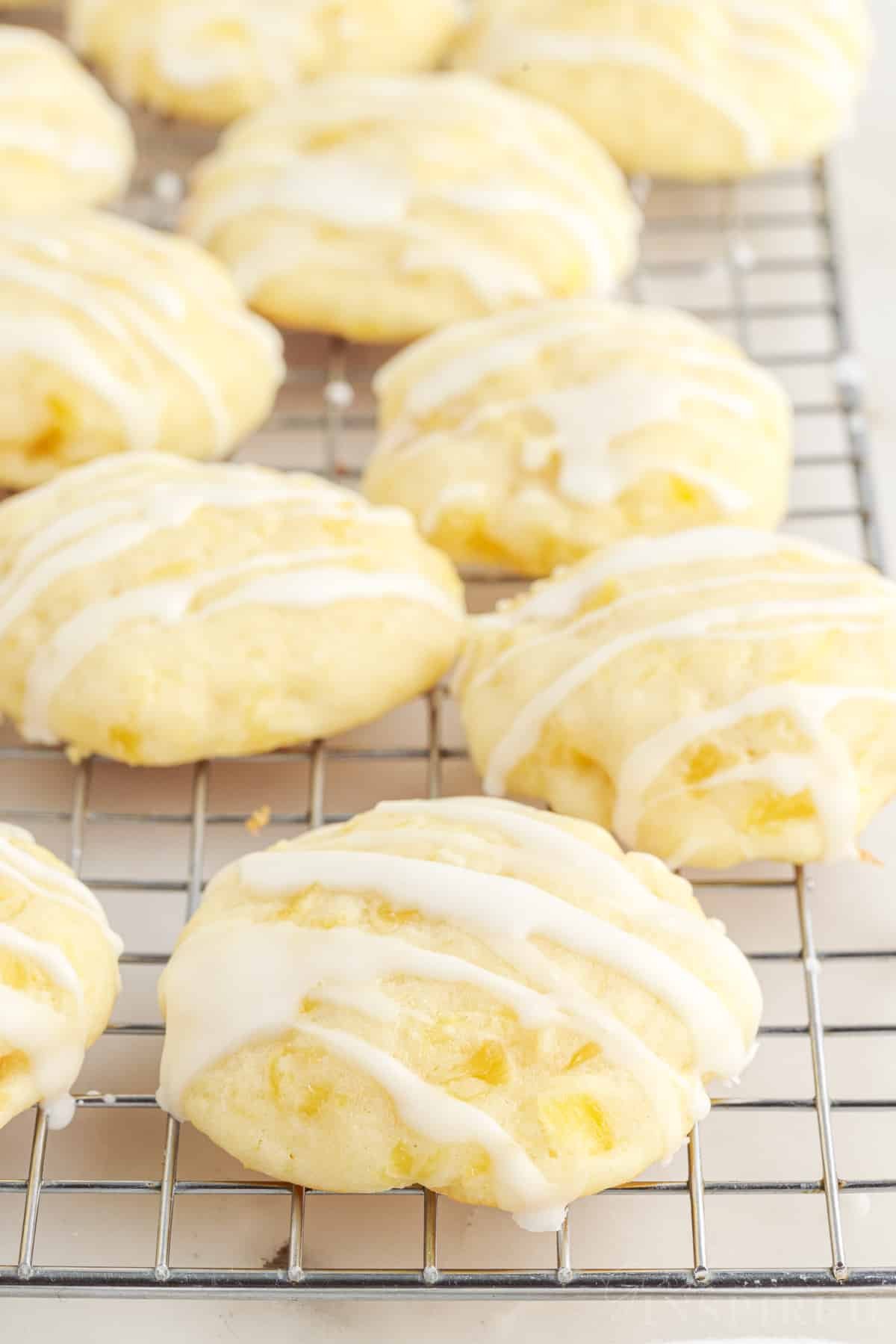 The other week I made a pineapple upside down cake ( you can also make the mini pineapple upside down cakes), and it reminded me how much I miss that flavor this time of year. So I decided to make some simple drop cookies since I had some extra crushed pineapple on hand when I made banana split dump cake. These delicious cookies are so simple to make and only require pantry staples, so you may not even need to go to the store!
If you think softness is what makes the perfect cookie, be sure to try my Amish sugar cookies, chewy coconut cookies, and chocolate chip cheesecake cookies. All of these are melt-in-your-mouth delicious! To use up more canned pineapple, go with a pineapple pound cake or a pineapple angel food cake. Mix up some pineapple curd and stuff it between the coconut cake layers in this pineapple coconut cake. YUM!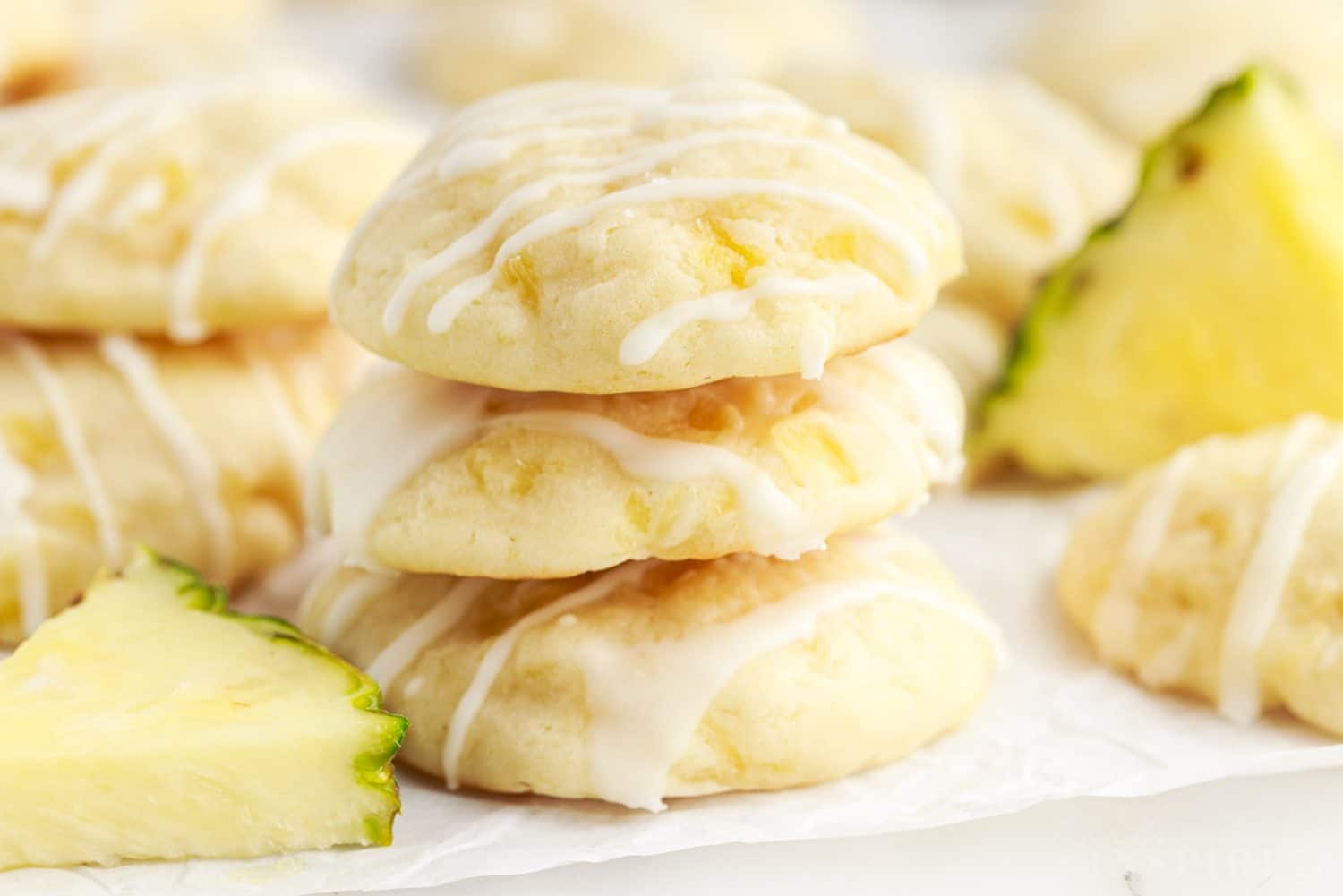 What do I Need for this Recipe?
🍍 Ingredients:
cream cheese – make sure it's room temperature before using.
butter – we use salted, and you want it to be soft so it creams nicely with the cream cheese.
granulated sugar – because we can't make cookies without some sweetness!
eggs – we'll need these to be room temperature as well.
vanilla extract – adds a hint of vanilla.
all-purpose flour – stabilizes and thickens the cookie dough.
baking powder – makes the cookies rise, so be sure it hasn't expired.
salt – just a pinch brings all of the flavors together!
crushed pineapple – drain the pineapple but keep the juice to make the glaze.
powdered sugar – thickens and sweetens the glaze that goes on top.
Optional Garnish:
We like to add pineapple glaze over top, but you can leave them plain if you would like.
Equipment Needed:
Electric mixer – we also use a hand or stand mixer when cream cheese is involved. The paddle attachment works the best.
Cookie scoop – helps to make sure each cookie is evenly measured.
Variations and Substitutions:
More pineapple flavor – swap the vanilla for pineapple extract. If your local market doesn't have it you can find it at cake supply stores.
Subtle glaze – for less pineapple flavor, use milk in place of the pineapple juice when making the glaze.
Adding more crushed pineapple – you can add up to 1 cup of crushed pineapple in the cookie dough and they will still turn out correctly.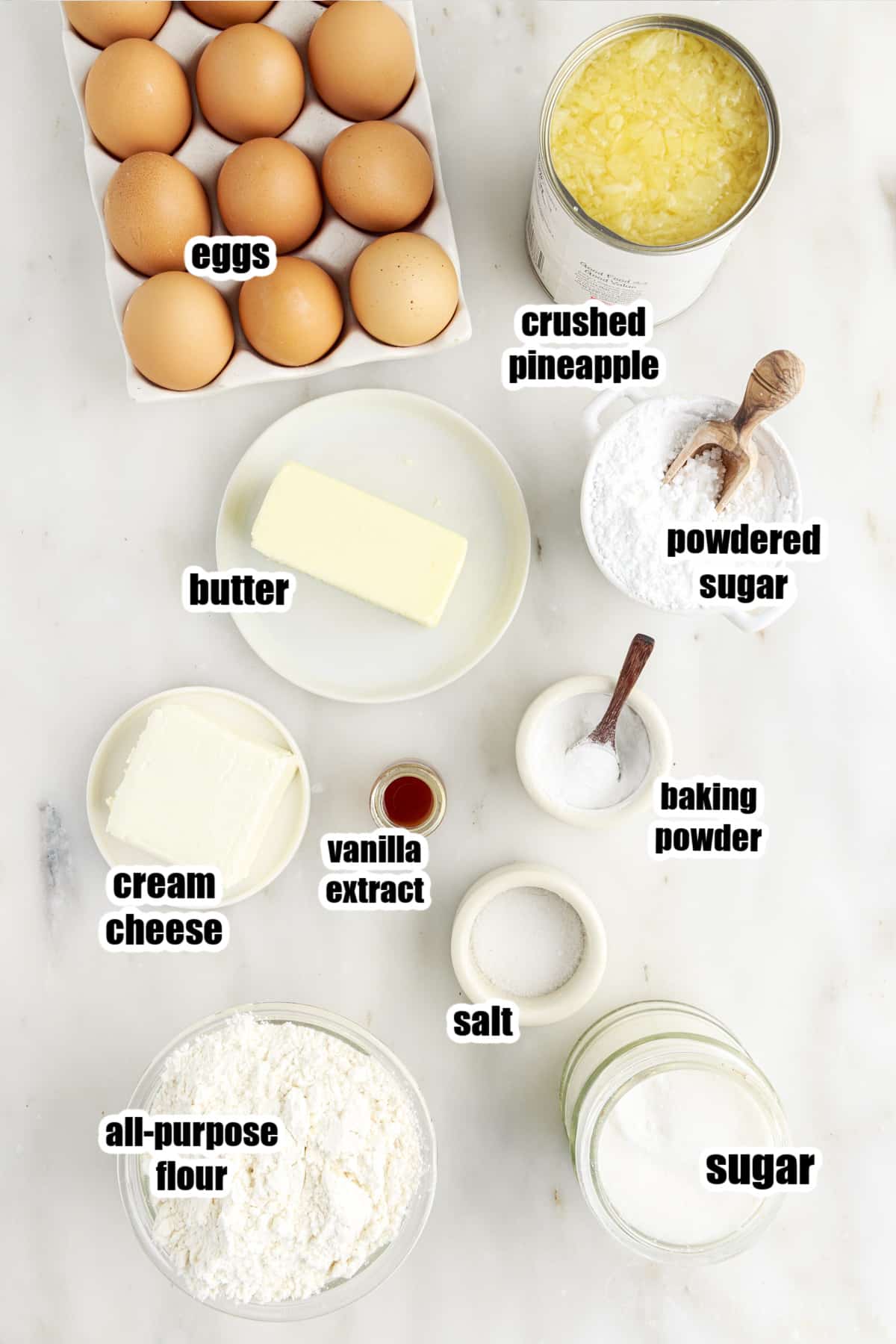 🔪 Instructions:
PREP: Line your baking sheet(s) with parchment paper and preheat the oven to 350 degrees.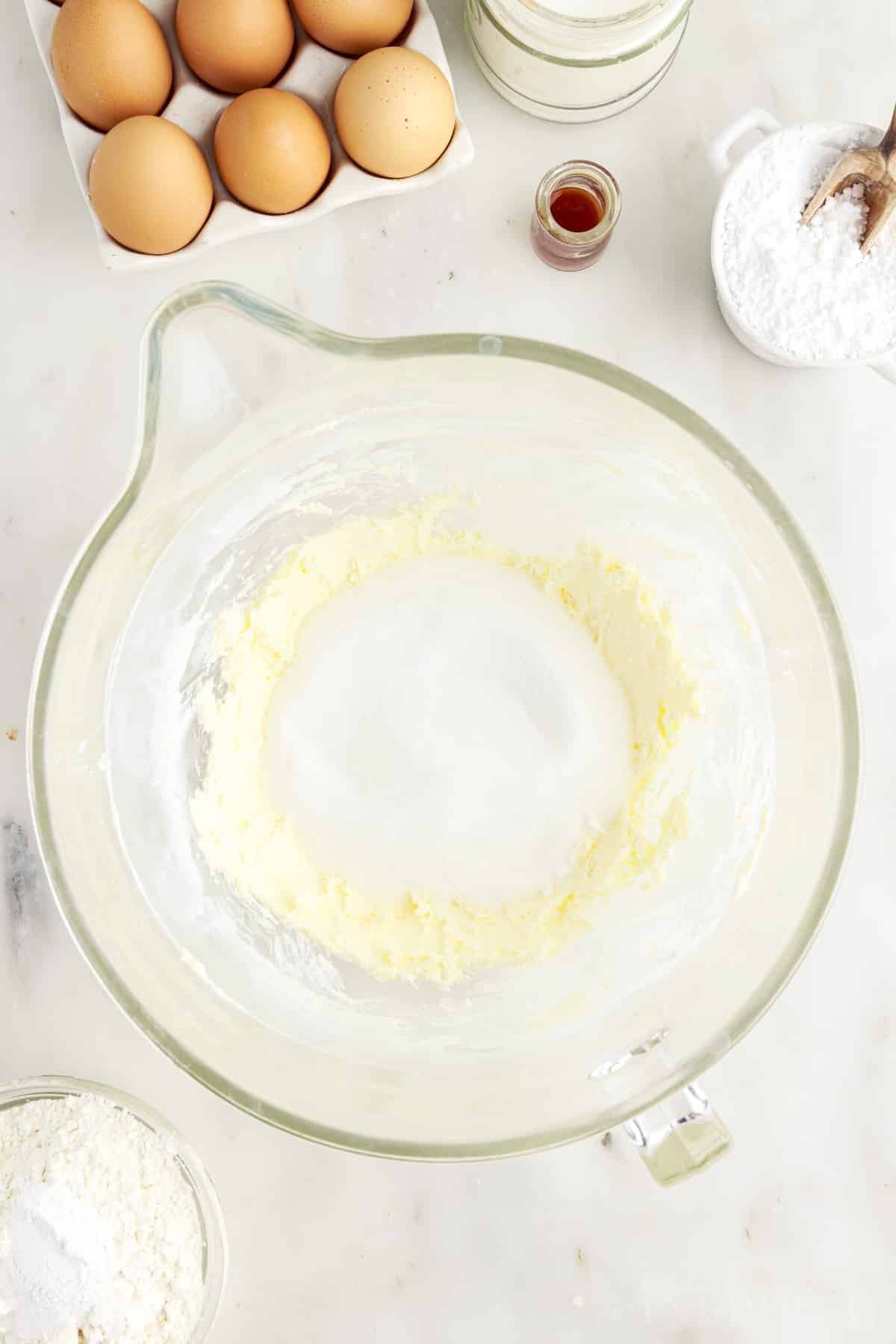 Step 1: ​In a large bowl, beat a ½ cup butter with the cream cheese so it's light and fluffy on medium speed. Add the cream and sugar and mix until combined.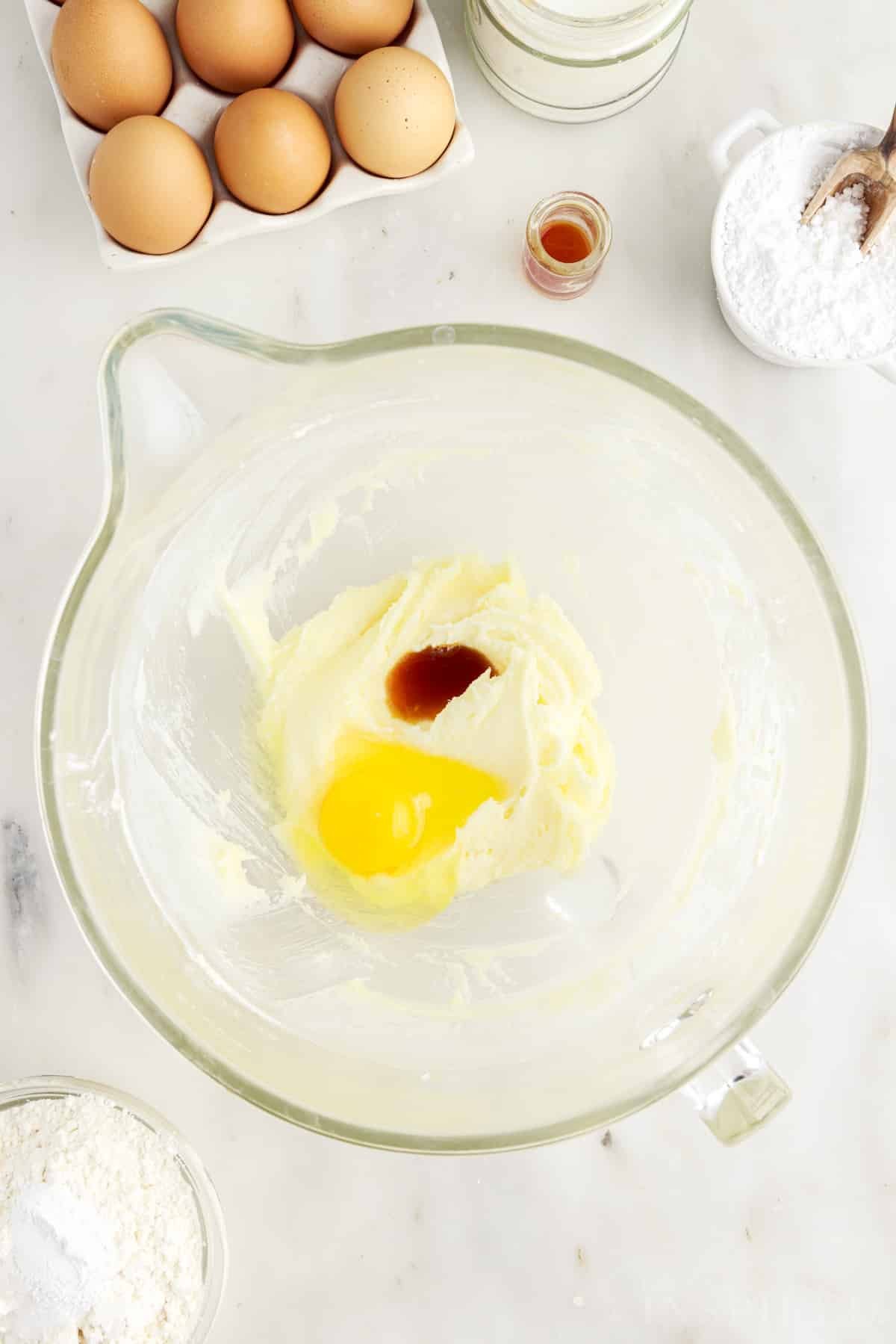 Step 2: Beat in the vanilla and egg to the creamed mixture. Scrap down the sides of the bowl as needed. In a small bowl, whisk together the dry ingredients.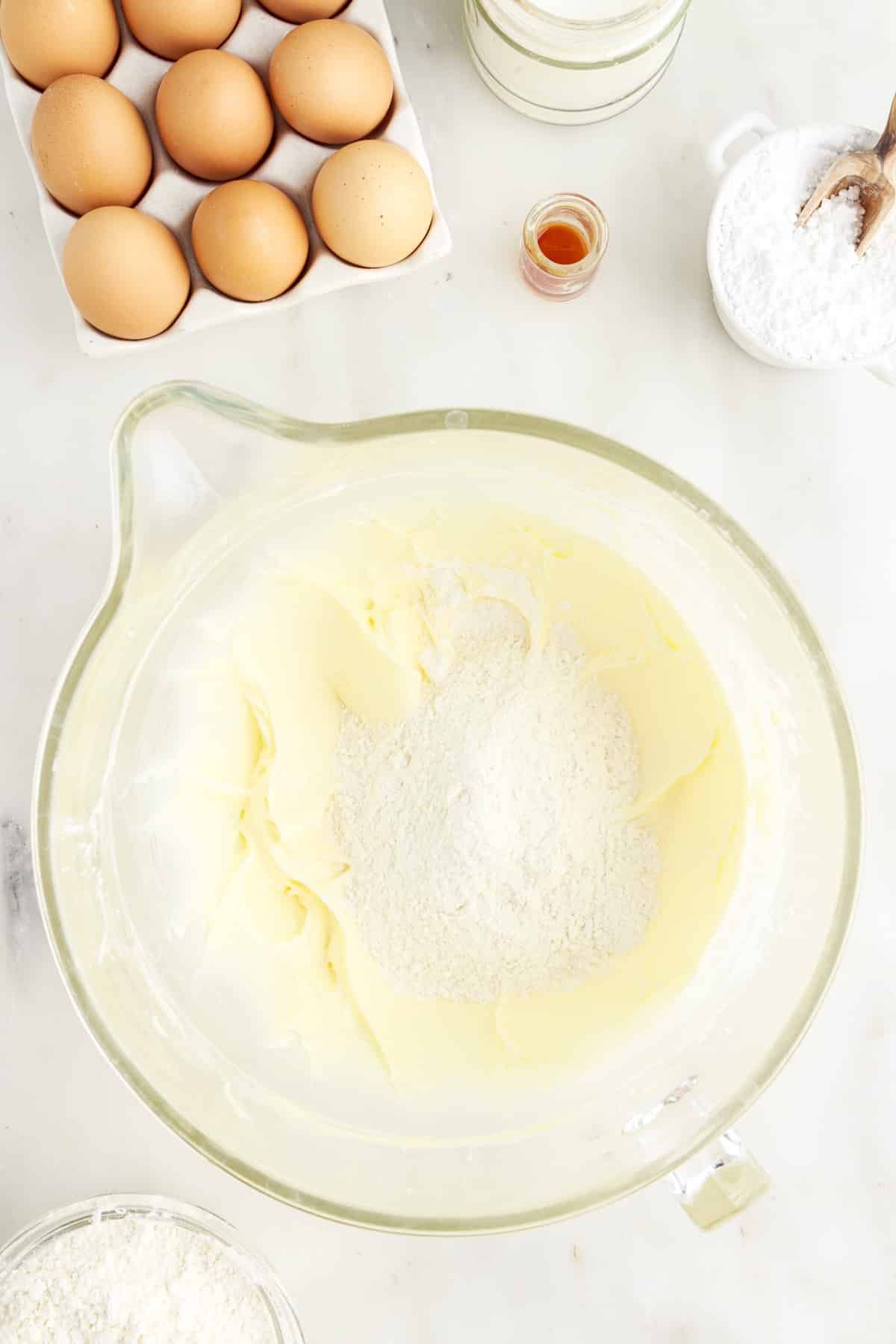 Step 3: With the mixer on low, add the dry ingredients to the wet ingredients a little at a time until mixed.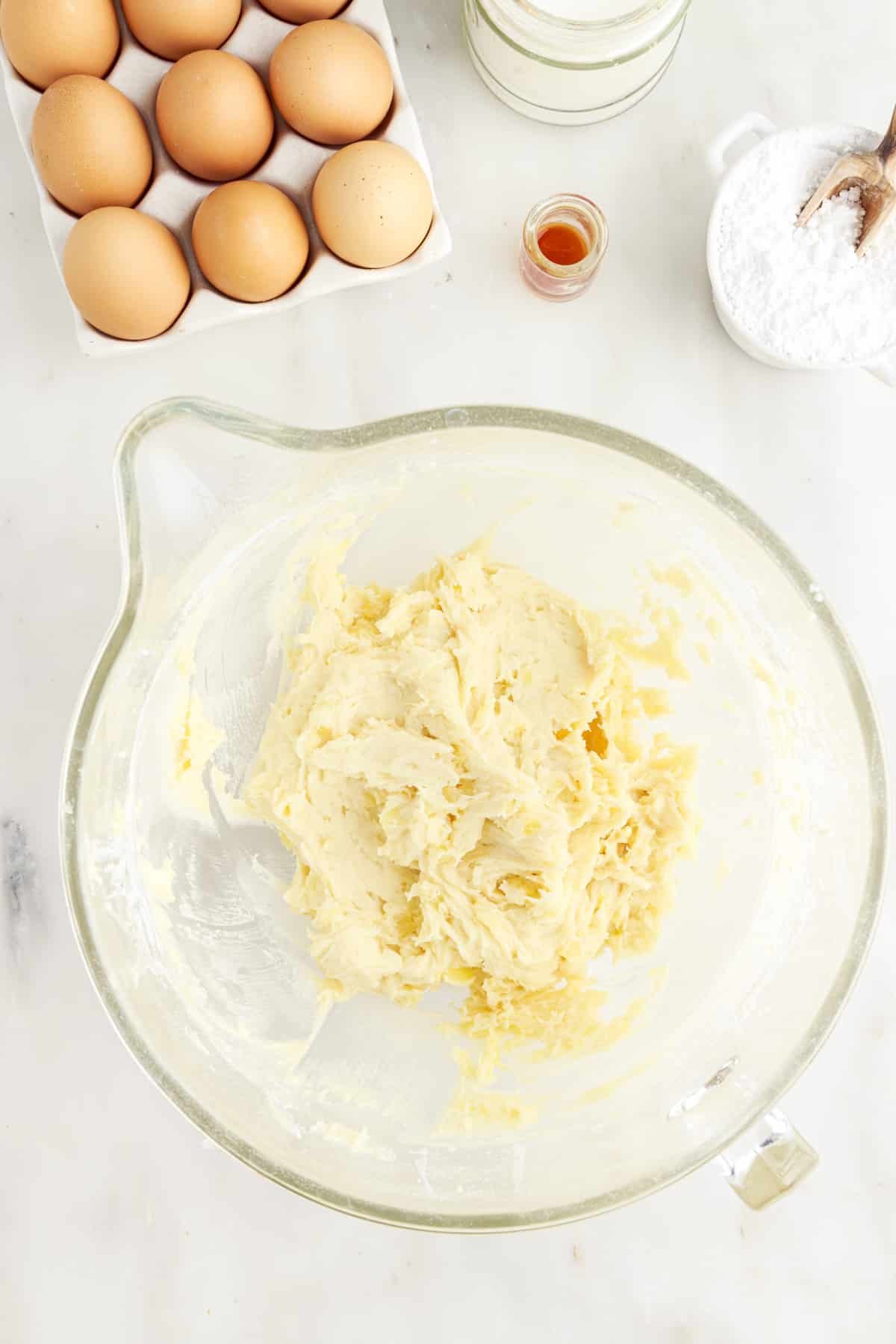 Step 4: Pour in the drained pineapple and stir again.
Pro Tip: If you roll the dough between your palms instead of dropping it onto the sheet, wet your hands so it's less likely to stick.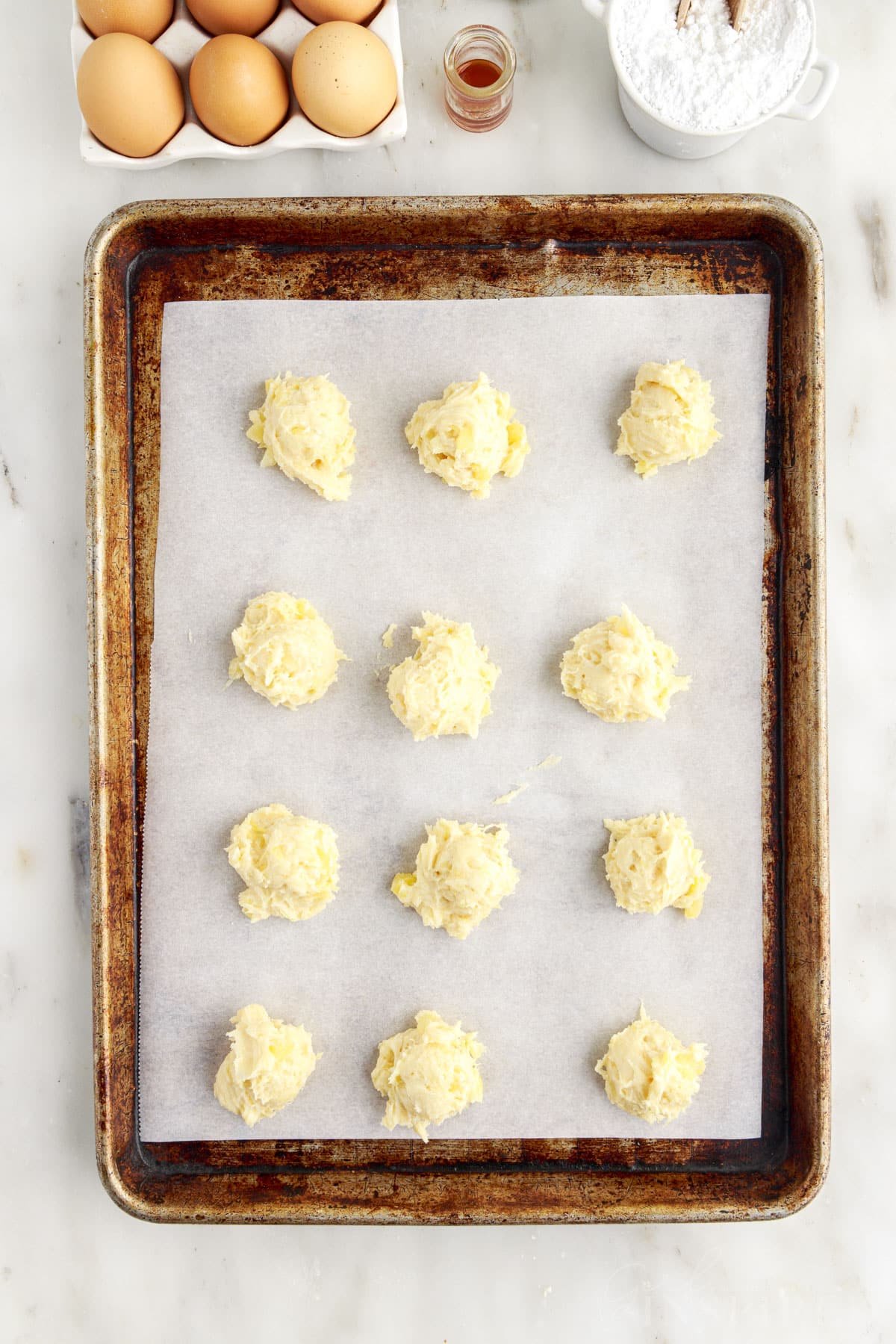 Step 5: Scoop out 2 tablespoons of cookie at a time and place them on the prepared cookie sheet 2 inches apart. Bake for 10-12 minutes in the preheated oven until the tops appear matte and the edges of the cookie of just beginning to brown.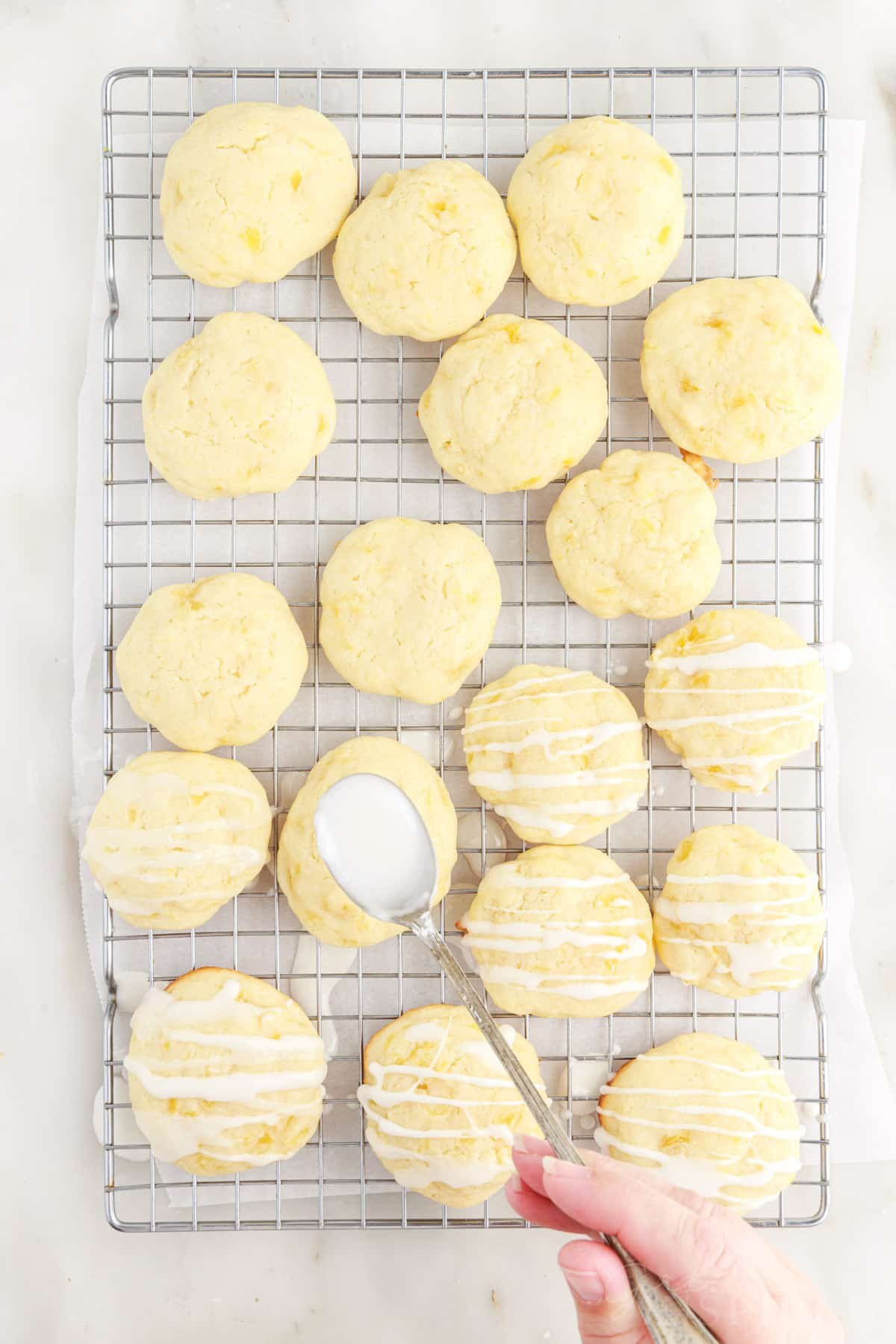 Step 6: Place cookies on a wire rack to cool. In a separate bowl, combine confectioners' sugar and enough pineapple juice to have a pourable glaze.
SERVE: Drizzle over the tops of the cookies or dip one side in and serve once it has set.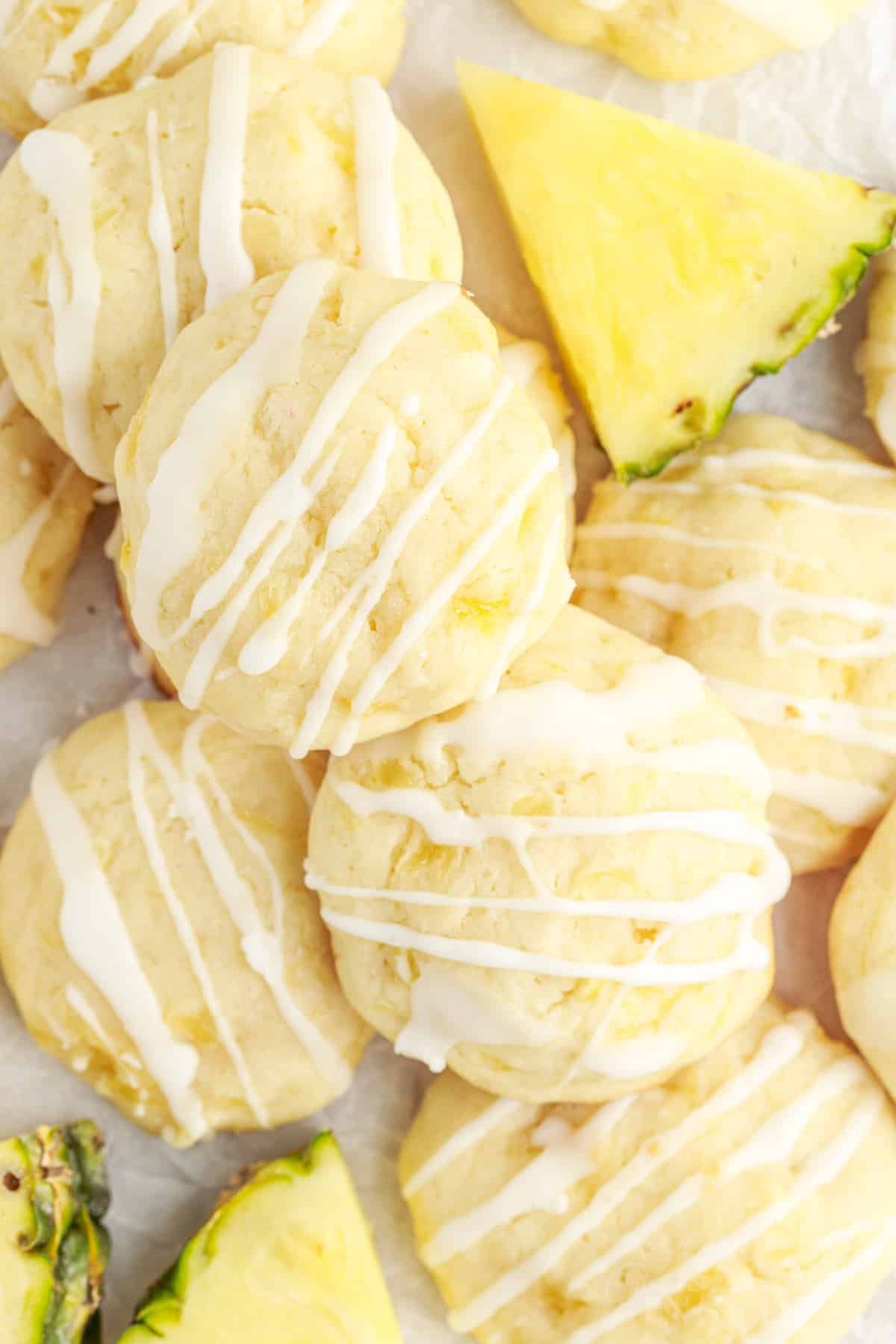 Chilling the dough makes it easier to roll the dough into smooth balls, but isn't necessary for them to bake right.
If you add too much pineapple juice to the glaze it will be runny. To correct this, add more confectioners' sugar.
Fun Fact
Each pineapple plant will only produce 1 pineapple per season!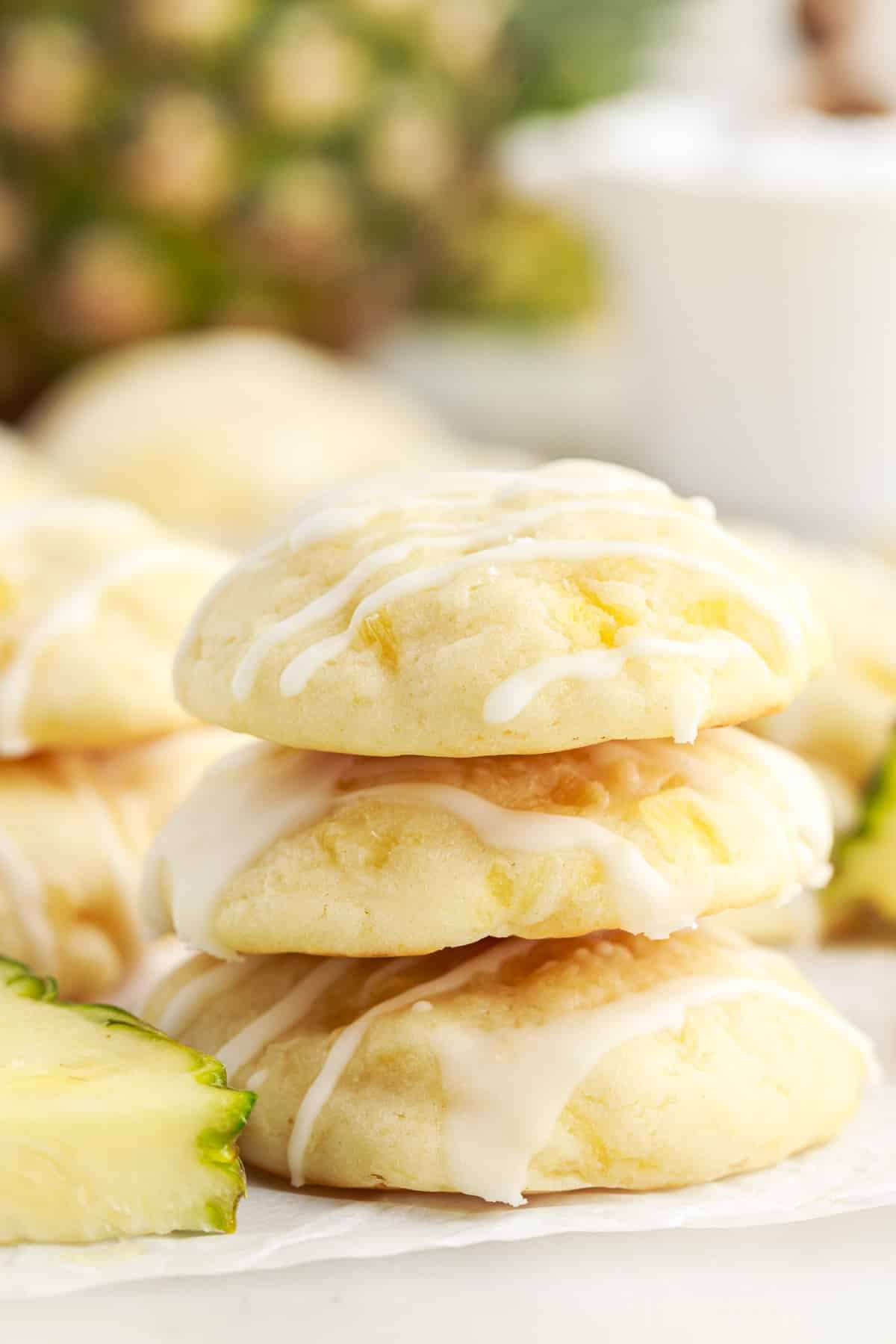 How to store pineapple drop cookies?
Keep the soft pineapple cookies in an airtight container for up to 5 days or freeze for 3 months.
Can I use fresh pineapple?
We prefer to use canned crushed because it's distributed through the cookie dough evenly, bakes well, and isn't overpowering. Plus, it's easier! It would be hard to get the same results with fresh.
More Amazing Pineapple Recipes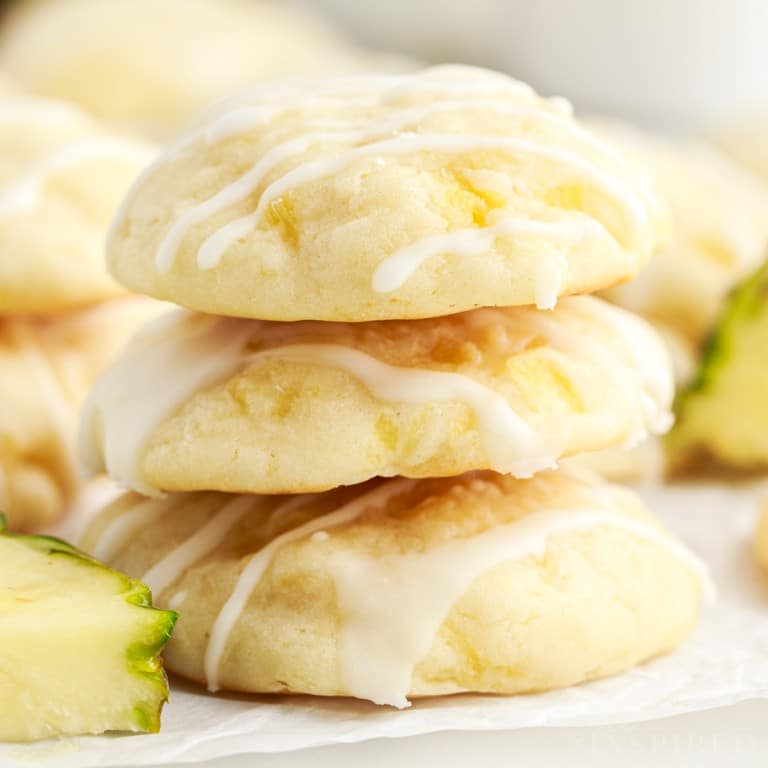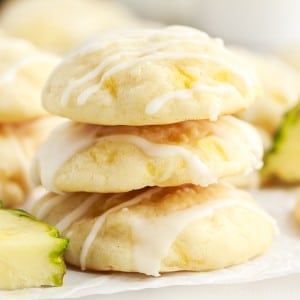 Pineapple Cookie Recipe
This pineapple cookies recipe makes pillowy soft cream cheese style cookies with tropical flavor in every bite.
Ingredients
4 ounces cream cheese softened to room temperature
½ cup salted butter softened
1 cup granulated sugar
1 large eggs room temperature
1 teaspoon vanilla extract
2 cups all-purpose flour
1 teaspoon baking powder
½ teaspoon salt
¾ cup crushed pineapple drained (reserve juice)
1 cup powdered sugar
1-2 tablespoons reserved pineapple juice
Instructions
Preheat the oven to 350°F and line baking sheets with parchment paper.

In a large mixing bowl, beat together the butter and cream cheese until light and fluffy (about 2 minutes on medium speed). Add sugar and cream together for a minute more.

Add vanilla extract and egg; beat until combined. Use a rubber spatula to scrape the sides of the mixing bowl.

In a medium bowl, whisk together the flour, baking powder, and salt.

With mixer running on low speed, add the flour mixture to the creamed ingredients a bit at a time until fully incorporated.

Add in the drained pineapple and mix until evenly combined.

Use a 2 tablespoon cookie dough scoop to scoop balls of dough. Place them 2 inches apart on a parchment-lined sheet pan.

To make smoother cookies, chill the scooped dough balls in the freezer for 5-10 minutes and then roll them quickly in the palms of your hands to form a smooth ball. You can alternately bake the dropped scoops of cookies. They will bake the same, they will just be slightly more lumpy.

Bake cookies for 10-12 minutes until the dough has puffed and appears matte (not wet) across the surface and the bottom edges are just beginning to brown.

Transfer cookies to a cooling rack and let them cool.

Whisk together powdered sugar and enough pineapple juice to form a glaze of desired drizzling consistency. Drizzle the glaze over the cookies or dip the top of each cookie into the glaze.

Allow the glaze 15 minutes to set on top of the cookies. Serve.
Notes
STORAGE: Store cookies in an airtight container for up to 5 days or freeze for up to 3 months. NOTES: These cream cheese-style cookies are pillowy soft with a doughy texture and small pops of sweet pineapple throughout. For a more pronounced pineapple flavor, substitute pineapple extract for the vanilla extract in the cookie dough. Pineapple extract can be found in cake/candy supply stores if not available at the supermarket. The dough is very soft and sticky but does not necessarily need to be chilled in order to bake properly. Chilling the dough makes it easier to roll the dough into smooth balls. You can also dip your hands in water to prevent the dough from sticking to your hands Or simply drop the dough by the spoonful and bake as is. You can add up to 1 cup of drained crushed pineapple to the cookie dough. Adding more than that may change the consistency of the dough by adding too much moisture.
Nutrition
Calories: 148kcal | Carbohydrates: 23g | Protein: 2g | Fat: 6g | Saturated Fat: 3g | Polyunsaturated Fat: 0.3g | Monounsaturated Fat: 1g | Trans Fat: 0.2g | Cholesterol: 22mg | Sodium: 114mg | Potassium: 32mg | Fiber: 0.4g | Sugar: 15g | Vitamin A: 195IU | Vitamin C: 1mg | Calcium: 20mg | Iron: 1mg