This pink flamingo drink recipe is perfect for a hot summer day! It's light, refreshing, and super simple to make.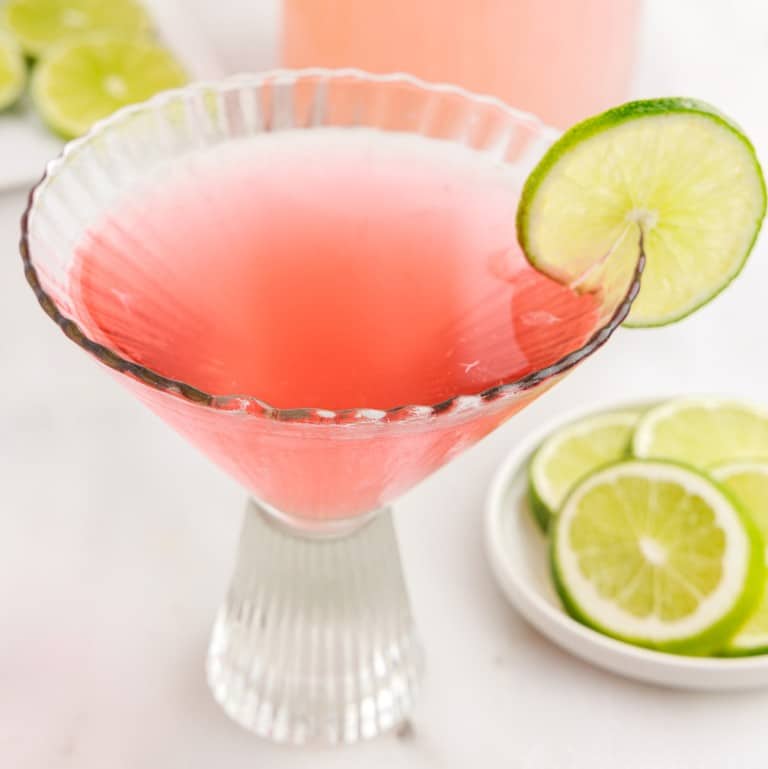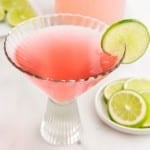 Having a pink flamingo drink is the perfect way to celebrate happy hour. All you need is vodka, pink lemonade, and a splash of grenadine to make this delicious cocktail.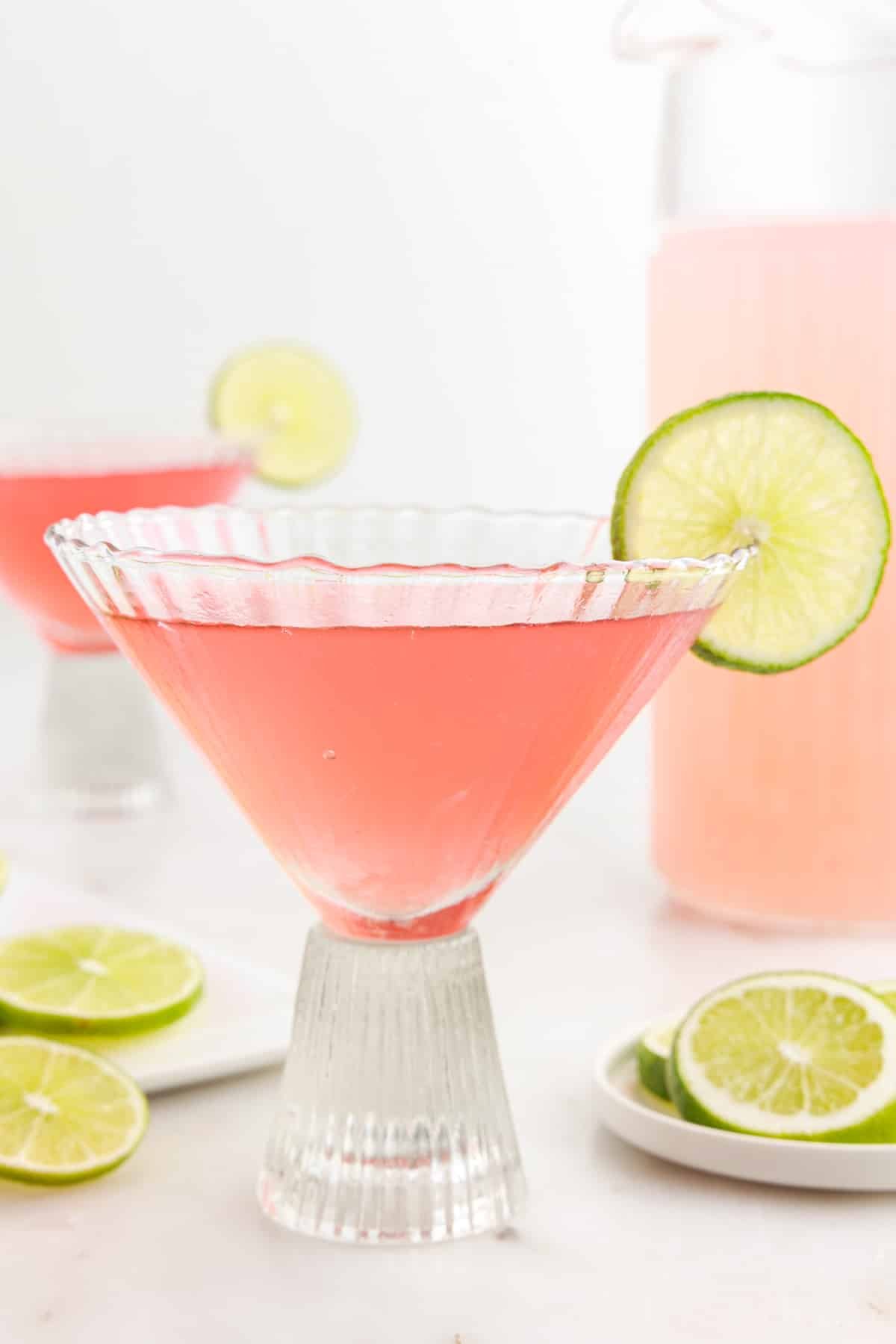 I love whipping up a new boozy drink that everyone loves, especially on a hot day. This fruity cocktail would be perfect poolside but is also elevated and easy enough to pull off for a bachelorette party or bridal shower. Depending on the occasion you can jazz them up by adding the paper flamingos or use cocktail umbrellas.
Like the look of the classic pink flamingo cocktail? Be sure to try my Starburst cocktail that tastes exactly like the candy! To keep the theme going, you can also serve these with a batch of pink lemonade jello shots. The dirty Shirley tastes very similar to this drink, but uses lemon-lime soda instead of lemonade, definitely worth a try! And if you prefer rum, mix up a strawberry mojito or a creamy piña colada.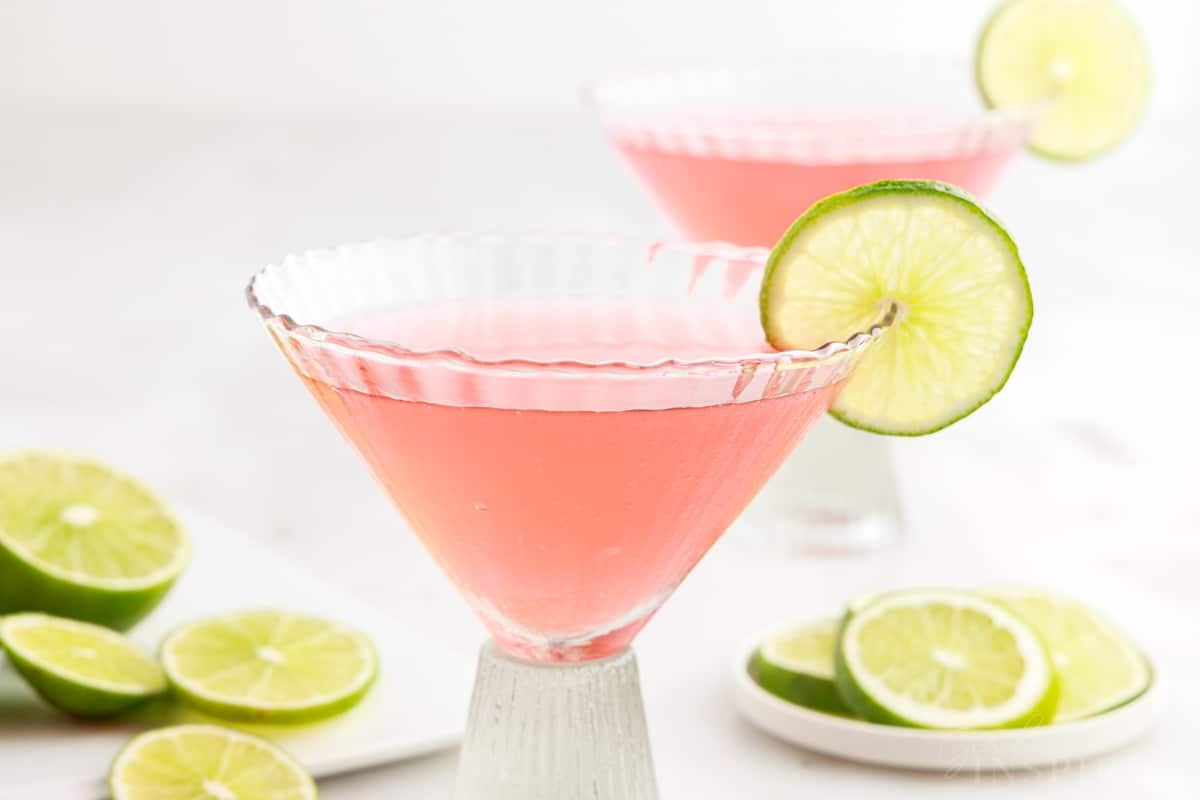 What do I Need for this Recipe?
🥤 Ingredients:
​ice cubes – because we want our drink ice cold!
vodka – any brand will work.
pink lemonade – we use premixed store-bought, but if you wanted to make it from scratch with the powder you could.
Grenadine – adds a little sweetness and tartness, but helps to give this fruity drink a vibrant pink color.
Optional Garnish:
Add a lemon slice or lime wedge to the edge of your glass to garnish. You could also use other fresh fruit like an orange slice or a pineapple chunk.
Equipment Needed:
Cocktail shaker – helps to get the drink ice cold really fast!
Variations and Substitutions:
Cranberry juice – can be swapped for the grenadine to add a pop of color in its place, but it does change the taste quite a bit.
Bubbly – if you want something a little carbonated add some club soda or soda water after the pink drink has been shaken.
Without lemonade – if you don't have pink lemonade, you can use lemonade vodka and pineapple juice instead. If it's too sweet a little fresh lime juice or a splash of cranberry.
Pitcher Cocktails – use 2 cups of vodka, 2 cups of pink lemonade, and enough grenadine to get a nice pink color. Stir together and serve in a highball glass with ice.
​Swap the liquor – Don't like vodka? Go with a white rum or gin instead.
Mocktail – omit the vodka. I would also recommend adding 7Up or something lemon lime so it doesn't taste like lemonade.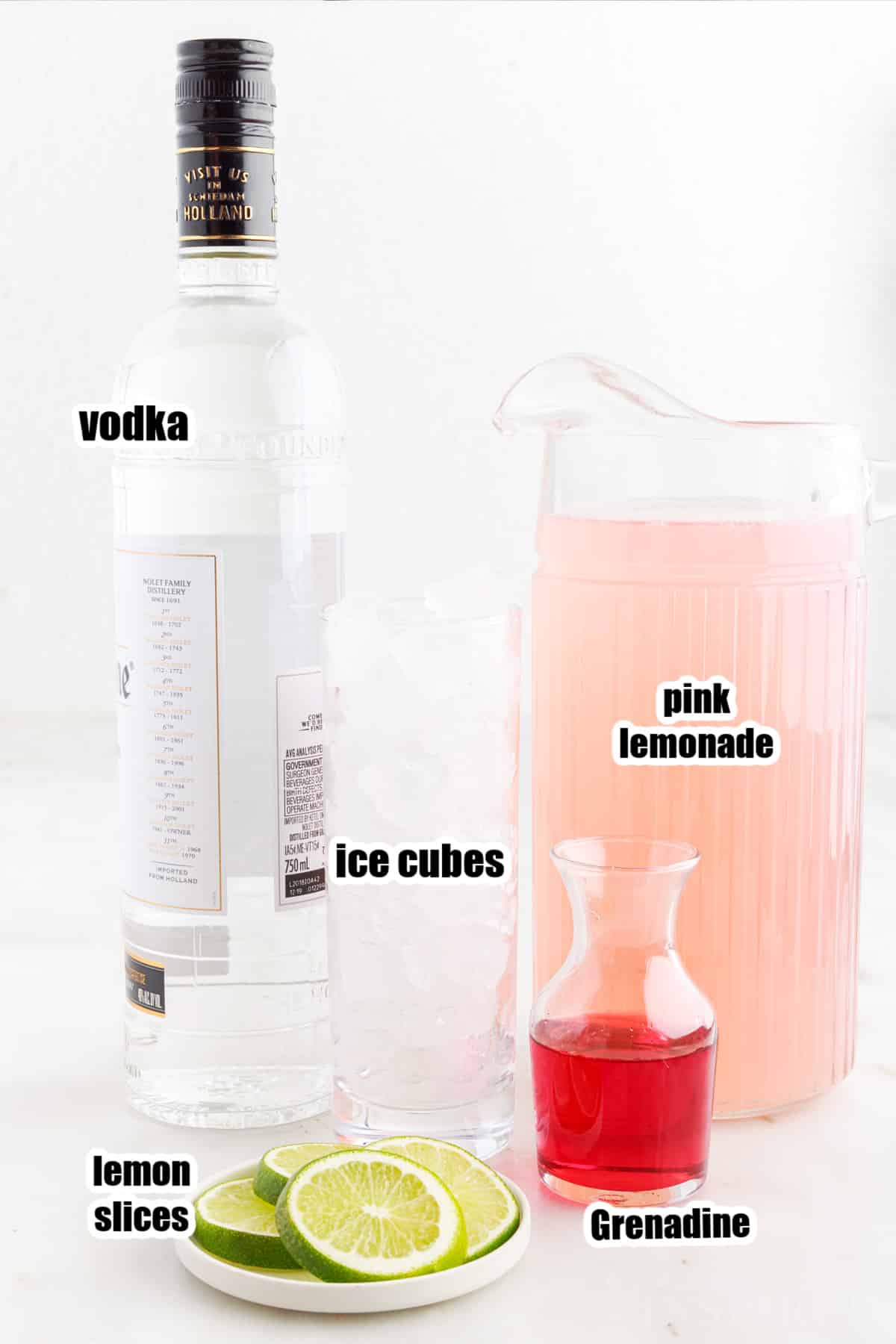 🔪 Instructions:
PREP: ​Add the ice to the cocktail shaker.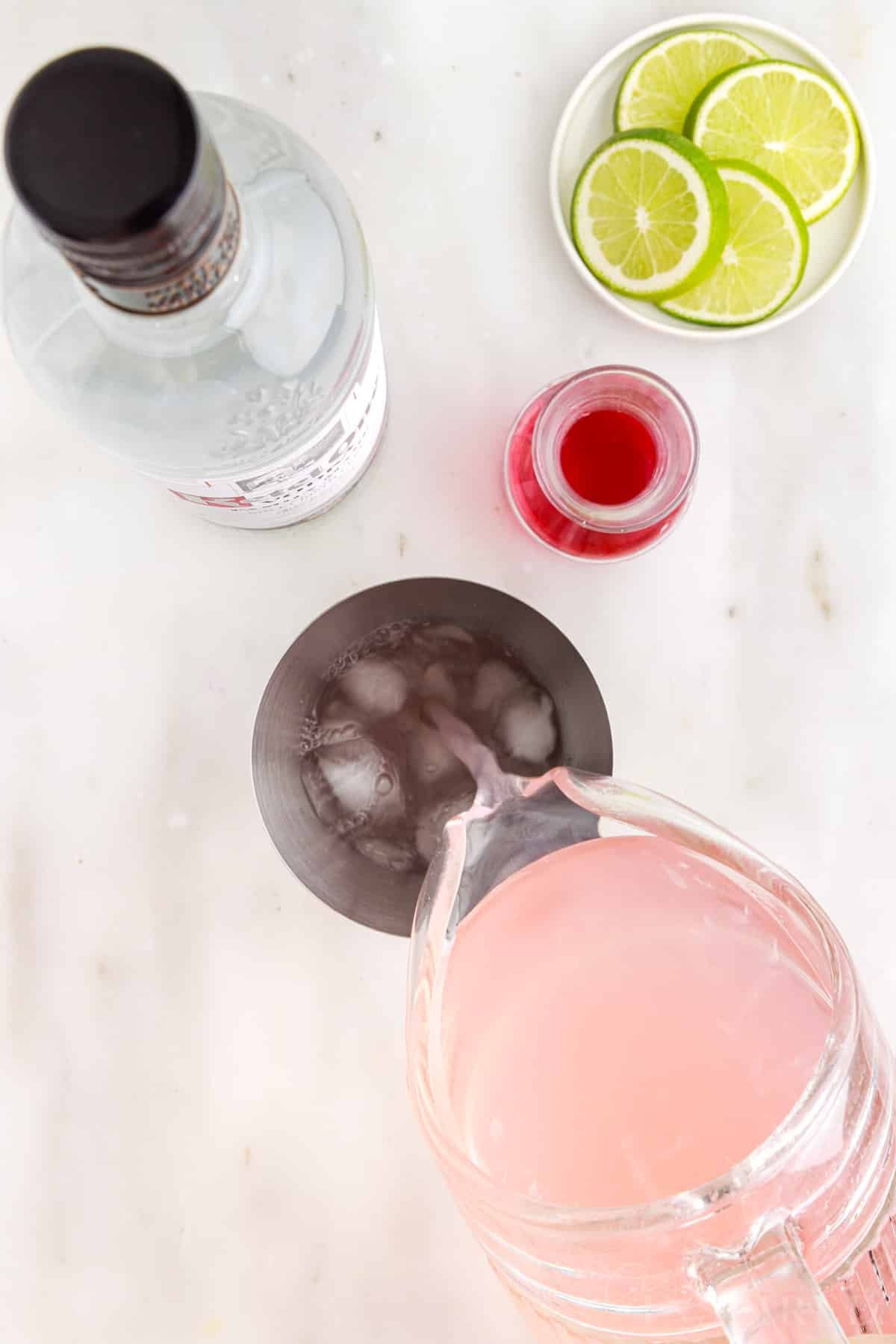 Step 1: Pour in the vodka, lemonade, and a splash of grenadine. Place the lid on and shake.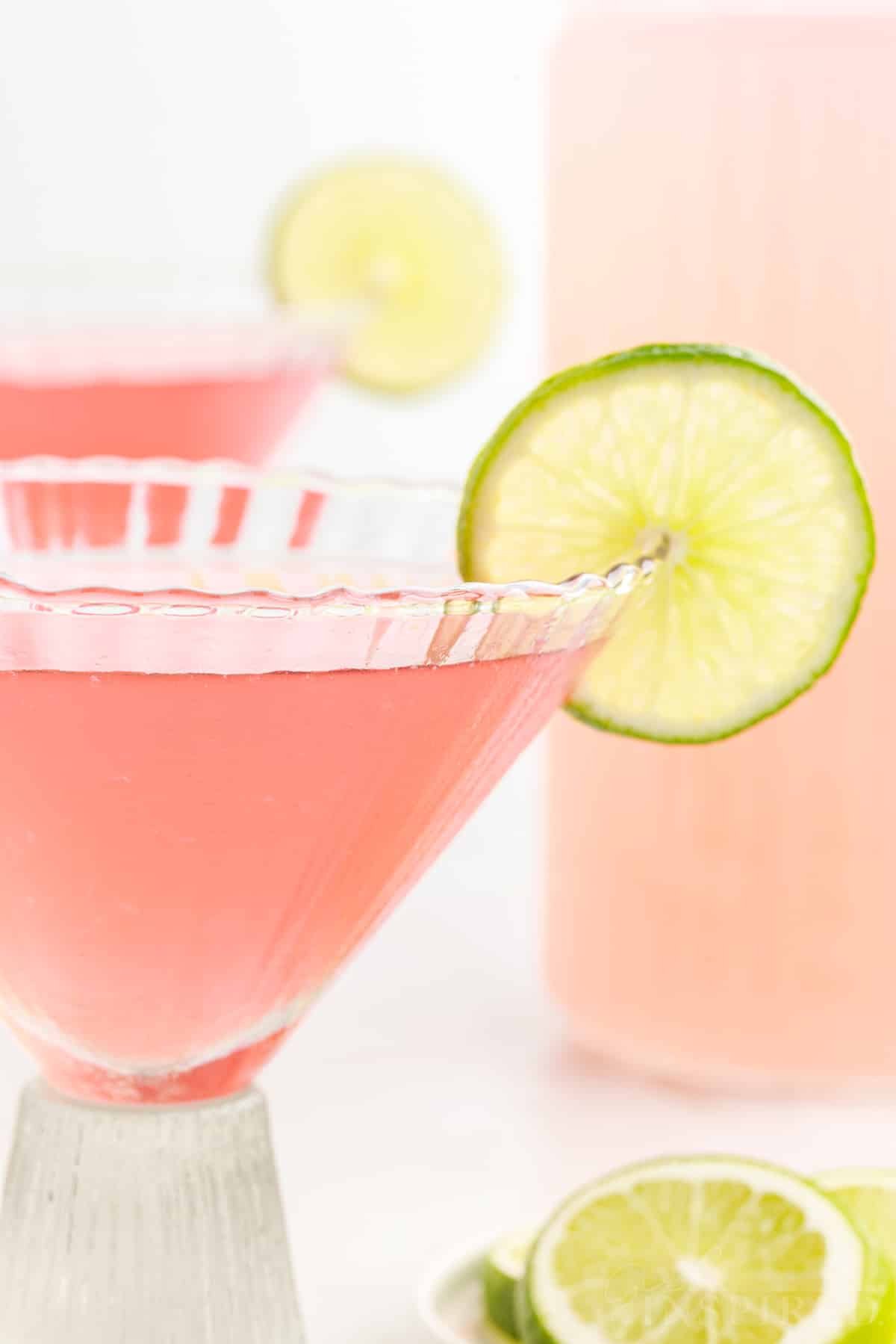 Step 2: ​Pour into your chilled martini glass.
Pro Tip: If you are altering the recipe and using something that is carbonated, do not add until after you have shaken the other ingredients. It will taste flat.
SERVE: Garnish with a lime and enjoy!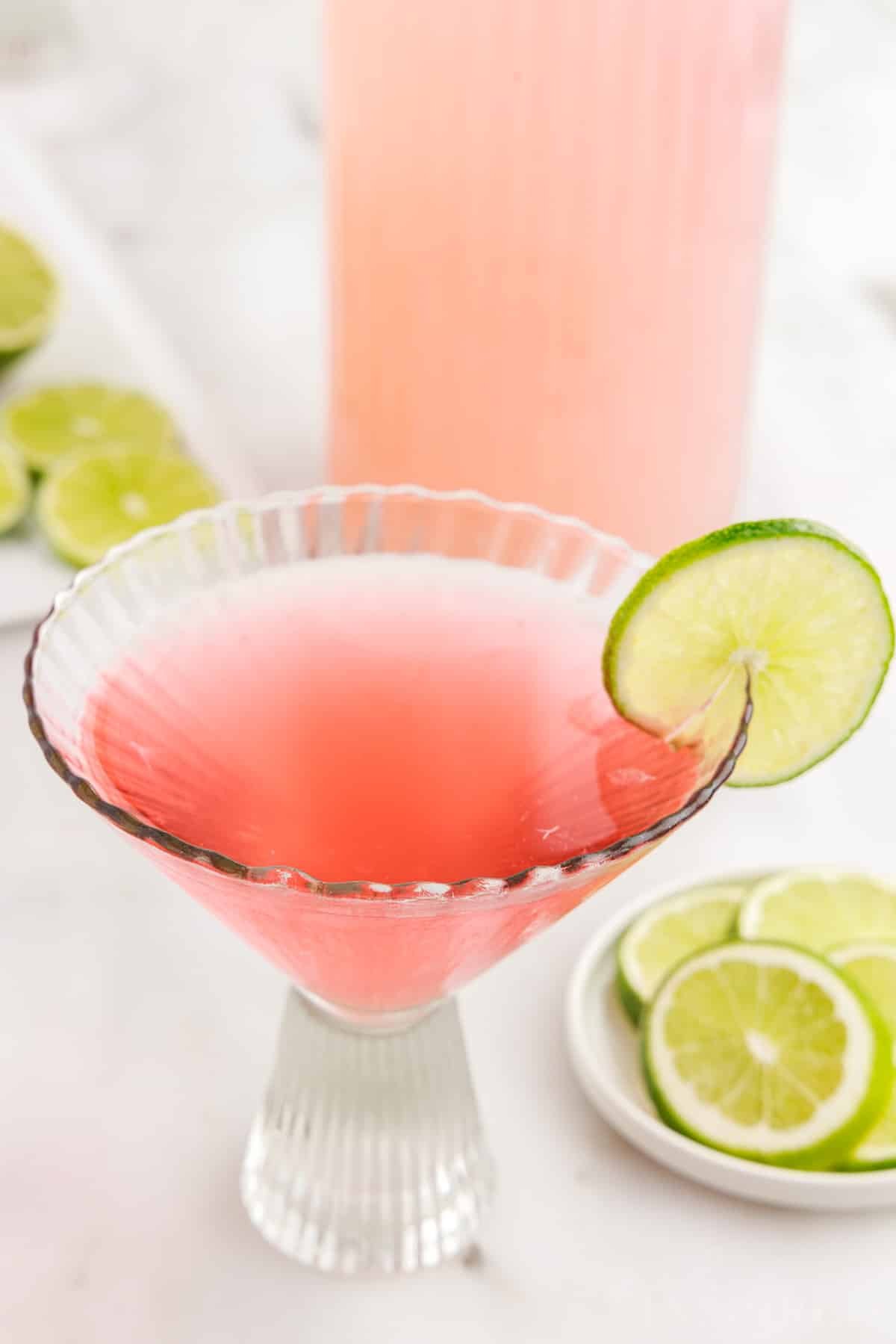 You can use raspberry lemonade or even regular lemonade instead and it will still taste great. The grenadine syrup will give your drink a pink tint even if you use regular lemonade, but using raspberry or pink lemonade will give it a really nice color.
This drink looks really fancy in a martini glass, but don't worry if you don't have one. Any glass will work just fine.
Fun Fact
The first book with cocktail recipes was released in the 1800s!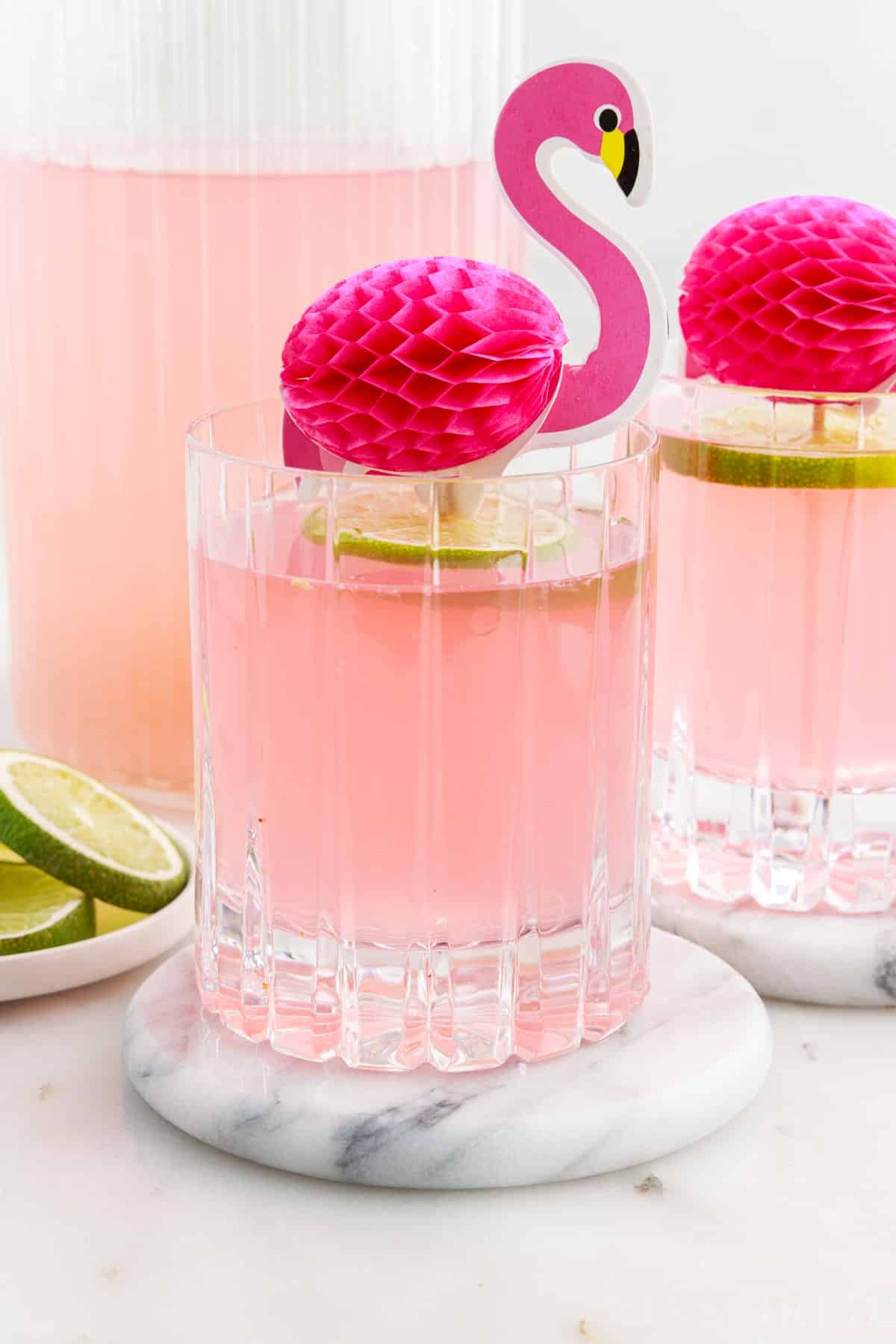 Can you store these drinks for later?
We recommend serving them immediately.
Easy Cocktails for Hot Summer Days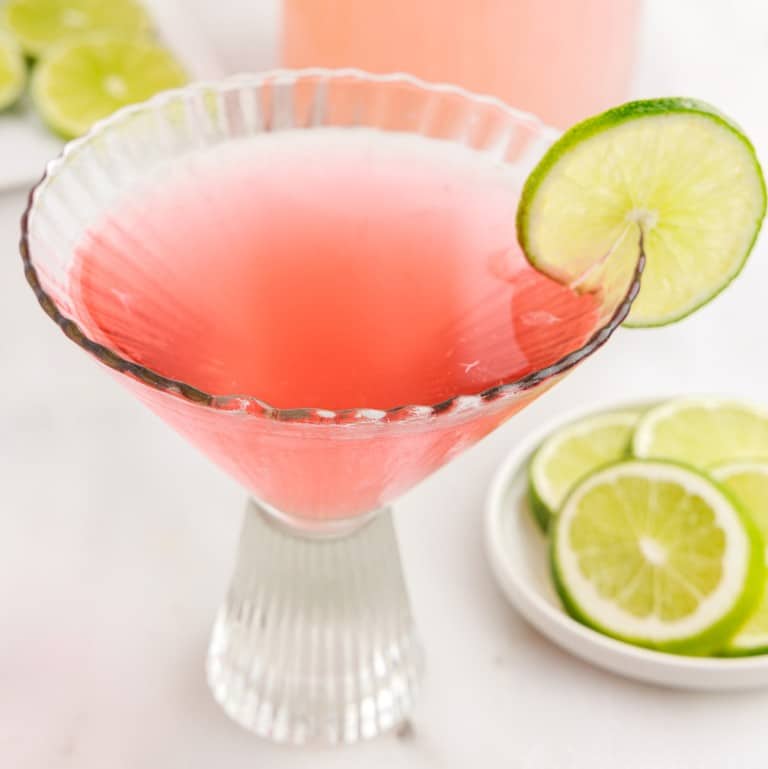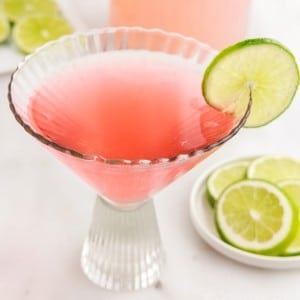 Pink Flamingo Drink
This pink flamingo drink recipe is perfect for a hot summer day! It's light, refreshing, and super simple to make.
5 oz glass
Ingredients
1 cup ice cubes
1 ½ oz. vodka
3 oz. pink lemonade
Splash grenadine
Lime wheels/wedges for garnish
Instructions
Fill shaker with ice.

Add vodka, lemonade, and a splash of grenadine to the shaker. Shake vigorously.

Pour into chilled martini glass.

Garnish glass with a lime wheel.
Notes
Storage: Serve immediately. Notes: Substitute raspberry lemonade or even regular lemonade for the pink lemonade; the grenadine will still tint the drink pink if you use regular lemonade, but the pink color of pink or raspberry lemonade really gives the cocktail a lovely color. You can also substitute lemon vodka. This drink looks especially nice in a martini glass, but any glass can be used. Serve over ice if you want to use a larger glass. Chill glasses in the freezer for 15-30 minutes before preparing cocktail for a nice, frosted look and to keep the drink colder a bit longer.
Nutrition
Calories: 141kcal | Carbohydrates: 11g | Sodium: 18mg | Potassium: 0.4mg | Sugar: 10g | Calcium: 7mg