Use this easy strawberry mojito recipe as a fun cocktail for your next party or happy hour. The fresh flavors are great for warmer weather and they are so easy to make.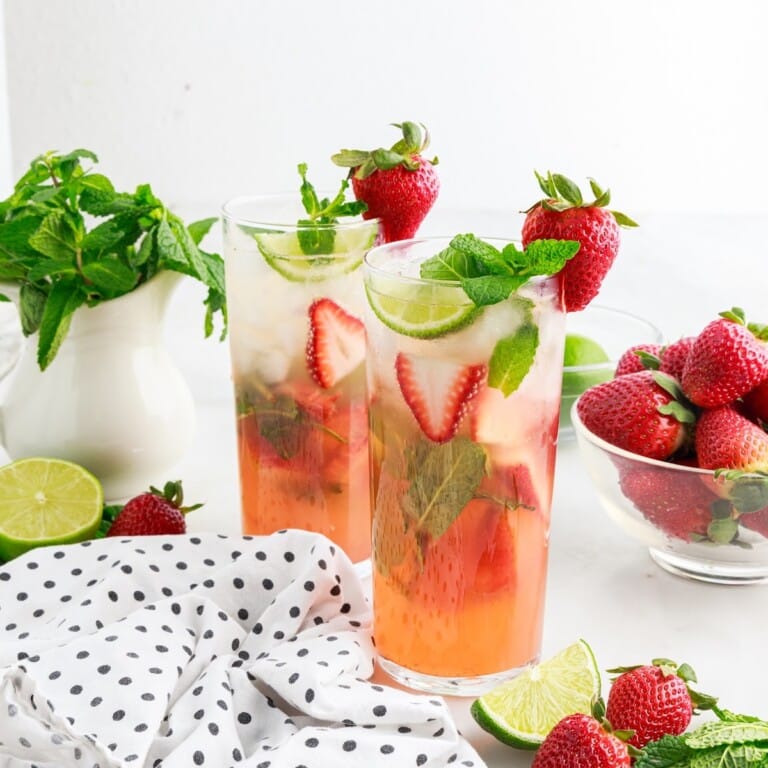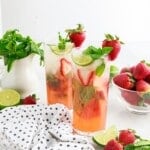 This strawberry mojito recipe is similar to the classic cocktail, except made with juicy fresh strawberries. It's such a fun twist, perfect for a hot summer day, and is full of sweet flavor.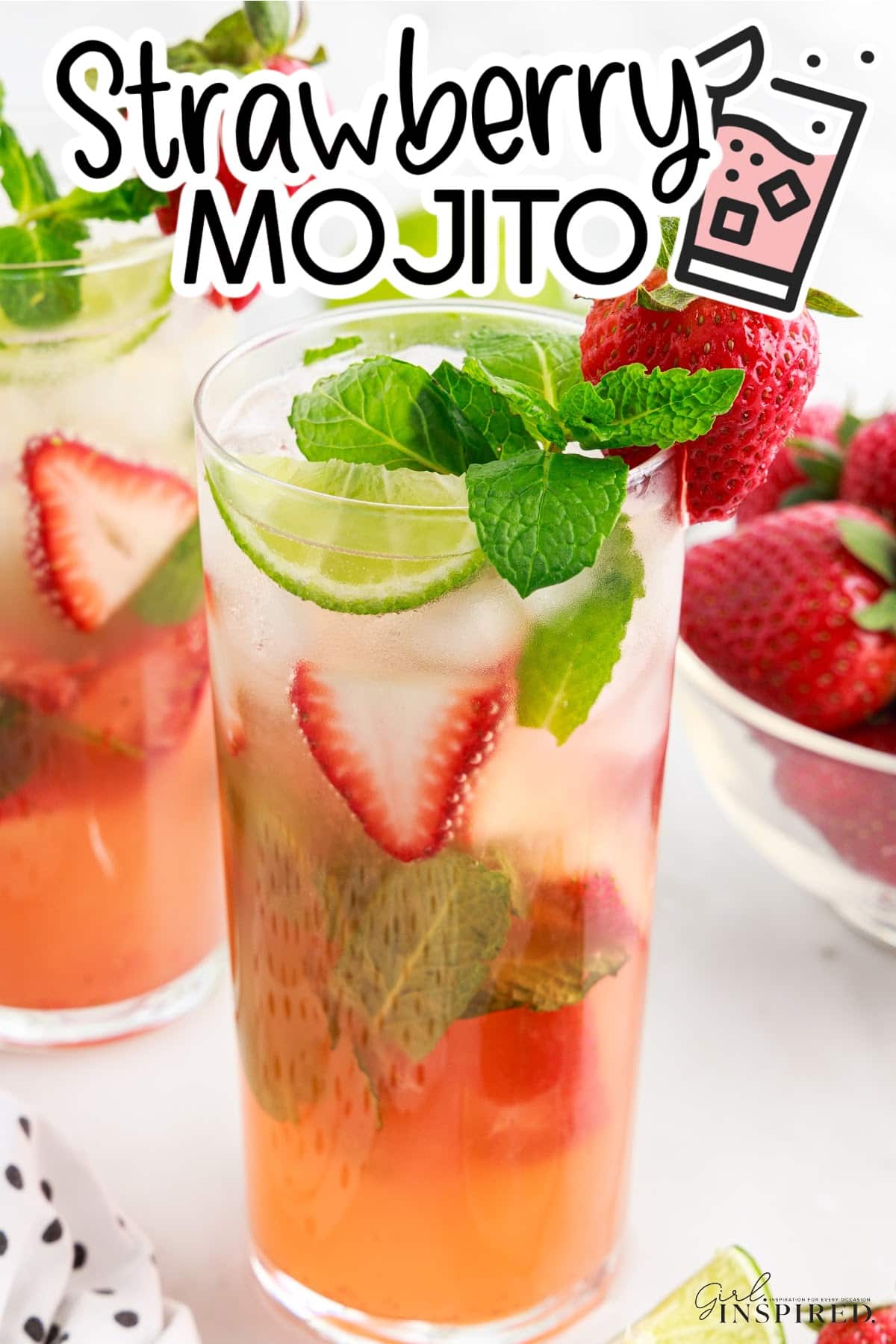 Traditional mojitos are great, but the strawberry version is out of this world! Not to mention you can use my homemade simple syrup recipe that adds sweetness and it's one less ingredient you have to buy. I love making these during the summer months since we can find sweet strawberries that are in their peak season.
Another refreshing cocktail that calls for rum is the tipsy mermaid, plus it's pretty too. If you love rum drinks like me, also try this creamy piña colada or these fun strawberry daiquiri jello shots.
Jump to:
🍓 Ingredients: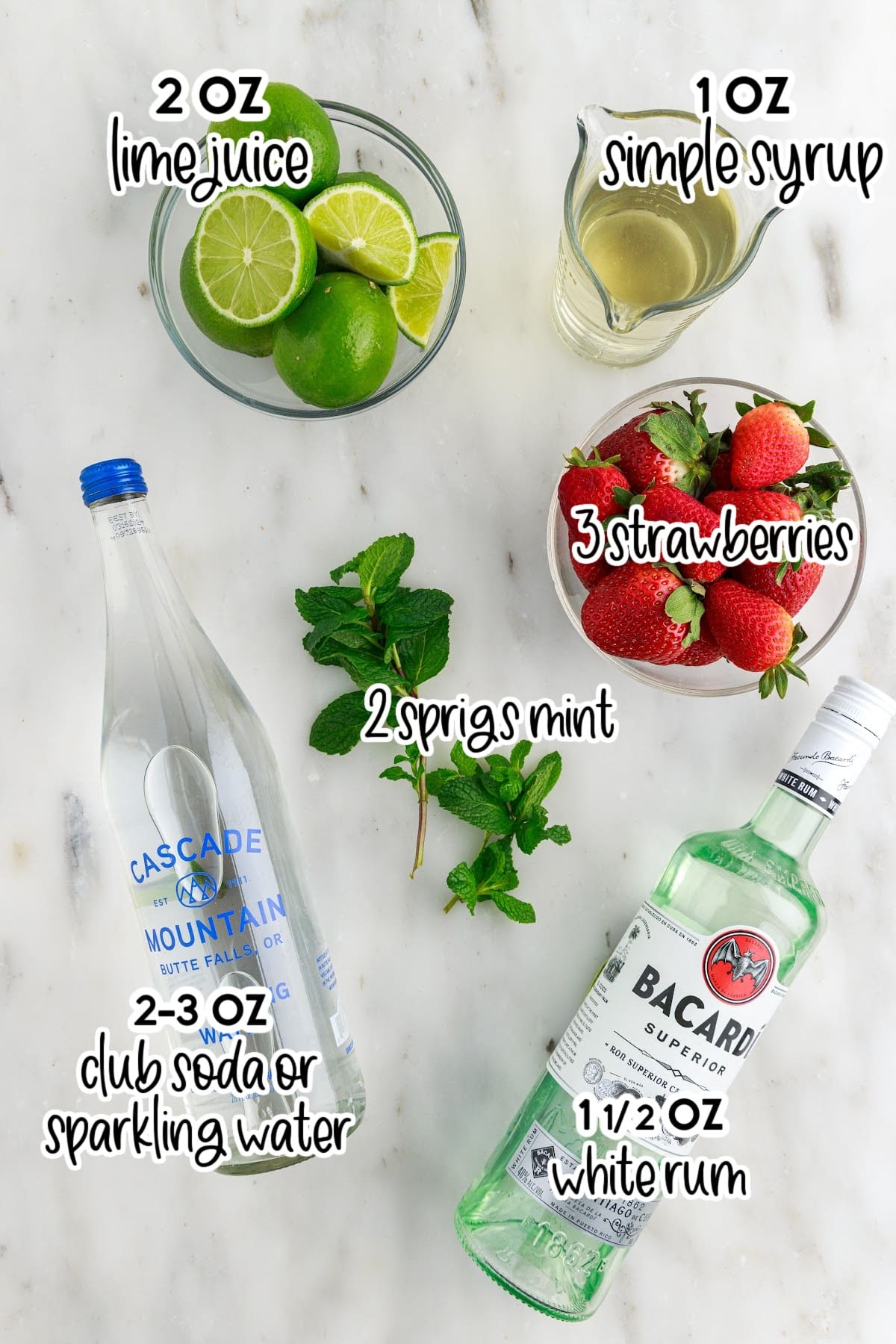 fresh strawberries – the sweeter the better, summertime is perfect for ripe farm fresh strawberries
fresh mint leaves – you can find these in the produce section of your local grocery store.
simple syrup – while you can use the store-bought, homemade simple syrup is very easy to make.
lime juice/fresh limes – freshly squeezed lime juice makes all of the difference; I do not recommend substituting jarred or squeeze bottle lime juice
Light rum – we like Bacardi rum or white rum.
ice cubes – enough to fill a tall glass.
Club soda or sparkling water – make sure it's cold so it doesn't melt the ice any faster.
For a full list of ingredients and their measurements, 📋 please view my printable recipe card at the bottom of the post.
Optional Garnish:
Garnish your strawberry cocktail with a fresh mint sprig, lime wedges, or a strawberry.
Substitutions and Variations
Fresh fruit – you can use any of your favorites (including different berries) to make your own mojitos following this same recipe.
Virgin strawberry mojito – omit the rum and add a little more club soda or sparkling water.
Vodka – swap the rum and use regular vodka or strawberry flavored vodka.
Full pitcher – if you are hosting a larger group, you can make a pitcher of strawberry mojitos by pre-muddling your ingredients with the lime juice and simple syrup, store in an airtight container. When ready, mix in the rum and add the ice to the individual glasses so it doesn't water down the pitcher.
Frozen strawberries – taste just as good, just be sure to thaw them before using in your strawberry cocktail.
Pureed berries – if you don't like chunks of fruit, you can still make our mojito with fresh strawberries. Simply puree the fresh berries, then follow the rest of the recipe. You can also use a cocktail shaker and strain versus the muddling technique, however the flavors won't be the exact same because muddling truly does bring out the mint and fruit.
🔪 Instructions:
PREP: Rinse and dry the mint leaves and berries.
Step 1: Add 2-3 mint sprigs and 3 sliced strawberries to a Collins glass.
Step 2: Pour in the simple syrup and squeeze the lime juice in.
Step 3: Muddle the mint and strawberries together.
Step 4: Pour in the rum, then fill the glass with ice.
Pro Tip: The riper the berries and the better they are muddled, the more the vibrant the cocktail will be.
Step 5: Top with soda water or club soda until filled.
SERVE: Add berries, lime slices, or a sprig of mint as a garnish, and serve.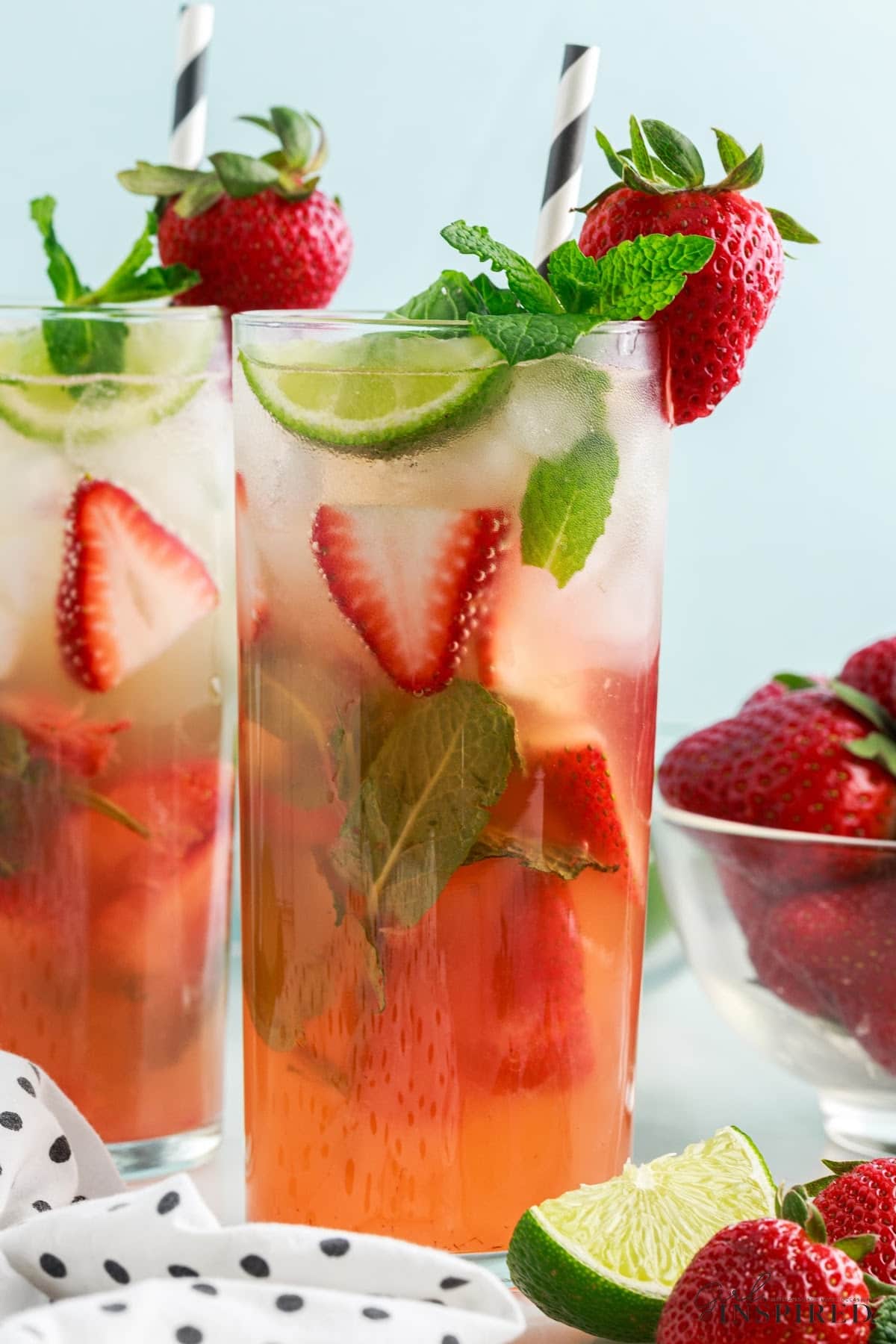 Using sugar syrup instead of straight sugar makes sure there is nothing grainy left in the drink.
Avoid over muddling the mint, this can make the mojito bitter tasting. The mint oil extracts easily.
​If you don't have a muddler, you can use the bottom of the the handle or the back of a wooden spoon.
You can increase the mint flavor (or reduce) by using mint simple syrup in place of the regular simple syrup.
Looking for more cocktail ideas? How about something with tequila like our margarita popsicles or mint margaritas?
Fun Fact
Mojitos have been around for over 500 years! -Mental Floss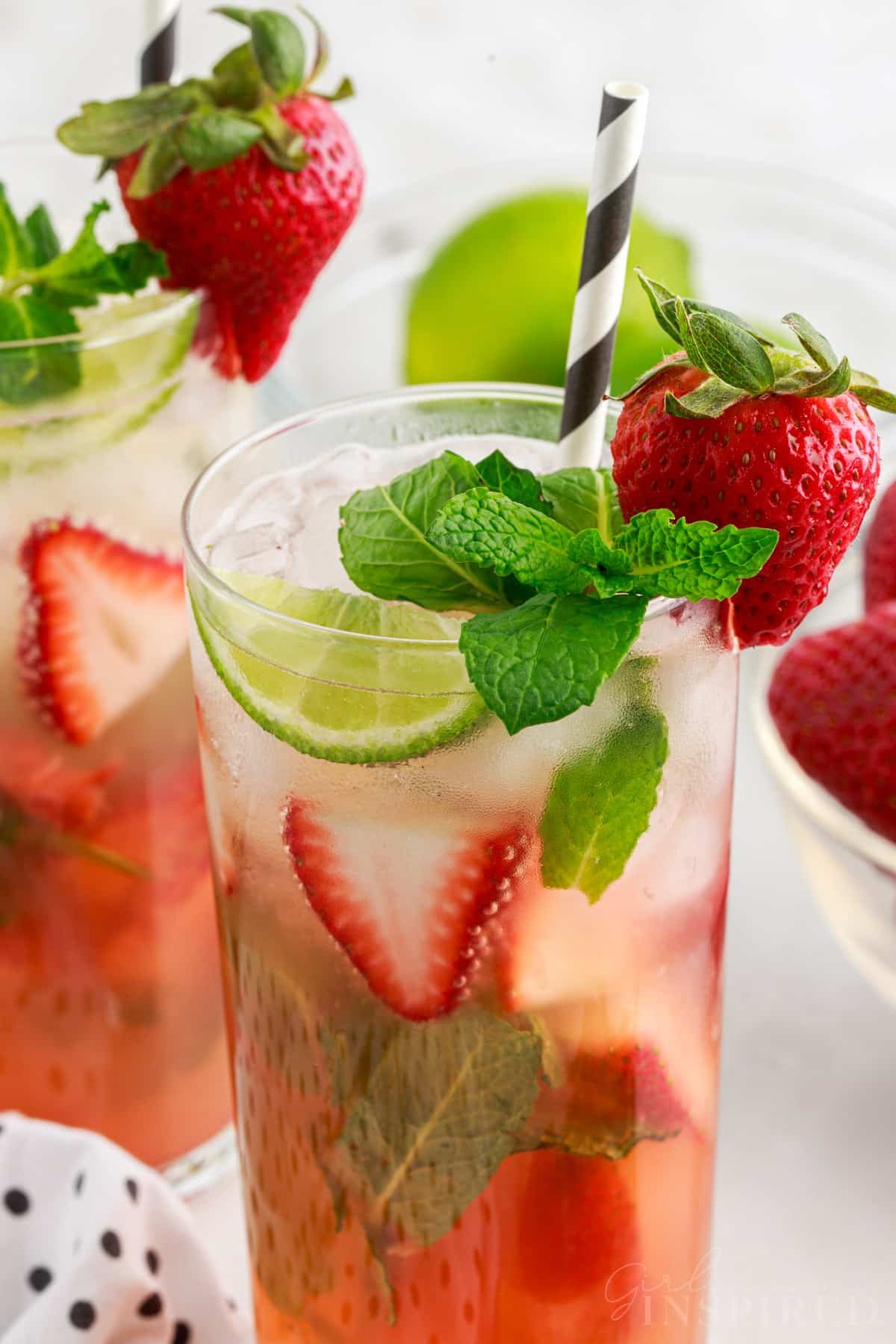 Recipe FAQs
What's the difference between a strawberry mojito and daiquiri?
A refreshing strawberry mojito is a rum-based cocktail that combines fresh strawberries, lime juice, mint leaves, simple syrup (or sugar), and club soda. It offers a fruity and refreshing flavor profile with a hint of herbal freshness from the mint.

Strawberry daiquiris are also rum-based but focuses on simplicity, featuring rum, strawberries fresh lime juice, and simple syrup. It has a clean and crisp flavor profile with a citrus-forward taste. Daiquiris are also shaken or blended versus using a cocktail muddler.
What is the best rum for mojitos?
Light or white rum is the most traditional choice for mojitos. It has a clean and mild flavor profile that allows the other ingredients, such as mint and lime, to shine. This type of rum is typically aged for a short period and has a lighter color.

Similar to light, silver rum or blanco is a clear and light-bodied option that works well in mojitos. It is often used in tropical cocktails and adds a subtle sweetness to the drink.

While not as common, aged rums can add depth and complexity to a mojito. They are typically darker and richer in flavor, with hints of caramel, vanilla, and spice. Aged rums can bring a unique twist to the traditional mojito, offering a more robust and nuanced taste.

For those looking to add an extra layer of flavor to their mojitos, flavored rums can be an interesting choice. Strawberry-flavored rum, in particular, can complement the strawberry elements in a strawberry-infused mojito. Other fruit-flavored rums, such as mango or pineapple, can also add an exotic twist to the perfect cocktail.

Remember, the quality of the rum you choose can greatly impact the overall taste of your mojito. It's generally recommended to use a rum of decent quality that you enjoy sipping on its own, as this will enhance the flavors in your cocktail.
What is muddling?
Muddling is a technique used in cocktail making to extract flavors from certain ingredients, such as herbs, fruits, or sugar, by gently crushing or bruising them. It helps release essential oils, juices, and aromas, adding depth and complexity to the drink.

For our mojito featuring strawberries, we muddle the strawberries to break down the fruit's cell walls, allowing the natural sugars and fruity notes to infuse into the cocktail. Muddling strawberries also helps release their aroma, enhancing the overall sensory experience. We muddle the mint to extract the essential oils present in the mint leaves. These oils carry the refreshing and herbaceous flavors that are characteristic of mint. The process also slightly bruises the mint leaves, which can intensify their flavor.

By muddling strawberries and mint leaves together, we create a vibrant base for our strawberry mojito. The combination of sweet, juicy strawberries and the fresh, herbaceous notes of mint adds depth and complexity to the cocktail, resulting in a refreshing and well-balanced flavor profile.
More of Our Favorite Summer Cocktails
If you tried this Strawberry Mojito Recipe or any other recipe on my website, please please leave a 🌟 star rating and let me know how you liked it in the 📝 comments below.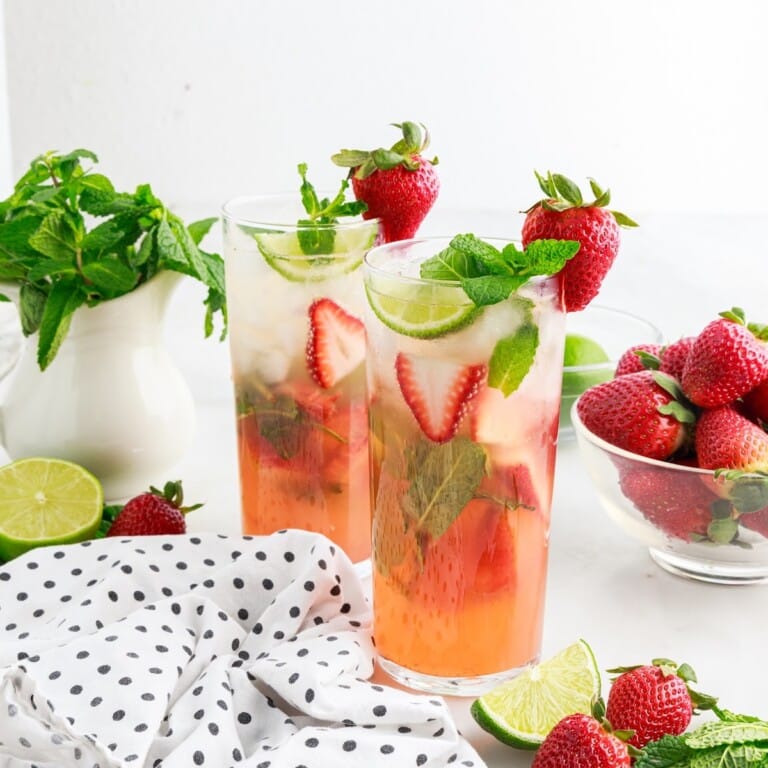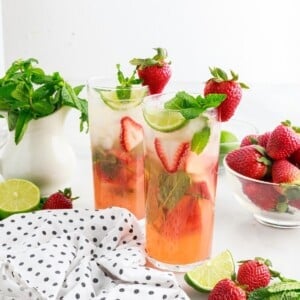 Strawberry Mojito
Use this easy strawberry mojito recipe as a fun cocktail for your next party or happy hour. The fresh flavors are great for warmer weather and they are so easy to make.
15 oz glass
Ingredients
3 medium-large strawberries
2 sprigs mint leaves
1 oz. simple syrup
2 oz. lime juice
1 ½ oz. Bacardi rum or white rum
1 cup ice cubes or enough to fill glass
2-3 oz. Club soda/sparkling water
Instructions
Place two or three mint sprigs and 3 sliced strawberries in an empty Collins glass.

Add simple syrup and lime juice.

Use the handle of a wooden spoon or a muddler to smash the mint and strawberries together and "muddle" the flavors.

Add rum and then ice cubes to fill the glass.

Top with club soda to fill.

Garnish with whole or sliced strawberries, lime slices, and/or a sprig of mint.
Notes
Storage: Serve immediately. Notes: Rinse and dry the mint and berries before starting. A muddler has a long handle with a flat bottom that is wide. It's a bar tool used to smash ingredients together. The color of your cocktail will be brighter if you use ripe berries. It's best to use flavorful fruit and muddle well. Fresh squeezed lime juice makes all of the difference and offers the best balance of flavoring.
Nutrition
Calories: 202kcal | Carbohydrates: 29g | Protein: 1g | Fat: 0.2g | Saturated Fat: 0.01g | Polyunsaturated Fat: 0.1g | Monounsaturated Fat: 0.02g | Sodium: 43mg | Potassium: 153mg | Fiber: 1g | Sugar: 23g | Vitamin A: 118IU | Vitamin C: 39mg | Calcium: 32mg | Iron: 1mg