Enjoy a Disney Dole Whip in a Jello shot by only using 5 ingredients that is perfect for parties and for those who love Pina Coladas!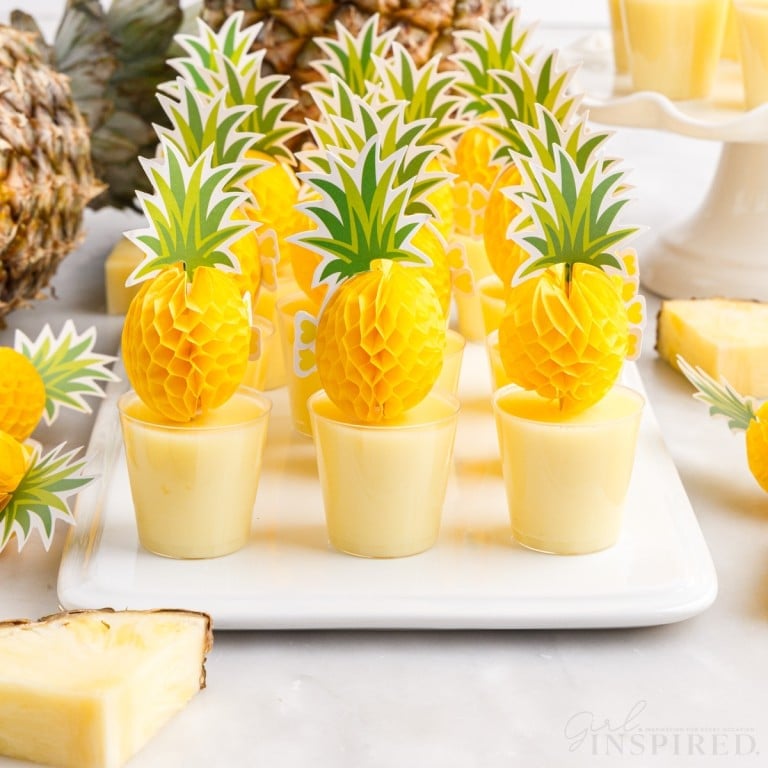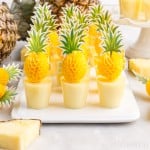 We are taking Disney's Dole Whip and turning it into boozy jell-o shots! Made with vanilla vodka, pineapple juice and Jell-O mix, along with creamy condensed milk these Dole Whip Jello Shots come together in just 5 minutes! This copycat recipe is a party favorite, especially for those who can't resist the dole whip float!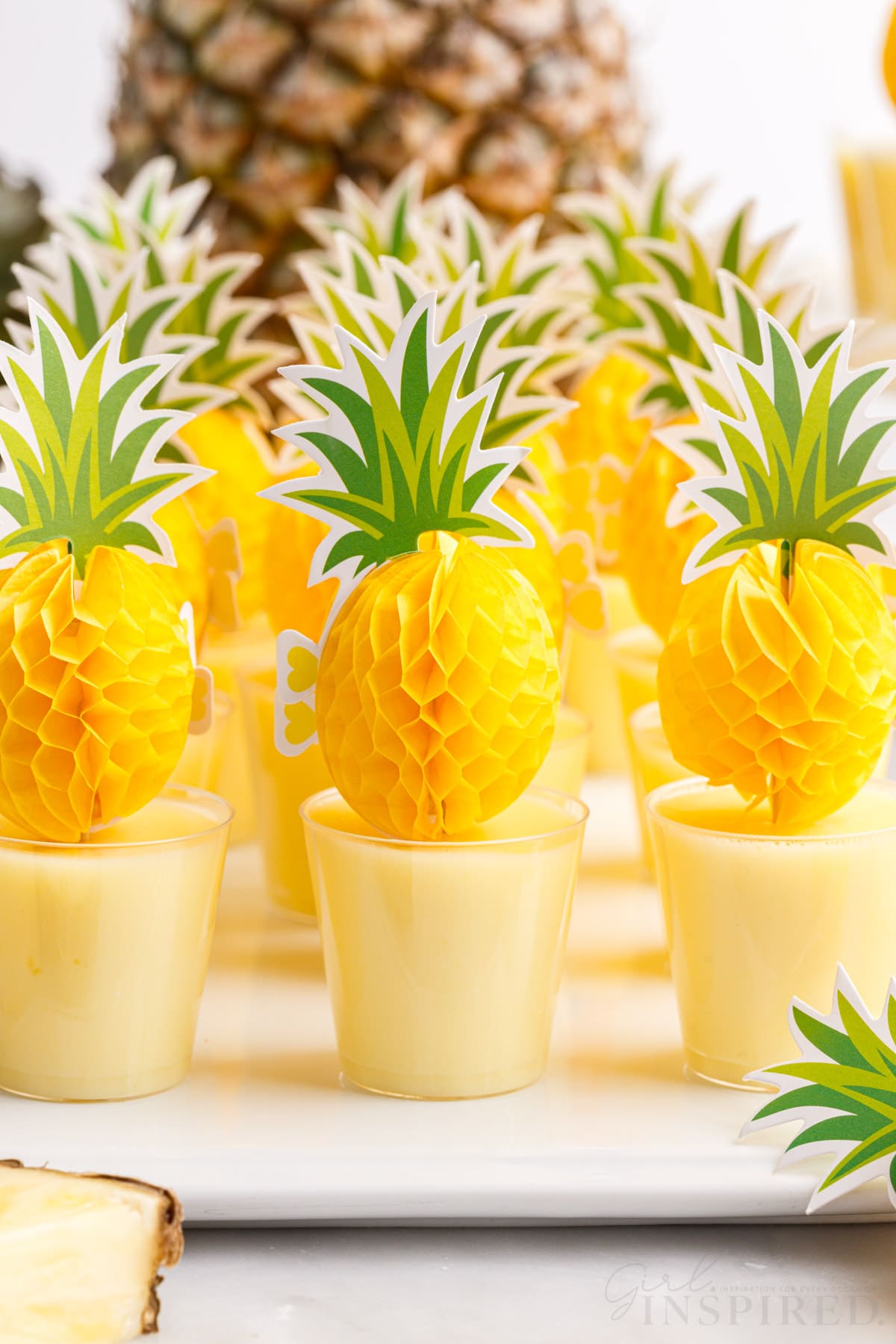 By this time, you know you can't visit a park without treating yourself to the famous Disney snack. Dole Whips are sold throughout the area at both locations and I read somewhere that you can actually order the mix online. Once you get it, you can mix it with water to make a copycat at home.
Since we aren't attending the most magical place on Earth, I decided to make my own version (slightly different than piña colada jello shots) in jello shot form…for adults only. In case you are new here, I am queen at making a good cocktail into a jello shot. If you don't believe me, check out layered patriotic jello shots I made for 4th of July.
For those who can't get enough of tropical drinks, be sure to try the best Malibu pina colada you will ever taste along with the TikTok inspired adult pineapple spears soaked in Malibu rum.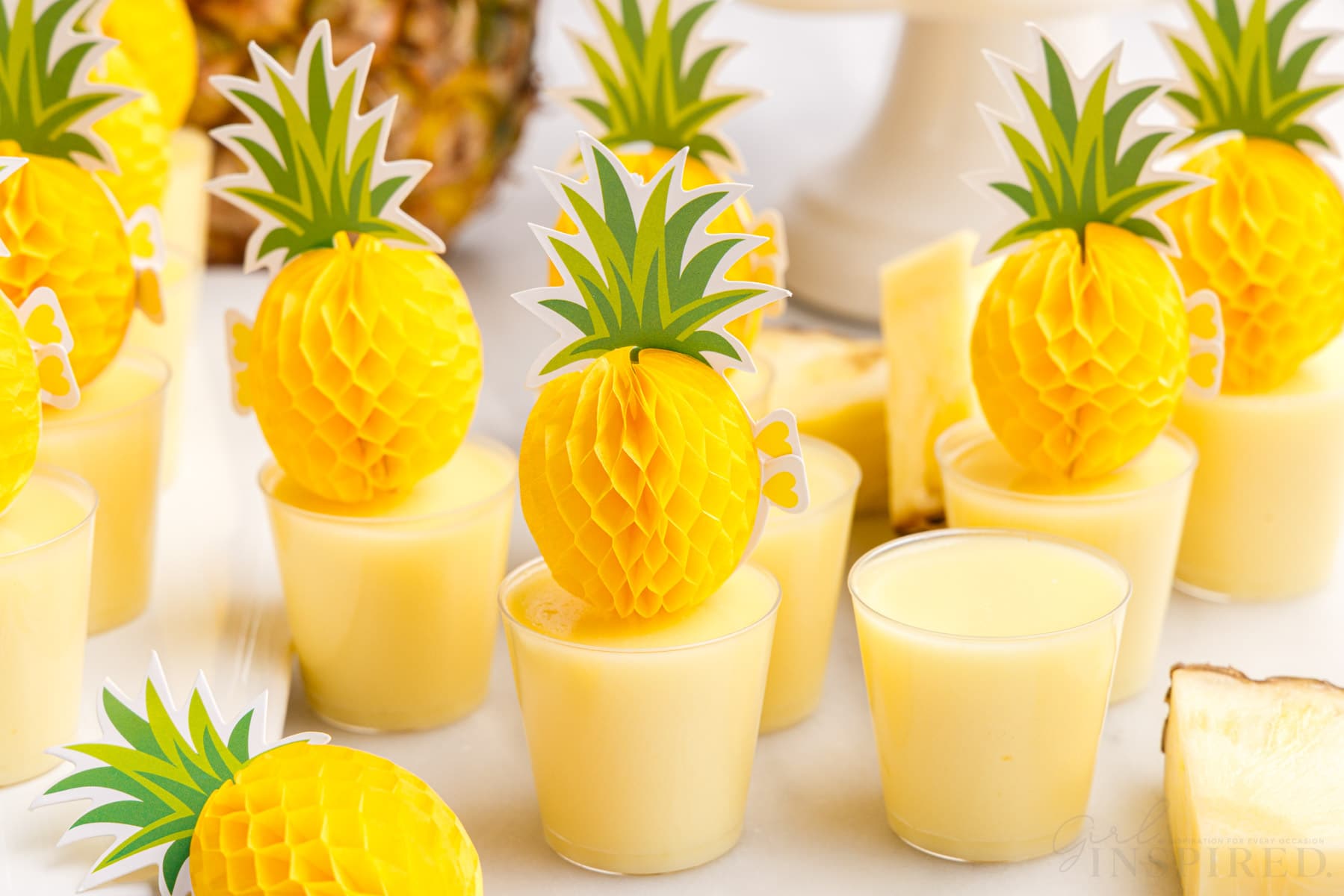 Why You'll Love Dole Whip Jello Shots
They taste just like the Dole Whip dessert at Disney.
Full of refreshing pineapple flavors, perfect for summer.
A party must have if you love boozy drinks.
Only take 5 minutes to make with minimal ingredients.
What Ingredients do I Need For Pineapple Dole Whip Shots?
pineapple jello mix
boiling water
pineapple juice
sweetened condensed milk
vanilla vodka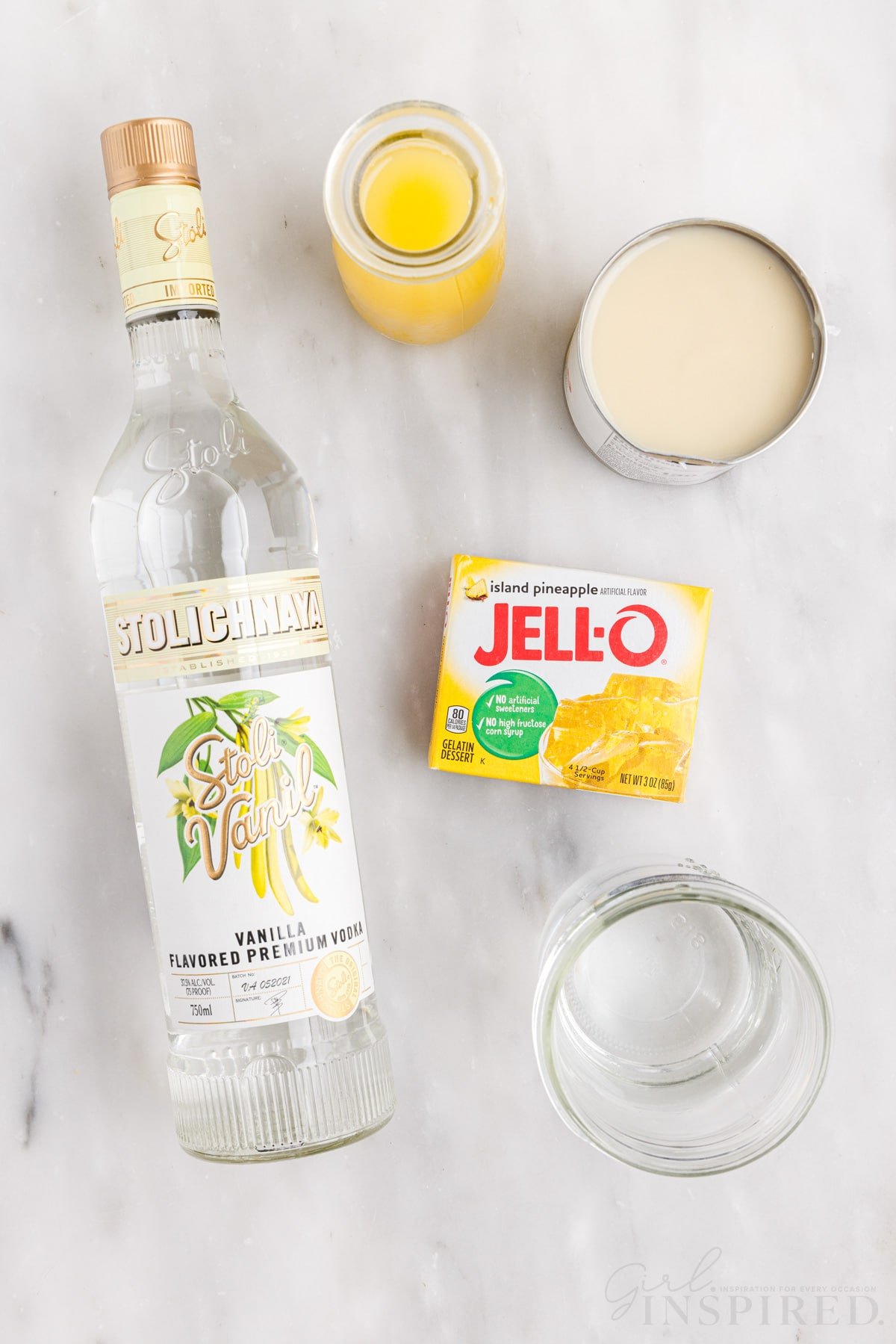 Pro Tip: Have a baking sheet sitting out and ready to go. It's so much easier to transport the shots to and from the fridge and serve instead of picking up each individual cup,
How to Make The Best Dole Whip Jello Shots
PREP: Boil one cup of water and prep garnishes if desired.
MAKE THE JELLO: Combine the water in a 4 cup measuring cup with the pineapple gelatin, whisk until dissolved.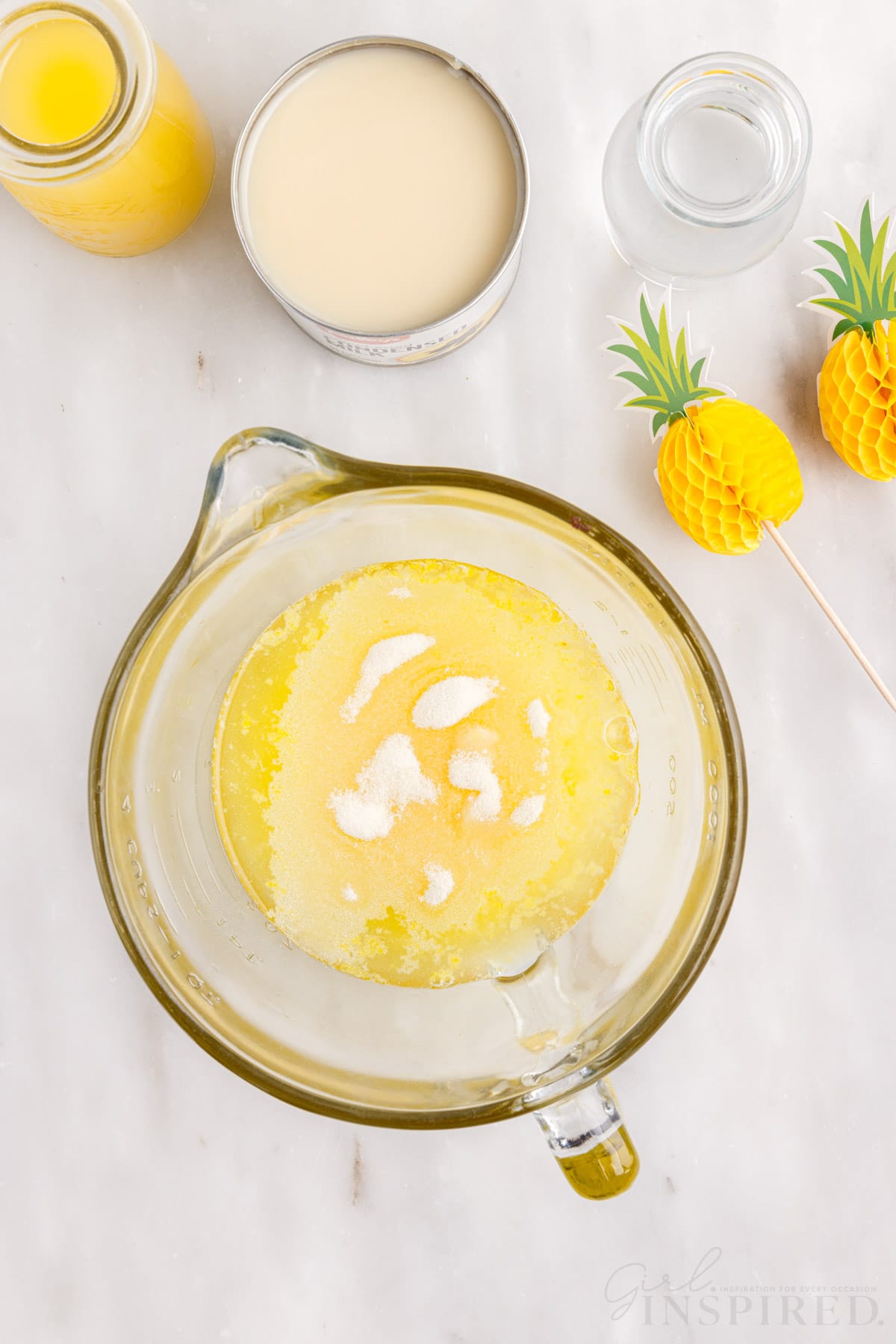 ADD REMAINING INGREDIENTS: Pour in the pineapple juice, vodka, and condensed milk and blend the gelatin mixture well.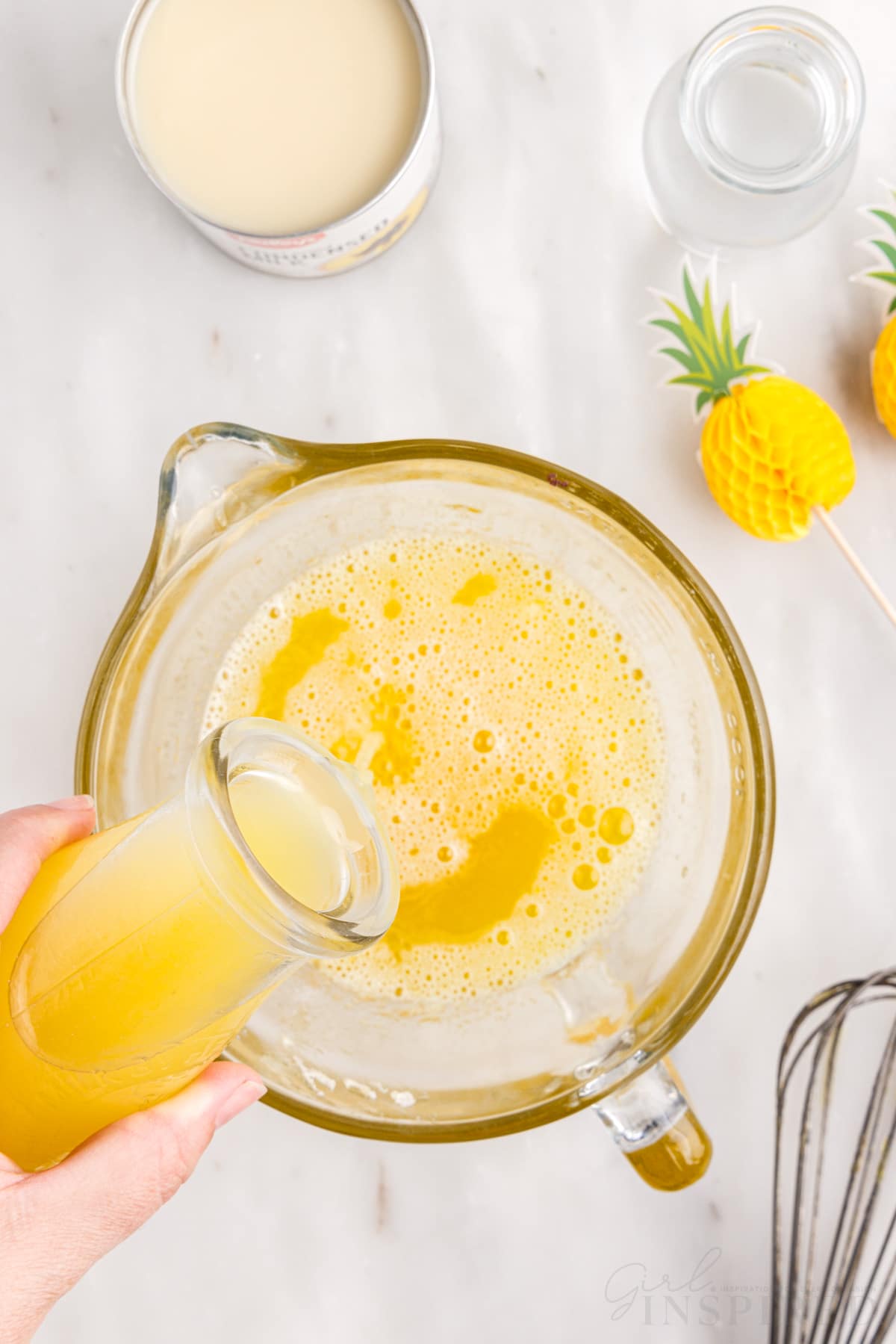 TRANSFER TO SHOT GLASSES: Fill each of the jello shot cups to just below the rim.
CHILL: Place the shots on a cookie sheet and refrigerate for 4 hours or until they are set. Add garnishes, like a pineapple wedge, just before serving.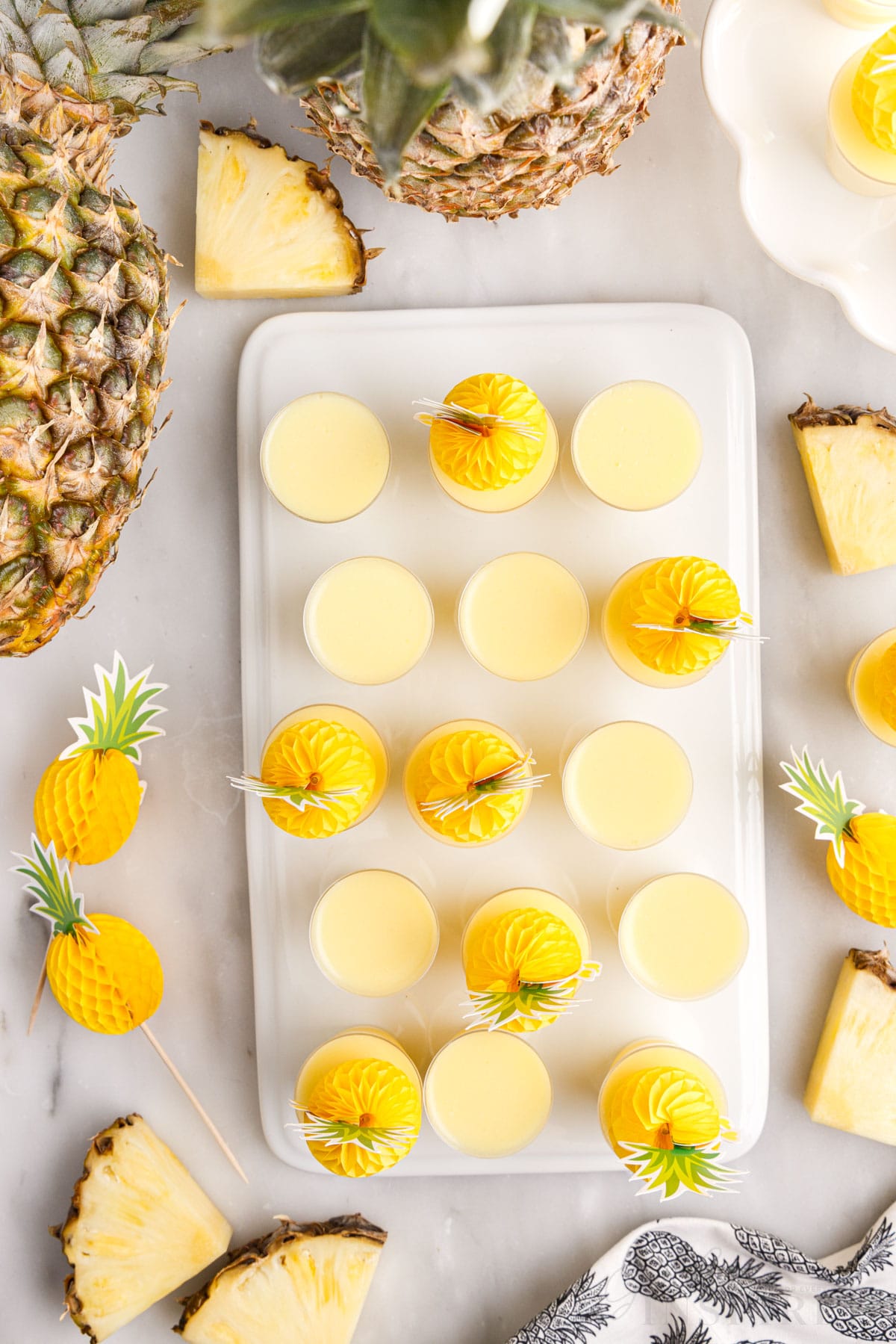 Garnish ideas: whipped cream, maraschino cherries, pineapple chunks, or fresh pineapple slices. Don't add the garnishes until you are ready to serve.
Use a piping bag and star tip to swirl on the whipped cream. You can use Cool Whip or make homemade whipped cream.
You need 4 cups of liquid to go with the jello mixture, so for a stronger jello shot you can use up to 1.5 cups of vodka and they will still set up properly.
If you don't have vanilla vodka, you can use regular or substitute rum. The vanilla version just gives a more authentic pineapple Dole Whip flavors.
Can't find pineapple jello? Use 2 packets of plain gelatin per 2 cups of liquid (so you would need 4 packets total). However, the only pineapple flavor you would get would come from the pineapple juice.
Fun Fact
Estimates say that Disney sells OVER 1 million Dole Whips EVERY DAY!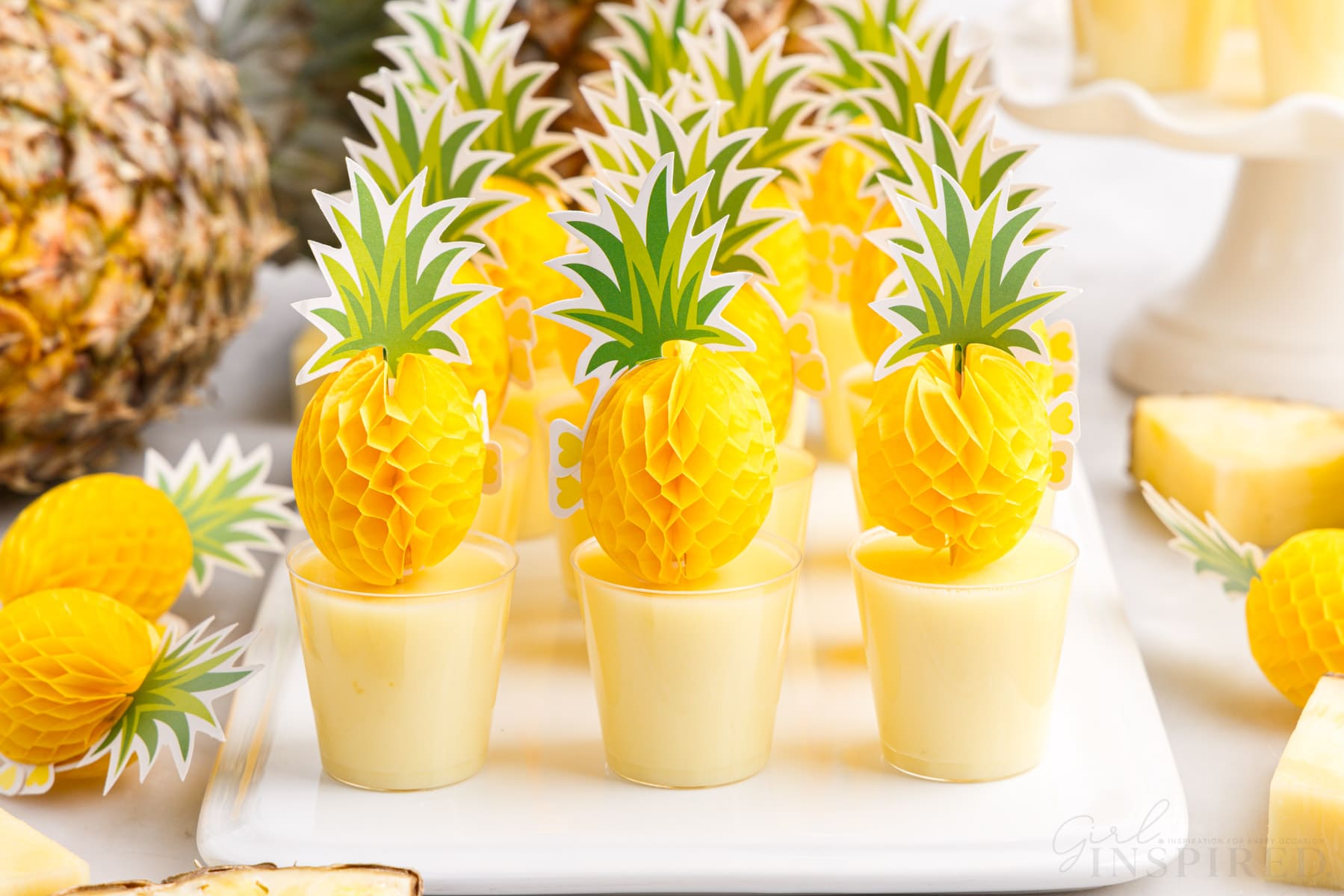 What is a Dole Whip made of?
Traditionally, if you order a Dole Whip at Disneyland or Disney World (any of the Disney parks for that matter) you will get a frozen soft serve swirl dessert that cannot be beat when that sunshine is beating down. The taste is full of pineapple and vanilla flavors.
How to store jello shots?
Keep Dole Whip shots in the refrigerator for up to 7 days. Use lids for individual cups. If your cups didn't come with lids, leave them on the baking sheet and cover with plastic wrap.
Boozy Summer Drinks You Can't Resist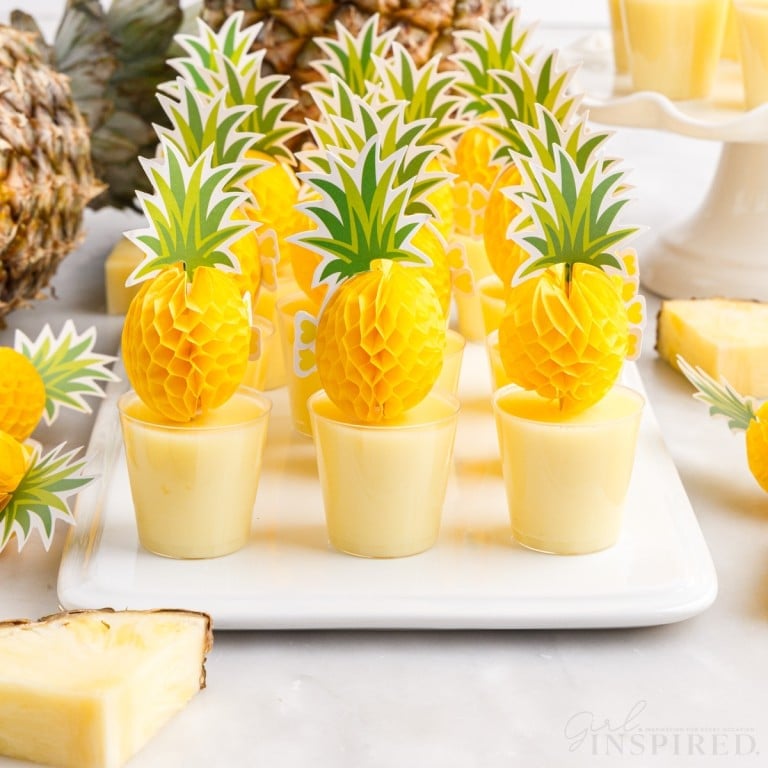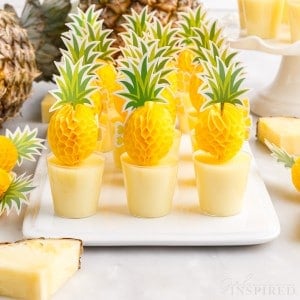 Dole Whip Jello Shots
Enjoy a Disney Dole Whip in a Jello shot by only using 5 ingredients that is perfect for parties and for those who love Pina Coladas!
Ingredients
2 – 3 oz. box pineapple jello mix
1 cup boiling water
1 ½ cups pineapple juice
½ cup sweetened condensed milk
1 cup vanilla vodka
Instructions
In a 4 cup measuring cup, whisk together pineapple jello mix and 1 cup of boiling water until jello is fully dissolved.

Once the jello is fully dissolved, stir in the pineapple juice, sweetened condensed milk, and vodka. Whisk together until combined.

Carefully pour the mixture between small plastic shot cups. Fill just under the top so they don't spill.

Just before serving, top each jello shot with a pineapple toothpick.
Nutrition
Calories: 39kcal | Carbohydrates: 3g | Protein: 0.1g | Fat: 1g | Saturated Fat: 0.5g | Polyunsaturated Fat: 0.01g | Monounsaturated Fat: 0.03g | Sodium: 6mg | Potassium: 26mg | Fiber: 0.2g | Sugar: 2g | Vitamin A: 1IU | Vitamin C: 1mg | Calcium: 2mg | Iron: 0.1mg