If you're a fan of brownies then you're sure to love these Strawberry Lemon Blondies too! They're dense and moist with lemon flavoring and chunks of strawberries, then topped with a stunning strawberry-pink glaze!
While plain blondies are totally scrumptious, there's always room for adding your own twist with flavor combinations – something I love doing with most classic baked treats. These Strawberry Lemon Blondies have that buttery, chewy bite that we love in a blondie, with juicy strawberries and a punch of tart lemon.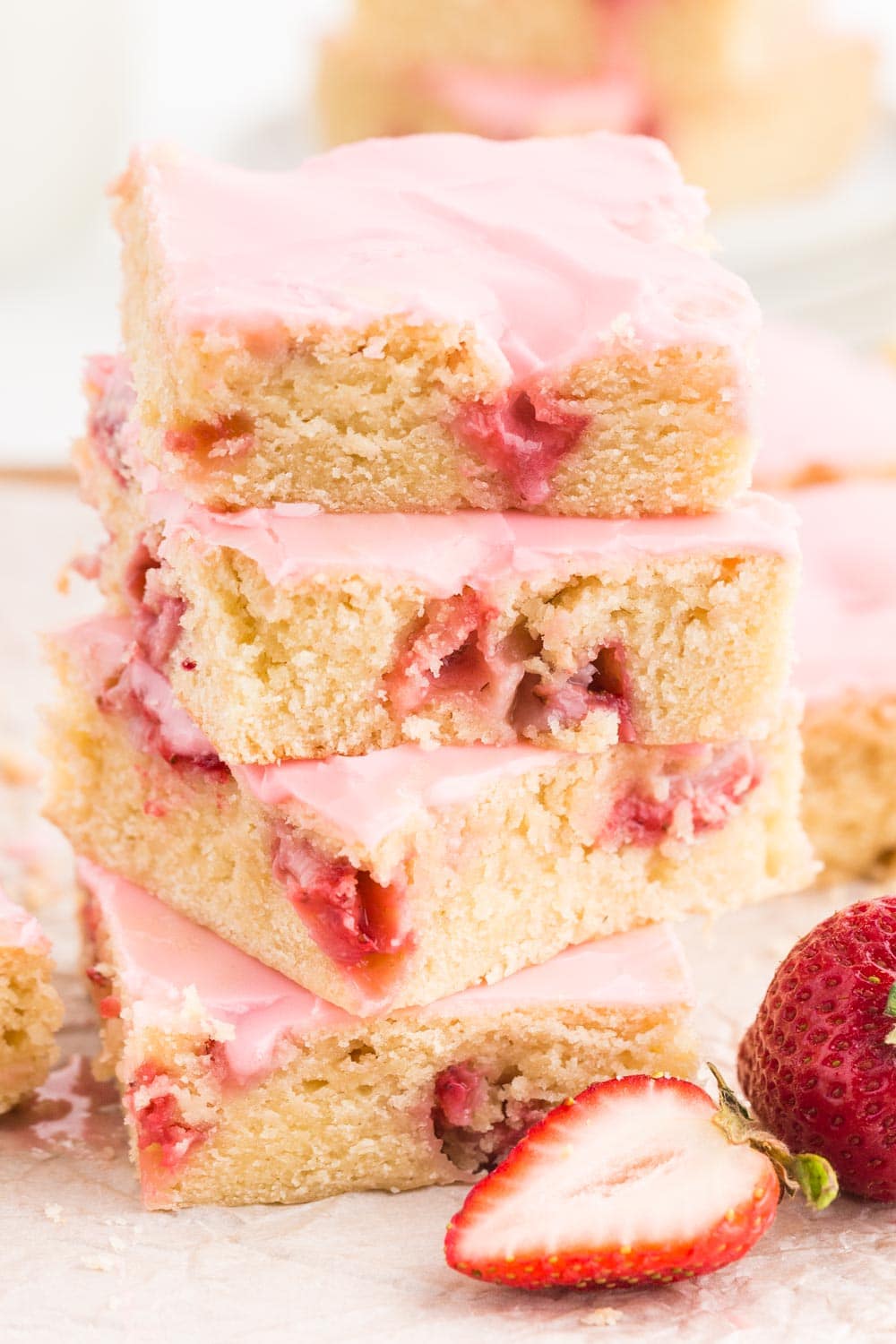 If you're a fan of brownies then you're sure to love blondies too! After all, they're basically the same except that blondies don't have cocoa powder added to the mix.
While the star of these blondies is definitely the strawberries, I just love how the lemon cuts through some of the sweetness and also provides fresh and slightly tangy notes to these soft and dense treats.
Adding a powdered sugar glaze to your blondies increases the lemon punch, accentuating the yummy contrast of a soft center with freshly diced strawberries spread throughout.
These Strawberry Lemon Blondies will melt in your mouth, are easily customizable, and will impress anyone you share them with – perfect for summer picnics, desserts, or your next potluck!
If you love these Strawberry Lemon Blondies, then you'll also want to try my Easy Strawberry Brownies! And for the best chocolate chip blondies in the history of the world, sink your teeth into these Better than Tollhouse chocolate chip cookie bars.
Fun Fact
Just like brownies, blondies are dense, moist, and sweet, yet it's less commonly known that blondies appeared on the baking scene about 10 years before brownies, owing to chocolate only becoming commercially accessible to the public around the early 1900s.
What are Strawberry Lemon Blondies?
These strawberry lemon blondies are very similar to brownies although, with blondies, the cocoa powder or dark chocolate (whatever may be used for the chocolate flavoring) is omitted. You could think of these blondies as a strawberry lemon version of brownies.
What Ingredients do I need for these blondies?
BLONDIE INGREDIENTS
butter
granulated sugar and light brown sugar
large eggs
fresh lemon juice and lemon zest
lemon and vanilla extracts
all-purpose flour
baking powder
salt
cornstarch
GLAZE INGREDIENTS
powdered sugar
heavy cream
pink or red food coloring
How to Make Strawberry and Lemon Blondie Bars
Prep: In a large bowl, or the bowl of a mixer, cream the butters and sugars. Mix in the extracts and eggs. Mix the dry ingredients into the wet ingredients, just until the dough is combined. Then, gently fold in the diced strawberries.
Spread: the batter into a 9×13 baking pan and bake until the dough is just cooked through. Then, whisk up the glaze ingredients and spread over the top. Cool completely and cut into bars.
Variations and Substitutions
Use 1 cup of another berry of your choice if you don't enjoy strawberries or don't have access to them. Blueberries, raspberries, and even blackberries all work beautifully with lemon flavoring. You could also do a combination of strawberries and rhubarb, the flavors of which mix very well!
Keep your blondies plain by omitting the lemon and strawberries and rather mix in chopped nuts, coconut shavings, or your favorite candy pieces.
Add in some white chocolate chips with the strawberries for a more decadent strawberry lemon blondie mixture.
Instead of a powdered sugar glaze, you can top these blondies with some lemon curd or lemon buttercream frosting which will be equally delicious! Melting and drizzling some white chocolate over your blondies is also an option (include some sprinkles in the melted chocolate for kids' parties or other fun events).
How Should I Store Leftover Strawberry Lemon Blondies?
These blondies will store well at room temperature in an airtight container for up to 3 days or refrigerate them for up to 5 days.
Can I Freeze These Strawberry Lemon Blondies?
Yes! You could freeze these blondies for up to 3 months. Thaw at room temperature or in the fridge.
What Can I Serve with These Strawberry Lemon Blondies?
These strawberry lemon blondies are super scrumptious just as is but you could certainly enjoy them with a scoop of vanilla ice cream as a midweek dessert.
Tips For Making Strawberry Lemon Blondies
Make sure that your butter and eggs are at room temperature prior to mixing the batter. This will help them combine more completely. Creaming the ingredients help give rise to the blondies.
Be careful not to overbake your blondies. They will dry out instead of being chewy and dense as intended to be.
The pink glaze should only be added once your blondies have had time to cool so that it doesn't melt and run.
While I've used a 9×13 inch baking dish for these blondies, you could also use a 9×9 for thicker blondie squares or halve the recipe and use a 7×11 inch dish.
Test your sugar glaze out on a small area of your baked blondies. If you feel that the glaze is too thin then simply add more powdered sugar for a thicker glaze. Similarly, if the glaze is too thick for your liking, then thin it out by adding some lemon juice or water.
You can increase the color intensity of the pink glaze by adding more drops of red food coloring or using your favorite color of pink gel food coloring.
Increase the quantity of diced strawberries to 1.5 cups if you want more strawberry chunks in the blondies but I recommend that you don't go beyond 1.5 cups as the additional strawberries will increase wetness and may result in the blondies turning out soggy.
To achieve a more fudgy center, simply decrease the flour called for by ¼ cup.
Other Summer Strawberry Recipes
Strawberry Lemon Blondies
If you're a fan of brownies then you're sure to love these Strawberry Lemon Blondies too! They're dense and moist with lemon flavoring and chunks of strawberries, then topped with a stunning strawberry-pink glaze!
Ingredients
Blondie Ingredients
1 cup salted butter softened
¾ cup granulated sugar
¾ cup light brown sugar
2 large eggs
¼ cup freshly lemon juice
Zest of 1 lemon about ½ teaspoon
1 teaspoon vanilla extract
1 teaspoon lemon extract
2 ¾ cups all-purpose flour
1 teaspoon baking powder
½ teaspoon salt
2 teaspoons cornstarch
1 cup diced strawberries
Glaze Ingredients
1 teaspoon lemon extract
1 cup powdered sugar
2 tablespoons heavy cream
1-2 drops of red food coloring
Instructions
Preheat oven to 350°F. Line a 9×13 glass baking dish with parchment paper and set aside.

Cream together butter, sugar, and brown sugar for 1-2 minutes.

Add in eggs, lemon juice, lemon zest, vanilla extract, and lemon extract. Beat on medium-high for 3-4 minutes, scraping down the sides of the bowl occasionally. The mixture may look a bit separated, but should beat into a light, fluffy mixture.

In a separate bowl, combine flour, baking powder, salt, and cornstarch.

Add the flour mixture to the butter mixture and mix just until combined.

Bake blondies for 30 minutes or until a toothpick inserted in the center comes out clean.

Spread over the warm blondies.
Nutrition
Calories: 304kcal | Carbohydrates: 45g | Protein: 3g | Fat: 13g | Saturated Fat: 8g | Polyunsaturated Fat: 1g | Monounsaturated Fat: 3g | Trans Fat: 1g | Cholesterol: 54mg | Sodium: 213mg | Potassium: 68mg | Fiber: 1g | Sugar: 27g | Vitamin A: 413IU | Vitamin C: 7mg | Calcium: 36mg | Iron: 1mg